Who doesn't love a good .22 LR rifle or pistol? As someone getting into steel challenge, I've seen plenty of awesome rigs with interesting scope setups, and it's got me thinking…what makes a good .22 LR scope or optic?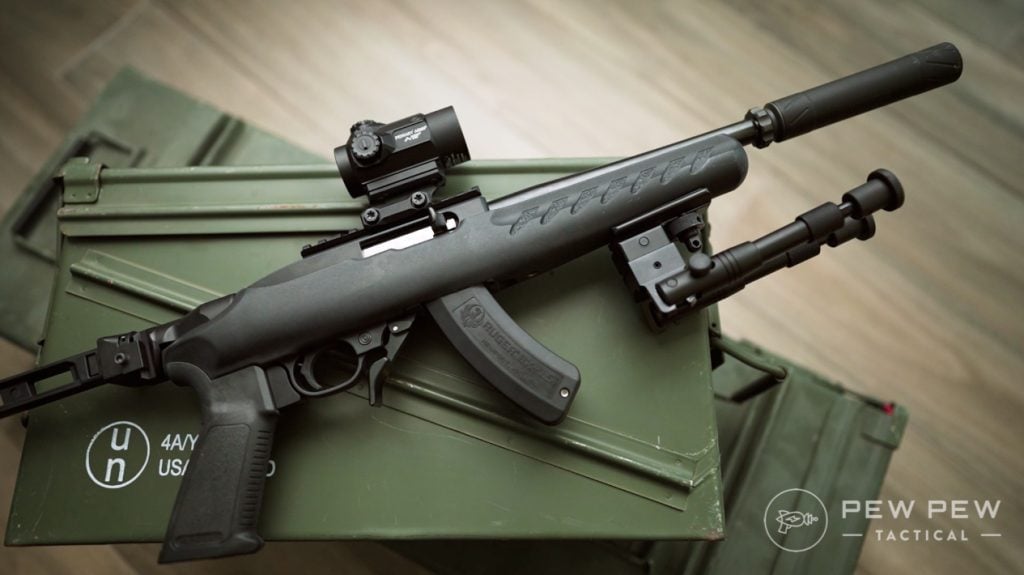 I've always gone simple with my .22 LR and mostly use iron sights or the occasional red dot.
It's not something I've given much thought to until recently, and guess what? There's more to it than I ever realized.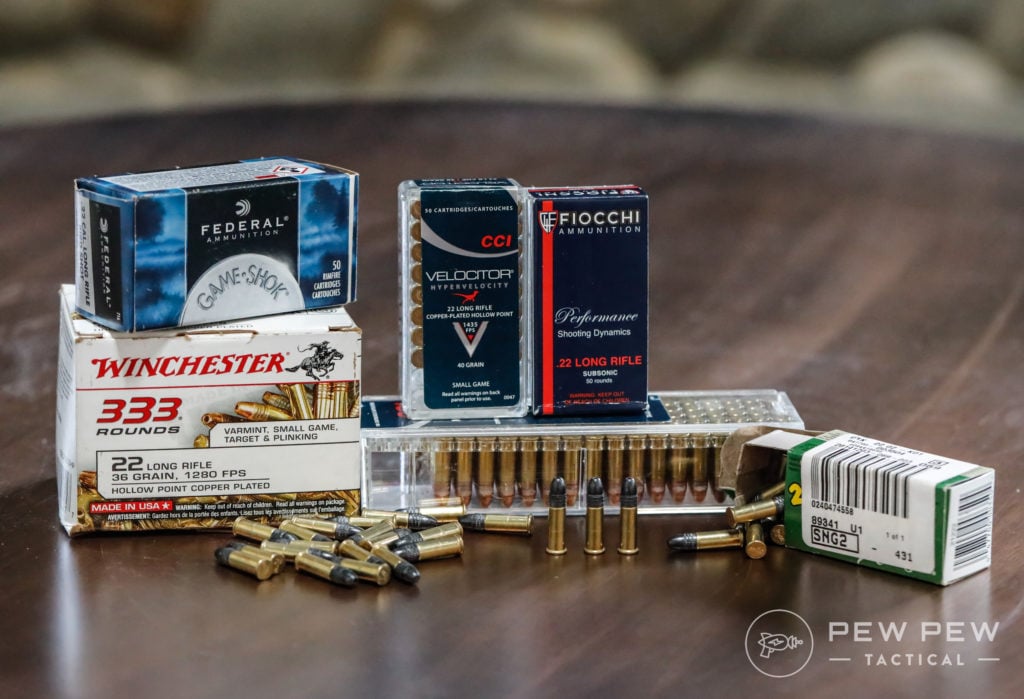 At least there is if you want to do it right. As such, I've gathered a little information on the best .22 LR scopes on the market, at least in my opinion.
I targeted these optics with both a specific set of requirements, and I tried to target optics to fulfill the needs of the versatile .22 LR.
Summary of Our Top Picks
Table of Contents
Loading...
Special Concerns for a .22 LR
.22 LR can be used in a rifle or pistol and can be used to plink, to hunt, for competitive use of all types, and whatever else you could use a .22 LR for.
Parallax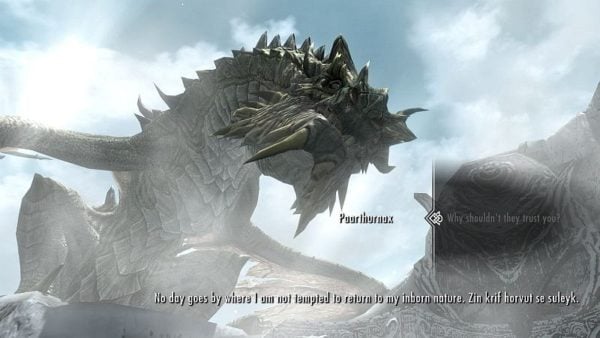 .22 LR isn't exactly a round used for shooting at long ranges. If you toss on your average rifle scope that's adapted to parallax at 100 or 150 yards, you might experience parallax. This makes it tough to shoot straight, or at least mildly annoying.
If you go with a magnified scope, then you'll need to scope (pun intended) out the parallax setting. Getting a parallax set to 10 to 60 yards is perfect and makes it easy to be accurate with a .22 LR.
Even better, check out an adjustable parallax option with a low initial setting.
Reticle

Reticles for .22 LR rifles can be quite simple. Most hunters and plinkers will be satisfied with a simple duplex reticle, nothing fancy. You don't often need to compensate for ballistic drop at the ranges you hunt at.
For action shooting, like steel challenge, you'll want a red dot. Something rapid, easy to see, and perfect for hitting steel plates rapidly. That little dot makes it easy to transition rapidly.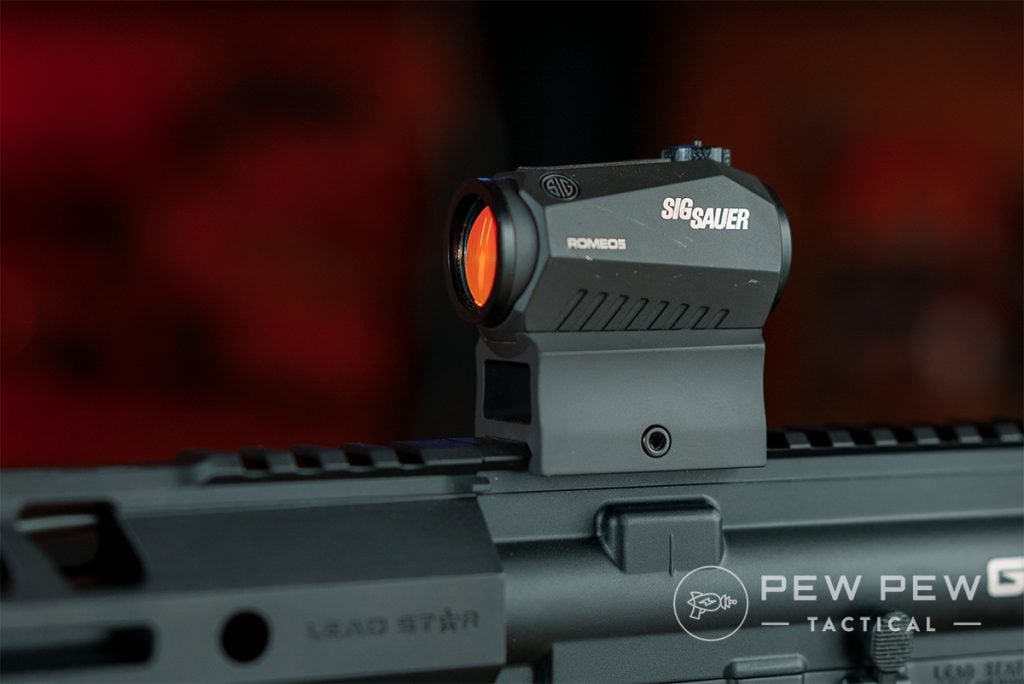 Finally, for precision competition, you might want the fancy reticle. .22 LR drops quick and bounces around like a plastic bag in the wind. You might want a reticle with a ladder-style system to compensate for ballistic drop and windage.
Focal Plane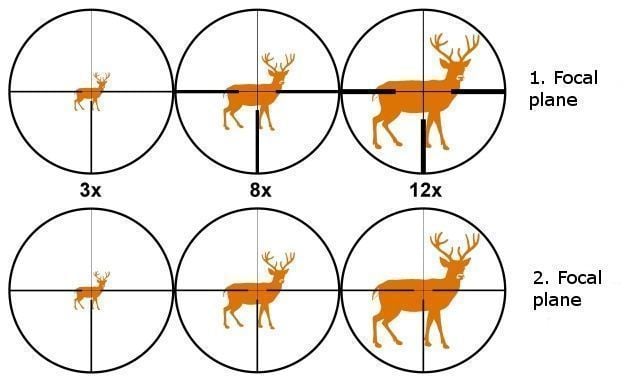 Scopes come in two focal planes, first and second. With a first focal plane scope, the reticles changes in size alongside the magnification. With a second focal plane scope, the reticle remains the same size regardless of magnification.
FFP scopes are great for precision competition because the reticle's drop and windage compensation tools are accurate at every magnification setting.
An SFP scope works better at close ranges and with lower magnification settings and is likely the better choice for hunters.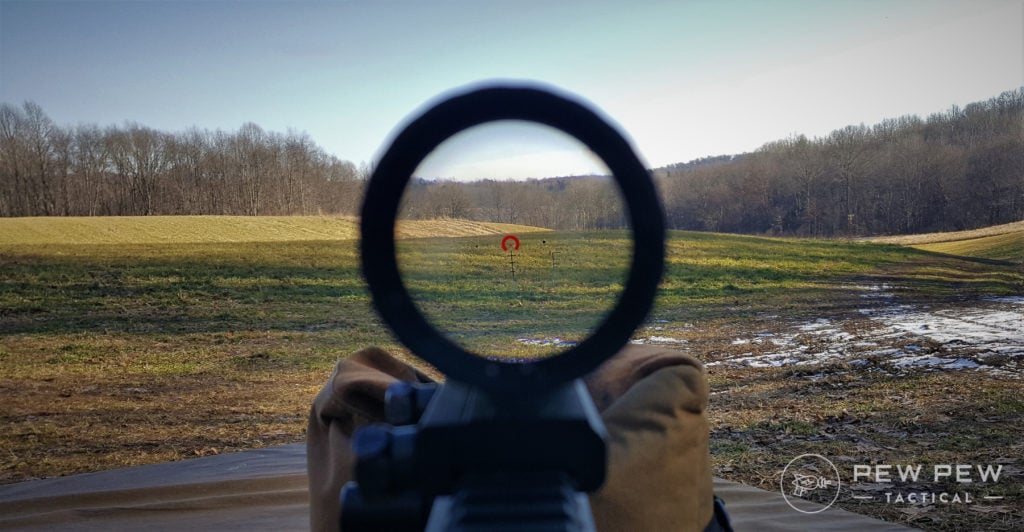 For more on FFP vs. SFP, check out our guide here.
7 Best Rimfire Scopes & Optics
1. Burris FastFire 3
I love the Burris FastFire 3. I've had one for years and beat the hell out of it on shotguns, rifles, and handguns. The Burris FastFire 3 is a micro red dot and can be used on either a .22 LR handgun or rifle with ease.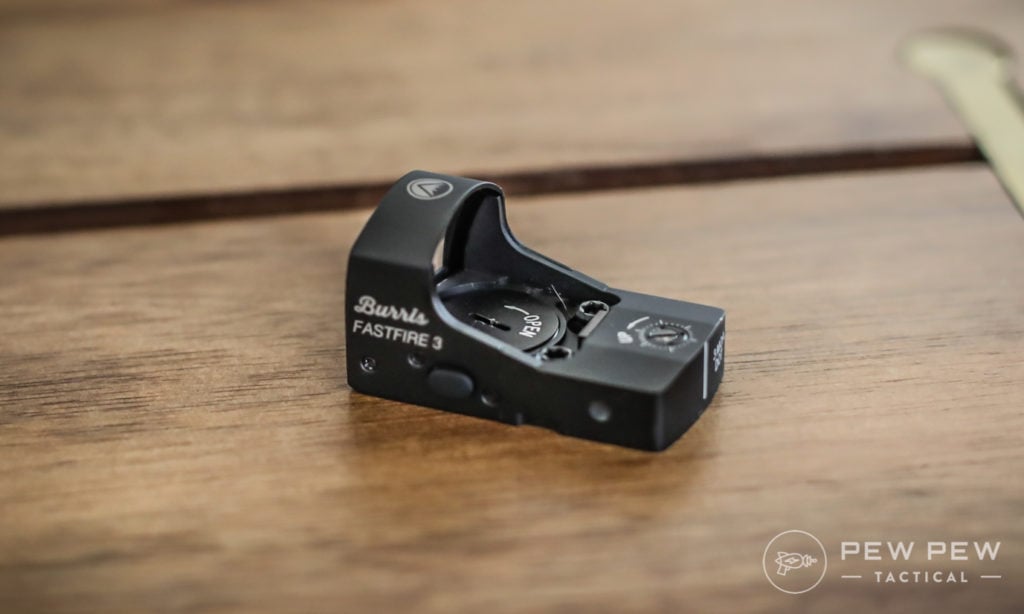 The FastFire 3 comes with a Picatinny mount, and it's a quick attach for those seeking the comforts of a red dot. This optic comes with a 3 or 8 MOA dot, and I prefer the smaller 3 for most tasks. It's less dot and allows me to see more of the target.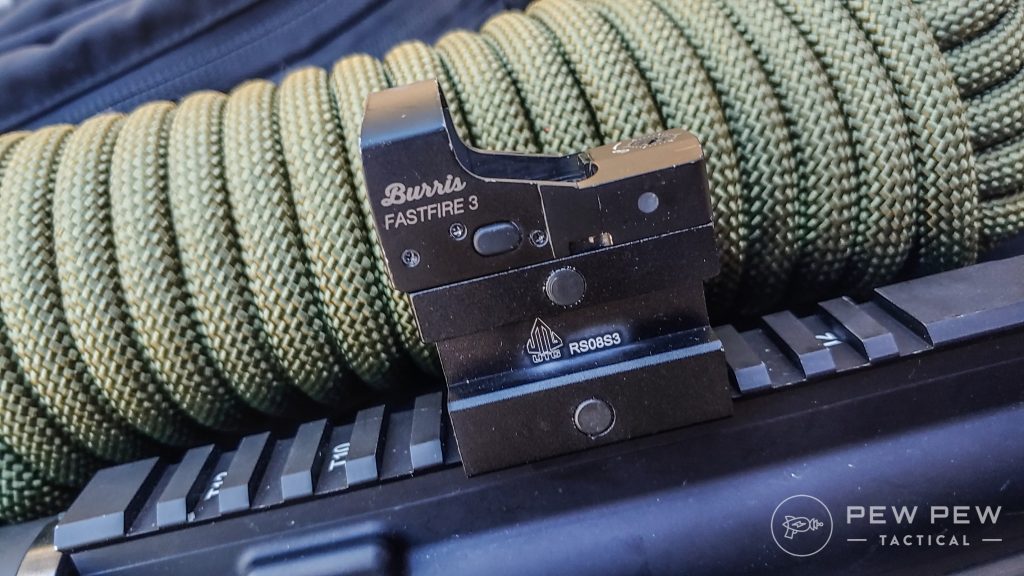 The little Fastfire 3 offers you an affordable option that's plenty durable for a red dot. It mounts with ease and makes it easy to ding steel, plink cans, and decimate the squirrel population at close ranges.
Plus, I can testify that the Fastfire 3 is extremely durable and can take some serious abuse.
Best .22LR Low Profile Dot
199
at OpticsPlanet
Prices accurate at time of writing
Prices accurate at time of writing
2. Leupold VX-Freedom Rimfire 3-9X
The VX-Freedom Rimfire 3-9X40mm might be the most traditional riflescope on this list. It's purpose-built from the ground up for rimfire rifles and incorporates a 60-yard focus setting for all your long-range shooting needs.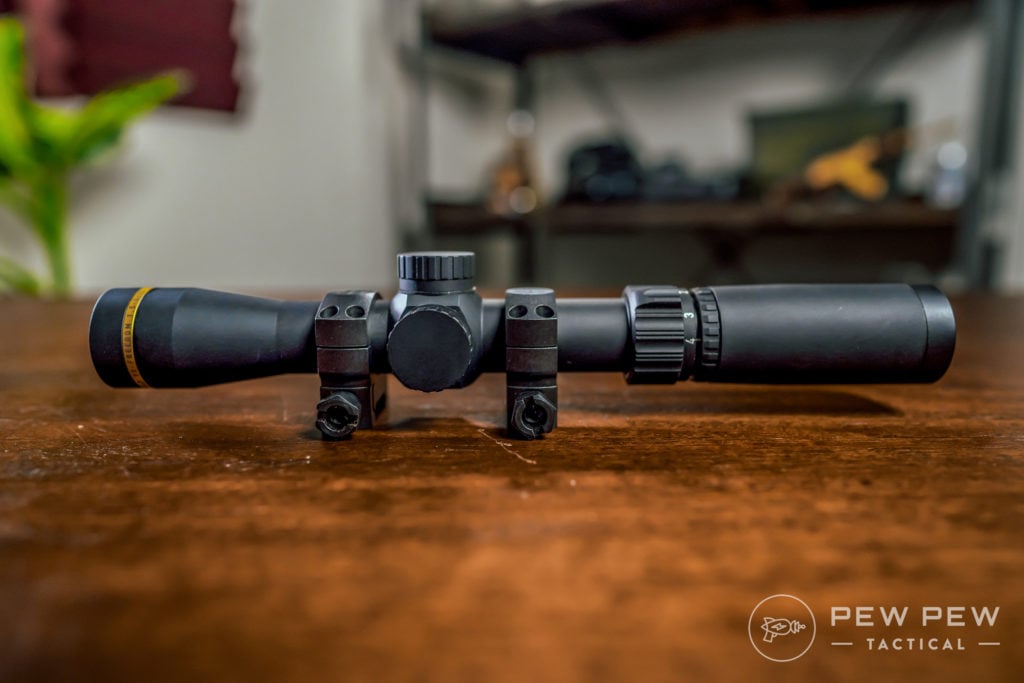 The 3-9X magnification setting provides you plenty of magnification to reach out and touch a target, and it's long been a popular magnification choice for hunters and shooters.
Reticle-wise we have what appears to be a very simplistic duplex until you look a little closer. The reticle is a duplex with a simple MOA ladder to compensate for ballistic drop.
The VX-Freedom Rimfire is an SFP scope, but you likely won't utilize the drop ladder unless you are at the highest magnification setting anyway. It's quite clear and would make it easy to turn some tree rats into squirrely stew. (I have a great recipe if you need it.)
299
at Amazon
Prices accurate at time of writing
Prices accurate at time of writing
3. Sig Sauer Romeo5
Do you want a dedicated long gun red dot that won't break the bank?
It's also the best under $200 red dot that we recommend for AR-15s.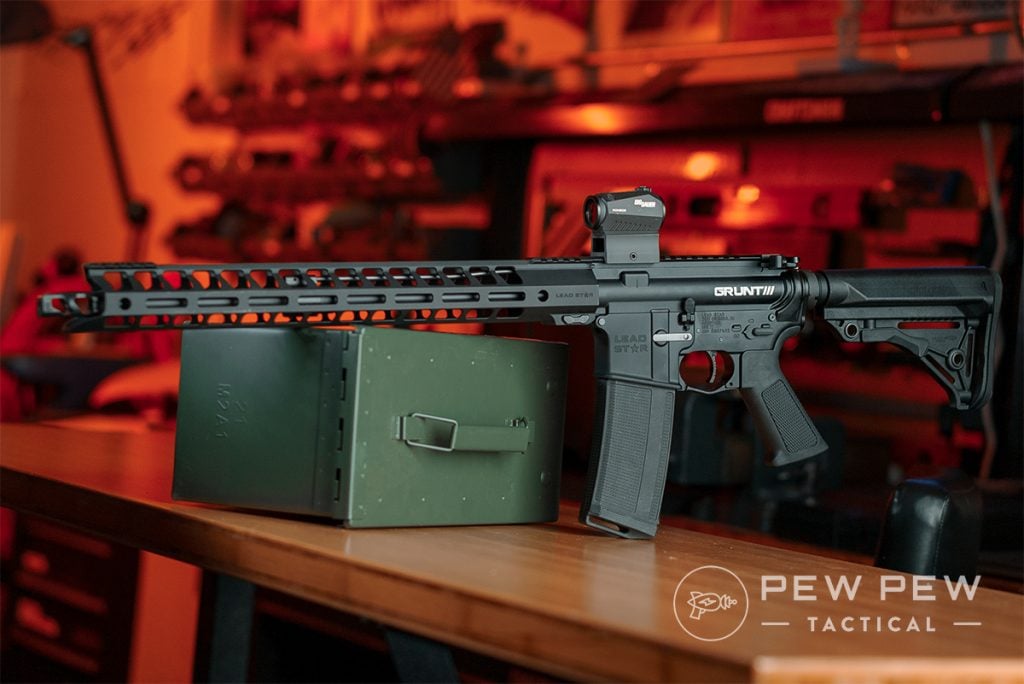 Enter the Sig Romeo5 red dot…
40,000 hours (about 4.5 years) of battery life which means you rarely have to remember to change batteries. Plus it comes with shake-awake which makes it easy to pick up and go.
We have multiple units that have survived thousands of rounds so we can confidently say it will be perfectly ok on your rimfire rifle.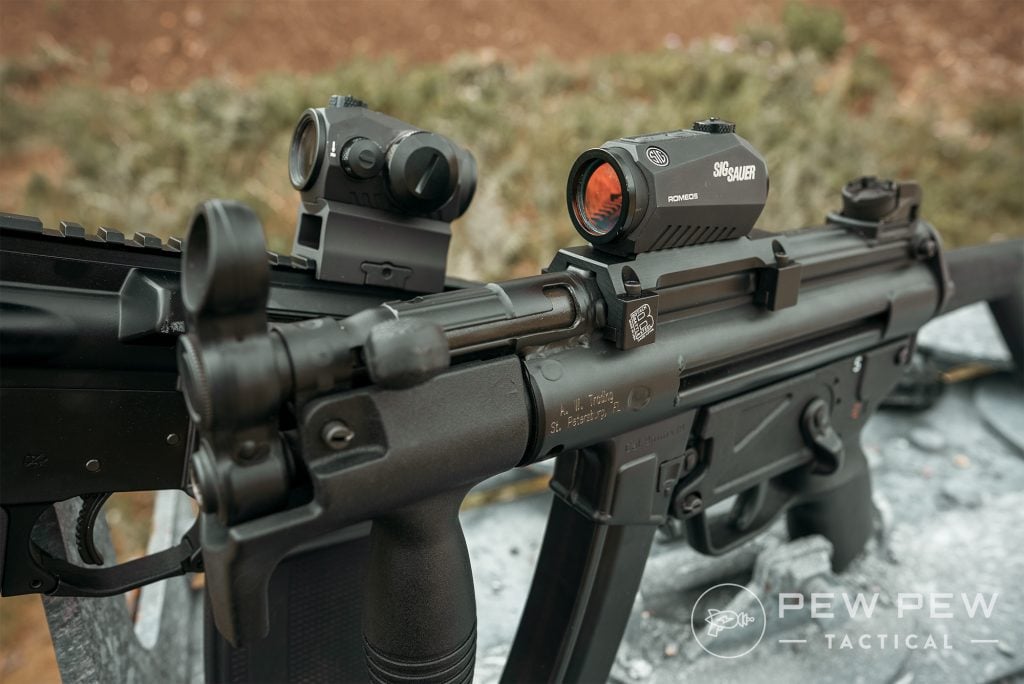 Check out the full review of the Romeo5 to learn more. Otherwise if you want an AR-15 rated optic on your .22LR this is the way to go!
Brutally Tested Budget Red Dot
109
at EuroOptic
Prices accurate at time of writing
Prices accurate at time of writing
4. Hawke Vantage 4×32
The Hawke Vantage 4×32 is a little fixed power optic that's an absolute darling on a .22 LR scope. It might be a little light in the magnification for 100 yards, but for most tasks, it's a real doll.
This optic provides a lightweight optic made by a company mostly known for airguns.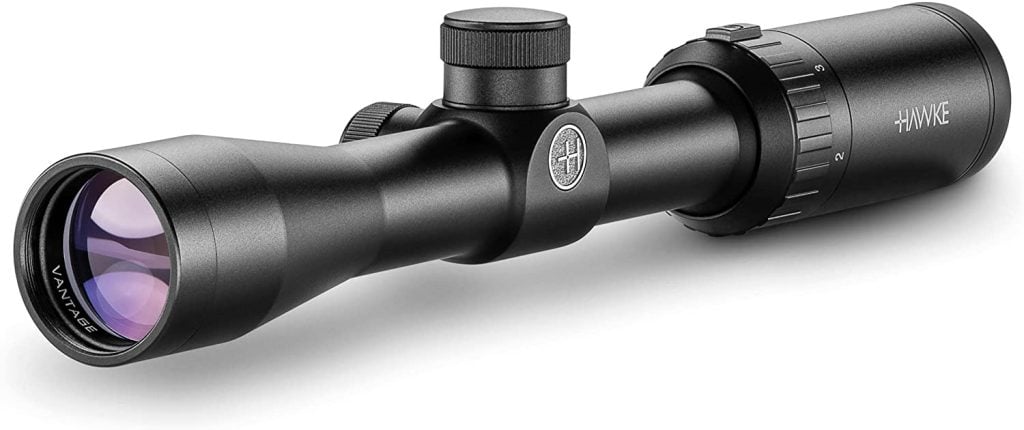 Our Vantage is primed with a parallax setting of 10 yards to infinity, making it perfect for your Ruger, Marlin, Mossberg, or whatever other .22 LR rifles you might have. Plus, the big eye box and the 28.5-foot field of view make it easy to track small, sometimes fast-moving targets.
Precise ¼ MOA adjustments make it easy to zero the optics for those tiny little groups at ranges from 50 to 100 yards.
Plus, the optic is light at 13.1 ounces but sturdy and clear. With 11 layers of multicoating, you are getting some very clear lenses and a bright, vivid HD picture.
Best Fixed Magnification
90
at Amazon
Prices accurate at time of writing
Prices accurate at time of writing
5. Vortex 2-7X Crossfire Rimfire
Remember when I said the 3-9X might be the most classic magnification on the list? I might have lied. Before the 3-9X became popular, the 2-7X ruled.
For a .22 LR, the 2-7X magnification settings ensure things stay light but versatile. The Crossfire offers plenty of adjustment room to ensure you are dead on with your chosen .22 LR.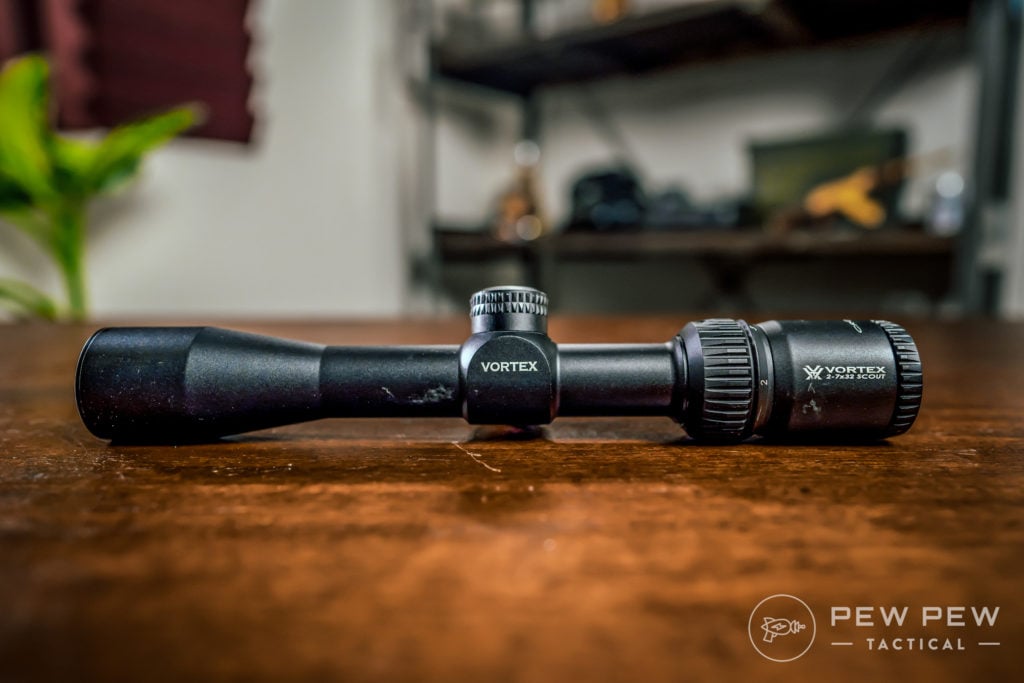 The V-Plex MOA reticle is very precise and unobstructed and remains the same size throughout the magnification settings. That tiny little dot makes it easy to squeeze out that headshot on a squirrel, rabbit, or soda can…poor Coke cans don't stand a chance.
Also, the Crossfire packs a massive eyebox with a long eye relief that makes it quick and easy to get behind the optic and on target.
You can snap to your target and send that little .22 LR pill downrange with superior accuracy. With a 50-yard parallax setting, the optic takes advantage of the Crossfire's magnification.
Best Bang for Your Buck
129
at Amazon
Prices accurate at time of writing
Prices accurate at time of writing
What do you think of the Vortex Crossfire? Rate it below!
6. Bushnell Match Pro 6-24×50
The Bushnell Match Pro 6-24×50 might seem like a crazy choice. Who needs that much magnification with a .22 LR?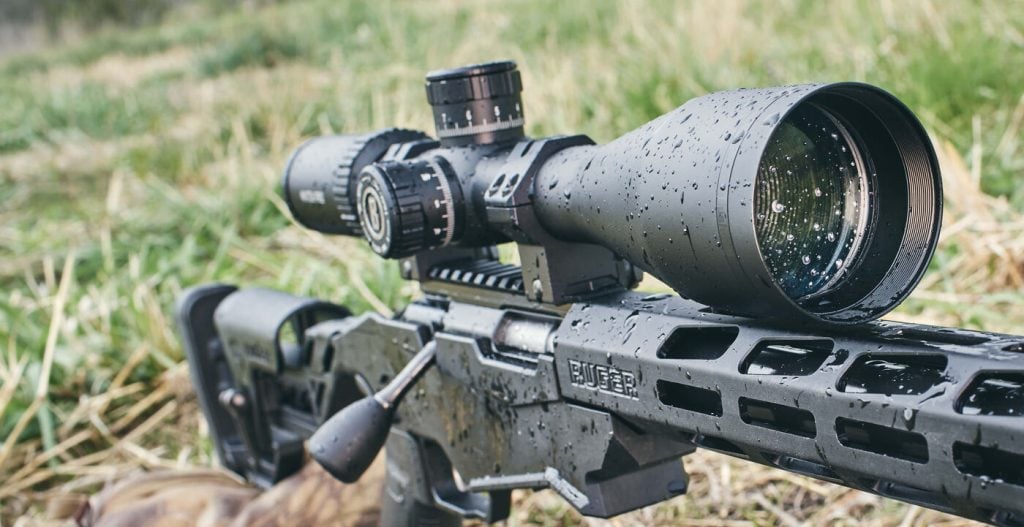 Well, I want to introduce you to NRL22, NRL22X, and 22ELR. These shooting sports are all about precision and accuracy, and in these contests, optics range wildly in size, accuracy, and price.
The Bushnell Match Pro 6-24×50 is the best budget optic on the market for NRL22.
It was built for the Base class, which packs a restrictive MSRP requirement of $1,050 for the optic and gun. At around $500, the Match Pro Delivers all you need.
This optic packs a punch with magnification, as well as a first focal plane design. On top of that, we get a 10-yard adjustable parallax with turrets and an elevation designed explicitly for NRL22.
The Match Pro is built from the ground up for precision .22 LR rifles and delivers unbeatable quality for the price tag.
Best for NRL22
450
at Amazon
Prices accurate at time of writing
Prices accurate at time of writing
7. Athlon Midas TAC HD 5-25X
If you want to step out of that base match and step in to open the Midas TAC HD provides you with beautiful HD glass for a clear view of those tiny targets.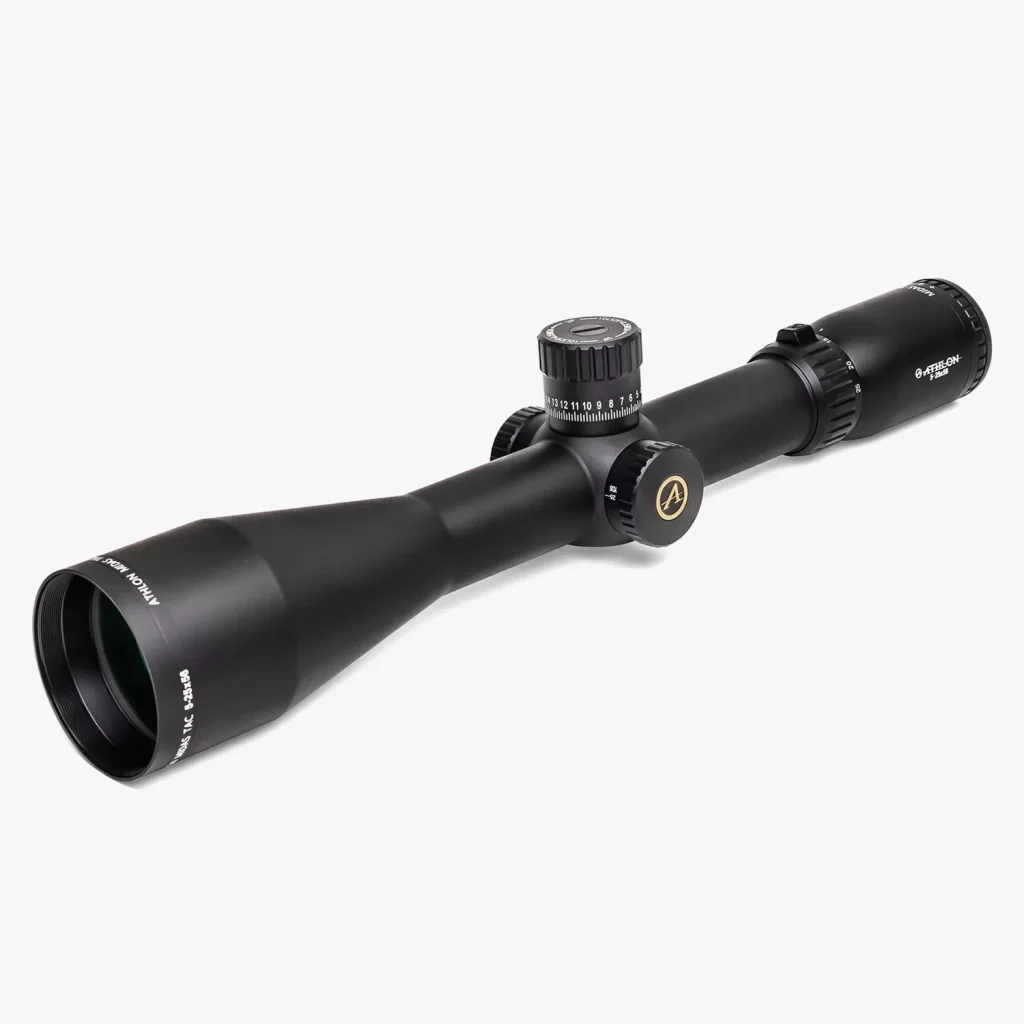 Shooters get up to 110 MOA elevation with the 5-25X model of the Midas TAC HD. That's more than enough for NRL22, and it's driven by a set of direct dial elevation turrets.
The first focal plane design ensures regardless of which reticle you use that the holdovers work at any magnification range. This optic lets you get nice and close to your target, and the 5-25X magnification range is fairly versatile.
The Midas TAC HD 5-25X costs a fair bit of money, but it's perfectly suited for high-end competitors.
As such, the Midas TAC HD is a bit of a specific use optic, and it wouldn't bet at home in other tasks. But when you need to dominate the range, this optic will get you there.
Best High-End
850
at Amazon
Prices accurate at time of writing
Prices accurate at time of writing
Final Thoughts
The .22 LR round creates more shooters per year than any other, and more .22 LR is sold than any other cartridge in the states.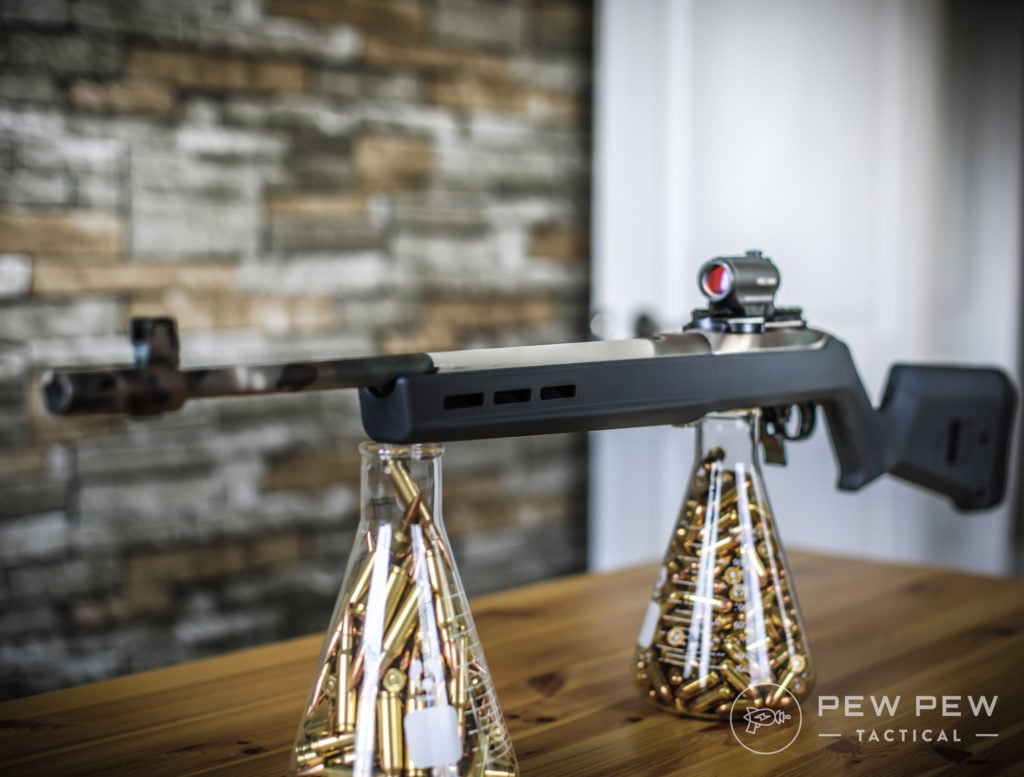 A good rimfire rifle or pistol will serve you well, and an optically enhanced variant will serve you even better.
There is a ton of them on the market, so I can't possibly cover them all. So what's your favorite? Let me know in the comments. Got a 10/22 and need some more upgrades? Check out our list of the Best Accessories for the 10/22!