How can I squeeze the most out of my trips to the range?
We all want to be better shooters, right? So, what can we do to maximize our range time? The first step is to buy some ammo.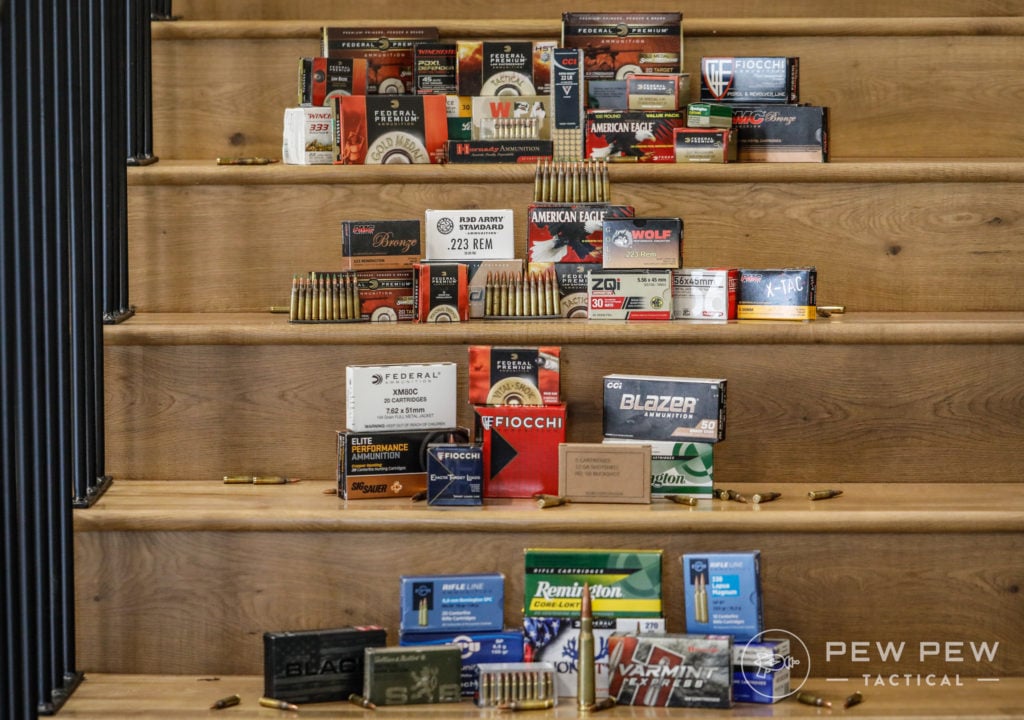 Now, you could just stop there.
Guns, ammo, ear and eye protection….you don't really need anything else except something to shoot at if you want to work on becoming a better shooter.
But what if you want to step your game up a little bit? What if you want to give yourself every advantage at your next competition or in a defensive situation?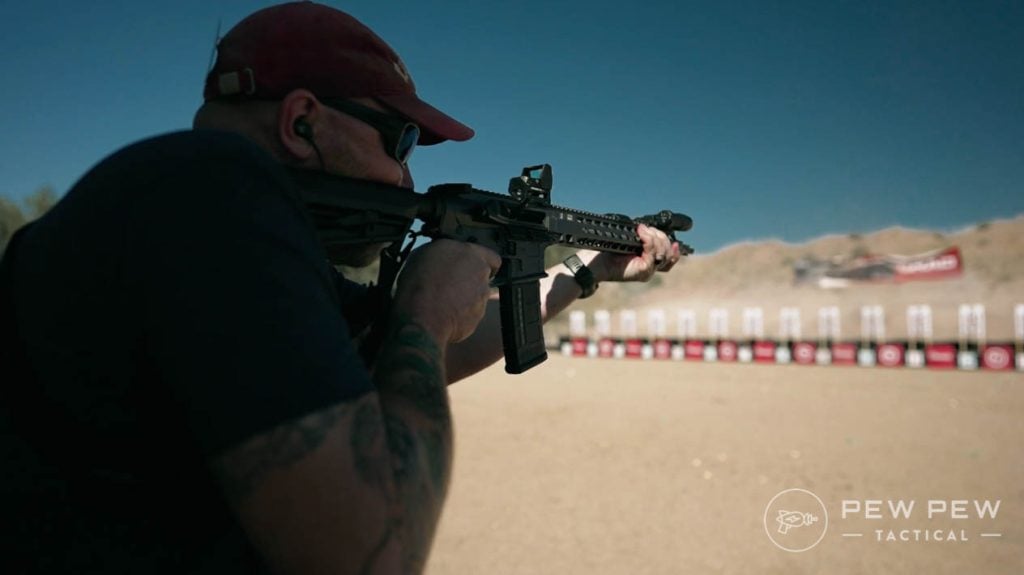 Well, you're in the right place.
I've put together a list of gear that I personally use to maximize my time on the range and my time at home doing things like dryfire practice.  
This gear is some of the best of the best equipment out there right now, and you'll be well-served by picking up any (or all if you have the budget).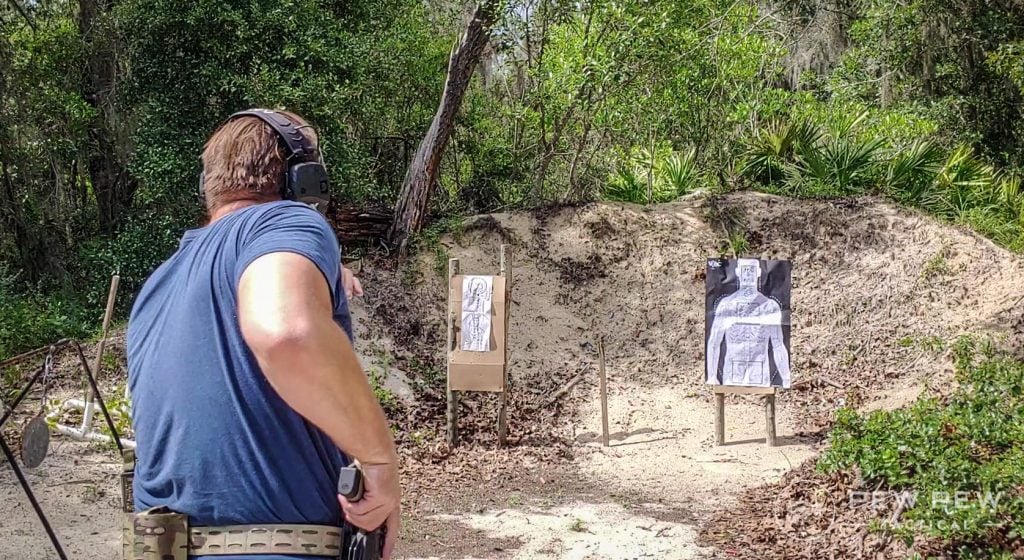 That said, I'm also going to go into why I chose all of this gear and why I use it.  
Hopefully, even if you don't pick up any of this gear, my logic for choosing it will help you decide on some training tools that fit your individual needs.
Let's get to it.
Summary of Our Top Picks
Essential Range Gear
Let's start with the gear you take to the range.
1. Shot Timer
If your goal is to sharpen your self-defense or competition skills, you need a shot timer like this one from Competition Electronics.  
A shot timer is going to be one of the most valuable training devices you can acquire. It's designed to time how fast you can shoot, and the time between shots.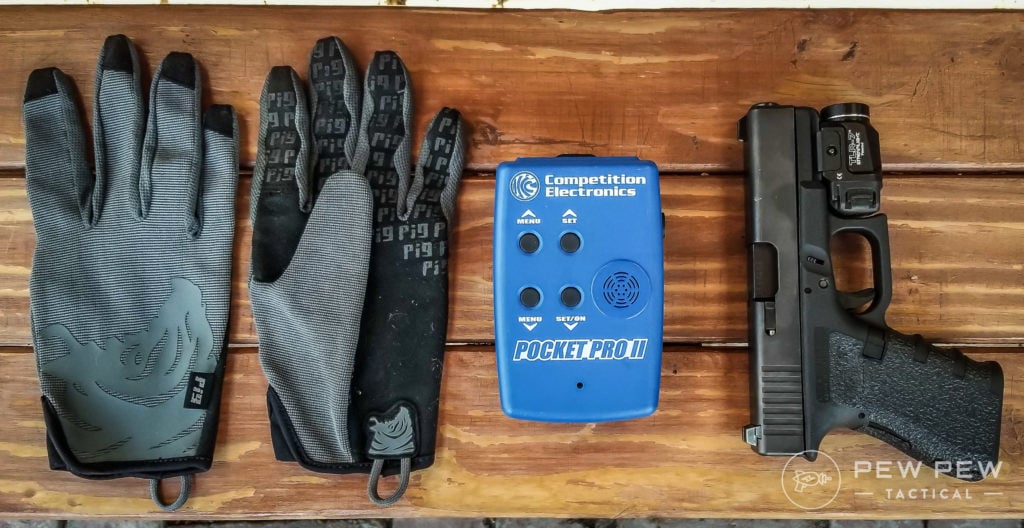 They are universally used for action shooting sports like IPSC, IDPA, and USPSA to score matches and are invaluable for training for these matches.
More important (to me anyway) is your ability to use them for self-defense training.
They can measure how fast you can draw and place an accurate round on target, how fast you can reload and fire, and how fast you can transition between targets.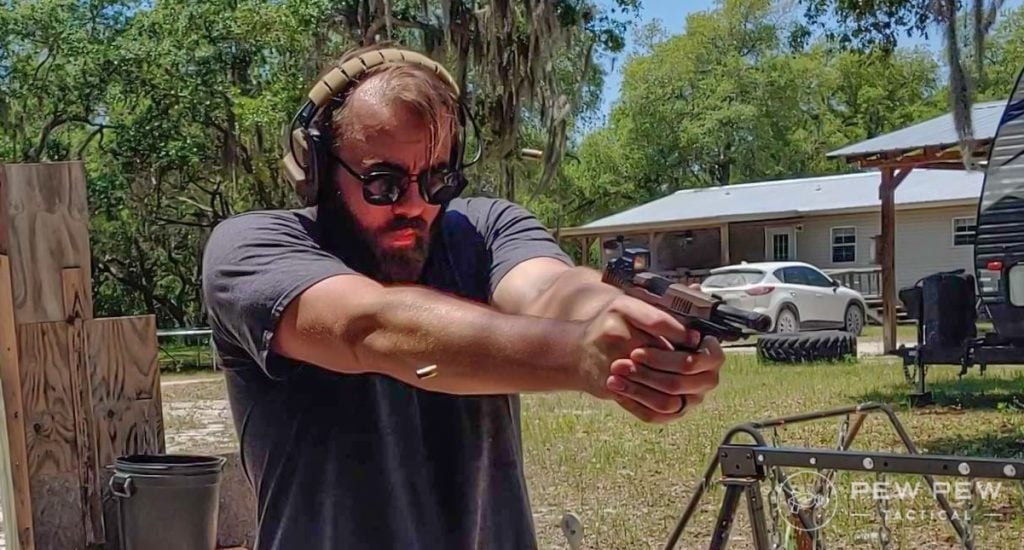 Most, including the suggested Pocket Pro, have a setting that also adds stress and keeps shooters thinking and reacting.  
This particular setting sounds a "go" alarm at a randomized time. The time scale is usually 3 to 10 seconds.
At any time, the alarm could sound, telling the shooter to draw and fire, so you get anticipation, stress, and fear added.  
This stress is only a fraction of the same stress you'd feel in a gunfight, but overall, it's better than nothing.
Besides being a quick draw timer, shot timers also give you the ability to time self-defense-based drills.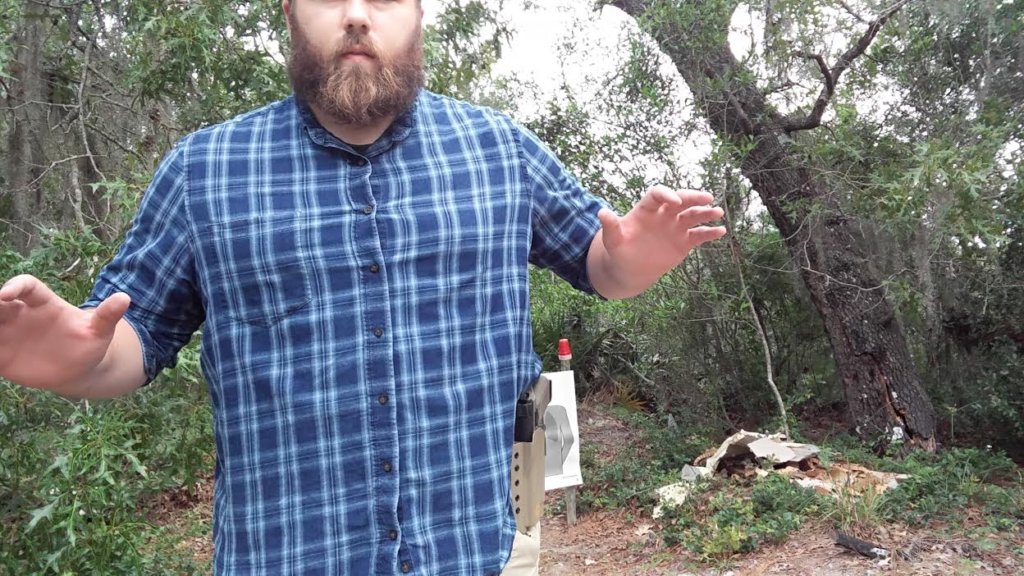 Drills like the El Presidente are time-based pass or fails. This allows you to also track your progress if you are willing to keep a journal on your training capabilities.
And if you're more of a "gamer" or competition shooter, you can track your times and compete with your peers.
The Pocket Pro wins my recommendation since it has a solid reputation and is used by pro shooters. 
It's also not priced absurdly high.
The Pocket Pro has got a loud buzzer that cuts through ear pro well.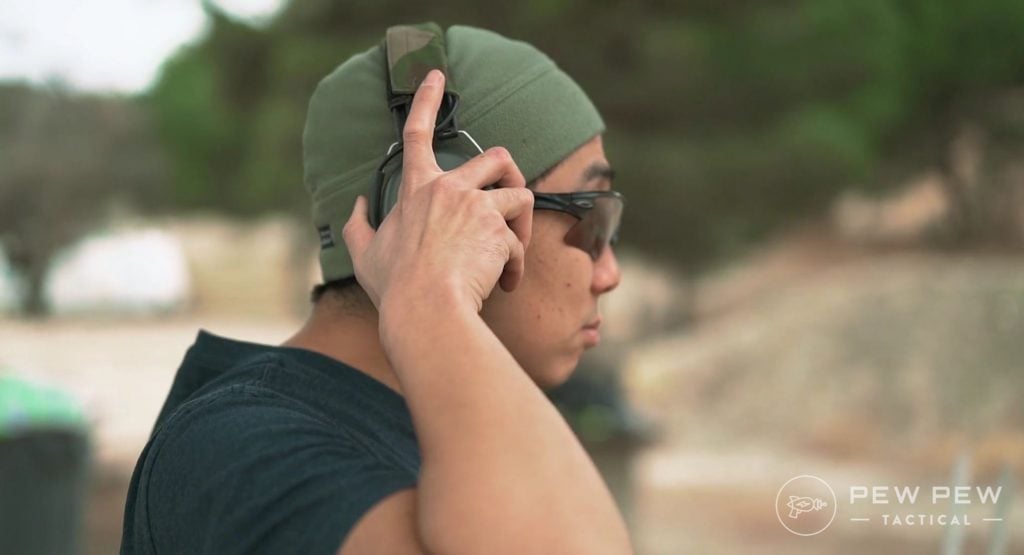 The Pocket Pro has an instant and random start buzzer, and of course, you can review par and split times easily.  
It's a very simple system that is easy to use and provides you with the features you need.
Alternatively, there are cell phone apps available. However, I've had some very frustrating experiences with these things.
There's nothing like doing an entire drill and seeing that your app didn't pick up anything.
Best for CCW Drills
127
at OpticsPlanet
Prices accurate at time of writing
Prices accurate at time of writing
We have more suggestions on shot timers in our Best Shot Timers article.
2. Dummy Ammo
This type of training ammunition, also known as snap caps, is an invaluable piece of gear to have on and off the range.  
Good dummy ammunition is designed and built to the actual specs of live ammunition and is great for very basic training techniques to advanced defensive drills.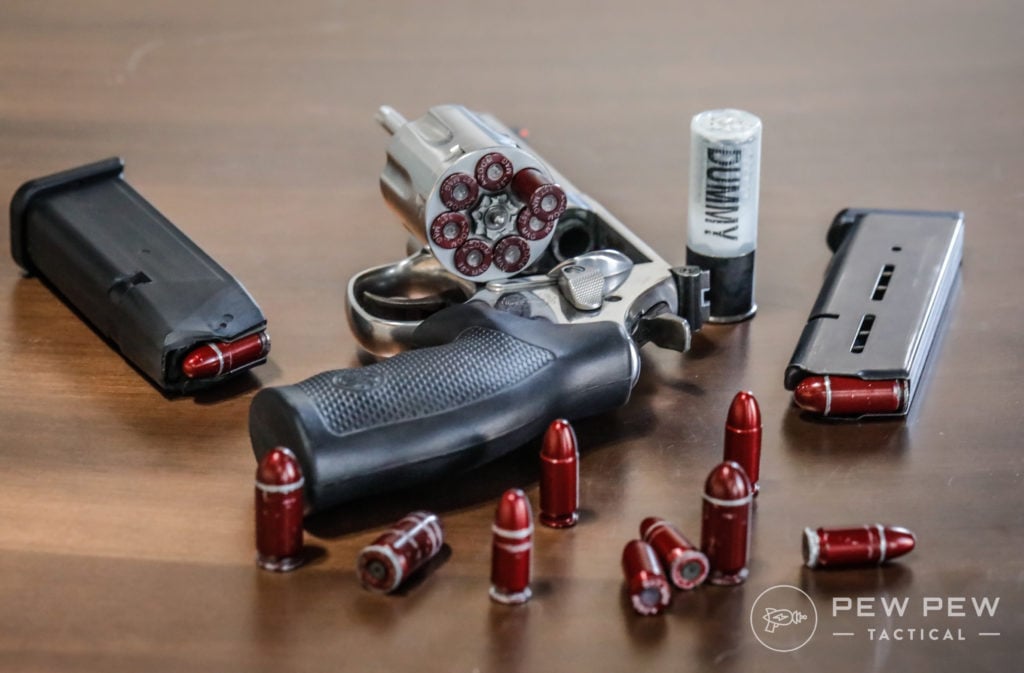 It's a fantastic way to practice malfunction clearing.
Setting up a simple malfunction is easy. Load your mag with a dummy round mixed in with live ammunition. Once the dummy round finds its way into your chamber, the gun will go click.
See how fast you can clear it and get back to shooting.
Setting up a complicated malfunction is more deliberate.
You can simulate a double feed or a failure to eject by placing the round in the chamber or between the slide and barrel.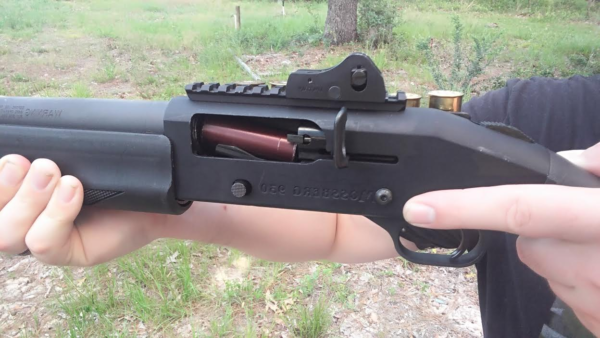 These drills are some of the most important to master due to how long they can take to fix.
In my experience, A-Zoom Snap Caps are the best made and most well-known source of dummy ammo.
Best for Malfunction Drills
15
at Amazon
Prices accurate at time of writing
Prices accurate at time of writing
3. Electronic Ear Pro
Good hearing protection is more than just a means to keep your hearing preserved and tinnitus at bay.
Yeah, you can get away with standard hearing pro, but electronic hearing protection is better when it comes to training.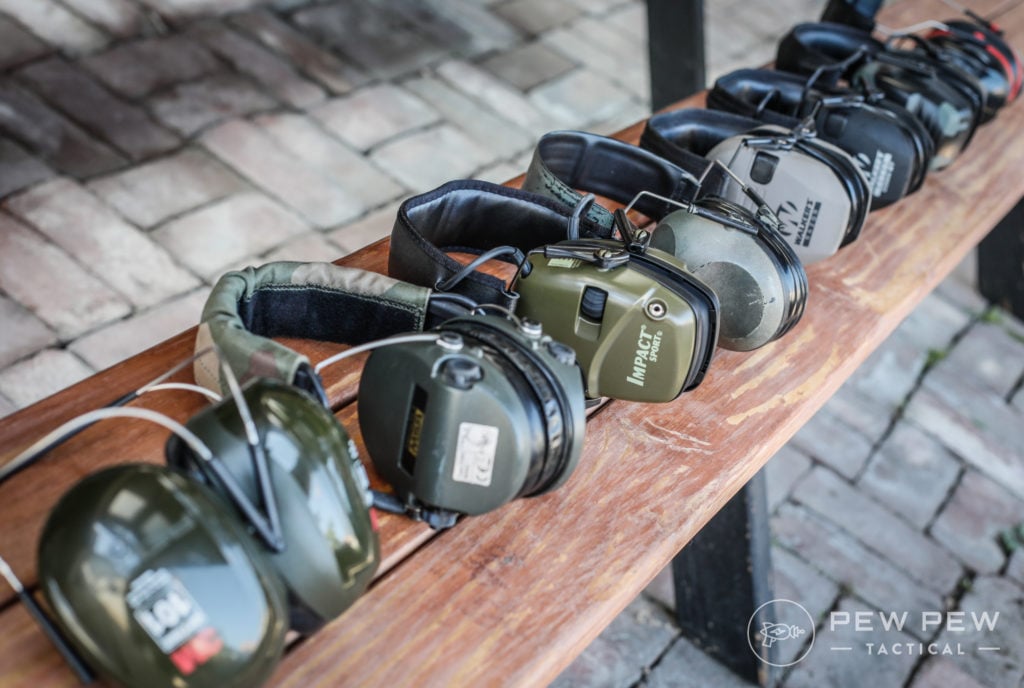 First off, good hearing protection, especially at an indoor range, is going to allow you to focus on what you are doing.
The benefit of electronic hearing pro over standard hearing protection is you retain situational awareness while remaining protected.
How?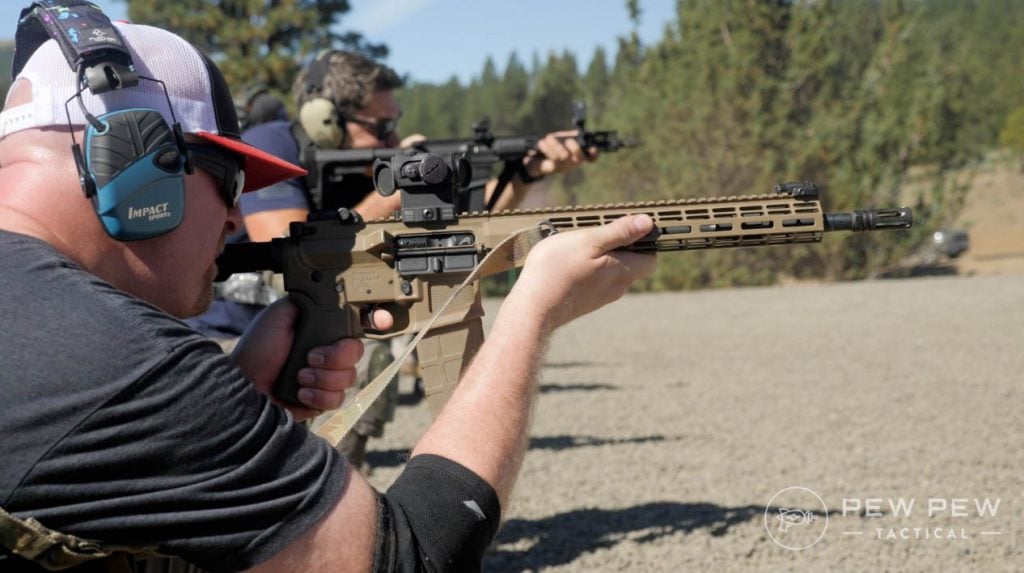 Electronic ear pro allows you to still hear voices and instructions around you — a plus in a class or on the range — but it muffles that loud bang from your gun.
The Walker's Razor Slim earmuffs were the first set of electronic ears I ever purchased.  
They've served me quite well over the years and are real soldiers.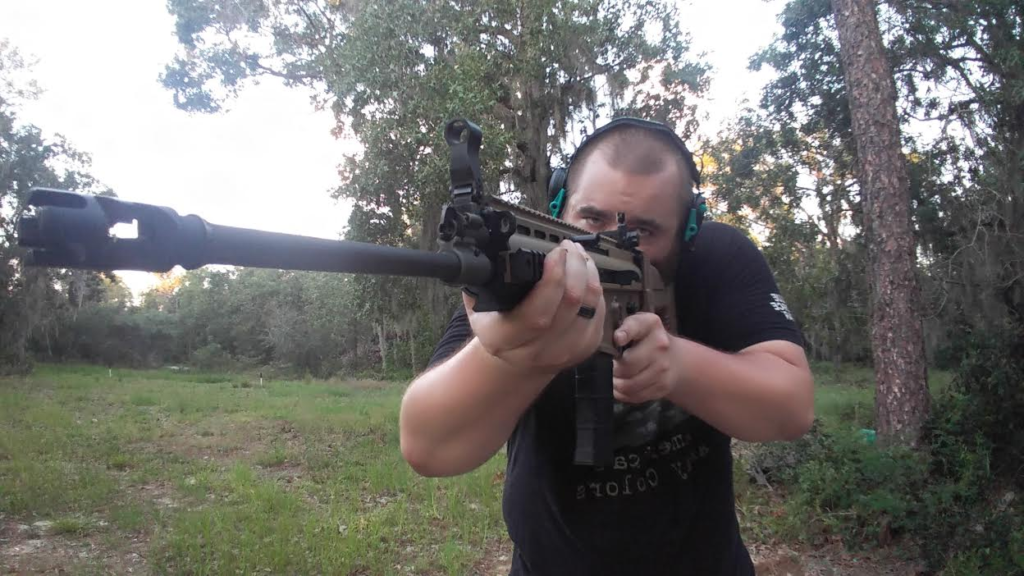 I've worn them in the rain and in the sunshine, and they provide excellent sound reduction.
Not to mention they feel quite comfortable.
Best Hearing Protection
43
at Amazon
Prices accurate at time of writing
Prices accurate at time of writing
Check out our complete list of the best Electronic Ear Protection Muffs.
4. Shooting Bags & Mats
When it comes to working on medium and long-range precision, you'll need to stress stability and the fundamentals.
This is where shooting mats and shooting bags come into play.
A shooting mat allows you to set up a solid prone position at the range without having to worry about bugs, uncomfortable rocks, or other annoying and painful hindrances.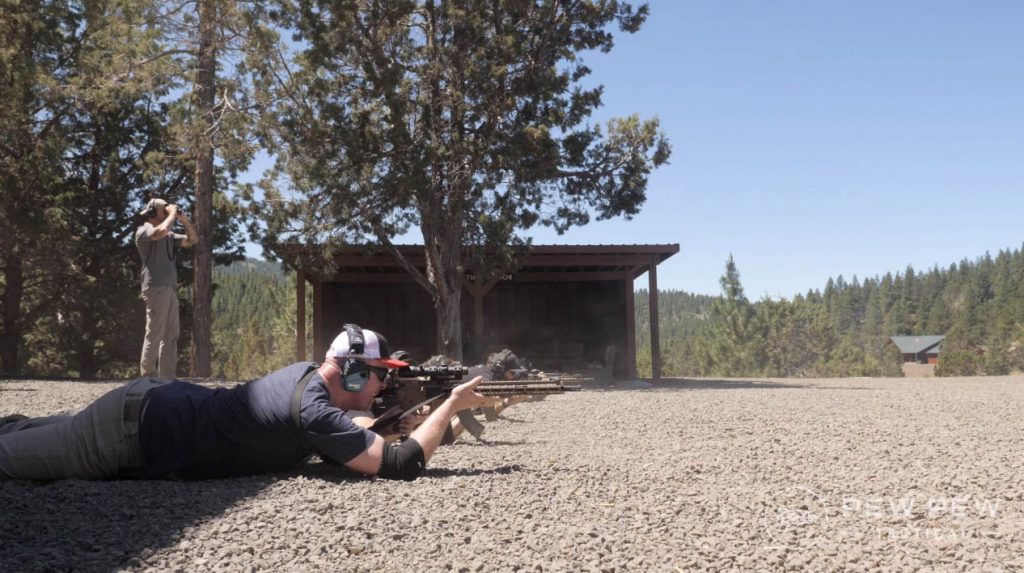 Shooting mats don't have to be fancy. They just need to be wide enough, long enough, and thick enough to accommodate a shooter.
The Vism shooting mat from NC Star does all of this and also rolls up for easy storage.
Best Mat
43
at Amazon
Prices accurate at time of writing
Prices accurate at time of writing
On the other hand, a shooting bag helps stabilize your weapon regardless of the terrain.
Since a sand-filled shooting bag conforms to its environment, it's the perfect choice for rough terrain.
It's also an effective choice to rest the stock on your rifle as an improvised monopod.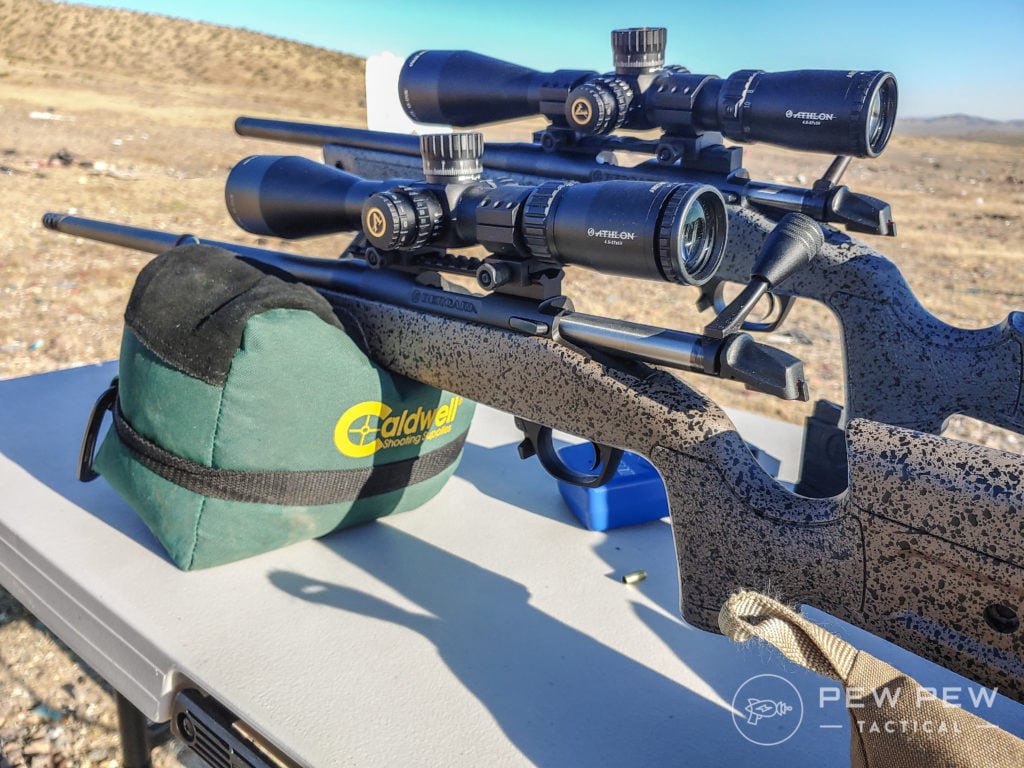 The Deadshot Combo gives you a front and rear sandbag rest designed for shooting.
These things last for years!
29
at Amazon
Prices accurate at time of writing
Prices accurate at time of writing
The combination of a mat/shooting bag will make long-range shooting in the prone position comfortable and stable.
This allows you to focus on the most important thing…hitting your target.
5. Spotting Scope
Keeping with the long-range shooting theme, a good spotting scope is a wonderful tool.
Heck, it's great to have if you are shooting pistols at 25- to 50-yards.
Spotting scopes allow you to scout downrange and take a peep at your target…without walking all way down there.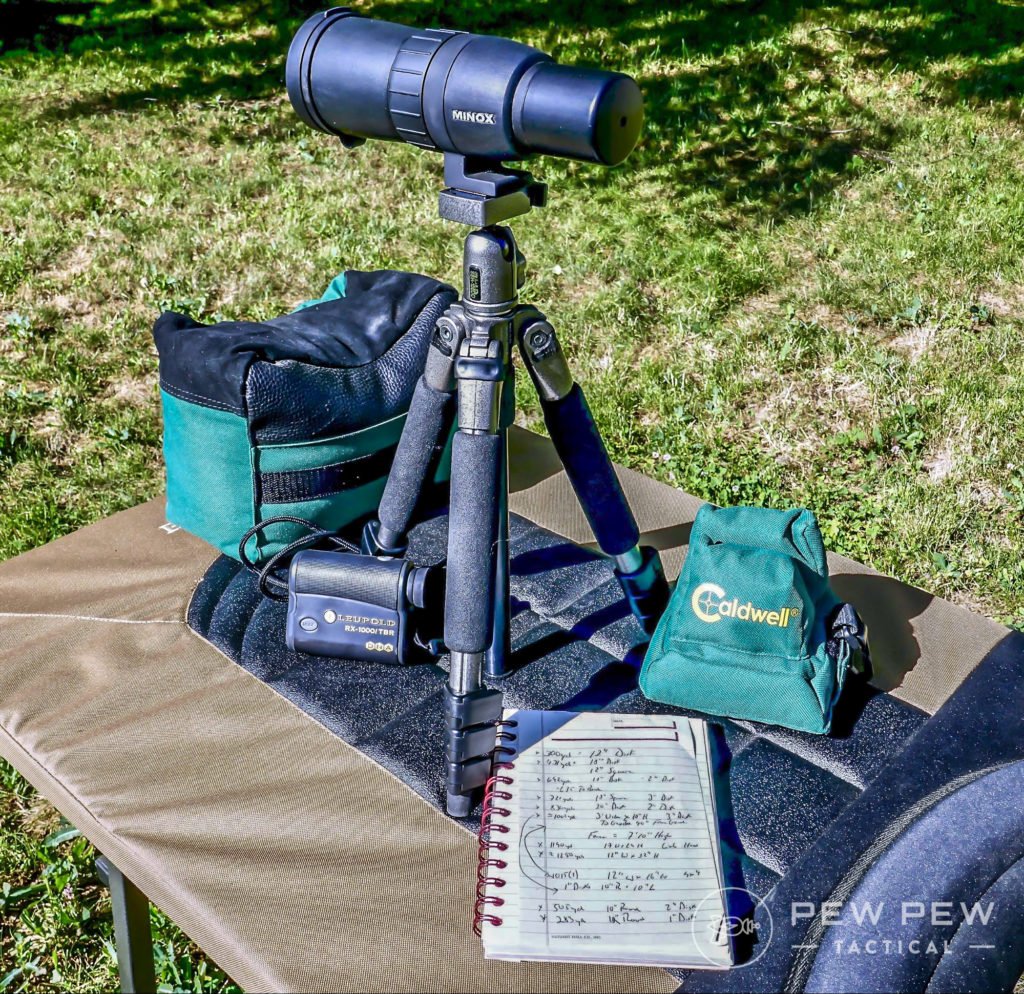 With the right targets, spotting scopes allow you to measure your group, distance from the bull's eye, and, hopefully, help zero your optic.
A spotting scope will allow you to easily inspect your target without having to wait for a ceasefire.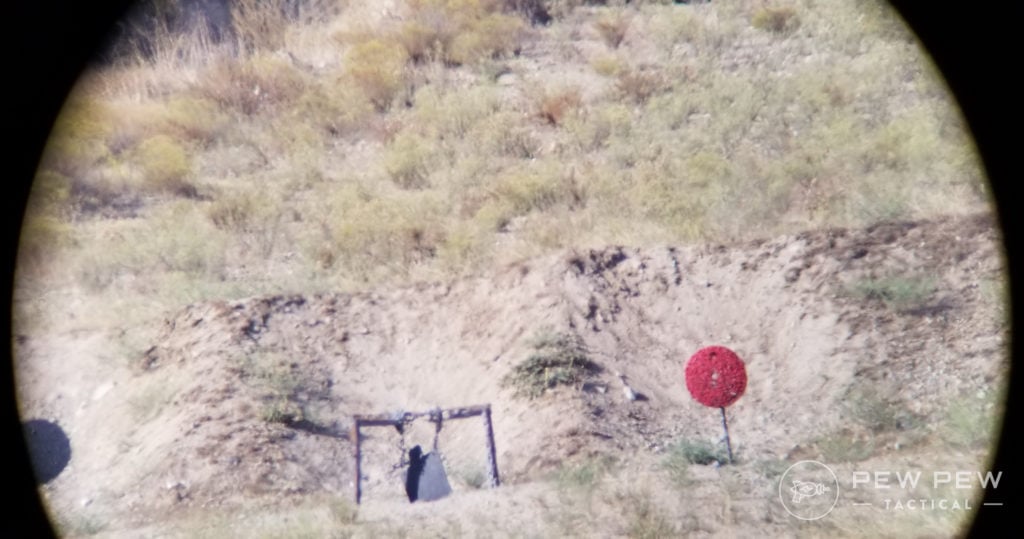 This will save you time, reduce the number of rounds needed to zero, and most importantly, make shooting further easier.  
Spotting scopes are like any other piece of glass — it's best not to go cheap.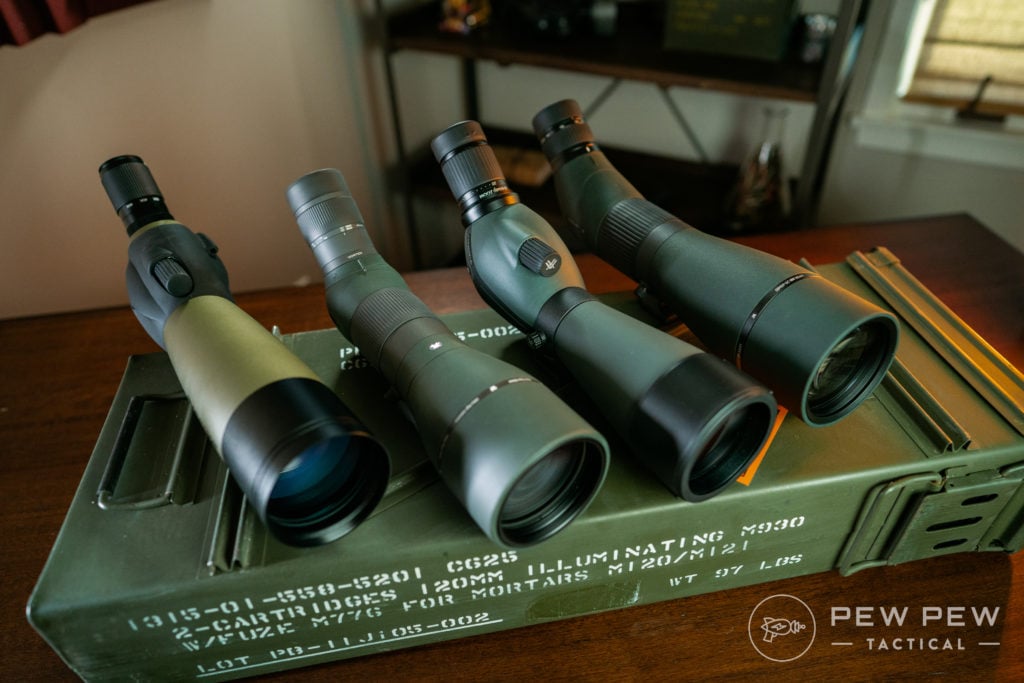 If you're starting out, we think the Athlon Talos is a decent model. But if you want to step your game up, look at the Vortex Viper HD 20-60x.
Best for Long Distance
829
at Amazon
Prices accurate at time of writing
Prices accurate at time of writing
Check out more of our favorites at Best Spotting Scopes (Tested).
6. Targets
One of the simplest and most affordable means to improve your range training is choosing the right target.
Your target should match your training objective.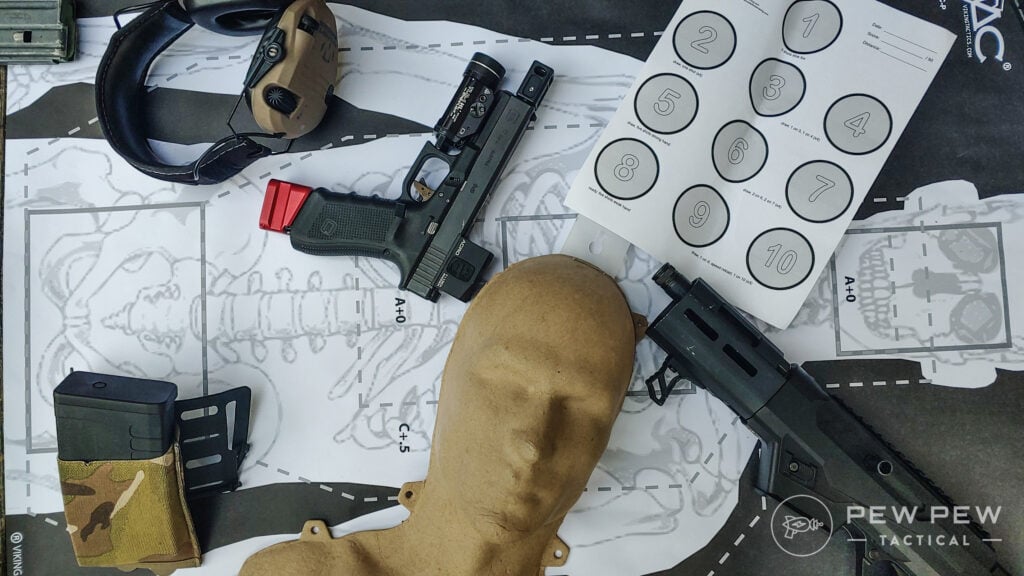 Beginners
If you're a new shooter, a simple 8.5 x 11-inch piece of printer paper is all you need.
As an instructor, this is one of the most important things I've ever learned with new shooters.
I see so many shooters hit the range and immediately get discouraged because they can't hit the bullseye. They get so wrapped up in that that they lose focus on the fundamentals.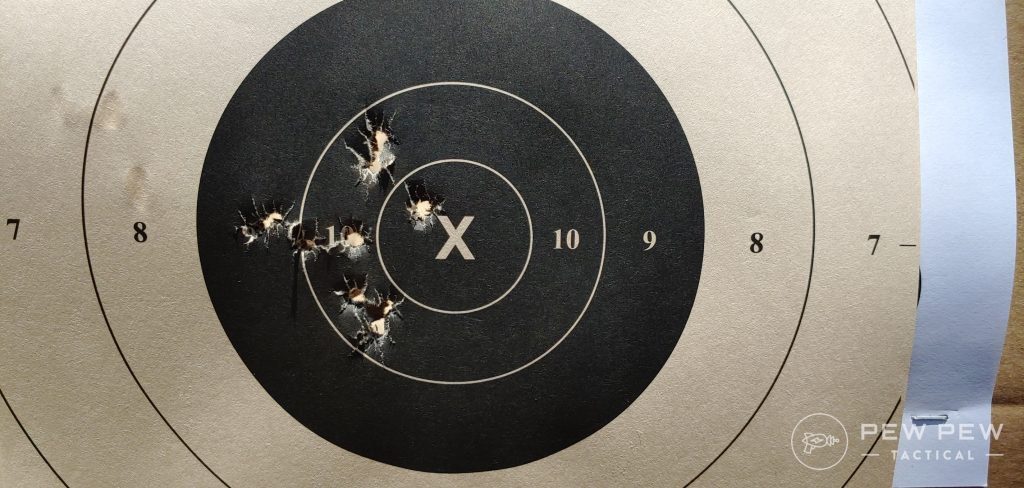 A blank piece of paper allows shooters to focus on the basics without getting tunnel-vision on the bullseye.
Self Defense
For self-defense training, a classic B27 silhouette encompasses the full body of an attacker, with the T-zone, vital chest area, and pelvic area outlined.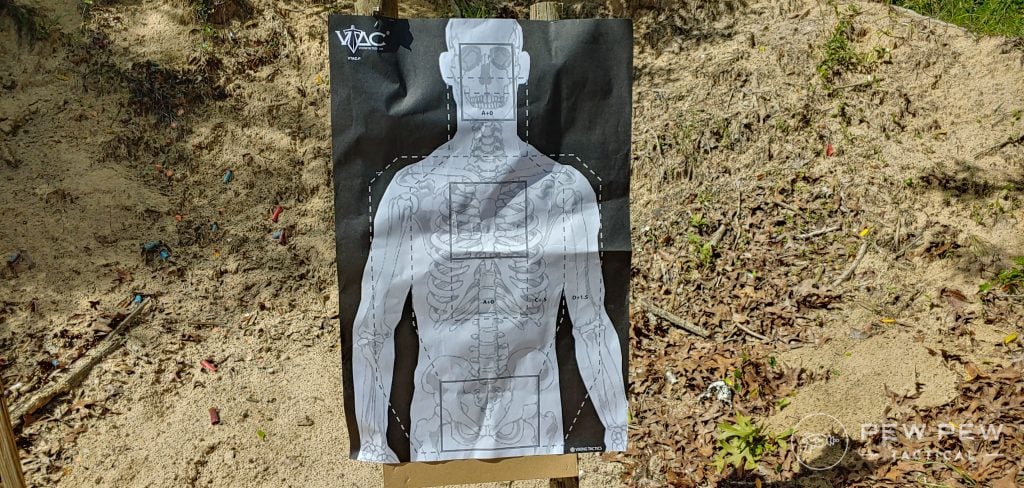 These targets help aim where it counts, which translates into building effective shot placement habits.  
Long Range
Combined with a spotting scope, these Splatterburst Targets make it very simple to see where you are shooting at long-range distances.
When struck, they show your gunshot as a very bright yellow hole.
Best Targets
7
at Brownells
Prices accurate at time of writing
Prices accurate at time of writing
The target is quite large at 12×18 inches, and it's divided into a series of squares. Each small square is an inch wide and an inch tall.  
This makes dialing in scope corrections easy and allows you to make a half-decent estimation of your group sizes.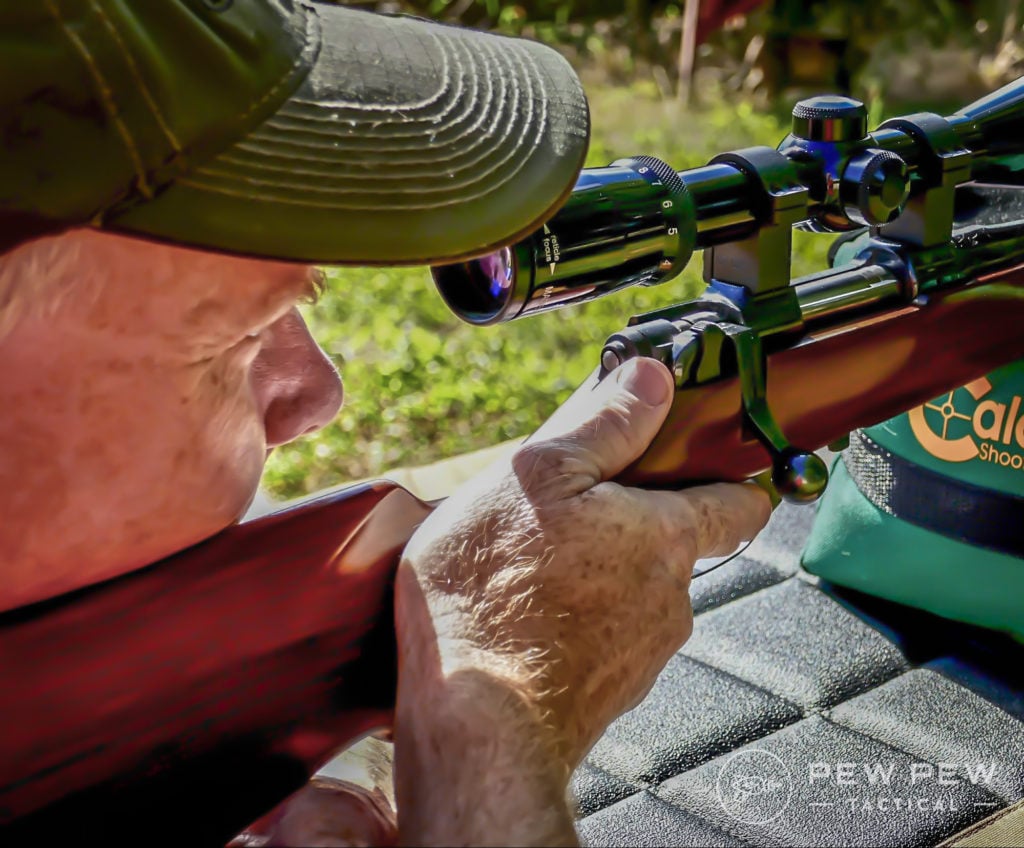 Plus, as a target with multiple bullseyes, you won't have to wait for a ceasefire to go check your target.
7. Other Tools
Sometimes simply raising your gun at a static target gets boring.
So what's another low-cost but fun activity to improve shooting?
Dry fire training cards!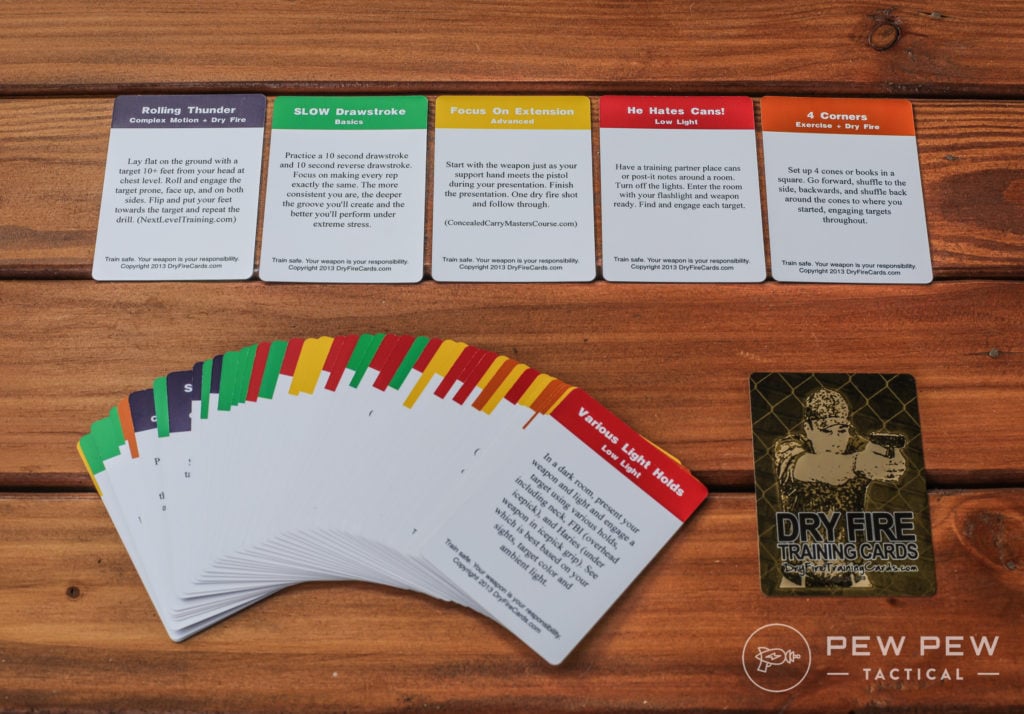 Yeah, they're just cards, but I'm already seeing improvements.
17
at Amazon
Prices accurate at time of writing
Prices accurate at time of writing
If you like a little more high-tech feel to your training, take a look at the MantisX system.
It attaches to the front rail of your pistol/rifle and sends data to your phone through Bluetooth.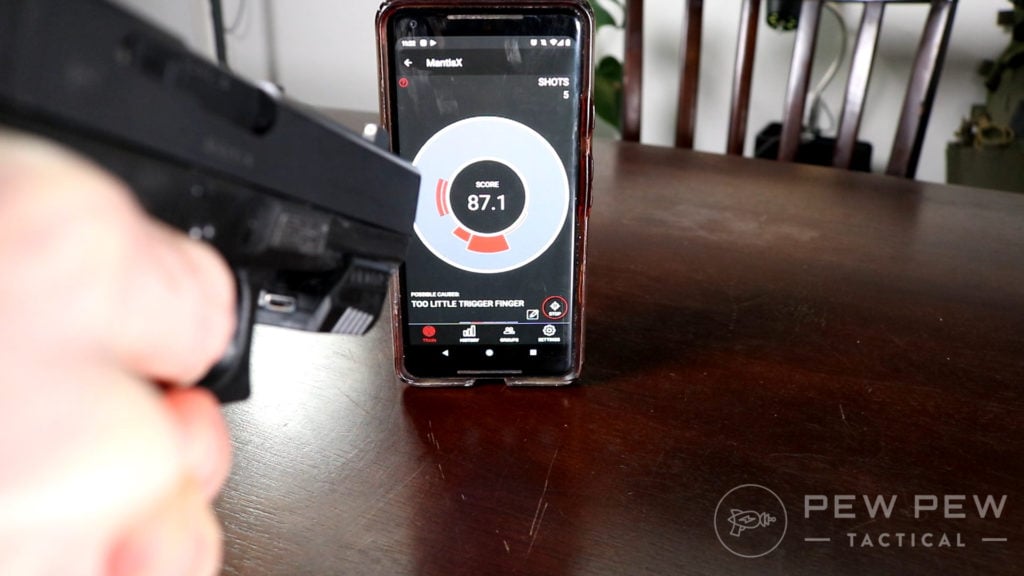 I've had some time behind it (full review), and it does give some great feedback in terms of where my shot would have gone…and also how to correct it.
Much better than simply looking at how much the front sight moves.
High-Tech Dry-Firing
99
at MantisX
Prices accurate at time of writing
Prices accurate at time of writing
Final Thoughts
Though this gear is aimed at helping you become a better shooter, the most important thing to remember is that ammunition and range time is the biggest key to success.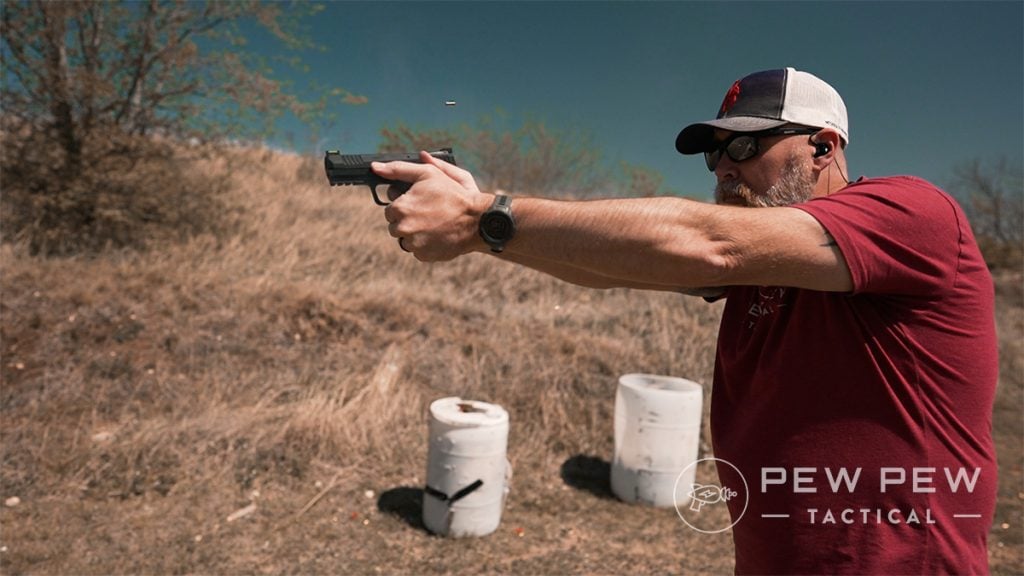 At the end of the day, if your goal is to be a better shooter, you gotta shoot.
And for more details on how to improve range time and diagnose issues, check out the Brownells' Daily Defense video below.
What gear do you think improves your shooting? Let us know in the comments below. Need some drills to do at the range? Check out the Best Shooting Drills and Low Round Count Drills.