Not sure the best gun case to properly store and transfer your guns?
From soft to hard cases…and even some covert ones…we'll cover them all.
Why listen to us?
Between the entire Pew Pew Tactical team we've used almost every case out there to bring our personal guns and testing guns to the range, airport, and other excursions.
Here are some that we still keep and use to bring our pistols, rifles, and shotguns to the range.
Summary of Our Top Picks
Best Backpack Gun Case

Perfect for a backpack gun.

Editor's Pick: Discreet Bag

Blend right in with a guitar bag.

Multiple compartments for multiple discreet gun carry.

Editor's Pick: Affordable Hard Case

Affordable hard case perfect for a range trip.

Editor's Pick: Hard Rifle Case

Our go-to for the best hard case that's fit for the range and airline travel.

Also Great Pistol Case

Help us out with a Pew Pew Tactical branded handgun case that fits a mounted light.

Editor's Pick: Hard Pistol Case

Gold standard for camera equipment and guns.

Runner Up Hard Pistol Case

Another great option for a thinner hard pistol case. I use it for suppressors.

Editor's Pick: Travel & CCW

Our go-to for travel and stashing your daily CCW.
Best Soft Gun Cases
1. Savior Equipment Rifle Bags
Let's start with some rifle bags.
Relatively new before, but after I kept seeing Savior Equipment at the range…I had to try them out for myself.
Well, it's been over 3 years now and they are still my favorite go-to rifle bags.
There's two primary flavors — the American Classic with three pouches in the front and the Urban Warfare with one large pouch and two smaller pouches.
Personal preference, but I like the more streamlined look of the Urban Warfare.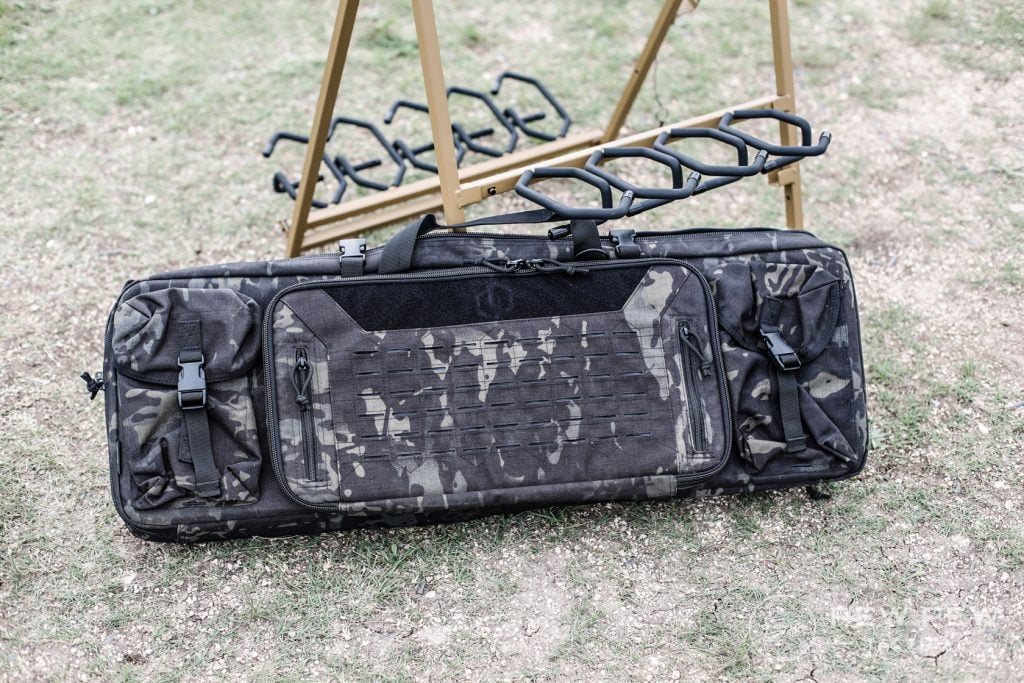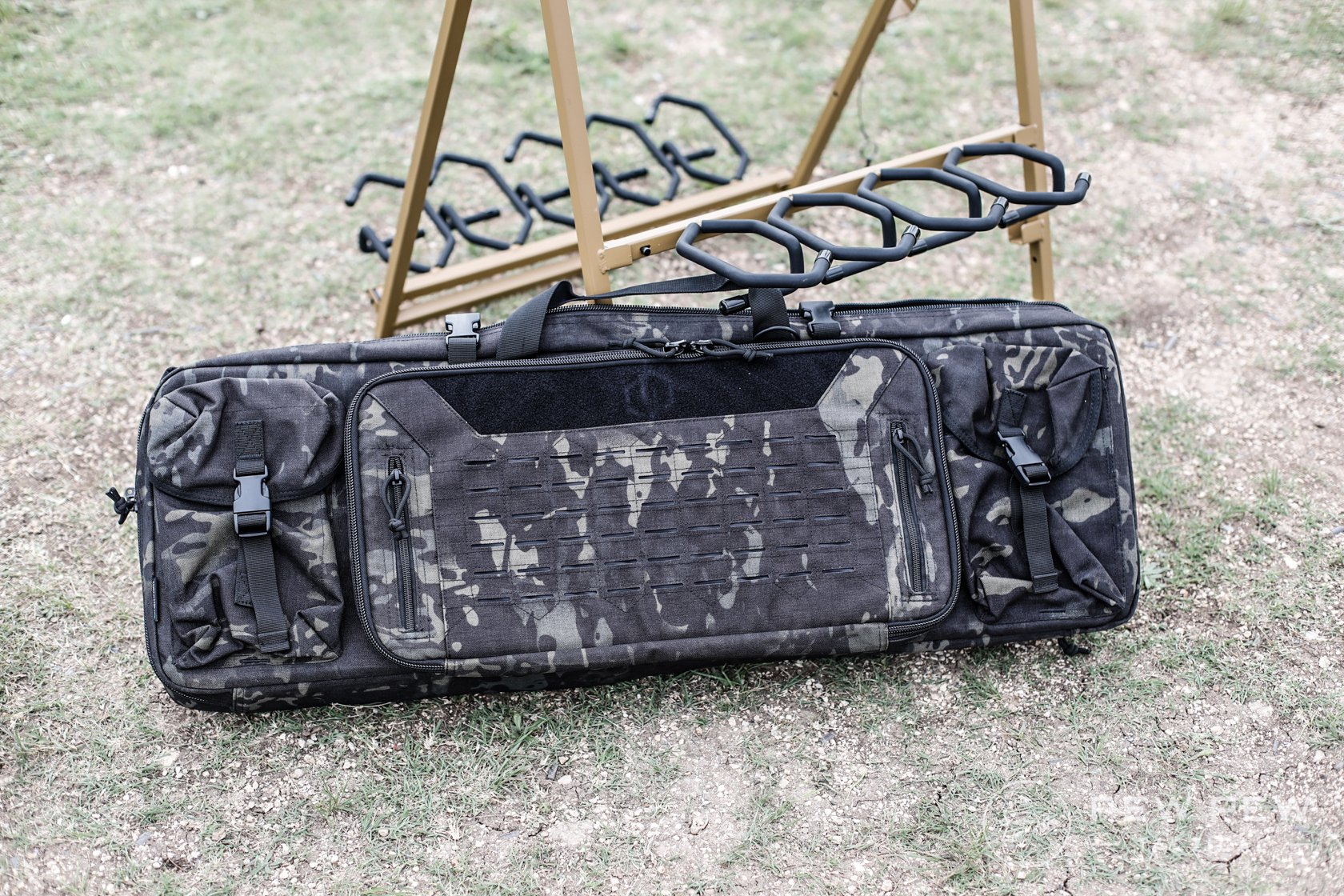 Be sure to use code "PEWPEW15" to get 15% off your order on their site.
I usually put my ammo and accessories in range bags and try to keep my rifle bags light.
They are built much better than random gun show bags, so they are a little heavier. And the stitching and zippers seem like they will last a long time.
The backpack straps are also well-padded for the arduous trek of bringing my rifles to the shooting bench, lol.
But I'd still be ok with bringing this on a longer precision shooting course where I'll actually be trekking in the mountains.
Besides the two variants…they also come in different colors and lengths.
I like 36 inches which should fit all 16-inch AR-15s and AKs with adjustable buttstocks.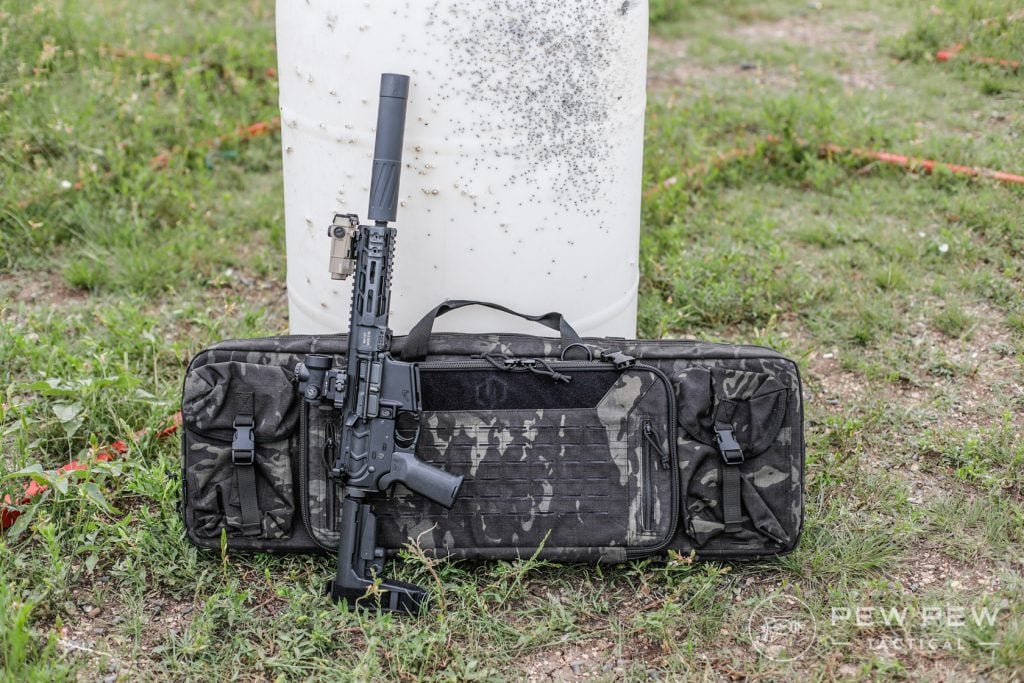 There are two padded sections so you can hold two scoped rifles. I like that there's a fairly large section (not including the pouches) in the front to keep loose scopes or mags.
Make sure to measure for your bolt guns since you'll probably need 42-inch or 46-inch versions.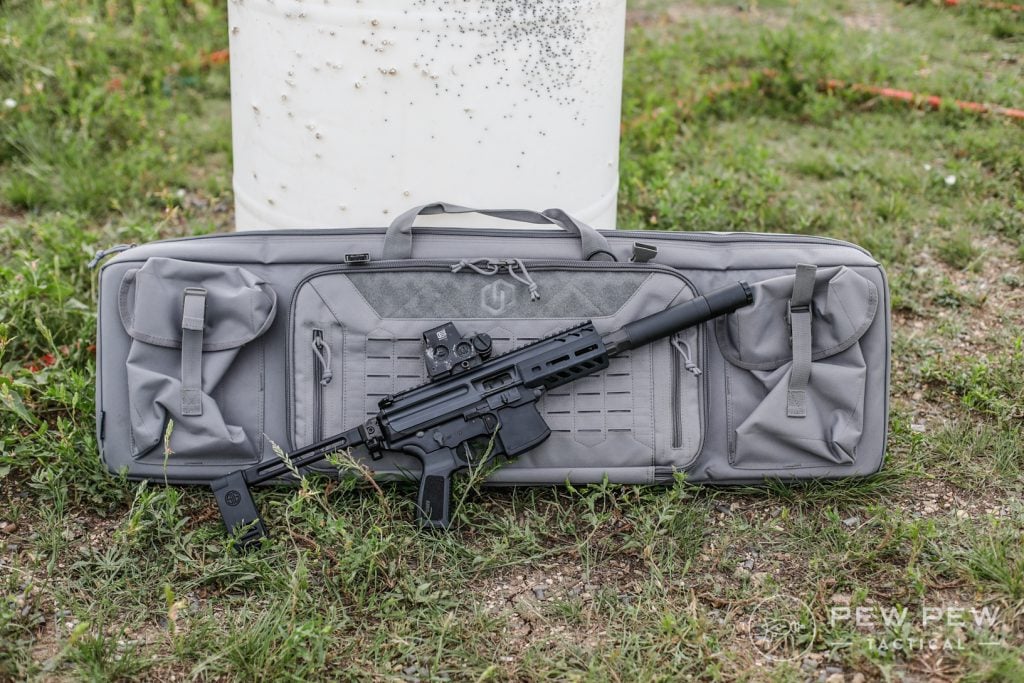 Otherwise, the tiniest 36-inch is enough for AR and PCC pistol variants.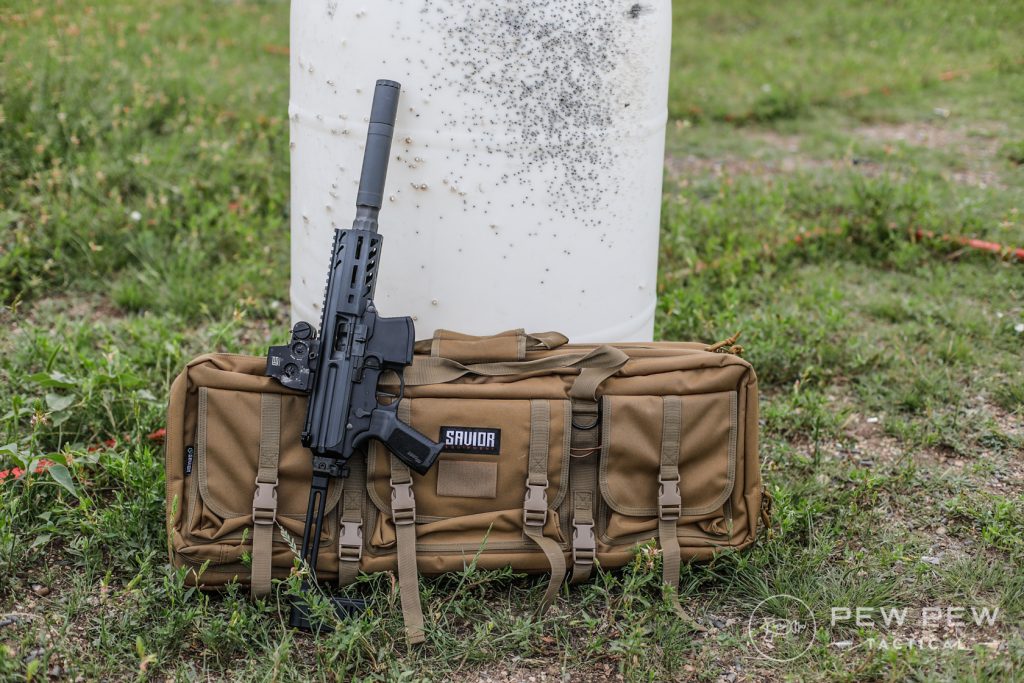 And in 2020, they had a substantial overhaul of all their bags which made them even beefier.
Again…we've secured a 15% off coupon for our readers with code "PEWPEW15" if you order on their site.
Here's the American Classic version:
And the sleeker molle Urban Warfare version (my favorite):
Another of my favorites which I've been testing over three years has been their Coffin which semi-discreetly carries a fully-collapsed AR or pistol variant with ease.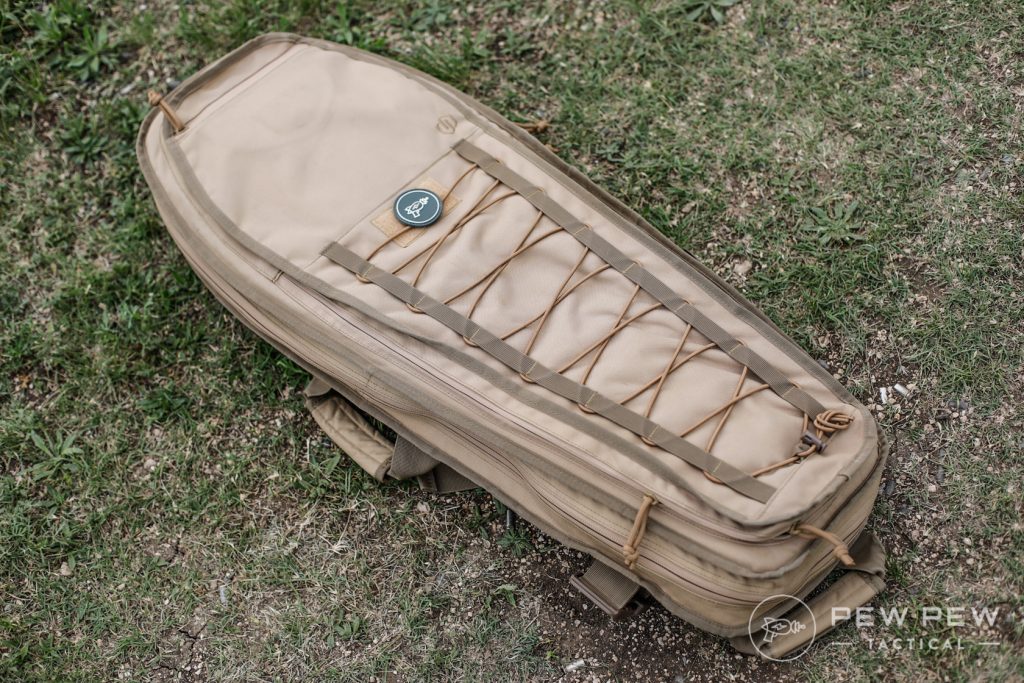 Go with the 34-inch variant for a 16-inch AR-15.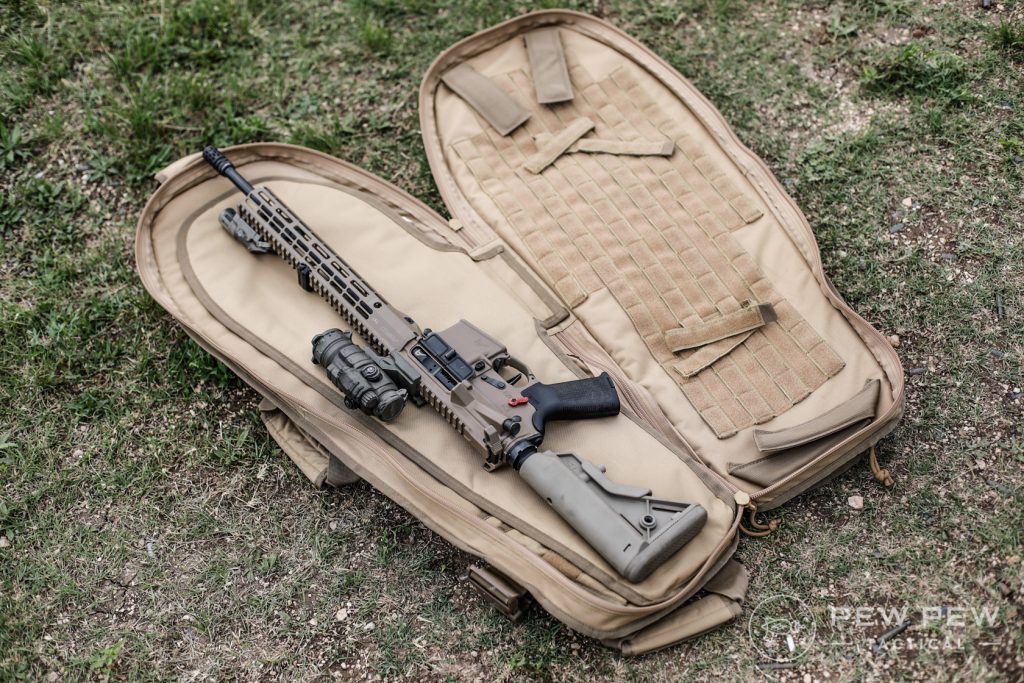 2. NcStar VISM Rifle Bag & Shooting Mat
Ok…stay with me here.
Usually, I run away from NcStar (especially optics) but their VISM Rifle Bag ($56) is pretty good!
I've used it regularly for seven years and although it's a bit thin to be truly protecting of a nice rifle, it doubles as a great shooting mat.
Well thought out pouches, clear sections for your dope, and ammo holders.
The straps aren't the best, so I wouldn't bring it on a long hunting trip…but it's perfect for the range or short courses.
If you want to get into long-range and consolidate your rifle bag and shooting mat, this is the way to go.
Best Discreet Gun Cases
3. Guitar Gig Bag
Now we're going discreet.
I started off with an acoustic guitar case when I only had one or two rifles. It had decent protection and the shoulder straps helped to lug my guns to the range.
I eventually broke the straps and also had to bring more than two rifles.
4. Tennis Bags
Oh yes, tennis bags.
Especially multi-compartment tennis bags.
I had a lot of uppers and lowers, which broke down perfectly into my triple compartment Wilson Tennis Bag.
I had to use some t-shirts and rags as protection, but it was so easy to be discreet and carry multiple ARs.
Also has shoulder straps but since you're carrying a lot more weight than rackets. It's not going to be fun if you really have to ruck it.
Best Hard Gun Cases
5. Plano Rifle Cases
Let's go hard…
The Plano Rifle Case is a good start to a hard case and most likely better than what came with your rifle.
Lockable with decent foam, but I'd probably opt for something hardier if you're bringing it on a flight.
Also be sure to check if it will fit your scope and rifle combination.
Otherwise, great for storage and the range.
6. Plano All Weather Hard Case
If you're looking for something tougher in their catalog, Plano's All-Weather case is perfect. It's more affordable than the current gold standard.
7. Pelican Rifle Case
And that gold standard is…Pelican Rifle Cases ($199+).
There's a couple different models but if you're bringing an AR or something else that can be broken down…I like the Pelican 1700.
It's rock-solid (waterproof, crush-proof, and dust-proof) and rolls, plus it has a pressure equalization valve.
The inside foam can be cut to fit anything. Inside dimensions are 35.75 x 13.50 x 5.25.
And for multiple guns or longer rifles, check out the Pelican 1720 at 42 x 13.5 x 5.25 and the Pelican 1750 at 50.5 x 13.5 x 5.25.
What's your take on Pelican cases? Rate them below!
Best Pistol Gun Cases
8. Uncle Mike's Pistol Rug
Let's move into pistols.
Soft pistol cases give your guns adequate protection just going to and from the range.
They are also fairly nondescript if you get something without huge logos. And the logo is one big reason I don't like using the factory boxes that most handguns come with…no need to advertise that you have a firearm.
Our go-to is Uncle Mike's.
The medium size will fit 3- to 4-inch revolvers and most semi-auto guns with 4- to 5-inch barrels.
If you have something larger, they also have the Large Version for up to 7.5-inch barrel revolvers.
9. Savior Equipment Specialist Cases
If you're looking for a sturdy pistol bag with loads of room for accessories, Savior Equipment's Specialist has you covered.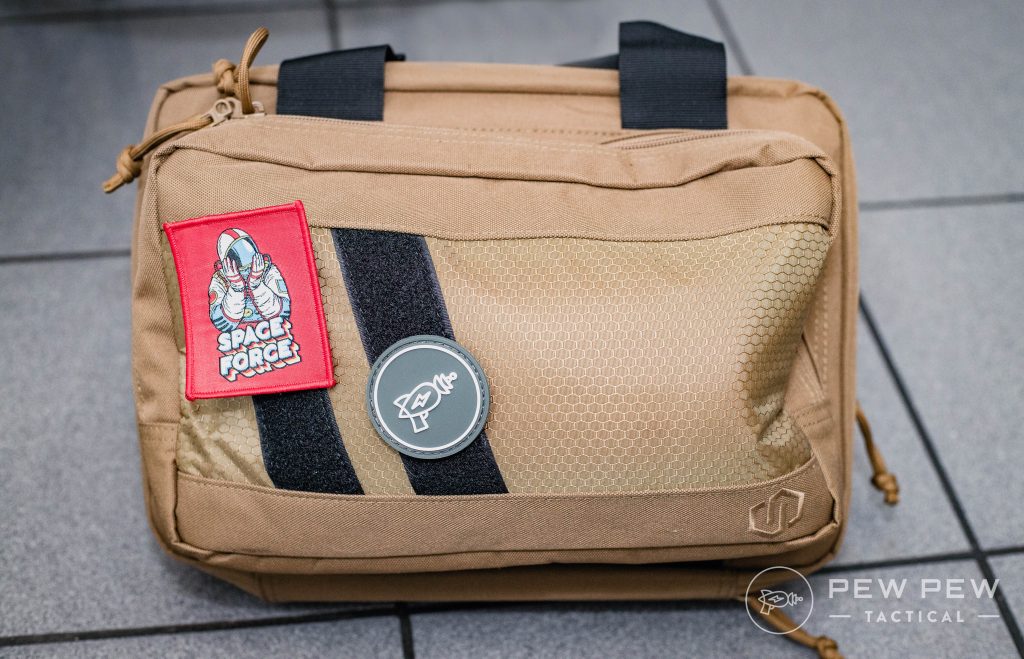 The Specialist brings an internal size of 12.5 x 8.5 x 2.5-inches in its main compartment.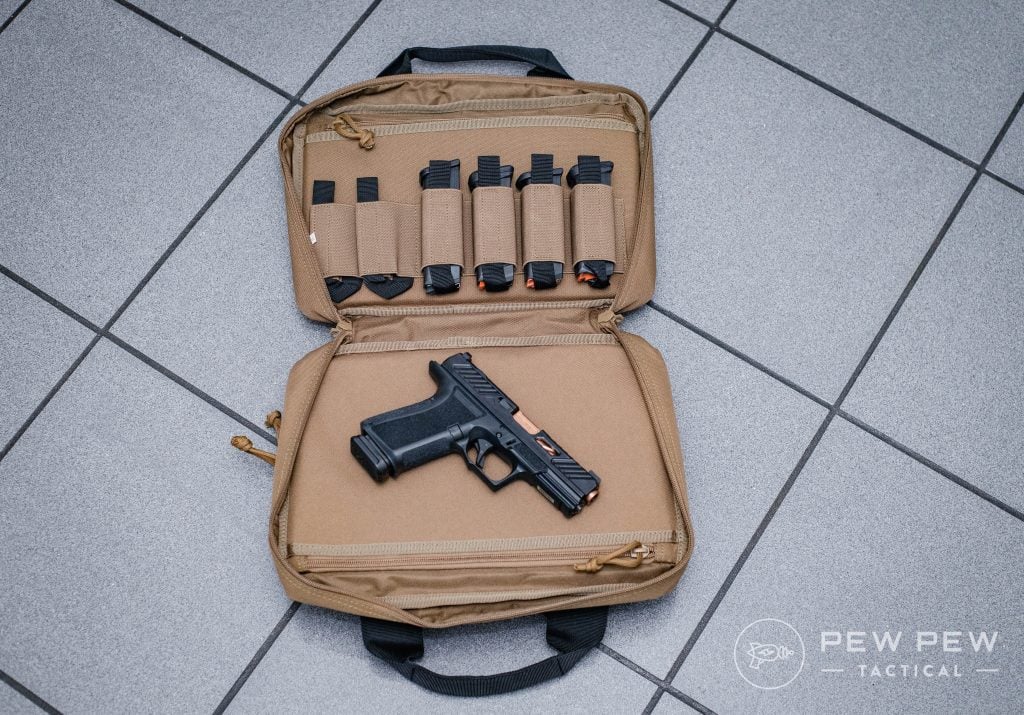 Main compartment also features magazine organization and two additional pockets for other odds and ends.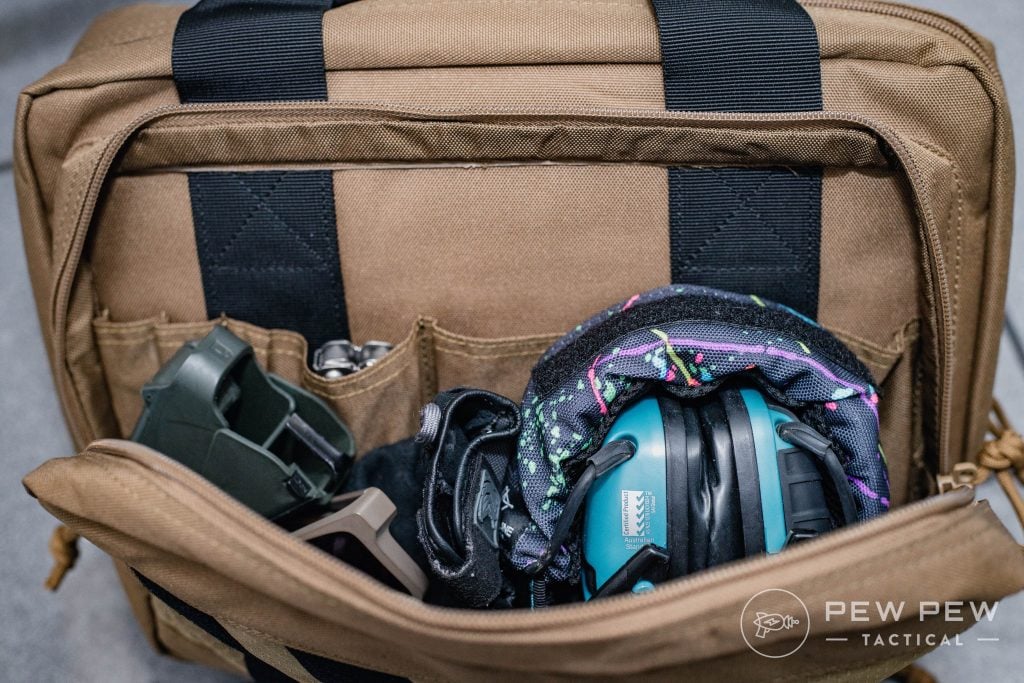 On the outside, you have another pocket perfect for admin items like ear and eye pro, multi-tool, gloves, and a mag loader.
Be sure to use code PEWPEW15 to save 15% off at Savior Equipment.
There's also the larger Mini Range Bag which gives you even more space and is enough for a full range day even with multiple pistols and long guns.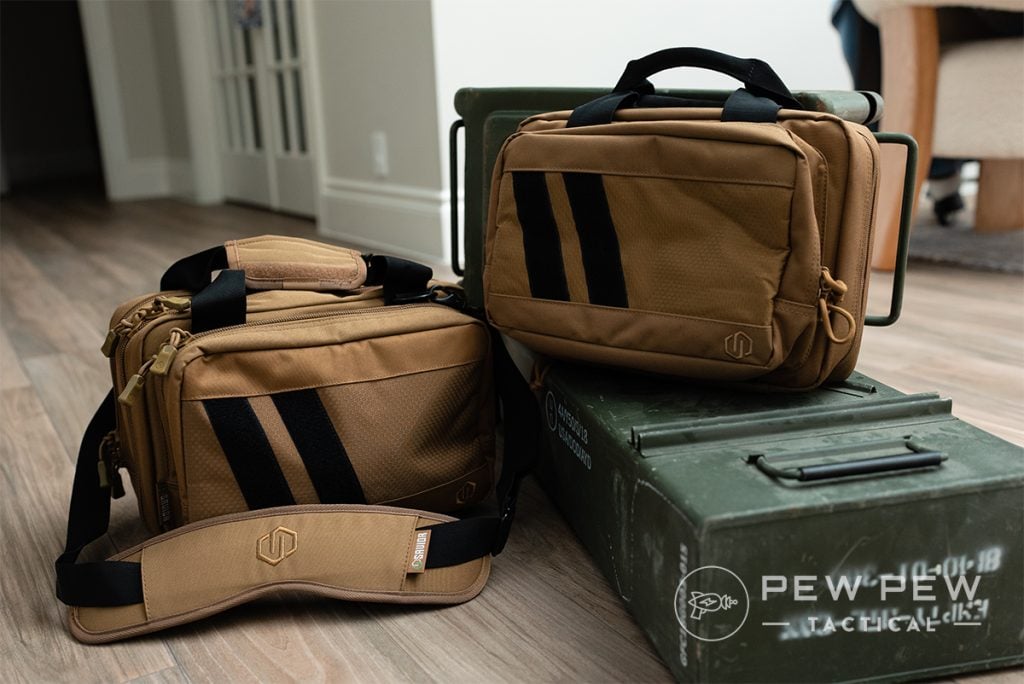 There's three compartments and plenty of space to put your ammo, pistols, and mags.
The middle compartment holds pistol mags and two zip pouches that I use for everything from ammo to ear pro and other electronics.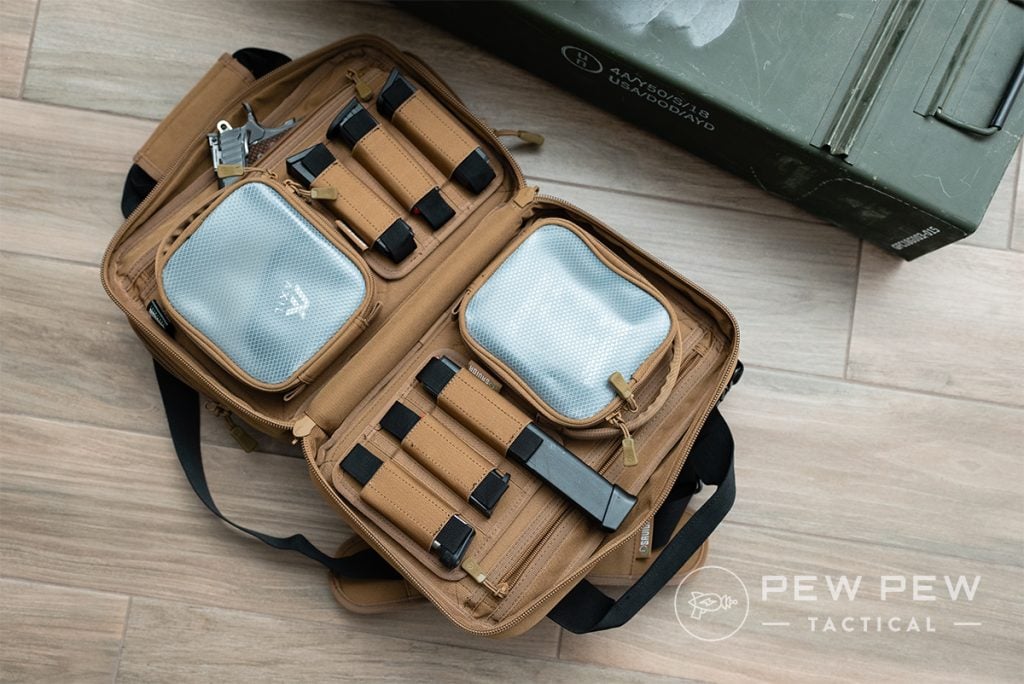 Plus there's Velcro that lets you move and add additional storage options.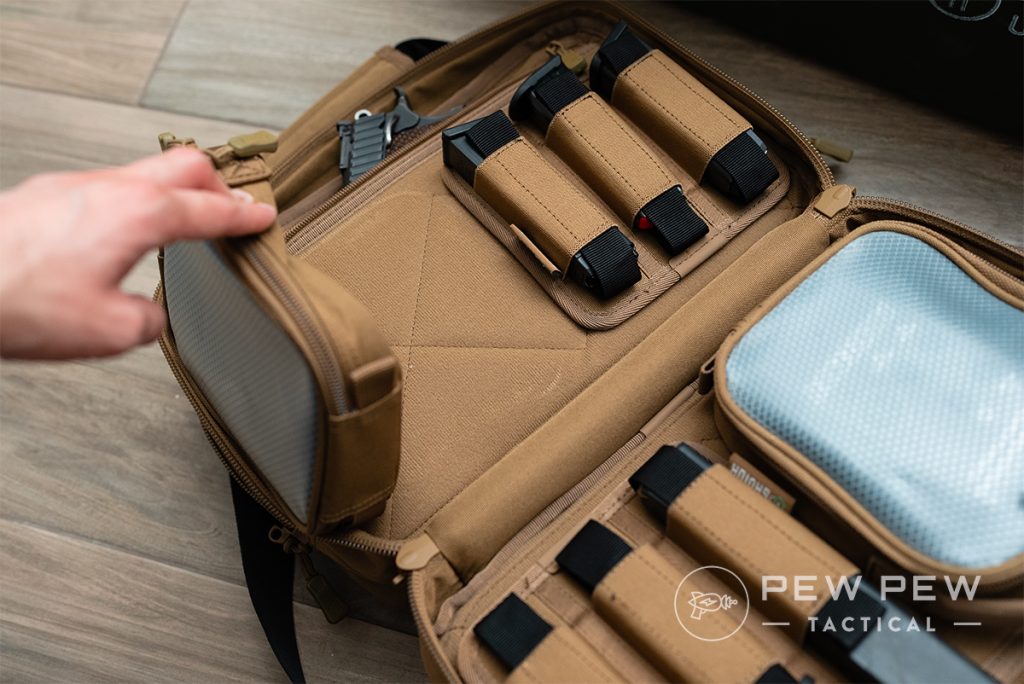 The other compartment gives you open space for pistols (or at least it's what I use it for).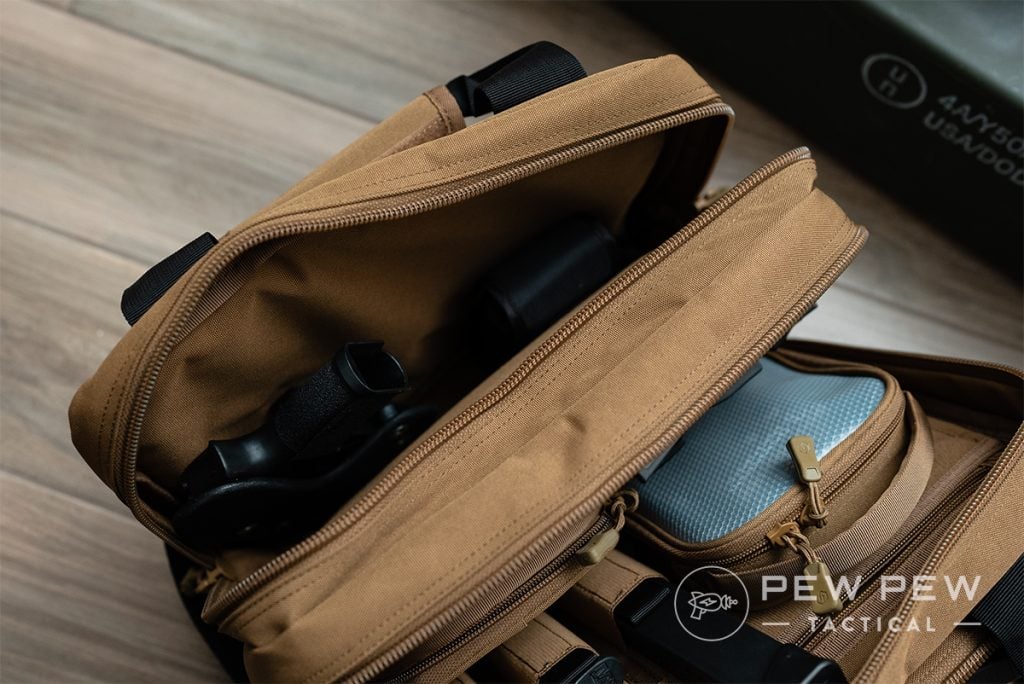 And the front compartment is more geared towards rifle mags. I've also been carrying some suppressors and other goodies in there too.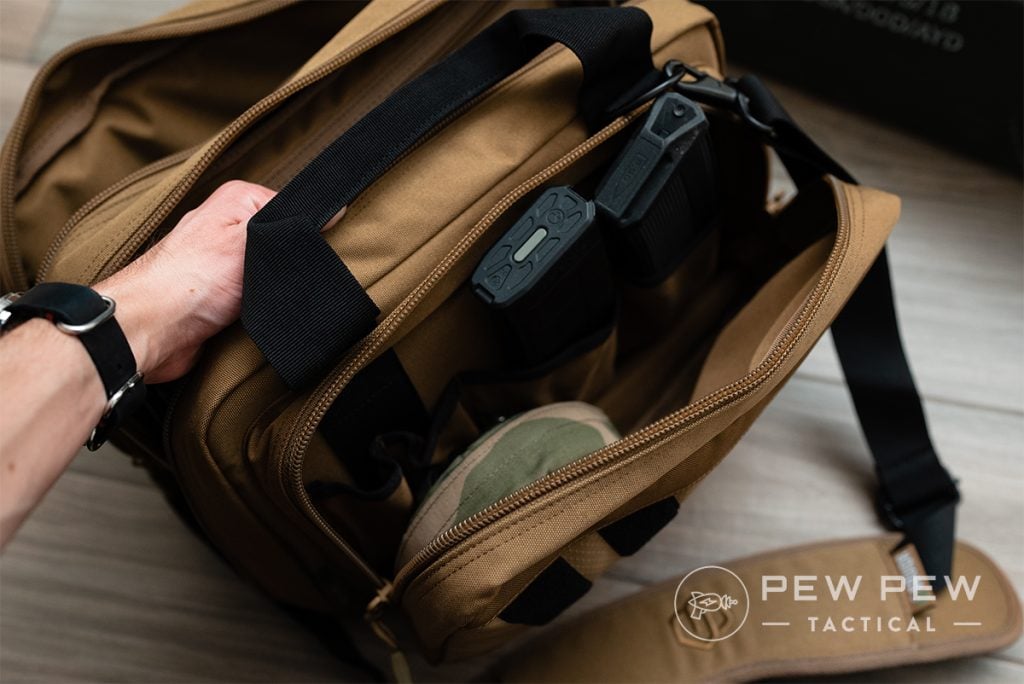 10. 5.11 Tactical Pistol Case
Nondescript and with helpful magazine pockets, the 5.11 Tactical Case is another great option for a soft pistol case.
Enough for five mags and a handgun!
11. Pew Pew Tactical Handgun Case
However one thing that always bothered me is the inability to be small, discreet, dead sexy, AND fit a light.
That's why we designed our own Pew Pew Tactical Handgun Case that will fit almost all full-sized handguns with a torch.
If you don't have a pistol light yet…check out our hands-on review of the Best Pistol Lights.
12. Savior Equipment SEMA
Looking for a combo range bag and pistol case?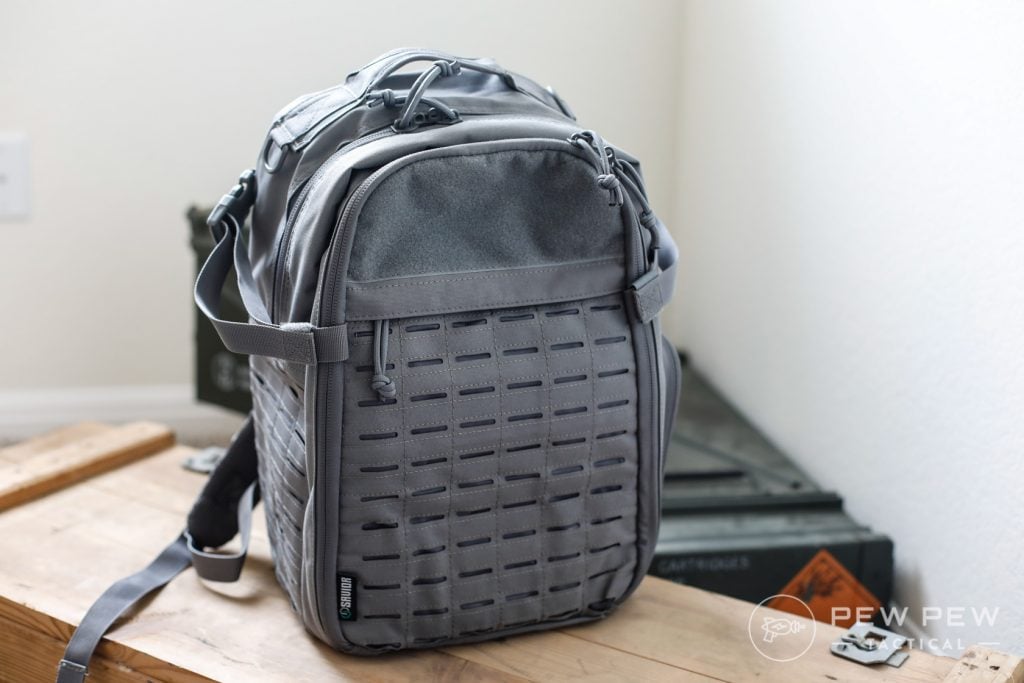 The SEMA (Savior Equipment Mobile Arsenal) gives you plenty of space for all your accessories and ammo. Plus it comes with some nice pistol pouches that live in the bottom compartment.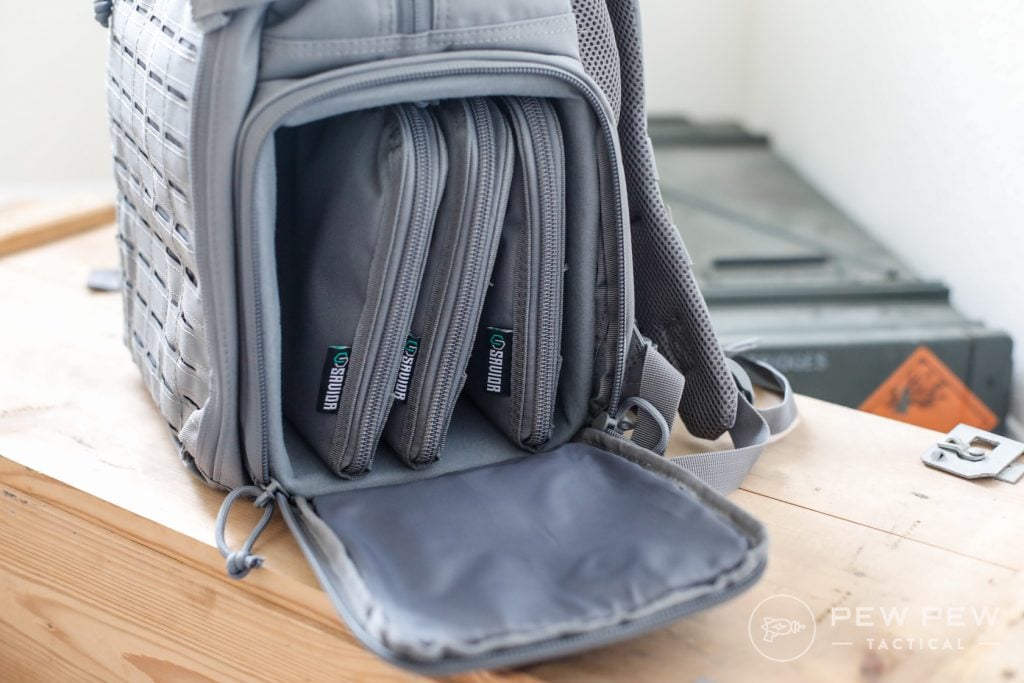 And of course has lots of useful pockets inside too.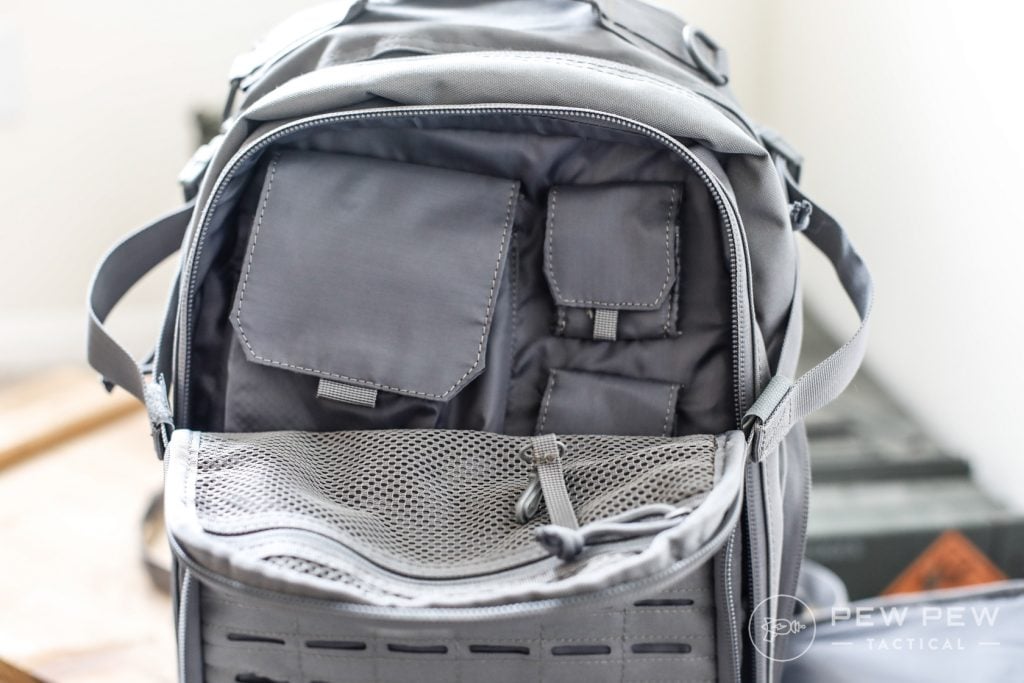 Be sure to use code PEWPEW15 to save 15% off at Savior Equipment.
13. Pelican Pistol Case
The Pelican 1200 is the smallest I would go since it can still fit a pistol and a mag or two.
The internal dimensions are 9.25 x 7.12 x 4.12 inches and the case contains Pick N'Pluck foam for you to form your own shapes without the need to cut foam.
We suggest always going a size larger than you think so you can accommodate more magazines, ammo, or even a second pistol.
The Pelican 1500 can hold 4 to 5 pistols, especially when they are loaded in vertically.
Plus, there's custom foam.
14. Nanuk 910
I love my Pelicans, but when I wanted something a little flatter for my suppressor and accessories. I couldn't find the right model.
The ones that hit the spot for size also had built-in number locks that I didn't care for.
So I went with one of their big competitors…Nanuk that's made in Canada.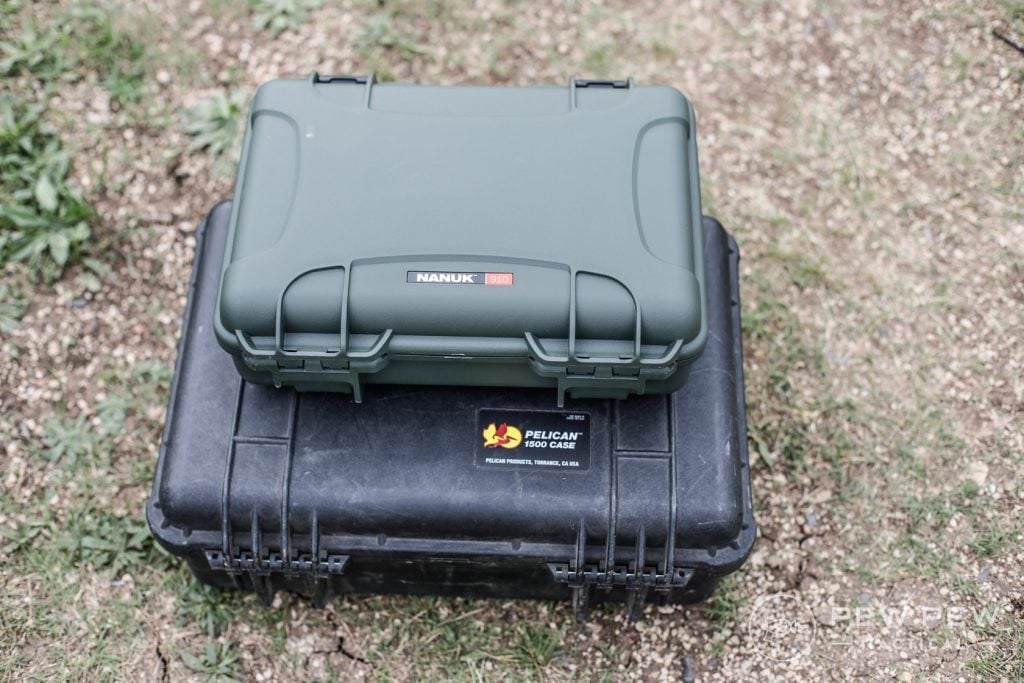 The Nanuk 910 model was perfectly sized for my suppressors, accessories, and a handgun if needed.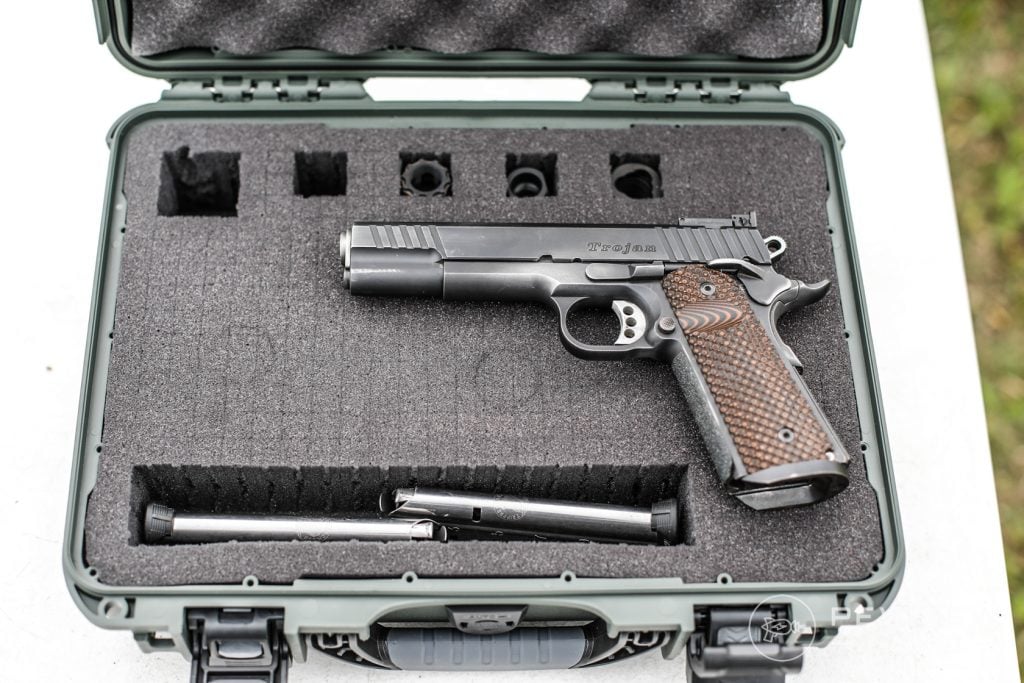 Exterior Size: L14.3″ x W11.1″ x H4.7″
Interior Size: L13.2″ x W9.2″ x H4.1″
Best Travel Gun Cases
15. Vaultek Lifepod
My current travel handgun case if I'm driving and staying at hotels or Airbnbs is the Vaultek Lifepod.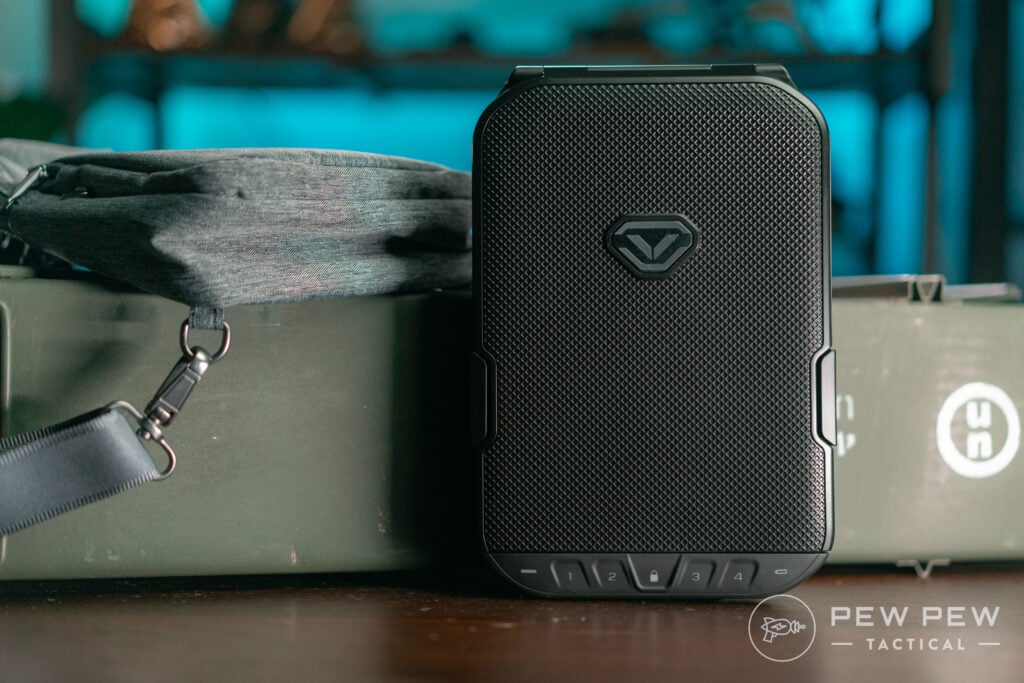 Discreet with the sling bag, enough protection, quick access, and still able to be tethered down.
See it in action:
Buttons are still good even when wet since they are capacitive. I personally like to leave the latches unlocked when I'm going to sleep and only have the button code.
Space is decent for travel too. I only bring a compact gun with light and a mag.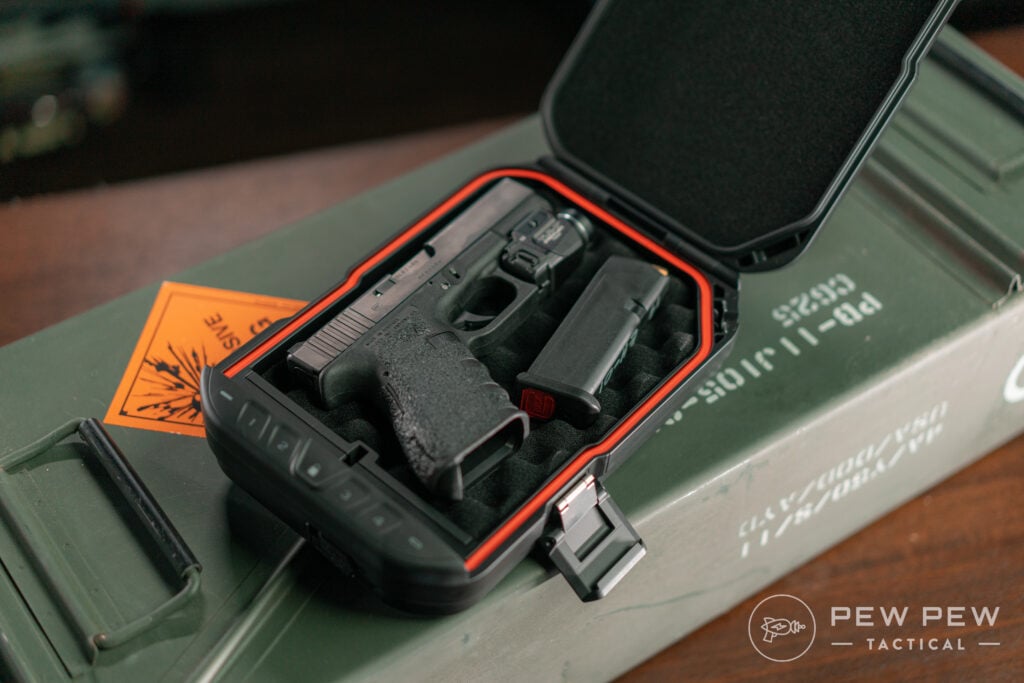 My go-to choice for when you need a locked box for travel.
Now there's the upgraded (and larger) LifePod 2.0 that I use at home for my holstered CCW or two securely store two handguns.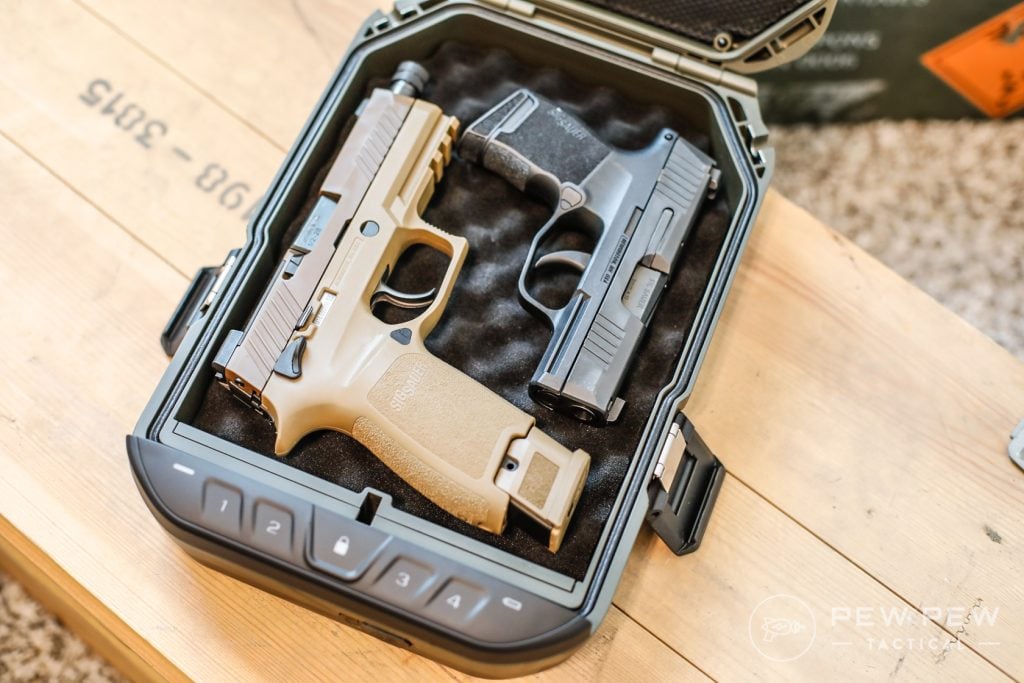 Or with the tray, some other stuff.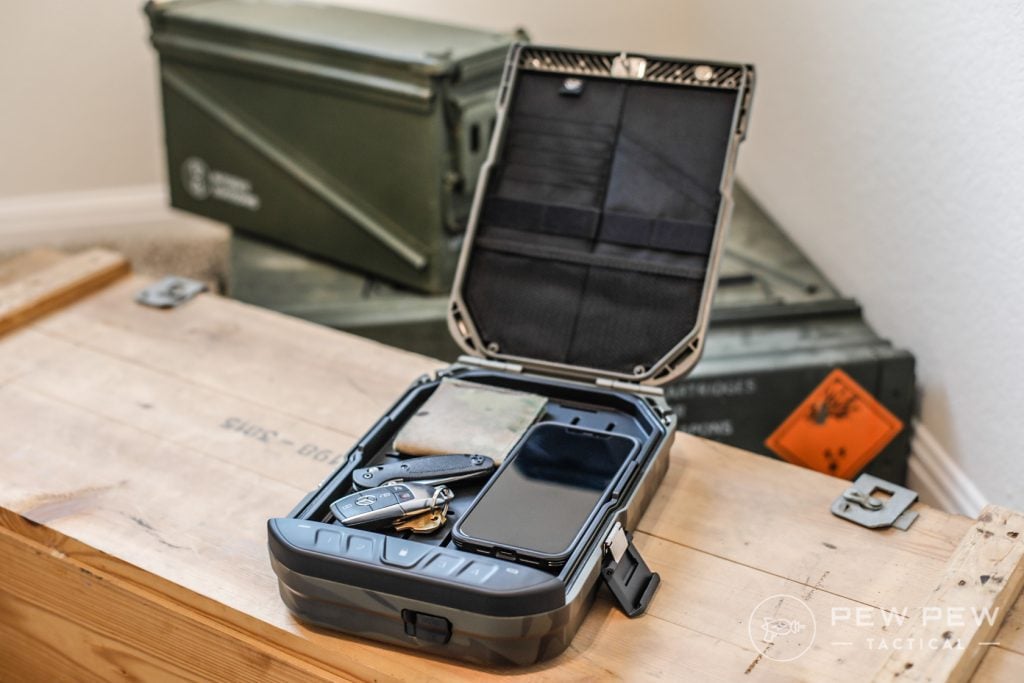 With the larger size also comes some cooler colors — my favorite being Black Multicam.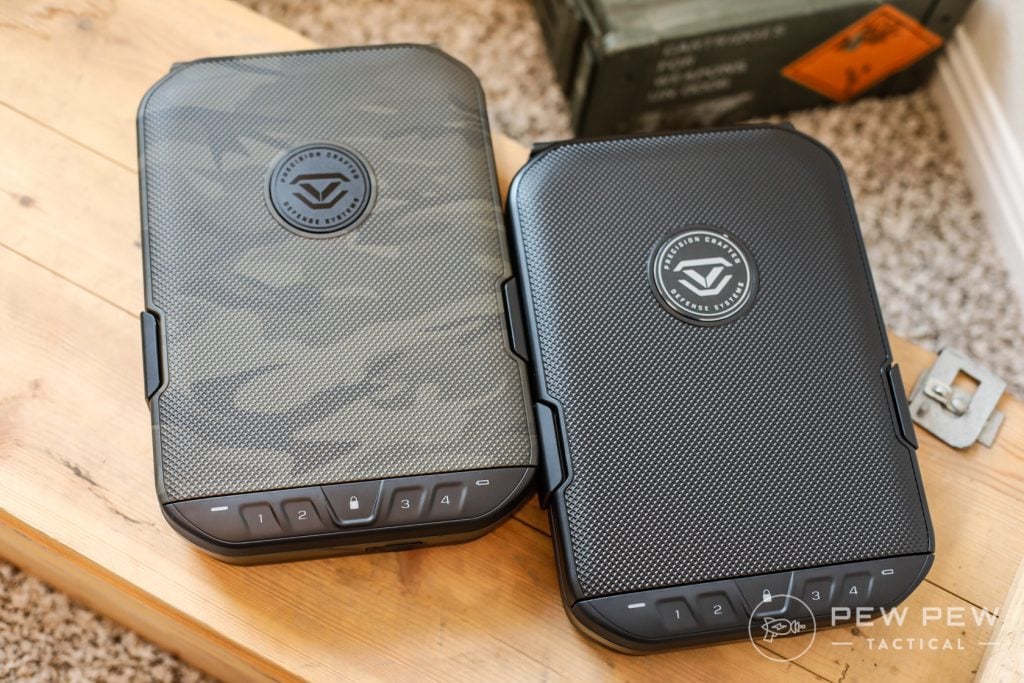 But whatever it is, you can't go wrong for a secure box that looks great.
Best Guitar Gun Cases
16. Savior Equipment Guitar Gun Case
The Savior Equipment Guitar Gun Case is a nice covert hard case when you don't want your neighbors to know you're off to the range.
It has rolling wheels…
And also nice durable handles and six clasps all around.
It also features a top handle and two lockable areas.
Overall, it's pretty sturdy and can double as an airline firearm case because of the lockable areas. There's no pressure release valve, however.
It comes with three layers of dense foam. You can cut the middle layer for your firearm and leave the top one for basically no movement.
Space is decent for an AR with optics plus a pistol or a bunch of mags.
You'll have to cut the foam which I easily did in under 10 minutes with chalk and a steak knife. It's no hot wire cutting, but it'll do!
Overall, the Savior Equipment really is a nice covert hard case that's enough for travel.
17. Cedar Mill Guitar Gun Case
Another covert guitar gun case — except this one takes the nicer aesthetic approach.
The Cedar Mill Guitar Gun Case can hide in plain sight in your living room…and even spruce it up!
It's covered in a nice faux leather that can take some abuse but I still wouldn't throw it around or toss it in the back of the truck.
It's main security is looking like a guitar case, but there's also a lock in the middle clasp. Note it feels flimsy, and someone can probably easily Hulk it open by hand.
The interior has pluckable foam so you don't need to break out the steak knife.
Check out the size of the pluckable foam.
Size is decent, too, and you can fit a handgun or mags in that top right space. It's a tiny bit smaller than the Savior, which will work better with a longer barrel.
The guitar body area seems very similar.
If you're looking for a very nicely built covert guitar case and you aren't looking to fly with it…the Cedar Mill is a great bet.
18. Savior Equipment Fiddle Master
How about a hard case for something smaller?
Enter…Savior's 30″ Fiddle Master that's perfect for a pistol or SBR.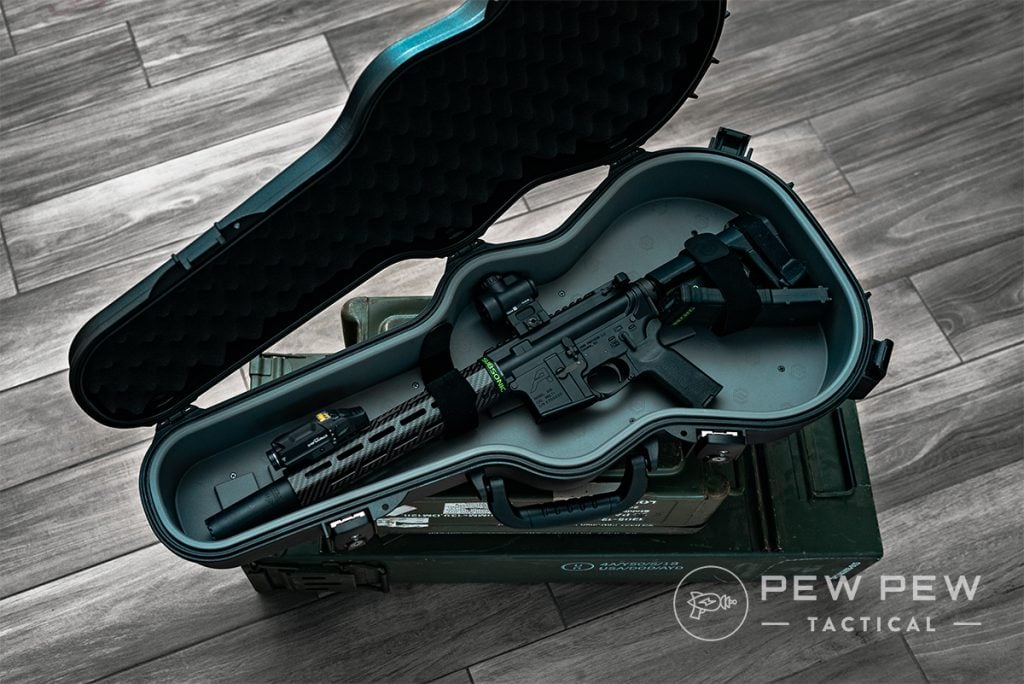 It comes with two TSA locks and also two holes for your own padlocks if you're flying.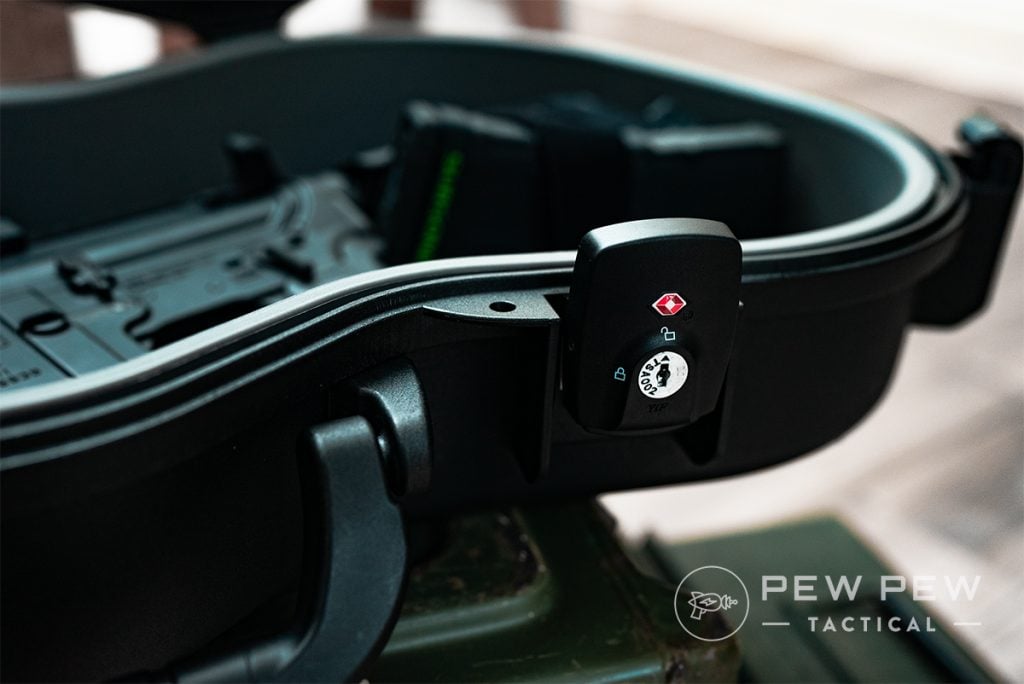 Plus a final clamp and two inner straps to make sure nothing moves around or accidently opens.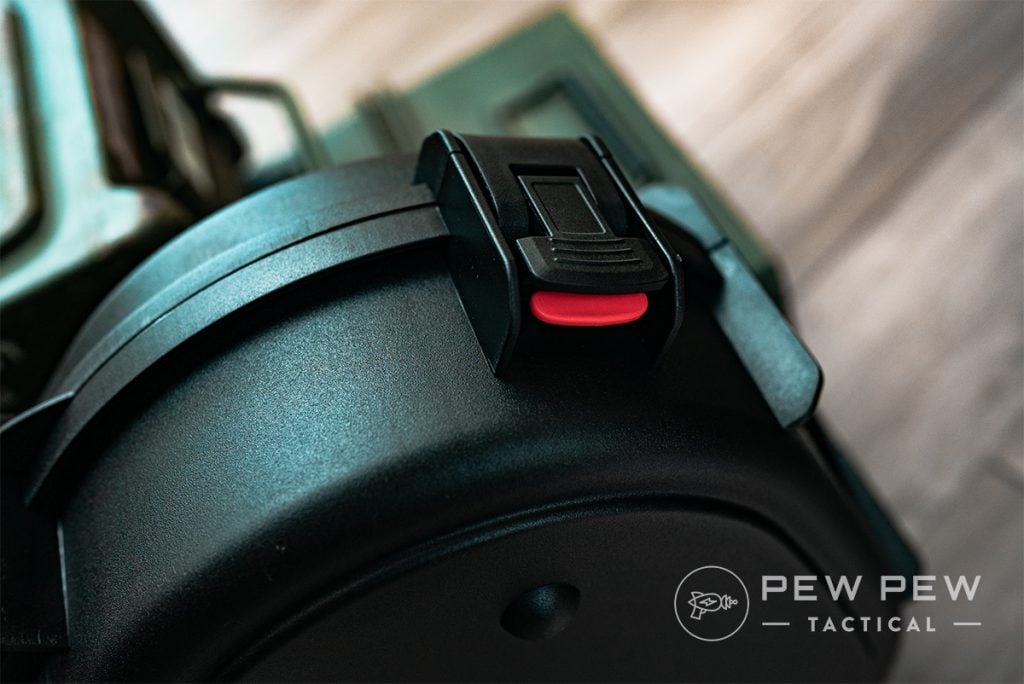 19. 5.11 Tactical 28″ Rifle Case
The 5.11 Tactical case hits that middle ground you don't always see with rifle bags — it's great for those guns that are longer than pistols but would swim around in a full-length case.
At 28 inches long, this case is perfect for subguns, AR pistols, and other guns that fall into that "in-between" category.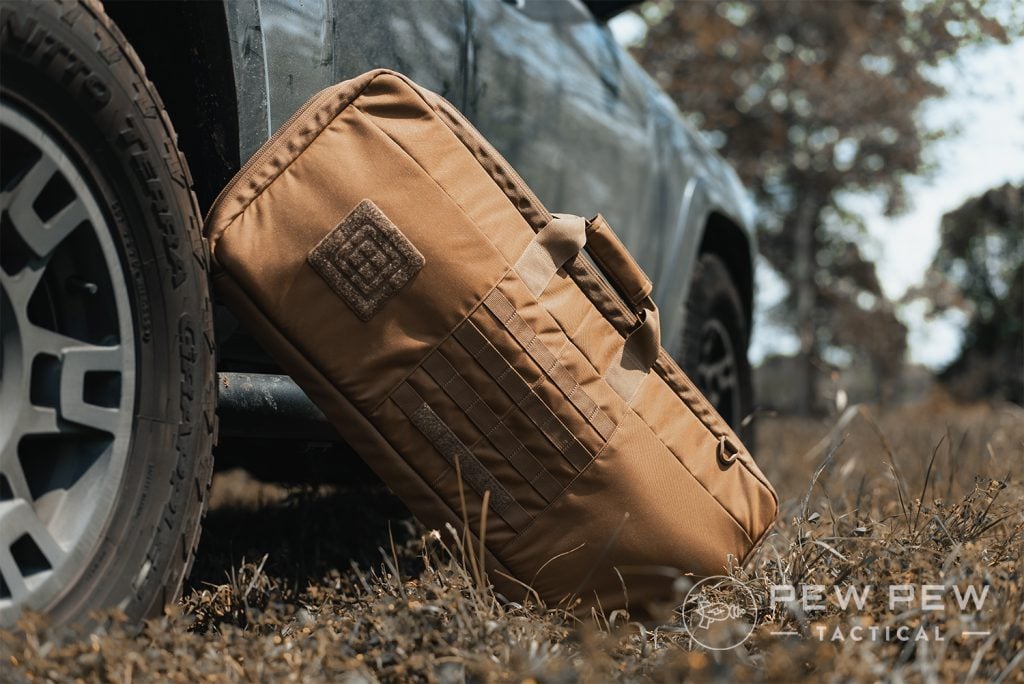 Just like other 5.11 Tactical cases, this one is made from 600D Polyester, so it's lightweight but still durable enough to haul your guns.
The exterior has a hook and look section on one side and a MOLLE on the other side.
There are two padded carrying handles at the top in the middle, as well as an adjustable shoulder strap. Large, lockable YKK zippers open the bag up lengthwise to reveal a padded interior.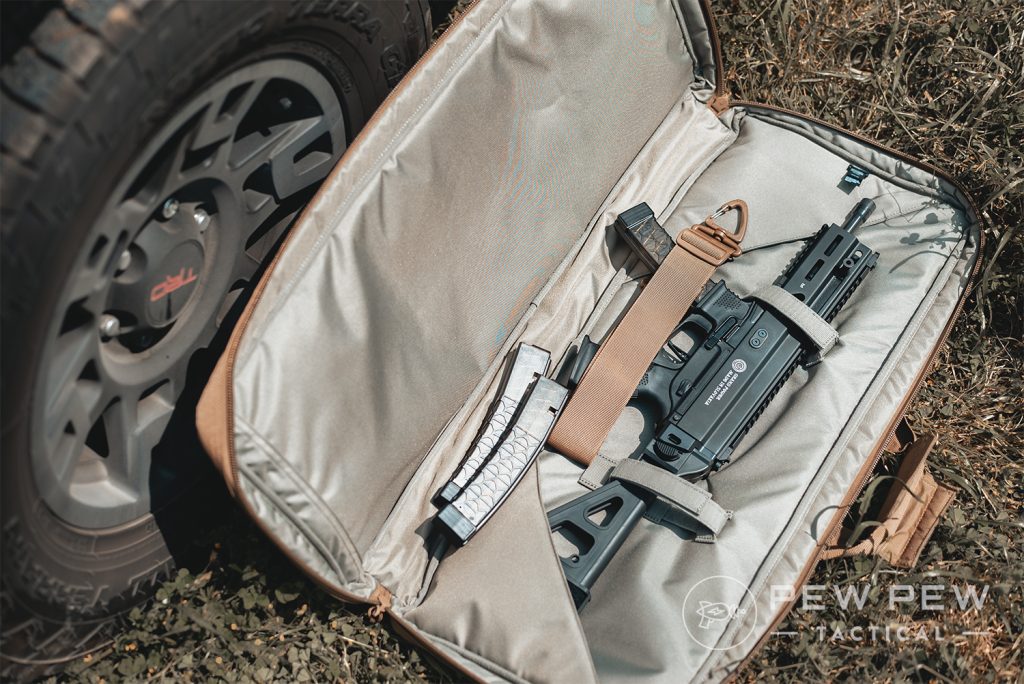 On the inside, there are corner pockets for retention of your muzzle and bott stock. Finally, there are also adjustable hook and look straps to hold your firearm securely in place.
Final Thoughts
So there you have it, our recommendations for the best gun cases.
Really, your factory case will do fine, but for me, I just don't like having the big logos that advertise you have a gun.
Also if you are traveling or have expensive scopes, you're going to want better protection from a hard case, with Pelican being the gold standard.
What's your preference…hard, soft, or discreet? Also, be sure to check out our Best Gun Range Bags for the best ammo and tool toting bags out there to combo with your new gun case.