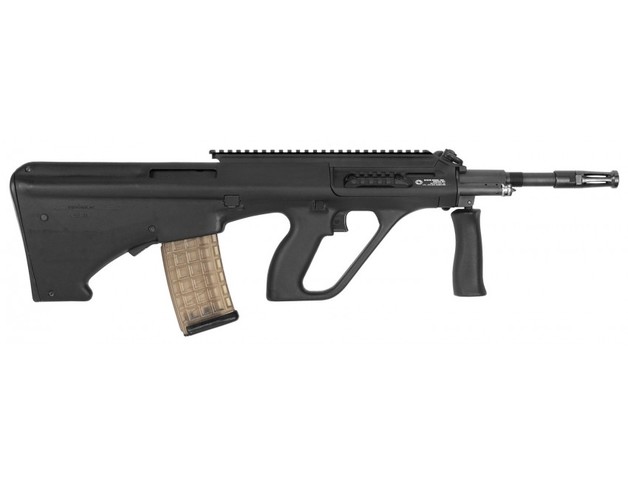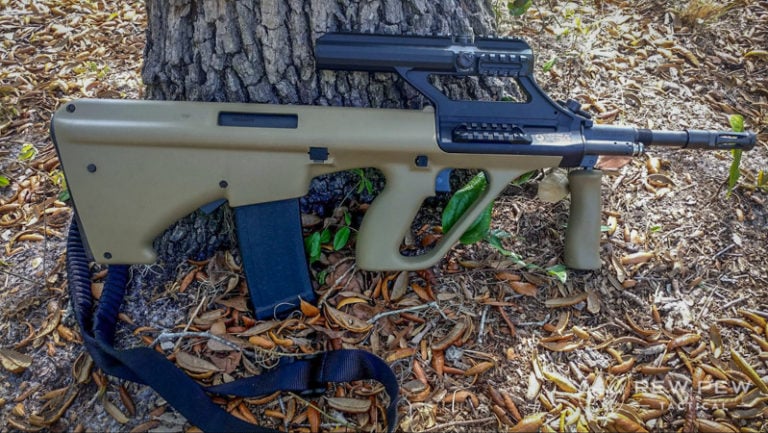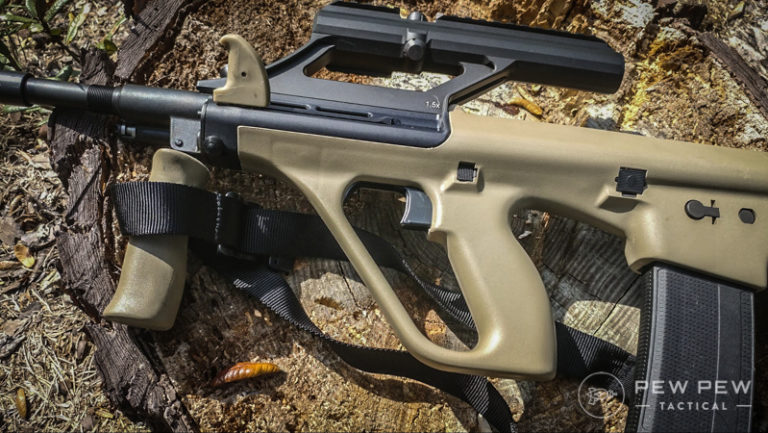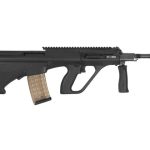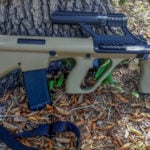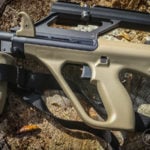 3.5
Compact

Quick-change barrels

Rugged
High MSRP

Sub-optimal trigger
Editor's Note:
The iconic Steyr AUG is the oldest serving bullpup in military history, dating back to 1977. This 5.56x45mm rifle utilizes a short-stroke gas piston and a 16-inch quick-change barrel to deliver a compact, soft shooting experience.  The Steyr AUG's current incarnation is the Steyr AUG A3 M1, which is available with a short optics rail, extended optics rail, or an integrated 3x optic. Coming in at 8.8 pounds and just 28.15 inches long, the AUG is superbly balanced and is still a gold standard in the bullpup market today.
Read full review
Steyr AUG A3 M1 For Sale - Compare Prices
Palmetto State Armory
Save $400
Steyr AUG A3 M1 Specs
Barrel Length
16.4in / 16in
Caliber
5.56 NATO - 223 Rem
Steyr AUG A3 M1 Features

Adjustable short-stroke gas piston

Quick detach barrel

10, 30, and 42-round magazines available

16" cold hammer forged barrel
By The Numbers - Steyr AUG A3 M1
Accuracy
The gun is quite accurate and capable of producing respective groups.
Reliability
The AUG is known for its legendary reliability and durability.
Customization
Outside of barrel swaps and adding optics, there aren't a ton of options for this platform in terms of customization.
Ergonomics
The gun gets really high marks in some areas and low marks in others. The trigger kinda sucks and I'm taking a point away solely for that. Reloading is an iffy proposition, and will never be AR fast, but with practice, it's intuitive enough.
Overall
Hands-On Reviews & Related Post
final verdict
"The Steyr AUG is a great gun. It does have some flaws, and if it was available for around 1,500 bucks it'd be a real winner. It's a straight-shooting, compact, and well-designed platform that shows us what a bullpup can really do." – Travis Pike
Community reviews
There are no reviews for this product yet.
Add your own rating and help other Pew Pew users pick the right guns