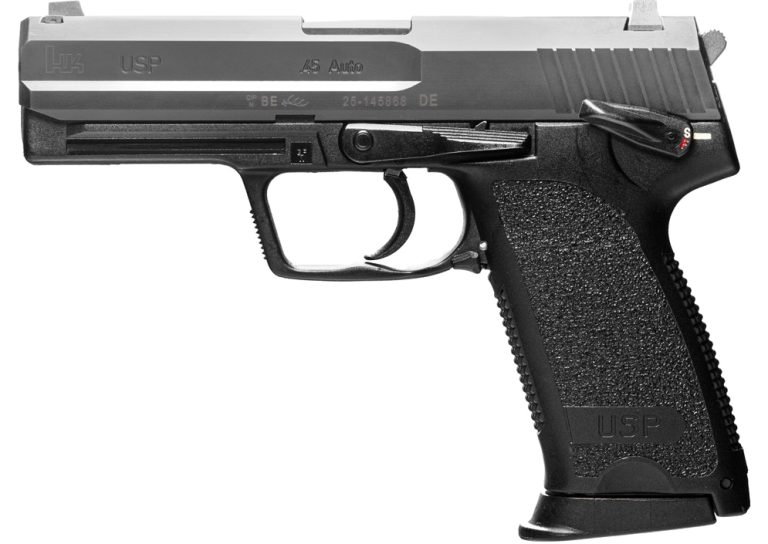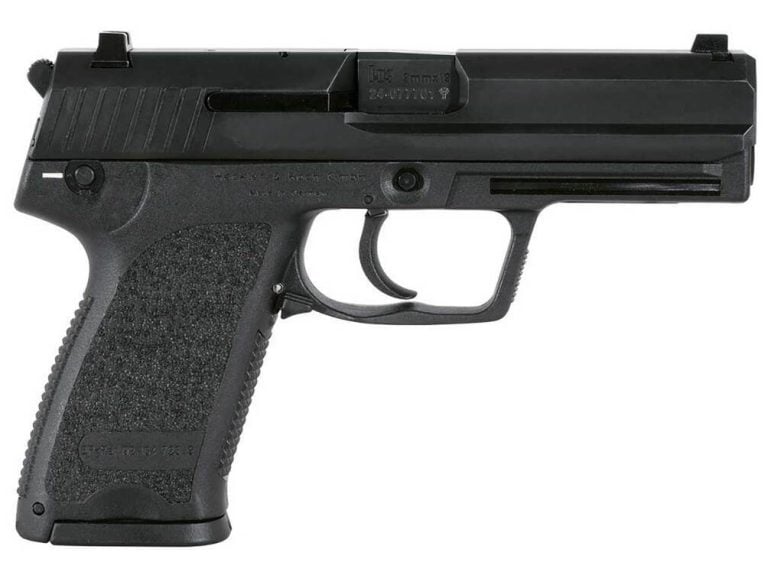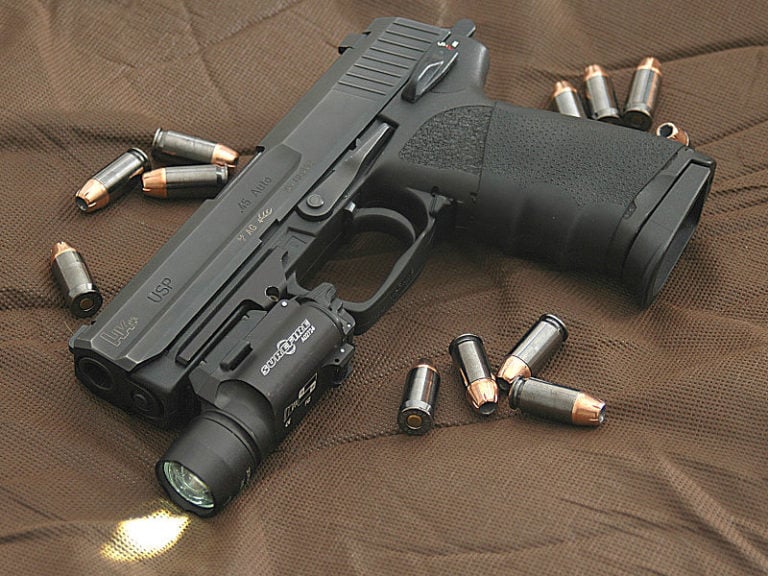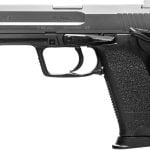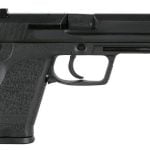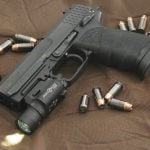 4
Insanely reliable

Combination safety/decocker
Blocky grip

Expensive magazines
Editor's Note:
The HK USP (Universal Service Pistol) was created to be an ultra-reliable and durable handgun for military and law enforcement use. It has since been adopted by nations around the world and has earned a reputation as one of the toughest pistols on the planet. The .45 ACP version features a 4.41-inch polygonal rifled barrel, 12+1 capacity, a hostile environment corrosion-resistant blued finish, an ambi paddle mag release, and a reinforced polymer frame. A patented recoil reduction system not only helps cut down on felt recoil, but these guns are strong enough to safely fire .45 Super without any modifications. The end result is a DA/SA hammer fired pistol that is primed to take on the toughest of tasks, even 30 years after its initial development.
HK USP 45 For Sale - Compare Prices
HK USP 45 Specs
Magazine Capacity
10/12 rds
Trigger Pull
20 N (SA); 51 N (DA)
HK USP 45 Features

12+1 capacity

Convertible between 9 trigger modes

Corrosion resistant Hostile Environment finish

Ambidextrous paddle magazine release

Extended slide release

4.41" polygonal rifled barrel
By The Numbers - HK USP 45
Accuracy
These guns are fairly accurate if the shooter can work around the mediocre trigger.
Reliability
The USP may very well be the most reliable semi-automatic handgun ever made.
Customization
Sights, threaded barrels, magwells, and some trigger upgrades are available. The lack of a Picatinny rail hurts this score.
Ergonomics
The grip is very blocky and not the most comfortable, but the controls are intuitive and the paddle magazine release is nice once you get used to it.
Overall
Although it may be an aging design, the USP is still an accurate and competent pistol that is hellbent for reliable.
Hands-On Reviews & Related Post
HK USP 45 Variations & Comparables
4.3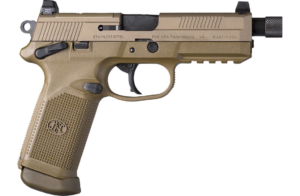 VIEW DETAILS
The FNX 45T is admittedly a pretty niche gun. It really only makes sense if you plan on-duty use or range fun. Other than that, it's too large to conceal for most and not the best suited for competition. Long story short, it's duty-sized and heavy weighing in at 33 ounces unloaded. It features a stainless-steel slide assembly and measures 8.6-inches in total length! Furthermore, it stands 6.5-inches tall with a width of 1.5-inches.  "The FNX 45 Tactical was built for duty, and it excels in just that. Whether suppressed or unsuppressed, it shoots like a 9mm with all the cool factor of .45 ACP in just as many rounds. It's completely modern by 2021 standards, making it all the more impressive when considering it launched in 2012. If you're looking for a full-size, heavy gun that you can run a red dot and suppressor with all in .45 ACP…this is a decent option." – Justin Chang
Read More
HK USP 45 Upgrades & Accessories
final verdict
"The HK USP 45 may be considered a relic of the recent past by some, but I beg to differ. Yes, it is blocky, and yes, the capacity is lower than some of its contemporaries. However, I challenge anyone to find a .45 ACP pistol that has as much proven durability and reliability as the USP. The guns can even fire .45 Super from the factory without any changes in springs or other modifications. These guns are overbuilt, but when you need to go to hell and back, sometimes overbuilt is what you want." – Wyatt Sloan
Community reviews
There are no reviews for this product yet.
Add your own rating and help other Pew Pew users pick the right guns