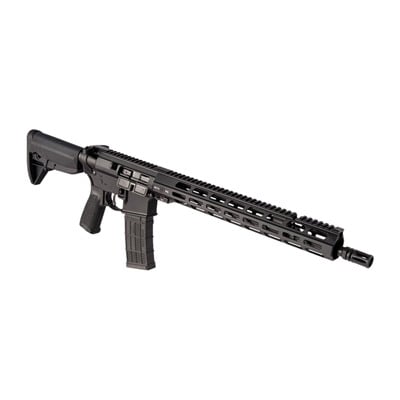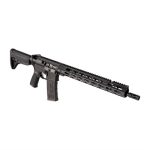 4.5
Soft shooting

Adjustable long-stroke gas piston system
Editor's Note:
The PWS MK116 Pro brings all the great features that PWS is known for to the consumer at a lower price point. This is achieved through the use of an extruded 6061 aluminum upper instead of the standard T6-7075 forged aluminum uppers of their other guns. The end result is still an extremely soft shooting rifle and reliable piston-driven AR-15 that is great for those looking to suppress their guns or who just want something a little different.
Primary Weapons System MK116 PRO For Sale - Compare Prices
Primary Weapons System MK116 PRO Specs
Magazine Capacity
30+1-Round
Magazine Included
1 x 30-Round
Overall Length
32.37 in-36 in
Primary Weapons System MK116 PRO Features

Long stroke piston with 3 setting adjustable gas regulator

Radian Raptor ambidextrous charging handle

Mil-spec enhanced PTFE coated trigger

PWS enhanced buffer tube w/QD endplate

PWS M-LOK 15.0" handguard

1:8 twist, mid-length gas system

A2 flash hider

BCM grip and stock
By The Numbers - Primary Weapons System MK116 PRO
Accuracy
Accuracy tends to range from sub-moa to 1.5 moa depending on the ammo and shooter
Reliability
PWS makes some of the most reliable piston AR's on the market
Customization
As with most AR platforms, the options are nearly limitless
Ergonomics
Controls aren't ambi, but BCM furniture, a solid handguard, and an ambi charging handle help
Overall
The MK-116 PRO sacrifices relatively little to help drop the price point of great platform
Primary Weapons System MK116 PRO Variations & Comparables
final verdict
PWS has been in the piston game for a long time, and it shows. The MK116 PRO is no exception, delivering outstanding performance and stellar reliability. The 3-position adjustable long-stroke gas system ensures reliability with all ammo while providing a very soft recoiling rifle that is easy to suppress. Good furniture, a solid handguard, and an ambidextrous charging handle leave very little that needs to be added out of the box. However, the trigger might be worth upgrading if you want something better than a fairly standard duty trigger. The 6061 upper helps save on cost without sacrificing long-term durability or reliability, making this gun a reasonably affordable entry for those interested in getting into the piston-driven AR game.
Community reviews
There are no reviews for this product yet.
Add your own rating and help other Pew Pew users pick the right guns