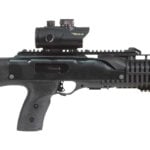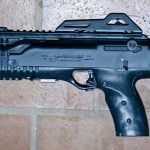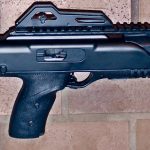 4.5
Price

Warranty — the website states that if you are the first or the third owner, they'll fix it for life.

They produce about 76 different models of carbines in a range of calibers
The trigger breaks at 6 pounds, but the bottom of the trigger has a projection/point that sticks up and rubs the finger.

Screws don't line up with holes exactly, edges don't mate evenly, and while the gun still works, it can be a bit frustrating.
Editor's Note:
When it comes to value, the Hi-Point 995TS Carbine is hard to beat. Despite their modest price, they are 100% American-made and come with a full lifetime transferrable no-questions-asked warranty. These direct blowback carbines are simple, fun, and effective. Additionally, all Hi-Point carbines are rated for +P ammunition.
Read full review
Hi-Point 995TS For Sale - Compare Prices
Palmetto State Armory
Save $130
Hi-Point 995TS Features

10+1 capacity

All-weather, polymer skeletonized stock

Multiple Picatinny rails

Fully adjustable sights

Internal recoil buffer in stock

Threaded 1/2x28 barrel standard
By The Numbers - Hi-Point 995TS
Accuracy
No complaints here.
Reliability
It fired every time I wanted it to.
Customization
The factory has a ton of accessories for it.
Ergonomics
The low rear sight was an annoyance.
Overall
Hi-Point 995TS Hands-On Reviews & Related Post
Hi-Point 995TS Variations & Comparables
4.3

VIEW DETAILS
The Beretta CX4 Storm is one of the earlier entries into the world of modern pistol-caliber carbines. Its simple direct blowback system has helped cement its status as an extremely reliable gun. Solid ergonomics make the gun feel slick and easy to point, but the gun is almost 20 years old, and it is starting to show.
Read More
final verdict
"Uglier 'n a mud fence, indeed. I would mostly agree, but ugly is as ugly does, and the Hi-Point Carbine doesn't shoot ugly. It is accurate, reliable, and adaptable, with more accessories available for it than you could shake a stick at. Add in the fact that the sub-$300 gun can really shoot, has a great warranty, and is solidly built, and you have a winner." – Mike Hardesty
Community reviews
There are no reviews for this product yet.
Add your own rating and help other Pew Pew users pick the right guns