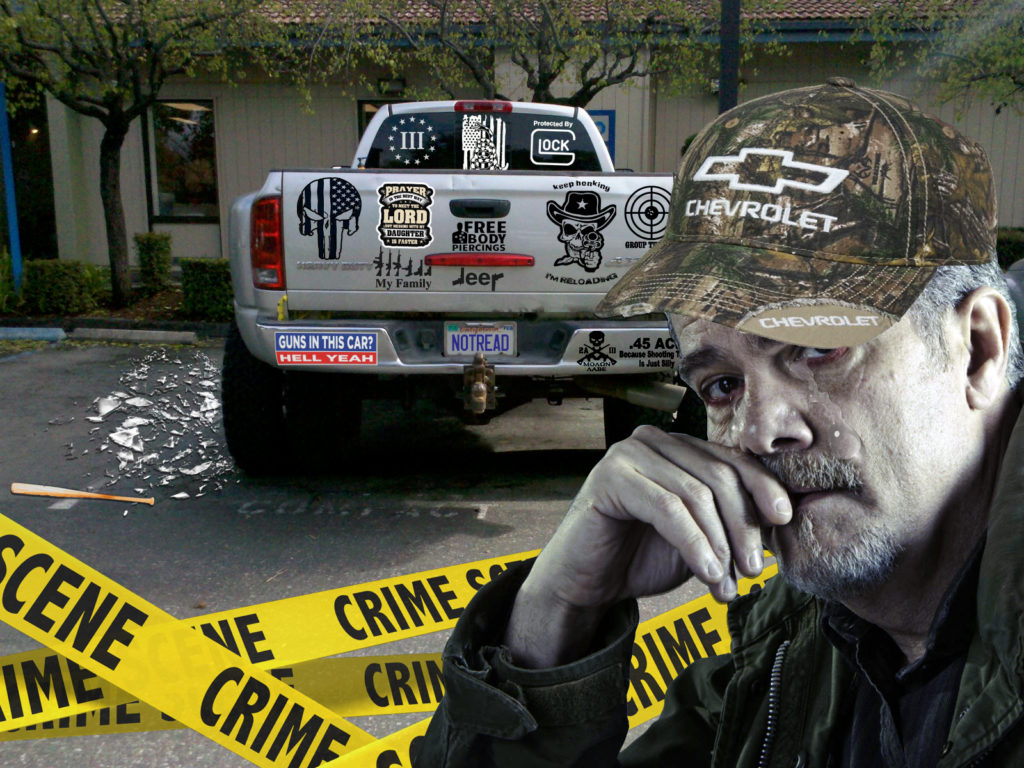 FRESNO, CA—Local welder and gun dad Todd Heston was shocked Friday morning to discover that the truck he regularly stores his unsecured firearms in had been burglarized. "I can't believe it – all eight of my Glock 21s and both of the AR-15s I had stashed under the seat – gone, just like that."  Heston says he's kept guns in his truck for years without issue, noting that the Gadsden flag emblazoned across the rear windshield "specifically requests the opposite of this."
When asked if the large amount of gun-related stickers and vague threats that adorn his vehicle could have signaled him out as a potential high value target for smash-and-grab thieves, Heston indicated that he didn't think so.
"What kind of man looks at all these vague threats and still has the gusto to smash a window lookin' fer loot? In my day, you didn't mess with a man like me – a truck like mine. I was badass. People used to respect a man willing to broadcast how many guns were in his possession while rolling coal and doing 80 down a cul-de-sac… But time's have changed." A single, patriotic tear streamed down his worn face.
Todd notes he still has a Hi-Point at home.
Disclaimer: This is a satire/parody post, which may or may not use actual names in quasi-real and/or fictitious narration. So try not to get too butt-hurt about it.