With SHOT Show 2018 behind us, and all our writers already letting you know what guns and gear they're excited for this year, I thought it would be a good idea to take a look at some of the highlights from the convention itself and show off some of the cool toys we got to play with.  
This does two things.
One, it lets us show off how cool our jobs are.
Two, it lets you see all the new toys you'll be wanting to buy this year, and in the years to come.  
Three, (yeah, I know I said two earlier) it let's us get an idea of what kind of stuff you want us to talk about this year, so if you see something here that's interesting, be sure to let us know in the comments below and we'll try to snag one for a review, and maybe even do a giveaway.
Sound good?
There's not much else to say, so let's take a look at some cool guns and accessories.
SIG P365
SIG's new P365 was the belle of the ball at SHOT this year, and with good reason.  The sub-compact 9mm is being marketed as the first and last thing in carry guns, and it looks like SIG might have something pretty close to that here.
The P365 is about the same size as a Glock 43, which is to say it is sub-compact and built for concealment.  It's coming out at an MSRP of $599
Now, you might be thinking "What makes another new single-stack, sub-compact 9mm so special?"
Honestly, nothing.  The single-stack tiny niney market is pretty saturated between the Glock 43, the Springfield XD-E, the M&P Shield, etc.
But the P365 isn't a single-stack.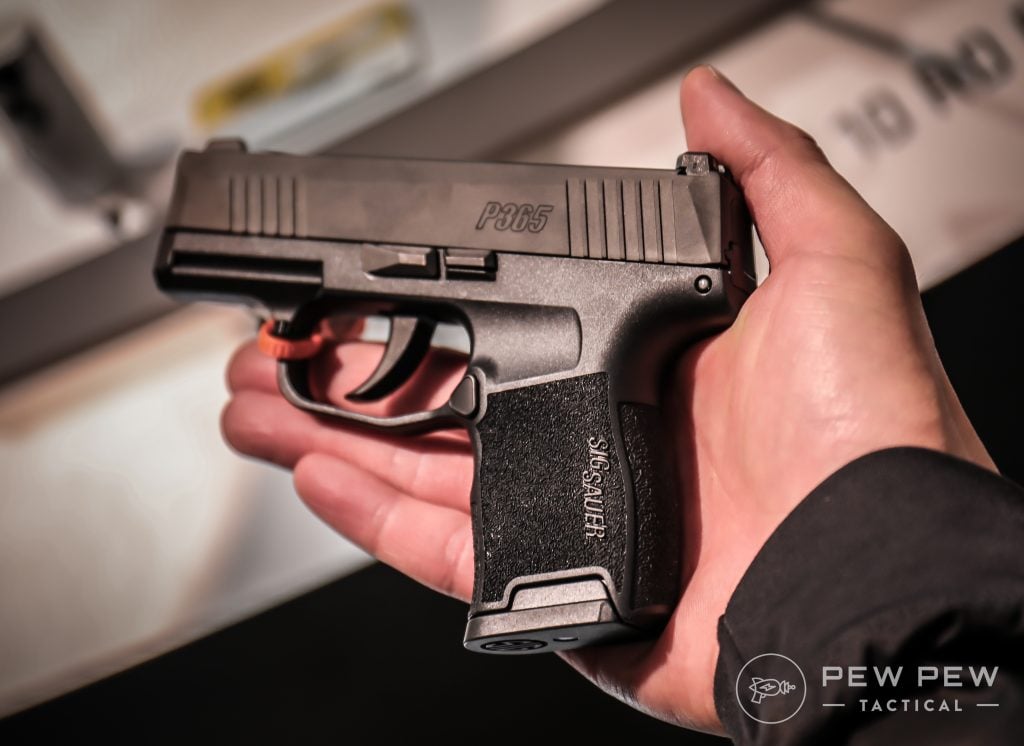 The P365 holds a default ten rounds in the mag, or a whopping 12 round with an extended mag, and manages to do that in a gun that is only .05 inches taller than the Glock 43, which carries half the rounds on tap.
That alone makes the gun worth looking into for me, and it's got our other writers interested as well.  If you're interested, you can already pre-order this future smash hit now.  I have no doubt it's going to be difficult to find this thing in stock in the months to come.
499
at Brownells
Prices accurate at time of writing
Prices accurate at time of writing
Alpha Wolf PCC in .45 ACP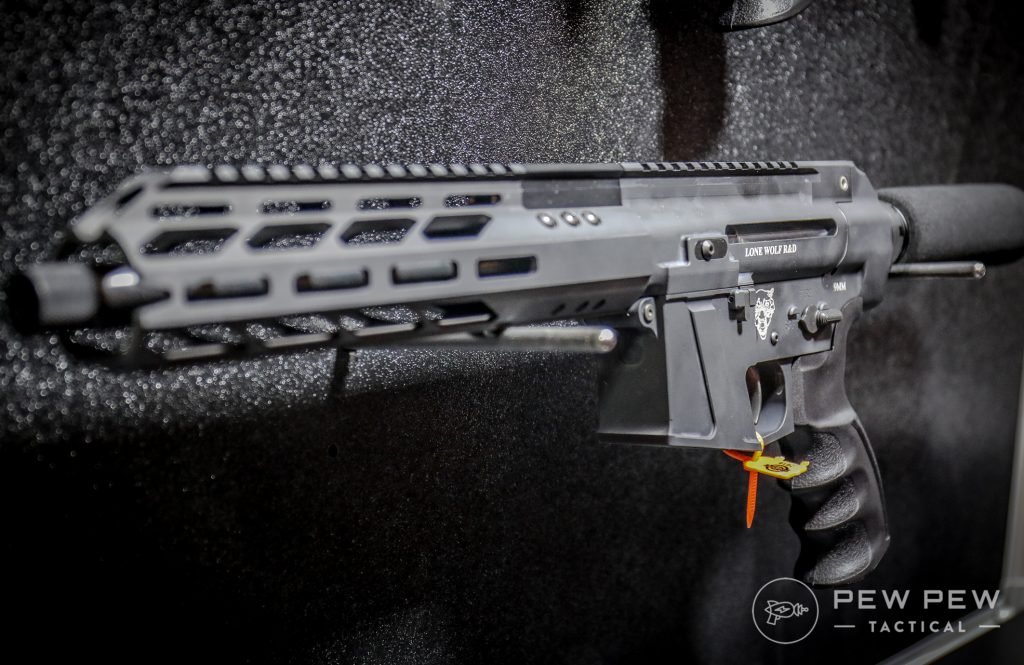 If you've spent any time looking into upgrading your GLOCK, you've probably come across the Lone Wolf brand and their premium Alpha Wolf Line.  We've talked about their products before when recommending the best GLOCK barrels, triggers, frames…basically everything.
You can even build a completely non-GLOCK GLOCK using all Lone Wolf parts.
So, naturally, when the GLOCK experts announced a new PCC that takes GLOCK mags, the public was interested.
So was I.  The Alpha Wolf PCC was revealed last December and made its formal public appearance at SHOT late last month.  It comes chambered in .45ACP (with more chamberings on the way) and looks something like the bastard child of a CZ Scorpion EVO and the G9 GLOCK-compatible ARs we're used to seeing from Lone Wolf.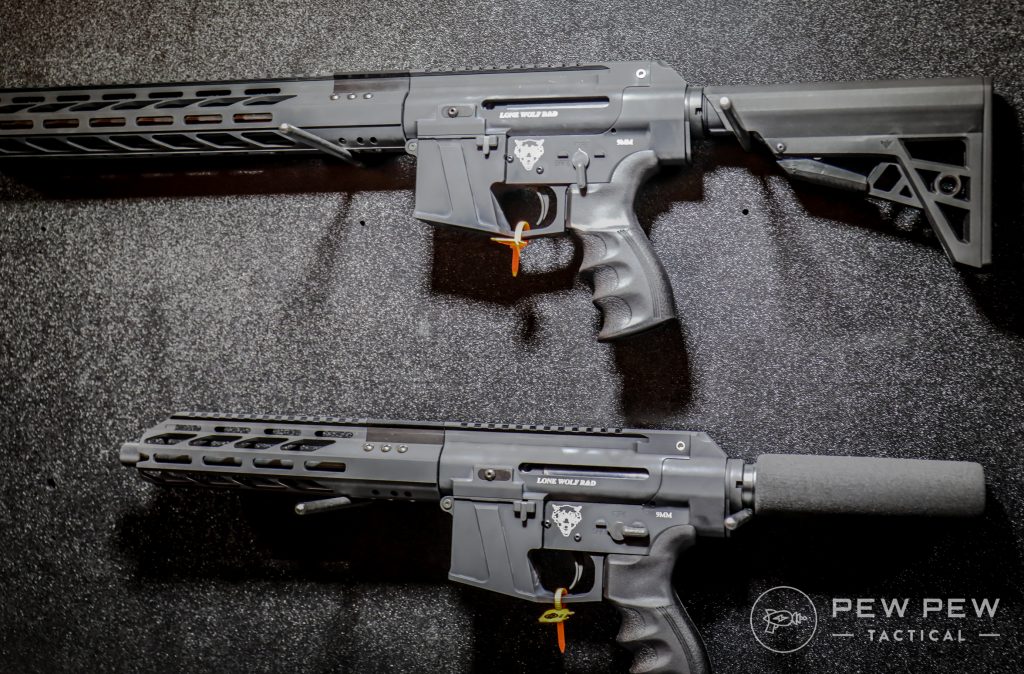 Its this second part that really has me interested.  This things takes standard AR triggers, meaning you can slap your favorite drop-in AR trigger in there (for me, that means a Geiselle SSA-E).
Also, it's not a blowback action.  You have an actual short-stroke gas piston system, which might put this thing on my list of best piston-driven ARs.
The big upside to this is an even softer shooting gun that's going to stay cleaner longer, and be a lot less of a hassle to maintain.
The .45ACP chambering is something of a surprise, but a welcome one in my opinion.  The .45 GLOCKS don't get enough love.  Now, I love my GLOCK 19, and I've talked before about my love of the Micro Roni Stab that sorta turns said G19 into a vaguely carbine-shaped thing.
That being said, bigger bangs are sometimes better, and I really like the idea of a soft-recoiling PCC in .45 that I can customize to my heart's content (its also has full M-LOK rails so you can be as mall ninja as you want with this thing).
TAVOR 7 and TS12
Israeli IWI's Tavor made big waves as one of the most popular bullpup rifles in the United States, despite a trigger that is aggressively awful in every way a trigger can be.  
Of course, they update the 5.56-chambered version with a better trigger and a few other neato bells and whistles that generally make it easier to run if you're already familiar with the AR/M4 platform.
Now though, we have two new kids on the block in the form of the .308 TAVOR and my personal favorite the TAVOR TS12…which is in fact a shotgun.
That's right we finally get to see TAVOR take a stab at a shotgun.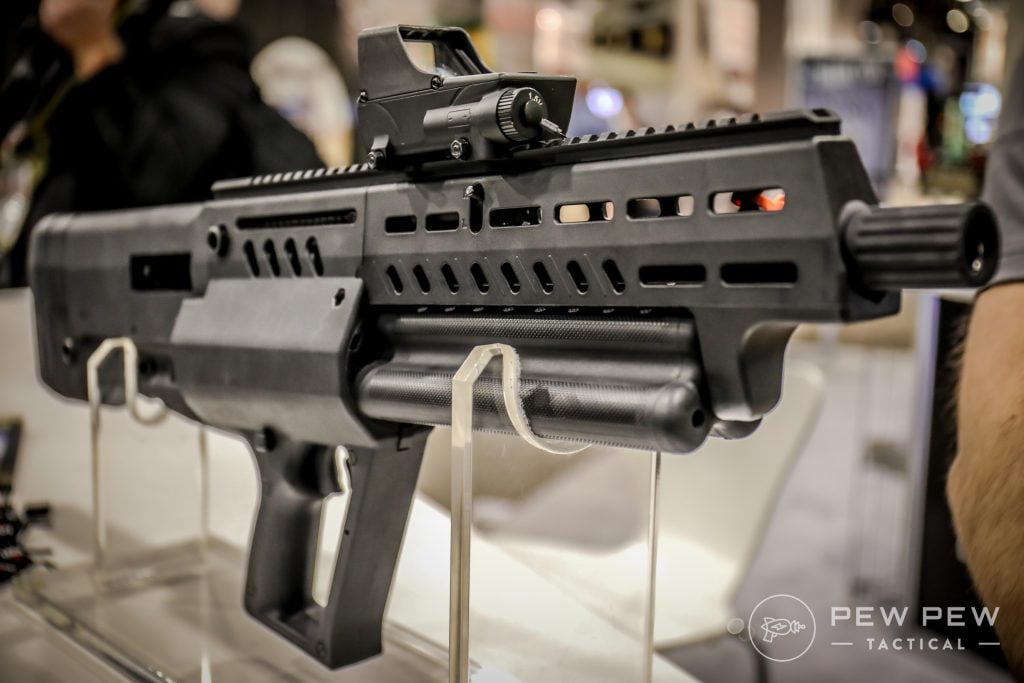 This one comes in a 12 gauge flavor and holds 15+1 shells in a rotating 5 round tube setup.  You also get a barrel that accepts Benelli/Beretta-compatible choke tubes, M-LOK attachment points on the 3 and 9 o'clock sides of the forend, and the ability to swap the extractor from left to right so you lefties don't get spent shells in and around your mouth.
The TAVOR 7 is a true battle rifle chambered in .308 and I have to say, I'm really excited to see how it does.  This is definitely a military-minded weapon, and it comes with all the rails an operator or Tactical Timmy could possibly want.
It also includes a four position gas block that has suppressed settings, as well as all corrosion-resistant internals.
Also, the whole thing has been designed almost like a takedown variant of the original TAVOR. It splits into two pieces in the field, no special tools required, and is designed to be easily and quickly serviceable.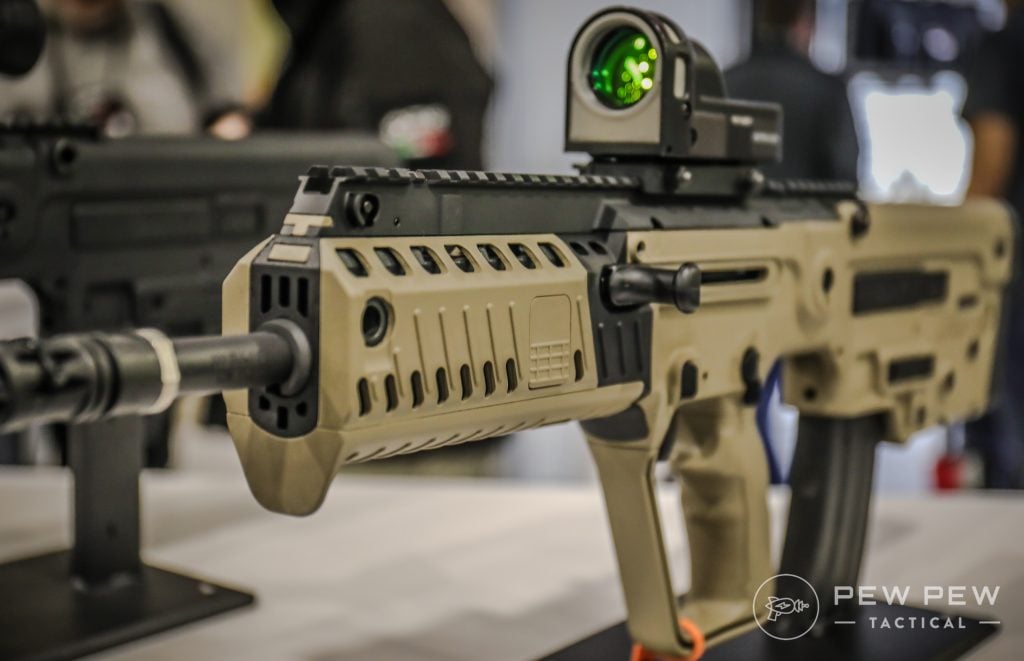 It's also just a hair under 30 inches in length thanks to the bullpup design, so it's a wonderfully compact system that comes in around 9lbs or so unloaded.  It's a dense little weapon, but well-balanced which makes recoil control a breeze.  
I know some people don't love the way a bullpup feels and don't like having to relearn some weapon manipulation, but those people are wrong.  This thing feels really good, and I hope I can get my hands on one for a review *hint hint IWI*.
Daniel Defense
 DDM4V7P AR-15 Pistol
Daniel Defense has appeared on a lot of our "best of" lists, and all the things that make those other rifles great like the excellent construction and rock-solid engineering that starts with a ground-up design approach, are present in the brand new DDM47P pistol.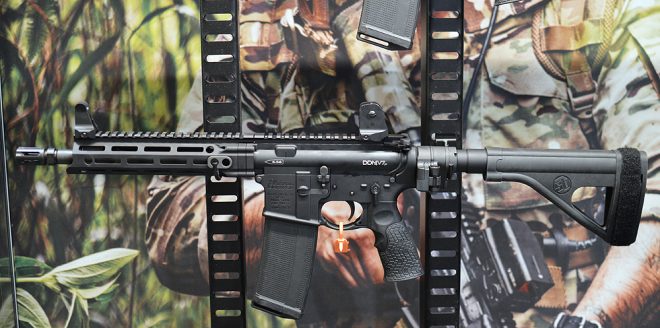 I know that name is a mouthful, but basically what you need to know is that Daniel Defense finally got around to making a pistol version of their popular P7 rifle.
The compact DDM4V7P has a 10.3″ chrome-lined heavy phosphate coated government profiled barrel and an aluminum Daniel Defense MFR 9.0 M-LOK Rail, and comes with an SB Tactical SOB brace making it perfectly legal without a tax stamp.
Faxon P320, M&P 2.0, and GLOCK Barrels
Faxon is one of our favorite barrel manufacturers around here, and we've made no secret of that.  We like their stuff a lot, so finding out that they are now making new pistol barrels brings me no end of joy, and you can definitely expect to see reviews for some of these offerings in the coming months.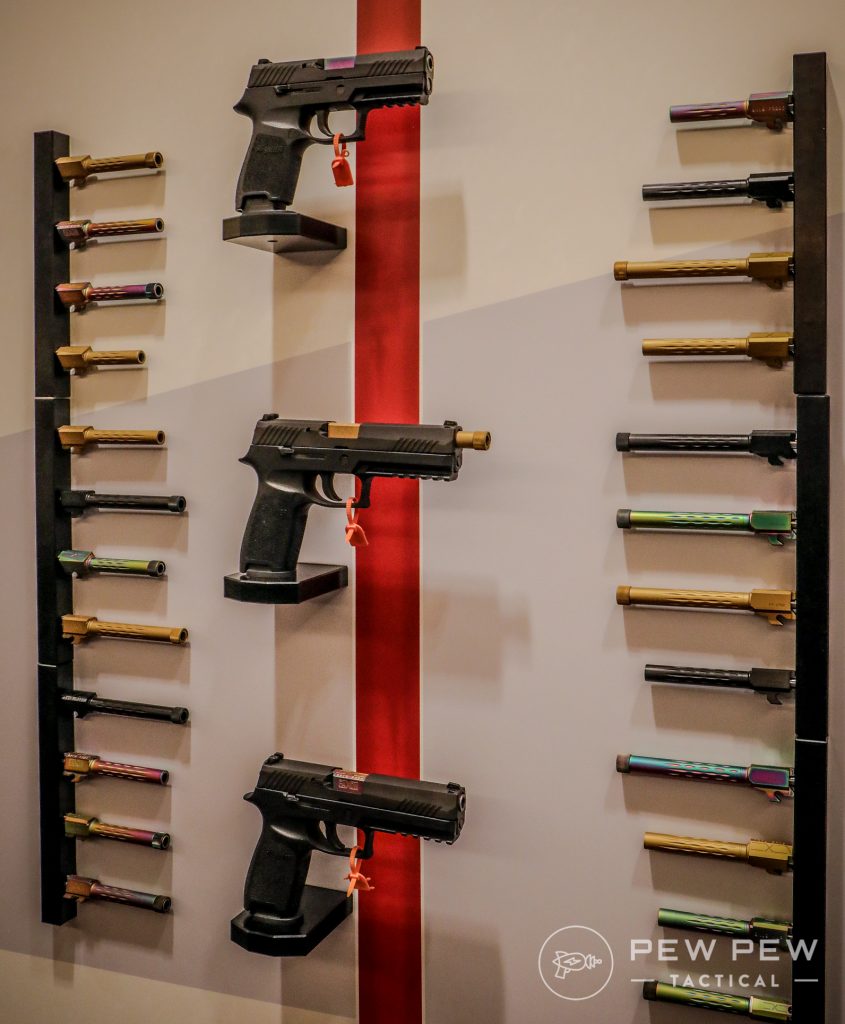 Faxon making pistol barrels like this just fills me with no end of joy.  As much as I love my Lone Wolf GLOCK barrel, I may have to swap it out for one of these Faxon barrels (or just…have multiple barrels).
What makes these barrels so great?
To start with, we have to talk about the colors.  Look at these things.
We have three finishes available, a gold-colored Titanium Nitride PVD, a rainbow PVD, and a standard Black Nitride.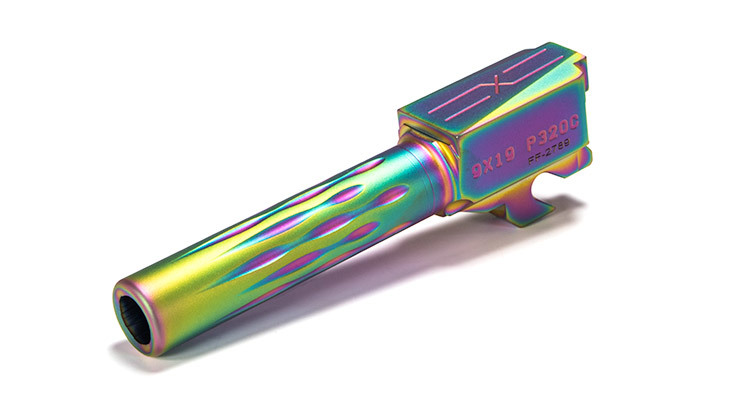 They are all available in threaded or target crown variants, and can come fluted or not fluted, depending on your preferences.  I'll probably pick up a target crown gold one just because I can.  These barrels are all in the ~$200-$300 range so no reason not to pick up one just because you like the look of it.
Pretty & Accurate Barrel
200
at Faxon
Prices accurate at time of writing
Prices accurate at time of writing
Of course, we also have to talk about the quality of these things.  Here's a review of a gold TiN Glock Barrel.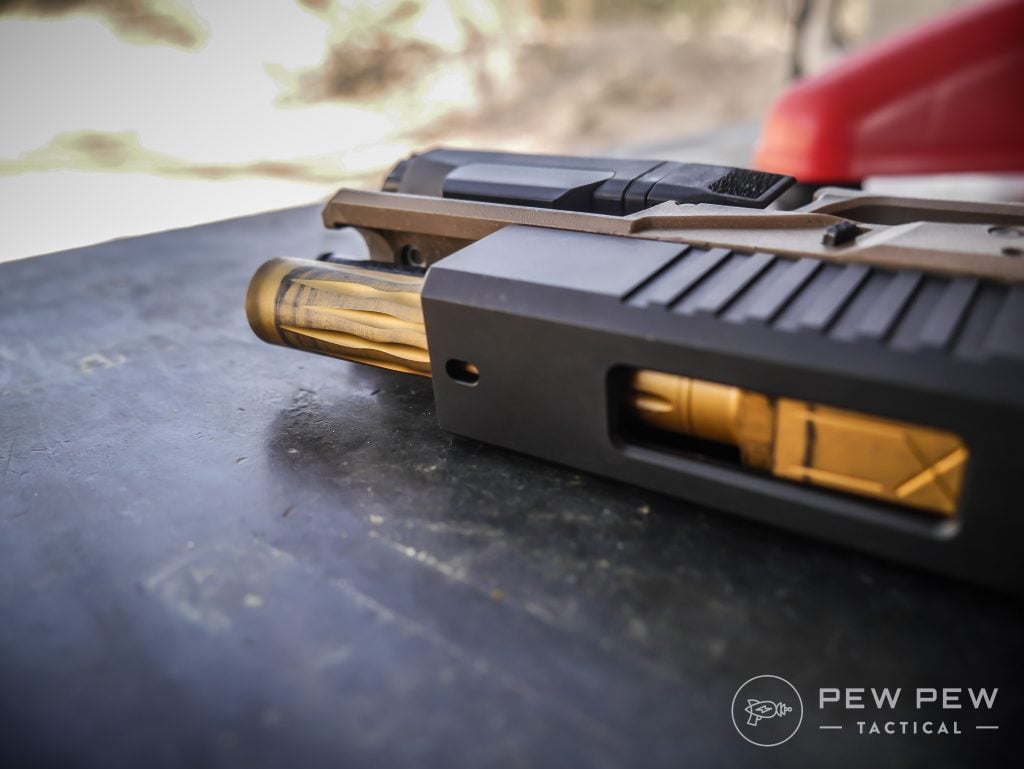 They should be available within a week or so of this post going up.
Faxon has also recently released a slew of new barrels for other platforms out, including AK barrels and new AR calibers including .459 SOCOM and .450 Bushmaster for those of you that regularly hunt Buicks.
The AK barrels (both in 7.62×39 and 5.45x39R) are already available and ready for purchase in 16″ or 18″ for the 7.62×39 and 16″ for the 5.45 Russian.
The .458 SOCOM and .450 Bushmaster barrels are coming soon and will be available in either 10.5″ or 16″ flavors.
STI DVC Steel
STI is one of the biggest manufacturers of high-end 2011-style raceguns for competition use.  I use them, many of our friends in competition circles use them, and they have won just about every competition out there.
For 2018, they've improved their DVC line that includes an Open and Limited version, as well as the Steel version you can see below.
Between the three, you can have one of the best possible choices for winning your next pistol competition, or at least rocking the pistol portion of a 3-Gun match.
Parting Shots
That about wraps it up for the really big news out of SHOT show this year.  Of course, there were about a million other smaller announcements, so make sure you check out coverage from our friends at The Truth About Guns or The Firearms Blog.  Definitely make sure you check out TFAB's awesome coverage of the absolutely amazing Barrett .224 Rifle.
Other than that, make sure you check back here regularly as we bring you more coverage of the products revealed at SHOT this year.  We'll be here to review a lot of these products, and more!
Which brings me to my final point: if there's something here you want to know more about, let me know!  I'll be hanging out in the comments below so let me know which of these items I should prioritize getting my hands on.