Going into 2018, Ruger has announced several new additions to their firearms lineup, the Security-9 pistol, the Precision Rimfire Rifle, and the PC Carbine.  Today we're going to give you the lowdown on what you should know about these new firearms.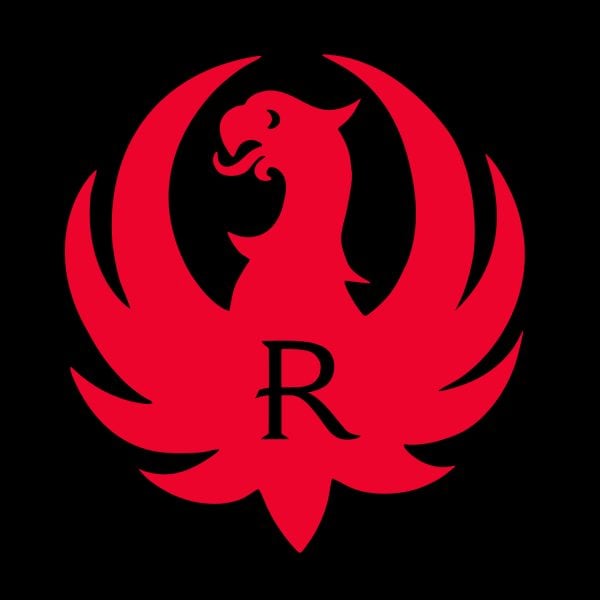 The New Ruger Security-9 Pistol
The new Ruger Security-9 pistol is a mid-sized centerfire pistol intended for day-to-day carry and self-defense.  So far, the available details are limited, but we'll go ahead and give you the rundown of what we know.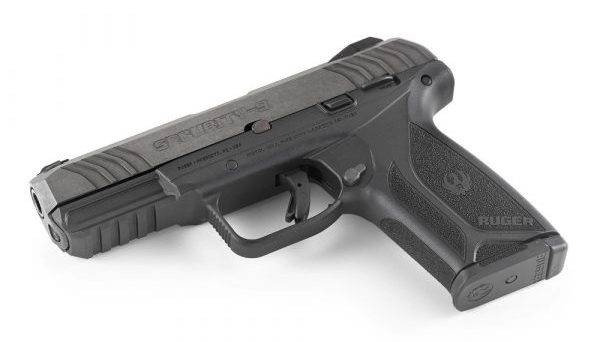 The Ruger Security-9 pistol is chambered in 9mm Luger with a 15-round, double-stack magazine, giving it twice the capacity of slimmer 9mm Luger pistols.  The Security-9 weighs 23.7 ounces with an empty magazine.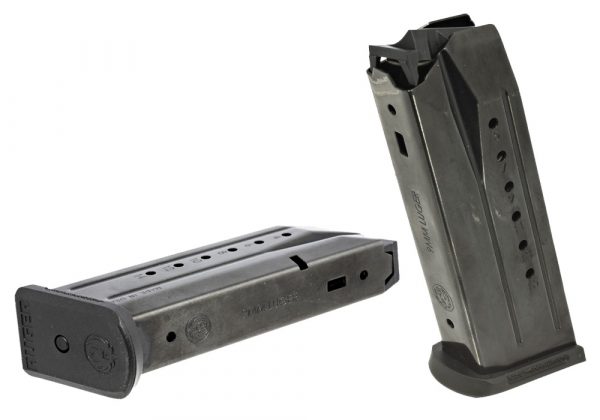 For those of you in states that restrict magazine capacities, there's also a 10-round version.
The American made pistol has a single-piece, hard coated aluminum chassis with full-length guide rails.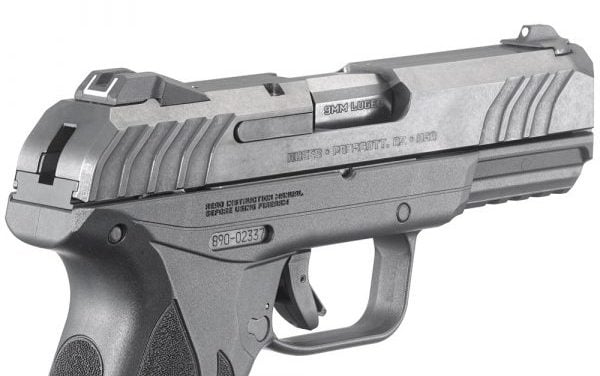 The pistol also boasts a blued, through-hardened alloy steel slide and barrel.  The barrel is 4" long.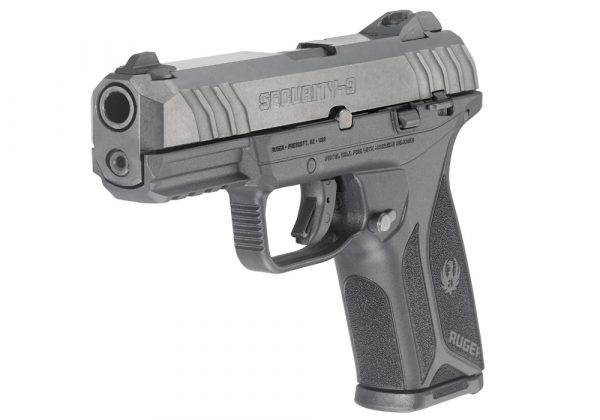 The pistol also features an ergonomic glass-filled, textured nylon grip frame with an integral accessory rail, allowing for utility as well as a firm and comfortable grip.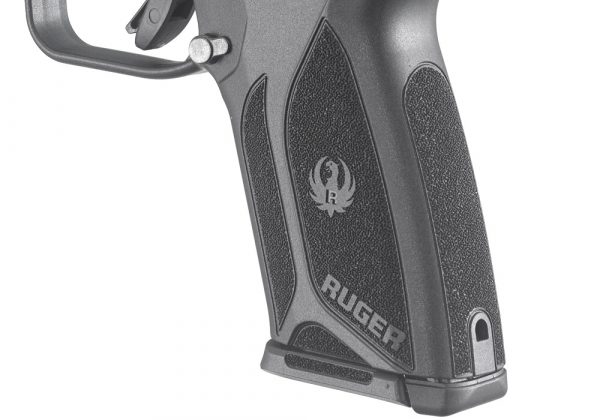 If you're already familiar with the Ruger LCP series of pistols, you may notice some familiar things on the new Ruger Security-9.
The Secure Action on the Security-9 is the same as the one used in the Ruger LCP II, which is derived from the hammer-fired LCP fire control system.  The internal Secure Action hammer allows for easier slide racking than other striker-fired pistols as well as a strong ignition force.  As Ruger themselves say, this provides "the smooth trigger pull of the LCP with the short, crisp feel and positive reset of a single action."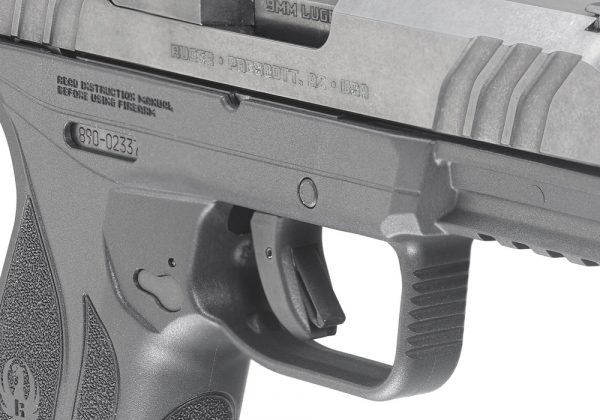 Front cocking serrations allow for positive slide manipulation.
The Ruger Security-9 features a dovetailed, high-visibility three dot sight system.  The front sight is fixed, while the rear sight is drift adjustable.  Sights can be easily switched out for different color options, which are sold separately.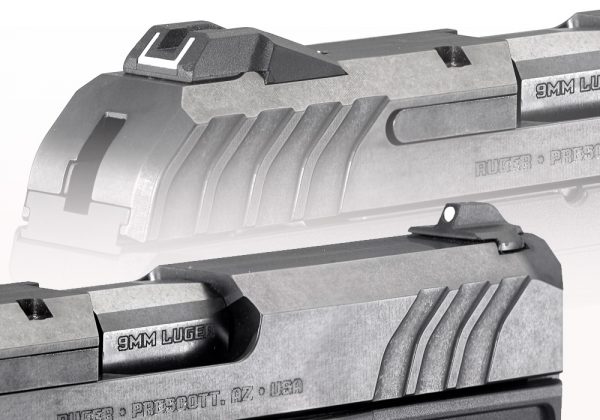 The pistol also allows for safe and simple takedown without any specials tools or trigger pull necessary.  
The Ruger Security-9 boasts a variety of safety features to keep you protected while carrying.  It has a neutrally balanced sear with significant engagement and strong spring tension, a bladed trigger safety, an external manual safety, and a hammer catch to prevent the hammer from coming into contact with the firing pin unless the trigger is pulled.  
The new Ruger Security-9 ships with two steel alloy magazines and a cable gun lock.

The New Ruger Precision Rimfire Rifle
The Ruger Precision Rifle is one of the most popular centerfire rifles, and now Ruger is introducing a rimfire version, chambered in .22 Long Rifle.

The Ruger Precision Rimfire Rifle features a molded, one piece chassis and adjustable buttstock assembly, made from glass filled nylon for added stability and strength.  The buttstock has a picatinny bag rider, molded-in window, and a metal QD pocket, to allow you to easily and securely attach accessories like a monopod, squeeze bag, and sling.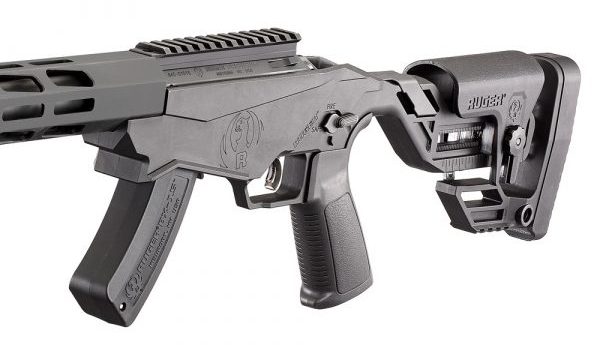 The Quick-Fit adjustable stock allows both length of pull and comb height to be adjusted to fit any size of shooter, any position, and any attire.  On top of that, the chassis features indicating marks to allow you to easily find your prefered positions again.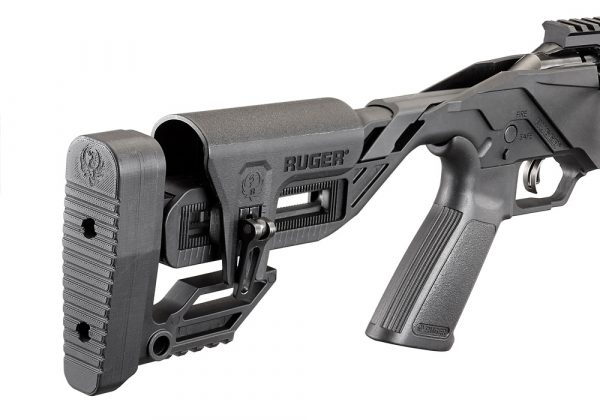 Competition shooters especially will enjoy the big-gun bolt throw adjustment, which allows shooters to easily switch from a rimfire 1-1/2" bolt throw to a short-action centerfire 3" bolt throw to reduce the chance of short stroking your bolt.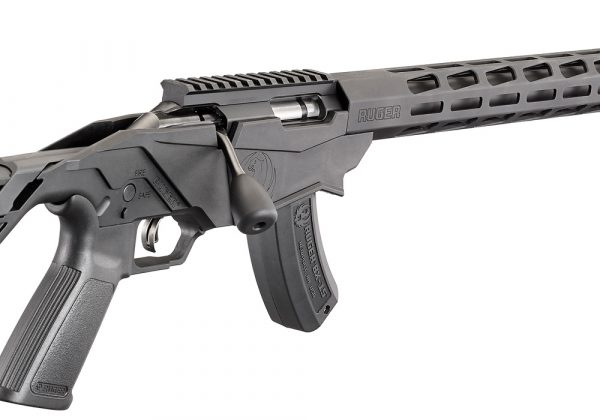 The oversized bolt handle is the same one as the centerfire Ruger Precision rifle and allows for positive bolt manipulation.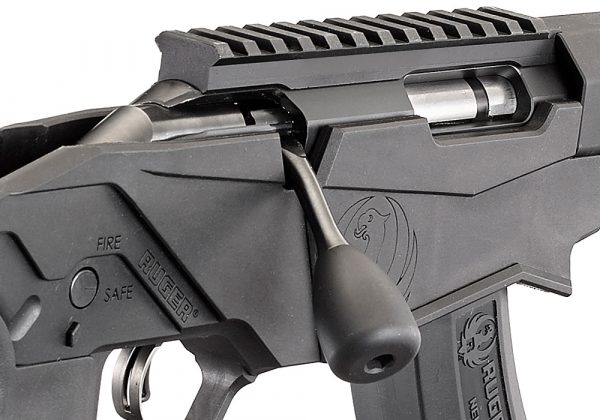 The Ruger Precision Rimfire Rifle also features the Ruger Marksman Adjustable Trigger, with a pull weight range of 2.25 lbs to 5 lbs.  The adjusting wrench is stored in a compartment in the buttstock.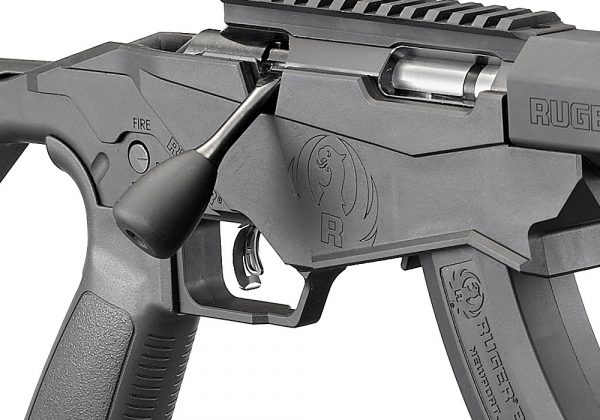 The Precision Rimfire Rifle has an AR-pattern pistol grip and safety selector of Ruger's own design, which boasts an extended reach and a 45 degree, reversible safety selector.  The Precision Rimfire Rifle can also be configured with most other AR-style selectors and grips.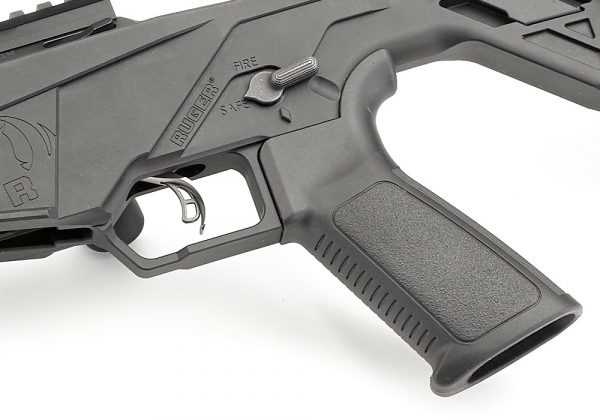 On top of the Precision Rimfire Rifle's receiver sits an anodized picatinny scope base, which includes 30 MOA elevation.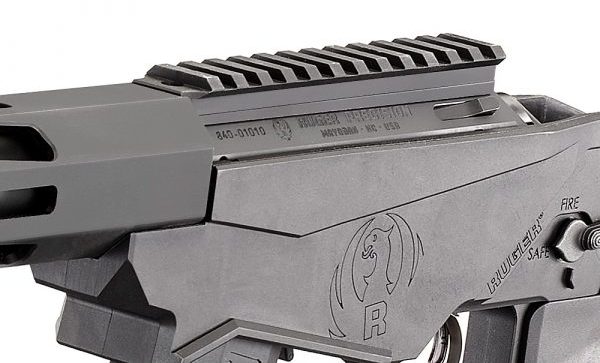 In front of that scope base is the rifle's hard black anodized aluminum 15 inch free float handguard with M-LOK slots on all four sides.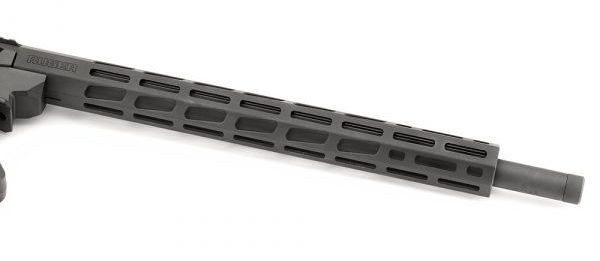 Inside is the 18 inch, cold hammer-forged 4140 alloy steel target barrel.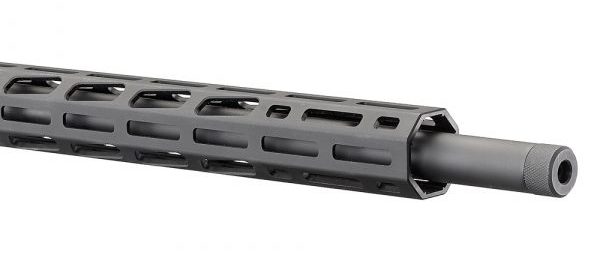 The barrel is threaded for standard muzzle accessories and comes with a factory installed thread protector over both the threads and the crown.

The Ruger Precision Rimfire Rifle accepts all Ruger 10/22 magazines and ships with one 15-round BX-15 magazine.  The model 1804, for those in states with capacity limits, ships with two 10-round BX-1 magazines.
The New Ruger PC Carbine
The third new firearm that Ruger has announced is the new PC Carbine.  This lightweight, pistol-caliber rifle, chambered for 9mm, may be petite, but it's not short on features.  Let's talk about a few of these features that Ruger has packed into this little rifle.  

First, the Ruger PC Carbine boasts interchangeable magazine wells that allow for the use of common magazines from both Ruger and Glock.  The rifle ships with magazine wells for both the SR-Series Pistol and Security-9 magazines and Glock magazines, with the former magazine well pre-installed.  A magazine well for Ruger American Pistol magazines is also available for purchase.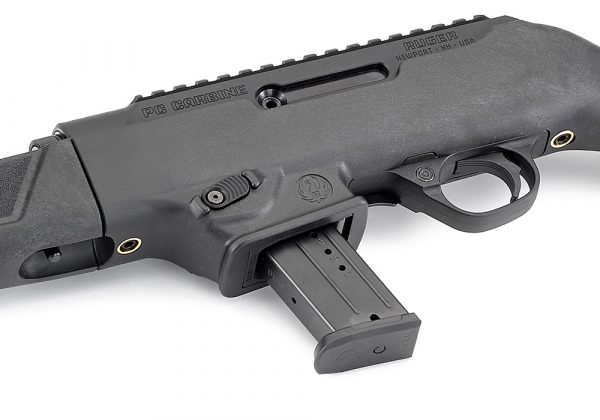 The rifle also allows for easy takedown via the separation of the barrel and forend assembly from the action, simply lock back the bolt, verify that the rifle is unloaded, push a recessed lever, and finally twist and pull apart the two subassemblies.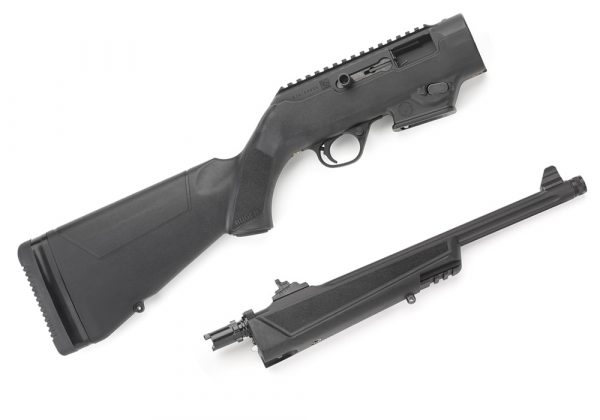 In addition, the Ruger PC Carbine has a dead blow action with a custom tungsten dead blow weight and a bolt machined from heat treated, chrome-moly steel.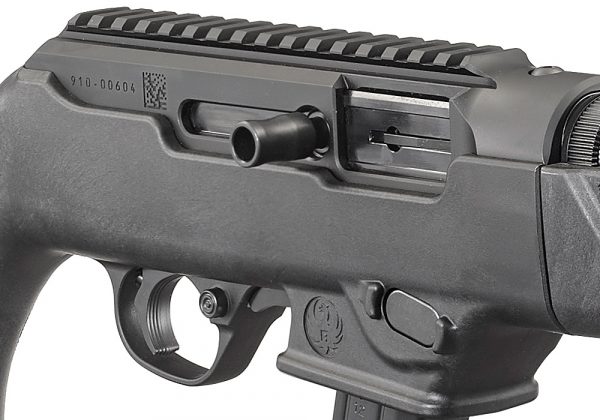 The PC Carbine also features both a reversible magazine release and a reversible charging hand to allow for single-handed or ambidextrous use, without interfering with your grip.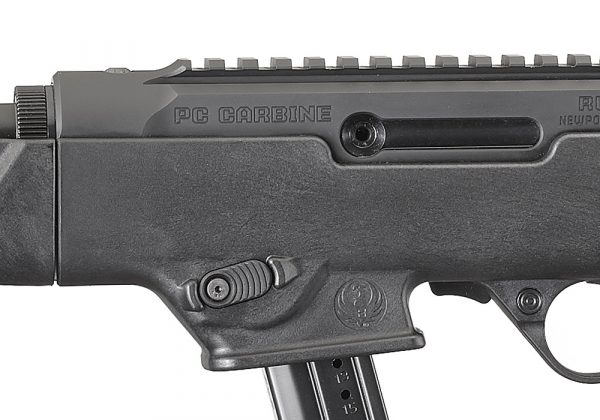 The carbine's barrel is also made from chrome-moly steel, but is cold hammer-forged.  Fluting on the barrel minimizes weight, while the heavy contour enhances accuracy.

Like the Ruger Precision Rimfire Rifle, the Ruger PC Carbine is threaded for standard muzzle accessories and comes with a factory-installed thread protector.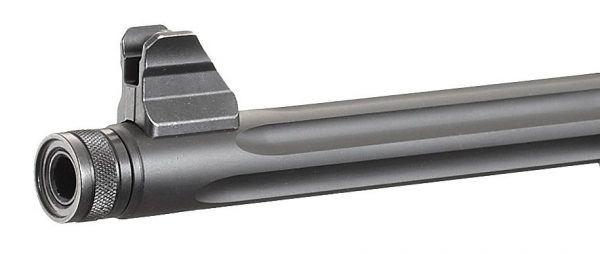 The Ruger PC Carbine's sighting system features an adjustable ghost ring rear aperture sight and non-glare, protected blade front sight.
Though this carbine's stock isn't fully adjustable like the Precision Rimfire's, the rubber buttpad does have spacers to allow the rifle to be sized for different shooters and gear.  The carbine ships with three ½" spacers.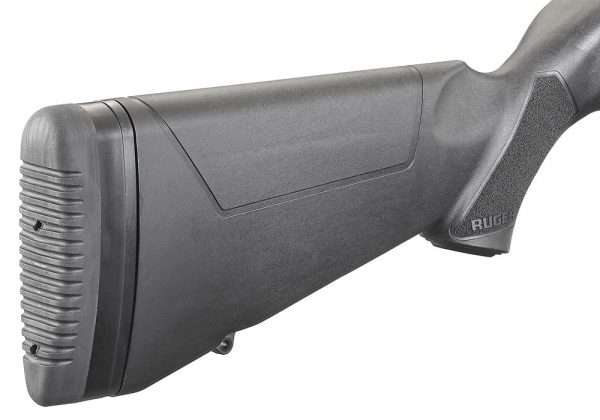 The buttpad attaches to a glass-filled nylon synthetic stock with sling swivel studs and a forward mounted accessory rail.  The grip boasts a proprietary texture.

The PC Carbine's trigger uses 10/22 trigger components and a light, crisp trigger pull.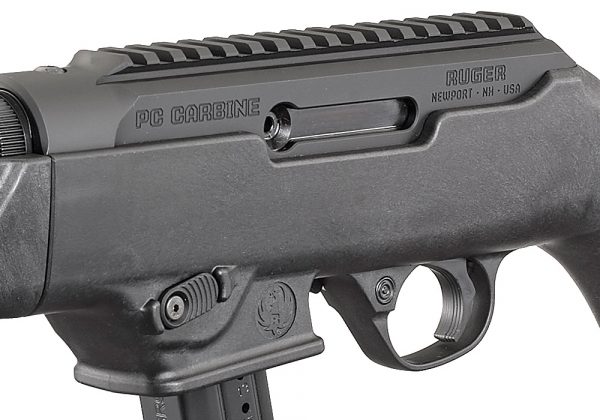 The receiver is CNC-milled from an aerospace-grade 7075-T6 aluminum billet, is Type III hard-coat anodized, and includes an integrated Picatinny rail.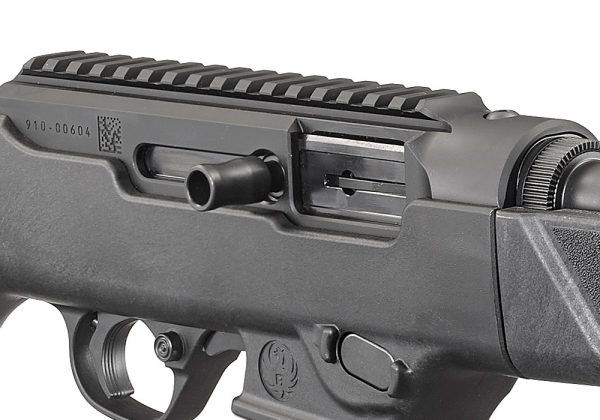 The Ruger PC Carbine ships with an SR-Series magazine and hex wrenches for rear sight adjustment, buttpad spacer adjustment and charging handle removal.

Excited Yet?
There you have it: three awesome new firearms from Ruger to look forward to in the new year.
Now I want to hear from you.  Which of these new firearms from Ruger are you most excited about?  Are there any features you're particularly looking forward to?  Any that you think these guns are missing?  What other new firearms are you particularly pumped about?  Let us know in the comments!