In one last hurrah before we're back to our regular content (yay), I threw together a ruck for an overnight bikepacking excursion, and figured it'd be fun to give you guys a look at a few pieces of the kit involved.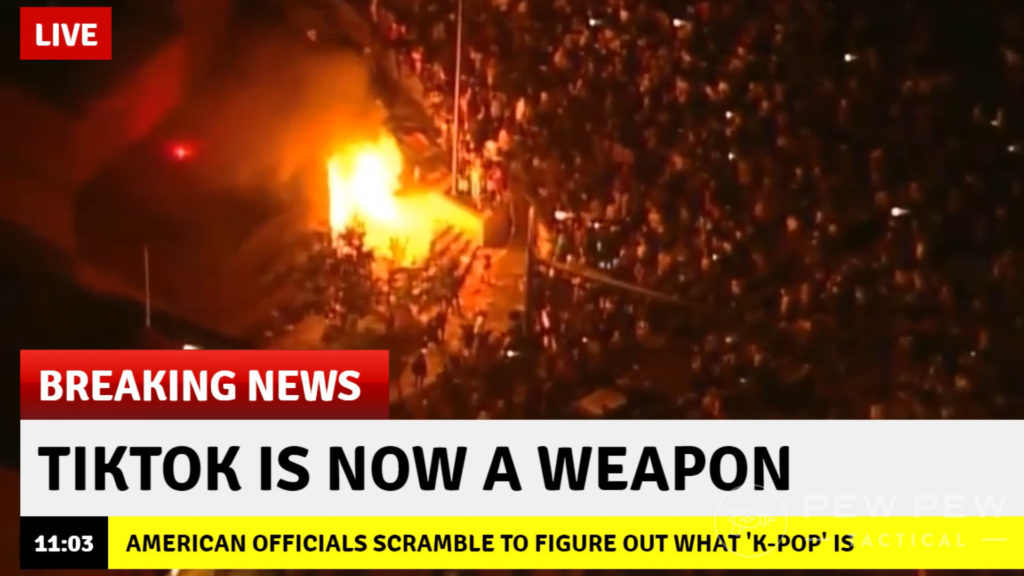 Full video below!
For me, firearms and the outdoors generally go hand in hand, and I'd imagine probably a lot of you also hike, camp, backpack, or have some other type of outdoor hobby that maybe you haven't had the opportunity to go out and do for a bit.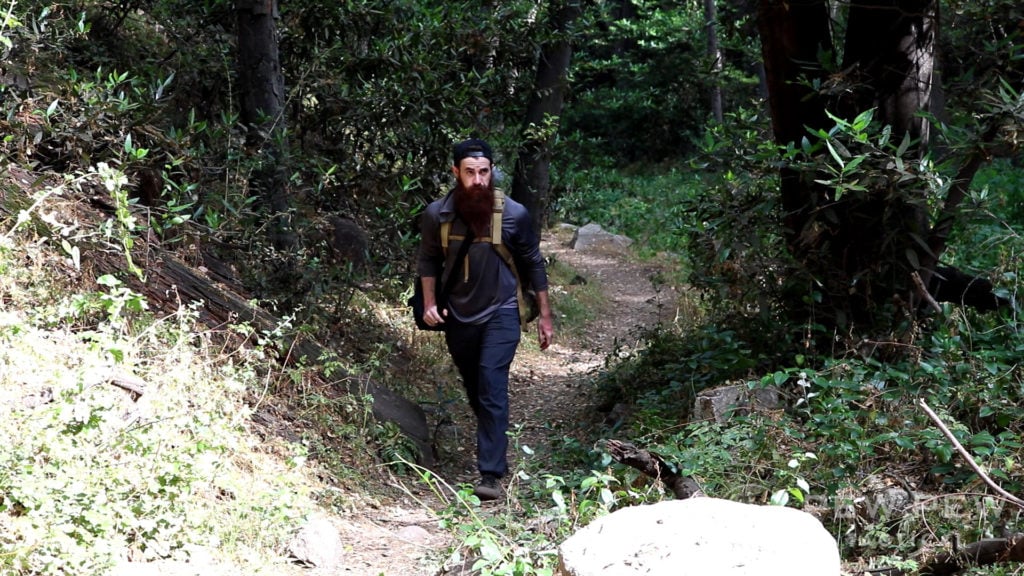 One of the ways I've been maintaining personal sanity is by getting into longer distance bike riding.
I'd been planning to get out and do an overnight bike-packing trip with one of my oldest friends that's an absolute monster when it comes to bike-related endurance and being a mountaineering hobo generally.
And this felt like the perfect occasion to go play with a bunch of gear I can't really meaningfully test in my apartment.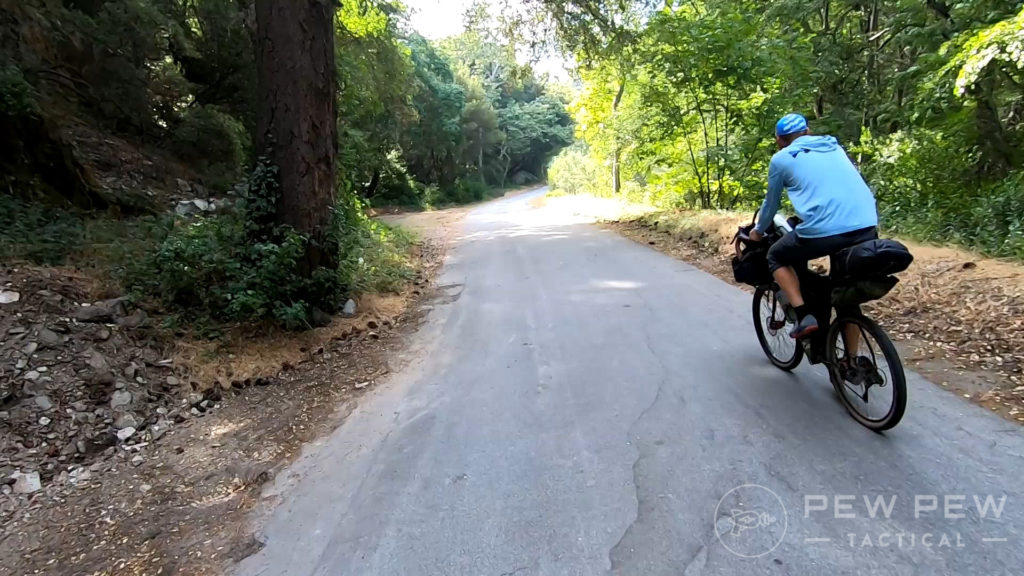 Nature Hike Cloud UP 1
Now, I'm usually the type that prefers a simple bivy bag setup to a tent in most situations, but our mountains this time of the year are essentially overrun by bugs.
Though there's nothing really dangerous up there outside of the occasional scorpion, it's always nice to get a good night's rest without having to worry about waking up with a bunch of new buddies in your bag with you.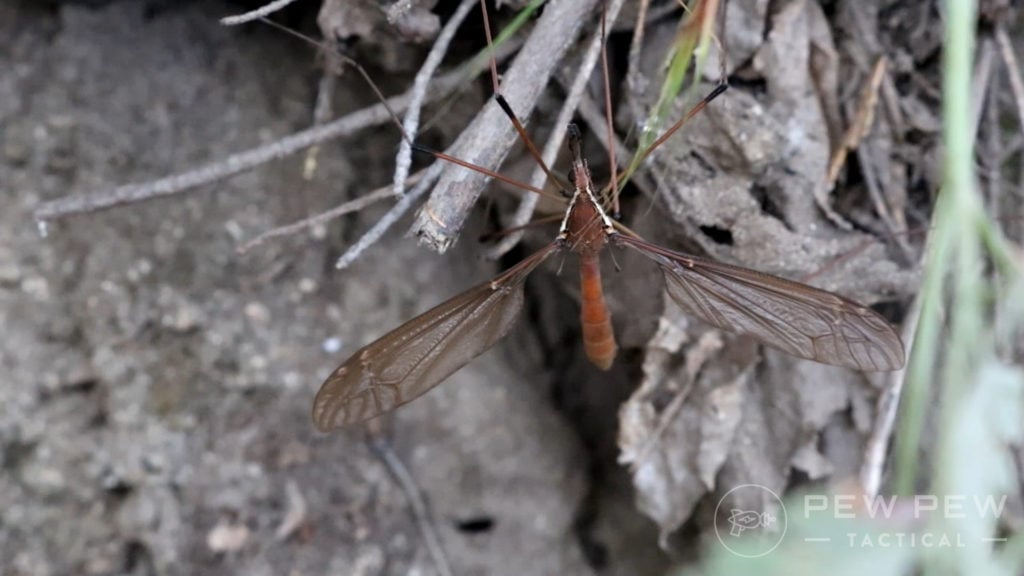 This kit kind of came together last minute, and realistically my only option for snagging a light-weight, single person tent came in the form of the Nature Hike Cloud 1 – and honestly, I'm pretty reasonably impressed.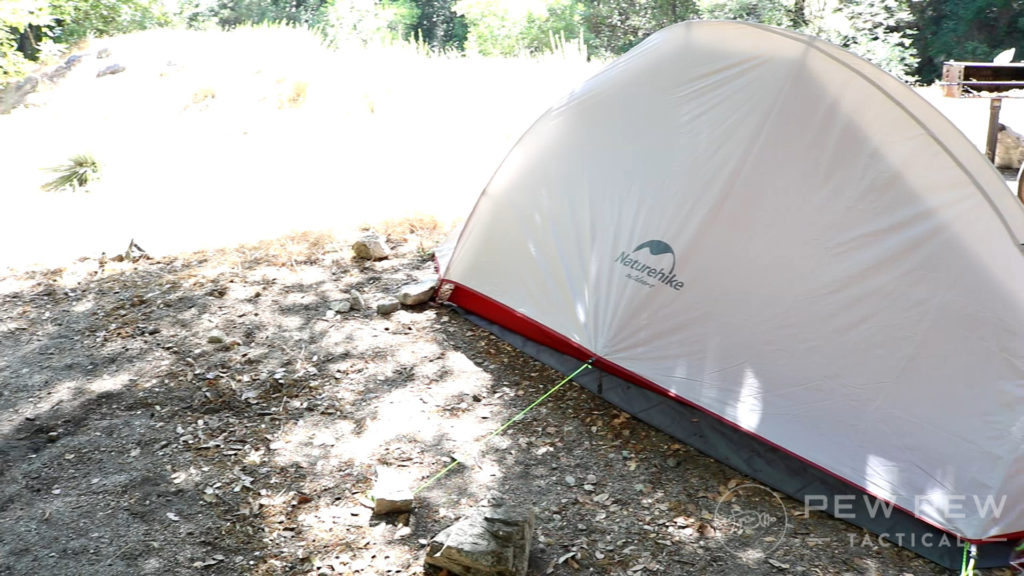 I feel like I've got a dumb habit where I can't turn off the tactical dork part of my brain that isn't super into bright ass neon colors often found in camping equipment.
100
at Amazon
Prices accurate at time of writing
Prices accurate at time of writing
I appreciate that the Cloud 1's overall color scheme is mostly muted grays that fit in pretty well with our mixture of lunar dust and terrible quality granite.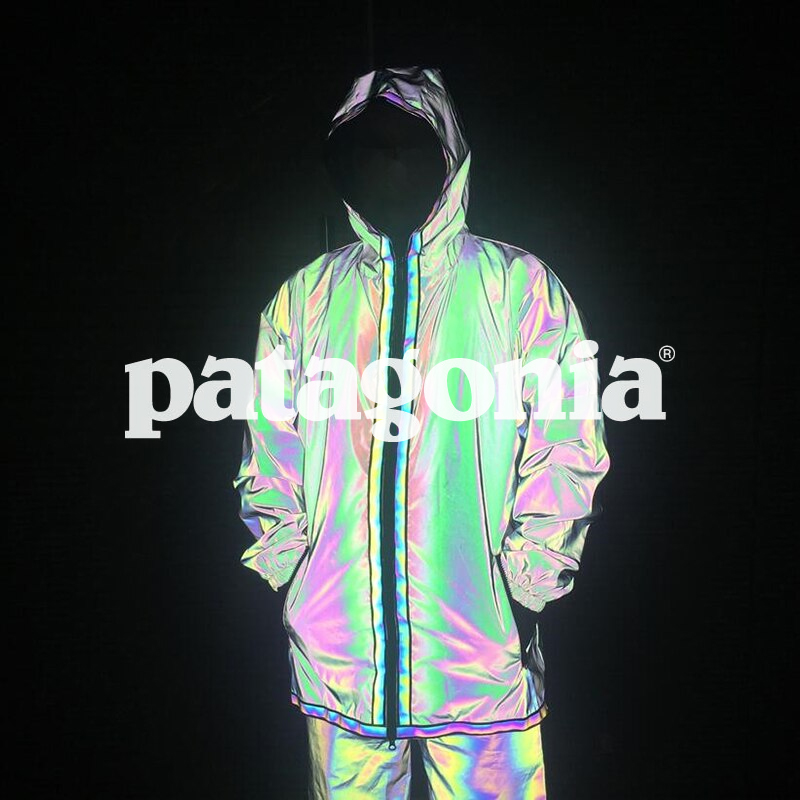 It's been years since i've owned a tent setup, and this shit's gotten way more highspeed than I remember. You've essentially got a ground cover to provide a tiny bit of insulation from the earth, the tent itself, a rain fly, stakes and poles.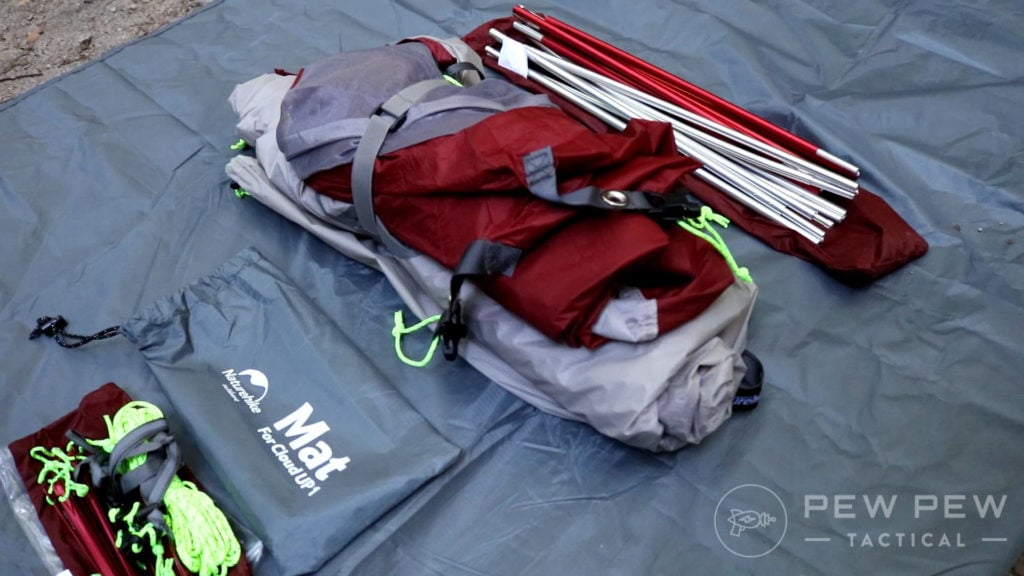 The entire setup assembles in minutes, and I was grateful that it's all pretty self explanatory given how completely bonked out on calories I was after our ride in.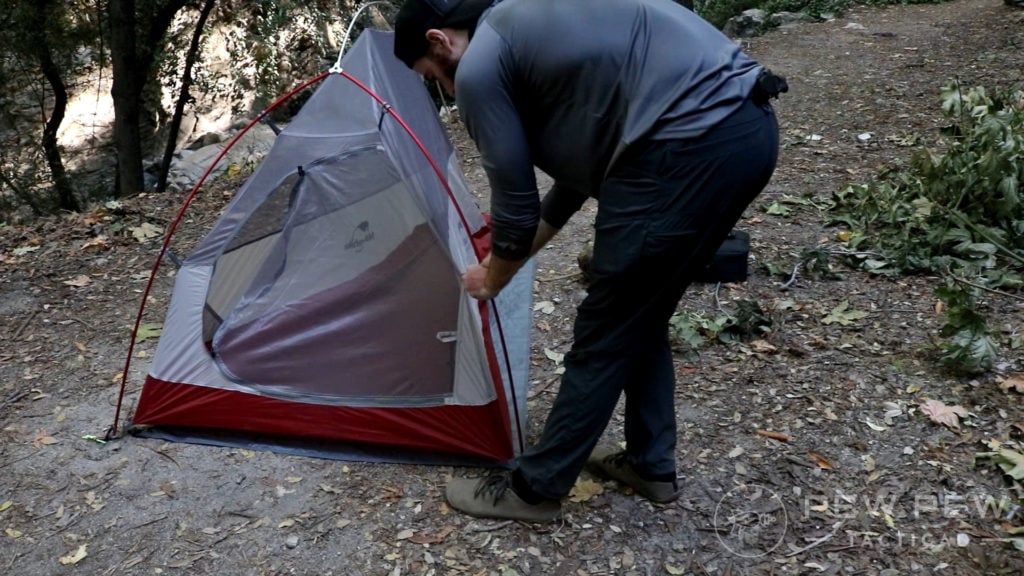 I'm not gonna spend too much time selling you on it because realistically, it's a tent – but it does the job and clocks in at just about 3lbs.
Which if you've done any kind of backpacking, bike-based, or not, you'll know that saving weight here and there is gonna do wonders for your experience overall.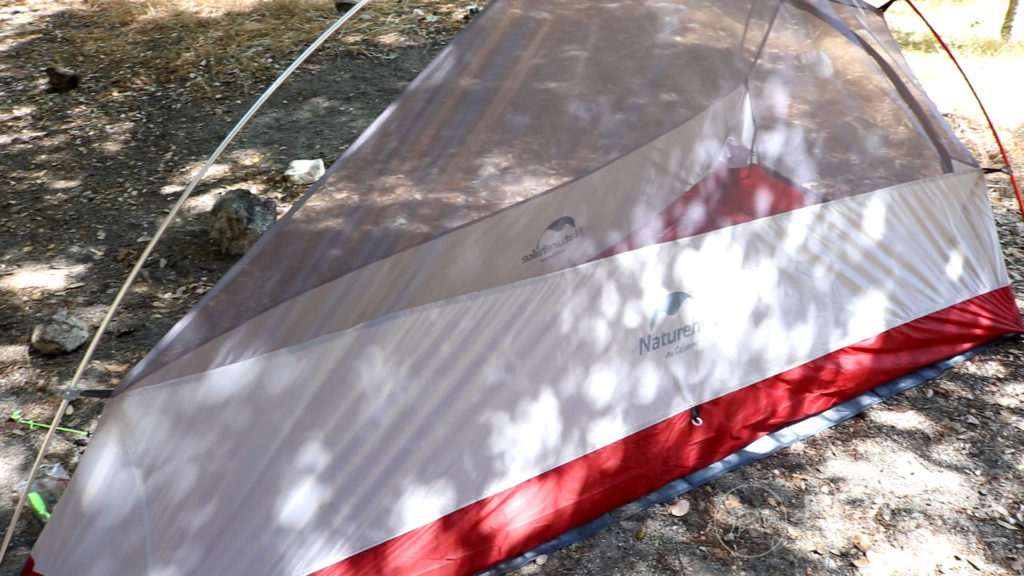 After waking up in the morning to the swarm of ants, spiders, and obnoxious biting flies that had decided to chill all over the outside of the tent, I'd say it's $100 well-spent if you need a cheap and easy solution for not being swarmed by invertebrates.
Gerber Knives
Up next, I've got a handful of Gerber Knives I've had sitting on my desk for a bit, and I figured this would be a great opportunity to put them through their paces.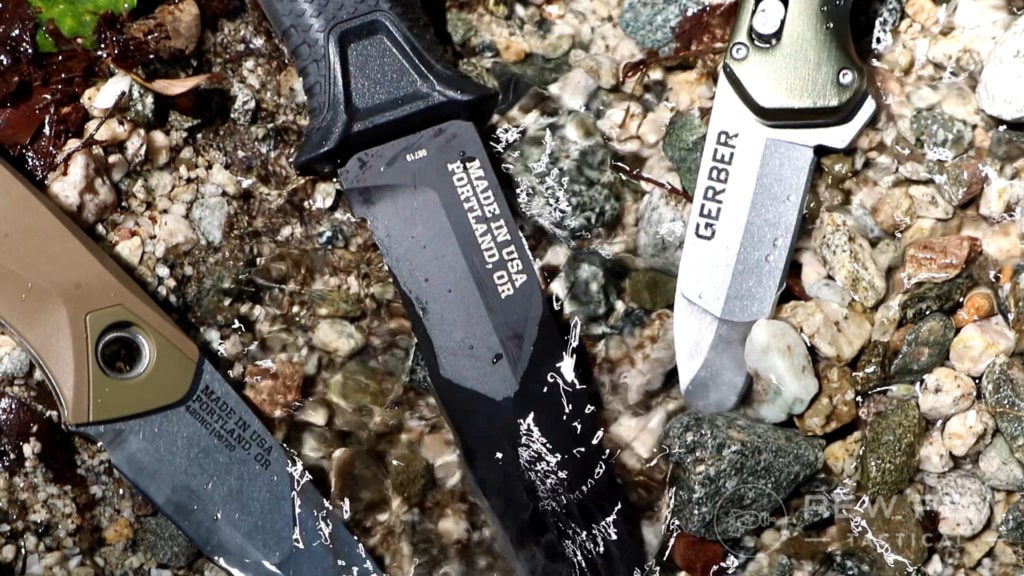 If you've been outdoors literally… ever, you're probably aware that a good knife is an absolutely essential item.
Be it for some light bushwacking to clear overgrown trails, dice up the is ingredients of your hobo stew, cutting paracord around camp – you get the idea.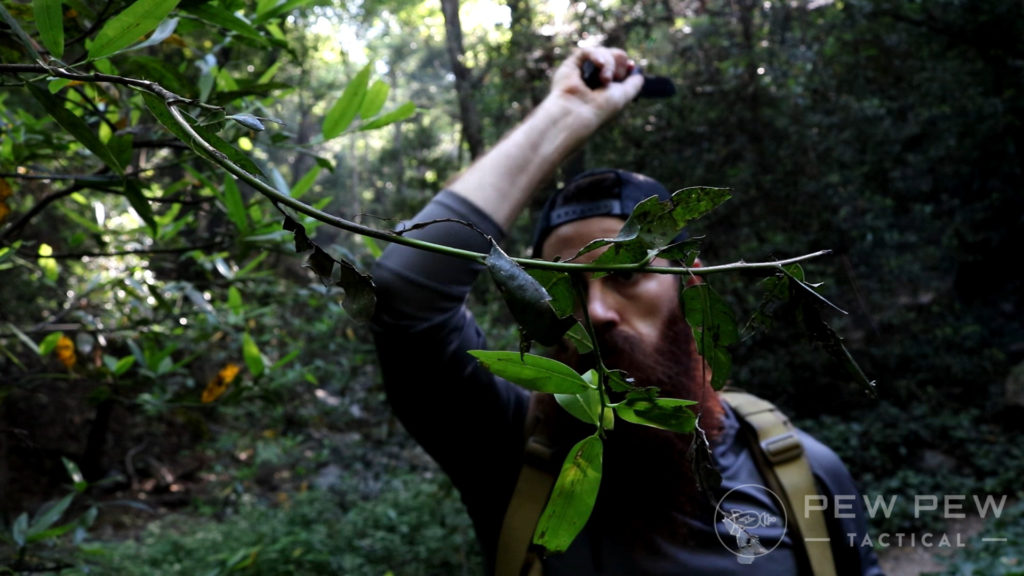 The blade that probably saw the most use while setting up camp and going out on a cool nighttime waterfall hike was Gerber's Serrated Strongarm.
A chunky lad with a full tang, 420 high carbon steel blade, and a super comfy rubberized grip. It's pretty similar in form to Gerber's iconic LMF2 knife if you're familiar, with a few small differences.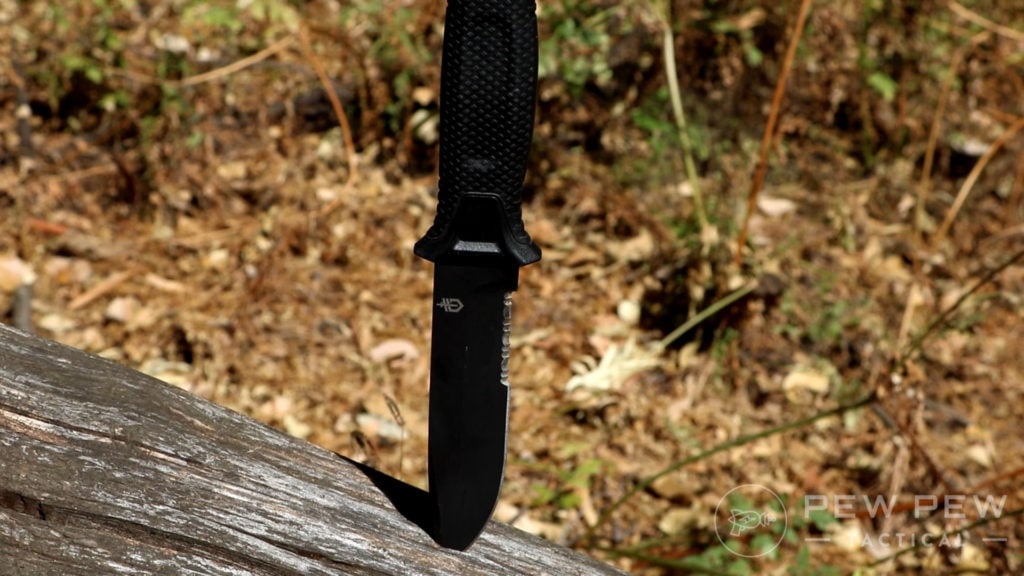 At just about 10 inches overall length and 7oz weight wise, the Strongarm's got enough heft to clear out light brush and vegetation on overgrown trails, but doesn't feel sluggish or unwieldy, and it's pretty nicely balanced right towards the end of the rubberized grip to boot.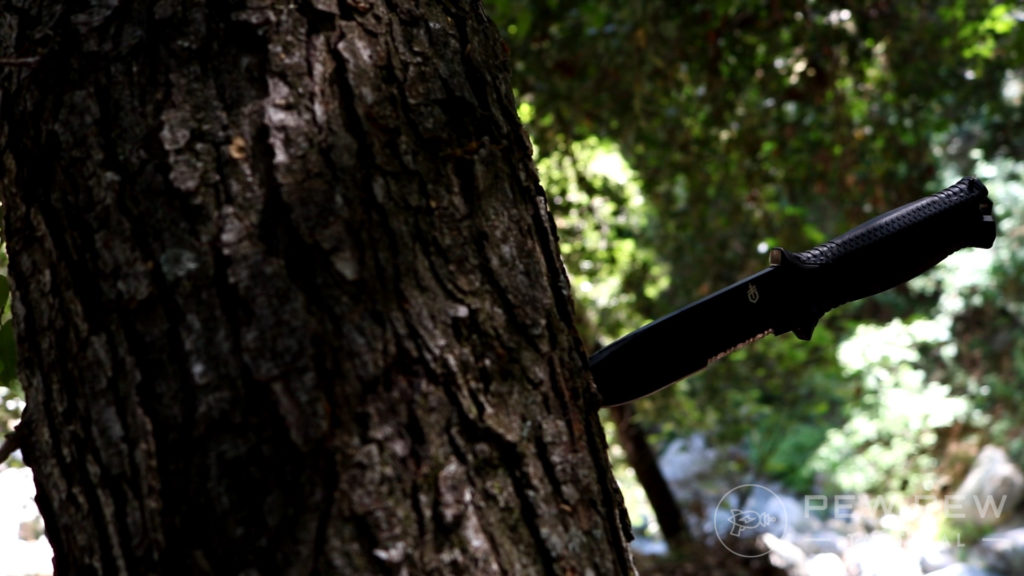 Gerber includes a pretty cool little versatile sheath that can be configured to be worn a few different ways as well.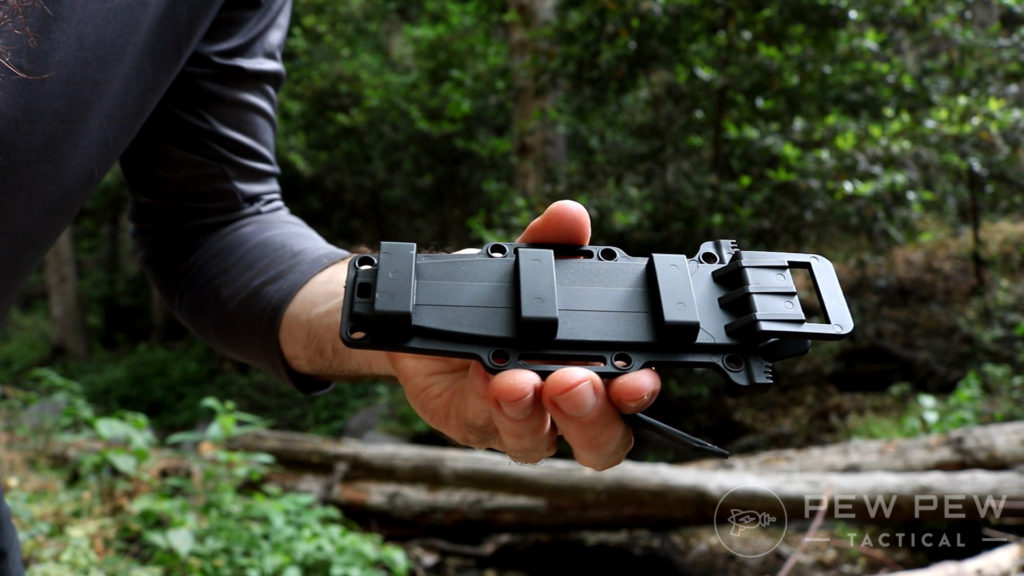 You've essentially got the base sheath, which can be connected to a bit of nylon webbing to be worn from the hip, adapted for a small of the back carry with an included belt loop adapter, or worn vertically on molle webbing if that's your jam.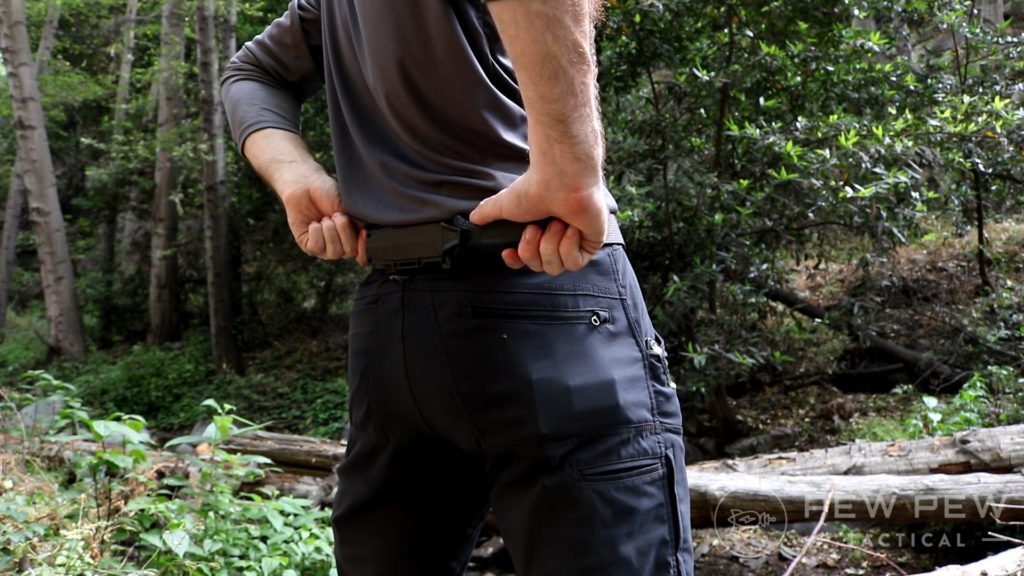 The sheath itself is pretty standard kydex fair, but it secures the Strongarm with a tactile 'thud' and we had no issues with retention while out on our 2am waterfall hike.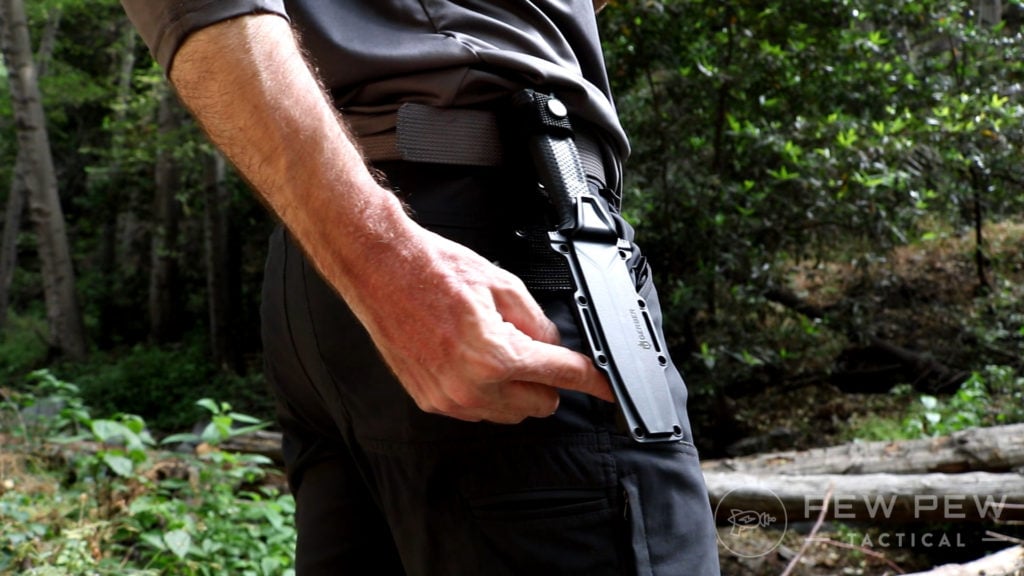 It's also worth noting that the Strongarm managed to defeat one of my Chinese tent stakes while I was using it to bludgeon said stake into our incredibly hard and rocky earth… so, point?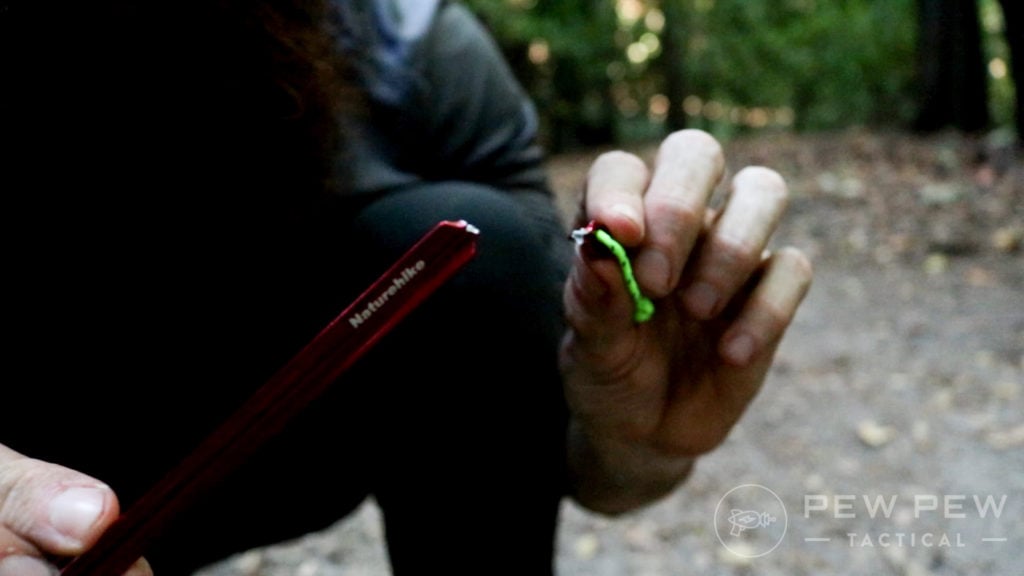 70
at Amazon
Prices accurate at time of writing
Prices accurate at time of writing
Up next is Gerber's Principle in a super nice flat dark earth. The principle is a bit more of a survival knife than the Strongarm, and its design reflects its more utilities intent as compared to something more like a fighting knife.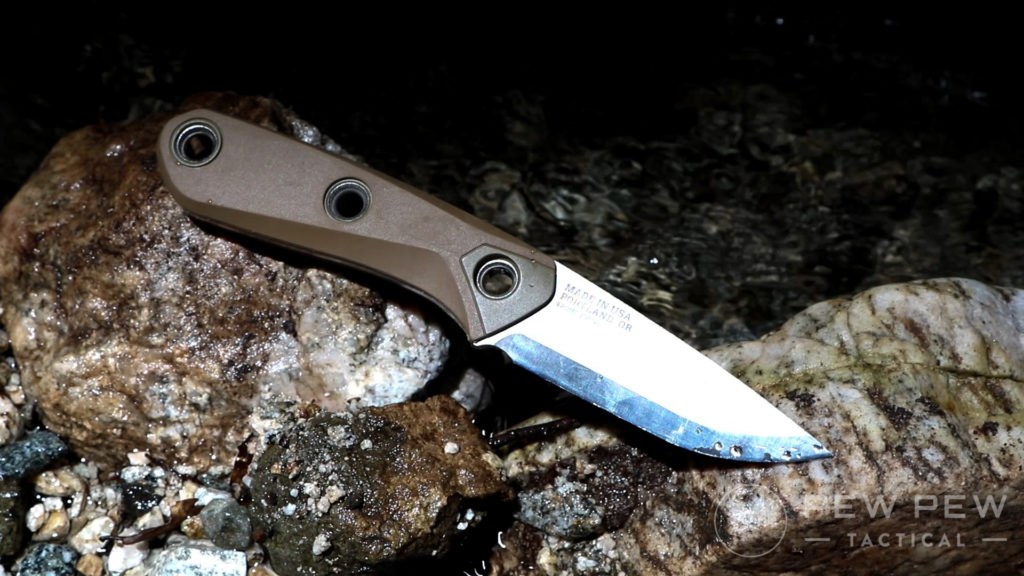 The hilt and scandinavian grind style edge lend themselves quite nicely to smaller tasks that demand a bit of precision, and the Principle was super nice to use for chopping up meat for the dinner we made and stripping sections of paracord out to string up our lighting system.
It's a handy little fixed blade for sure!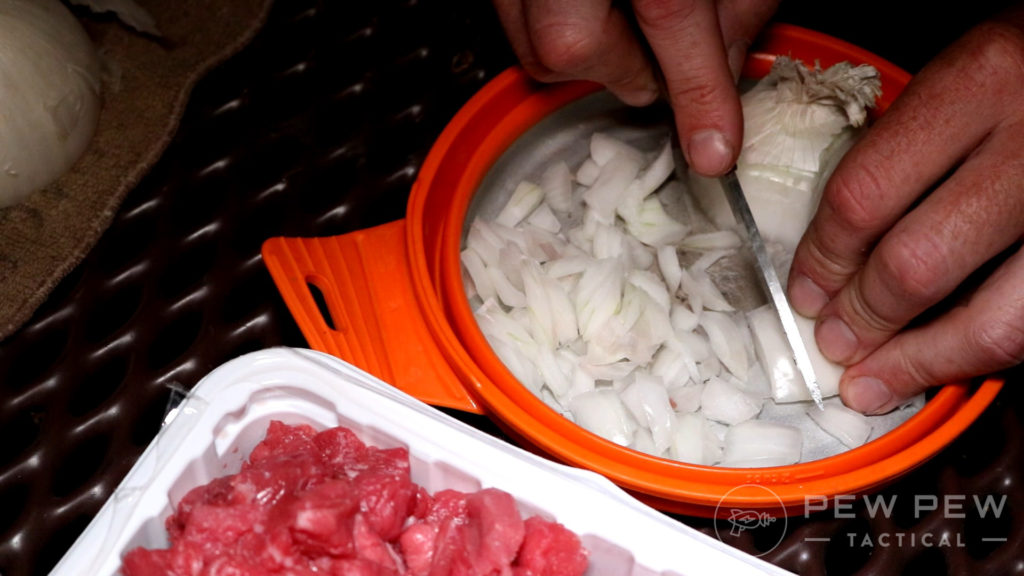 One criticism I do have, though, is that it attempts to utilize the same sort of modular thought process in its sheath system that the larger Strongarm does – and while it works for a knife as big as the strong arm, it feels rather clunky with an otherwise agile feeling knife like the Principle.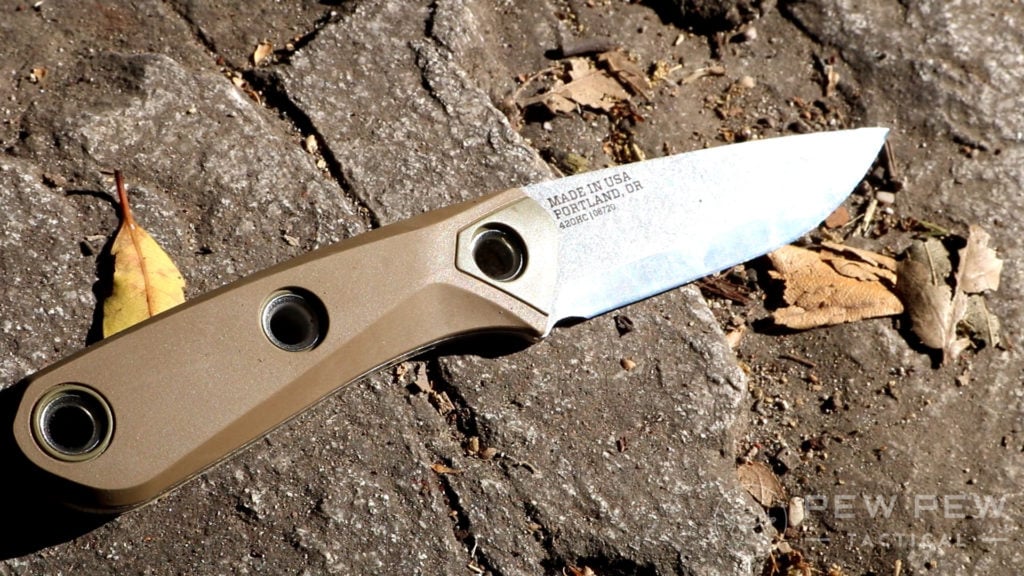 It's capable of being mounted at the small of the back, to a vertical molle platform, or as traditional hip hanger, but in all honesty I think I might replace the stock modular sheath with a more minimal leather option, which would really seal the deal for me personally.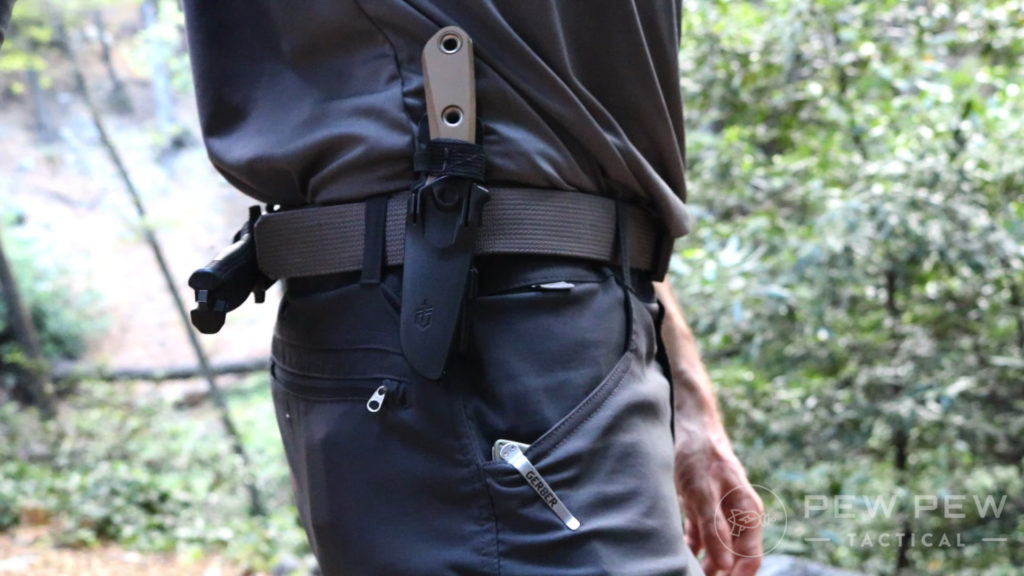 Regardless, it's a rad little knife that i have no issues recommending if you don't need the girth of something like the Strongarm, but are still in the market for a good all around camp knife.
60
at Amazon
Prices accurate at time of writing
Prices accurate at time of writing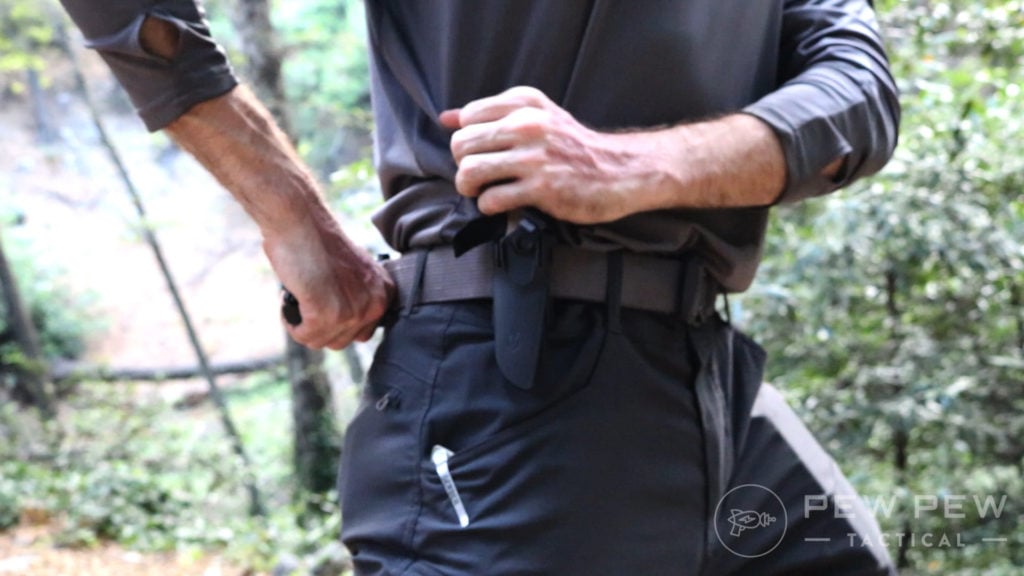 Lastly, I've been rolling around pretty much everywhere for the past month with the Gerber Highbrow Compact as my EDC knife, and while it took a little getting used to, I've actually really come to dig it!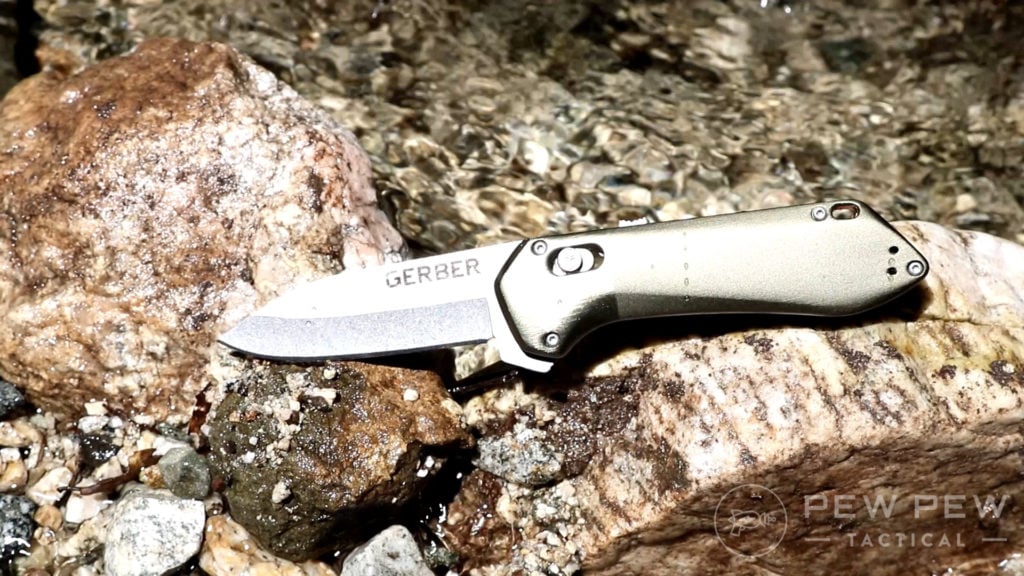 First off, this thing's super pretty, and the metallic sage finish on the exterior looks and feels great.
The assisted opening action is super crisp, and the blade deploys with a pretty satisfying *thunk* via the finger flip mechanism that doesnt require the sort of wrist flicking motion sometimes common in folders.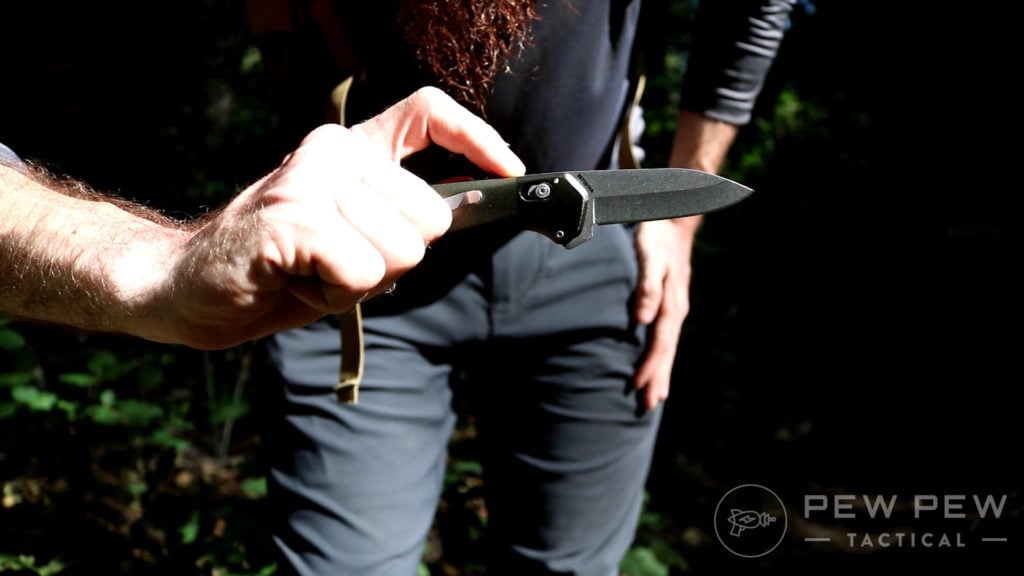 I'm much more used to liner locking knives, and while the Highbrow's pivot lock took a little bit of getting used to, I do like that it's both ambidextrous and doesn't put my fingers anywhere near the blade path while closing it.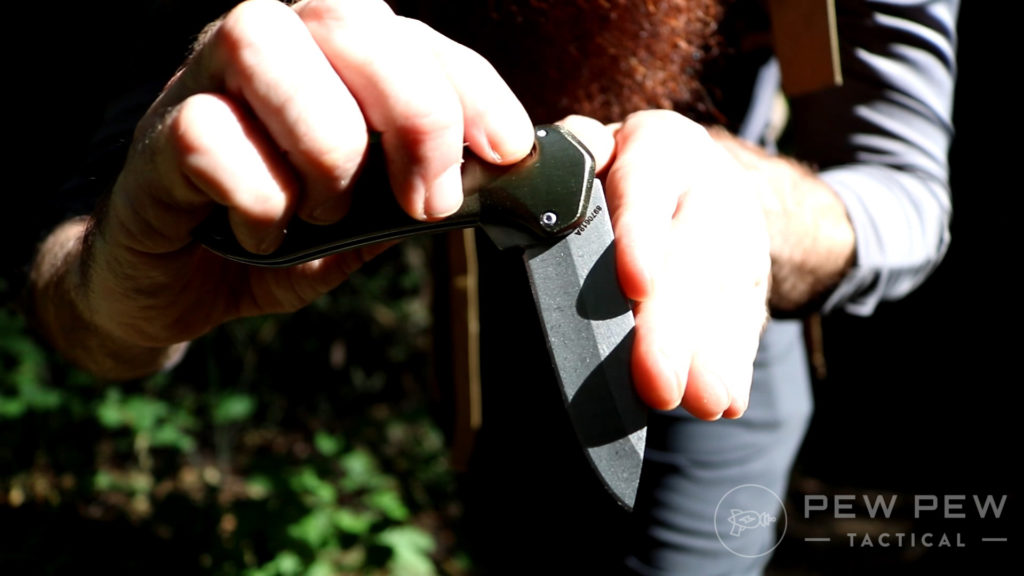 It also features a slide lock style safety that does the job adequately, but does feature a bit of play in the mechanism itself when it's taken off of safe.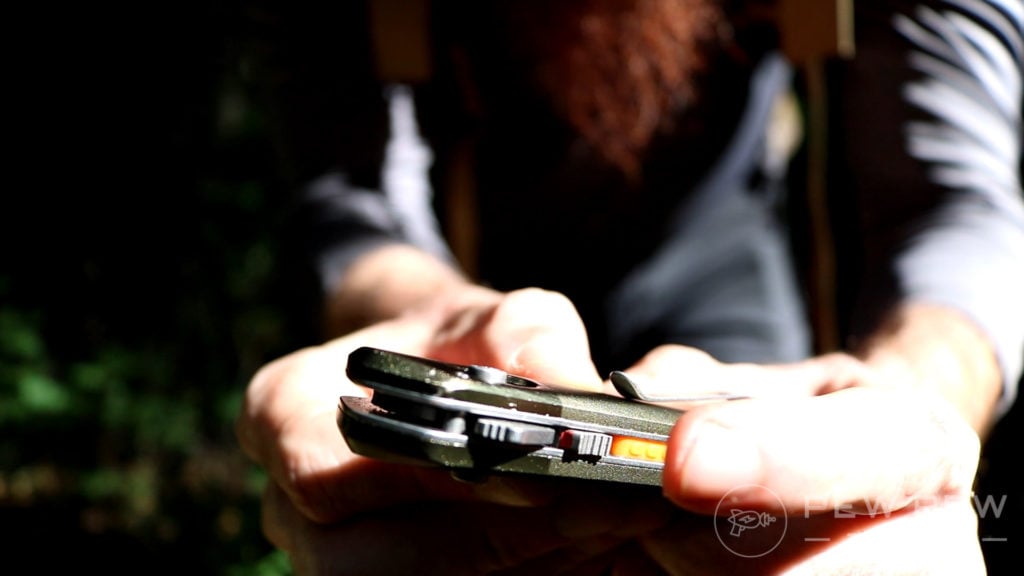 I'm also planning to Loktite the pocket clip screws down when I get a chance, as its secured by just two torx screws, and while they haven't managed to come loose yet, i've had plenty of folders discretely lose 1 of the 2 screws securing that clip over time, rendering it useless.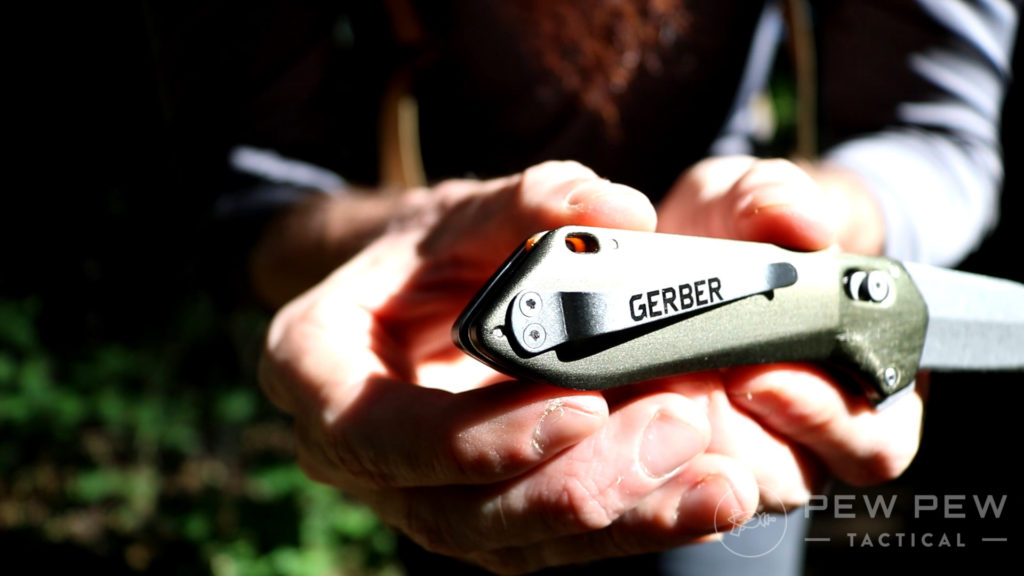 Overall? A solid ass EDC folder with super smooth deployment action that has met my day to day needs without any real gripes – especially for the price point!
36
at Amazon
Prices accurate at time of writing
Prices accurate at time of writing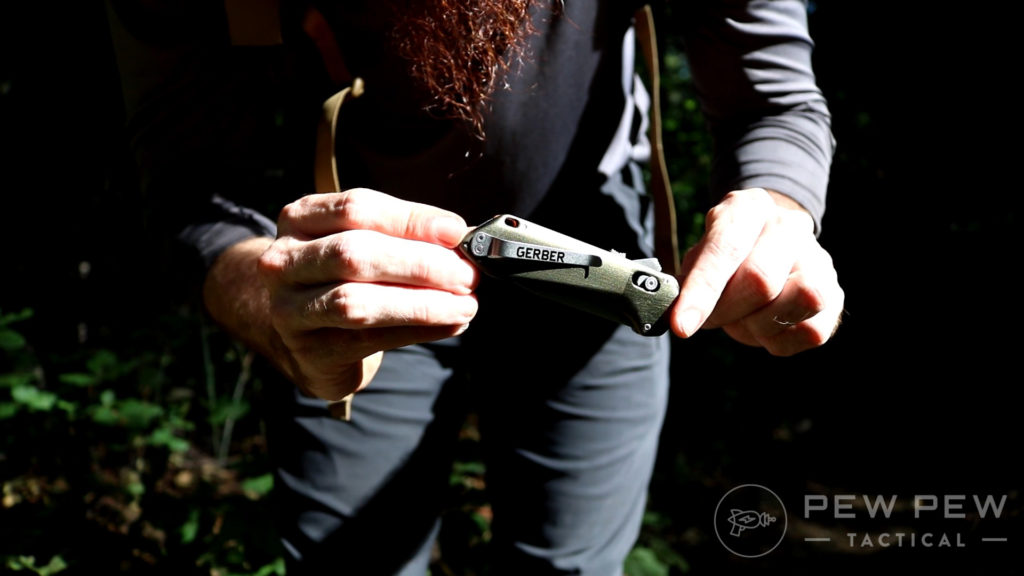 Campsite Illumination on the Cheap: Goal Zero Crush
Next up, I just wanted to mention that I snagged a pair of Goal Zero Crush Lights for our camp lighting situation and am super happy with them – especially for the price point!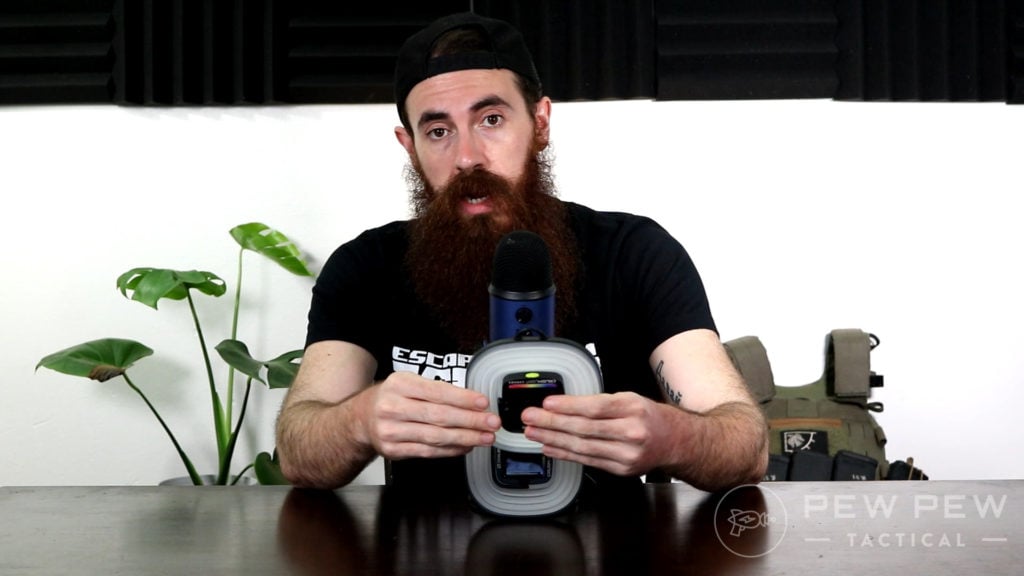 I've never really owned lighting equipment of my own specifically for camping, but i distinctly remember both ancient gas lanterns and the later, still-clunky battery powered camp lights, and in my opinion these guys outperform them all.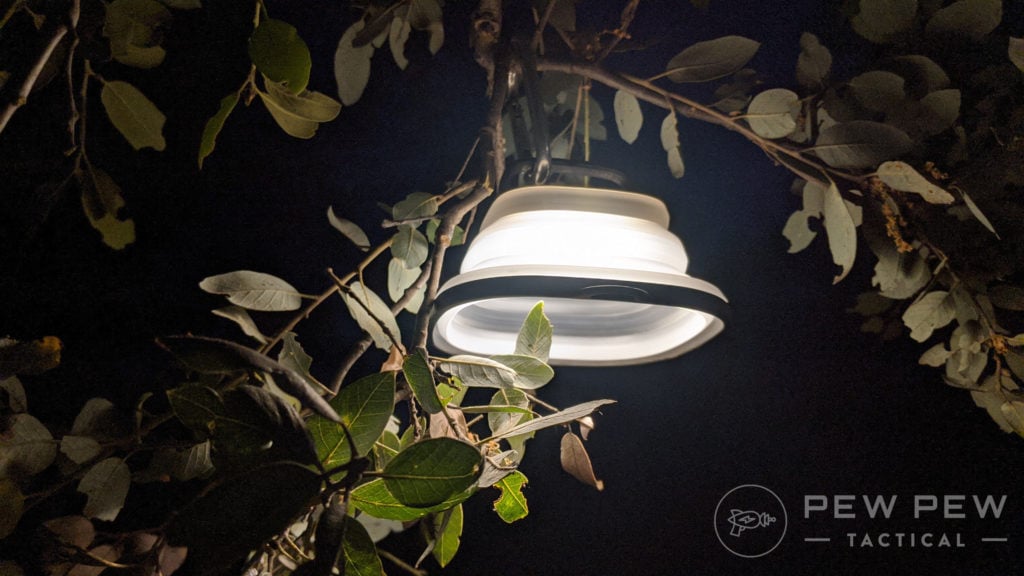 The Crush Light is super simple – it packs down completely flat thanks to its accordion-esque design, and takes up a negligible amount of space in your ruck.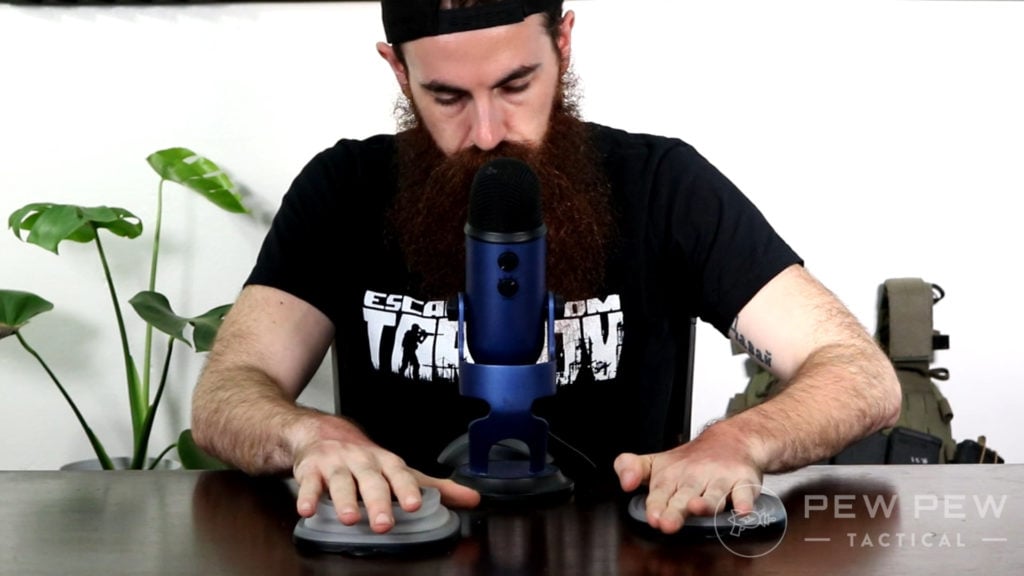 They're also rechargeable via either a micro USB port if you're hauling additional juice for your electronics, or they can be charged passively via the solar panels at the top of each light – giving you a renewable source of light time illumination.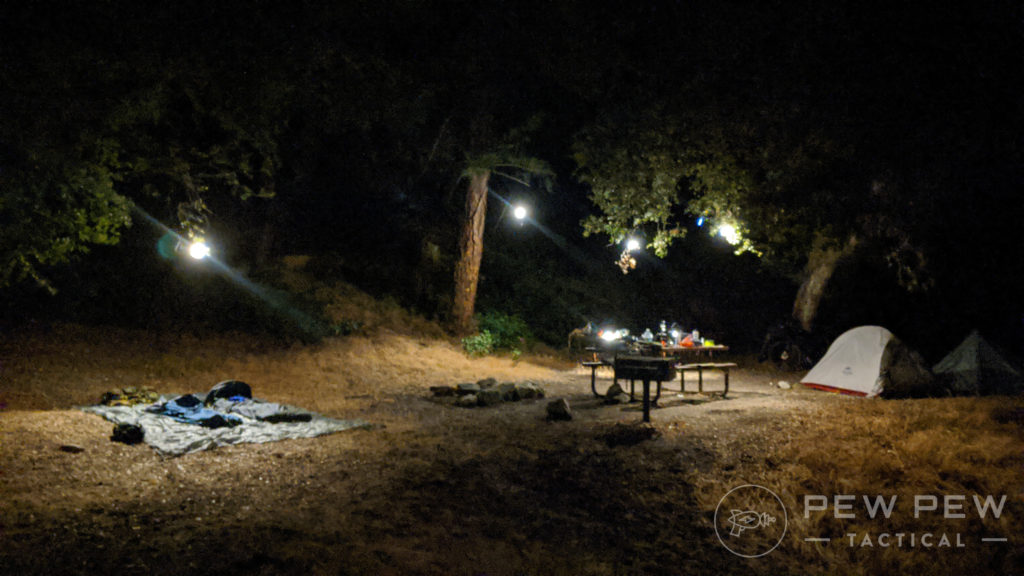 The Crushlight has a few different brightness and color settings, including one that emulates candle flicker if you really need that rustic larping experience, and they're actually surprisingly bright!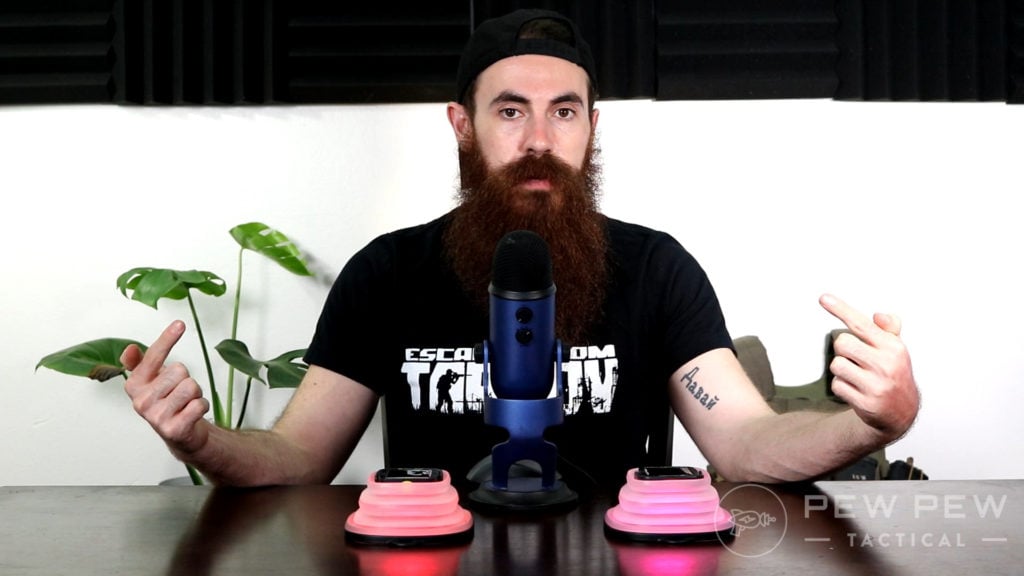 Advertised as running on high for about 3 hours or so, we had ours chugging all night without any detectable drop in output.
It's also worth nothing that for whatever reason, nighttime bugs like moths that normally become hell bent on bonking into lights and killing themselves mostly seemed to avoid the crush lights warmer white light, while immediately swarming our colder white lights used for some of the night time filming portions.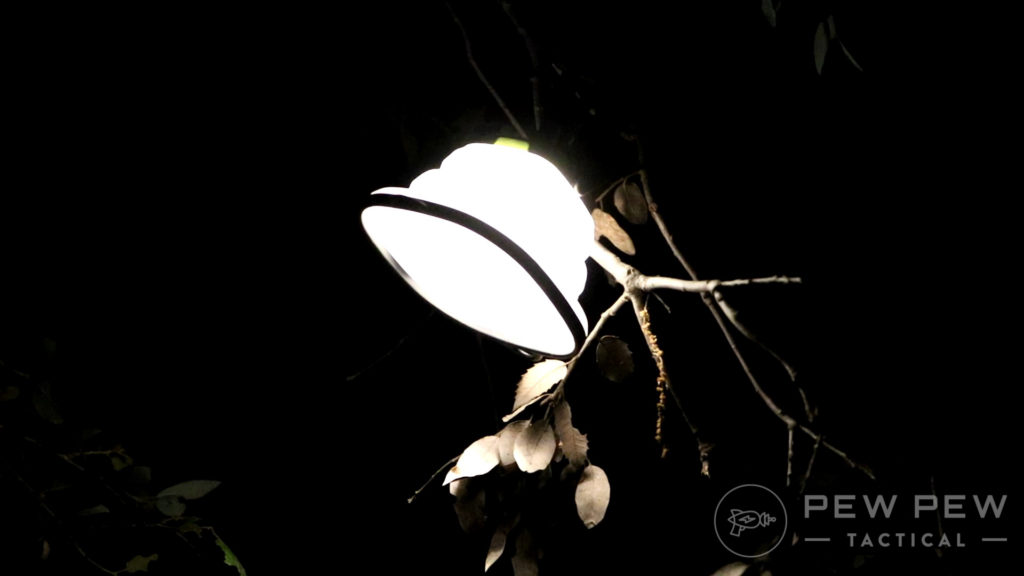 Your mileage may vary, but it was quite nice to string our lighting system up and not have it be a bat signal for every dumbass bug in a 3 mile radius.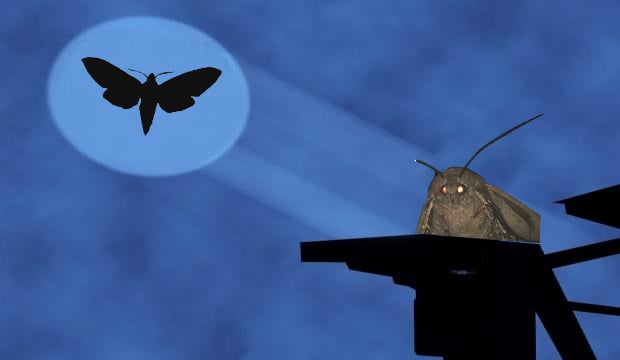 At a price point of $25 a pop, you'd have a hard time finding good camp illumination that's not gonna take up unnecessary space for overnight trips, in this guys opinion.
20
at Amazon
Prices accurate at time of writing
Prices accurate at time of writing
Kühl Renegade Rock Pants
This ones gonna be a bit quick, but lately, I've been pretty obsessed with high-end outdoor pantaloon manufacturer Kühl.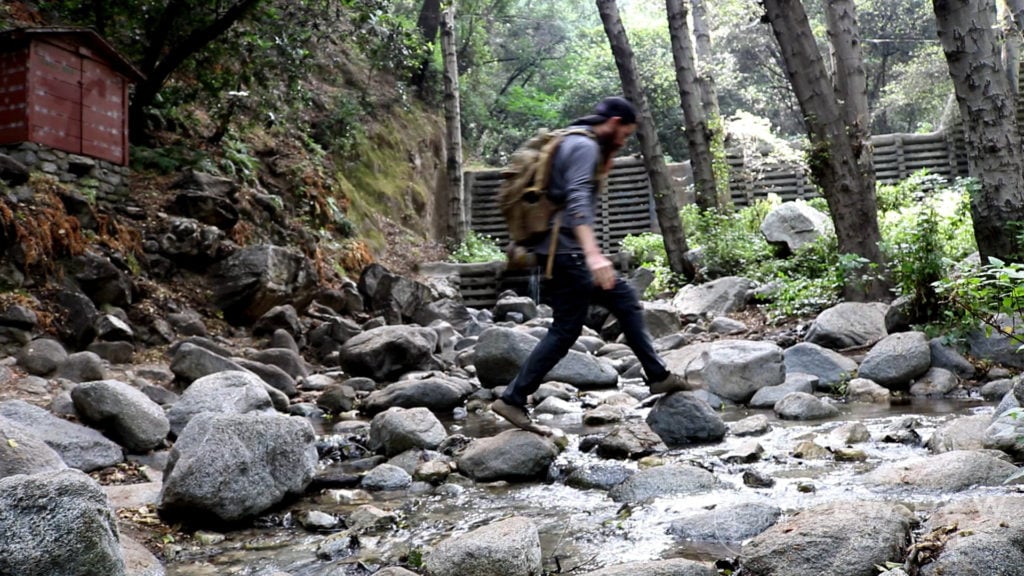 With the amount of angry, stinging plants, biting insects, poison oak, and so on that we've got up in the mountains, long pants are pretty clutch, especially if you plan on being out at night.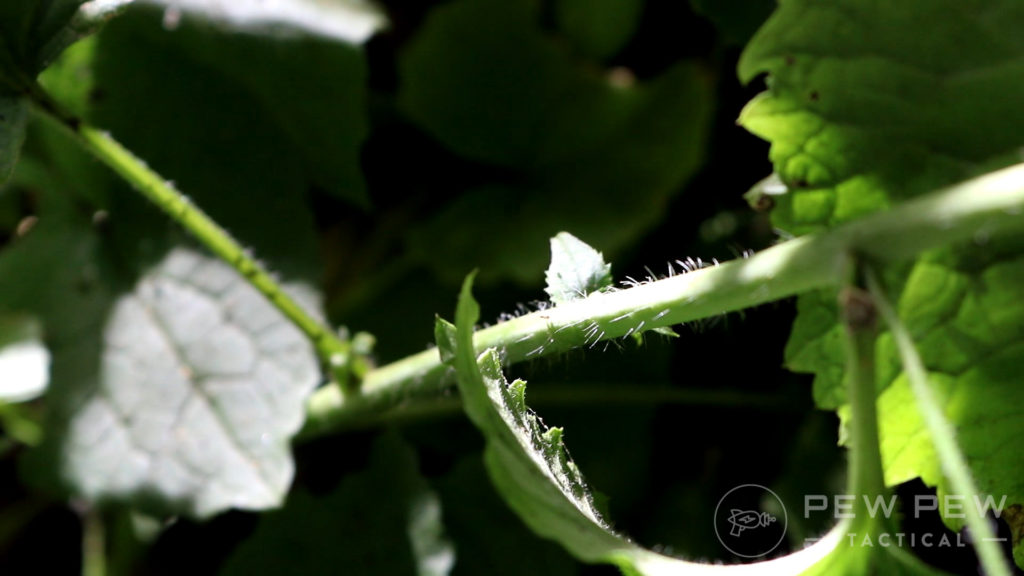 However, I absolutely hate being that dork wearing anything remotely tactical looking out in the woods if i'm not doing gun stuff – but i'm also frugal enough that the idea of dropping a decent chunk of cash on hiking specific pants that don't work super well for gat activities (gativities) also seems a bit silly.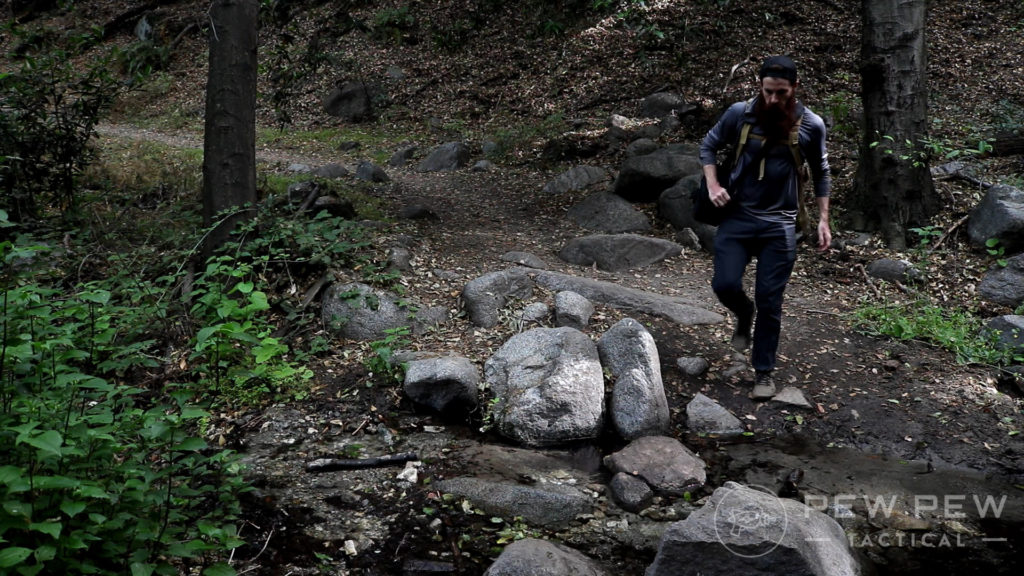 That's where Kuhl comes in – specifically their line of Renegade rock pants. These guys are made out of a stretch DWR type fabric that's abrasion resistant, quick drying, and super breathable.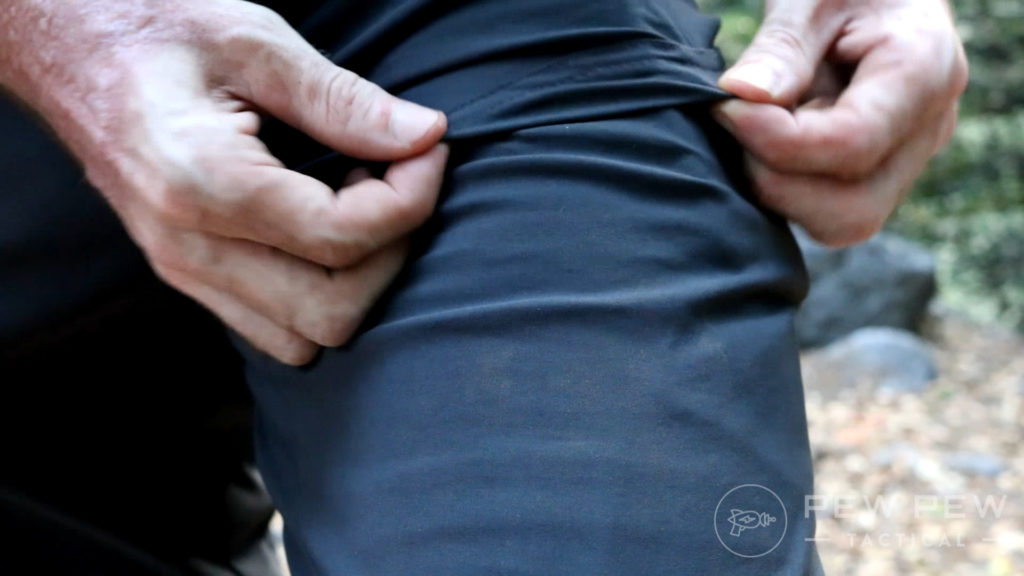 They're also tailored into a tapered fit that looks great – I absolutely hate the billowing, awful looking boot cuts found in both the vast majority of tactical and outdoorsy pants, and these fit pretty easily into a normal day-to-day wardrobe too.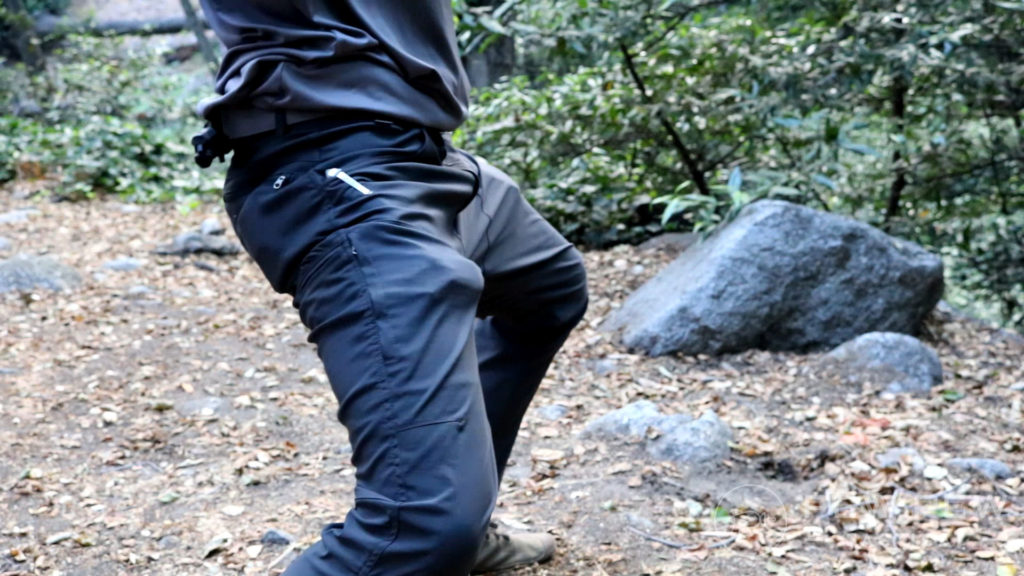 The renegade rock pants have features reminiscent of cuts from both Crye and 5.11, without the overtly tacticool flair of either.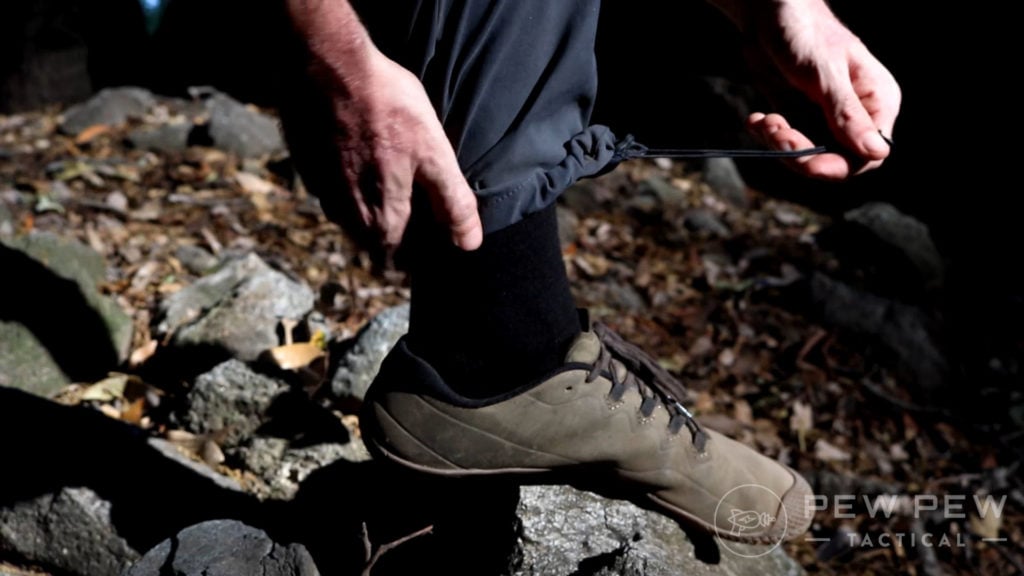 Including numerous small utility pockets, zippers tucked away throughout to prevent loss of whatever you've got stuffed in them, drawstring cinches at the ankles, and so on.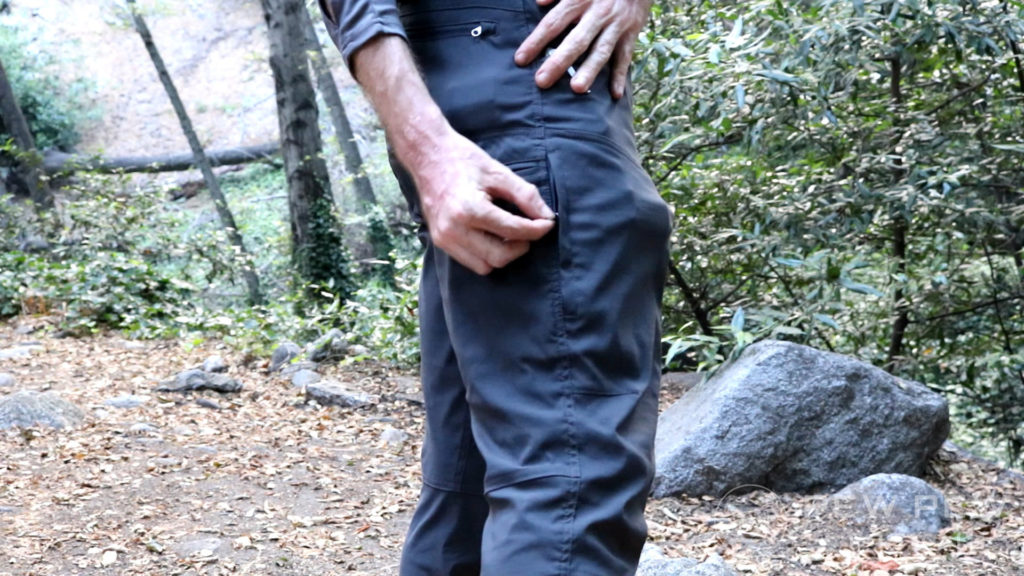 I feel like a bit of a dork for being this hype about pants, but these have managed to truly fill a niche for me, and maybe you'll get that some sort of dork mileage out of them as well.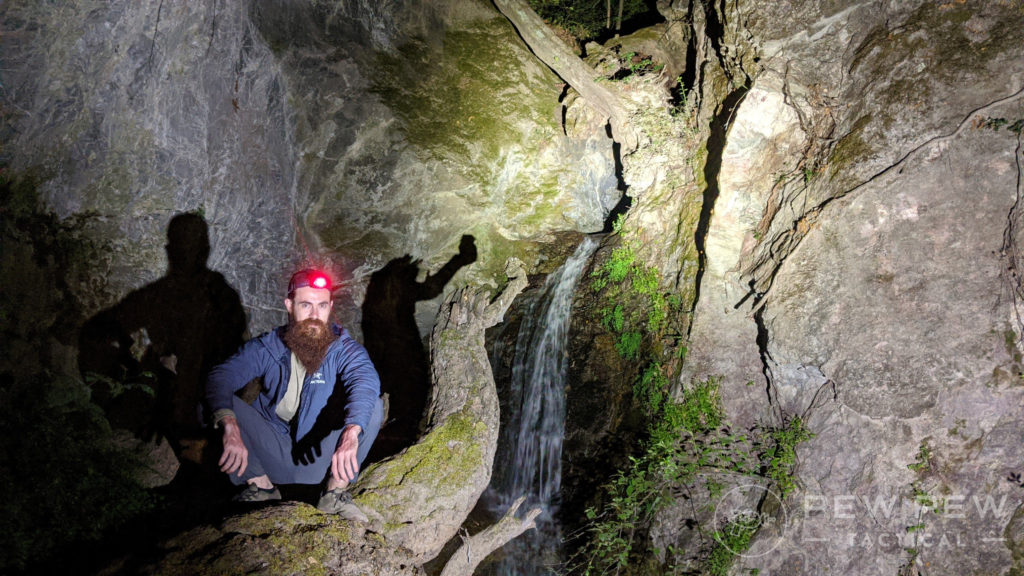 Parting Shots
We'll be back to normal production soon, but I hope you've enjoyed a tiny peek at some super-nifty kit that was a ton of fun to play with for my first real big trip back into the place that's always felt like home for me.
Our brutal, hellish, insect-infested mountains.
If you're looking to plus up some of your hiking gear this summer, maybe you'll find it helpful!
How many of you are avid hikers / backpackers / outdoorsmen in general? What's your preferred method of nature submersion? Any particular favorite trip or trail? Check out more of our favorite Water Filters, EDC Knives, and EDC Lights.