Well folks, it appears we may very well be in the home stretch of California's current COVID lockdown… At least for the time being.
As such, this might be the last apartment bunker video before we return to whatever 'normal' looks like at this point.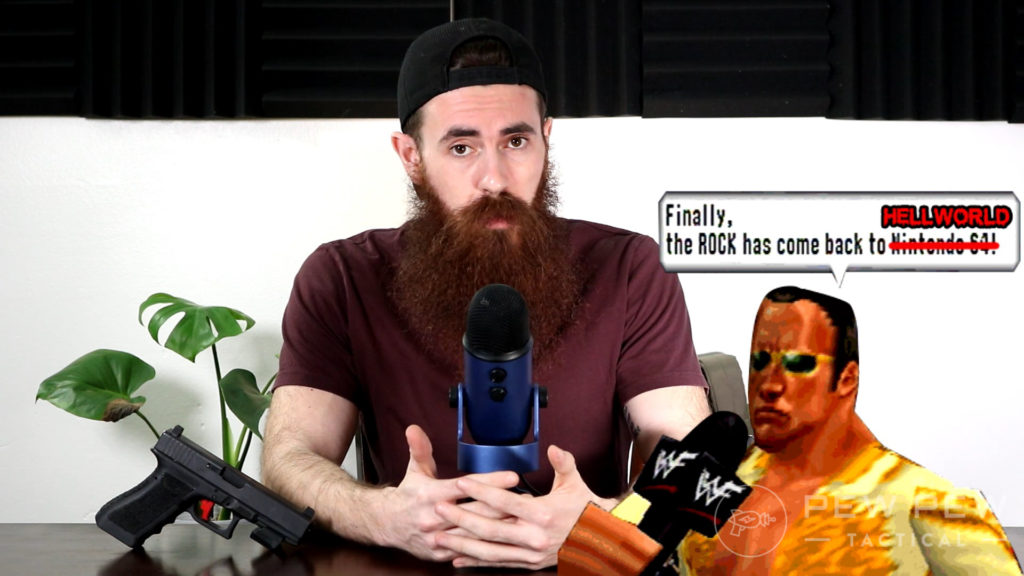 I've got two new cool pieces of kit I've been playing with that I wanted to tell you about today, and you can catch the full review (plus some thoughts about Dwayne "The Rock" Johnson) below:
The DryFireMag
Up first is a cool little device made to make your at-home dry fire training sessions that much more efficient by eliminating the need to rack the slide after each shot – it's the DryFireMag… by DryFireMag.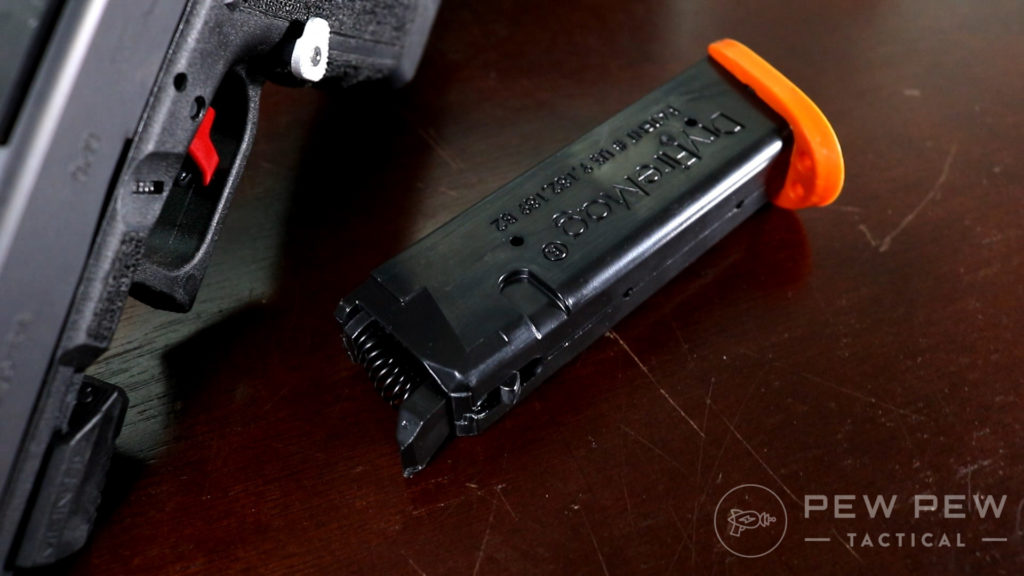 The DryFireMag utilizes a thick polymer paddle and spring tension to emulate the sound and feel of your gun's trigger breaking.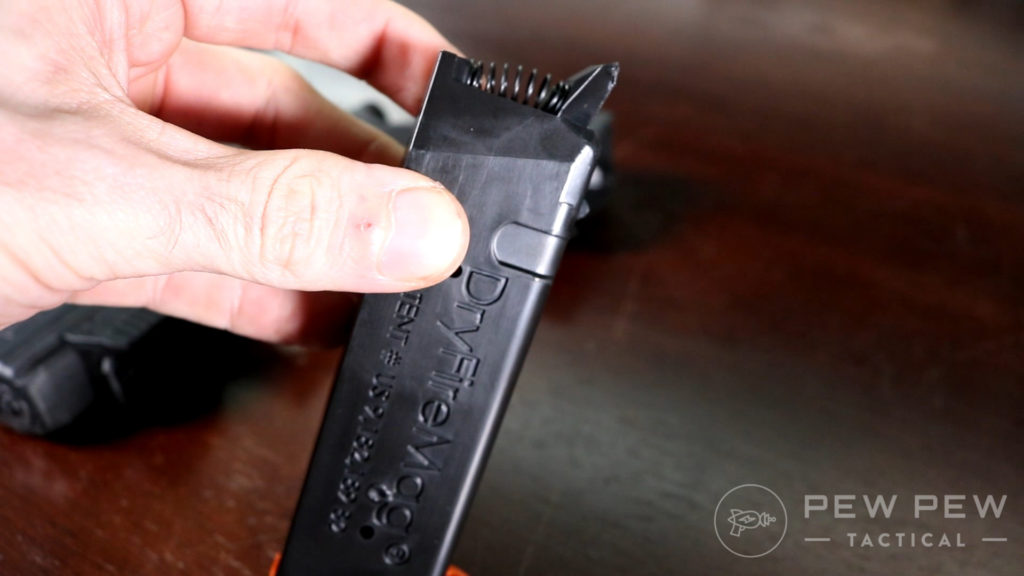 After the first trigger pull when you release the gun's firing pin, you're actually just using the gun's trigger to make the DryFireMag itself break – giving you a nice audible *click* and a tactile sensation pretty damn similar to that of an actual firearm.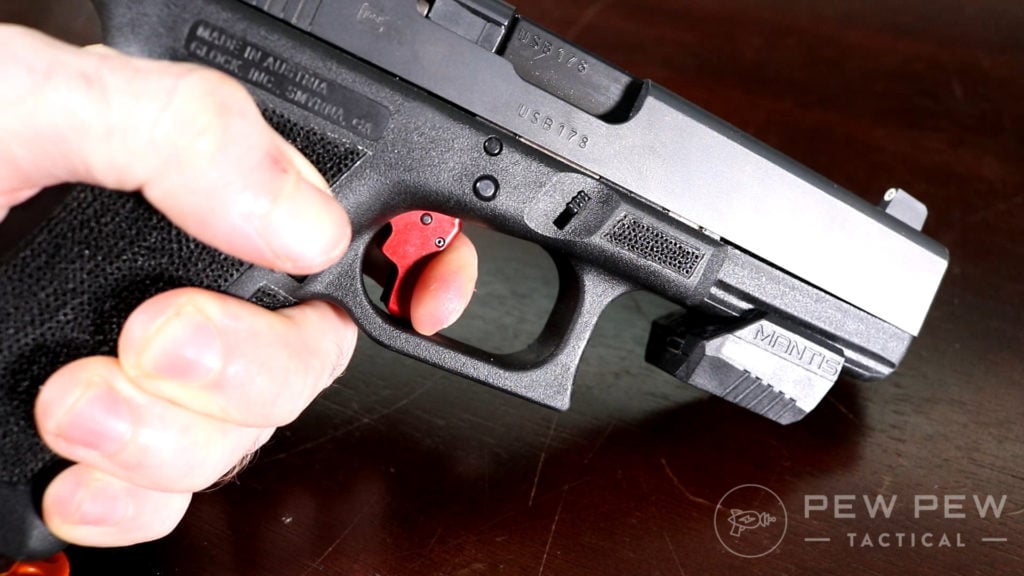 For those unfamiliar, dry fire training is a fantastic way to keep your muscle memory fresh from the comfort of your own home, and without spending a dime on ammo to boot!
While not a huge deal, it does also necessitate resetting your trigger manually each time you fire, as obviously there's no cycling of the action when dry firing like there would be with live rounds.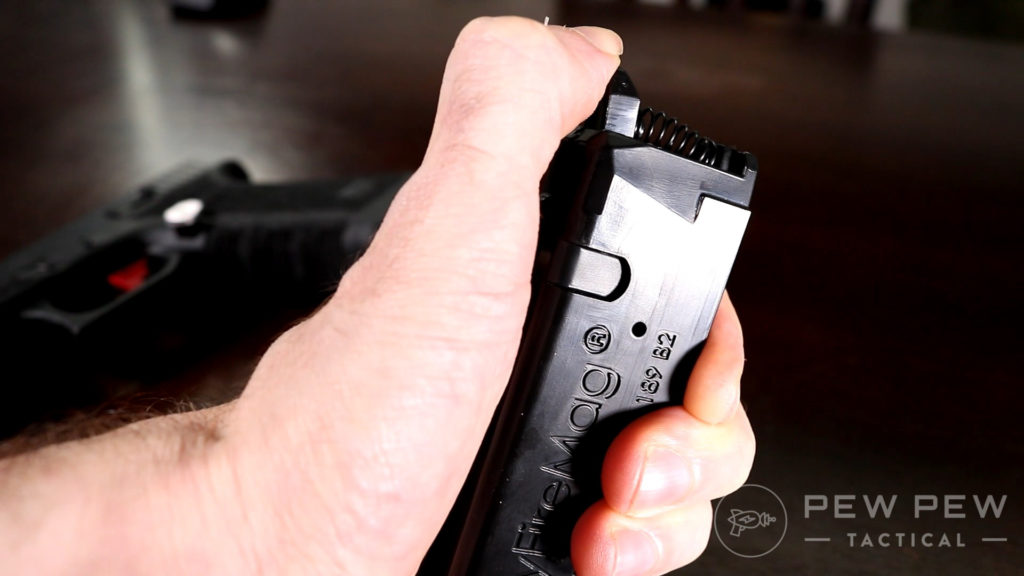 This means that most dryfire training is going to focus on the minute details of perfecting your trigger pull itself, which is invaluable when paired with other training aids like the Mantis X system that we're quite fond of.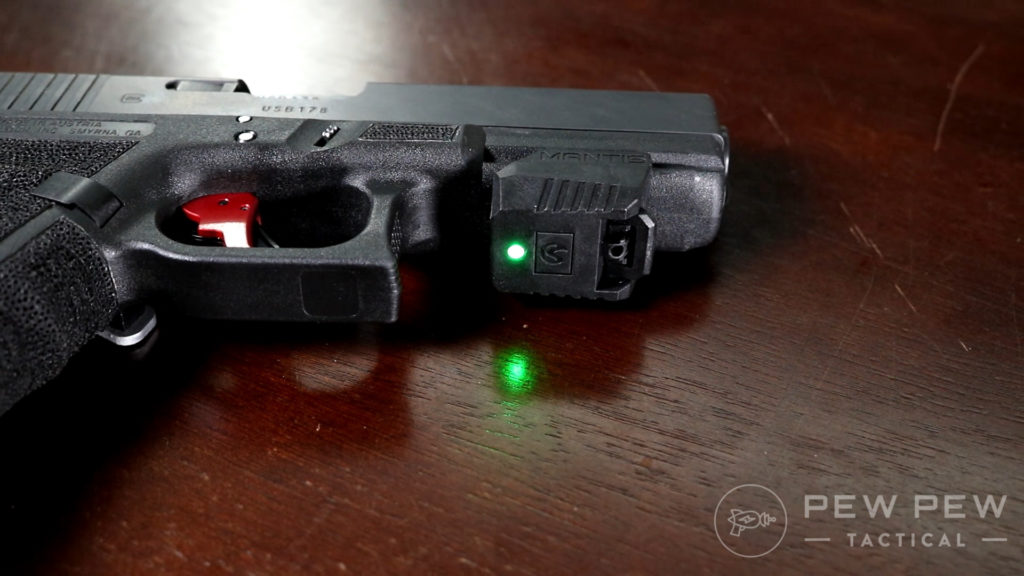 Again, working up to making sure that you're not flinching or jerking the trigger is great on its own.
But without the ability to avoid manually cycling the action to reset the trigger, you're going to be missing out on training routines that focus on things like double taps, or ensuring that you're not coming up and out of your sight picture between shots.
The DryFireMag is tuneable, and straight out of the box features a spring that's comparable to a ~5lb trigger pull, but it includes a handful of different springs that are color-coded to indicate approximate weight.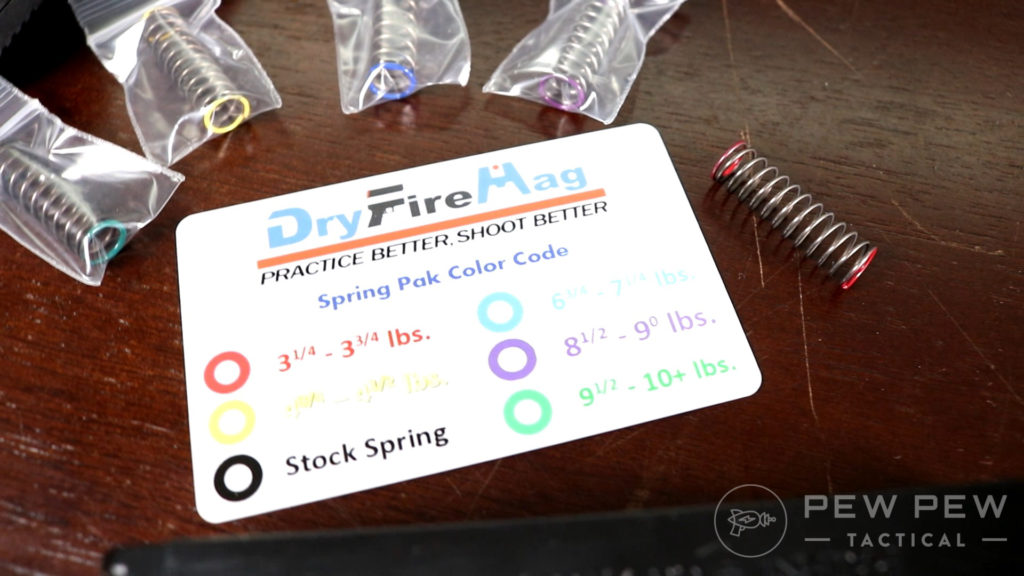 Given that my Glock is upgraded with an Apex trigger, trigger bar, and Ghost connector, my trigger pull is right around ~3.5lbs or so, and swapping the red spring into the DryFireMag wound up replicating the feel of my gun's trigger pull pretty accurately!
Perhaps one of the coolest features though, is that the DryFireMag is compatible with the Mantis X – meaning that it's emulated trigger pulls can be detected by the Mantis X and registered as shots on the paired app.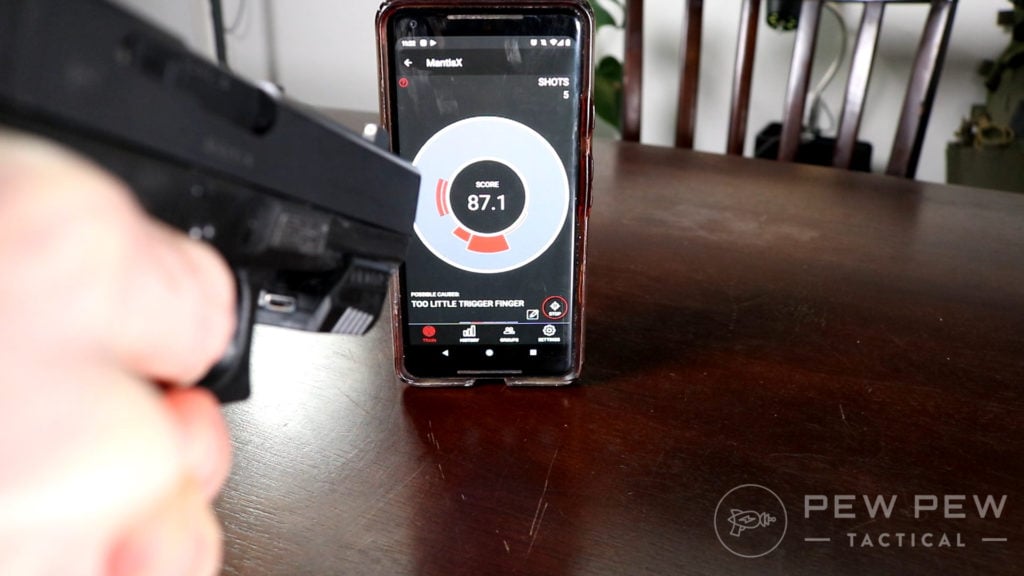 It might take a little bit of screwing with settings to make sure your sensitivity settings are high enough to register the shot, but once you've got it locked in, you've got an excellent way to practice putting multiple rounds on target that (hopefully) will lend itself pretty easily to boosting your performance on the range with live rounds the next time you're out.
105
at Amazon
Prices accurate at time of writing
Prices accurate at time of writing
Whether you're at the tail end of quarantine and want a bit of a quality of life improvement for your existing at-home routine, or you've been blasting away this entire time but want a way to keep that skill set fresh between trips, the DryFireMag gets a full recommendation from us!
Unity Tactical Clutch
The next bit of a kit I've been playing with is… admittedly a bit on the Paul Blart side – but I also dig the hell out of it all the same!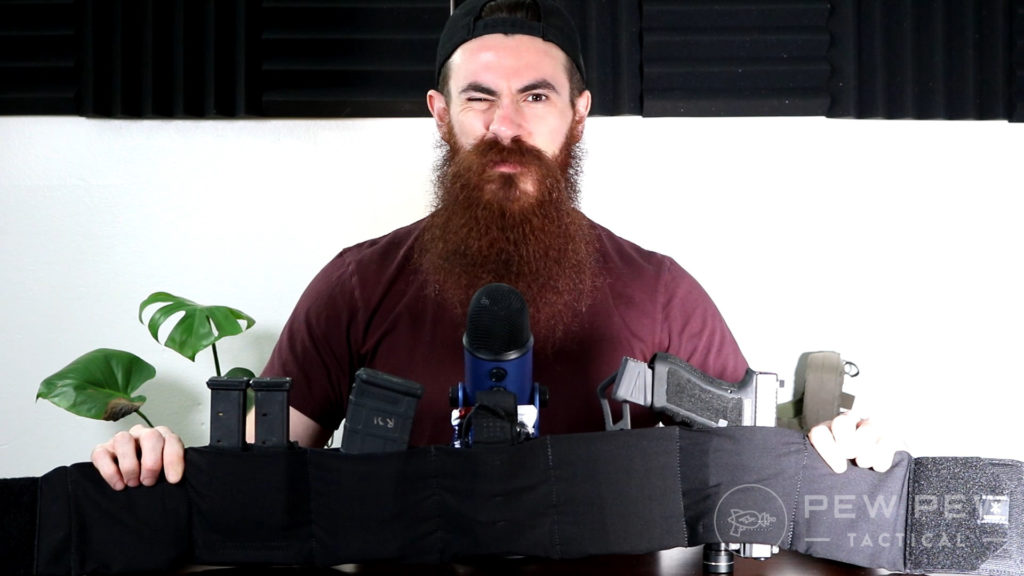 The Unity Tactical Clutch essentially aims to take all of the critical items you might have on your normal battle belt and allows you to conceal them.
Which is great if you're doing anything in which being overtly kitted up might attract some unwanted attention.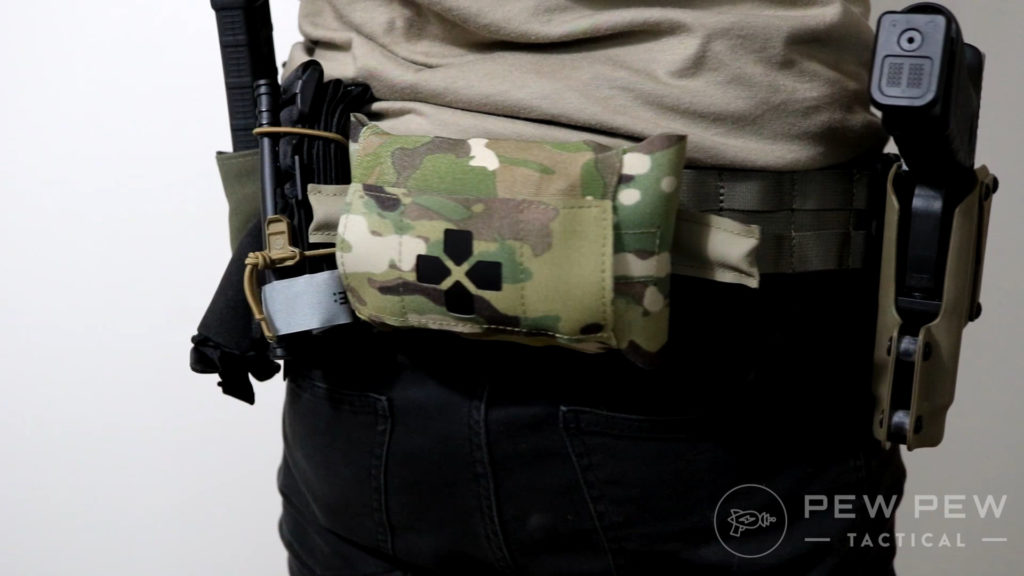 Obviously, I'm not doing anything remotely cool or sneaky enough for that to be a concern for me, but given that the world and life in general at the moment just seem to be full of surprises, I figured it wouldn't be a bad thing to have as a backup just in case.
The Clutch is pretty similar conceptually to a belly band-style holster if you've had the displeasure of ever dealing with one of those, but the quality of the materials and workmanship here is absolutely stellar!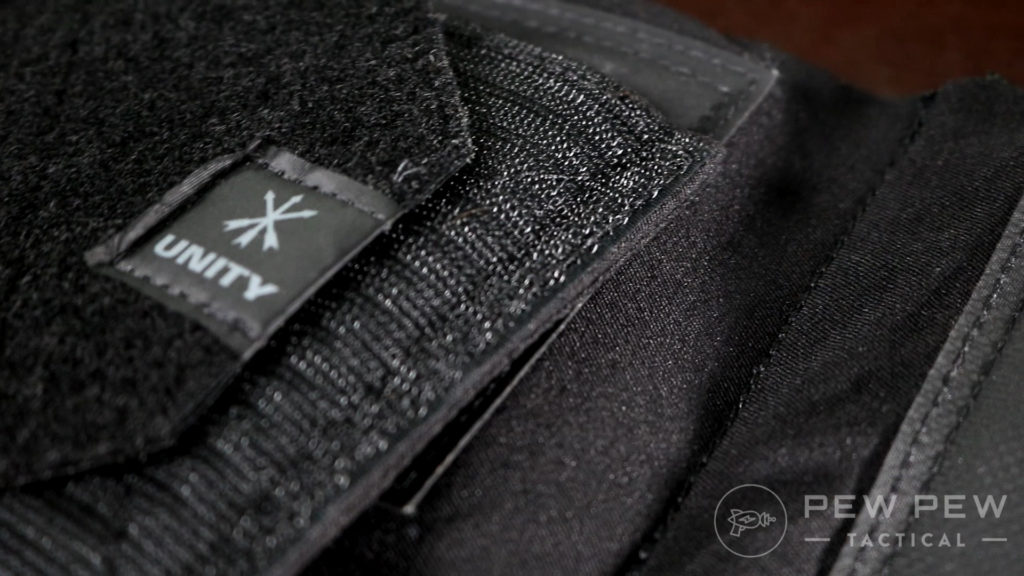 The main body of the Clutch appears to be comprised of a stretchy material pretty similar to that found on Crye Precision Combat pants if you're familiar – specifically the material around the knee and ass areas.
The Clutch gives you 9 individual cells total, with one on either flank featuring a velcro opening at the bottom of the cell to either act as a holster itself, or allow for the insertion of an existing Kydex IWB holster.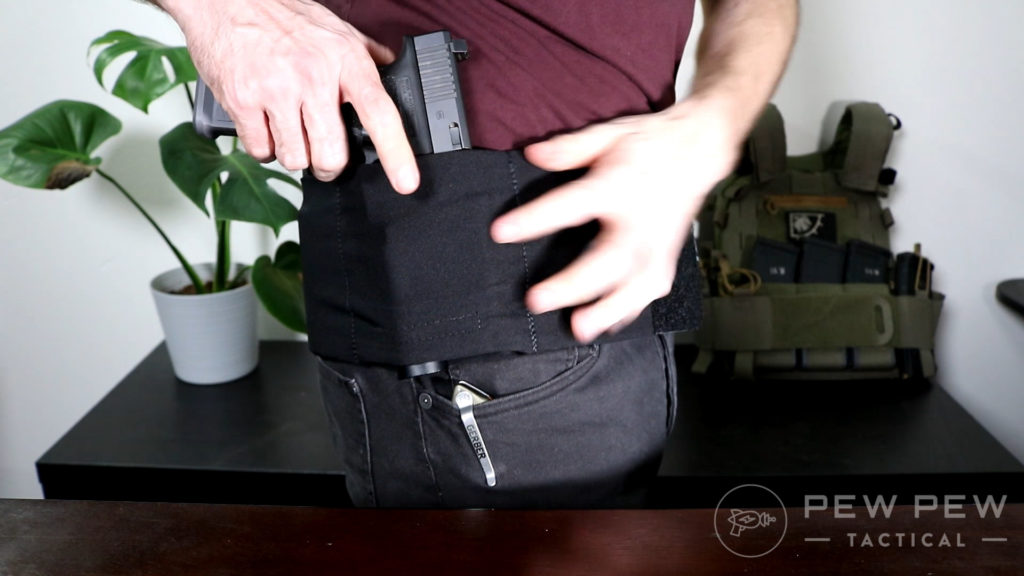 It's also able to rotate and sit comfortably at both the hip and appendix carry positions depending on user preference.
Inside of each cell is a patch of loop velcro, and the idea here is that you're going to attach adheisve hook velcro to whatever items you're going to put in the Clutch (such as kydex magazine pouches, knife sheaths, holsters etc).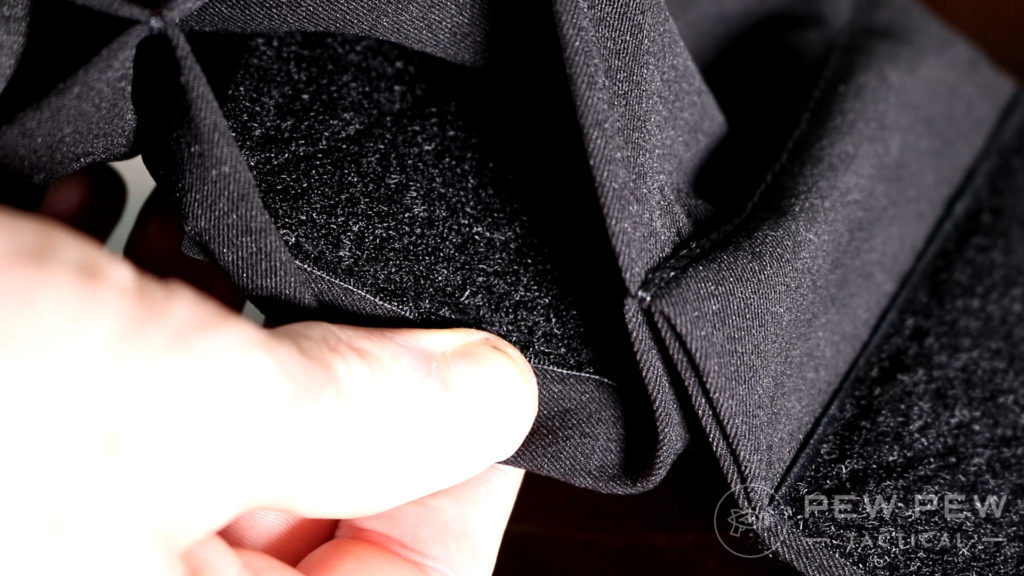 The Velcro provides enough security that the tension created by stretching the belt out into a position to be worn is going to secure all of your kit the rest of the way – mitigating movement once worn.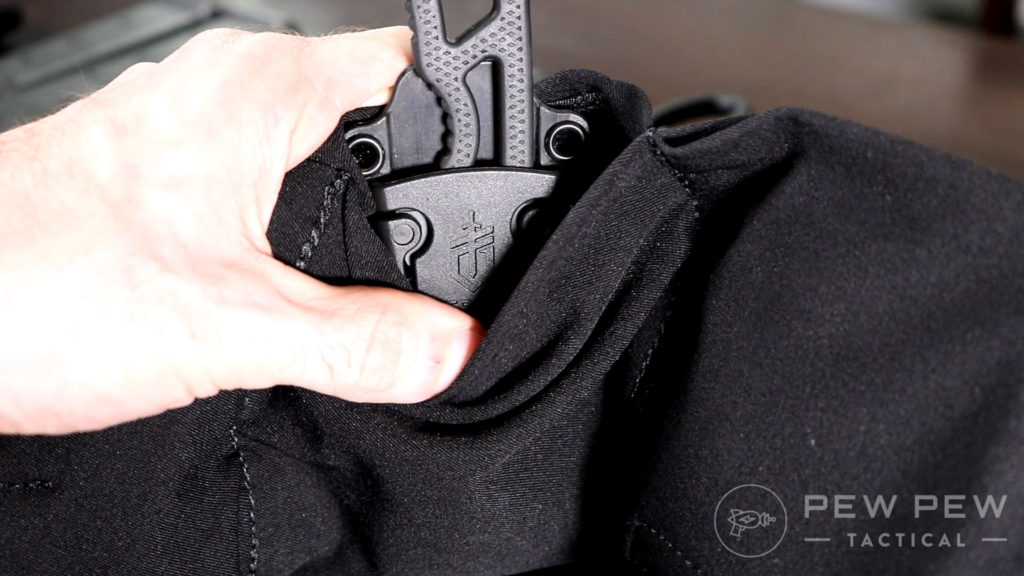 The Clutch comes with a few sets of adhesive velcro just to make converted your gear over that much easier, though it also works with the full host of other elastic and velcro magazine retention systems currently on the market, such as those from Spiritus Systems that I've got in there right now.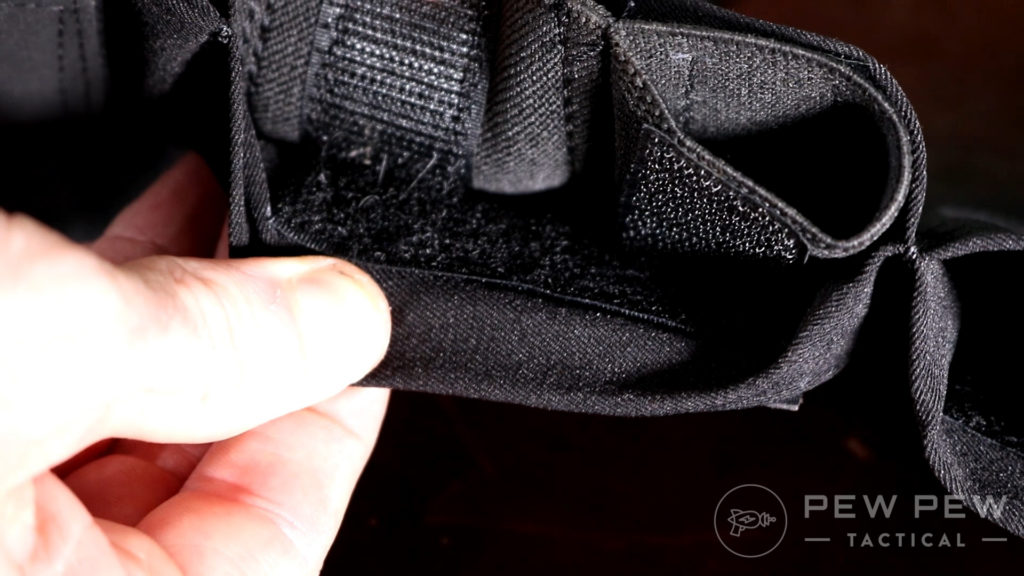 In a world where it seems like every new piece of gear or shiny accessory also requires a host of add-ons to work properly, it's commendable that the Clutch offers cross-compatibility that doesn't force you to buy more BS. (The gear closet is full enough as is, thanks)
The inside of the belt is lined with individual pieces of a rubberized material to prevent rotation and slip, and the fact that the entirety of the interior isn't rubberized like you'd find on a normal battle belt means that the entire thing is that much more flexible.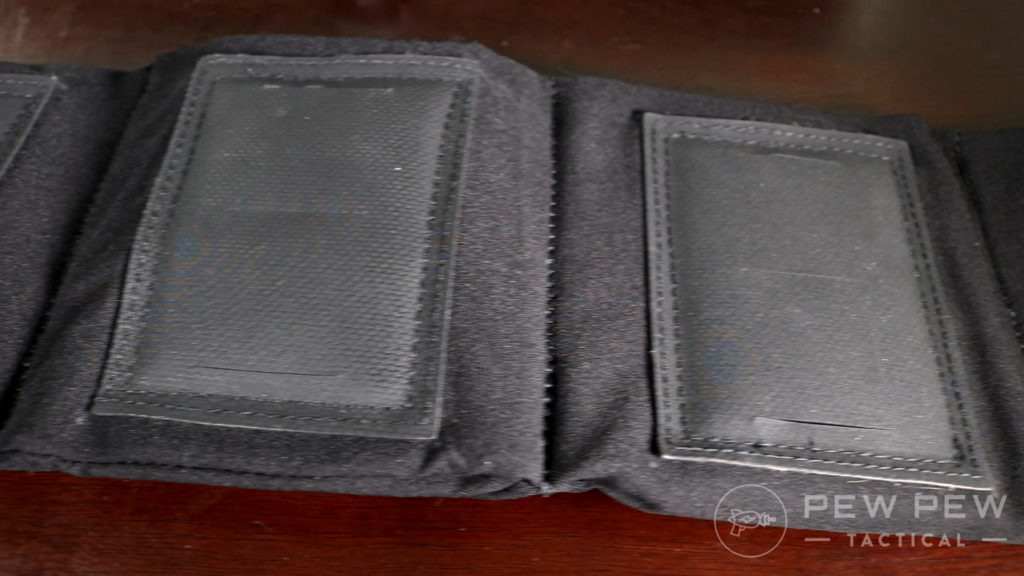 Speaking of – the Clutch can also be worn over clothes as well (duh), and it's ability to fold up neatly and stay out of the way gives it a bit of an edge over a traditional rigid battle belt setup that usually winds up taking up a lot of storage space.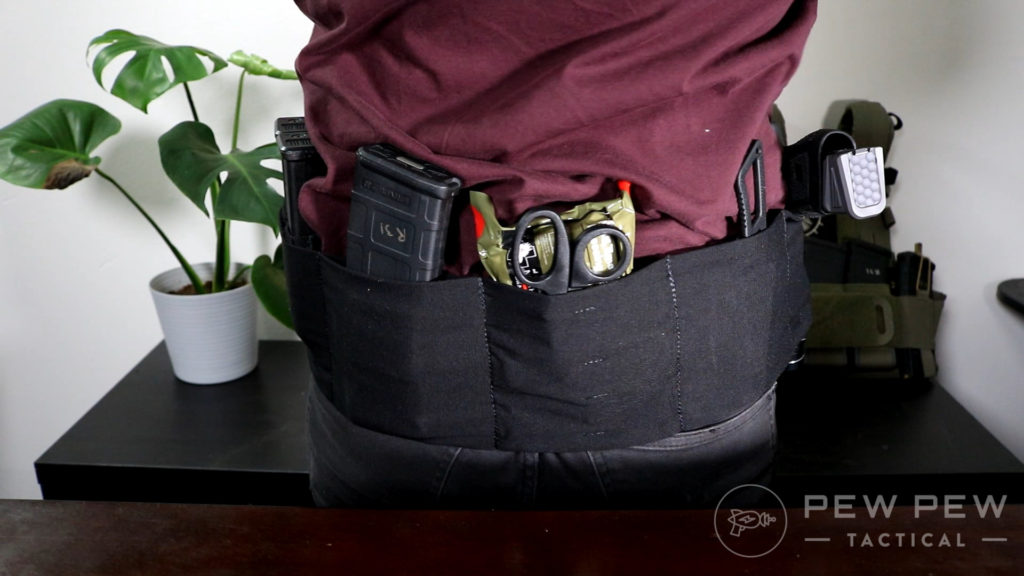 Being able to stash the Clutch until you need it in an emergency is rad, and that's likely what I'll end up doing with mine.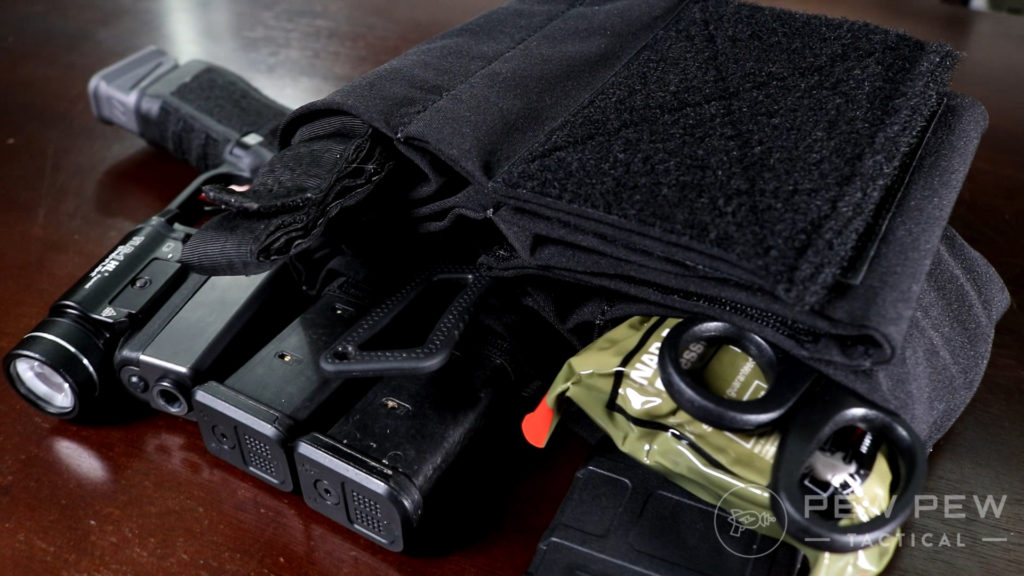 It's worth mentioning that it can be a little tricky to figure out your sizing depending on your waist size and how much kit you intend to carry, as obviously the length and shape of the belt change the more things you add to it.
Unity has a full breakdown on their website, but you may want to consider going up a pant size if you're trying to roll the entire kit locker down to the grocery store.
All in all, if you're a bit of a gear dork like me who likes the idea of being able to run some 1st line essentials in a low-profile fashion without a million different types of IWB pouches on your person – check out the Clutch!
140
at Amazon
Prices accurate at time of writing
Prices accurate at time of writing
It offers a slim profile that's adaptable to whatever you might need it to carry, and its ability to roll up and stash neatly out of the way gives it the advantage over any other similar platforms I've run across.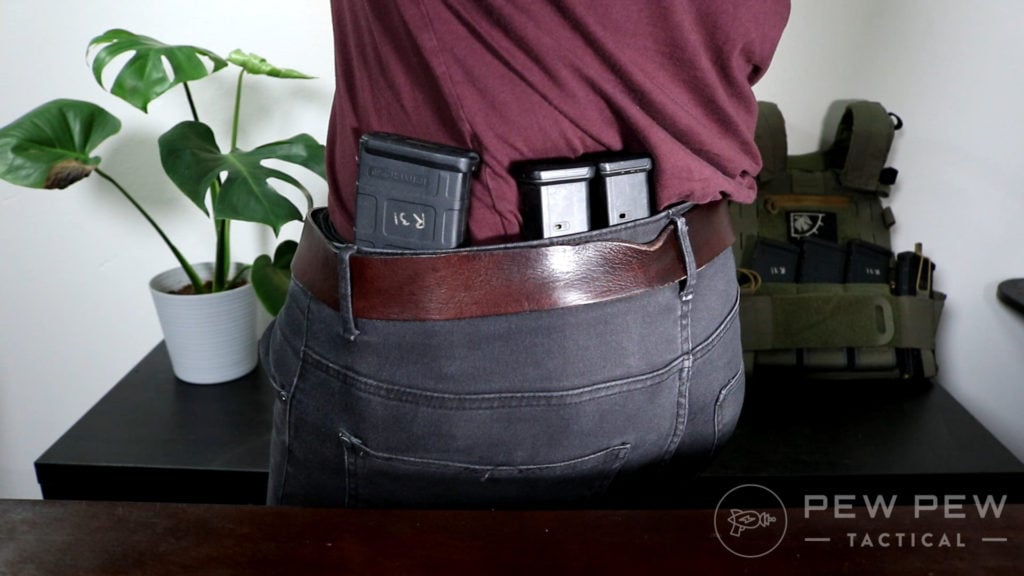 Parting Shots
That's all we have this week, maybe someday we'll be able to get back out to the range… or maybe this cave is all there is? We're not sure anymore.
How are you all fairing? Is your state opening up yet? Have you gotten back out to the range? Have you died? Would you vote for The Rock? Comment below 😎