We're going on near 4 weeks of bunker dwelling in California, and things are more or less the same as they were last time.
IE: QUARANTINED.
LA County specifically has now closed beaches and hiking trails for the duration of our COVID-19 scare as the folks treating this as a snow day and not as a global pandemic were still congregating on them.
At a local park, visitors mostly clothed in yoga pants and sweatshirts stand as an absurd backdrop to the county employee enshrouded in full hazmat PPE to clean a restroom.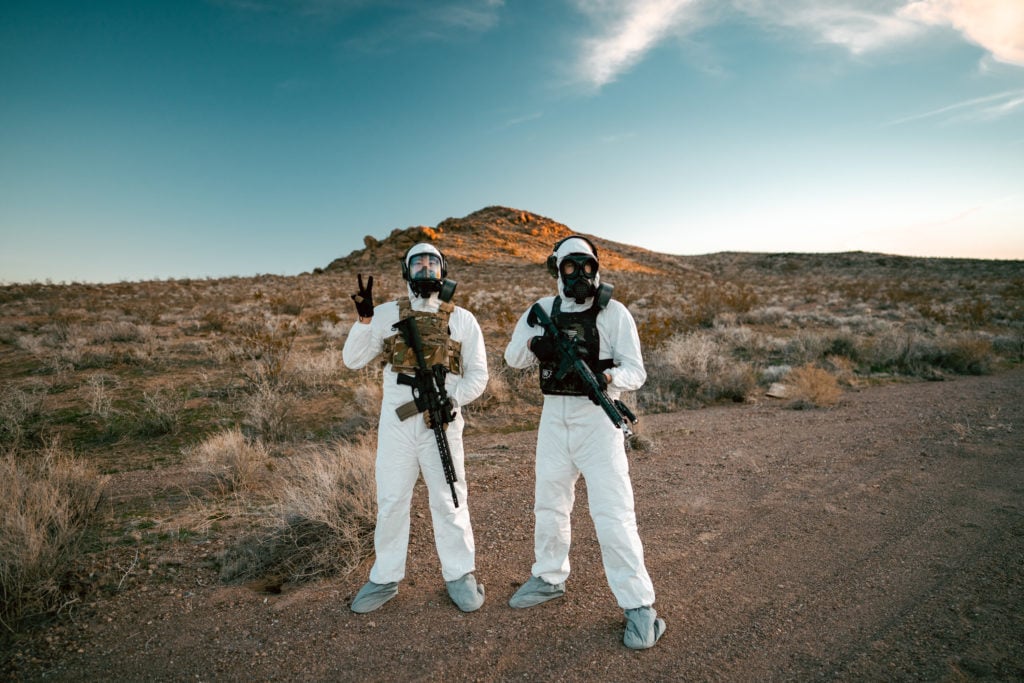 How's one man to deal with the absurdity of life when things feel so very surreal?

Why, some good ol' fashioned retail therapy, of course!

Check out the full video rundown below:
Table of Contents
Loading...
The Situation
While my ability to produce video review content is obviously still limited for the moment, I thought it'd be fun to bring you some more content from the Roni Bunker – this time going over a few projects I've been working on personally while I attempt to stay sane.

First up was finishing out the belt kit that I'd started putting together for the Tactical Games event the PPT team was scheduled to compete in late next month.
Although it's unclear whether or not the event is still happening, I decided to see my belt kit build through to the end considering I'd already put some time into researching exactly what I wanted to throw on a potential first line.
All in all, I wanted to have something that was going to stay put and allow me to carry only the essentials without slowing me down – as the Tactical Games are a hybrid of a Crossfit and traditional rifle competition.
Mostly gone are the days of huge, chunky-ass battle belt setups – and thankfully, there are now lots of options on the market that follow the same minimalist philosophy that's gotten trendy with plate carriers as well. Let's hop in!
I decided on using a Grey Ghost UGF as the basis for the entire belt build, as it's just about as slim as they come in the category.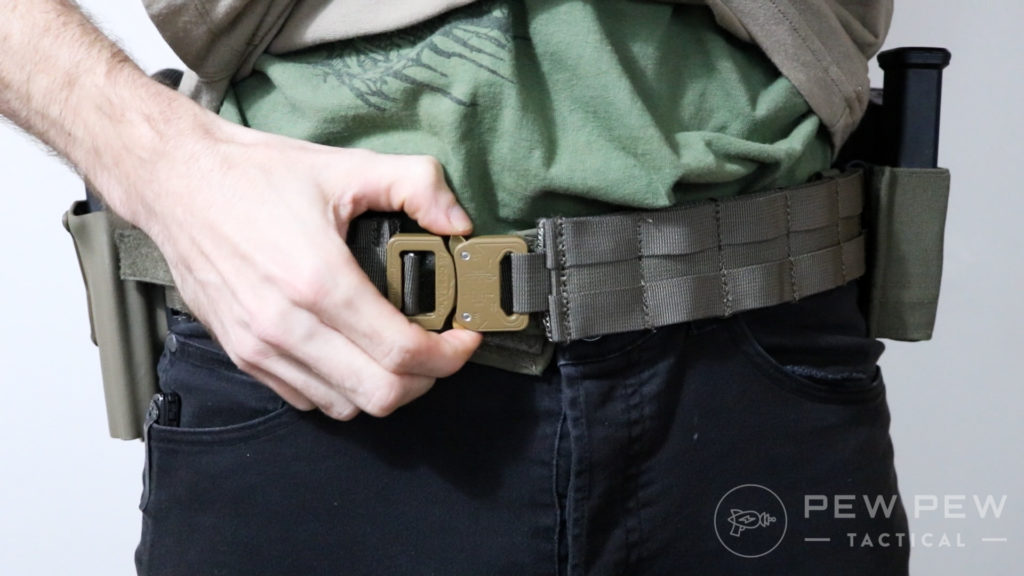 The UGF utilizes a two-piece system whereby a soft, lightly padded inner belt threads through your pant loops – allowing the rigid outer belt of the UGF to be mounted via velcro and secured at the front with a cobra buckle.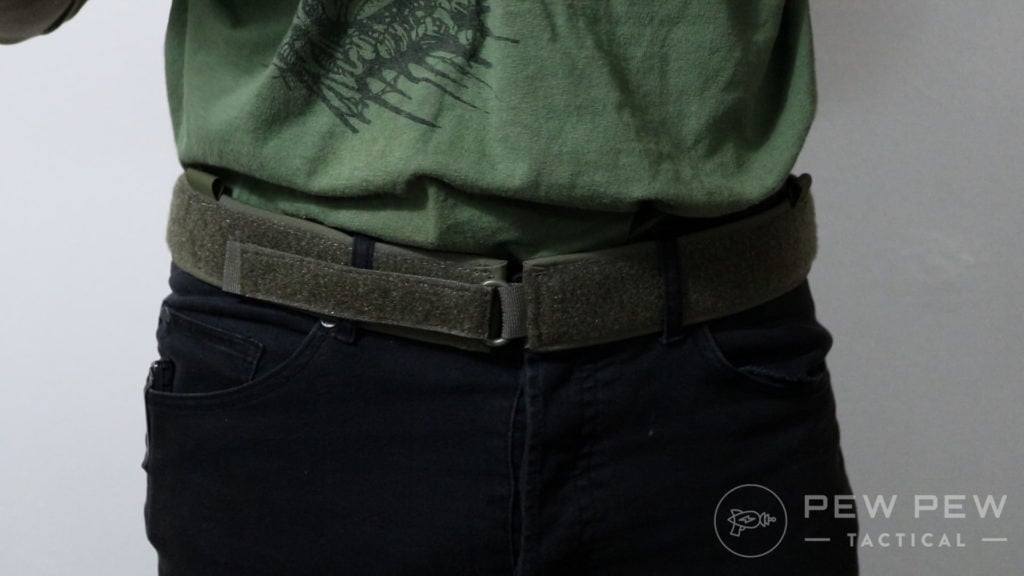 The belt's pretty nice, and stays pretty well put even when beginning to get loaded down. The outer belt is incredibly rigid though – which is good, but you might have some issues mounting accessories on the belt because of it. Be aware.
107
at Amazon
Prices accurate at time of writing
Prices accurate at time of writing
I later discovered that what I referred to in the video above as Hypalon tabs that provide friction against your belt loops to prevent shifting are, in actuality, loops for adding Grey Ghost's suspenders to the setup. Oop.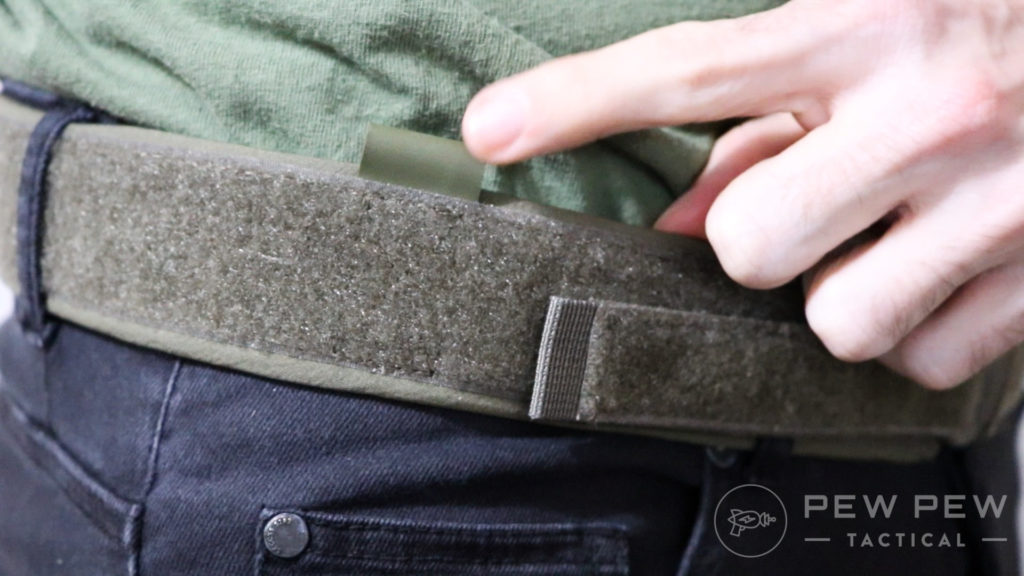 Magazine wise, I've opted for an ESSTac Kywi, which holds two double-stack 9mm mags and one AR-15 magazine. The retention here is perfect – not too loose and you're not fighting to get the mags out either.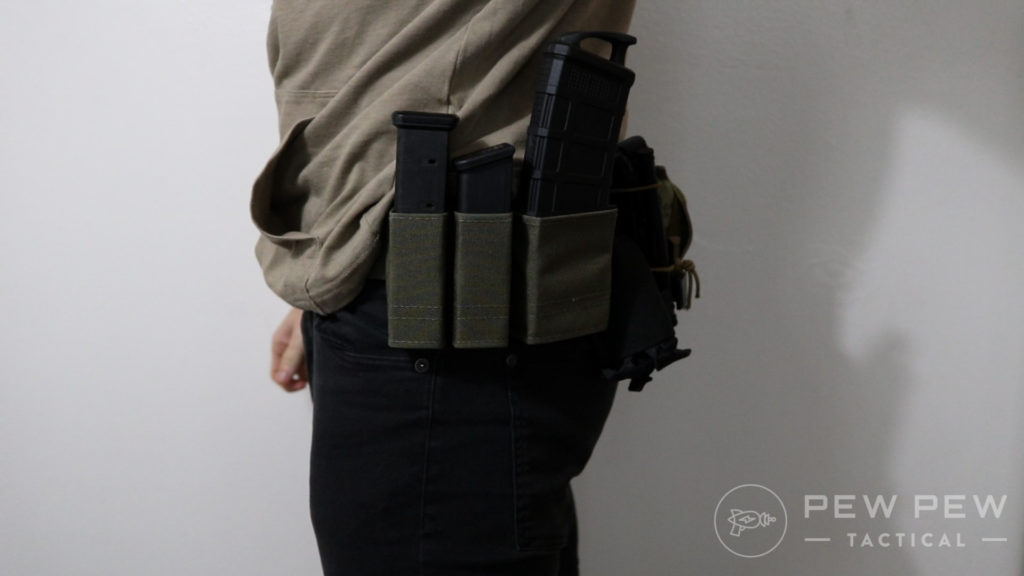 The Kywi mounts directly to the belt rather than to the MOLLE webbing via 4 flexible polymer belt clips, which can be a huge pain in the ass to weave around the incredibly rigid belt and through the webbing on the back of the pouch.
31
at Amazon
Prices accurate at time of writing
Prices accurate at time of writing
But it's certainly not going anywhere once you've got them in place.
IFAK time! I decided to snag a Blueforce Gear Trauma Kit NOW! for a few different reasons.
71
at OpticsPlanet
Prices accurate at time of writing
Prices accurate at time of writing
I've wanted to actually begin building out my own IFAK for quite some time, but have lagged on it for various reasons.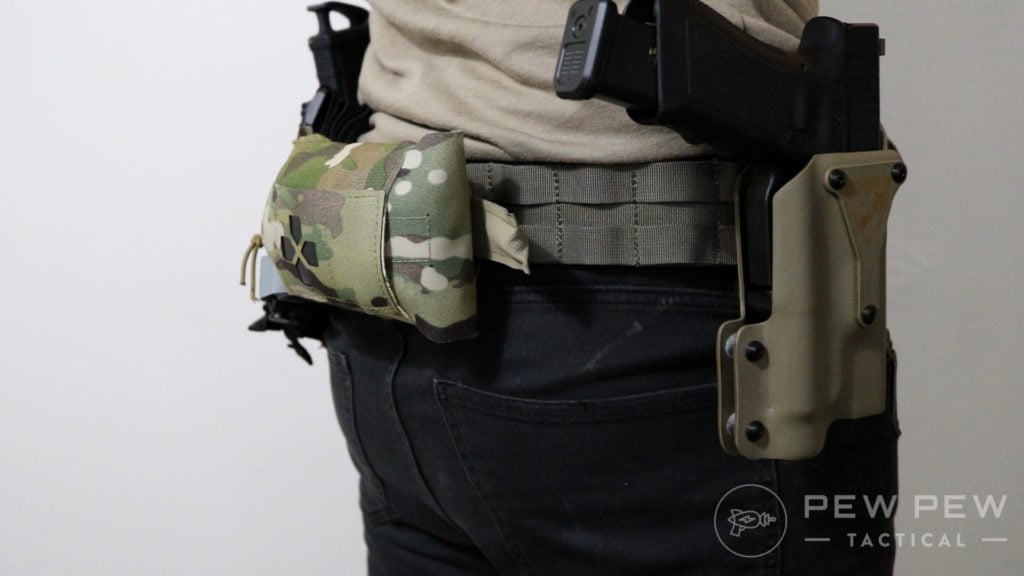 However, I've also wanted to actually make sure I'd know what I'm doing with any medical supplies I wind up carrying – otherwise, what's the point?
I'm reasonably comfortable with CAT tourniquets and the like, but beyond that, I've never really taken the effort to educate myself on the matter.
Although obviously nothing is going to beat actual training, I figure there's no harm in at least familiarizing myself with some real basic medical knowledge – and what better backdrop than when disaster preparedness is at the forefront of everyone's mind!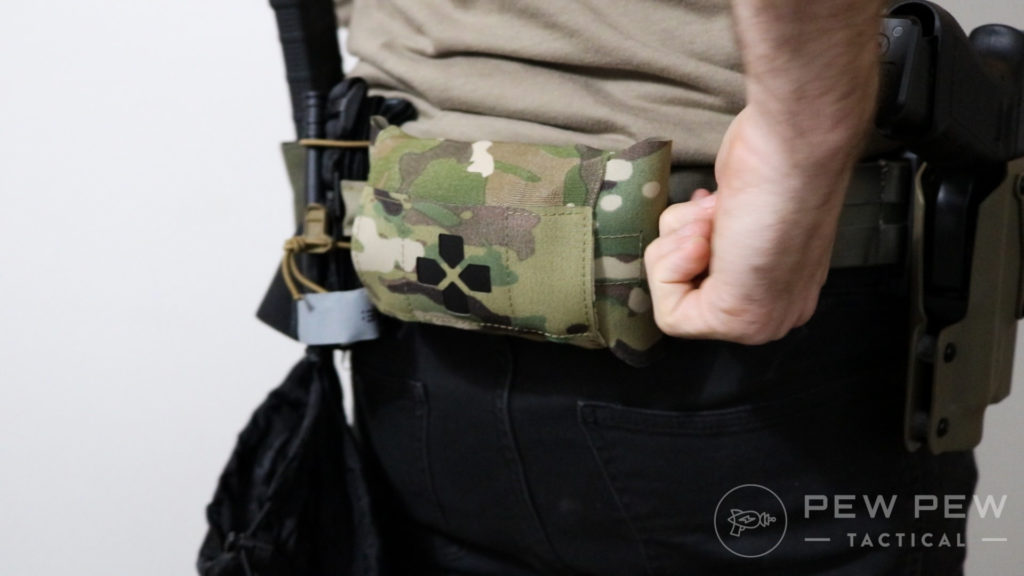 The BFG TKN is another two-piece system that utilizes an outer elastic sheath to both attach to your belt and house the tear-away trauma kit as well. The trauma kit itself features Hypalon tabs that can be grabbed from bother right and left, and mounts inside the sheath with a bit of velcro on the back.
It's also deceptively spacious for how small and simple it is. Essentially consisting of just a few flaps, the TKN folds out revealing several more small elastic loops for organizing whatever supplies you're putting in it.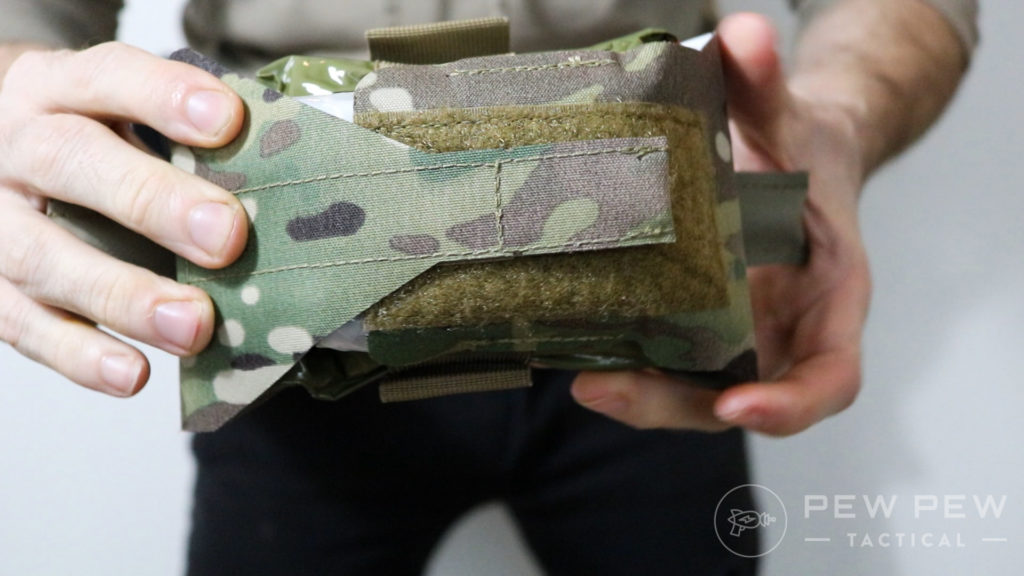 I've got the contents of a North American Rescue Patrol IFAK resupply kit in there, and it's just about at capacity.
45
at Amazon
Prices accurate at time of writing
Prices accurate at time of writing
I've also mounted the CAT TQ from that same kit via some shock cord and an S&S Precision pull tab.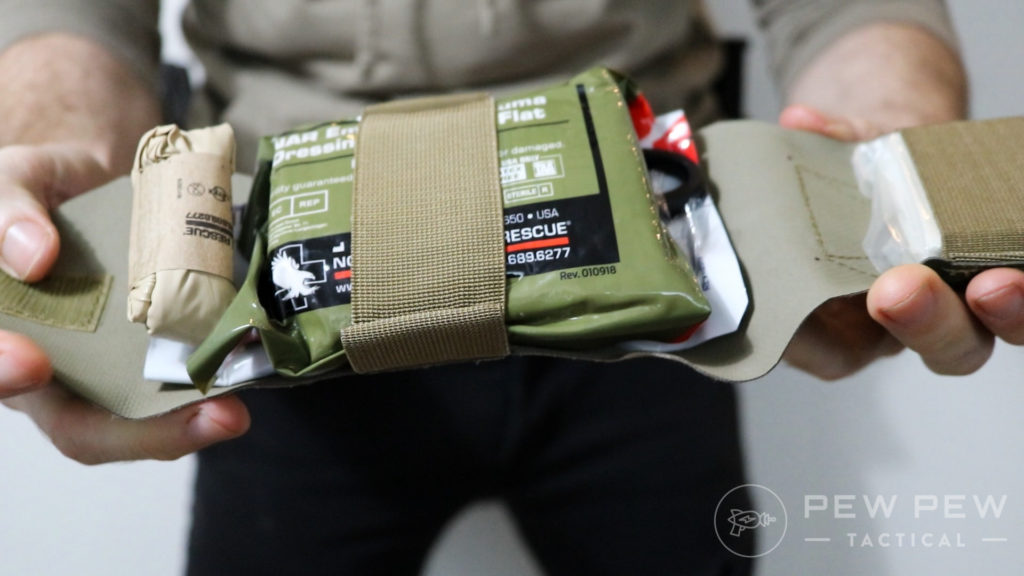 Holster-wise, I'm currently using a DSG Holster to house my Glock 17 with a Streamlight TLR-1 HL mounted, and it works… okay-ish.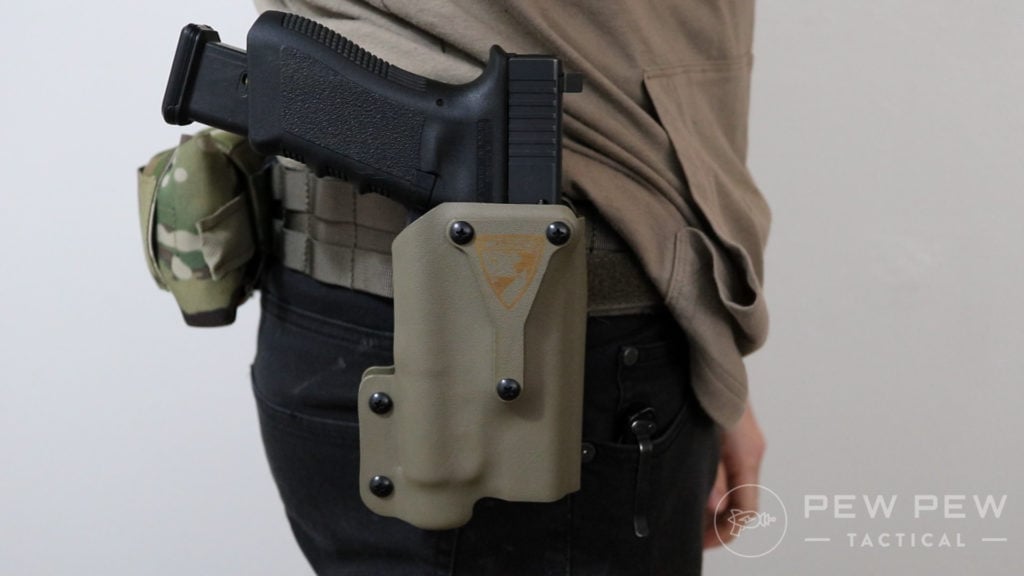 The holster's not a huge fan of the higher night sights I've got on the gun, and occasionally likes to grab the front sight on the draw.
70
at Amazon
Prices accurate at time of writing
Prices accurate at time of writing
Obviously, this is incredibly un-ideal, though the problem has almost entirely been mitigated by repeated drawing of the gun to wear down whatever spot is snagging it.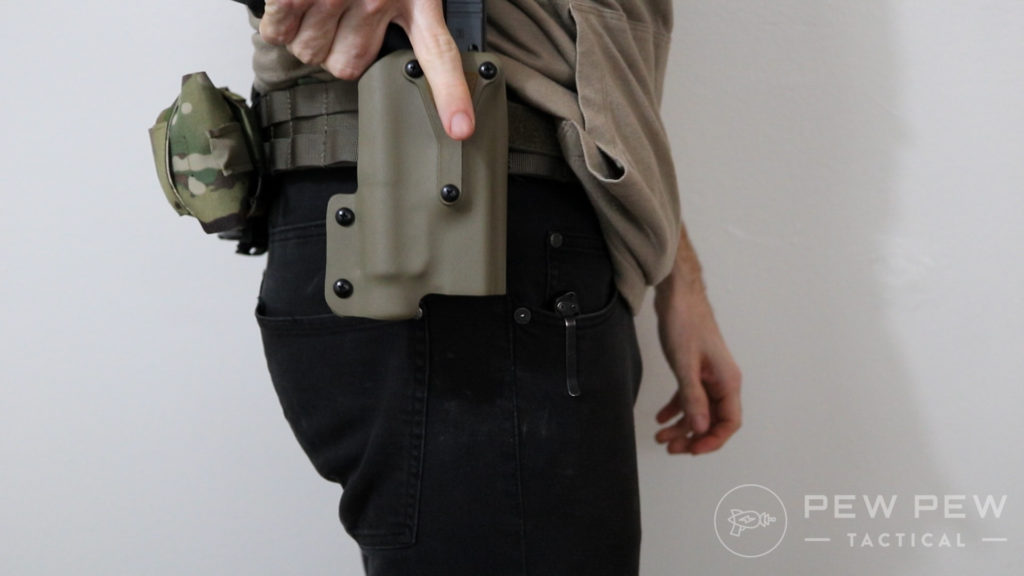 The holster works okay for right now, but it's in this sweet spot right now of needing to be loose enough so as not completely grab the front sight every time I draw, while also still being tight enough to secure the gun while I'm moving.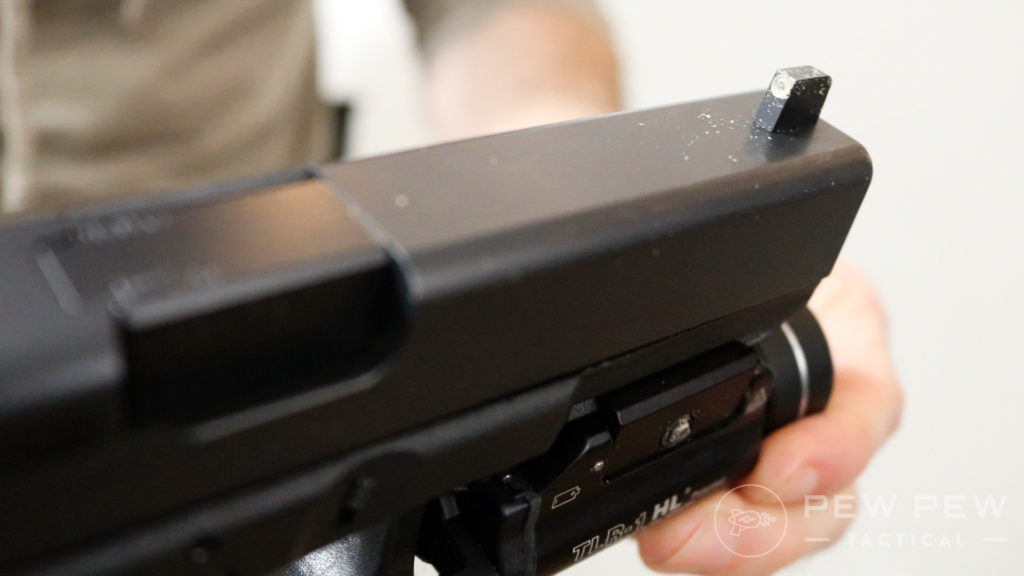 The plan was to replace the DSG setup with a Safariland 6304 to give me a bit of added retention considering the high level of physical activity inherent to the Tactical Games, but it, unfortunately, hasn't made it out of the pipeline quite yet. Soon!
Lastly, I've added a Velocity Sytems Micro-Diddie to give myself a bit of spent magazine retention capability off of my belt.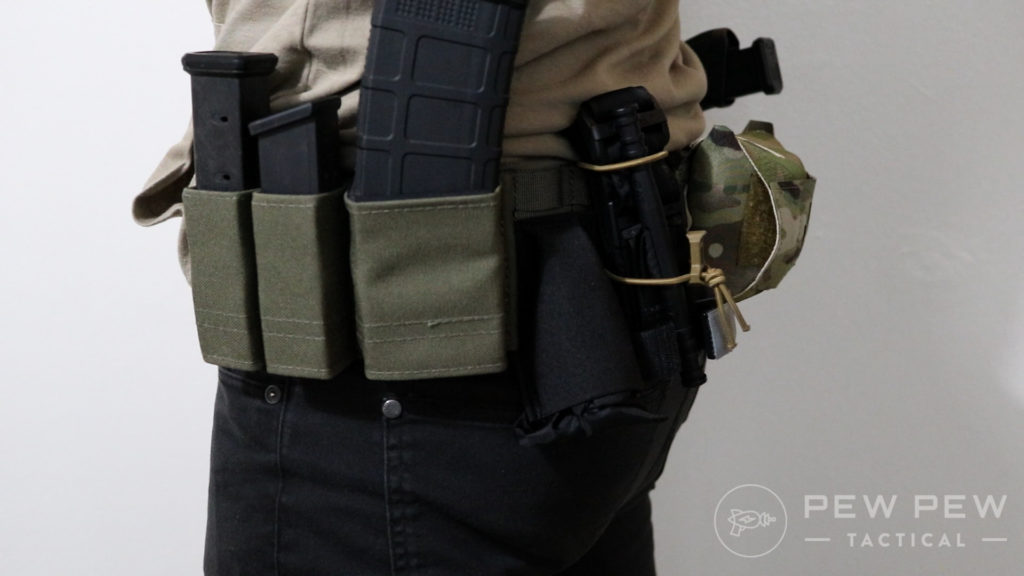 The Diddie is great – it's a super simple Helium Whisper bag that compresses down into a small elastic sheath – staying completely out of the way when not in use and deploying rapidly if you need it.
26
at Velocity Systems
Prices accurate at time of writing
Prices accurate at time of writing
Compared to some of the absolutely massive bag of holding-esque dump pouches on the market, this thing is minuscule – and that's really what I'm after here.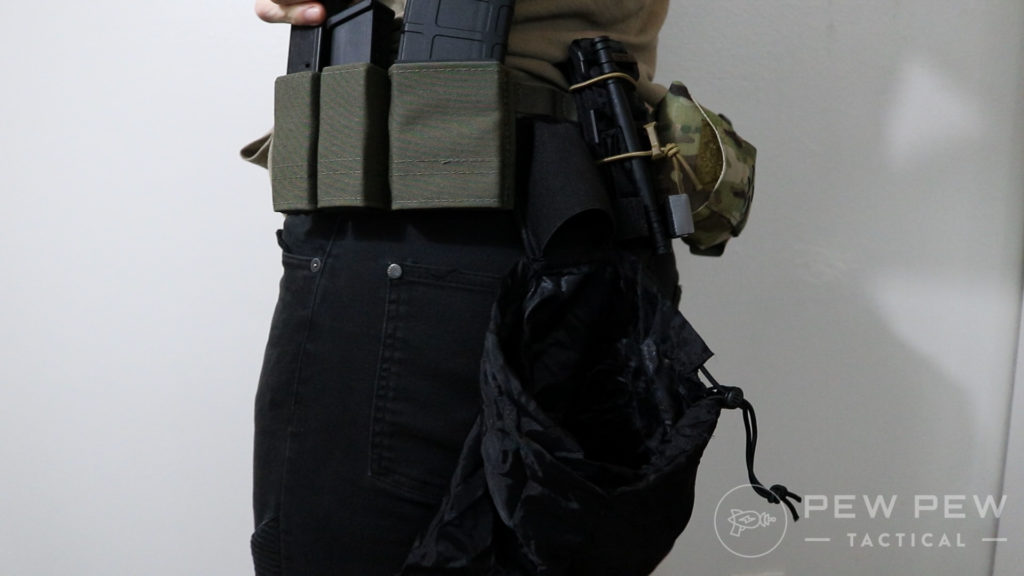 All in all, I'm happy with the belt – but obviously I haven't really had a chance to check everything out on the range quite yet. Inevitably I'll wind up having some gripes or some small tweaks to make, but overall? Stoked so far!
Project Number 2 was finally getting around to setting up the new handguard I've got on my personal AR, as I've recently moved to a 15″ STNGR VLCN.
119
at STNGR
Prices accurate at time of writing
Prices accurate at time of writing
The addition of a Magpul M-LOK Handstop Kit allows me to punch my support hand out further than was comfortable before, and it also puts my thumb in the exact spot necessary to hit the tape switch on my new light setup – a Streamlight Protac HL X mounted to an Arisaka Defense In Line M-LOK Mount.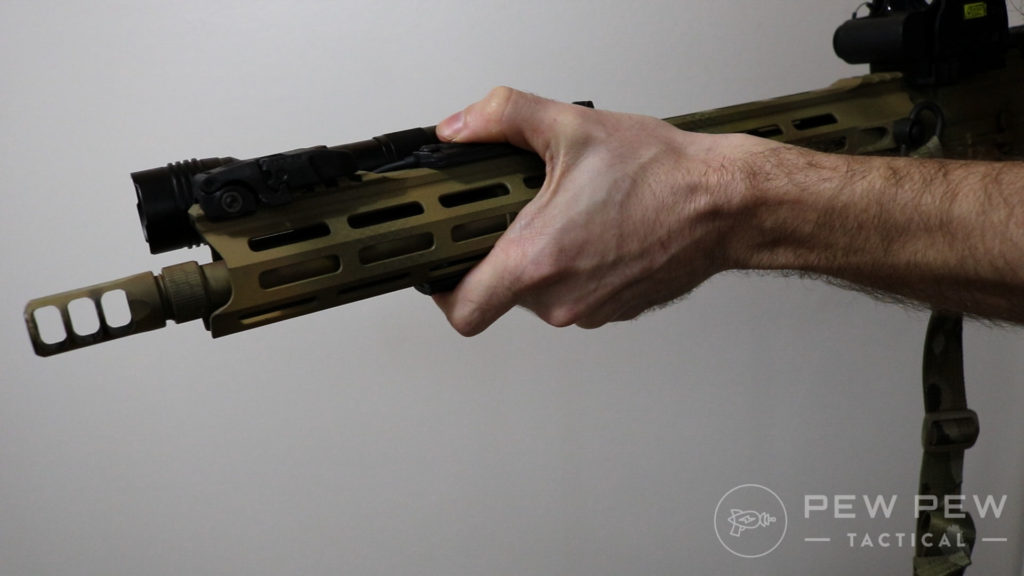 The combo works extremely well, and the Arisaka mount allows the light to sight right in the sweet zone on my 45-degree M-LOK slot that doesn't interfere with my MBUS sight, nor does it appear likely to get blasted by my Faxon Brake.
180
at Amazon
Prices accurate at time of writing
Prices accurate at time of writing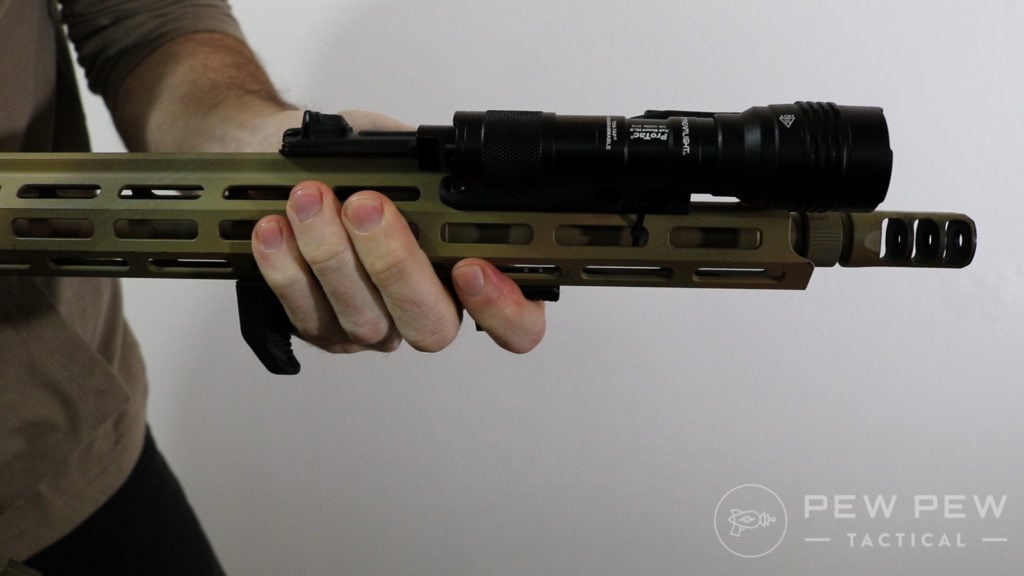 I'd call that a win.
The HL X delivers about 1,000 lumens of brilliant light to the target and includes momentary-on functionality, a separate constant-on switch, and a double-tap function that enables a strobe.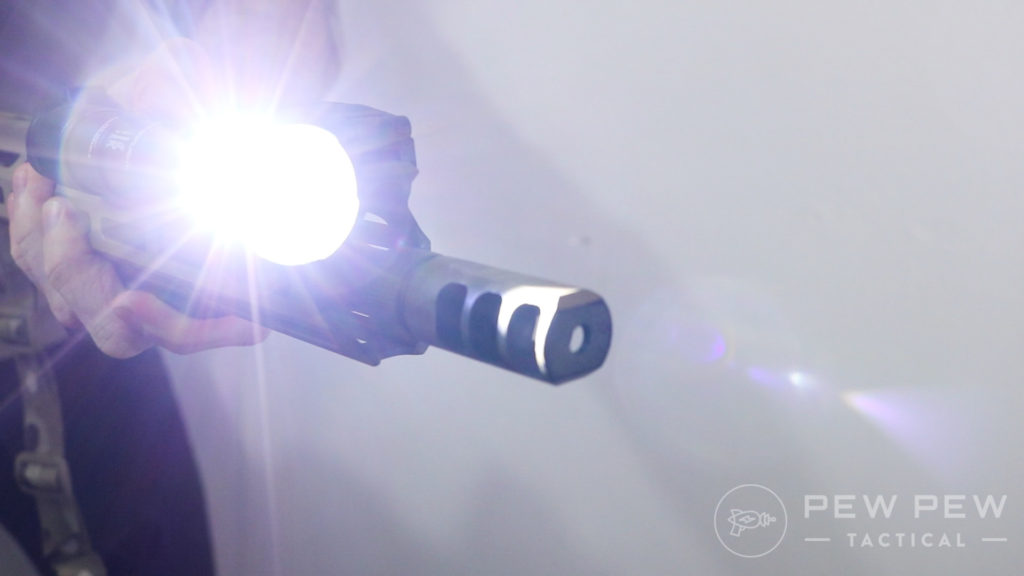 For reasons.
After accidentally purchasing an M-LOK tape switch mount that I realized after the fact was for a Surefire tape switch, a bit of Googling led me down a rabbit hole of finding other Streamlight users that'd modified and mounted their switches directly to the M-LOK rail itself.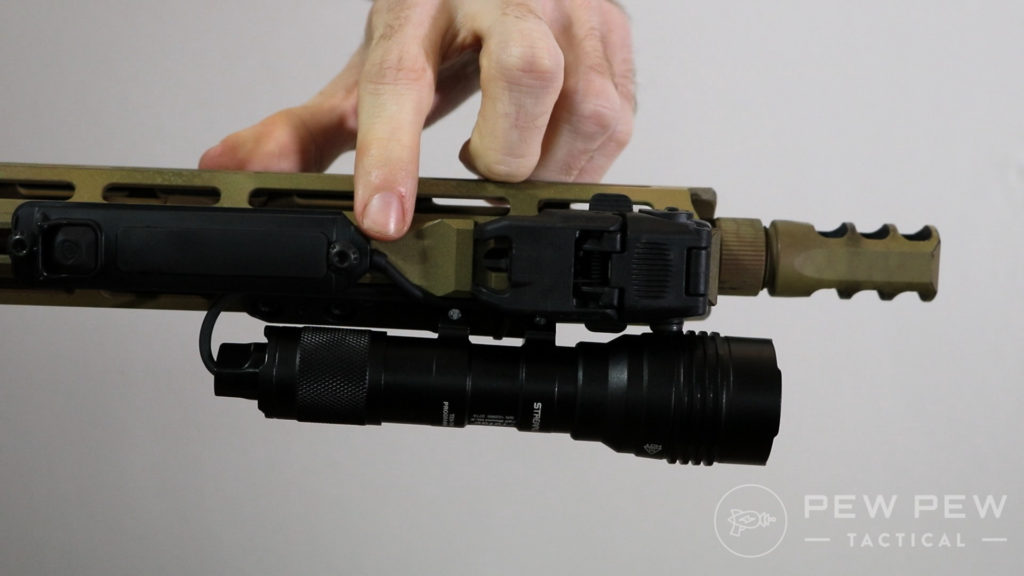 A huge disclaimer here obviously you could just wind up completely destroying your switch, but my own modification turned out fine.
The stock switch actually has two small holes in it – inadequate for mounting on their own, but easy enough to ream out and slip some spare M-LOK mounting hardware to.
Time will tell if this solution is viable at all, but for now, it appears quite solid, and I'm super happy with the setup overall.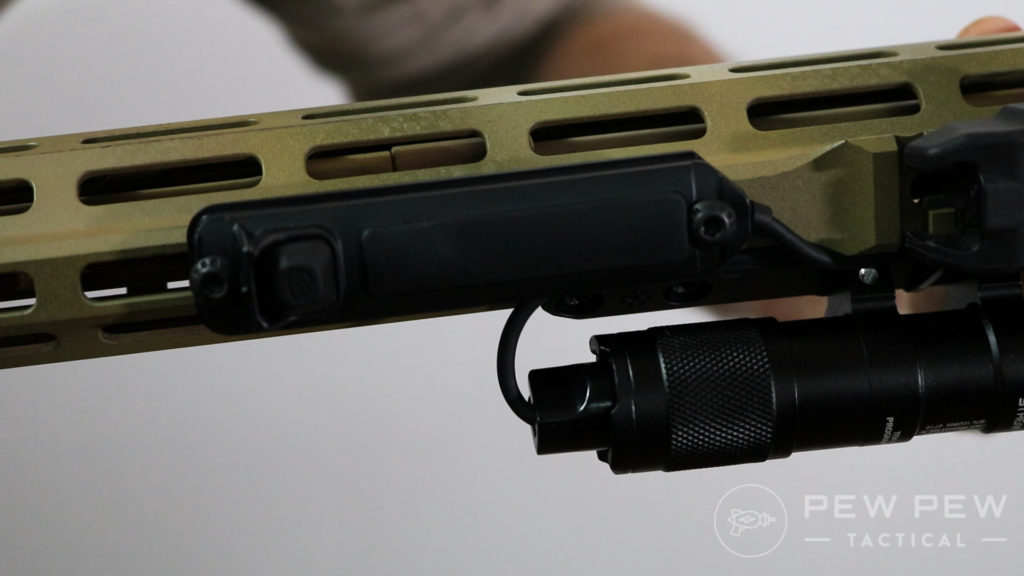 Moving on now to a product that's been sent to us rather than something I've purchased on my own, we've got the Cloud Defensive OWL.
370
at Amazon
Prices accurate at time of writing
Prices accurate at time of writing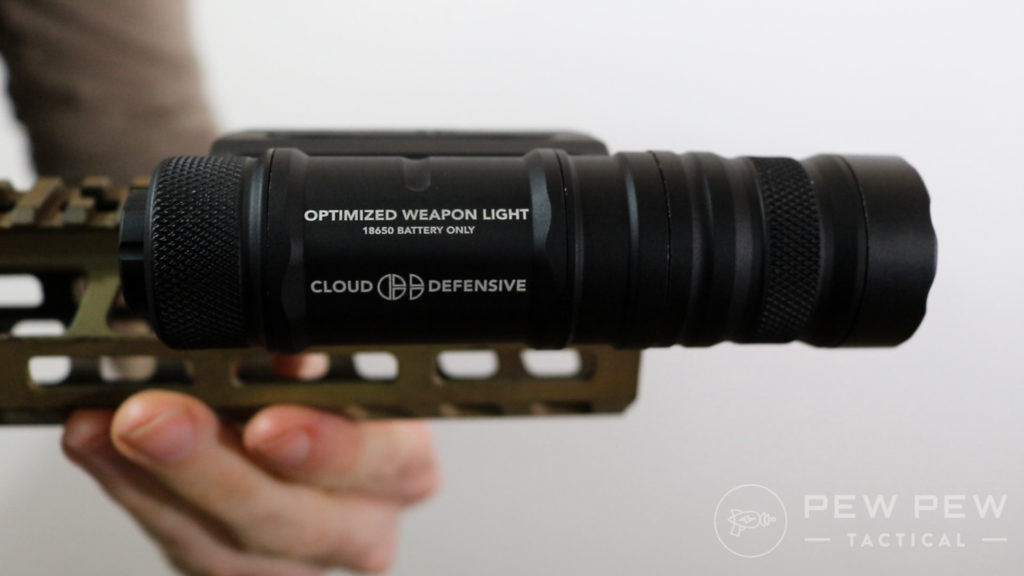 The OWL is built like a tank, and likely the first thing you'll notice about it is that the body of the light, rail mount, and pressure switch are all functionally the same piece.
Setup right out of the box to run off to the right side of your gun for right-handed shooters, the OWL can be configured for lefties by swapping the rear lug and lens, and then flipping the mount on the gun itself.
A novel solution executed quite cleanly.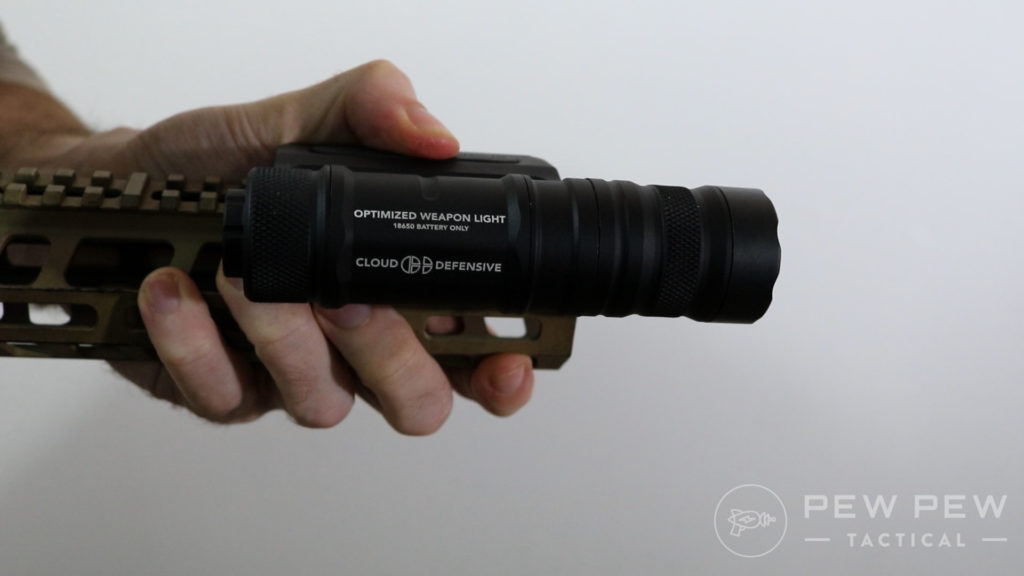 The OWL throws out about 1,200 lumens total, but according to Cloud Defensive themselves, lumens isn't necessarily the impressive measurement we might think it is.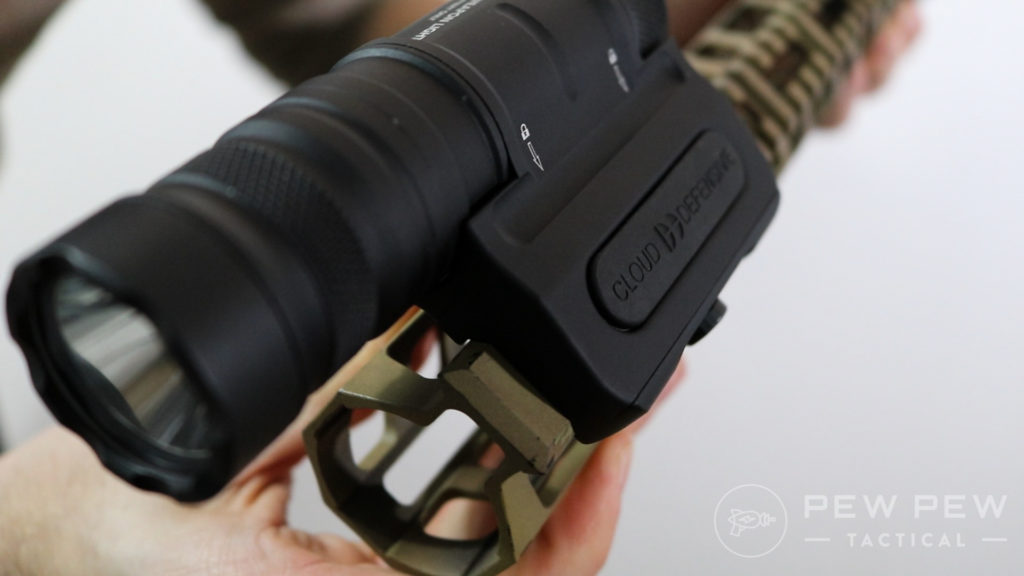 Lumens are a measurement of light at the source – IE, the flashlight's lens. However, candelas are a measurement of how much light actually makes it downrange to the target, which is the OWL's main selling point.
Although I obviously don't have the means to test that within the confines of my apartment right now, we'll definitely be taking a look at this guy's light throwing capabilities as soon as the apocalypse is over.
As mentioned, the OWL's pressure pad is a part of the unit itself, which is nice if you don't want to deal with wires and tail caps found on traditional tape switches.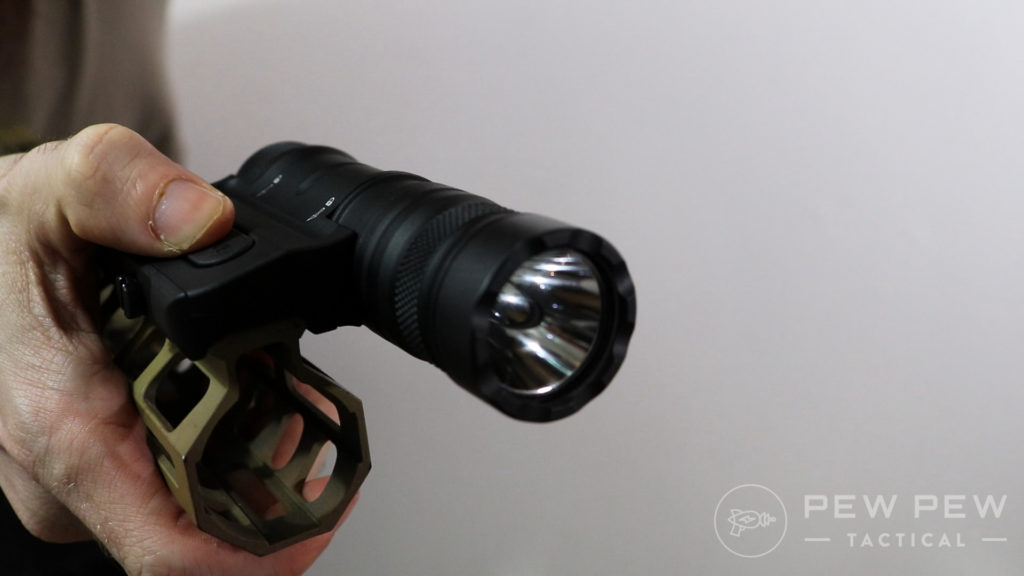 It does, however, have some weird design choices going on. Compared to a normal tape switch where momentary-on is activated with a single tap of the pressure pad, the OWL goes straight to constant-on with a single tap.
Instead, it requires you to press all the way through and hold down, releasing when you're down illuminating the target.
Perhaps a relatively minor gripe, but this feels a bit counter-intuitive to me.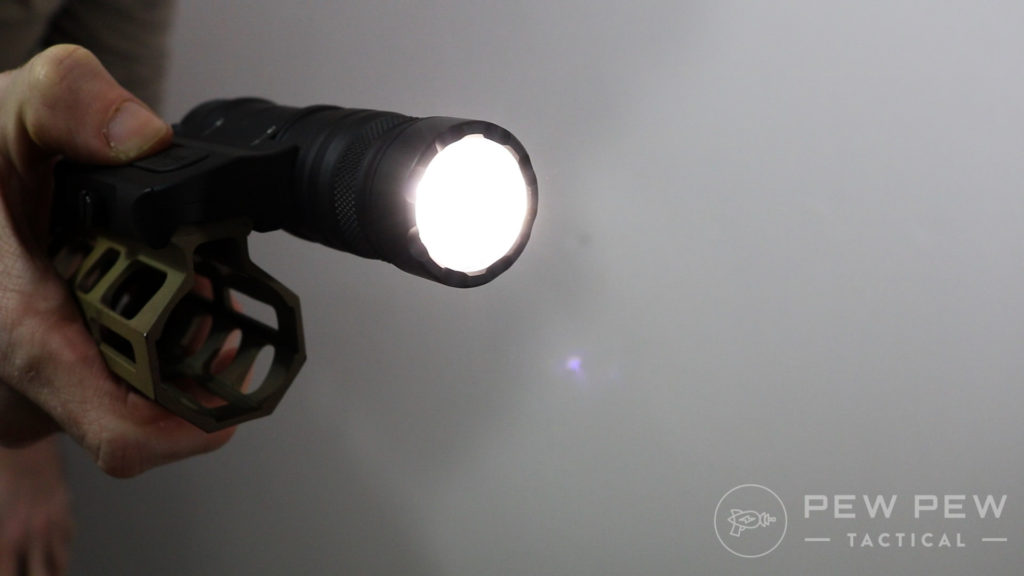 Regardless, the light is still worth checking out, and I can't wait to chuck some candelas into the desert sometime soon.
That being said, I think I'm still a bit more of a fan of my personal Streamlight setup overall, as I don't really need the weight or lightsaber effects the OWL provides, but YMMV.
Parting Shots
Overall, using the lockdown as an excuse to finish up a few things I've been lagging it on has been a great distraction, and there's some dumb childlike joy in assembling some new kit piece by piece and finding that it all plays well together.
What's your lockdown experience been like thus far? Has anyone else gone down the therapeutic spending hole? Any bits of kit you think I should check out? Here's some of our other popular posts right now