Deming, NM –  New Mexico native Mike Yeetanelli announced earlier this afternoon that he's quit his job as a contractor to pursue "a higher calling" – defending the good name of besieged low-cost firearms manufacturer Hi-Point in what appear to be obvious humor pieces throughout the entire internet.
"I just don't get what's so funny about a good deal", says Yeetanelli. "People like to make fun of Hi-Point – but the guns are affordable, and they work!"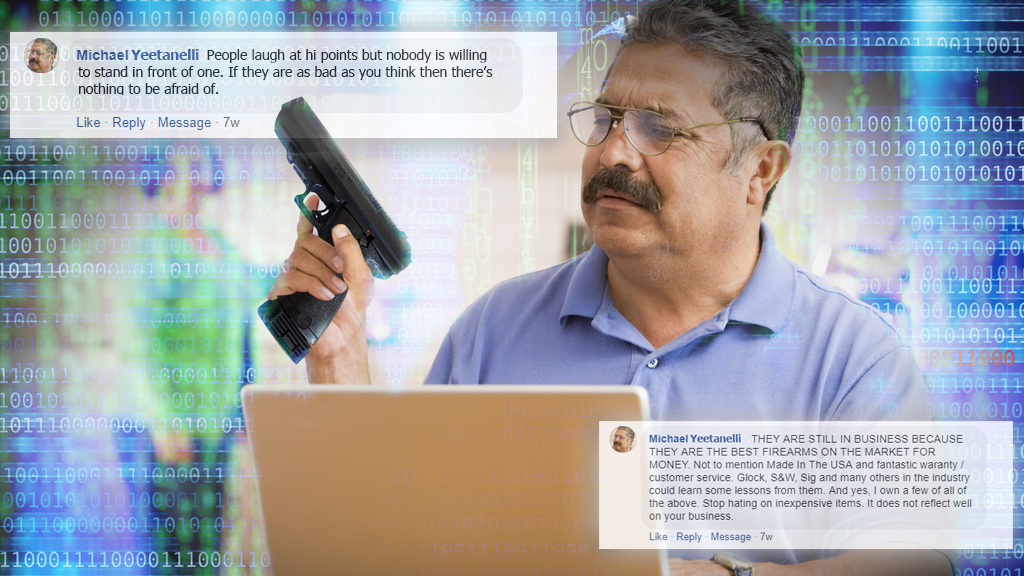 To date, Yeetanelli estimates that he's managed to point out the merits of the bargain bin guns in approximately 6,700 threads and comments sections worldwide. "People mostly ignore me to keep making jokes, but that's okay. I don't really understand humor, but I do understand a bargain."
When asked how he'd come to be such a staunch defender of the controversial manufacturer, Yeetanelli cites his deeply paranoid worldview and abject power fantasies.
"Most folks rely on one or two guns around the house and that's that. But what if you aren't near those guns when a home invasion happens? Look, I make a meager living, okay? I'm a blue collar guy, and Hi-Point was the only affordable option for making sure there's a gun in every room of the house. Worst case scenario, I use one to fight my way to my 1911."
Though he's been fighting the good fight since at least 2015, Mike is excited to finally have the opportunity to point out that a "$150 gun is still a gun" full-time now.
Disclaimer: This is a satire/parody post, which may or may not use actual names in quasi-real and/or fictitious narration. So try not to get too butt-hurt about it.
Looking for a (mostly) serious Hi-Point Review & Video? Check it here!