Have you ever felt the need for a gun smaller than your wallet? (Haven't we all, at some point, wanted to be James Bond? )
Well, Trailblazer Firearms, "founded in 2014 to design, develop, manufacture and market innovative American-made firearms," has fulfilled that desire with their flagship gun, the LifeCard.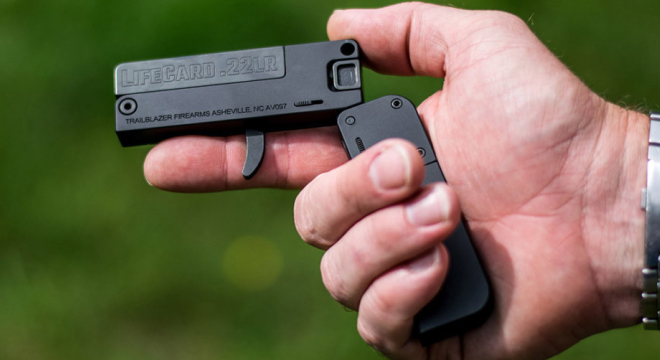 The LifeCard is a single-shot, single-action .22LR that is a mere 3.375 inches long and .5 inches wide, and weighs in at just 7 ounces.  
Oh, and it folds.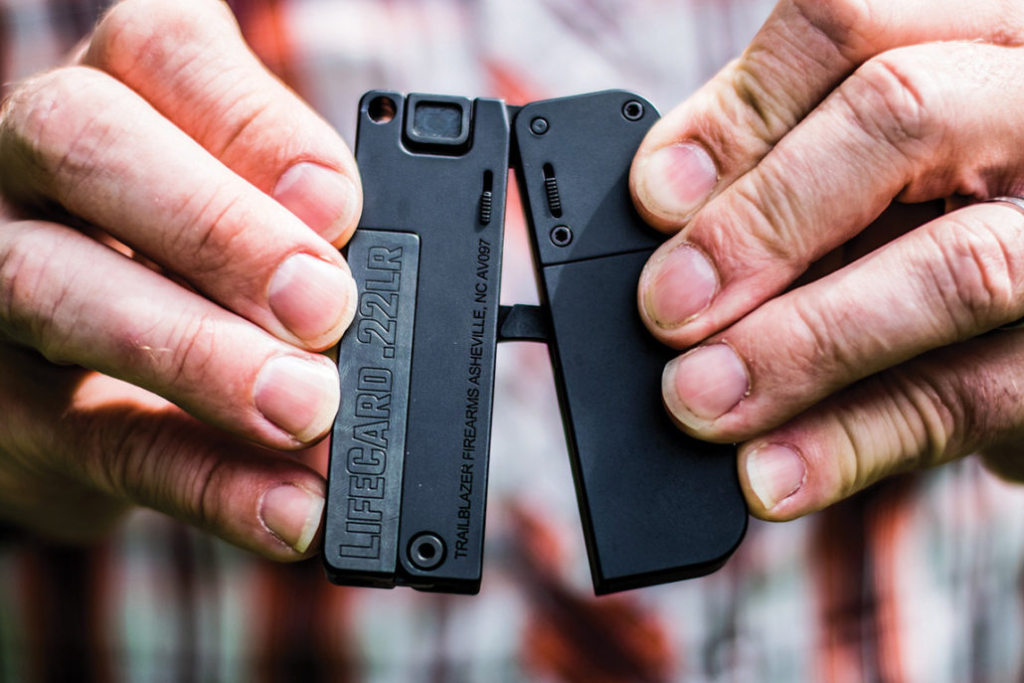 In its folded state, the life card is 2.125 inches high, about the same height and length as a credit card, and about half an inch wide.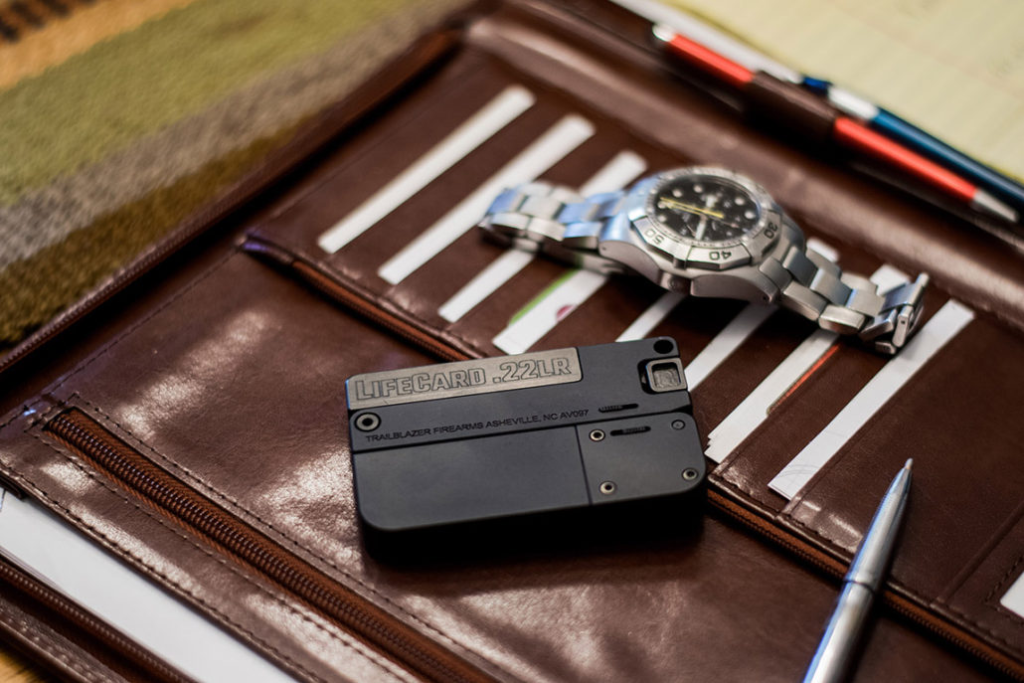 The LifeCard can't be fired when folded, preventing it from falling under the AOW classification of the National Firearms Act.  To fire, unlatch the barrel, and release the grip to expose the trigger.  
A small v-groove along the top of the barrel can be used for sighting, but really anything more than contact distance is probably going to be a stretch.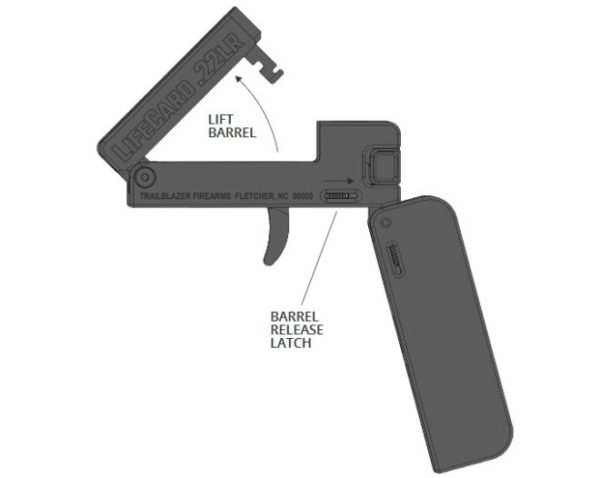 The barrel tips up for loading, and the bolt must be manually cocked for fire.  It also has a half cocked position.  There is a small storage compartment in the grip with room for four spare rounds.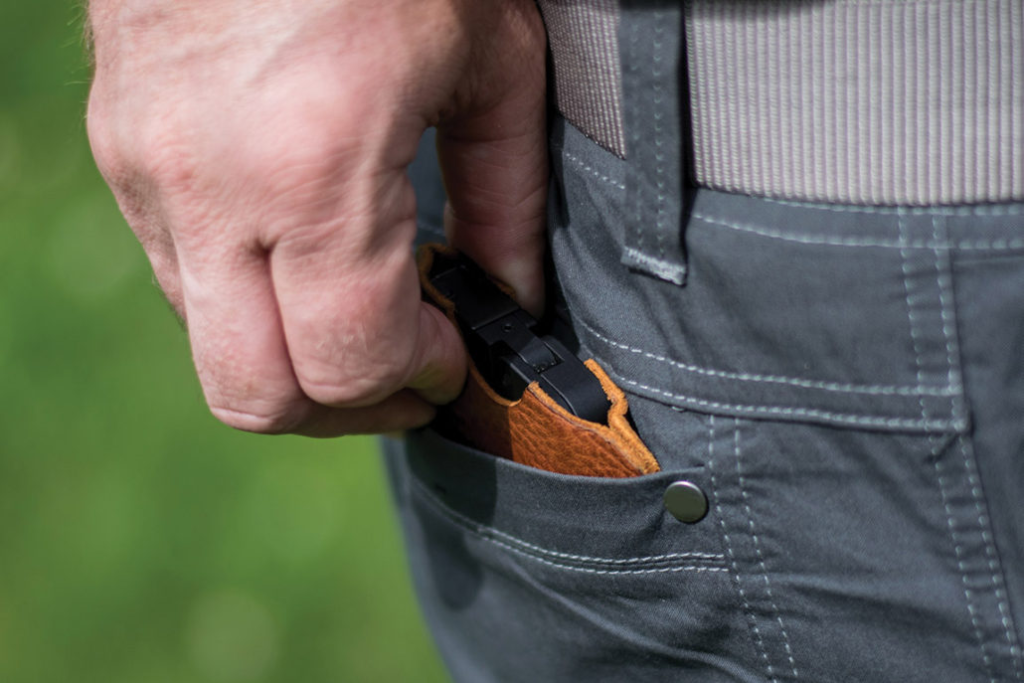 The LifeCard is machined from a solid billet and has a steel barrel coupled with an aluminum frame and handle. The gun features isonite finish over all steel parts, and the frame and handle are hard-coat anodized aluminum to make the LifeCard resistant to corrosion.  
Unlike many other Derringer-style holdout guns, the LifeCard's handle is full sized, and the firearm is completely ambidextrous.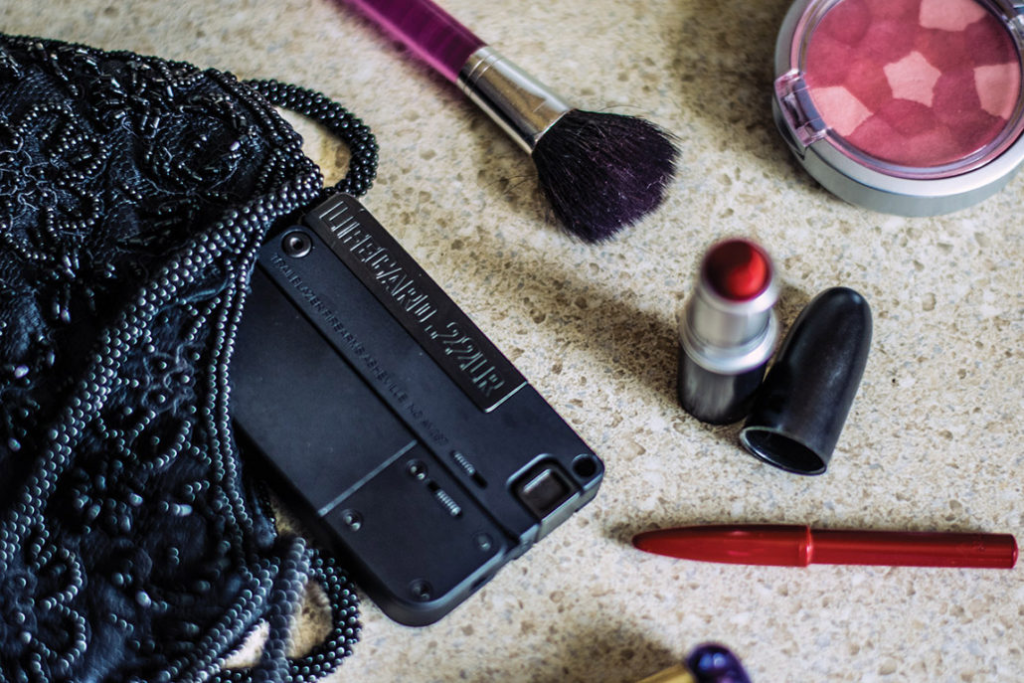 The LifeCard also ships with a padlock that can be slipped through a hole in the action to lock the firearm.
MSRP is $399.  Orders are expected to ship in mid-August.
Reviews
While we're trying to get our hands on one…here's a video review by 22plinkster.
Our Take
Personally, I like his little thing.
I don't think I'd carry it as my only weapon, and you'd have to be very confident to do so, but it seems like a good backup gun, or maybe something to keep in your pocket to deal with snakes while you're walking around outside in the country.
If you're looking for a more *oomph* but still pocket carry…check out our Best .380 Handguns.  There's a lot more practical guns there.
Also, the LifeCard it reminds me a lot of old Cold War-era spy weapons, and that alone gives it enough "cool factor" for me to want to get one. Not necessarily a battle weapon, but definitely something that could be interesting. Maybe we'll try to get our hands on one and see how practical it really is.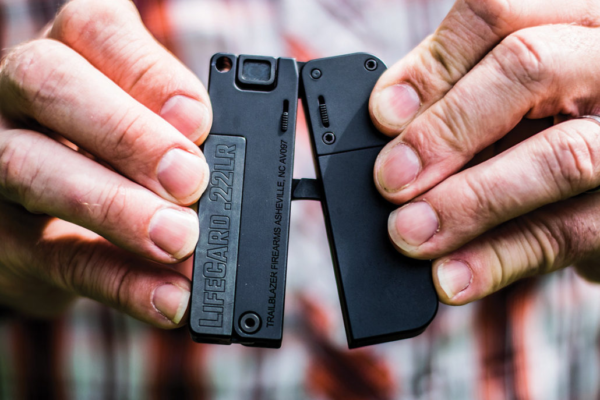 LifeCard .22 LR
Prices accurate at time of writing
So what do you think?  Handy or just a $400 dollar gimmick?  What are your favorite small firearms for everyday carry?  Let us know in the comments!