Looking for a robust gun safe that looks like it's from the future?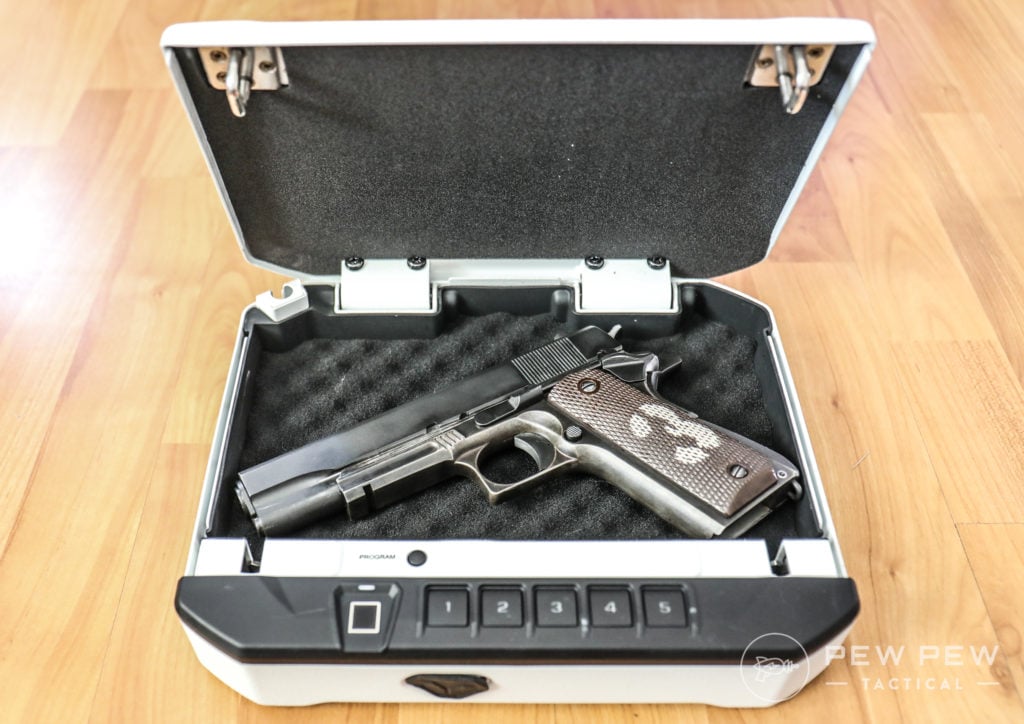 Let your fingerprints and phone do the talking with Vaultek's biometric safes.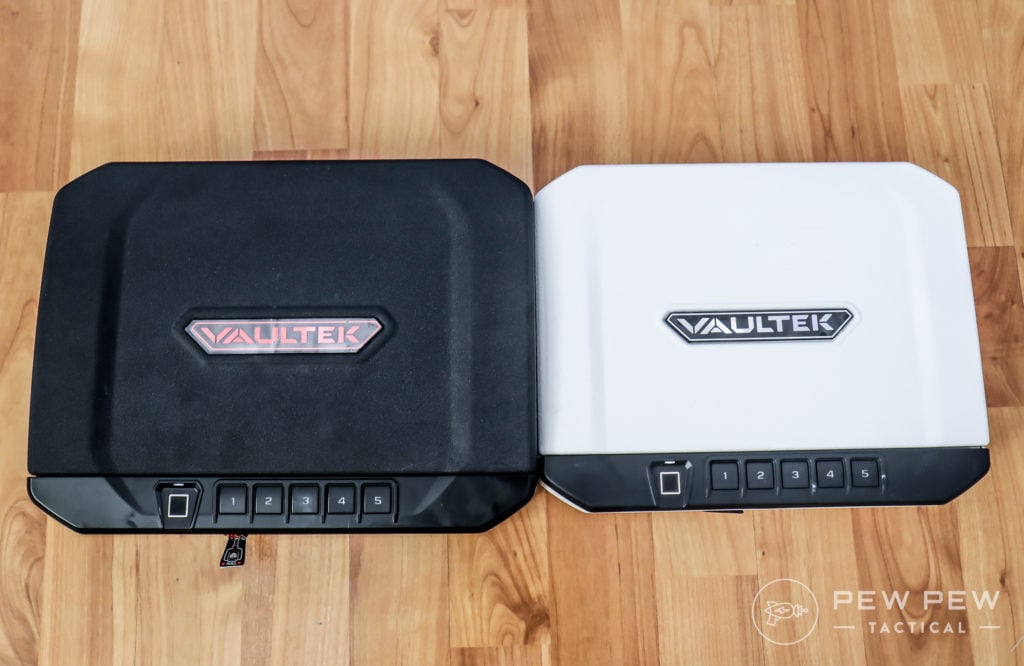 I'll go over the features of both the VT10i ($245) and larger VT20i ($269) safes. Plus a bunch of pros/cons and whether or not it might satisfy your specific security needs.
And now…the Vaultek made our video of best handgun safes for quick access:
Now let's get to it!
Unboxing
Normally I couldn't care less about the boxes of my products. Some of my favorite accessories and guns have come in less than stellar packaging.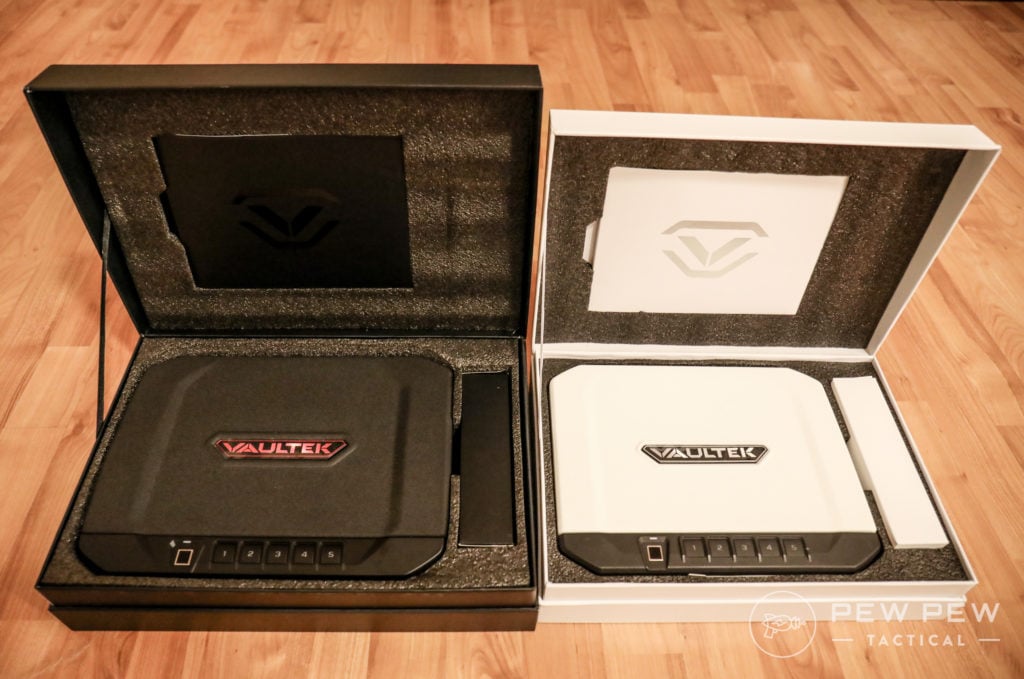 But not the Vaultek.
It's one of those un-boxings where you wouldn't be surprised to hear some heavenly music play in the background.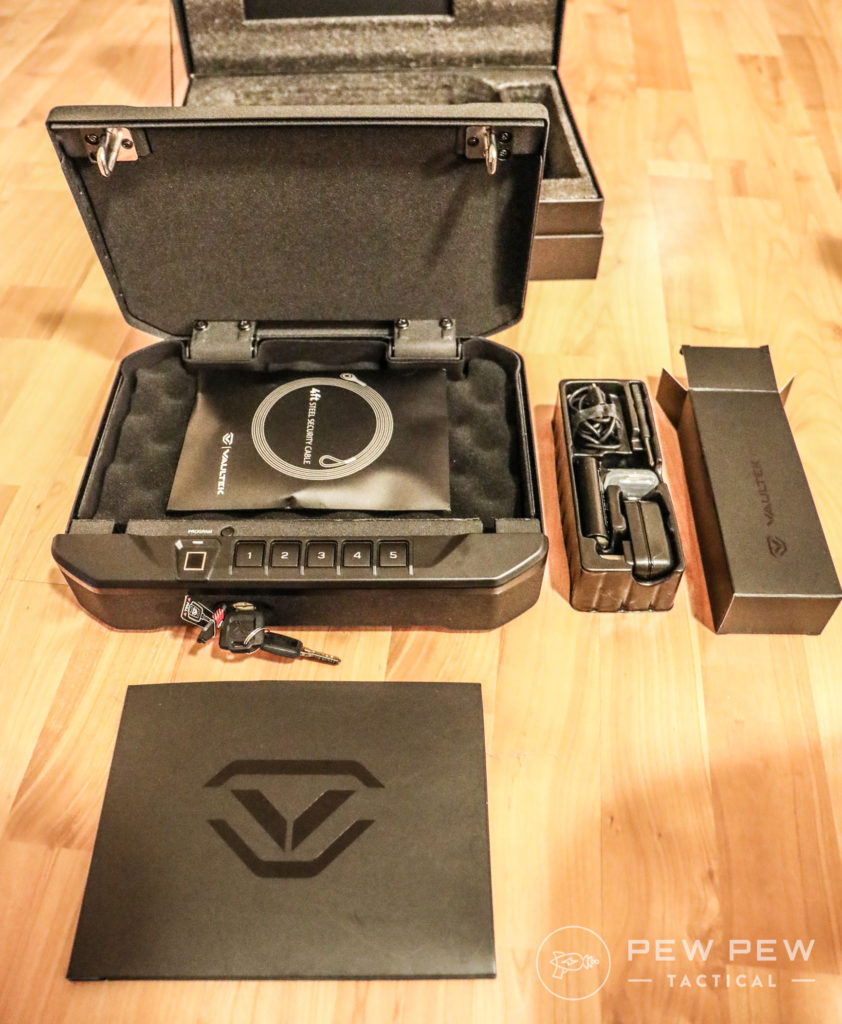 Along with the safe, you get everything you'll need:
2 physical keys
Charger and usb cable
Battery with magnetic screwdriver (helpful since the small screw to the battery latch is tiny)
4 ft steel cable + screws for securing to stuff
Setup
Setting up was a breeze when my wife and I both each set up one of the safes. The instructions were comprehensible and within a few minutes we were up and running (the battery it came with was 3/4 charged).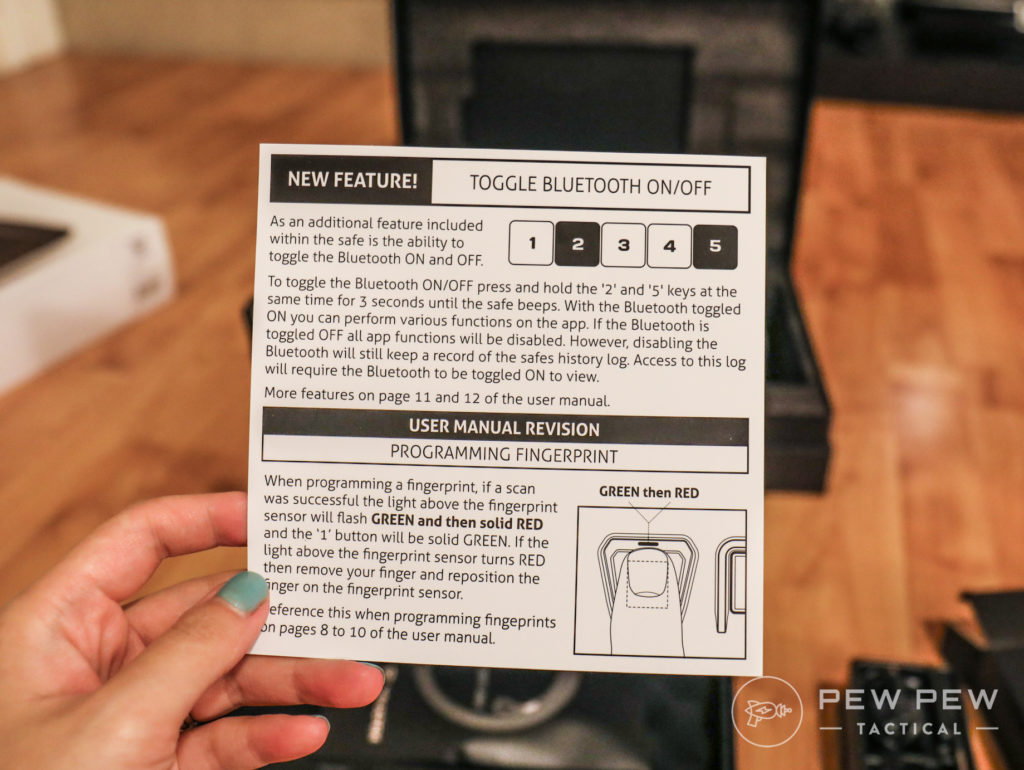 We set up a numbered combo…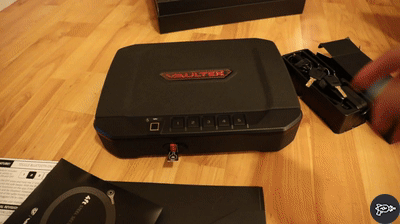 Easily added in some fingerprints…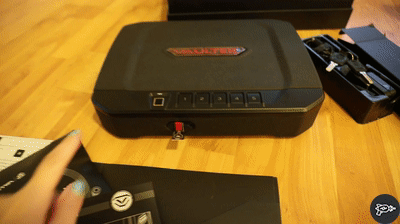 And even connected via Bluetooth with their app.  Don't worry…it's protected by a pattern you set up first when the safe is open.  You can also choose which safe to open in the app so if you have more than one Vaultek you're good to go.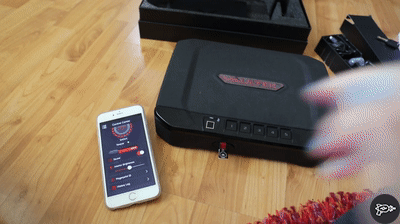 What Does It Fit?
A safe is useless if if can't fit what you need.
The VT20i is the larger of the two and can fit pretty much the largest full-sized handgun you can throw at it. Plus ~3 mags.
Exterior Dimensions: 11.5" x 9.0" x 2.75"

Interior Dimensions: 11.0" x 5.75" x 2.0"

Weight: 7.2 lbs
It fit my 4-inch S&W 686+ revolver with ease. Check the reviews and pics here for more specific models.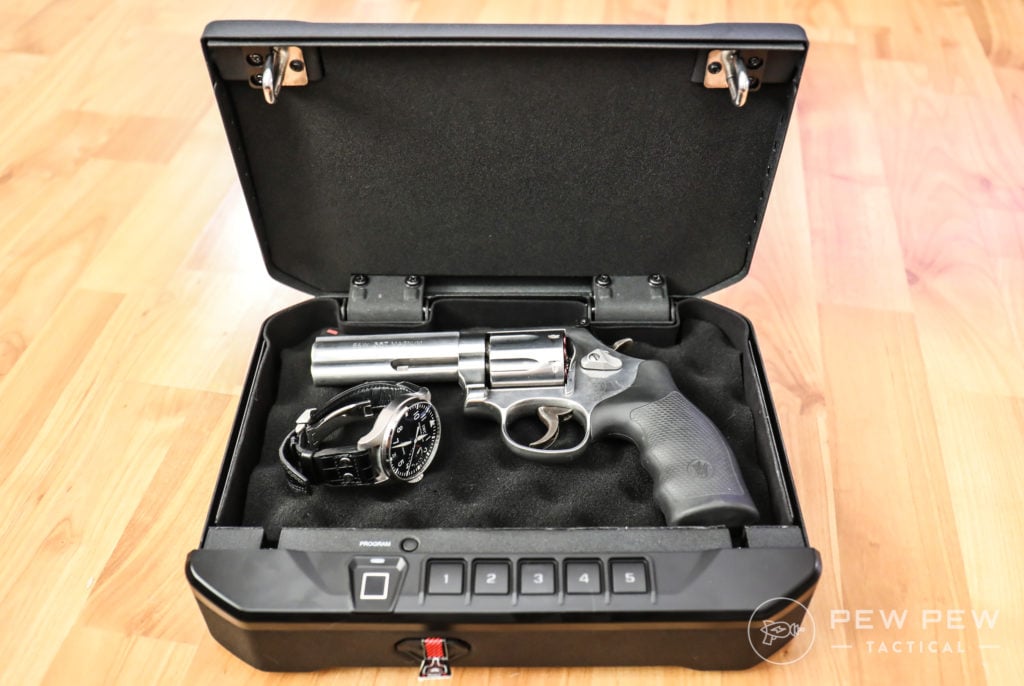 While the smaller VT10i had some trouble with the revolver.
Exterior Dimensions: 10.55" x 8.46" x 2"

Interior dimensions: 9.8" x 5.25" x 1.5"

Weight: 5.2 lbs [ 28% Lighter ]
But with the size reduction you also save some width vs the VT20i.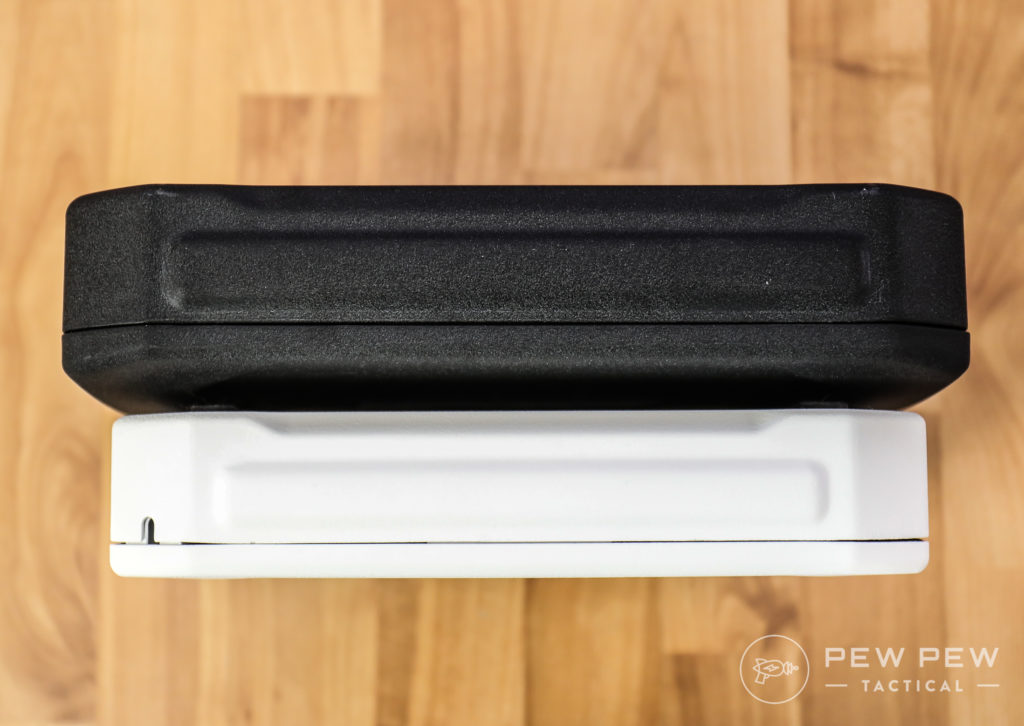 It does, however, have tons of space for valuables and more normal semi-auto handguns…even the full-sized ones.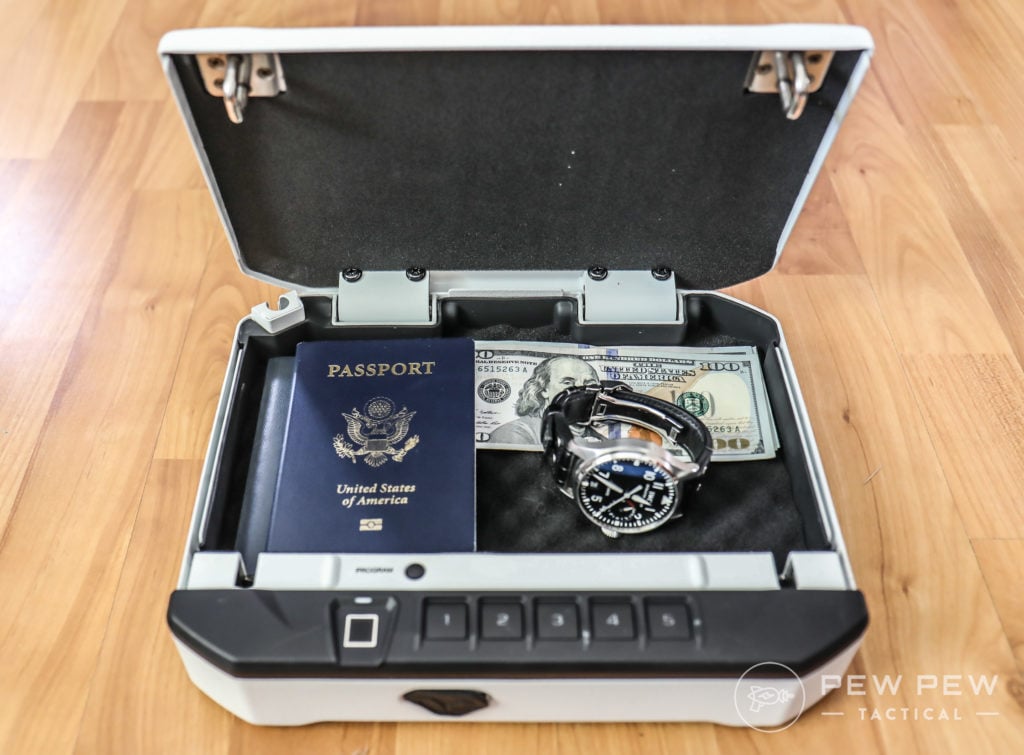 You'll likely only be able to fit one extra mag or two on the side depending on your firearm of choice in the VT10i. A full-sized Glock 17 can fit at least one extra mag.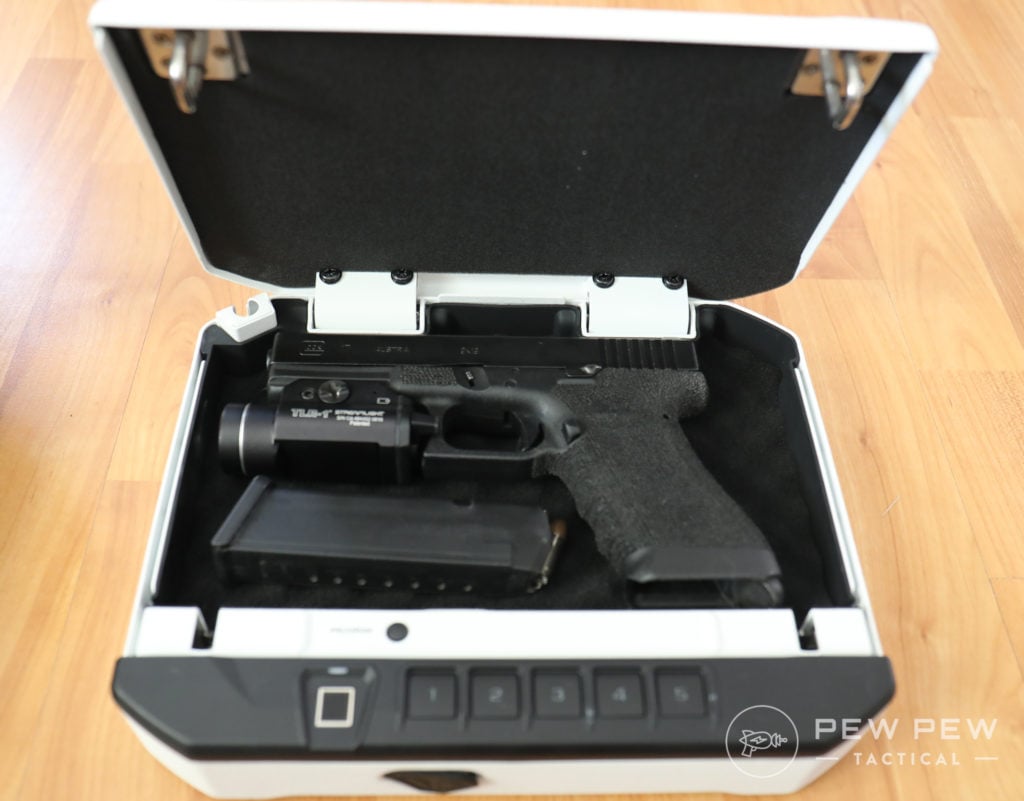 While a compact Glock 19 can hold 2 extra mags with room to spare.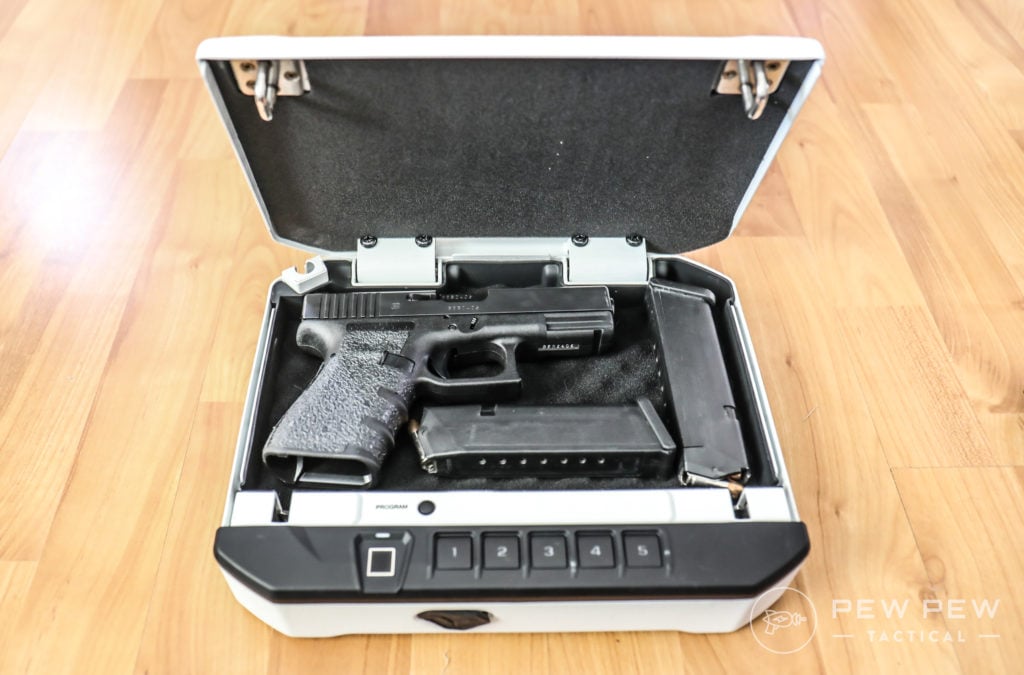 And slightly larger guns will need to be tilted: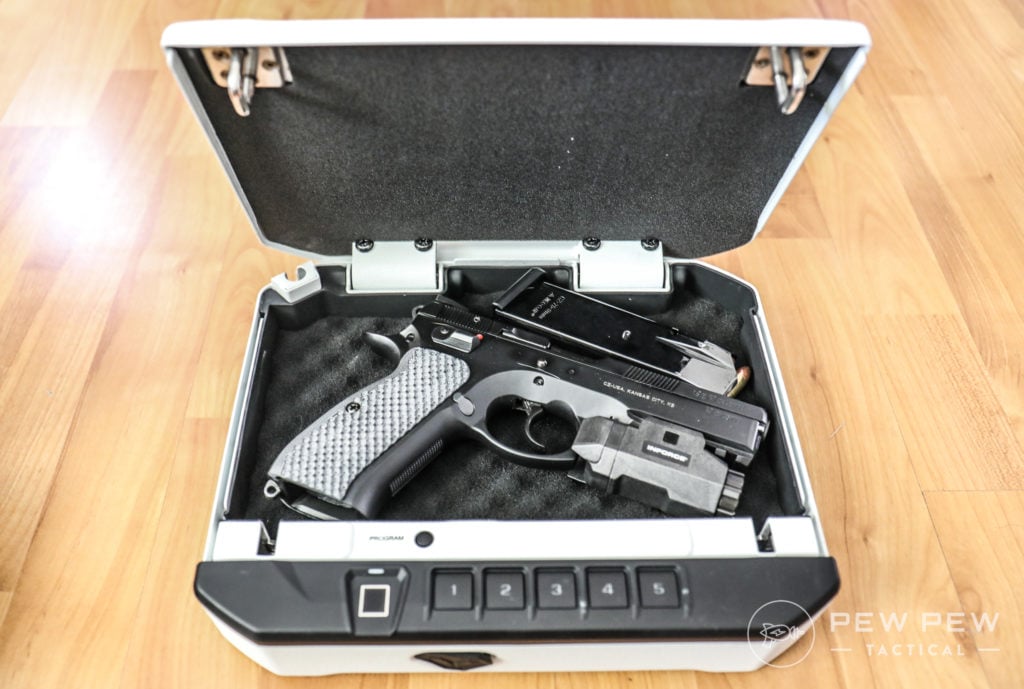 And can hold one extra mag easily. Check out here for more pictures of other people's specific guns.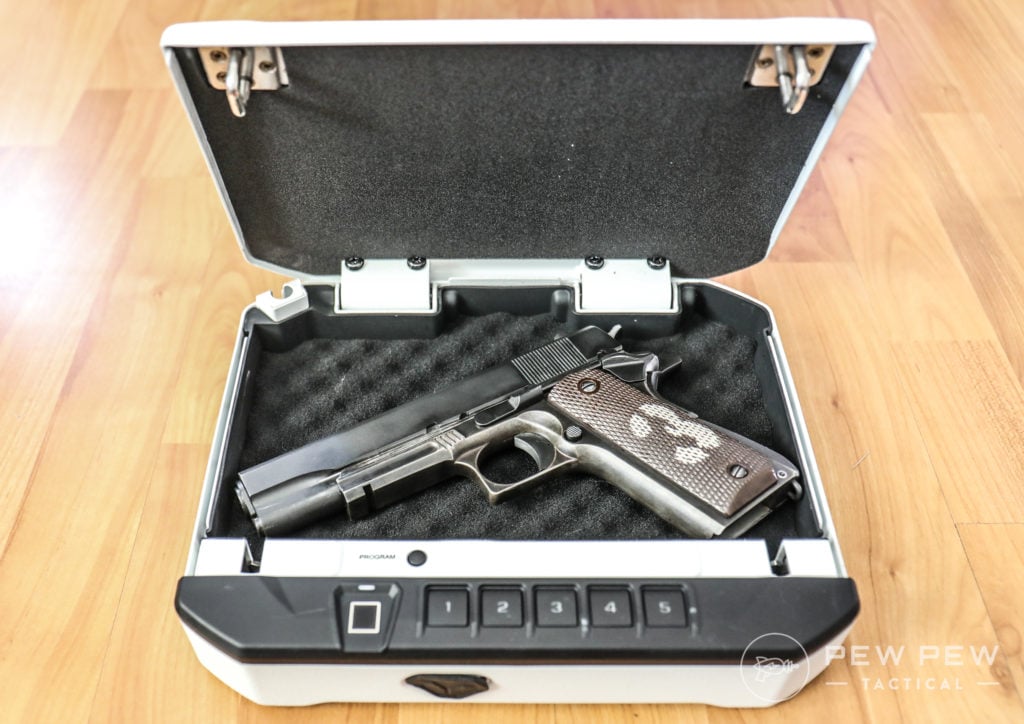 Now onto the nitty gritty…
Pros
Master code programming opens the safe very fast.

If you make a mistake in programming, it's easy to fix.

There's a light inside the safe that turns on for 10 seconds.

Numbers light up when you brush your fingers on the keypad so you can see it in the dark. Very cool feature. However, my hands are dry so that didn't work for me all the time.

Comes with mounting screws and also steel cable: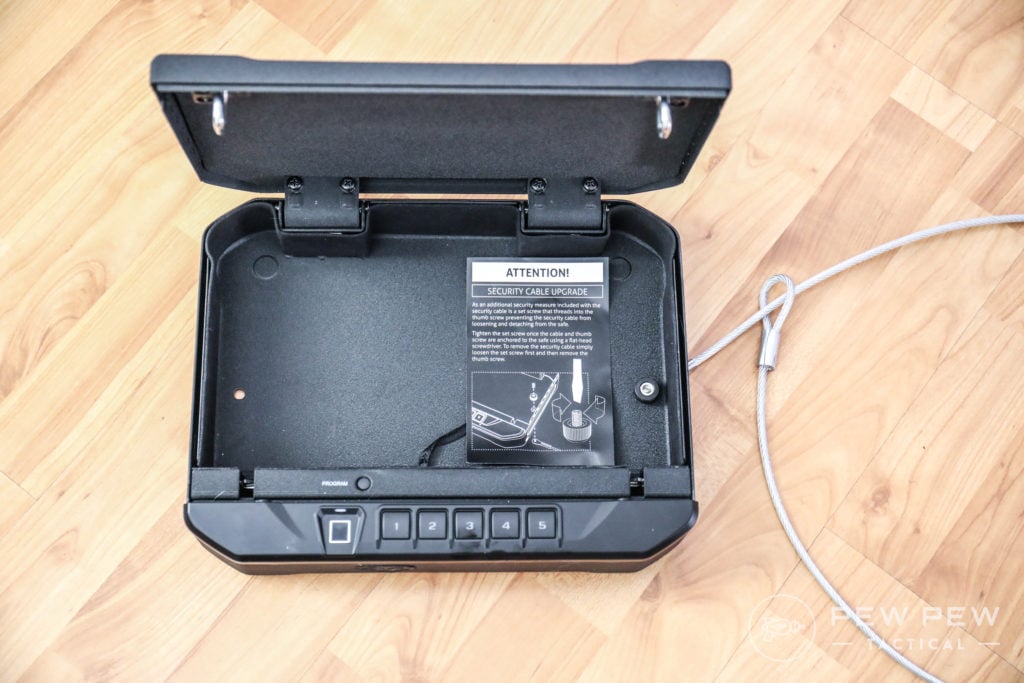 Very advanced "smart" safe with various different functions and settings.

Great app that also lets you change settings: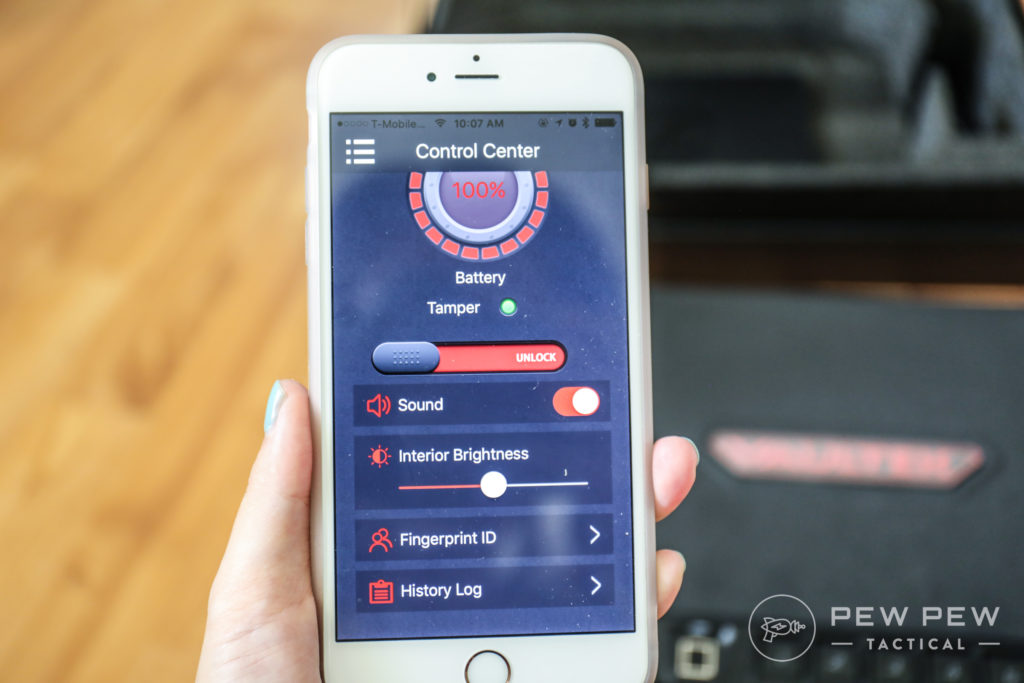 Plus also allows you to see the entire history log and who logged in how: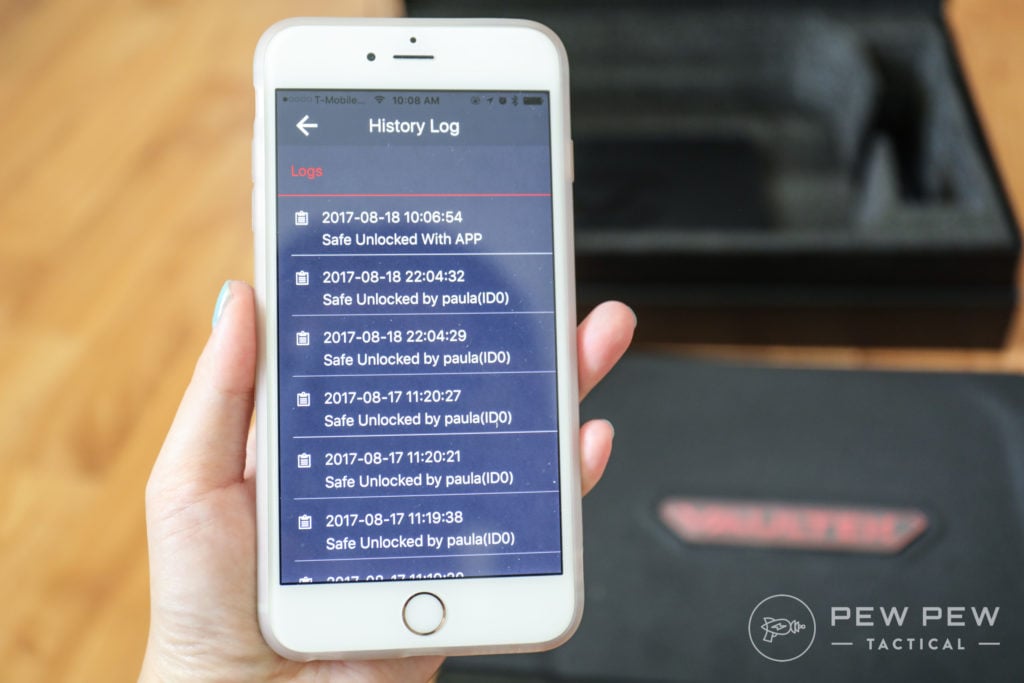 Comes with 2 master keys if you don't want to use all the fancy functions.

Fingerprint functions allows you to add multiple users and you don't need to worry about everyone remembering the passcode to the safe.

Easy to setup. Instructions were fairly simple.

Love the 1 page quick start guide.

Very solid frame that is sealed tight making it hard for anyone to pry it open. I can't even put a piece of paper through it.

Very durable as shown…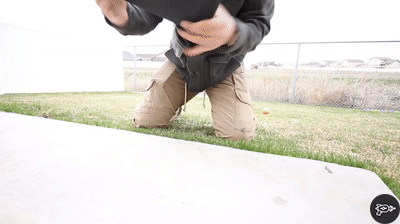 Cons
Charging
Since there are electronics…the safe needs to be charged periodically in order for all functions to work (a 2.5 hour charge via USB will be enough for 4 months). You can check on the status of the battery through the app.
However, there are 2 master keys which can be used if all else fails. But that means you will need to have the key with you in a safe location you can access if this happens.
Fingerprint Reading
The fingerprint reader is not 100% reliable…maybe 90% for me.
I tested the fingerprint tons of times and sometimes it didn't work even when my finger was placed exactly in the right spot.
I also realized that when my fingers were slightly wet from sweat…it didn't work.
The buttons, however, were 100% reliable.
Other Models
Vaultek seems to always be coming out with new models…I can't keep up!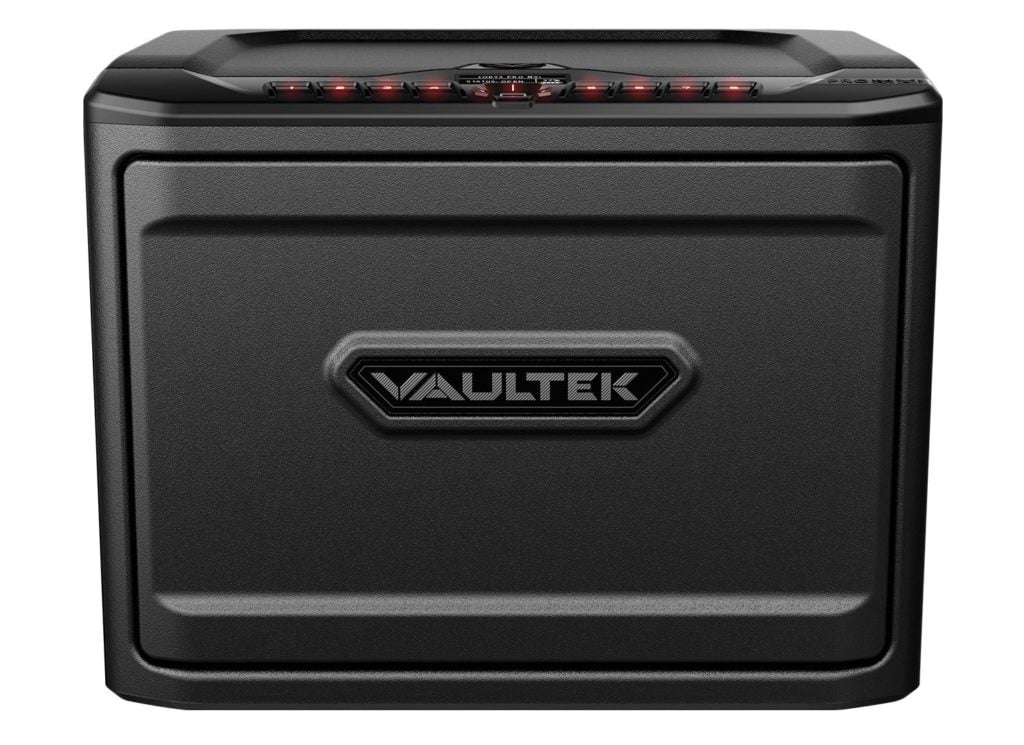 Overall Thoughts
Vaultek made a great safe with the VT20i ($269) and VT10i ($245). It's sleek, packed full of features, and robust.
259
at Vaultek Store
Prices accurate at time of writing
Prices accurate at time of writing
But…you'll have to ask yourself if the features are what you're looking for in a safe.
289
at Vaultek Store
Prices accurate at time of writing
Prices accurate at time of writing
If your focus is on 100% dependability when something goes bump in the night?
Stick with the number code instead of the fingerprint reader. There's also the models that don't have the reader and are much cheaper.
For home protection, I'm still going to stick with something mechanical like my favorite bed-stand safe that is dead simple to operate and will never run out of batteries.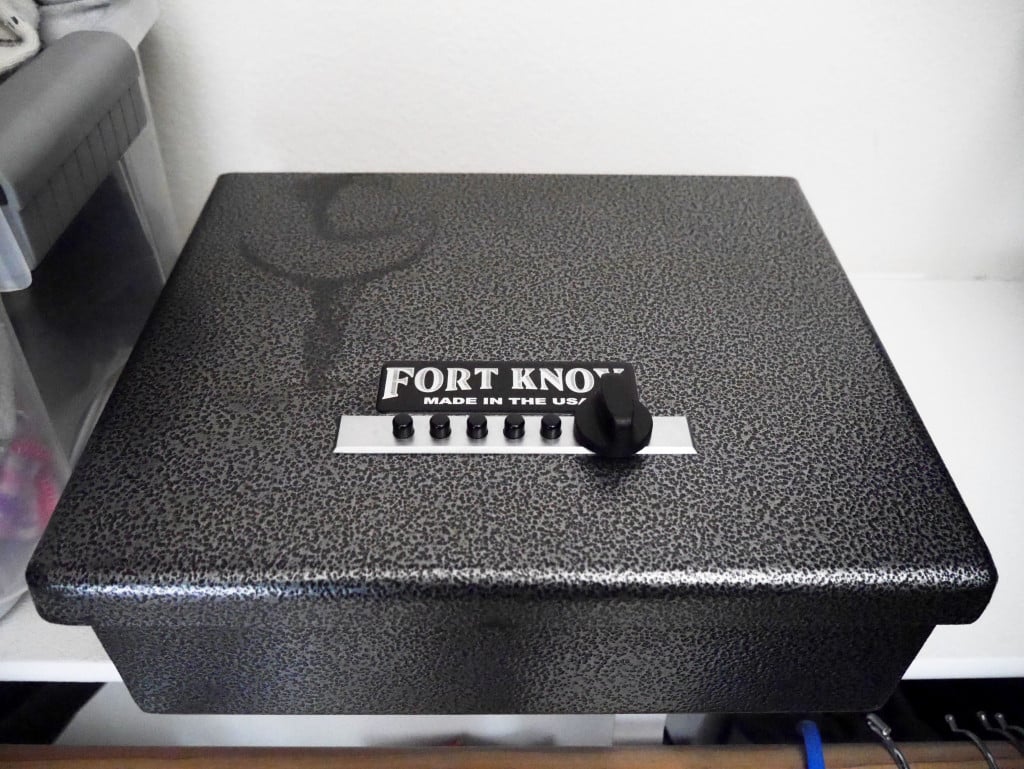 But if you require ease of access for several people, monitoring/disabling of access, and something that looks sexy…Vaultek is for you.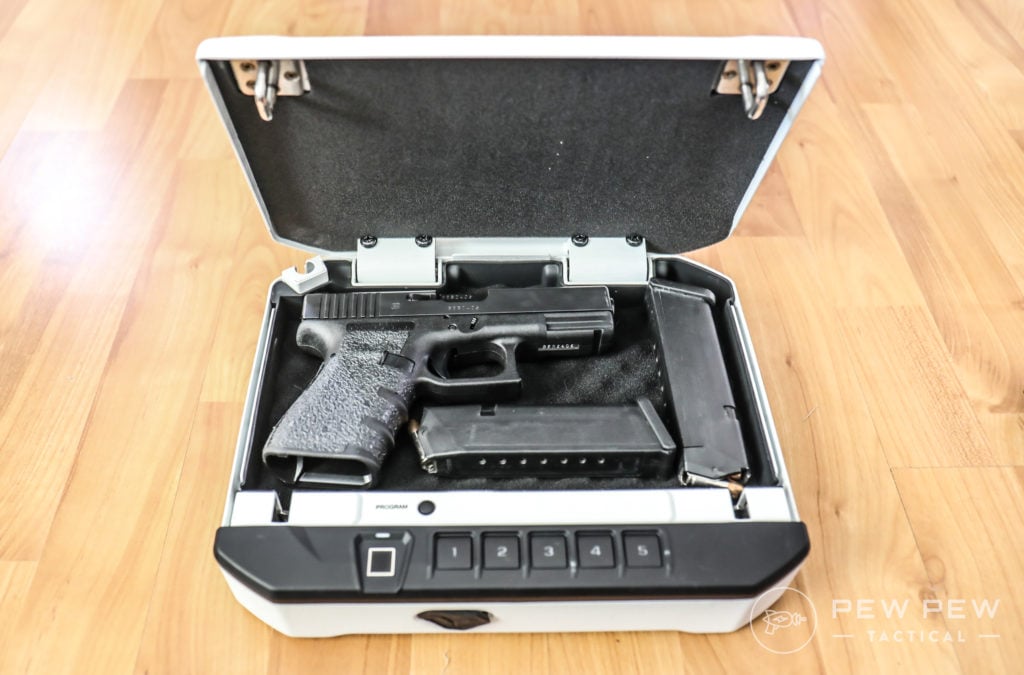 I'm still definitely keeping mine for access to valuables and non-home-protection guns.
It's also going to be my go-to travel safe since the VT10i isn't too burdensome, comes with a cable, and has tamper recognition.
Did I mention…it comes in camo for a little more?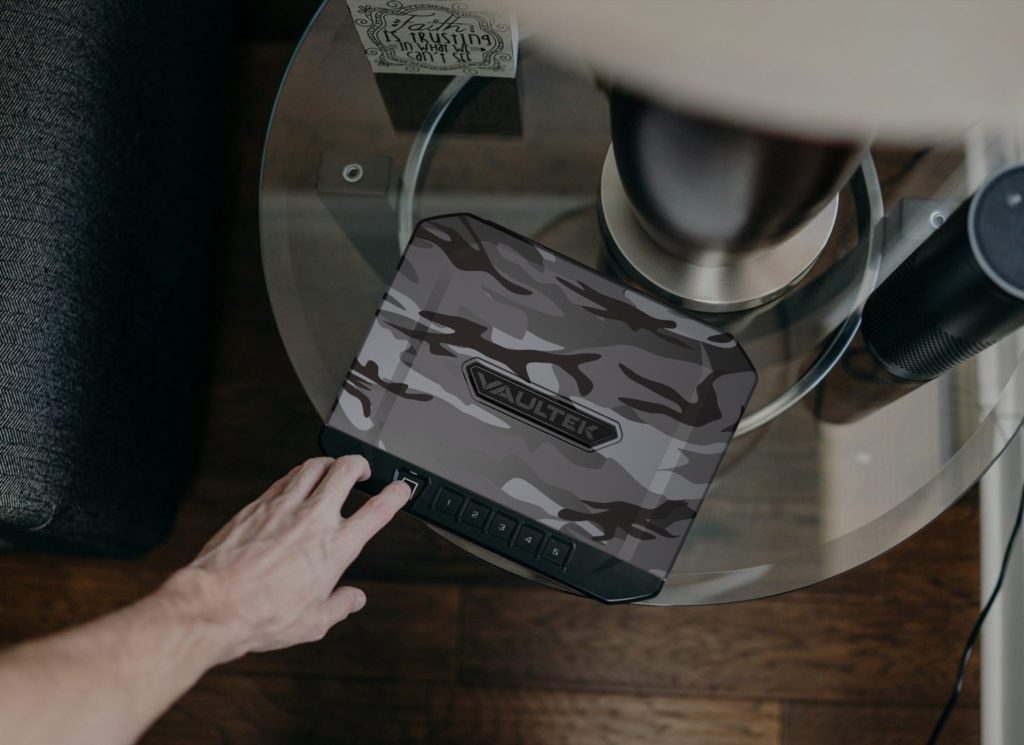 So…are you going to get a Vaultek? Or are you sticking with your old safe? Check out our list of the Best Safes for Pistols and Handguns if you're looking for more capacity…or going old-school.