Need a BIG handgun safe…that has all the bells and whistles?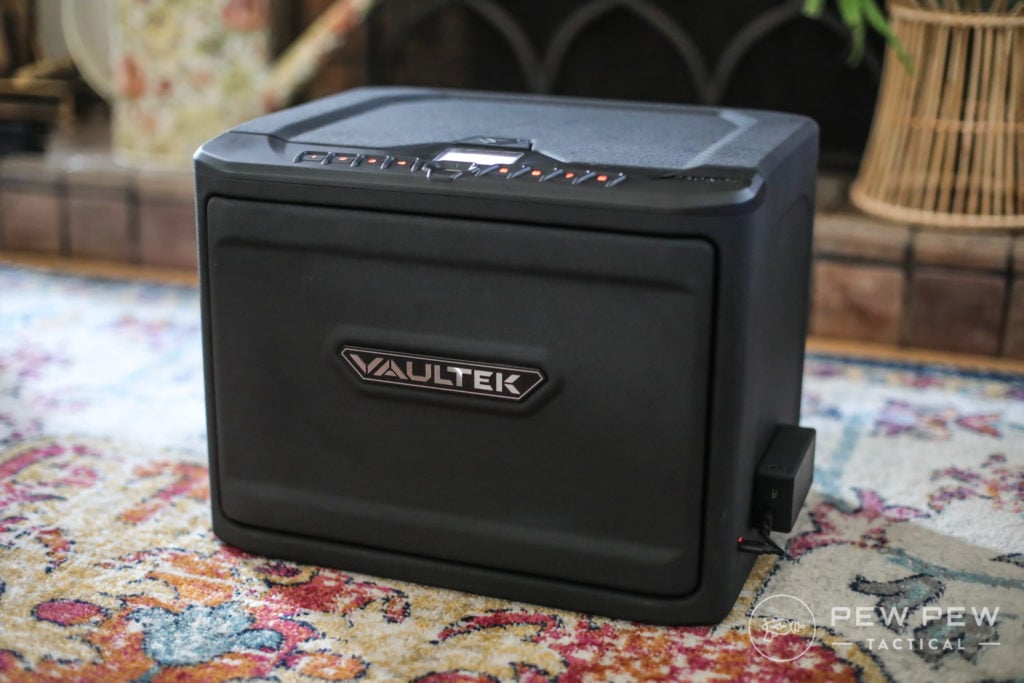 Vaultek ushers in a new large smart safe with the MX Series that lets you quickly access everything among 5 methods.  AND hold up to 8 handguns.
I've already reviewed the MX's little bros…the VT10i and VT20i…which I loved and still use today.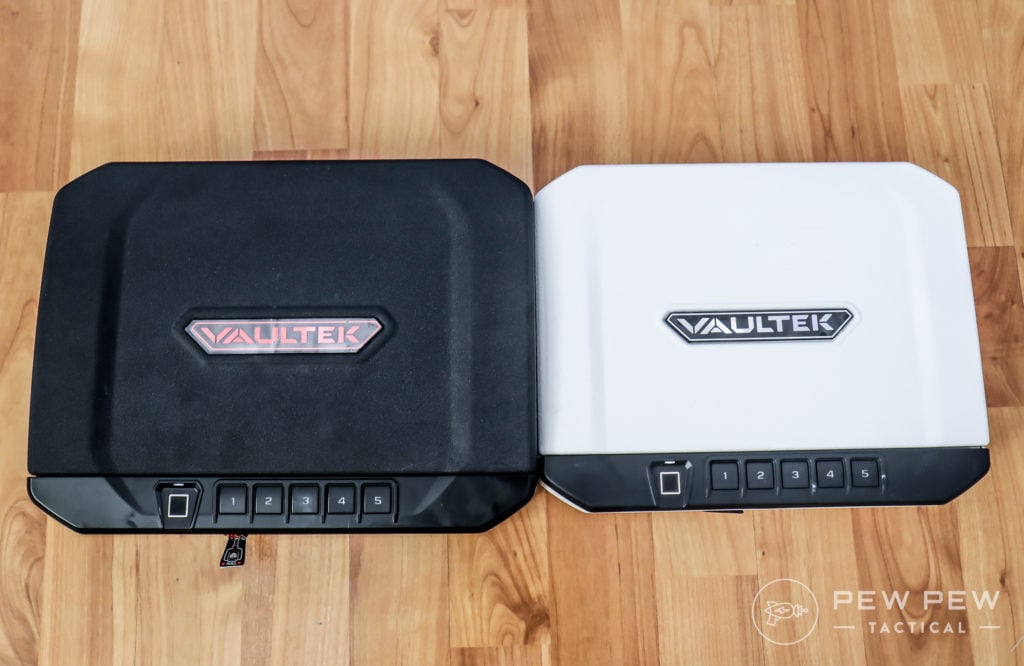 So Vaultek sent me their newest MXi.
Let's see if the big brother has what it takes…with videos of the safe in action!
Best Multi-Handgun Safe
599
at Vaultek Store
Prices accurate at time of writing
Prices accurate at time of writing
But if a high-tech safe isn't what you're looking for…check out our 15 Best Pistol & Long Gun Safes.
Table of Contents
Loading...
Unboxing & Included Items
Like the smaller VT series…the MX came in wonderfully packaged. It was like opening up a new flagship cellphone.
But giant.
The safe even came with straps to help you lift it out without destroying the box.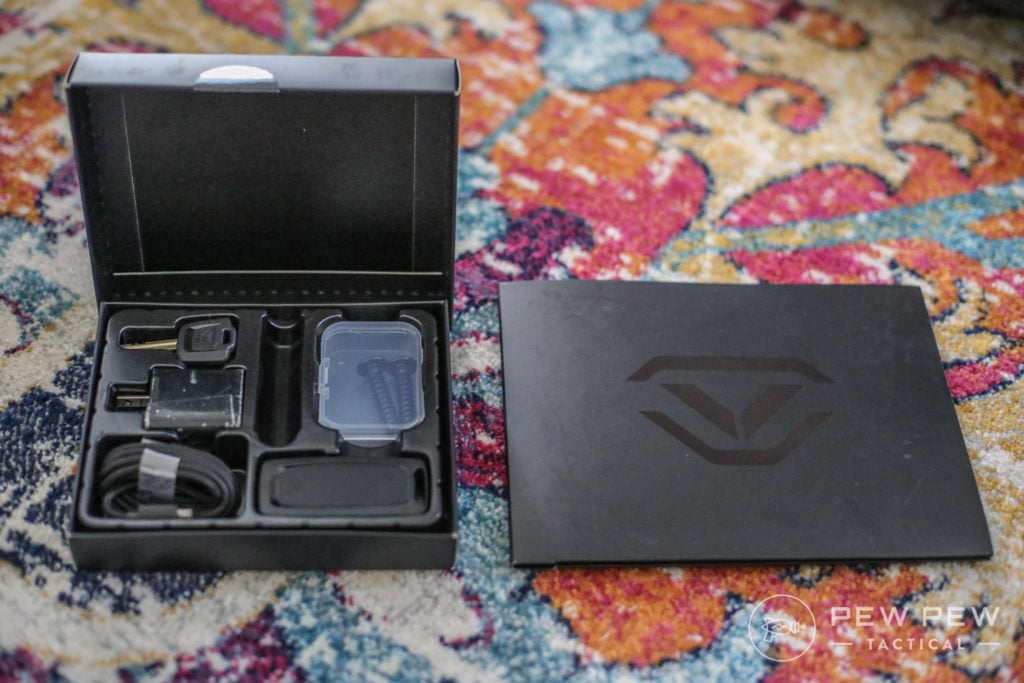 Once unboxed…you get your usual suspects:
Physical keys
Charging kit
Battery (installed so it's not shown)
Smart key
Screws
Instructions
The MX is also pretty modular…and it comes with a dual handgun rack.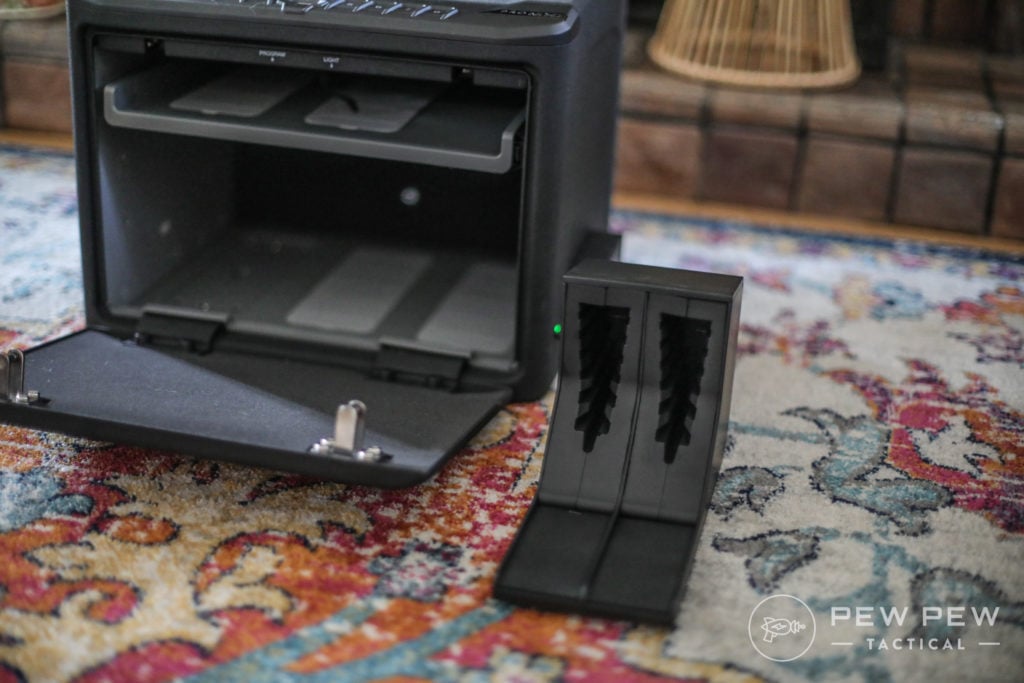 Setup
The instructions came with a quick setup guide and also something more in-depth.
Very easy to follow.
First you set up a master password and then you can choose to enroll a bunch of fingerprints.
Then you can enable the wireless Smart Key.
By default the Smart Key will only work if the safe is active by lightly touching a button. You can also keep it in a continuous mode which uses more juice…but you can open the safe without getting near it (even in another room).
Syncing the safe to the app was also easy.
You can also add additional modular racks…like another dual pistol or a magazine rack for $35 each.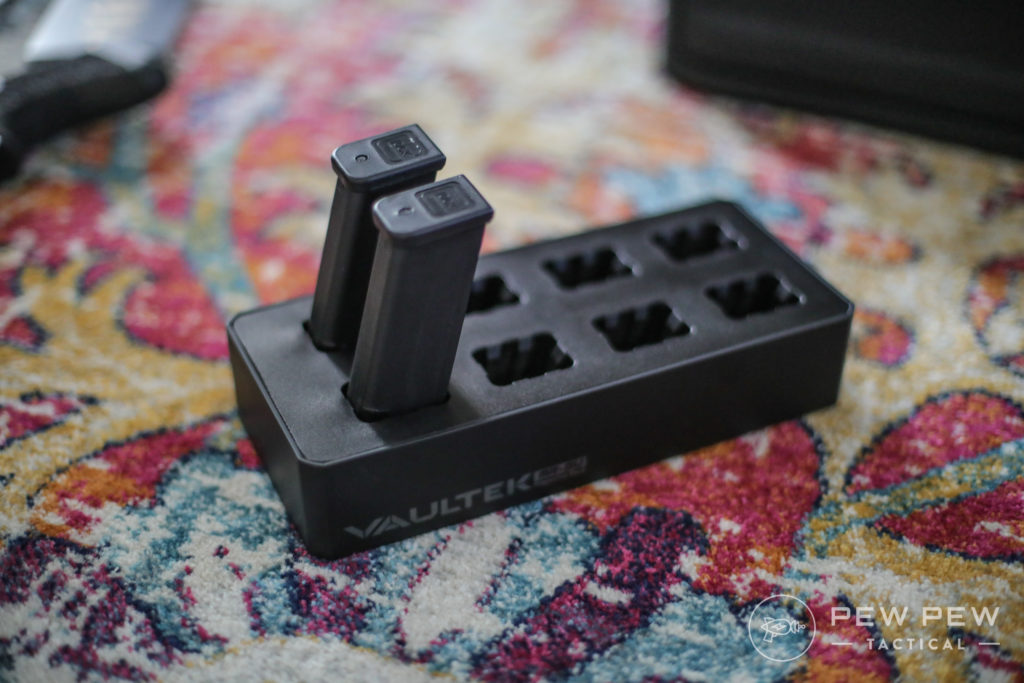 And also an external magnetically mounted Powerback that will give the decent 2.5 months charge up to another half year.
Use
You already saw the keypad and Smart key entry…here's the fingerprint biometric reader.
It's not super fast at around 3 seconds from finger on to door open.
And I'd sometimes get a string of misreads.
But I found if I followed the instructions and moved my finger a little bit during the 5 capture setup…it did much better.
Now…how does the app fare?
Very easy to use via Bluetooth for opening and changing the light brightness…and you can also see the history of everything. Plus…you can connect to all your other Vaultek safes.
Capacity
Vaultek definitely knows how to make a smart safe…how about the capacity of the MX series?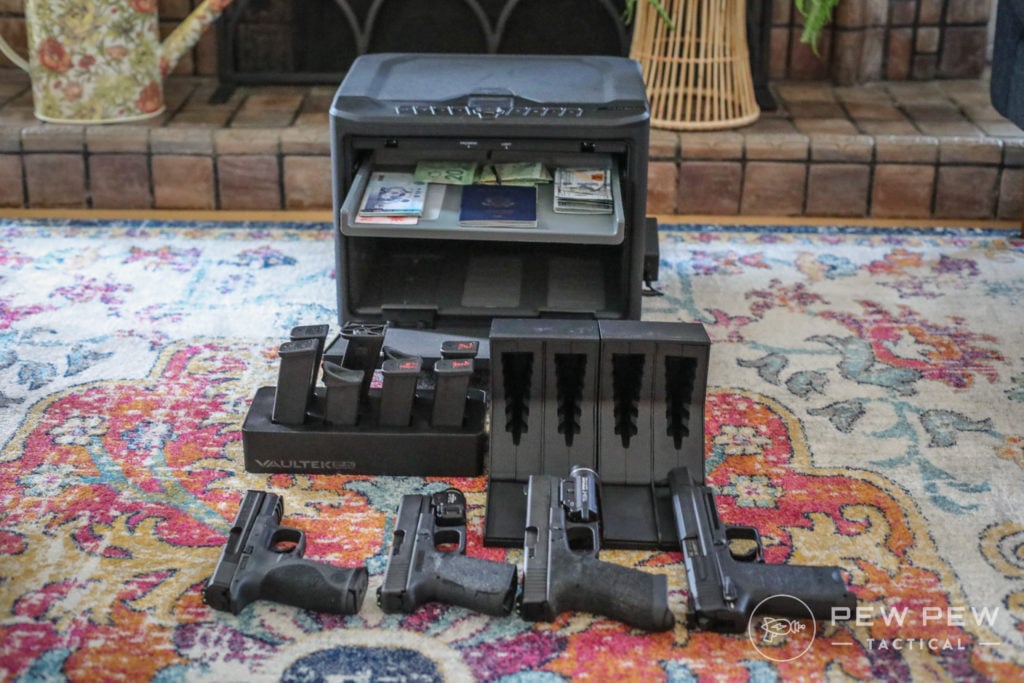 I managed to fit in A LOT. If you wanted to go pure handguns…you can swap out the magazine rack with another dual pistol…plus put at least two other handguns in the top drawer.
The handgun racks are well designed…it can fit full-sized handguns with lights…and even ones with 6″ barrels like my HK Elite.
Here's how it is with a full magazine rack, 4 pistols, and some valuables.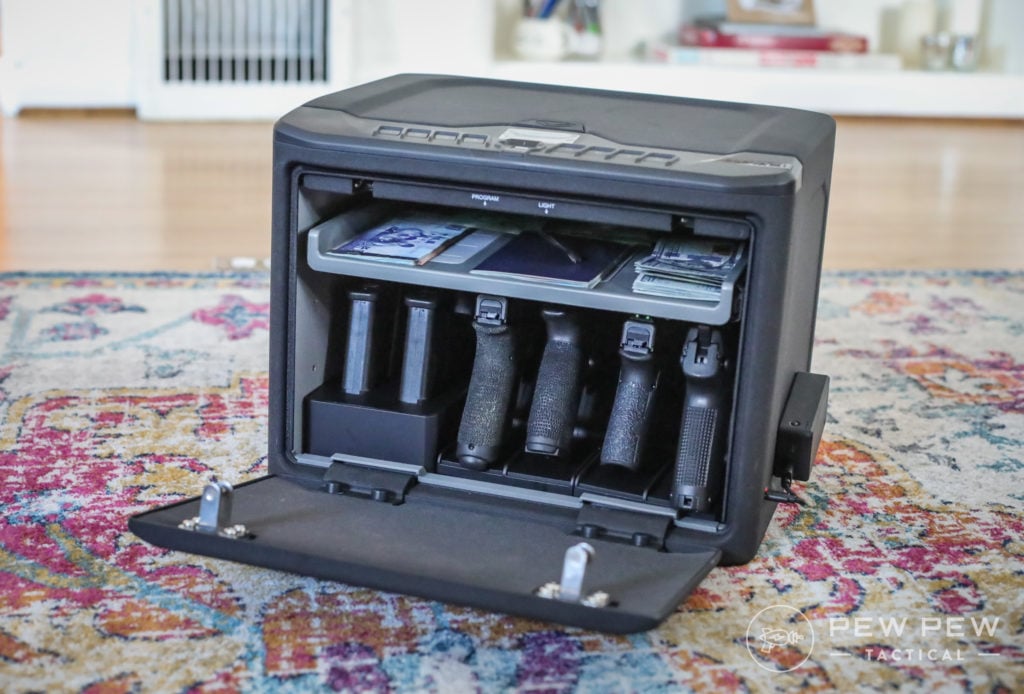 Channeling my inner poverty Jason Bourne.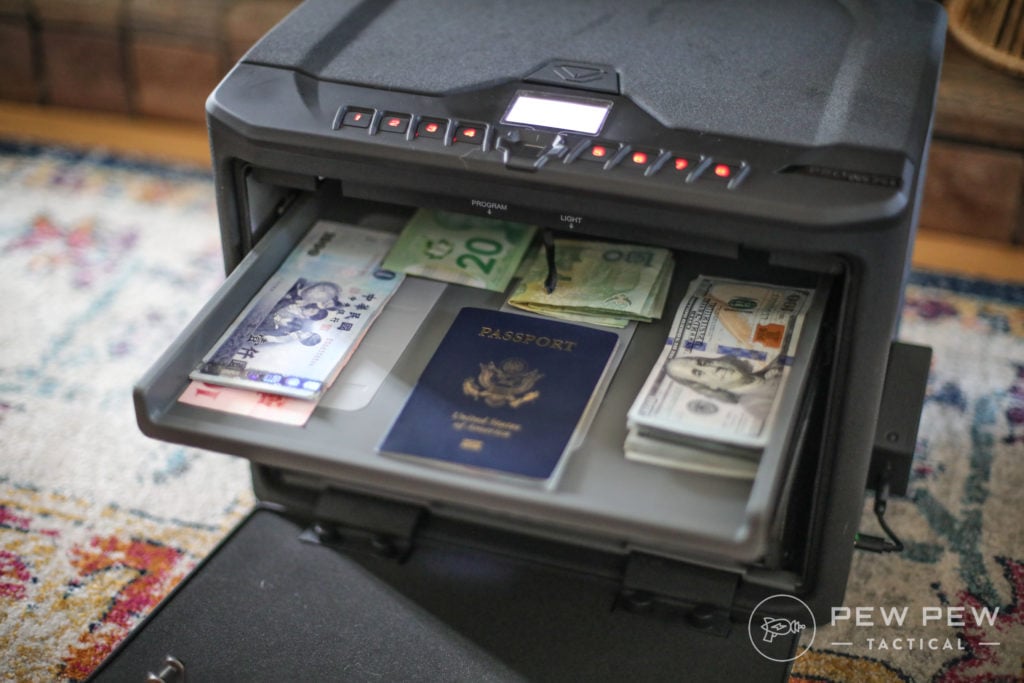 However, all this capacity comes at a decent size…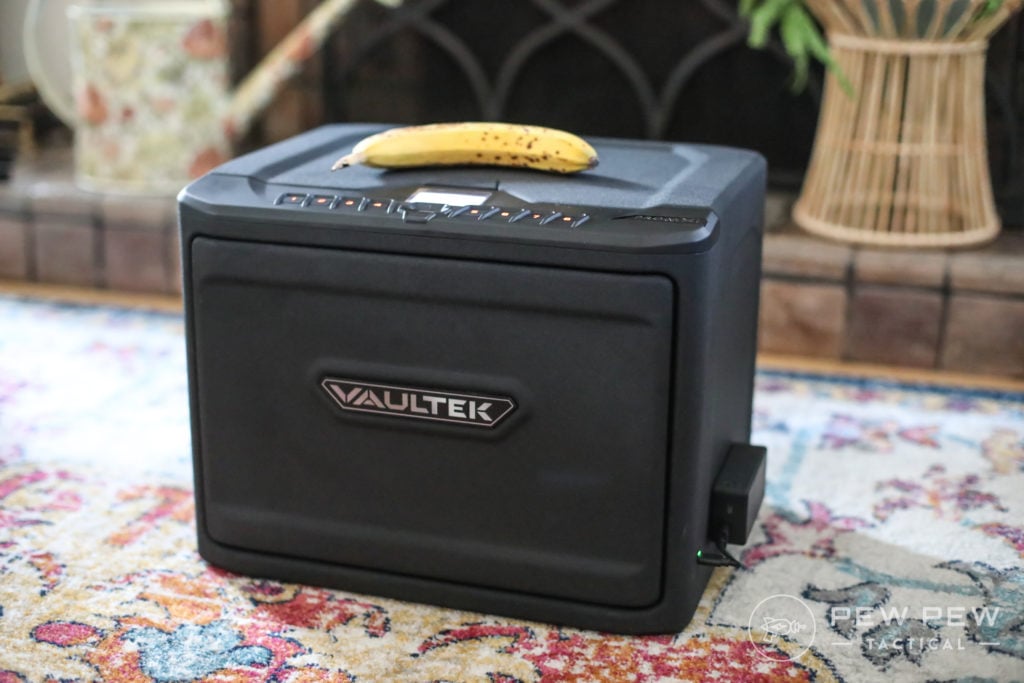 Exterior Dimensions: 15″ x 11.5″ x 11.6″
Interior Dimensions: 13″ x 11″ x 8.6″
Weight: 32 lbs
Even though it's heavy…a reasonably strong person can still take it away even when fully loaded.
I'd recommend bolting it down.
But if you don't, that's where the alarm comes in…(alarm sound in video):
Pros
5 Quick Access Methods: keys, keypad, fingerprint, app, & wireless key
Extremely Modular: can fit up to 8 handguns or endless combinations of guns, magazines, and valuables
App: easy entry and history lookup
Looks: manly yet tasteful design and the sound effects are perfect
Hardware: comes with mounting screws and a dual handgun rack
Cons
Higher-end price of ~$500
Dual handgun and magazine racks are additional add-ons
Fingerprint reader could be faster/better
Battery operated (can be USB charged with cable, outlet, or battery pack)
Other Models
There's the smaller single/double handgun safes in the VT line from Vaultek. They also have multiple ways of entry.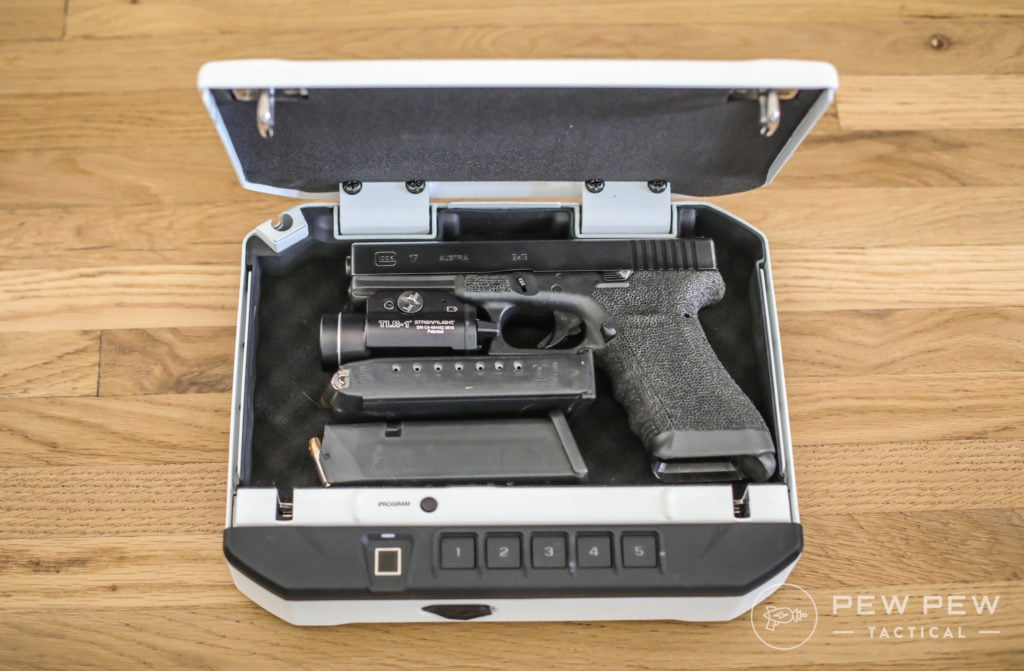 The "i" models have biometric readers while regular ones don't…and are more affordable.
259
at Vaultek Store
Prices accurate at time of writing
Prices accurate at time of writing
289
at Vaultek Store
Prices accurate at time of writing
Prices accurate at time of writing
Again…my full review of them here.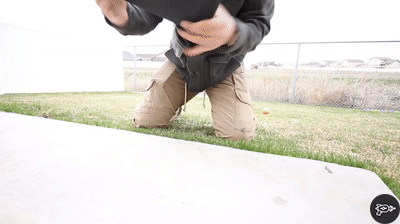 Final Thoughts
At the end of the day…if you need something big and robust for valuables and handguns (it has a 12-gauge steel front door and double-latch).
But don't want a full-on safe.
AND you fully embrace technology at a price…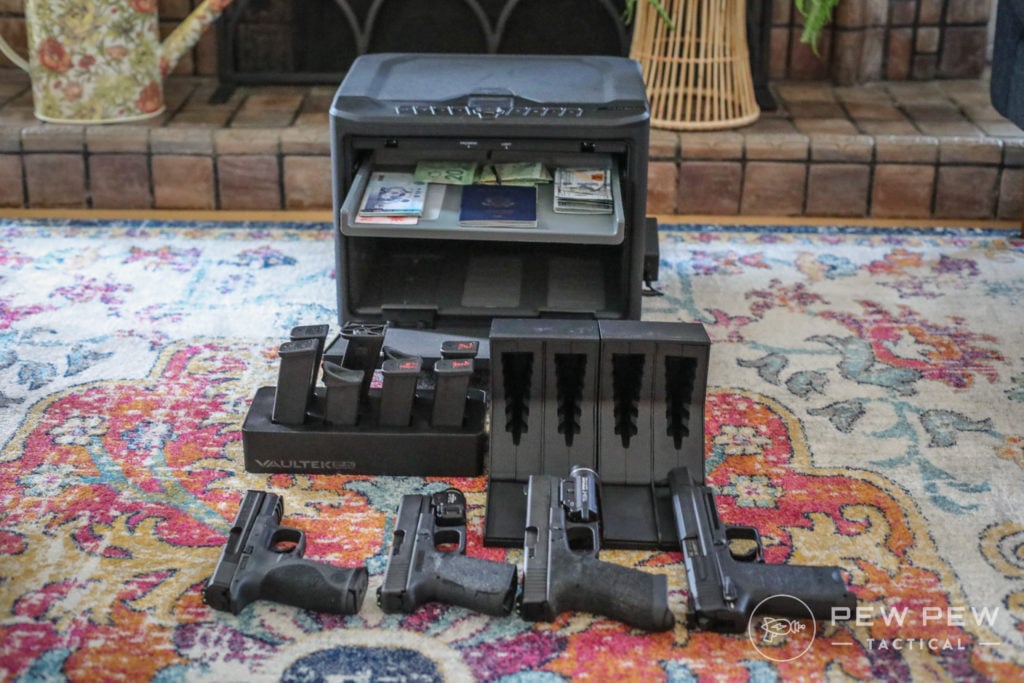 The Vaultek MXi might be for you.
Best Multi-Handgun Safe
599
at Vaultek Store
Prices accurate at time of writing
Prices accurate at time of writing
Just be sure it might not be the quickest access safe (at least biometric).
If I were to use it as a nightstand gun safe (or a nightstand!) I would be sure to use the keypad function for something more foolproof.
But with all the ways of entry…and endless options…this Vaultek is going to have a space in my closet for decently-quick access to valuables and multiple pistols.
So…are you going Vaultek? Or are you looking for something more old school? If so…check out our 15 Best Pistol & Long Gun Safes for All Budgets.