"Dude…that is so cool looking!"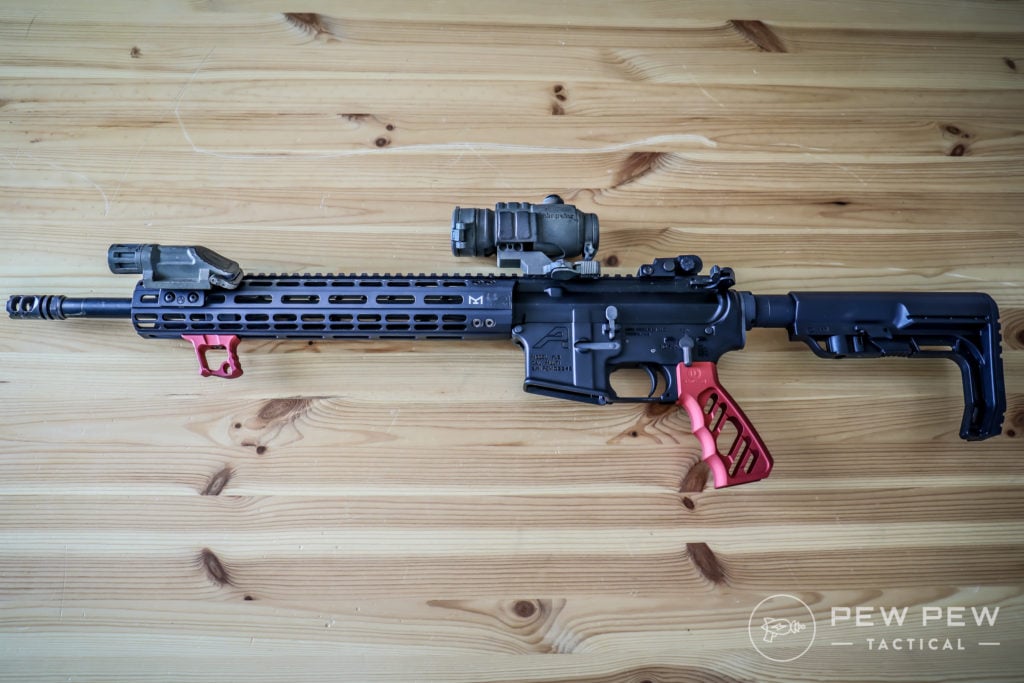 I must have heard that at least 5 times while reviewing Tyrant CNC's new grip and handstop.
I agree…it does look really cool…but does it have the performance to back it up?
The Details
I received the grip and handstop from Tyrant CNC for my unbiased review.
The LWP grip ($99) is CNC machined from a single piece of aluminum and weighs in at 3.4 oz (1 oz lighter than the Magpul MIAD grip).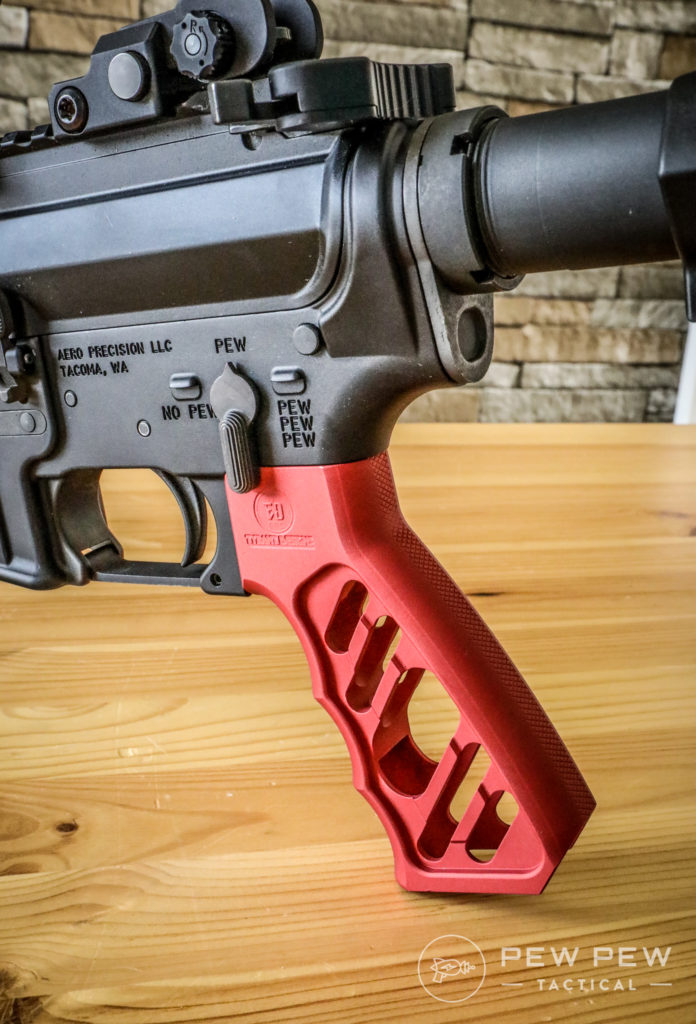 It's also knurled in the back for extra grip and then finished in a Type III hardcoat anodize.
The Halo Handstop ($38) is another solid piece of aluminum that goes on both M-LOK and Keymod rails to give a forward stop or barricade stop.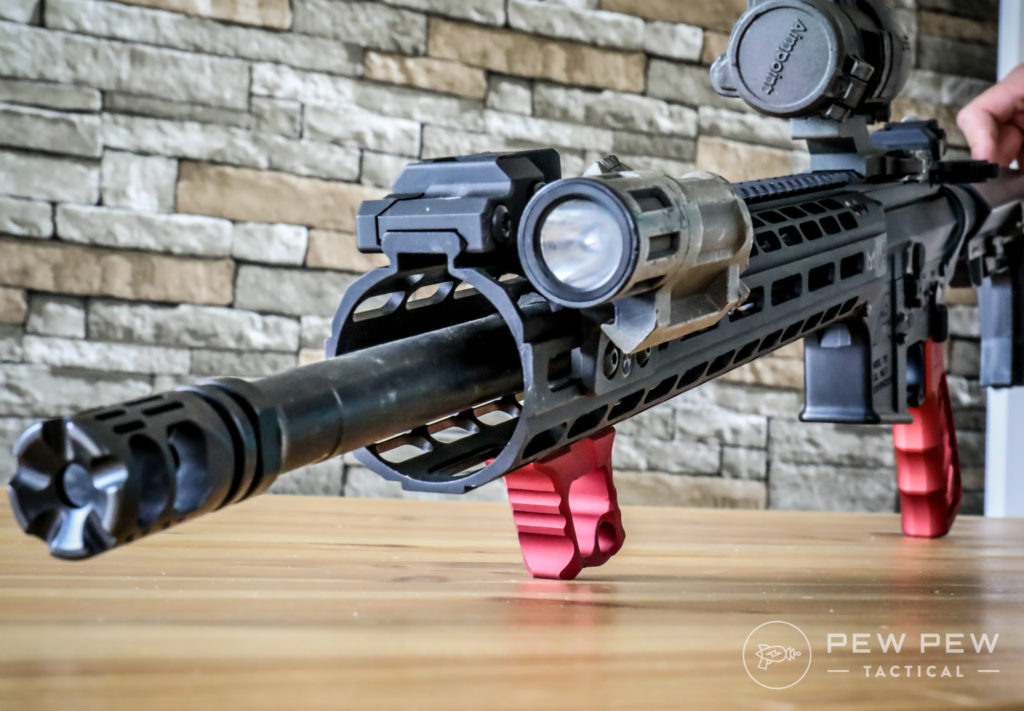 In Use
I brought my Aero Precision rifle (full review here) with all the Tyrant CNC goodies out to range day.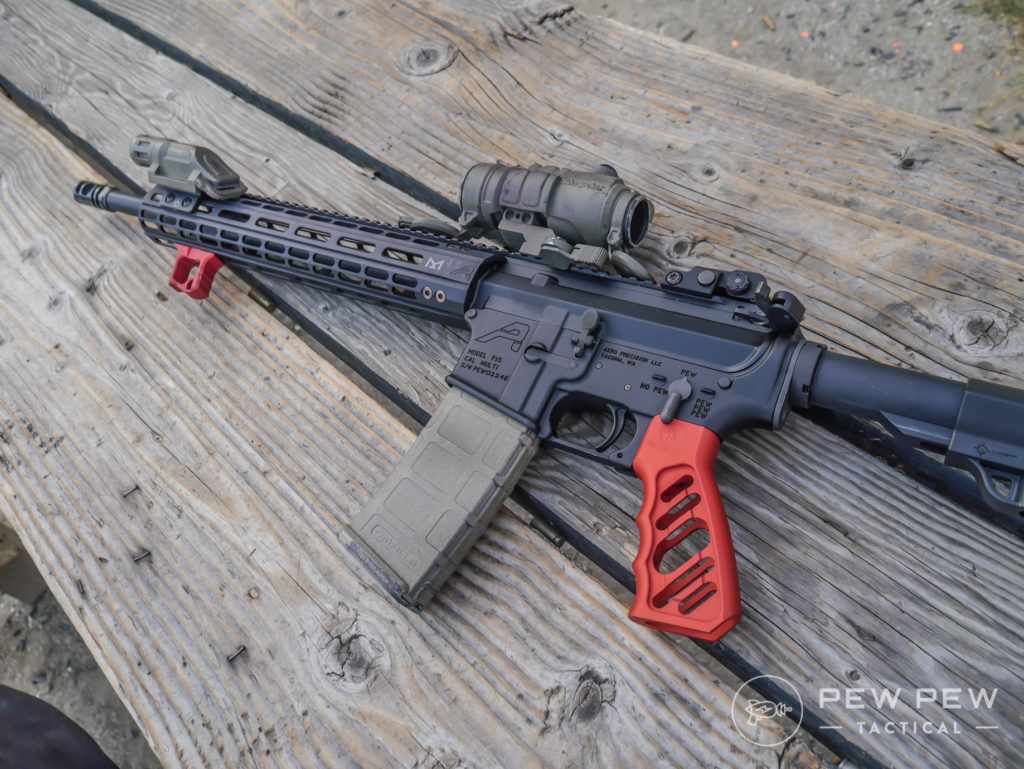 Obviously everything worked out since these are drop-in parts that don't have anything to do with the internals.  Here's my thoughts on how it added/detracted from my shooting experience.
Thoughts
LWP Grip
The grip definitely looks cool…no doubt about that.  The feel and coloring also felt super quality.
But I was most worried about how it would fit my hand…especially given my personal dislike of other grips with finger grooves.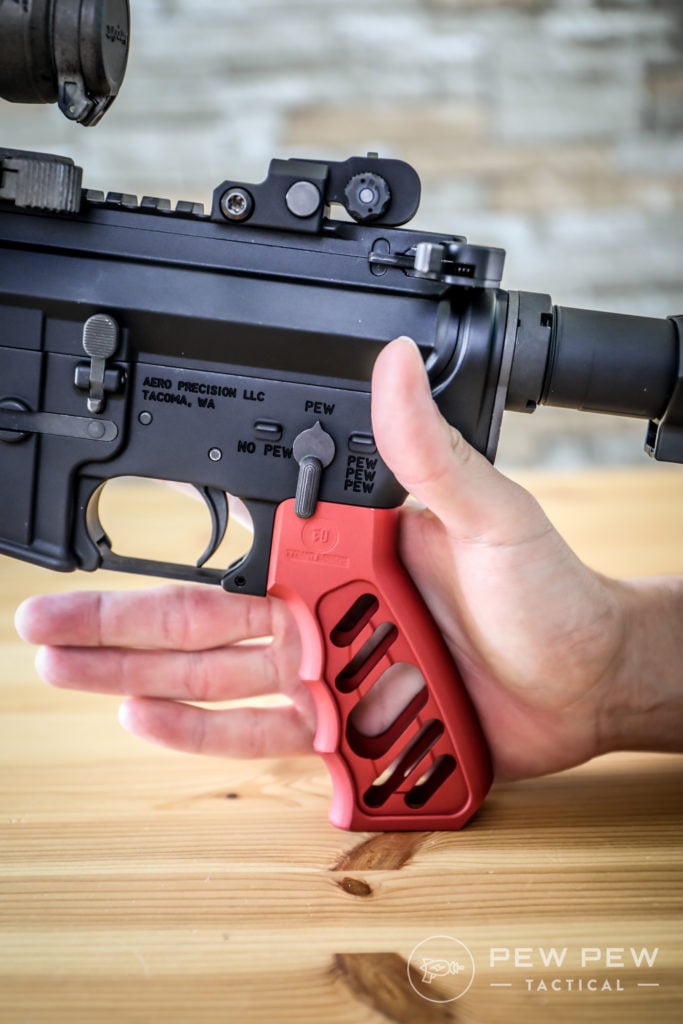 My hands are probably slightly above average and I could fit them comfortably in the grooves.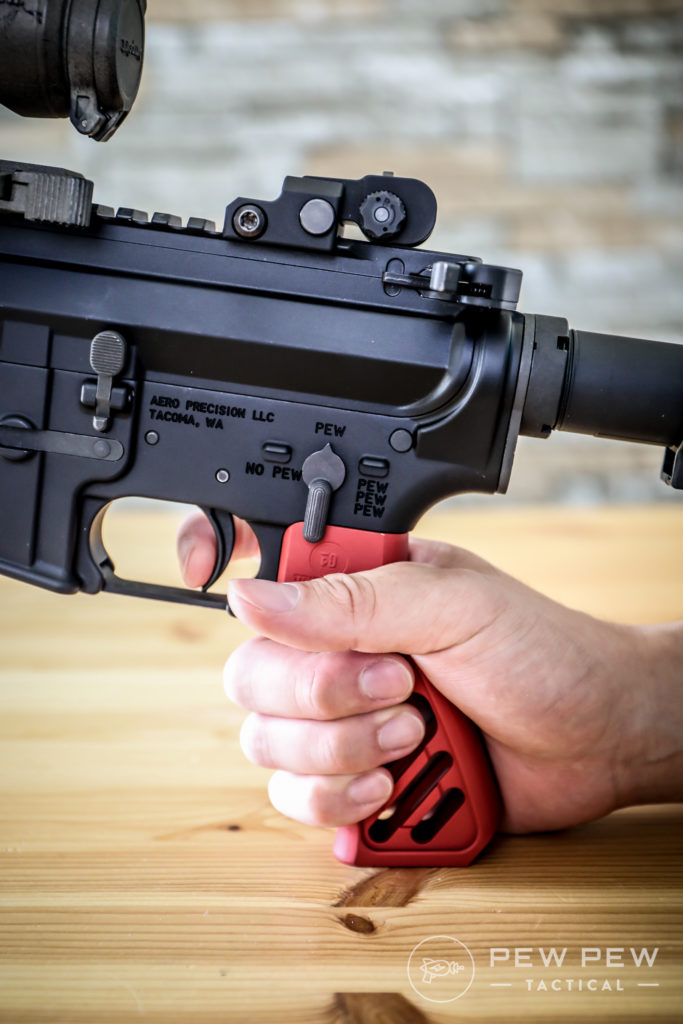 BUT…you can see the extra space between the web of my hand and the bottom right of the lower receiver.
And when I went to my actual shooting position where I try to get as high up on the grip as possible…this happens…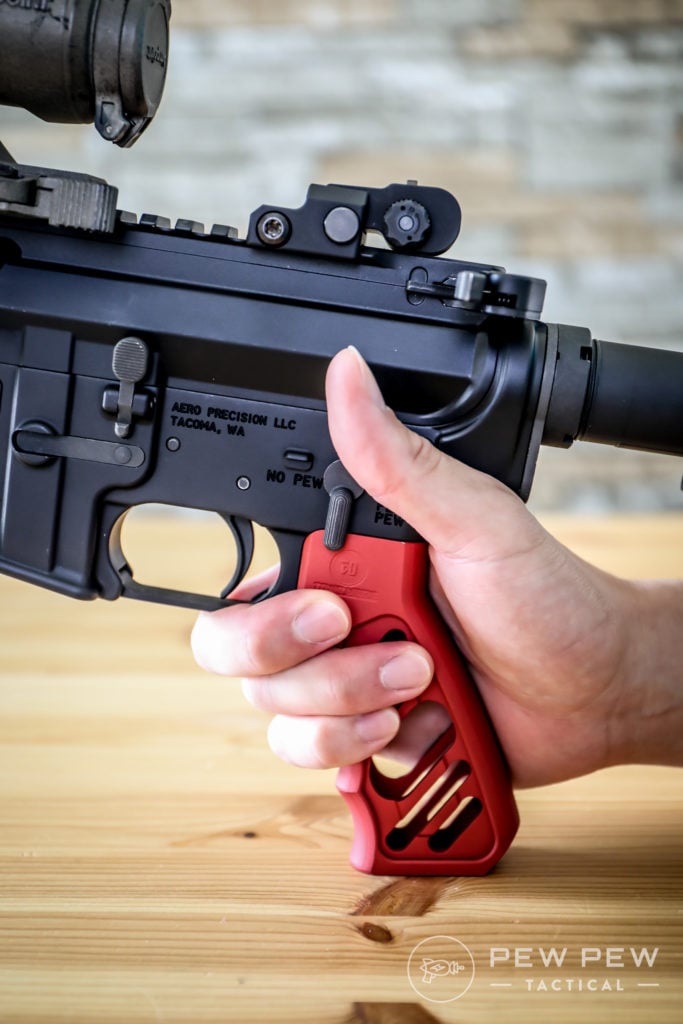 It wasn't uncomfortable but I would have preferred the finger grooves (or the lack of them) to match up better with my hands.  Again, this is personal preference and individual hand geometry.
If you have even bigger mitts or don't like to ride the grip high…the LWP will likely be perfect for you.
I'm guessing I would have been better served with one of Tyrant's grips with only one groove or one with rubberized grooves.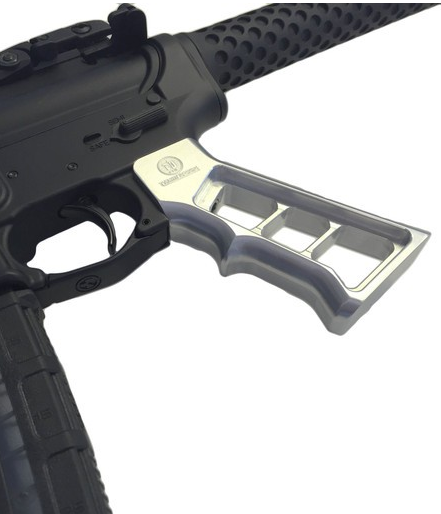 Halo Handstop
I was also really worried I would install this thing backwards…since for me it wasn't super intuitive.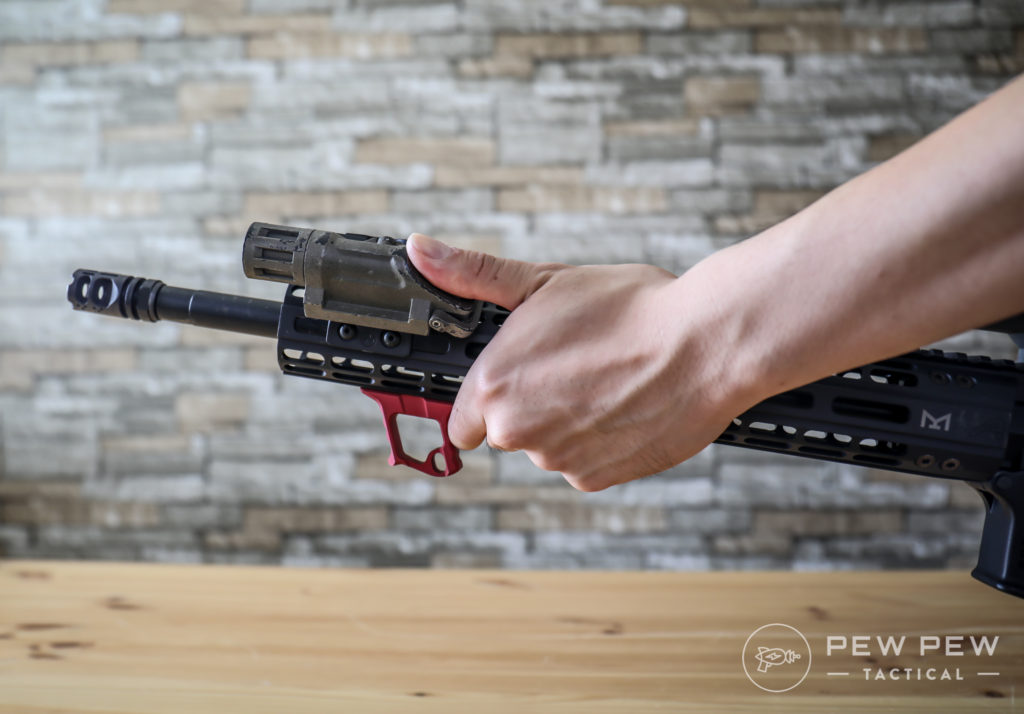 But turns out…it was easy to install in my MLOK handguard and felt very sturdy.
I shot in this position for range day and it felt pretty natural since I use the C-clamp position normally.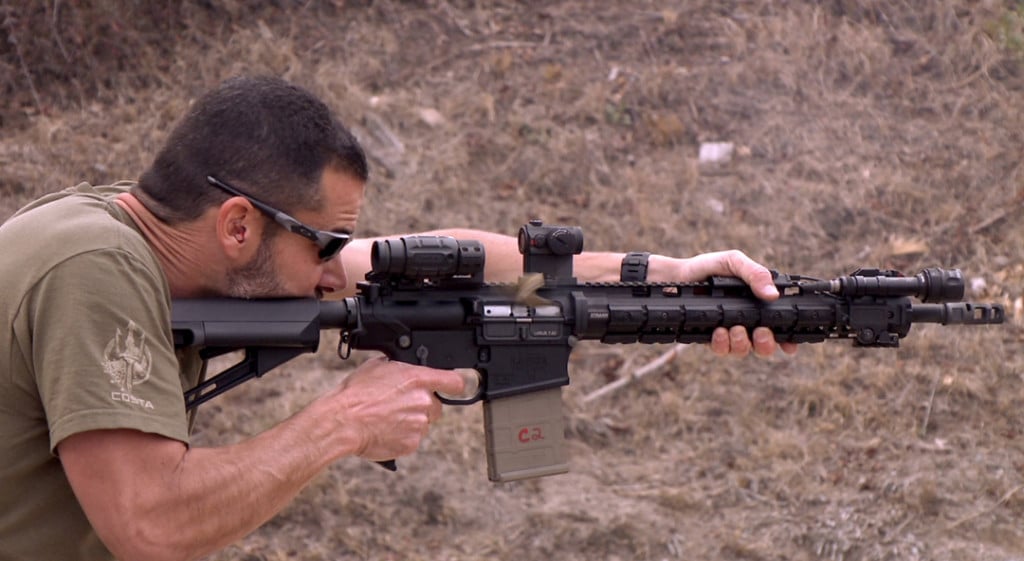 And since I already had my Inforce WML light mounted that essentially already acts as a handstop, my hands were not going anywhere near the barrel or muzzle.
And now that I'm reading the full description of the Halo Handstop, I see "chambered holes to allow finger placement inside."  I didn't think of that naturally but I can see how it could be useful.
Finally…how does it perform as a barricade stop?
I used a wooden bench that you'll likely see during competitions and it did its job.  Way more effective than having a bare handguard.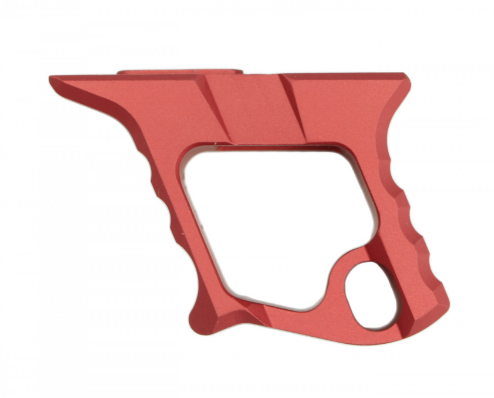 But I did encounter some slippage when I really put some weight against my rifle.  You can see above that you'll start to catch the barricade on the left edge…but then it starts to slope.
Final Thoughts
So…would I recommend Tyrant CNC's grips and handstop to my friends?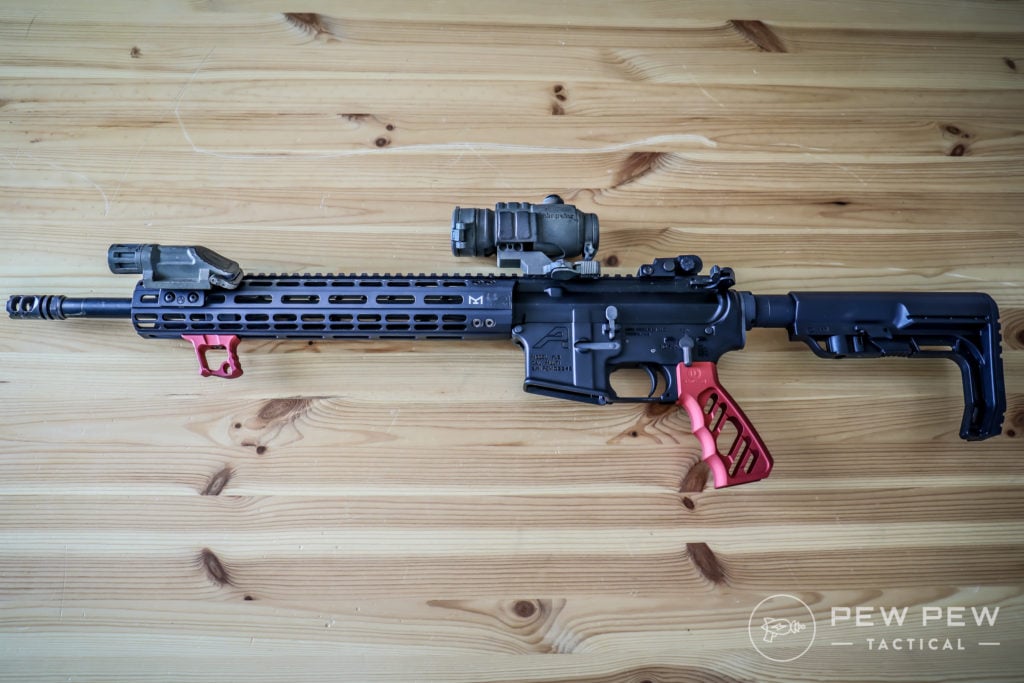 Yes to the grip…if they really want their rifles to *pop* aesthetically AND be ultralight.
And if they already like finger grooves or don't like a super high grip on their rifle.  PLUS…if they've got the coin…$99 ain't cheap for a pistol grip.
As for the handstop?
Yes…if you're going with a short barrel where it would be easy for you to muzzle your support hand.  Probably not so much if you're buying it just for barricade stopping…I'd much prefer a more 90 degree one for that.
What's your take?  Are you going to get one of Tyrant CNC's grips/stops?