Check out Johnny B's full review of the Taurus GX4.
---
How does Taurus's new and improved CCW semi-auto 9mm that holds 11+1 rounds stack up?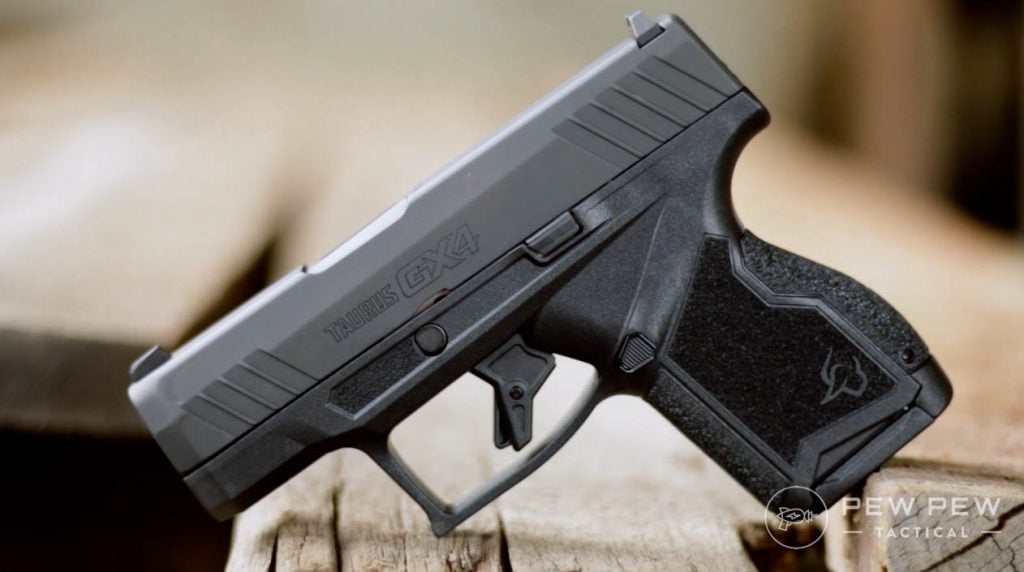 Glad you asked.
Today we're going to dive into the new Taurus GX4. We'll look at some specs and features, as always, and let you know how it handled on the range.
Ultimately, I'll help you decide whether you want to add the GX4 to your concealed carry lineup.
Table of Contents
Loading...
308
at Kentucky Gun Co.
Prices accurate at time of writing
Prices accurate at time of writing
Taurus GX4 Specs & Features
Capacity: 11 rounds
Caliber: 9mm Luger
Action: Single Action
Firing System: Striker
Frame: Micro-compact
Barrel Length: 3.06 in.
Overall Length: 5.8 in. w/ Small Backstrap; 6.05 in. w/ Large Backstrap
Height: 4.4 in.
Width: 1.08 in.
Weight: 18.5 oz
Frame Material: Stainless Steel
Safety: Striker Block, Trigger Safety
MSRP: $392.42
And how about features?
Flat, serrated trigger
Indexing and recoil management pad
Reversible mag release
Take down pin for disassembly
Polymer grip
Includes 2 mags
Source: Taurus
Background
Taurus hasn't always been synonymous with reliability and high performance, but the company has worked over the years to rectify that by bringing affordable pistols to the masses.
And now, Taurus waded into that pool further, releasing the teeny tiny GX4.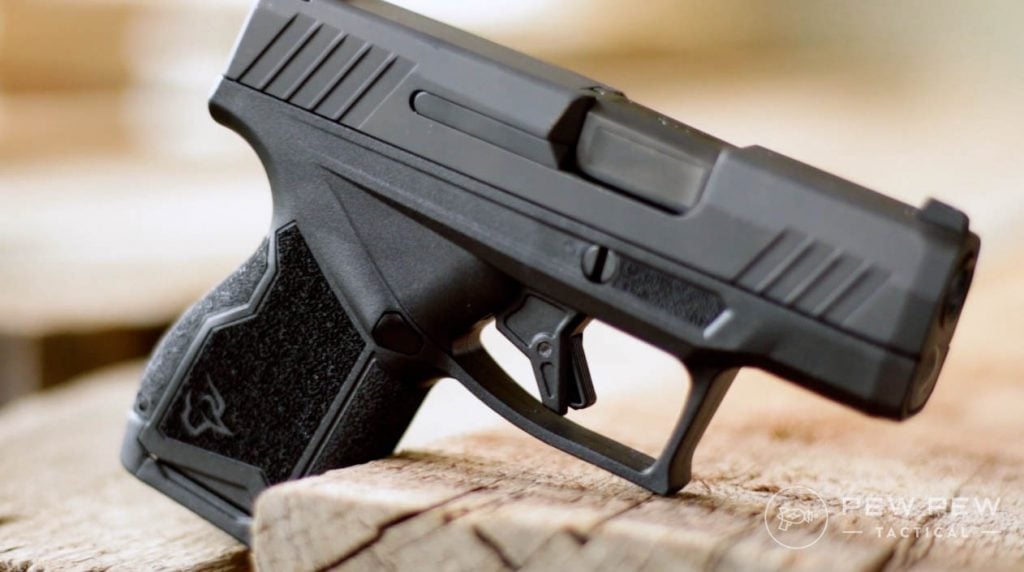 Look around the compact pistol market, and you'll find a ton of models claiming to be small enough for concealed carry.
Straight up, the GX4 comes in as an ultra-compact, super concealable carry gun. Oh, and did I mention it's affordable?
Measuring 5.8-inches with the small backstrap (and 6.05-inches with the large), the striker-fired GX4 stands 4.4-inches tall. Weight-wise you're looking at about 18.5-ounces.
Width is really where this pistol shines, though. Measuring only 1.08-inches, it packs 11 rounds!
Not bad for a slim and trim model.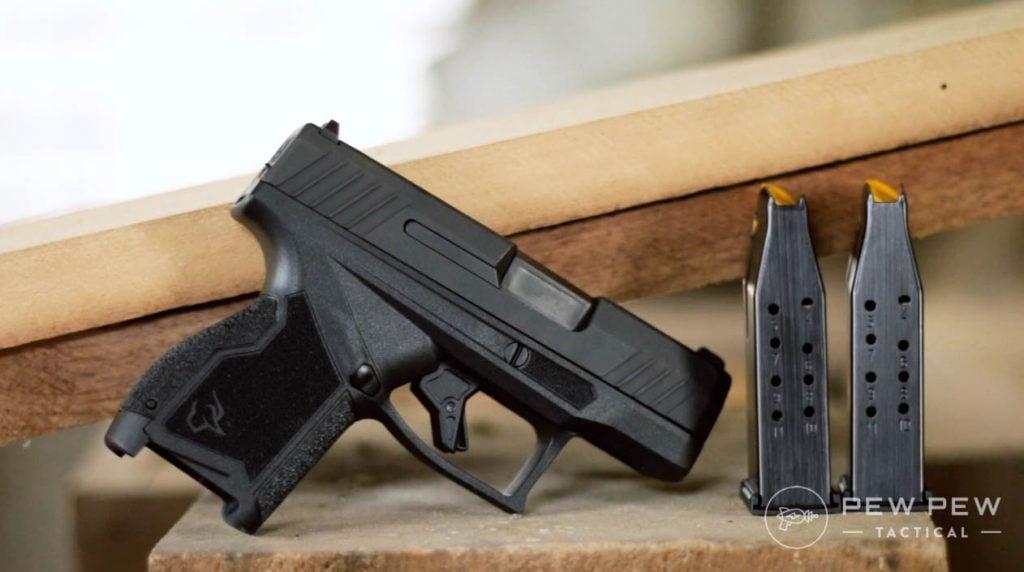 Barrel sits at 3.06-inches in total length. The gun is built on a stainless steel frame and sports a polymer grip.
It offers up standard white dot sights. Nothing fancy here, but that's okay, especially for a budget gun.
I like the fact that you also get a loaded chamber indicator. May not seem like a huge deal, but it's nice not to have to press check every time you pick it up.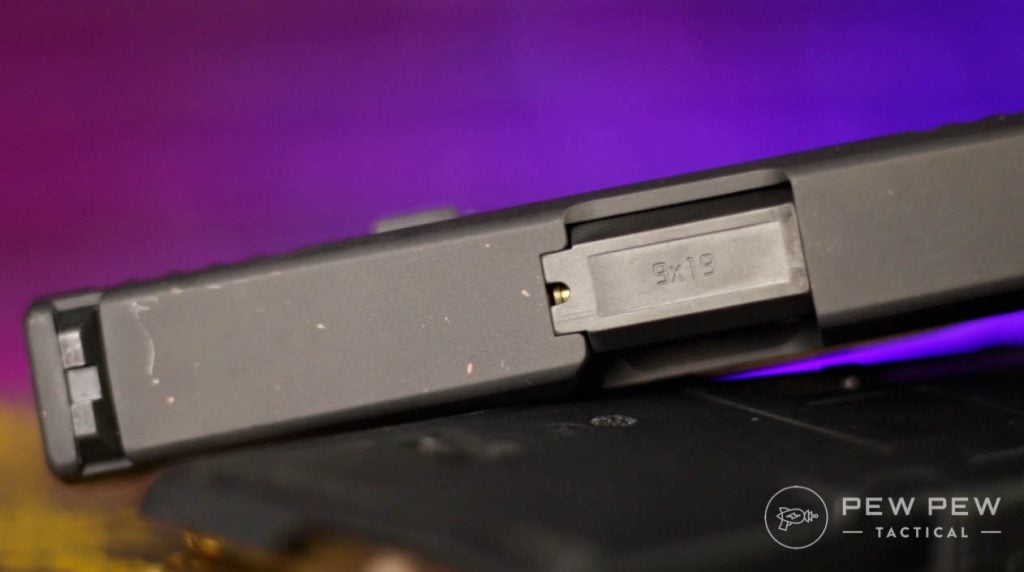 Just peek into the window and you know whether you've got a round ready or not.
It ships with a pair of magazines and two backstraps (small and large), all in a nice plastic box. I think this is a definite improvement over Taurus' old habit of sending its guns out in cardboard boxes.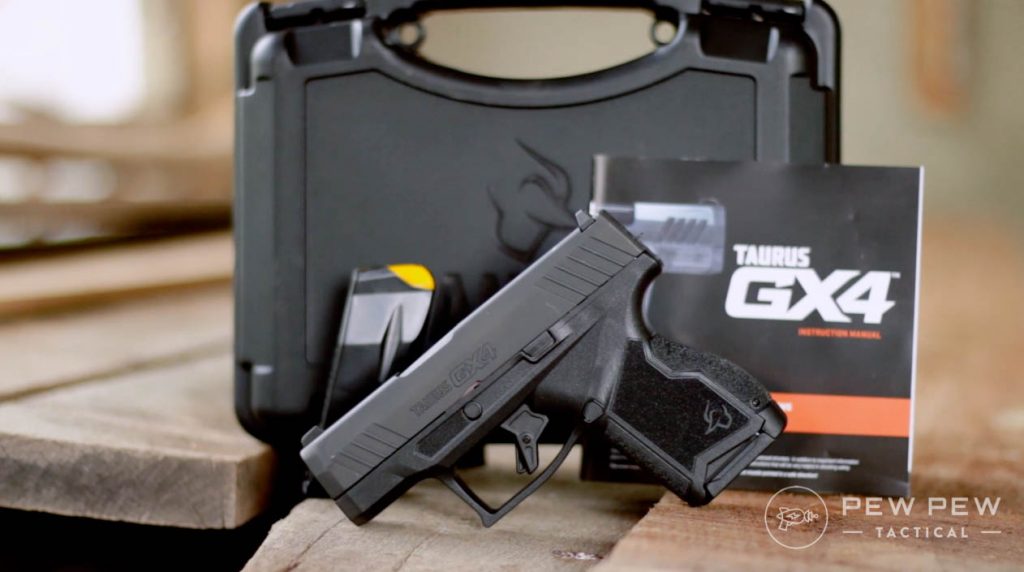 This case you can actually use to tote the GX4 to and from the range.
Rounding out the features, it's the lifetime warranty. Yep, that certainly doesn't hurt.
Taurus GX4 Pros & Cons
Pros
Textured grip (feels like Sig grips)

Magazines are made by Mec-Gar in Italy (they are the best!)

Size is great for a 11-round pistol. An inch wide is awesome.
Cons
Grip comes a bit short in length. Wish they offered a pinkie extender mag.

For bigger handed folks, you will need to adjust your grip because this gun is small.
The Bottom Line
Overall, it's a winner. Good carry gun option.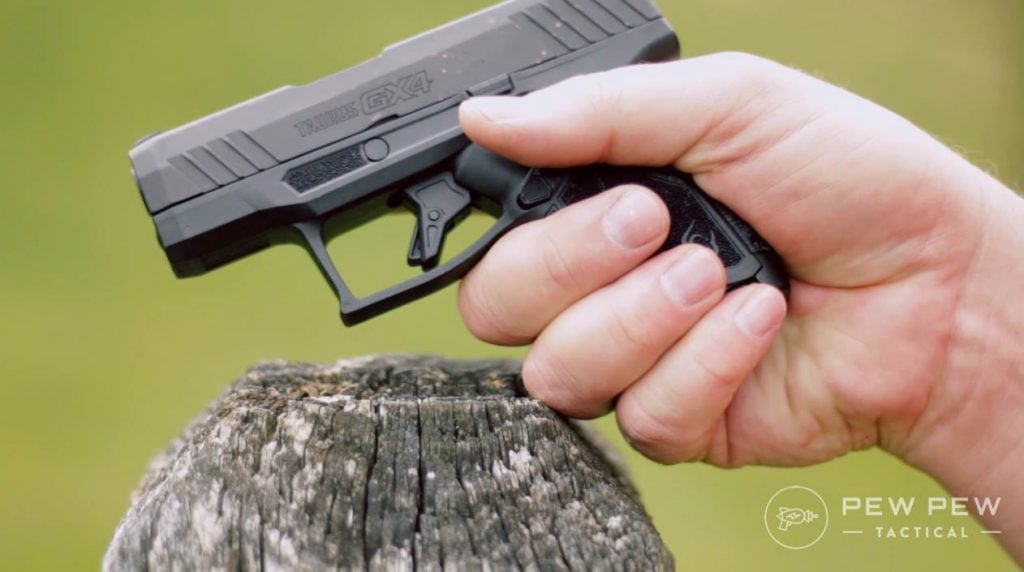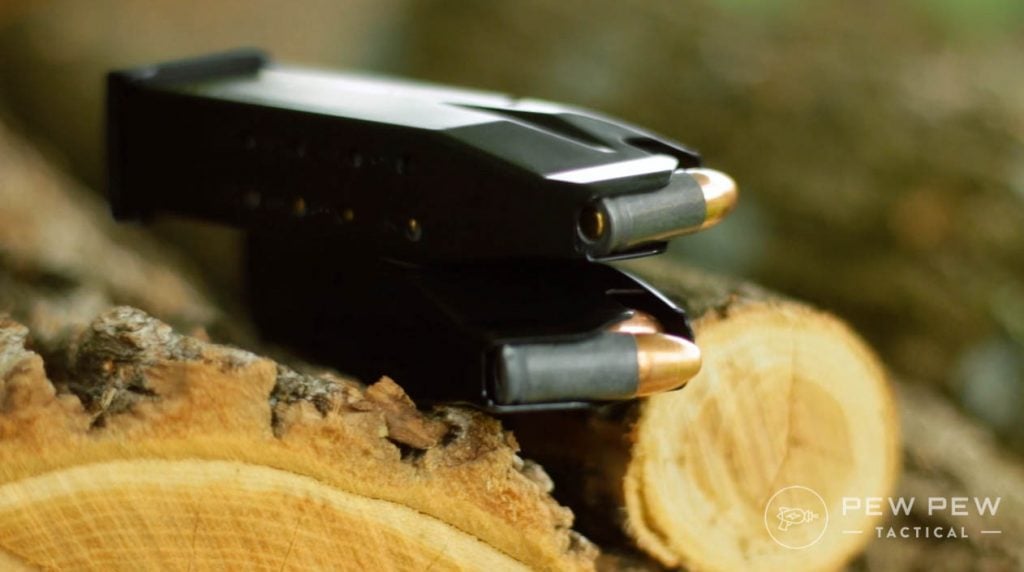 Who Is It For?
Swinging for the fences at $392 MSRP, the 9mm Taurus is designed specifically for those that want to concealed carry but also don't need a tricked-out Gucci Glock to do it.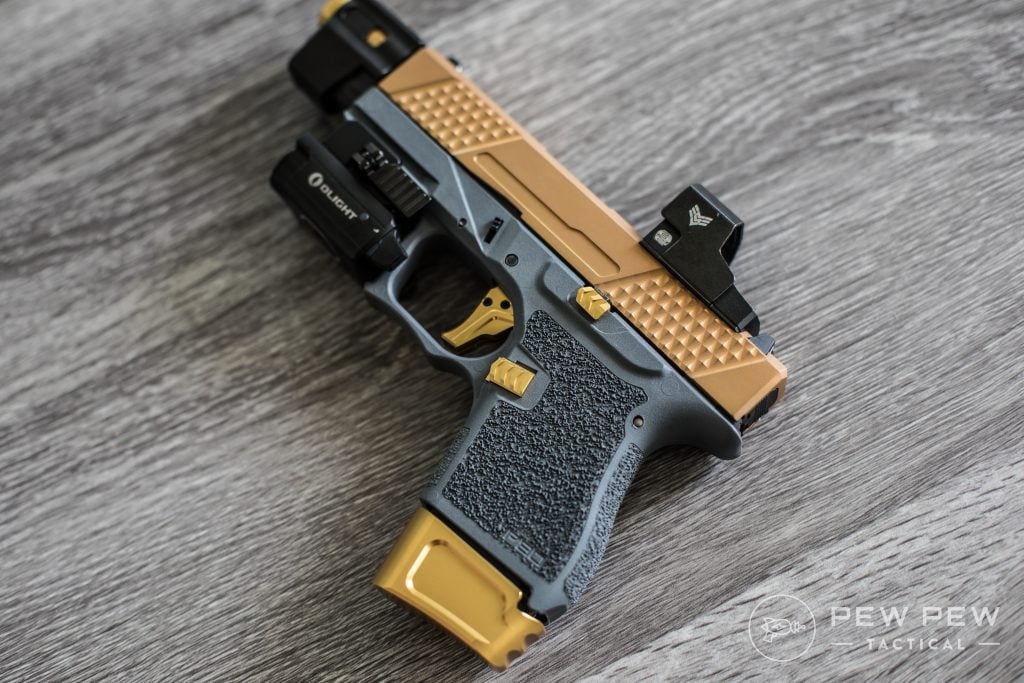 Fit and Feel
Ergonomically, it's okay.
It feels good in the hand, but its diminutive size is both a good and bad thing. More on that in a minute, though.
The grip comes outfitted with some texturing, which allows for a good grasp. It's always nice when manufacturers add a little extra texturing, especially on snappy micro-compacts.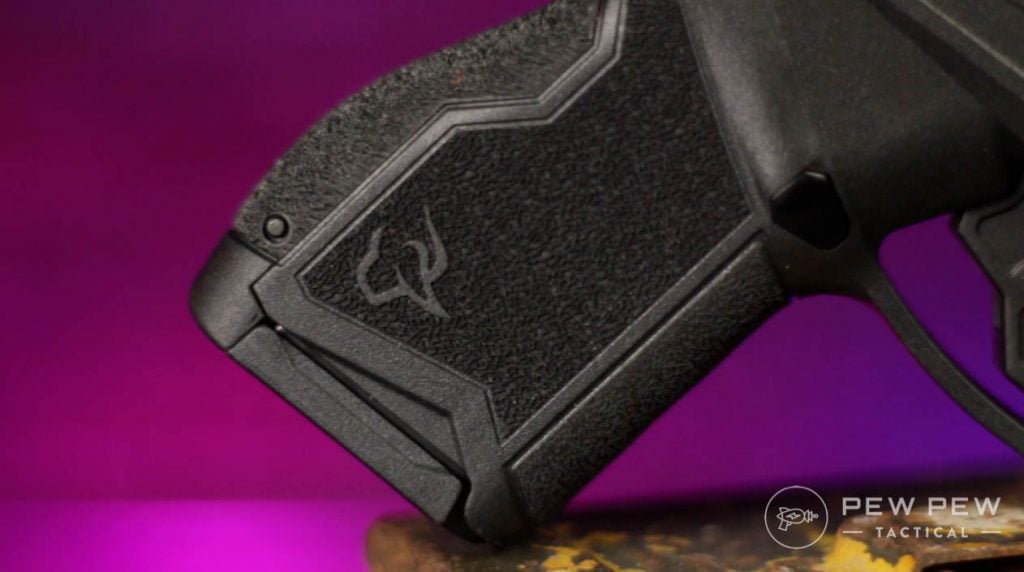 As far as controls are concerned, everything is more or less where you expect it – all within reach and easy to manipulate.
The magazine release might be a tad too shallow for my liking, but it's billed as a carry gun, and carry guns typically carry smaller controls.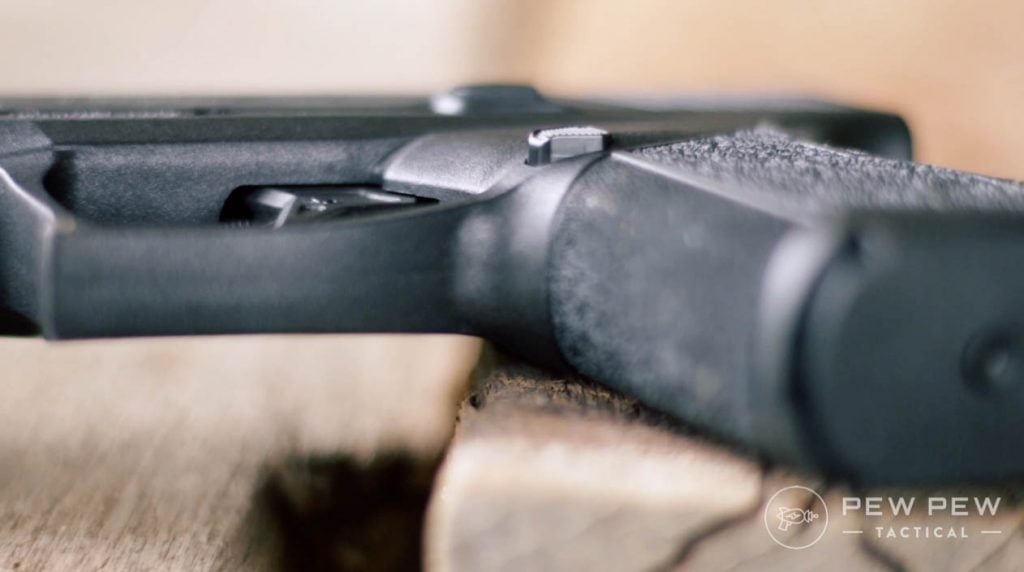 The slide features serrations that look nice and make slide manipulations easy.
Now, as far as aesthetics…she ain't winning any beauty contests. The finish is nice and all, but she's not a looker.
Not that you necessarily need your gun to be as pretty as you, though.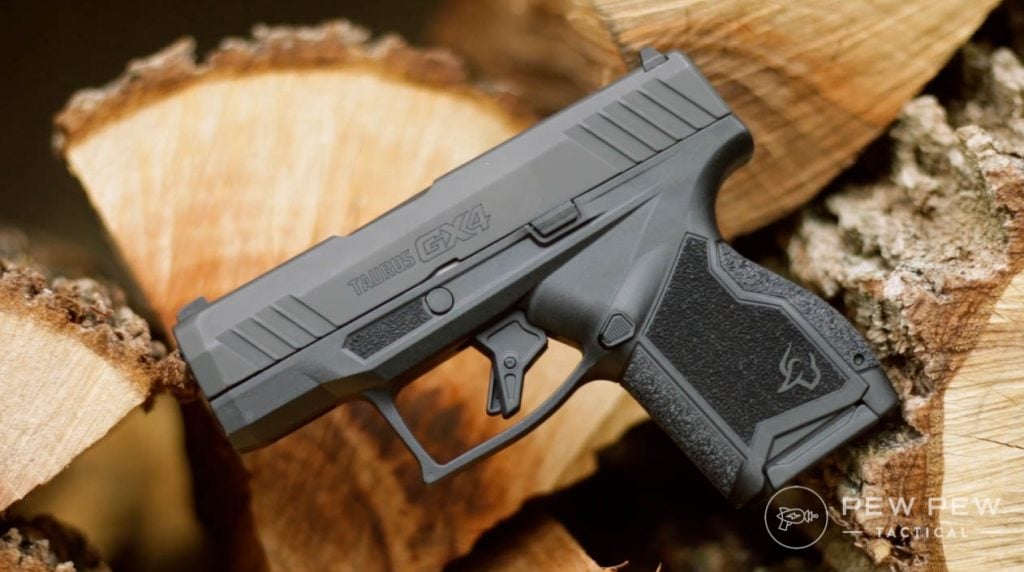 How Does It Shoot?
I headed to the range to put this tiny pistol to the test. Alongside it, I carted out some Russian steel-cased ammo.
Yep, it's cheap, but the plus side is I didn't have to hold back. I was able to get a boatload of rounds on target.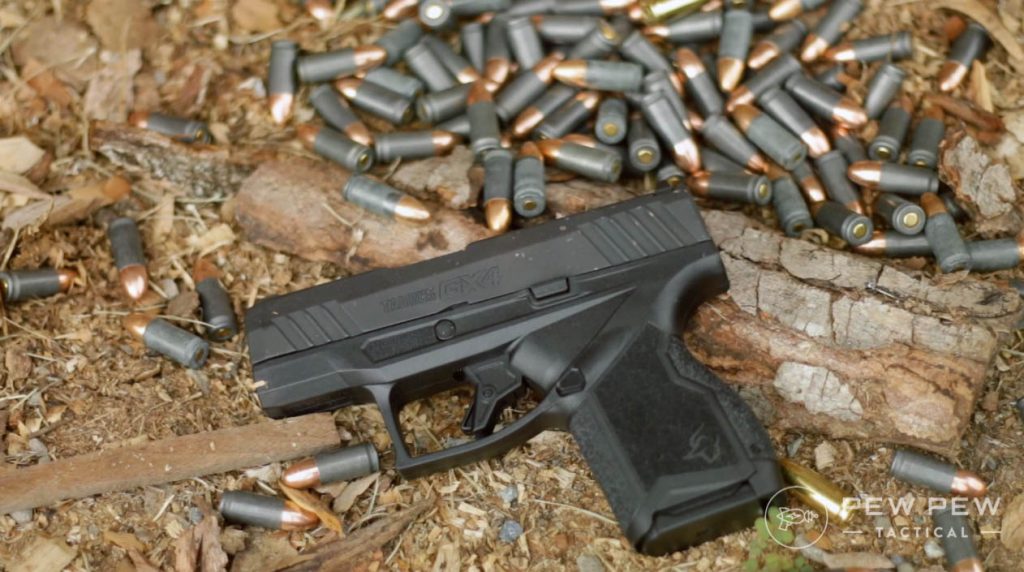 So, how did the GX4 perform?
Not bad. It shoots and feels way less snappy than I anticipated.
The trigger felt…alright. It offers a shallow reset, and it felt okay. Nothing spectacular or noteworthy, but it gets the job done.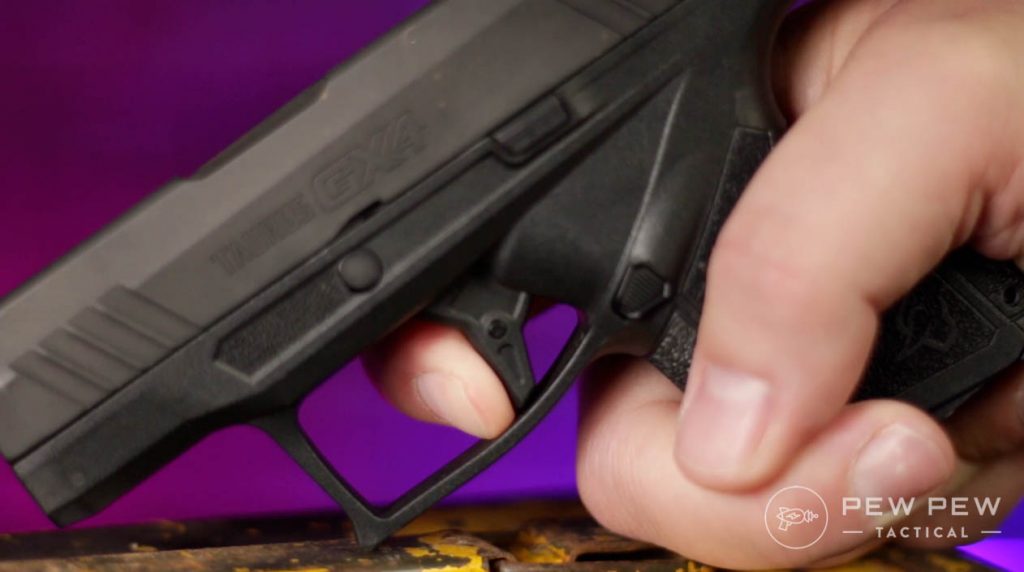 Accuracy wise it did just fine for a small gun. I hit center mass on a target set up at 7-yards right out of the box.
I was pretty pleased with that estimated 2″ group. It'll do in a pinch.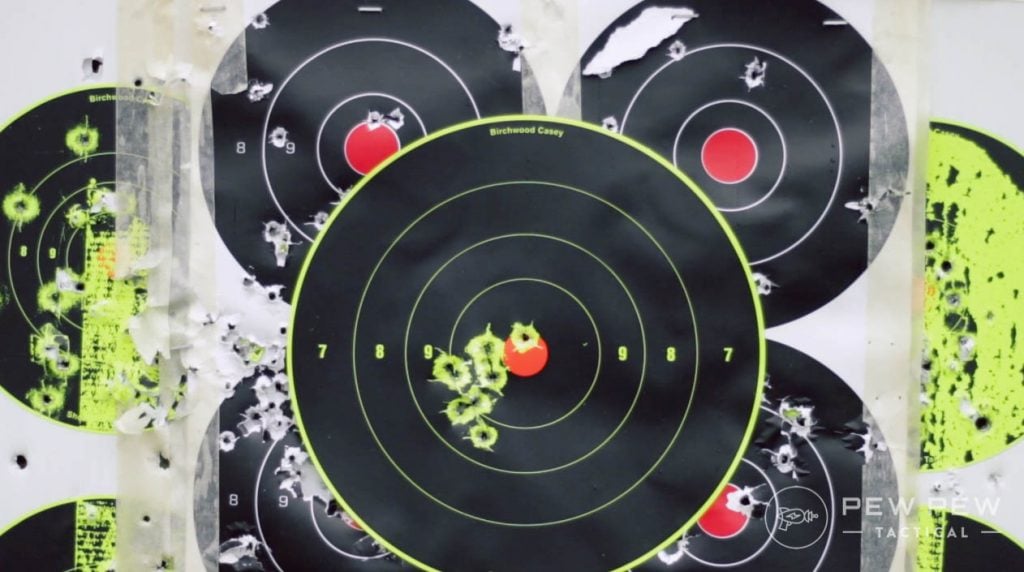 After several hundred rounds in, I had zero issues with the gun.
The GX4 feeds and loads just fine and even locks back on empty. (It's the small things…)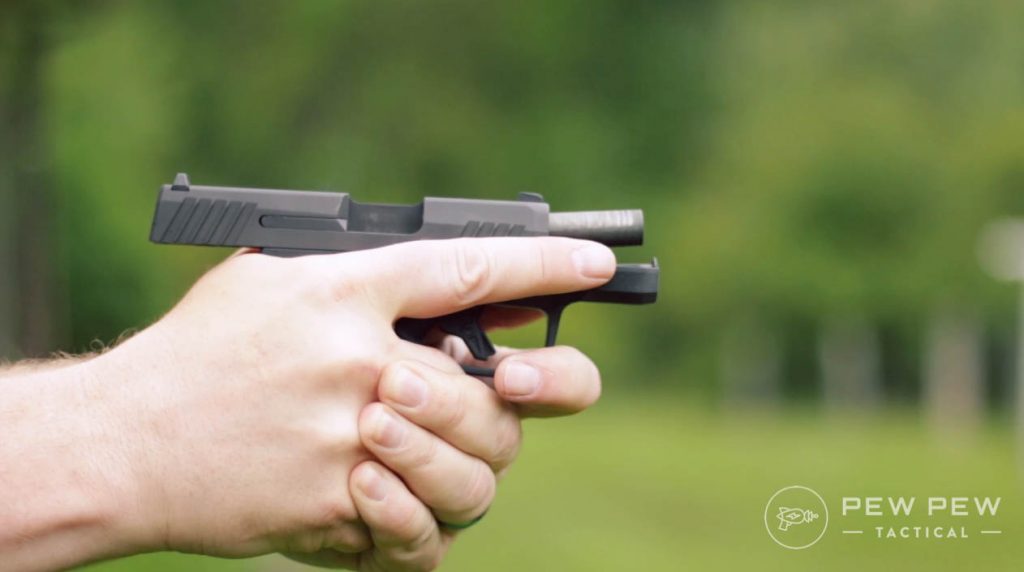 And if it ran this good with steel, I suspect it will do even better when brass ammo makes a comeback.
What Sets It Apart?
The micro 9mm category has some stiff competition with almost every major player having a horse in the race.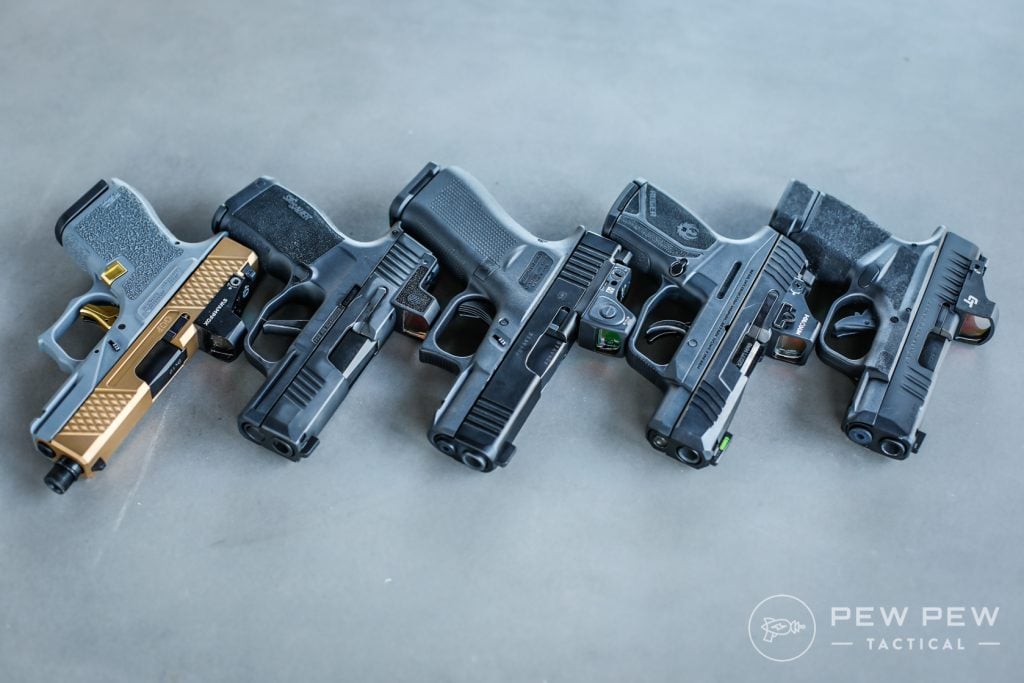 However the Taurus GX4 has its price price of a $392 MSRP and more representative street price of low $300s that beats its competitors. For example the Sig P365 has a street price of $499.
Taurus GX4 Gun Deals
Taurus GX4 - By the Numbers
Accuracy
4 / 5
You're not gonna win any sniper medals, but for getting shots on center mass in a defensive situation, you're good to go.
Reliability
5 / 5
Customization
2 / 5
Not much to see here, folks…move along.
Ergonomics
4 / 5
For what it is, it's not bad at all. Grip feels good. Slide is easy to get ahold of. Not bad.
Value
5 / 5
I appreciate what Taurus does. They get reliable carry guns to people at a crazy affordable price. An 11+1 capacity at this price? Solid, solid value.
Overall
5 / 5
OK so we wish it had night sights and maybe an extended magazine, but at this point we're just finding something to complain about. The new GX4 is cool with us.
Since the GX4 is begging to be concealed carried…our favorite CCW holster is Hidden Hybrid Holsters.
It's what we use for our regular concealed micro 9s. Check out our full review of the holsters.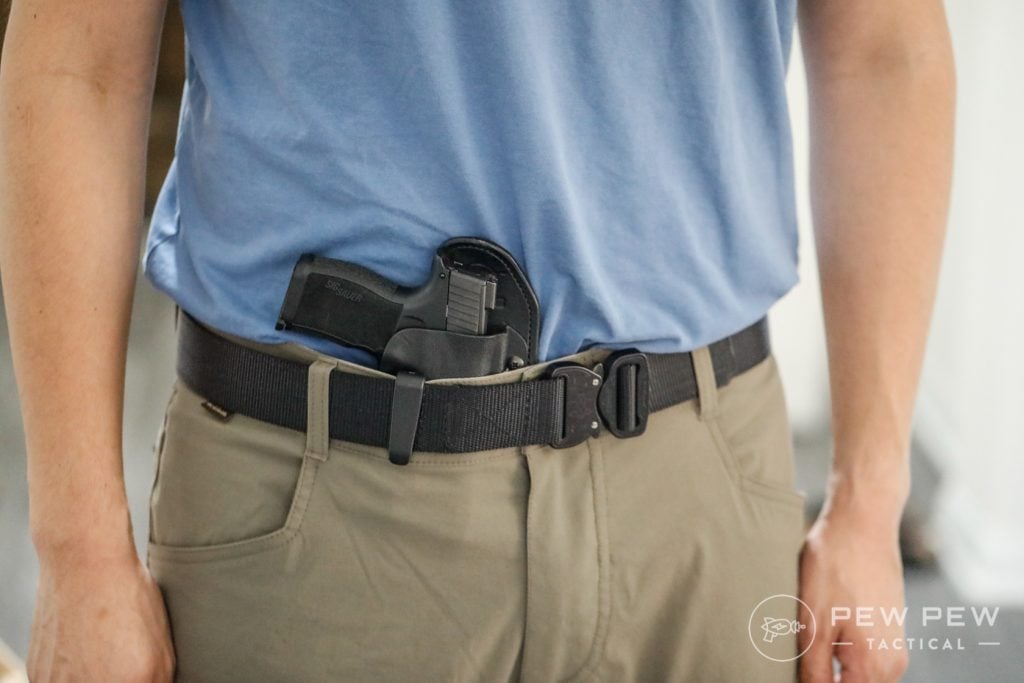 Remember our complaint about extended mags? There's now 13+1 mags that grant your pinkie a resting place.
Upgrades & Accessories for Taurus GX4
Final Verdict
The Taurus GX4 hits the sweet spot bringing an inexpensive, super concealable 9mm pistol that runs.
Overall, I had a great time with the new GX4. I think Taurus scored another hit with the GX4.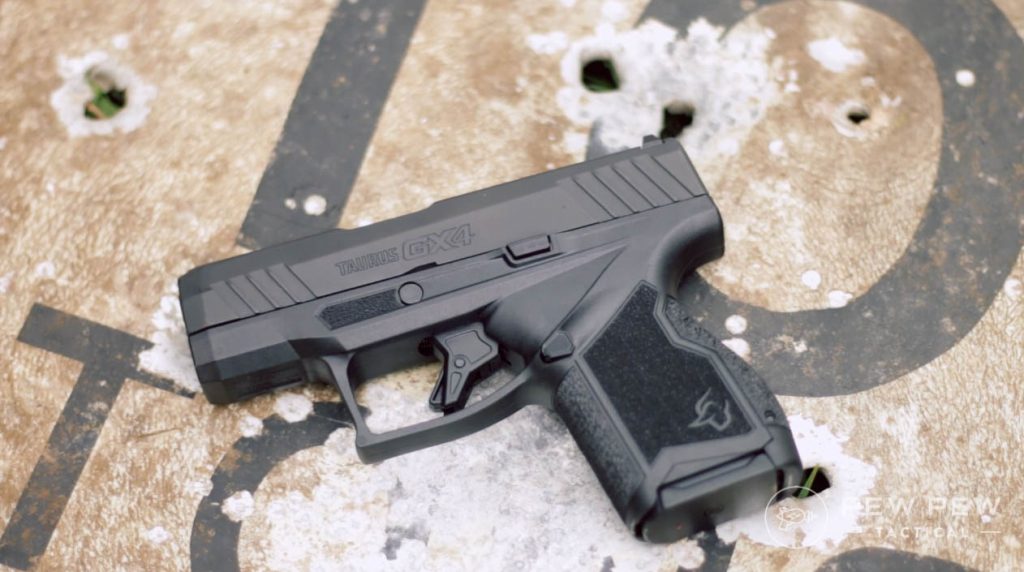 In my opinion, it's a winner. If you pick one up, I think you'll be happy with it.
Again, to see the GX4 in action, check out my video review below.
And some important manuals and links:
What do you think of the Taurus GX4? Let us know in the comments or leave a review below. Ready for more Taurus pistols? Check out our reviews on the G2C and G3C. Or see more concealable pistols in our Best Concealed Carry Pistols Guide.