---
Over the years, Staccato has shown a dedicated interest in evolving. A brand once known for race guns (STI) morphed into something coveted by cops and concealed carriers alike by offering important qualities like accuracy and reliability.
Recently Staccato released a new model called the CS.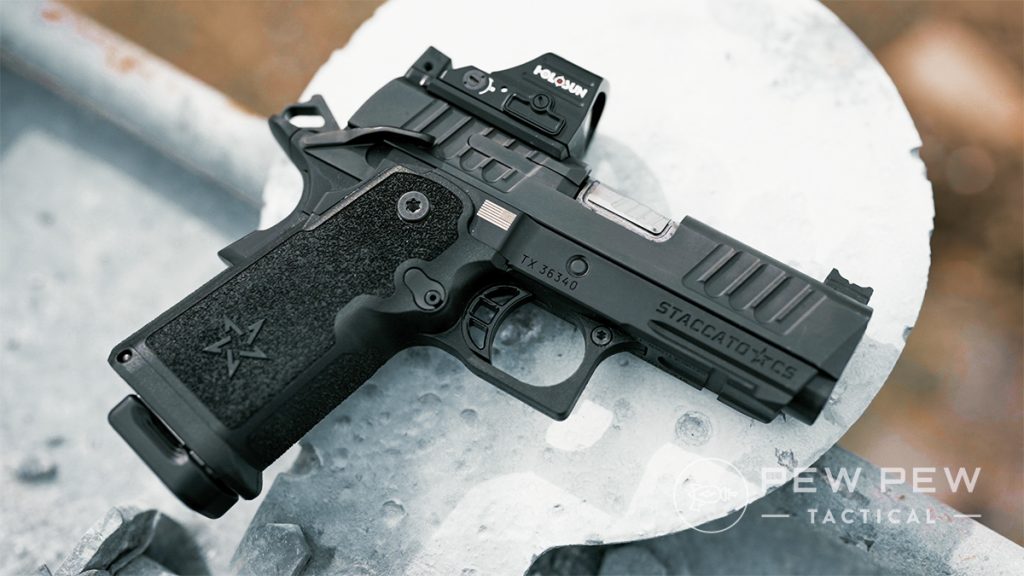 The whole premise behind the gun was something concealable that didn't sacrifice those aforementioned qualities.
We can agree there is a direct correlation between the size and functionality of a gun — tiny guns are easy to hide, but the smaller they get, the harder they are to use.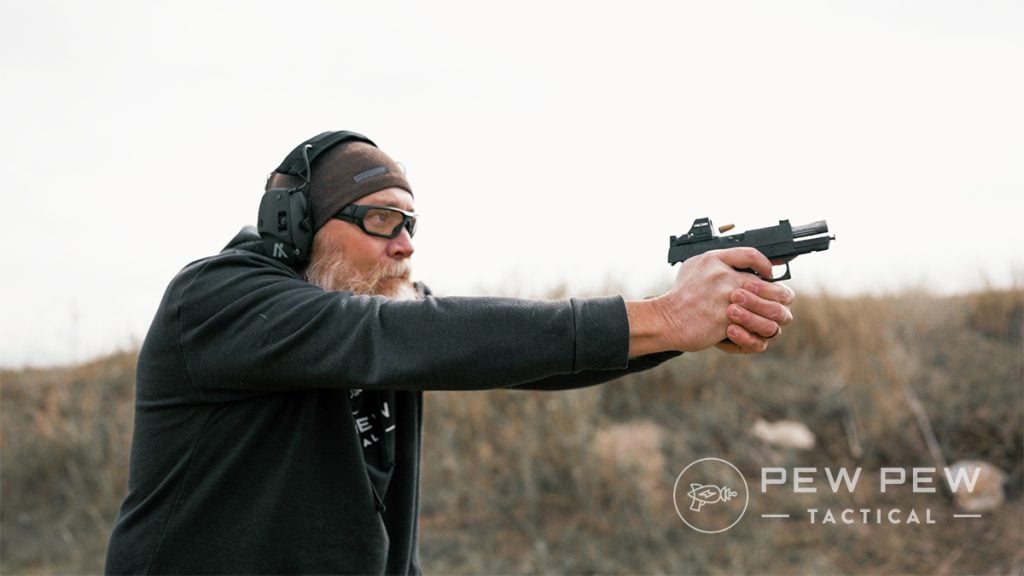 Did Staccato strike that balance with the CS? We spent some time testing it at their release event, then took the new pistol out to the range to find out for ourselves.
So keep reading as we walk through the specs and features, pros and cons, and ultimately do some performance testing at the range.
Table of Contents
Loading...
Pros & Cons
Pros
Accurate
Improved Longevity
Reliable
Cons
The Bottom Line
The Staccato CS is akin to bottled lightning; it strikes a nearly perfect balance between concealability and functionality. Accuracy and reliability tested extremely well, and the gun is very easy to control despite being the smallest member of the family. I believe Staccatos can make you a better shooter, but the cost of admission to that club is accordingly expensive.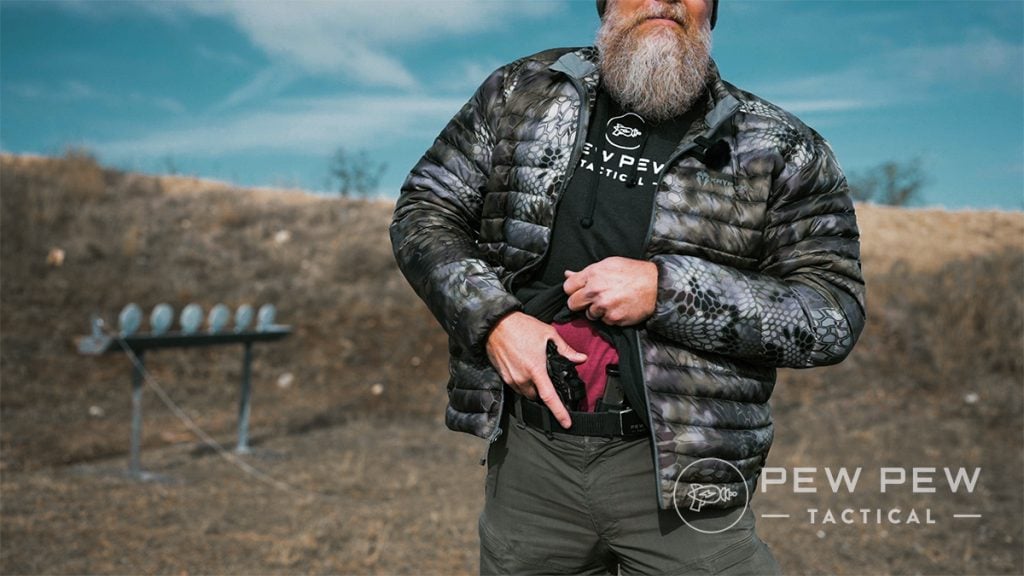 Specs & Features
Specs
Caliber: 9mm
Capacity: 16+1
Action: Semi-auto
Length: 7.1"
Barrel Length: 3.5"
Height: 5.6"
Width: 1.45"
Weight: 22.07 oz. (no magazine)
Features
Optics ready
Three magazines
Redundant sights (Dawson Precision)
Source: Staccato
2499
at Staccato
Prices accurate at time of writing
Prices accurate at time of writing
Background
The CS is the newest version of a 2011 — meaning a double-stack, 9mm, aluminum framed, polymer gripped, hammer-fired pistol reminiscent of John Moses Browning's famous 1911.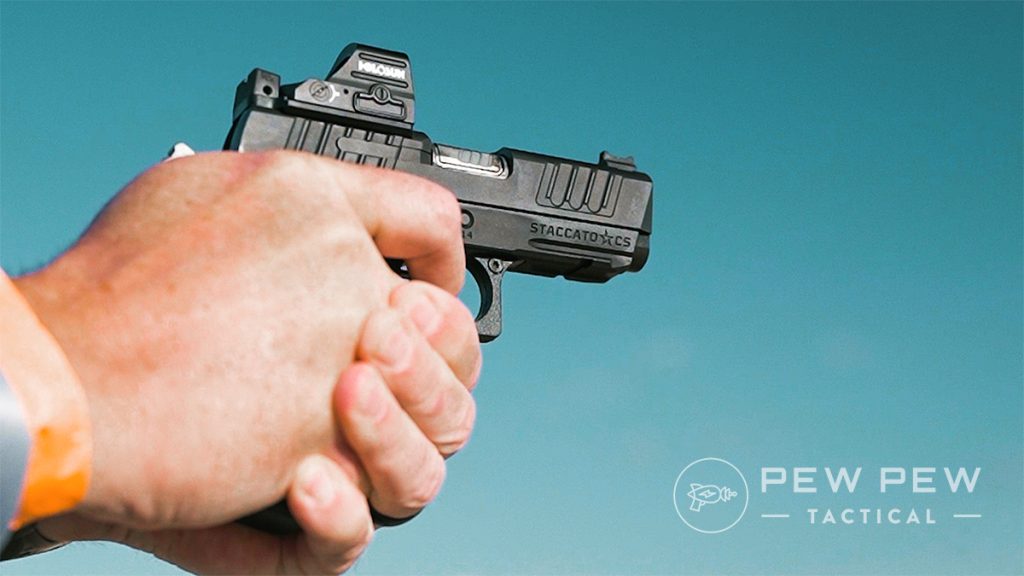 The closest predecessor from Staccato is the C2, which has a longer barrel and slightly wider grip, but same capacity.
Although similar in many ways, the CS is a departure based upon the reduced grip and newly minted magazine.
Who Is It For?
Concealed carriers are the customers of choice for the CS and a wider variety of people at that. Staccato took great pains to make sure their new pistol fits a wider range of hand sizes.
By comparison, the CS is roughly the size of a Glock 19 but with a shorter slide. However, it performs like a full-sized pistol.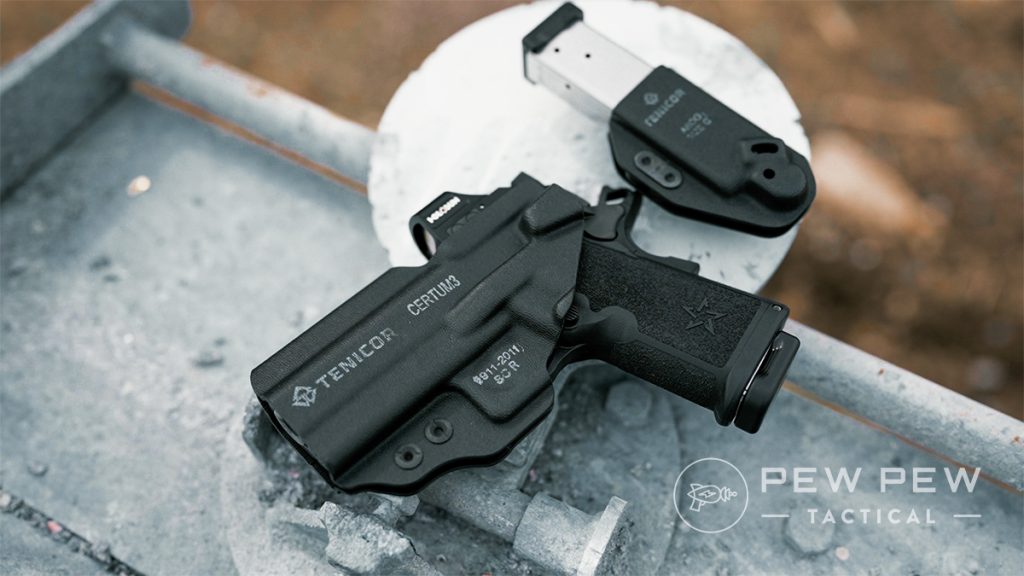 Toward that end, I could also see this model kicking down the proverbial door to the law enforcement market for those whose hands couldn't master the P due to size.
Fit & Feel
Keeping in mind I have 2X-sized meat hooks, the CS still fits me really well. I had smaller-handed folks tell me it also fits them well too, so Staccato did well to find that middle ground.
The grip texture is good, like sandpaper, but not nearly as aggressive as the Staccato P. This was done intentionally to prevent hanging up on cover garments.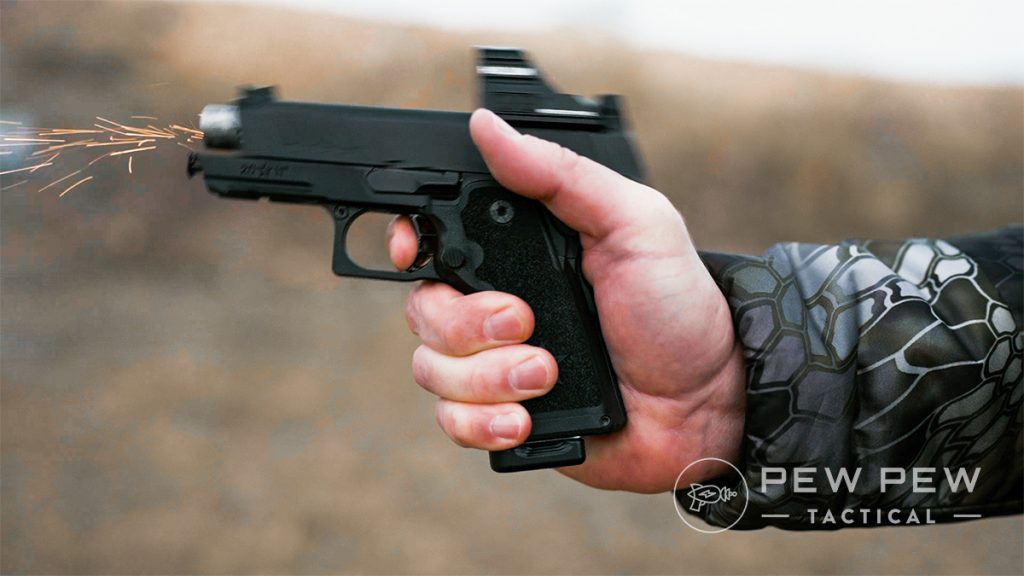 The sights are well done. The fiber optic up front is supremely bright in outdoor settings and, because of the height of the rear sight, visible through a mounted optic.
For this review, we used a Holosun 507C X2, and the pairing was great. This is due primarily to the ability to co-witness the dot and irons.
339
at Primary Arms
Prices accurate at time of writing
Prices accurate at time of writing
The slide is deeply milled in order for this to be possible, and Staccato has several different mounting plates on its website for different optics.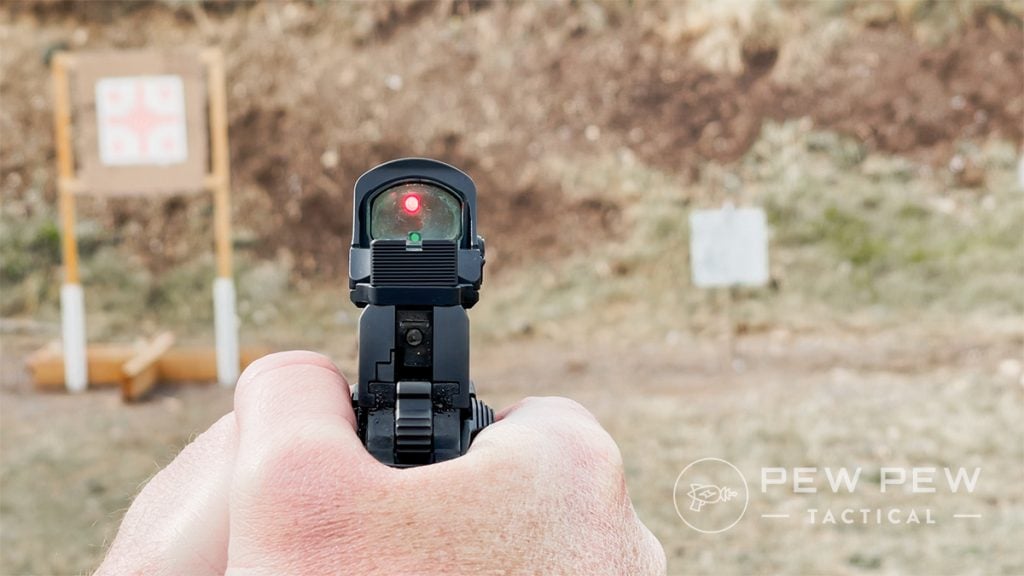 The Leupold Delta Point Pro will direct mount to the slide, though.
Magazines (three included) are easily recognizable as Staccato though they're markedly slimmer and more narrow.
The base plates include divots to dig fingers in and forcibly remove should you experience a malfunction.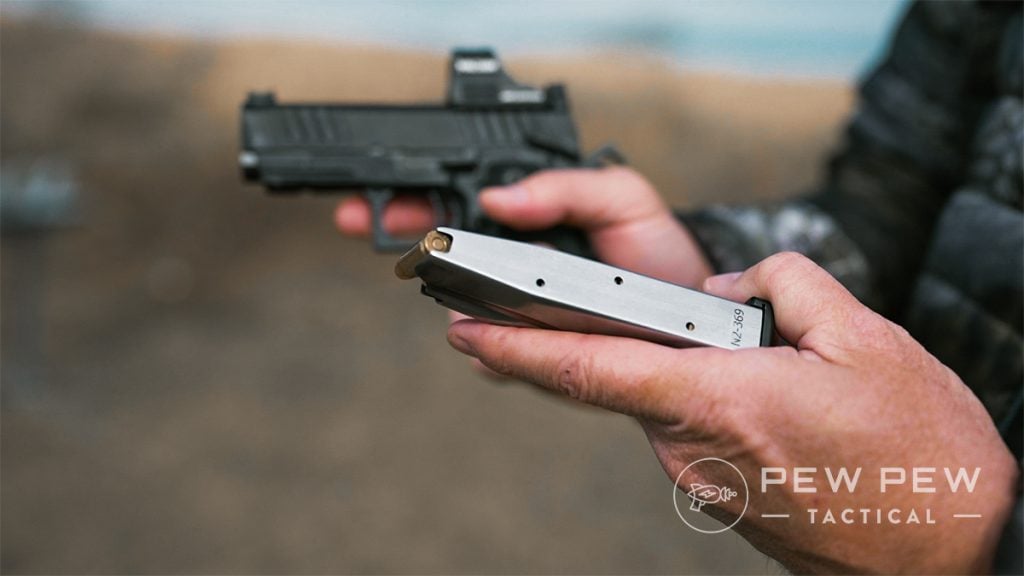 During testing, we ran a few brands and weights of ammo. The magazines fed, locked back the slide, and dropped cleanly when called to do so.
The trigger has a skeletonized, aluminum, curved shoe and broke cleanly at an average 3 pounds 8.5 ounces on a Lyman digital gauge.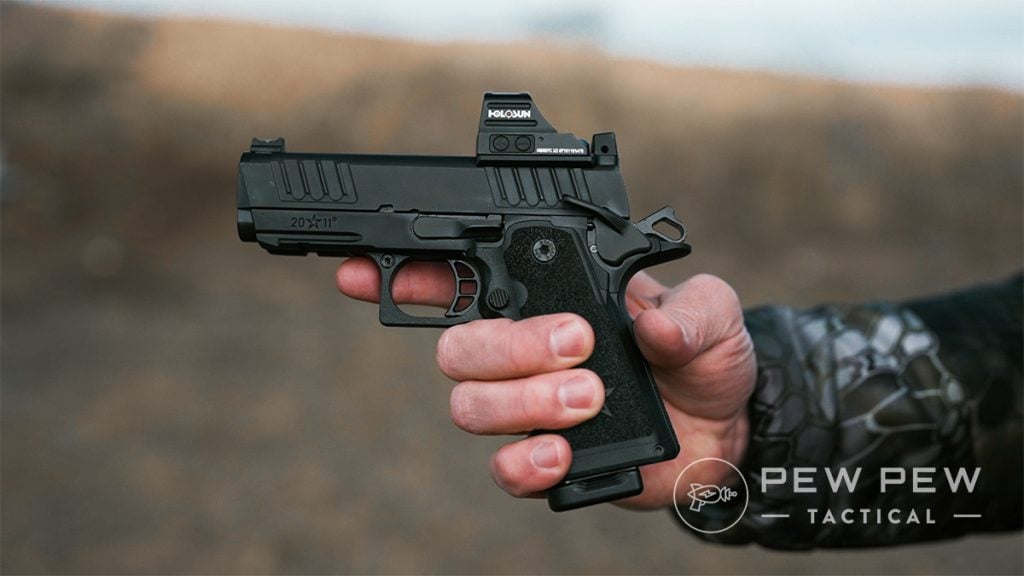 There is very little pre-travel until your finger finds an easily recognizable wall. After breaking, the trigger resets quickly and is both audible and tactile.
How Does It Shoot?
There might be an expectation of more snappiness with a shorter gun from Staccato. By comparison with the P, it's a little bit more so, but only slightly.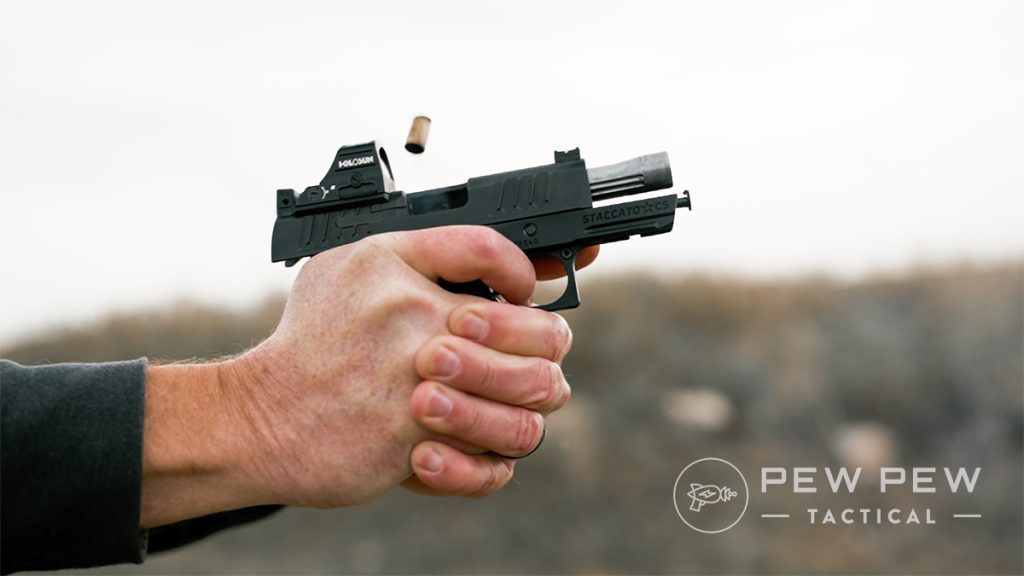 This was more pronounced when we shot defensive ammo through the gun, but it was still very manageable because of the grip. This made follow-up shots a breeze.
During a slow-motion video segment, I fired four rounds in two seconds to demonstrate the controllability.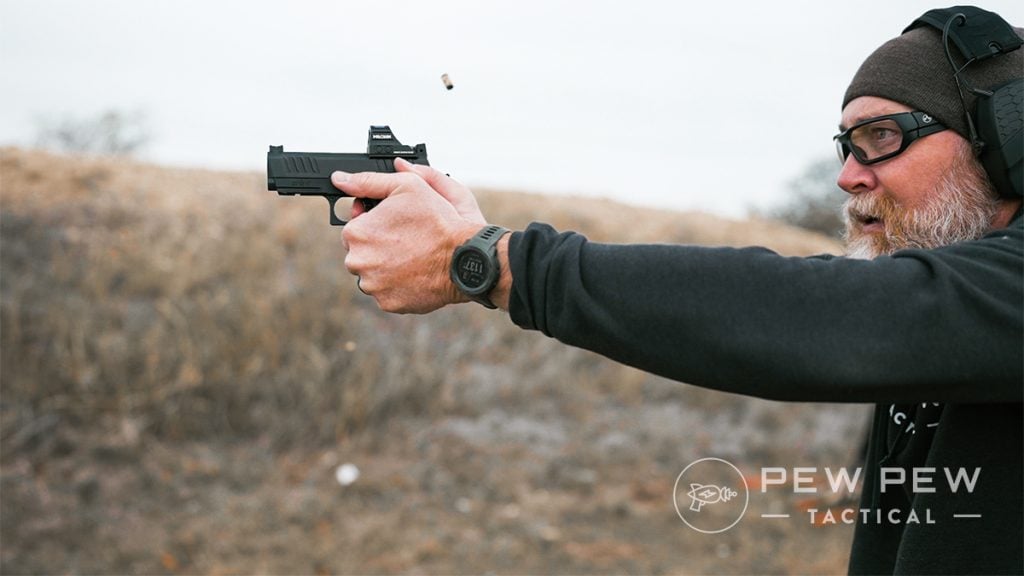 Shooting a torso-sized plate from 10 yards, I had four hits in that time.
The accuracy was strong also. My final group of five from 7 yards was around an inch, excluding one "flyer" because the target blew forward in the wind.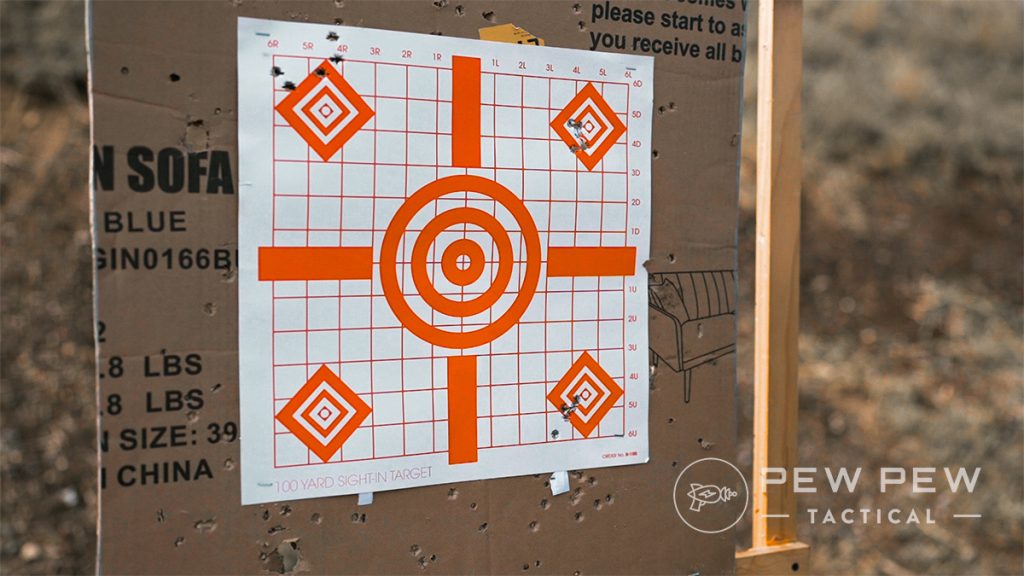 The trigger, sights, and general nature of the hammer-fired gun all add up as components to make this accuracy a reality.
What Sets it Apart?
First, the grip size is a good move for Staccato because they (likely unintentionally) excluded some potential small-handed customers.
I'd be curious to see if they circle back to longer barrels and try to adopt this grip size as Walther did with the PDP F.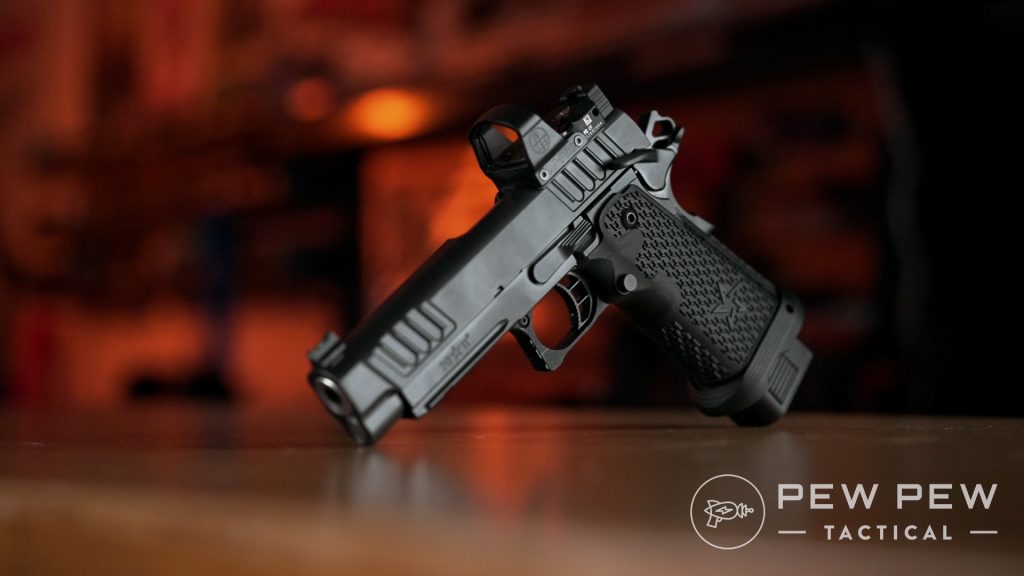 Next is longevity.
In the past, I ran a Staccato P through a 3-day training and noticed the slide would start to hang up a bit after a lot of rounds — north of 1,000. Precision manufacturing makes for close tolerances.
Simply adding oil or cleaning and lubing would always remedy the issue.
The CS was designed with some new magic "patent pending" tech that Staccato will release more information on in the future.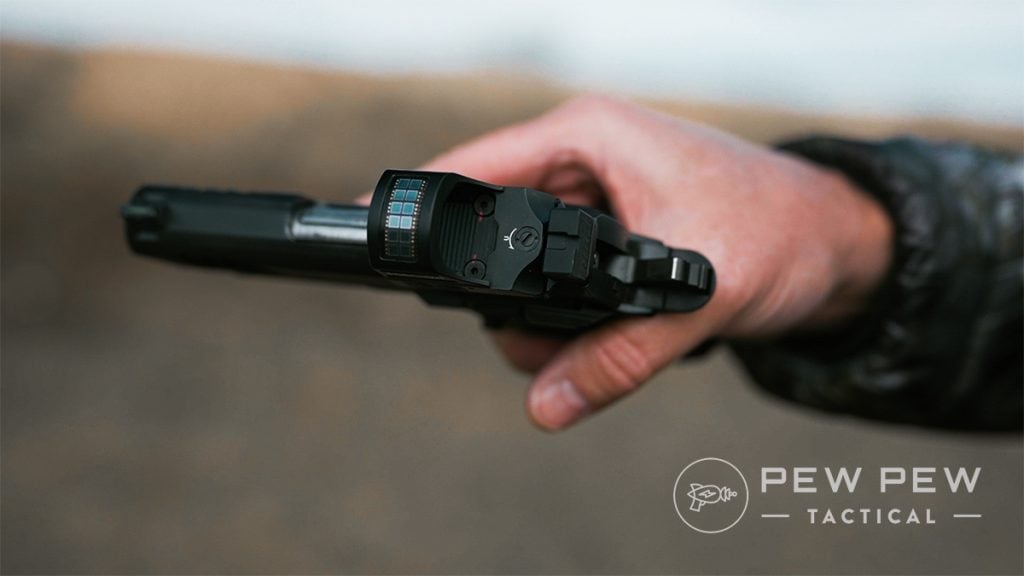 Suffice it to say their goal was enabling the gun to run longer without intervention.
I saw a lot of people shooting the CS during the release event, and despite thousands of rounds going downrange across a number of guns, I didn't even hear of anyone having an issue.
Our individual testing, which will be ongoing, has reflected this as well.
| | | | |
| --- | --- | --- | --- |
| | CS | C2 | P |
| OAL | 7.1″ | 7.4″ | 8″ |
| Barrel Length | 3.5″ | 3.9″ | 4.4″ |
| Height | 5.6″ | 5.6″ | 5.5″ |
| Width | 1.45″ | 1.5″ | 1.5″ |
| Weight | 22.7oz | 25oz | 33 oz |
| Capacity | 16 rnds | 16 rnds | 20 rnds |
Staccato CS v. C2 vs P
By The Numbers
The CS performed flawlessly and ate up Remington UMC 115 grain FMJ, Omusha 124 grain FMJ, and Federal 124 grain JHP defensive ammo.
Some controls are easily reached though I had to adjust my grip to hit the magazine release and slide stop, as did smaller-handed shooters. The mag release is not reversible though the thumb safety is ambidextrous.
Shooting groups while getting used to how the gun performs, I was able to tighten them up nicely.
The amount of customization is somewhat limited with this new gun. You can certainly accessorize by adding various red dots, and there is also a rail for mounting a light.
Without a doubt, $2,500 is expensive for any pistol, but this is a premium handgun that can improve shooter performance.
2499
at Staccato
Prices accurate at time of writing
Prices accurate at time of writing
Upgrades for Staccato CS
As the CS is a very new gun, there aren't currently any upgrades available. Shooters can select from the standard curved trigger as well as a flat bow option for an upcharge of $80.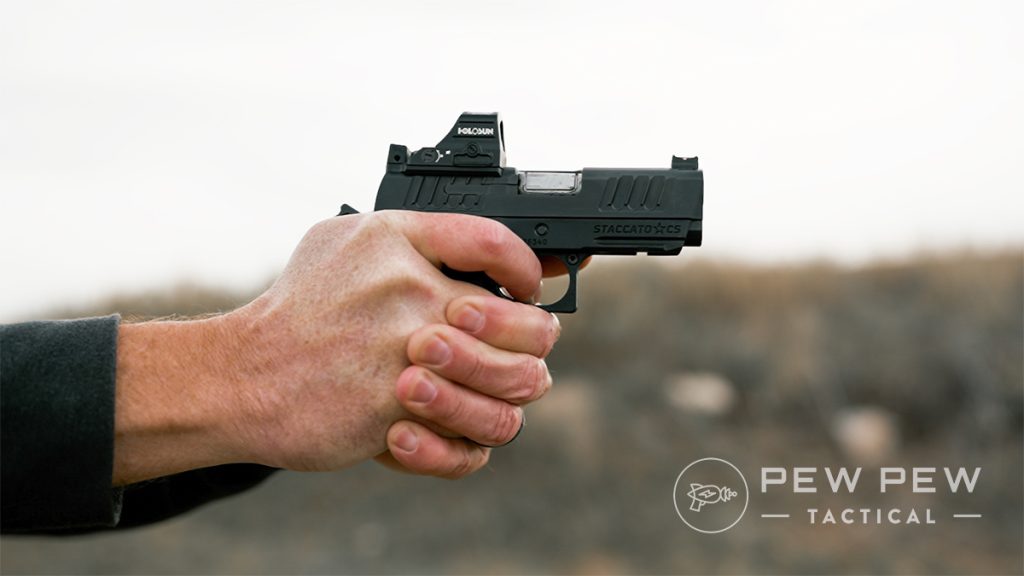 You can also decide whether you want a compact or full front sight.
The CS website is handy for the Q&A section letting people know which works best for their optic to establish co-witness.
Of course, the best upgrade at the moment is that of an optic. As mentioned earlier, we ran a Holosun on ours, but the Leupold Delta Point Pro might also be a good addition.
449
at OpticsPlanet
Prices accurate at time of writing
Prices accurate at time of writing
Final Verdict
Staccato's solution to the tiny pistol problem by way of the CS provides hot rod performance that will fit a wider cross-section of the shooting public.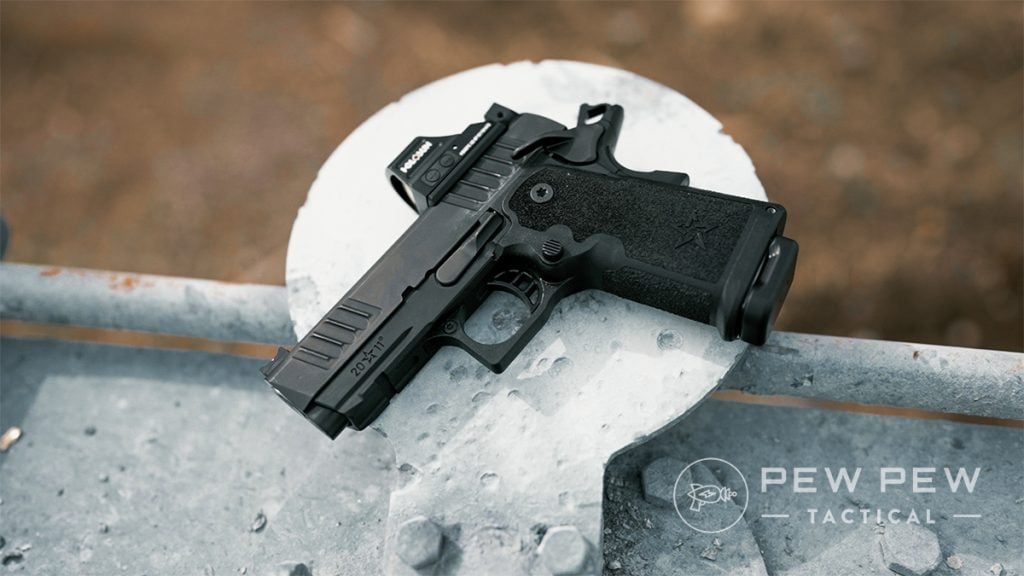 But better start saving your pennies…since this venture is not a cheap one.
The CS begins shipping in December will you pony up the cheddar needed to pick up a Staccato CS? Let us know in the comments below and for other good concealed carry options, check out our 12 Best Concealed Carry Guns.