World-renowned. Masterful. Premier. A force to be reckoned with.
Those are just a few of the words and phrases SIG Sauer uses to describe their P226 line of pistols.
Sounds impressive, right?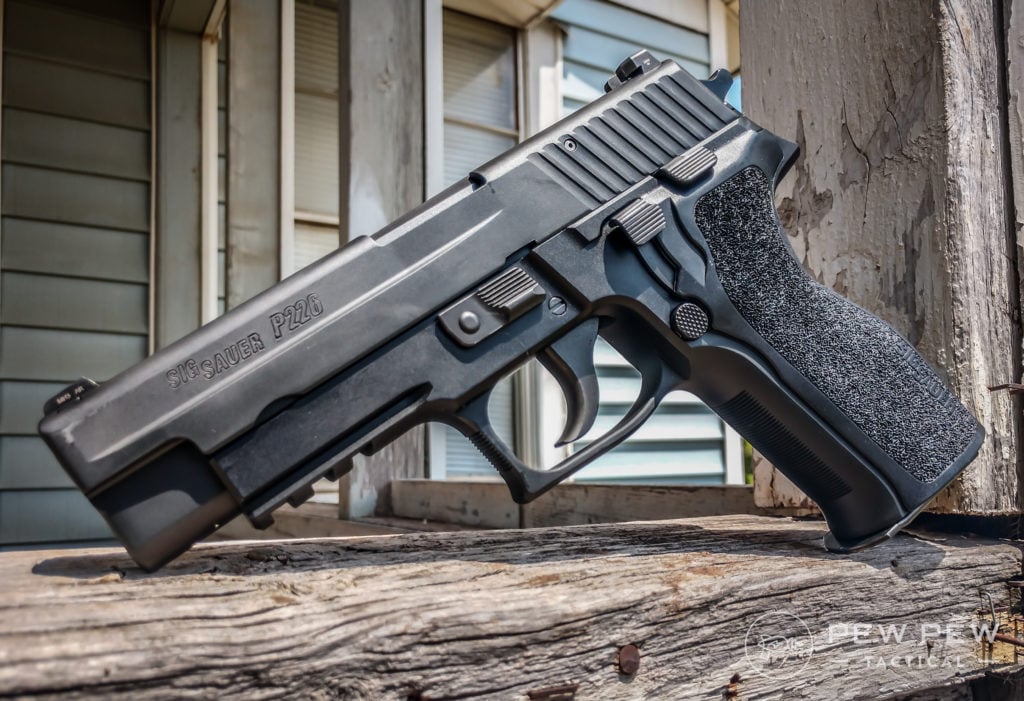 Thanks to the SIG marketing team it certainly does..the P226 sounds almost like a pistol that loads itself, fires itself, and polices its own brass afterward.
This leads us to wonder what the P226 is really like and whether it lives up to the hype.
1413
at Guns.com
Prices accurate at time of writing
Prices accurate at time of writing
Let's find out!
Table of Contents
Loading...
Sig Sauer P226 Specs
Action: DA/SA
Barrel Length: 4.4in
Overall Length: 7.7in
Width: 1.5in
Weight: 34oz
Caliber: 9mm Luger
Mag Capacity: 15rd
Sights: Siglite Night Sights
Brief History
You should be able to predict by now that I'll plunge headfirst into firearms history.
In the case of the P226 you may already be familiar with its background but for the uninitiated, this might prove interesting.
And as you may have guessed it involves the military (because what uber-popular handgun doesn't?).
Back in the 1970s the United States Air Force asked for better ammunition based on the belief changing to premium ammo would solve their handgun troubles.
As governmental requests tend to go this resulted in an investigation which dug up the information that there were literally dozens of different handguns being used by the USAF alone.
Dozens.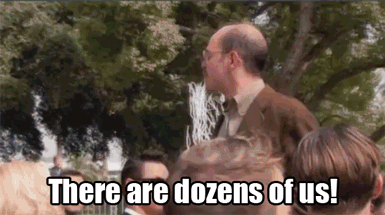 A Congressman by the name of Addabbo made the statement that "the current proliferation of handguns and handgun ammunition in Air Force inventory is intolerable."
Guns in use by the military at large included the expected M1911A1 in .45 ACP and the Smith & Wesson M13 in .38 Special.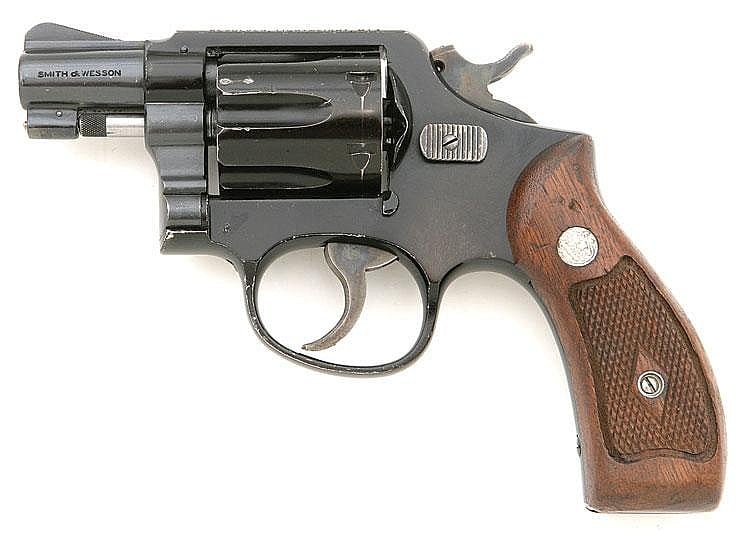 On the heels of this statement came the decision to find One Handgun to Rule Them All.
At the time the US Military was the only major force that did not yet have a standardized NATO handgun and ammunition. You could say it needed to be fixed.
The journey to find that one handgun launched the Joint Service Small Arms Program (JSSAP). In the words of the great Inigo Montoya, there is too much, I sum up.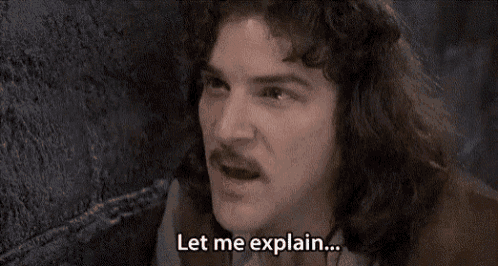 In typical military fashion, they came up with a rather exhaustive list of 85 requirements for the new handgun, 72 of which were mandatory.
The mandatory stuff included a need for a magazine release that could be operated with one hand, a first-round trigger pull in double-action with follow-up shots being single-action, and a 9mm chambering.
They also wanted it to be durable – no more than eight malfunctions allowed per 5,000 rounds fired – and a minimum capacity of 13 rounds.
Quite a few big names threw their firearms hats into the ring for the first round including Beretta, FN, Steyr, Heckler and Koch, and Smith & Wesson. It wasn't until round two that SIG Sauer got involved with their P226.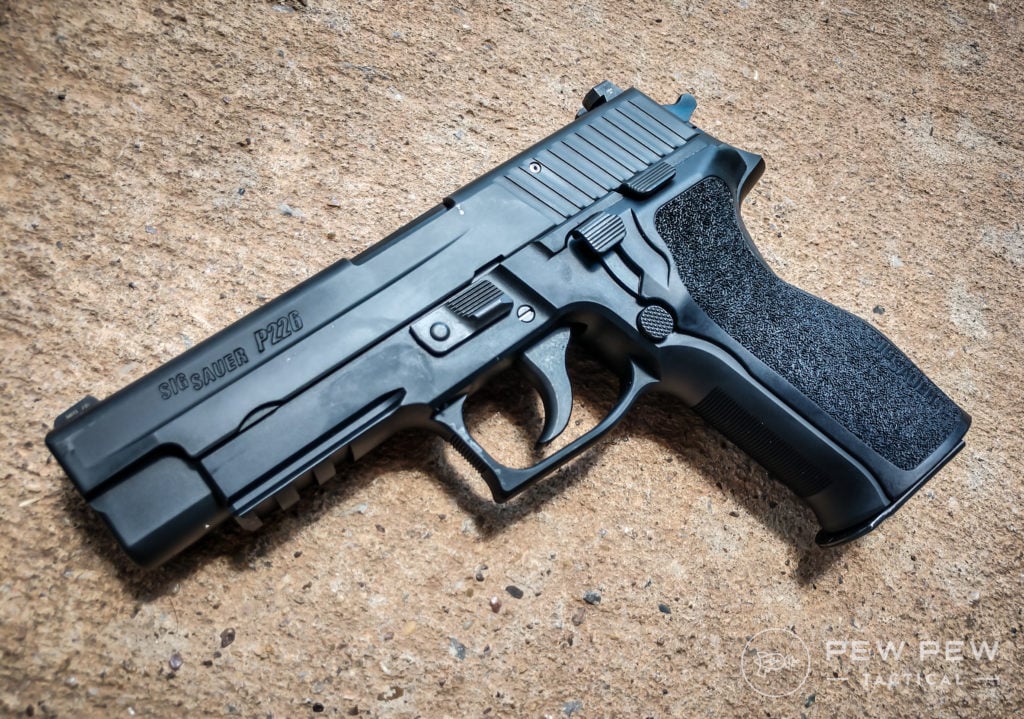 They'd designed the P226 specifically for JSSAP and it performed well. By round three it was clear the SIG P226 was one of the best, holding its own alongside the Beretta 92FBS.
It was during the end-of-trial bidding that SIG lost to Beretta so it seems safe to say SIG's not being selected as the winner wasn't about performance, it was about money.
All was not lost, though. The US Navy SEALs decided to use the SIG P226 beginning in the 1980s, a move that would make the gun something of a legend.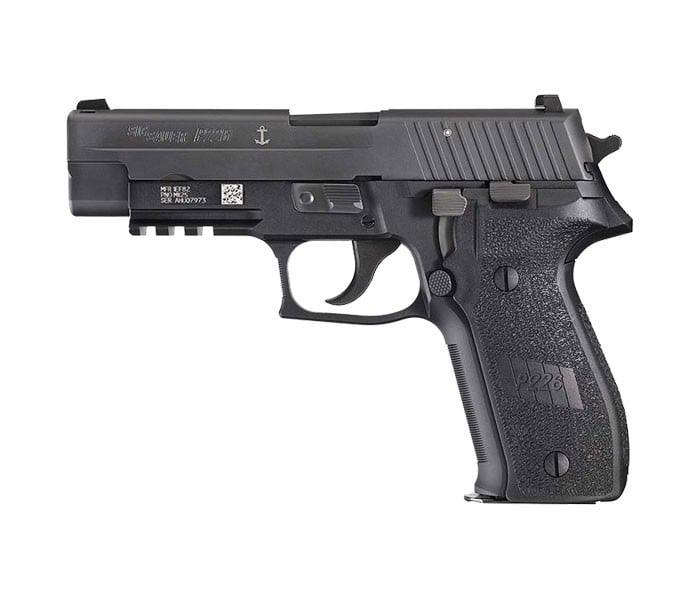 I mean, who doesn't want a gun so tough, accurate, and reliable the SEAL teams guys rely on it in combat?
Be honest. It kind of makes you want one.
Sig Sauer P226 Pros & Cons
Pros
Reliable & accurate

Robust

Great ergonomics
Cons
Stock capacity is a bit low for its size

Not a lot of customization options

Heavy
The Bottom Line
This is not a gun for CCW but it's a great home defense gun. We've ran it through a variety of ammo with no issues. There's a good reason why it's used around the world by militaries and law enforcement agencies.
Sig P226 Design
Onward and upward.
Or inward as the case may be. The P226 was originally made to fulfill those JSSAP requirements and hasn't seen a lot of change since then.
After all, if the SEALs, a bunch of federal agents, and LEOs from the Texas Rangers – among others – are happy with it, why mess with awesomeness?
The P226 Nitron is the "older" and more original design. There are quite a few variants out there such as the extremely cool Legion P226 but if you want to stick to the gun's roots, this is your model.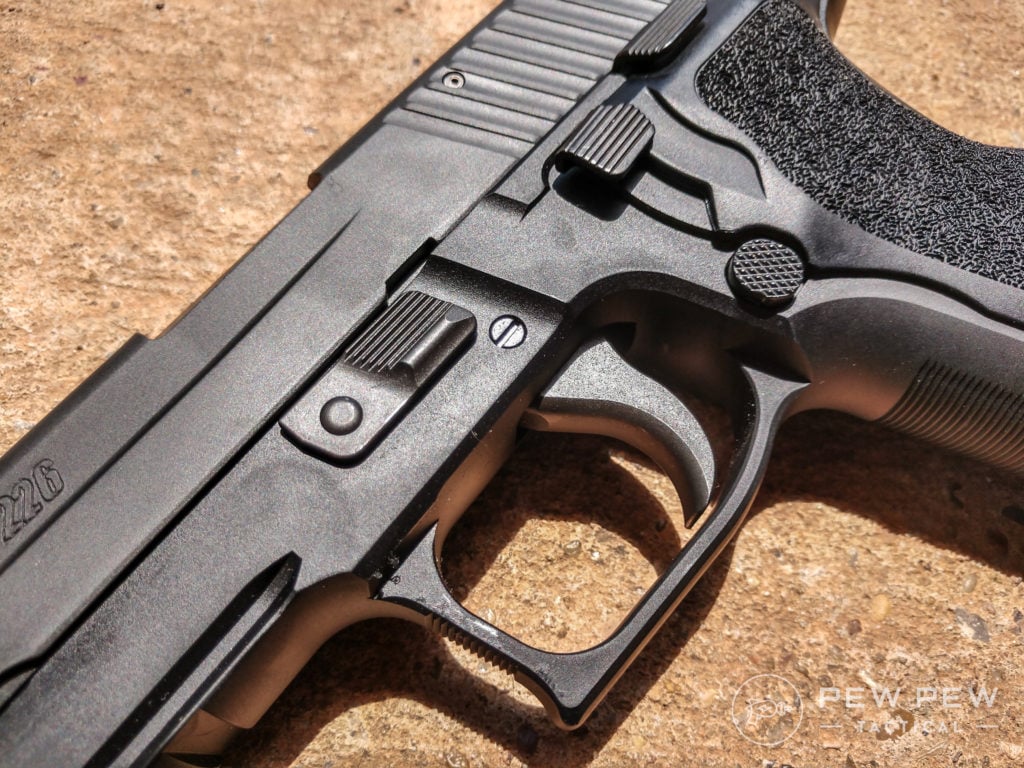 The gun comes in a trio of calibers – 9mm, .357 SIG, and .40 S&W – but the 9mm is the classic and it's the one I have. It's a semi-auto, of course, with the DA/SA feature JSSAP required years ago.
The P226 Nitron has a full-size, alloy frame with a hard-coat anodized finish and a stainless steel slide with a Nitron finish. This is a solid pistol and you feel that durability as soon as you pick the gun up.
Features time. This gun has a 4.4-inch barrel, an overall length of 7.7 inches, overall height of 5.5 inches, and width of 1.5 inches. It weighs 34 ounces, empty, so you could say it is a sizeable gun not suitable for deep concealment but that isn't what is was made for, anyway.
A SIG accessory rail makes it easier to mount a laser or light to the underside of the frame and the grips can be changed out, if you want.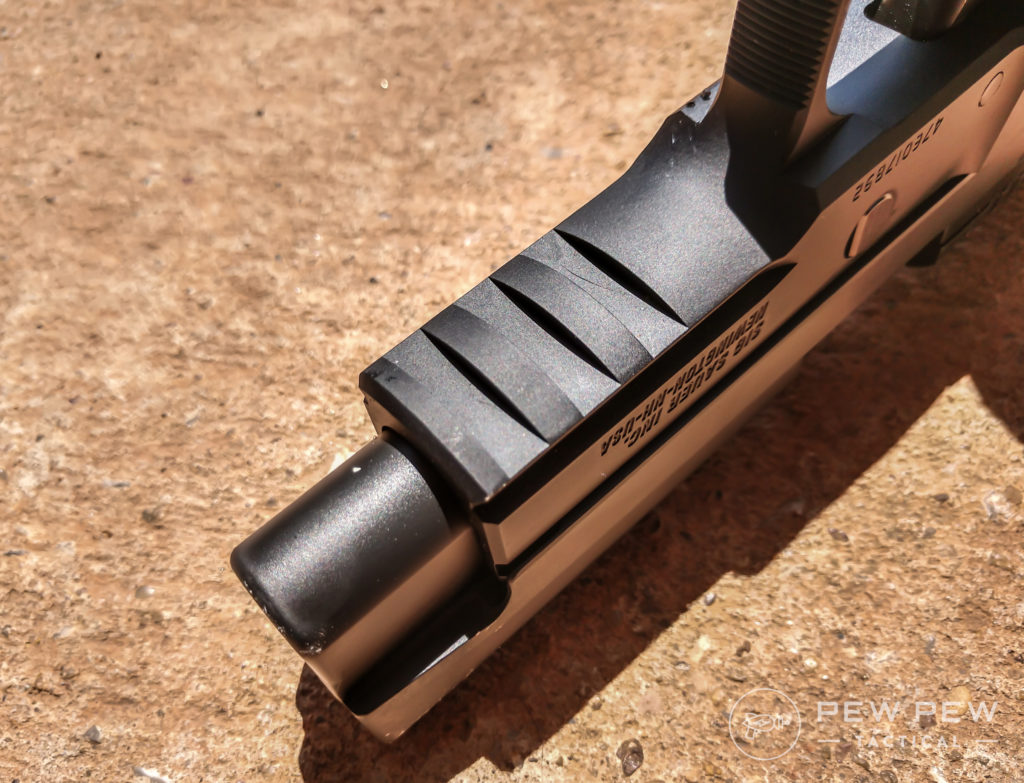 Personally, I think the factory grips work just fine. The P226 Nitron also ships with SIGLITE Night Sights and has a fifteen-round capacity.
120
at Amazon
Prices accurate at time of writing
Prices accurate at time of writing
Since some of you are going to ask about safeties, here you go. The P226 Nitron has a series of safeties built into it including a firing pin safety block, a safety intercept notch, and a trigger bar disconnector.
It also has a decocking lever. There is even a shroud of sorts protecting the firing pin from outside impacts. Suffice to say it does have plenty of safeties.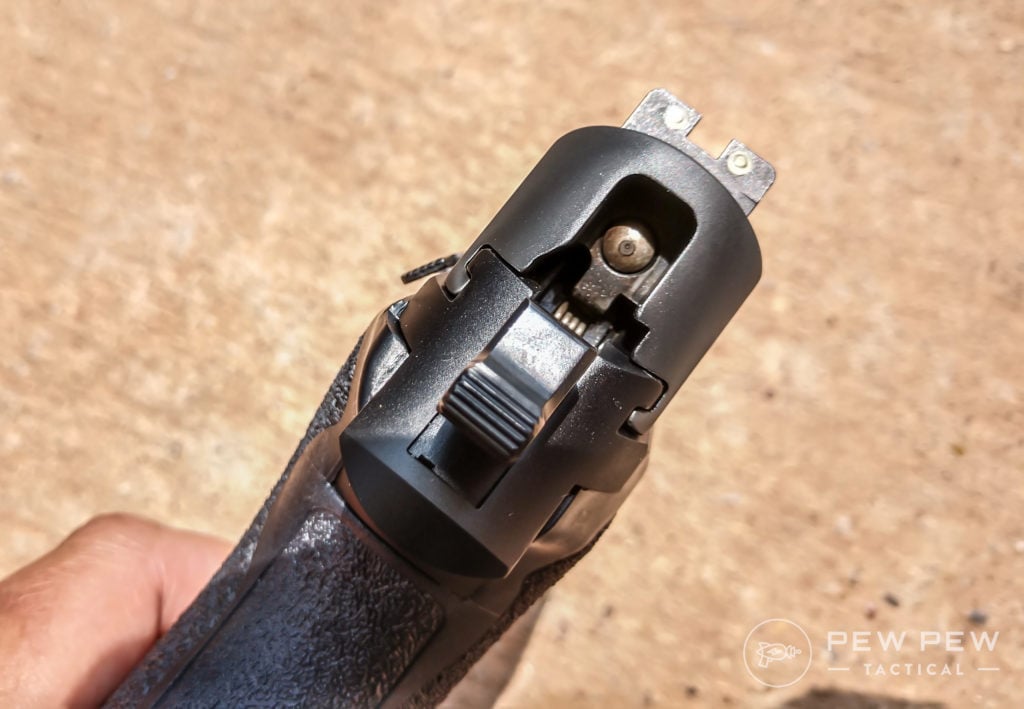 How the Sig P226 Shoot
The first time I saw a P226 I wasn't immediately drawn to it. It's kind of a bulky, blocky pistol with what appears to be an unattractively designed grip. Here's the thing: as soon as I picked it up, I understood some of the hype.
The backstrap swell of the P226 Nitron and the rough grip texturing fit my hands as though they were made for them.
Seriously, it fits me that well. Although my hands are relatively narrow they're pretty long – my fingers are longer than those of a lot of guys I know – so bigger guns tend to be my preference.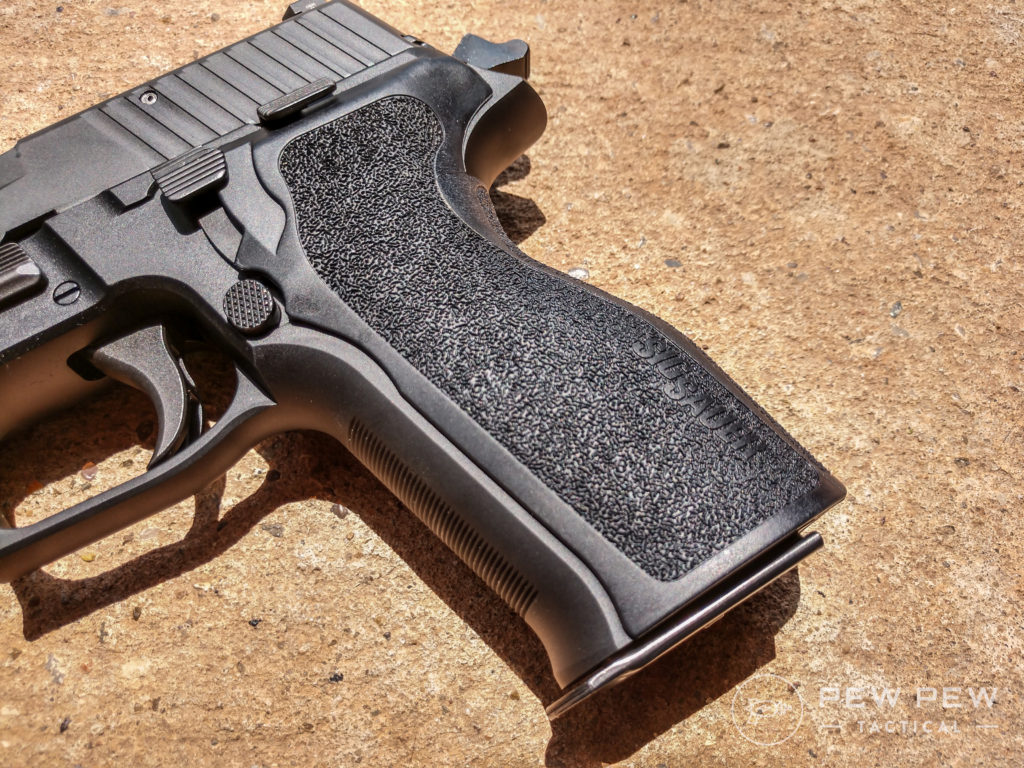 This one is no different. Not only does it fit me but the controls are within reach so I can manipulate them without radically adjusting my grip.
The exception is the hammer, of course, which requires me to move my strong hand back and up in order to operate it.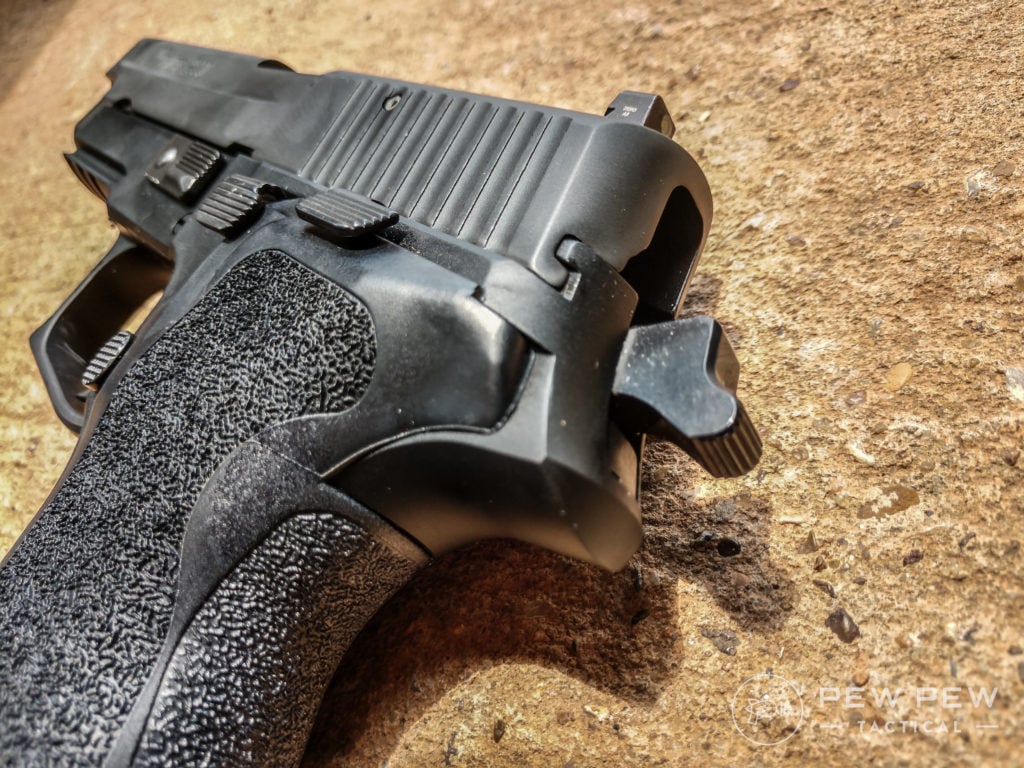 Let's jump right to the trigger. The P226 Nitron's trigger is all right but not my favorite trigger ever (the SIG P226 Legion has a stellar trigger, see it in action in the video below!).
It has a clean break but there is some take-up, a touch of stacking, and reset is rather long.
That said, the double-action pull is consistent and single-action is beautifully crisp (except for that take-up frustration marring the experience a bit).
Shooting double-action the P226 Nitron has a measured trigger pull weight of 8 pounds, 1 ounce and a single-action pull weight of just 3 pounds, 9 ounces.
The gun has cycled reliably and eaten a somewhat ridiculous variety of ammunition from Inceptor 9mm 65 grain ARX to Federal Syntech 9mm 115 grain TSJ to Remington UMC 9mm 115 grain FMJs.
55
at Lucky Gunner
Prices accurate at time of writing
Prices accurate at time of writing
And of course, I've thrown in Hornady Critical Defense 9mm 115 grain FTX and Winchester 9mm 115 grain JHPs. There's more, but you get the idea. The P226 Nitron has run everything I've loaded it with to varying degrees of accuracy.
Best 9mm Self-Defense (124 gr)
42
at Optics Planet
Prices accurate at time of writing
Prices accurate at time of writing
Firing from the bench at 25 yards the gun produces five-shot groups between two and three inches. I've spent some time running playing card drills with it, too, and haven't gotten the precise little groups I'd hoped to see.
At ten yards it does nail one-hole, five-shot groups with most ammunition.
The bottom line is it isn't a crazy precise gun but it is accurate. Part of the problem is probably the trigger but really there is nothing to complain about.
This is a perfectly capable self-defense gun.
Is the P226 Good for CCW?
This isn't a gun you're likely to use for concealed carry.
It isn't that you can't because you totally can – if I can conceal full-size guns, so can you – it's just that it's a sizeable pistol and there are easier to conceal guns out there.
42
at Amazon
Prices accurate at time of writing
Prices accurate at time of writing
When it's loaded to capacity at 15 +1 it weighs more than two and a half pounds so you do feel it on your belt.
The width and shape of the slide make it slightly more difficult to conceal IWB but for me, it's the grip swell that presents a challenge.
Possible, just not easy. For that reason, I'd say this is more of an open-carry gun.
Final Thoughts
The SIG P226 Nitron is a nice pistol.
Yes, I like it.
I'm not a SIG fanboy/girl/creature so no, I do not love every SIG that comes along. This one I do like. If you want a full-size 9mm for open carry or range days this gun is a fantastic option.
If you want one for concealed carry you can still consider it, just be aware it'll take some effort and possible adjustments to your wardrobe.
The P226 does seem to live up to the durability side of the hype. If you just want a good workhorse gun for the P226 Nitron; if you want a precise pistol, check out the P226 Legion!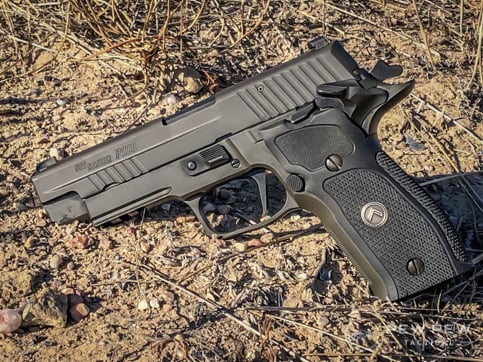 Pretty much any gun you choose from the P226 line is good to go. Maybe buy more than one of them. Hey, you can never have too many guns.
By the Numbers
Reliability: 5/5
The P226 has proven itself as a reliable gun. It does need to stay lubed – when I've run it in the rain and dry it got a little fussy – but I'd still say it's reliable.
And considering the variety of ammo it's eaten I'd say it is good to go with just about anything you throw at it.
Ergonomics: 4/5
SIG did a nice job designing the grip to fill the palm of your hand. It fits naturally and improves your grip which, in turn, enhances accuracy. It's designed for hard use and fulfills those parameters.
Is it an aesthetically awesome gun? Not really, but I prefer function over form anyway.
Accuracy: 4/5
It's a relatively accurate gun but not super precise. You're going to hit what you're aiming at you just won't get gorgeous groups consistently.
26
at GunMag Warehouse
Prices accurate at time of writing
Prices accurate at time of writing
Thing is, you don't need a precise pistol for self-defense, you need an accurate, reliable gun you can run well.
Get used to the trigger on this gun and learn to run it double-action, not only single-action, and you'll find your shooting gets better.
Customization: 3/5
You can swap out the grips and mount a light or laser to it. Technically you could also send the gun off to be Cerakoted, so that counts as customization. Beyond that I wouldn't say these are extremely customizable guns.
Value: 4/5
This is a well-made, solid pistol that'll get the job done. Prices will vary, but used or new the P226 is a great buy.
Overall: 4/5
Field Strip & Reassembly- Sig P226
We made a quick no-frills video to help you take apart and put back together your P226.
Parting Shots
I'd trust it with both my life and my daughter's life, so you could say I'd recommend it.
If it is too big for you to conceal it'll still make a great home defense gun. Just saying.
What is your go-to full-size pistol? How do the designs of the 1970s stack up to today? Let us know in the comments! If you're interested in more awesome pistols, take a look at the Best Handguns for Beginners!
Looking for a CCW? The Sig P365 might be the best one on the market!