Having a gun with you everywhere you go that can be used for CQB, has a large magazine capacity, and the ability to reach out and touch things at distance sounds awesome.
This review will give you one gun option that has all three but remains small enough to fit in a backpack.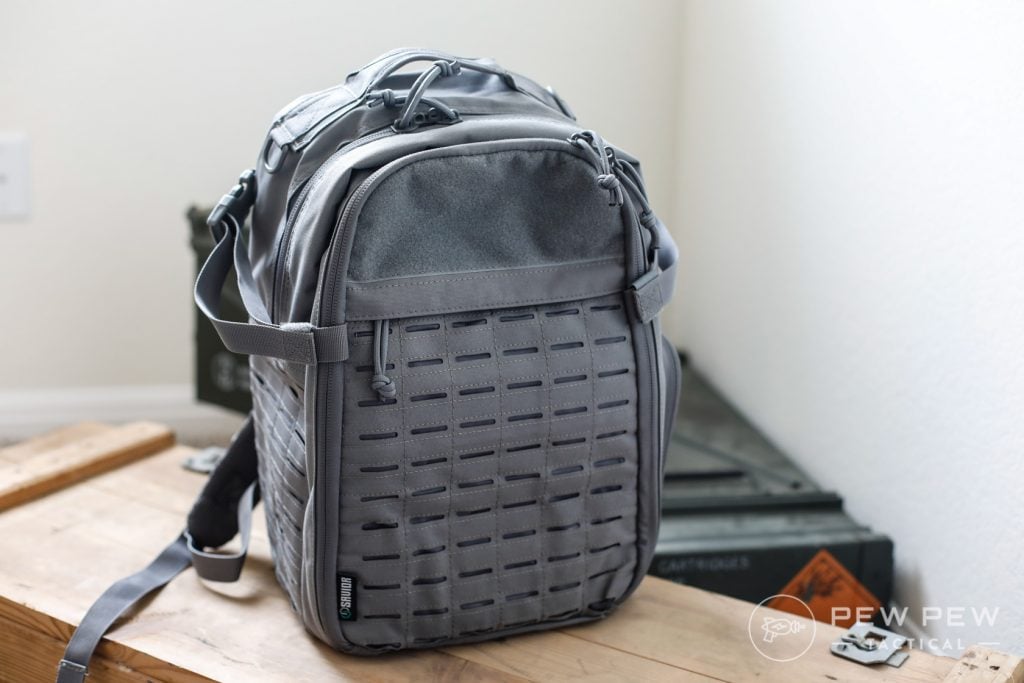 Of course, we're talking about the Sig Sauer MCX Rattler PCB. This compact rifle brings the power of .300 Blackout but in a tiny platform ready for on the go.
2399
at Gunprime
Prices accurate at time of writing
Prices accurate at time of writing
Hang with us as we walk through the specs of this platform, talk about the pros and cons, and take it to the range.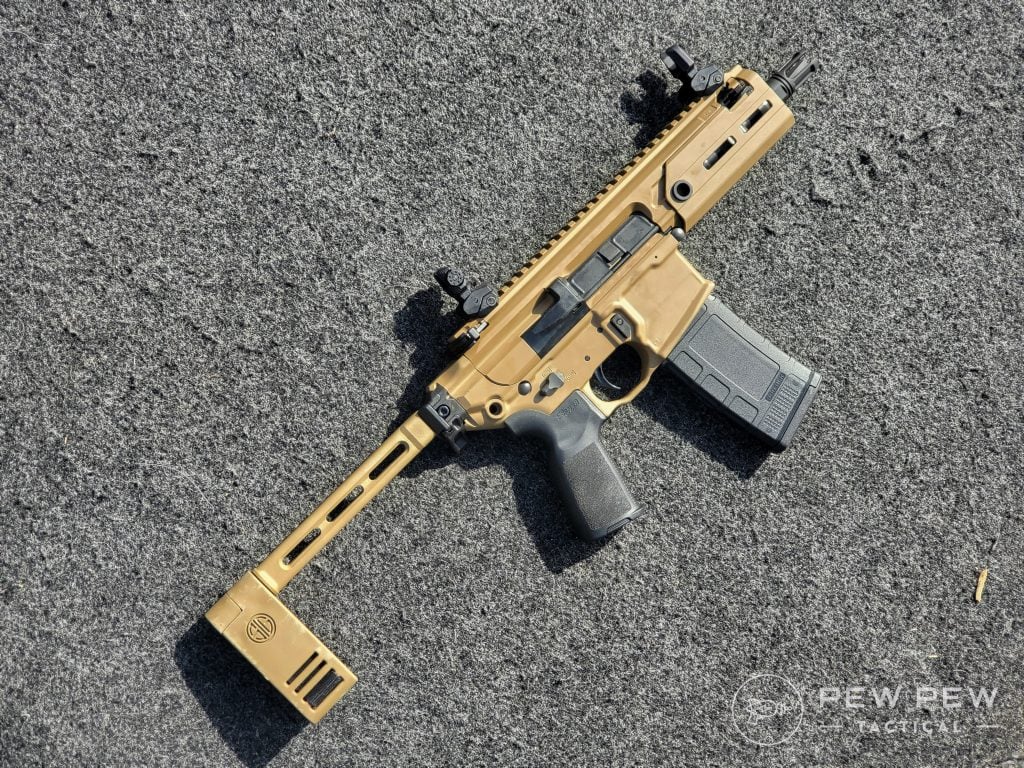 By the end of this article, you'll be able to decide if the MCX Rattler PCB deserves a spot in your safe.
So, keep reading!
Table of Contents
Loading...
What is the MCX Rattler PCB?
Is standard size too big? The AR-15 is touted as America's rifle, however, it has an overall length requirement of 26 inches without the ATF getting involved.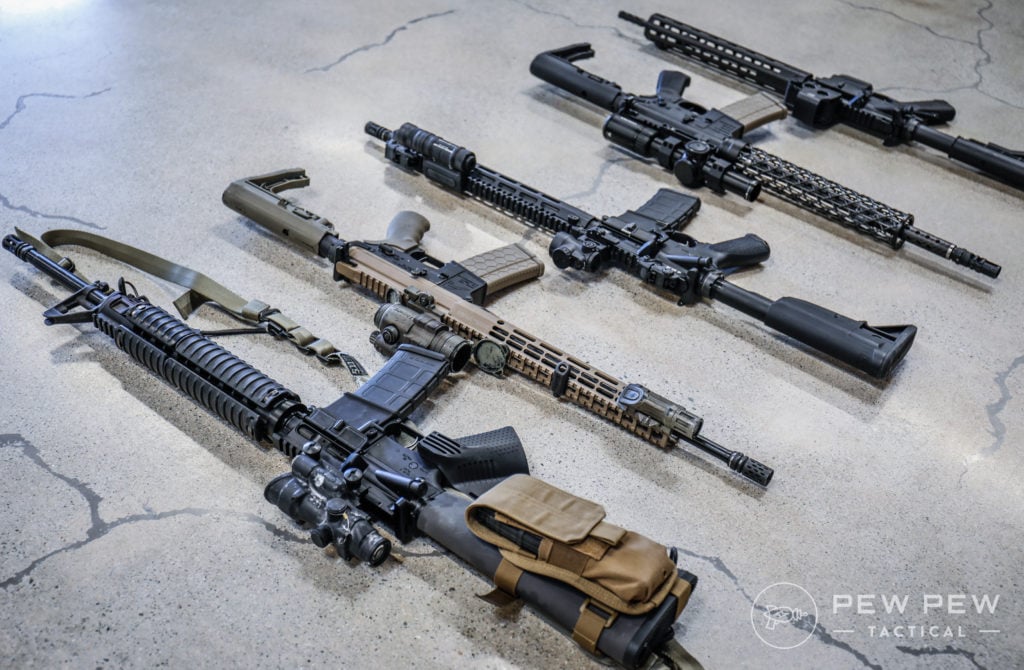 With that in mind, we turn to the short barrel rifle and AR pistol to find a gun that can do it all.
Unless you have extra money to burn on taxes, the AR Pistol is the way to go.
The ballistics of a 5.56 need some extra length to reach optimal ballistics — that means it's time to turn to the .300 BLK for a solution. Sig Sauer may have the answer in the MCX Rattler PCB!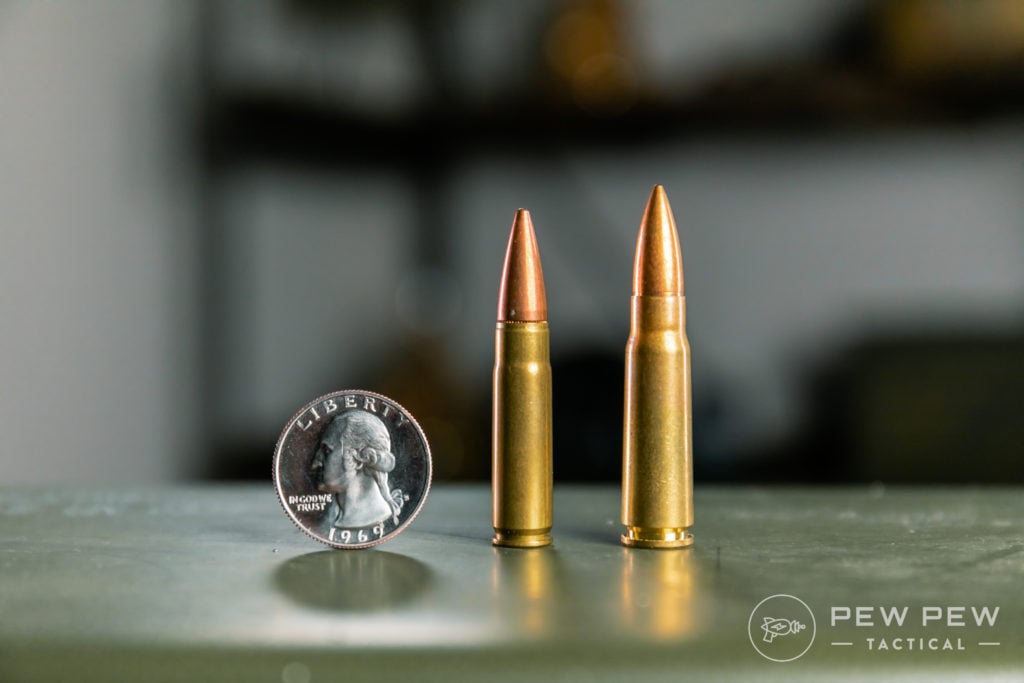 Designed for rapid deployment from concealment, the MCX Rattler packs a punch in the .300 BLK configuration.
Coming in at 5.1 pounds empty, sporting a 5.5-inch barrel and folded length of 17 inches, the MCX Rattler is definitely compact enough to be carried anywhere.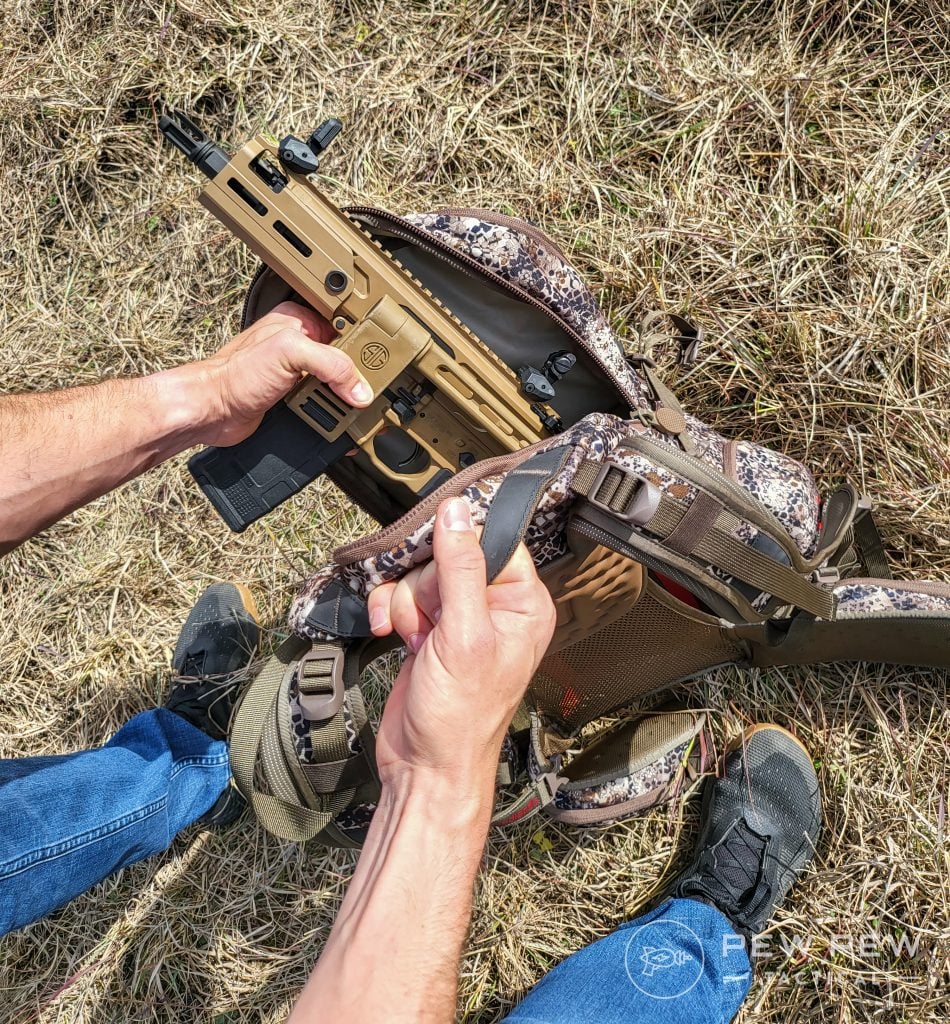 Weight on the MCX Rattler is kept down by the smooth aluminum frame and skeletonized Pivoting Contour Brace.
There are several attachment points available with an M-LOK handguard and full-length Picatinny rail. A nice touch that I enjoy by Sig is the 90-degree ambi-safety that audibly clicks on and off.
MCX on the Range
You know it's small, you know it's chambered in .300 BLK, but how does it shoot?
I must warn you, it definitely has some kick to it, being such a powerful round in such a small package.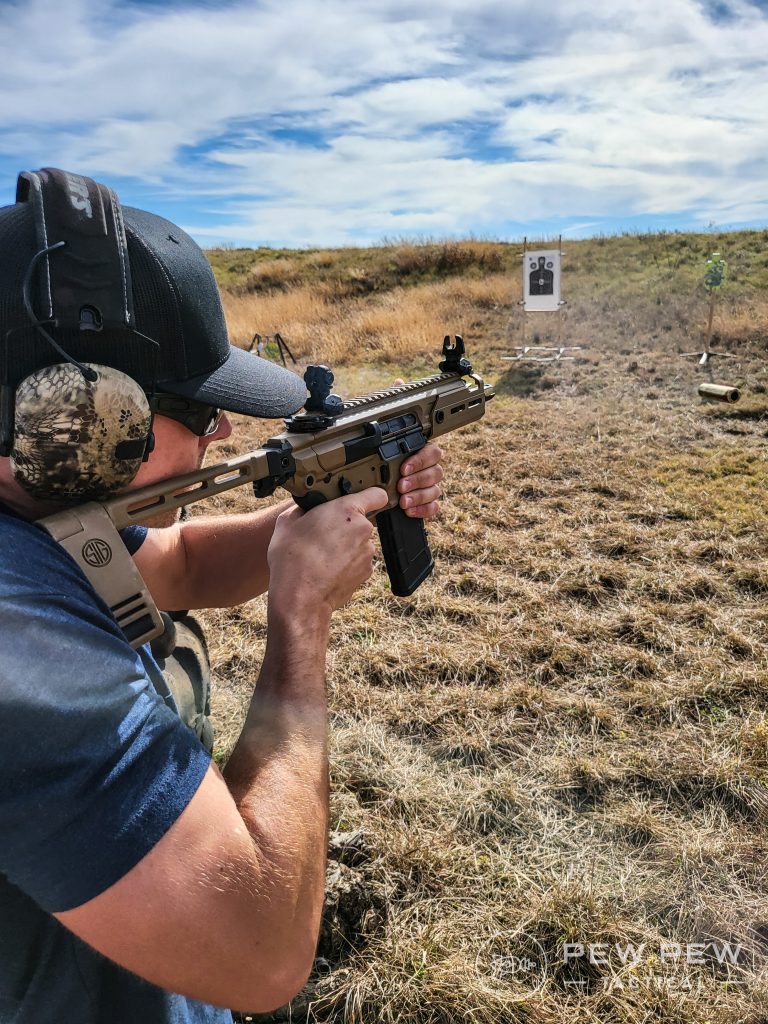 However, after a little bit of practice, I learned how to keep it under control as I put it through the paces.
The best part is that once I went through a few dry reps, I was able to get from backpack and onto target in no time.
This gun just makes things simple.
Coming out of the bag, raising it up, and flipping off the safety is all you need to do. The MCX Rattler can be stored and fired with the stock folded at a reasonable 17 inches.
When transitioning to farther range targets, just whip the PCB into place and boom.
The Cons
So, what's the catch?
Shortly after purchasing the MCX Rattler, I bought some ammo, took it out to the range, and ran into an issue.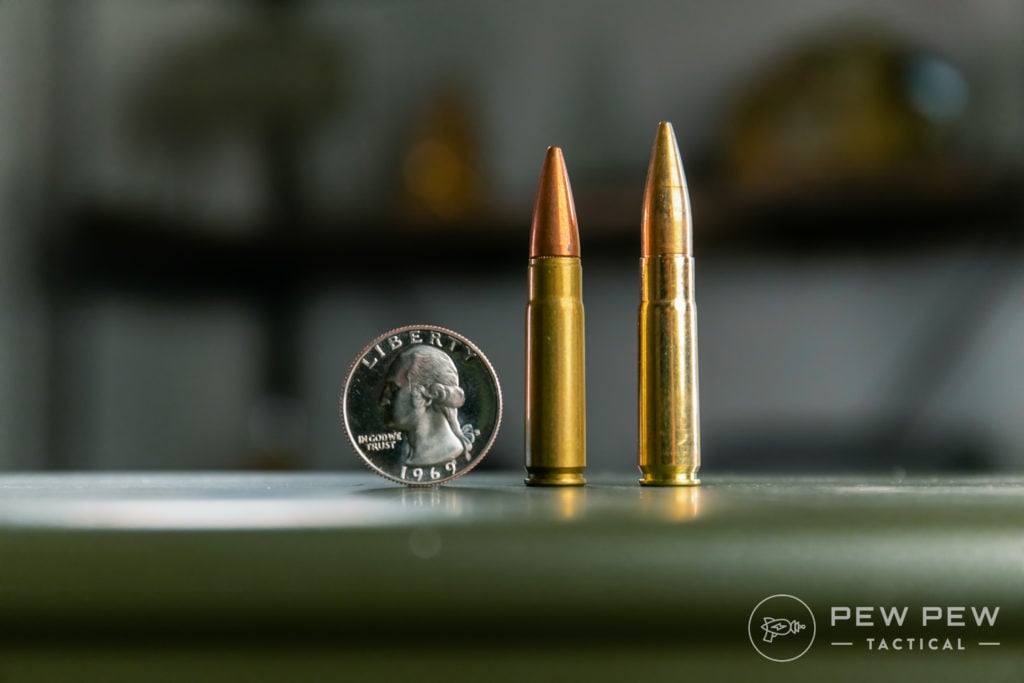 The 220-grain subsonic ammunition I purchased would not cycle the gun!
Obviously, it was time to investigate. I looked over the gun and ammunition. Then I reviewed the manual.
I had never used an adjustable gas valve system, which comes standard as part of the MCX Rattler.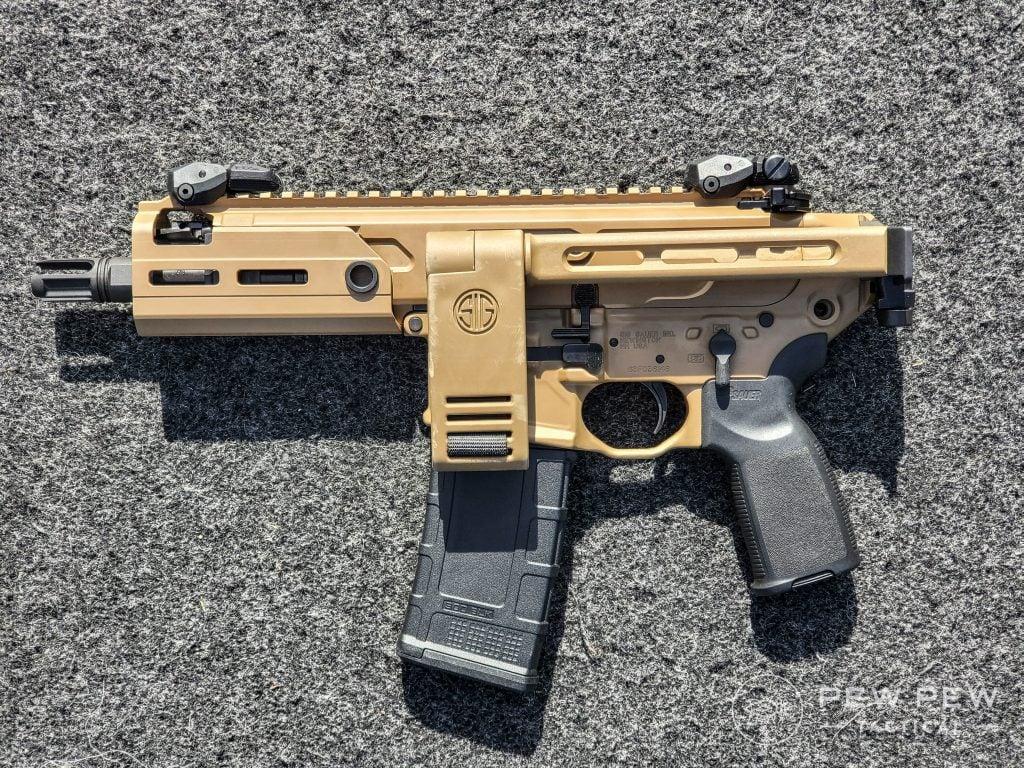 At the front of the gun, just above the barrel is a cutout in the handguard. That cutout exposes the valve lever along with a nifty "+" symbol on one side, and a "-" symbol on the other.
That's when I realized I was shooting subsonic ammunition from the lower "-" gas pressure position without a suppressor attached (still in ATF jail waiting to be released).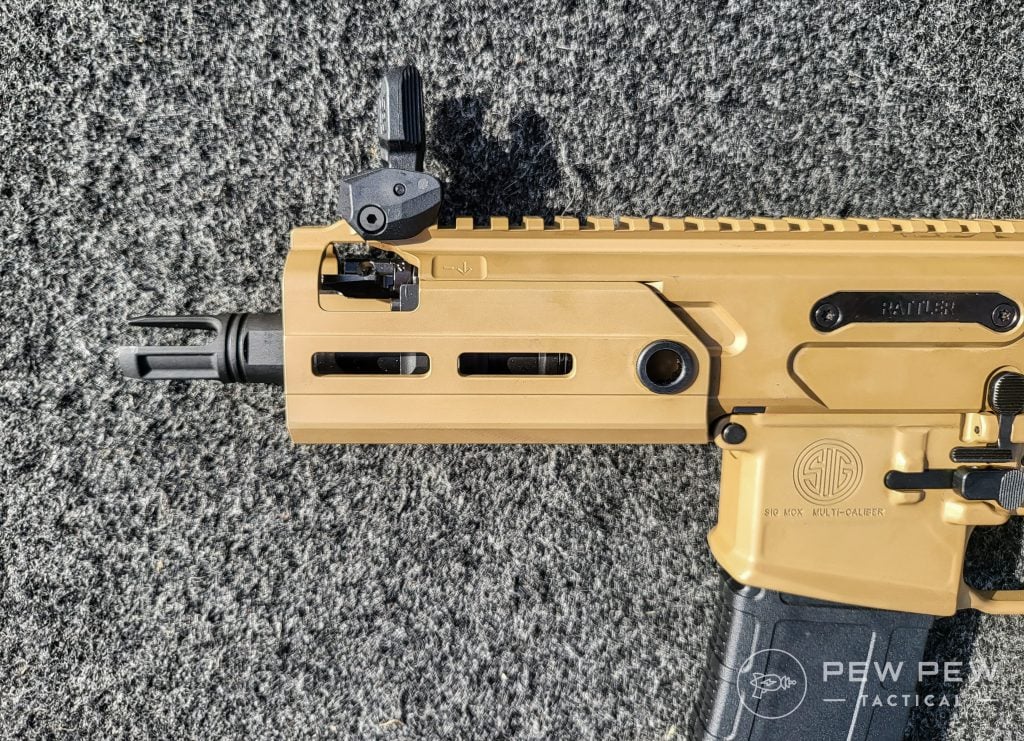 I flipped the lever over to the "+" side and found that the problem was greatly reduced but did not resolve completely.
So, I decided to call it a day to reassess and research further.
Upon further research, I found I wasn't the first to experience this issue with subsonic ammunition without a suppressor.
There are several options with 125-grain supersonic ammunition, so I filled my online shopping cart up with boxes of that to try out.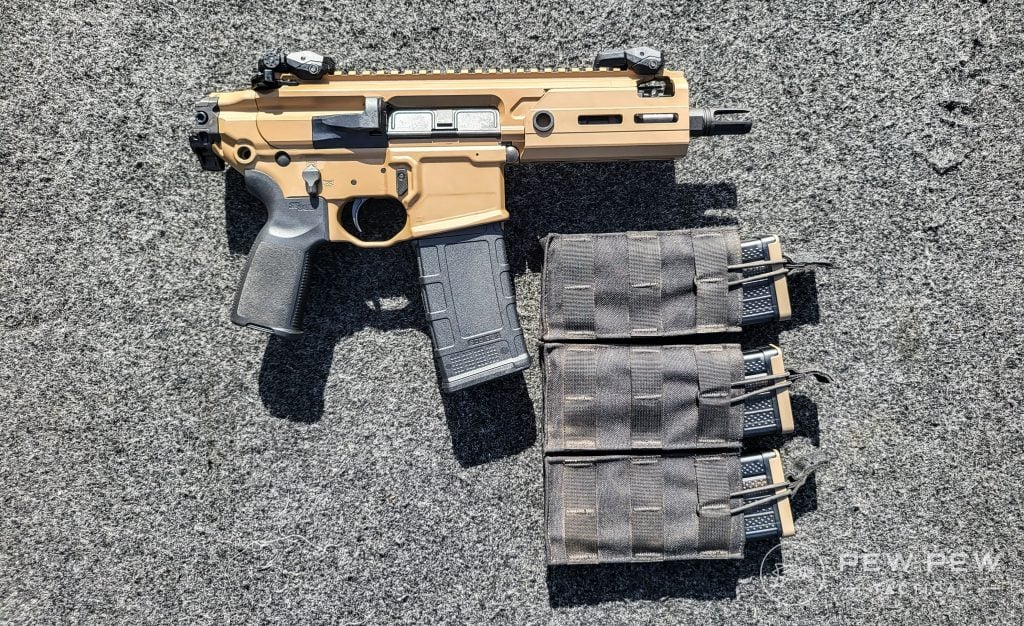 I found that the supersonic ammunition cycled perfectly fine no matter which position I had the gas valve system in.
What does all this mean?
The cycling issue has reared its ugly head each time at the range when firing subsonic ammunition without a suppressor.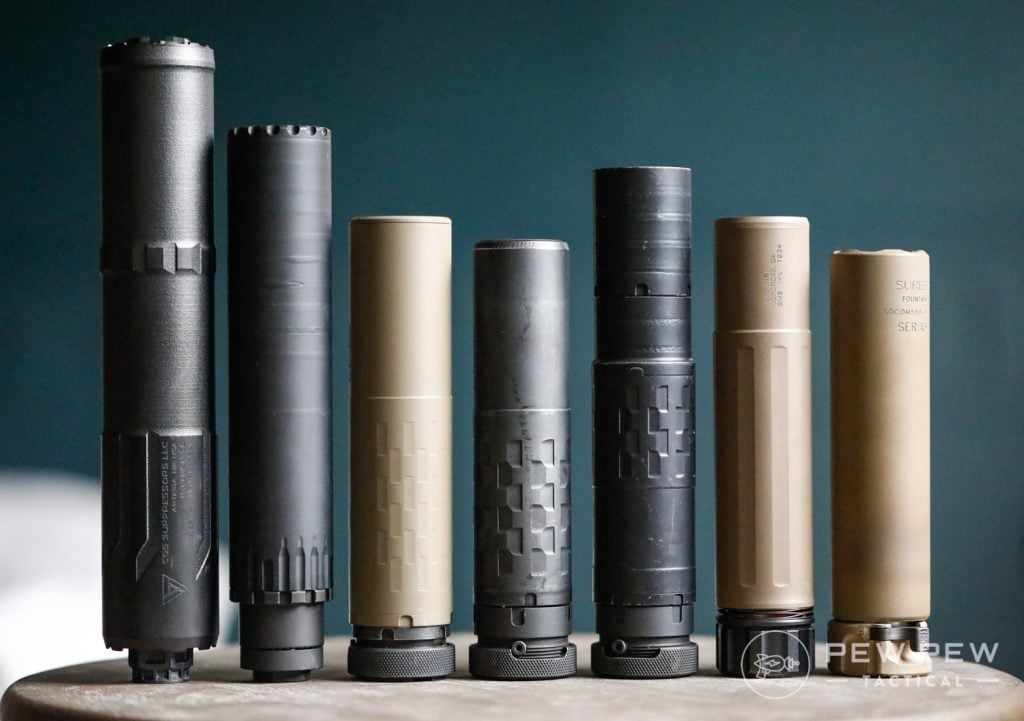 To me, that makes the gun unreliable when feeding it that type of ammunition for defense purposes.
I have since switched over to supersonic ammunition only and properly labeled all the other ammo as subsonic, so I know not to use it until I get my suppressor.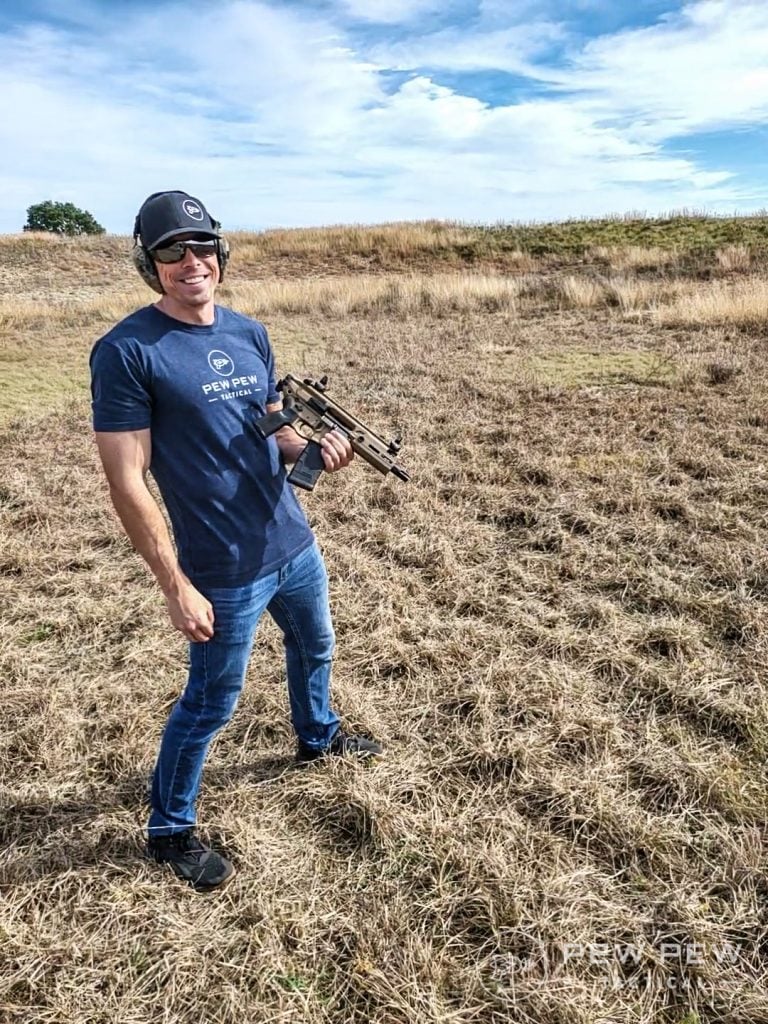 By The Numbers
Reliability: 3/5
If you know what ammunition you want to feed it, and the setup, it can be fully reliable. However, it's not the type of gun you can just pick up .300 BLK ammo and load up. The super-short barrel and low pressure produced by subsonic rounds without a suppressor just aren't enough to cycle the rounds reliably enough for self-defense.
Accuracy: 4/5
The 5.5-inch barrel on an AR Pistol isn't designed to be the most accurate gun in your safe. But it can be very accurate under 50 yards with some proper shooting fundamentals. Be mindful of those third, fourth, and fifth rounds as the muzzle will rise when running the MCX Rattler hard.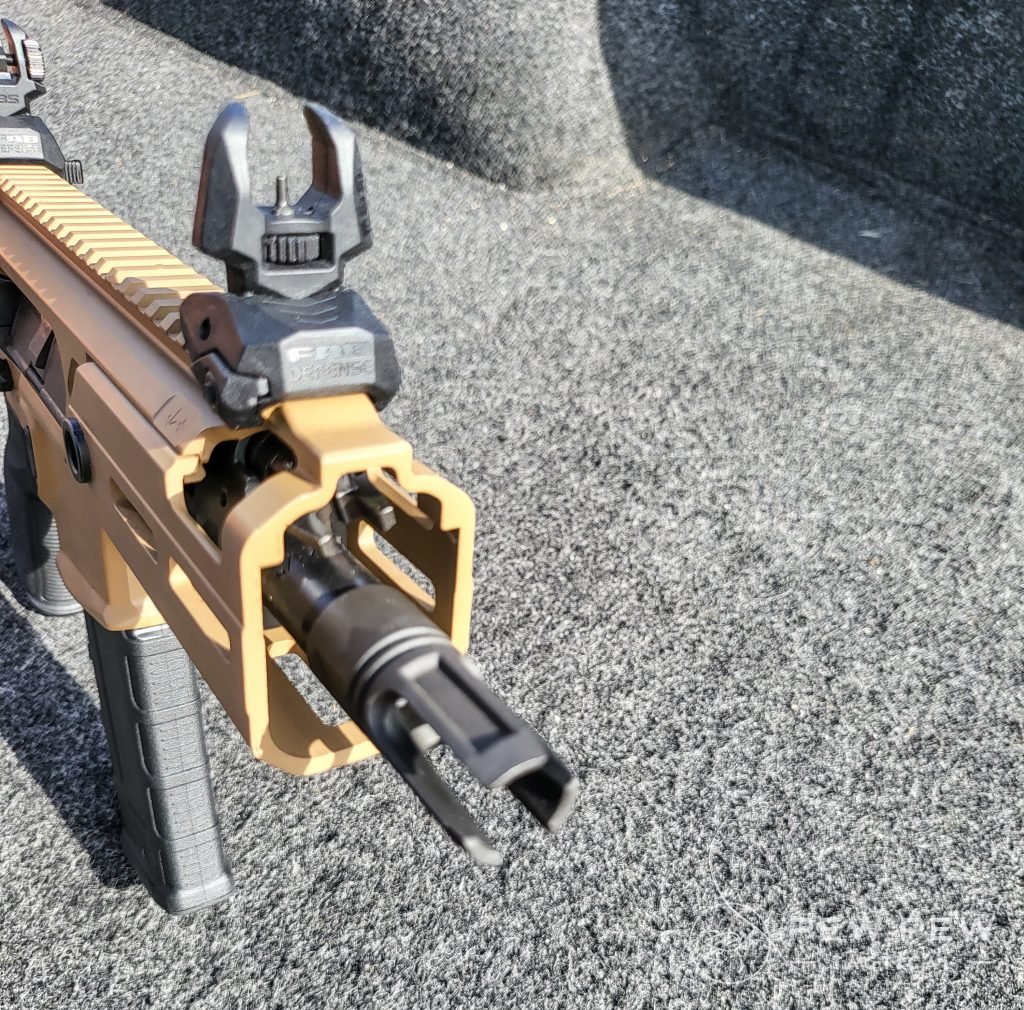 Ergonomics: 4/5
The pistol grip on the MCX Rattler is comfortable and grippy. For the stopping power, this gun has, it is light and nimble. The PCB can be a little awkward to shoulder compared to a buttstock, but it makes shooting much easier.
Looks: 5/5
When it comes to cool-looking guns, this thing hits the mark. Compact and tactical looking is always a good look with guns. The MCX Rattler looks like something a bodyguard in a movie would use to take out any would-be bad guys.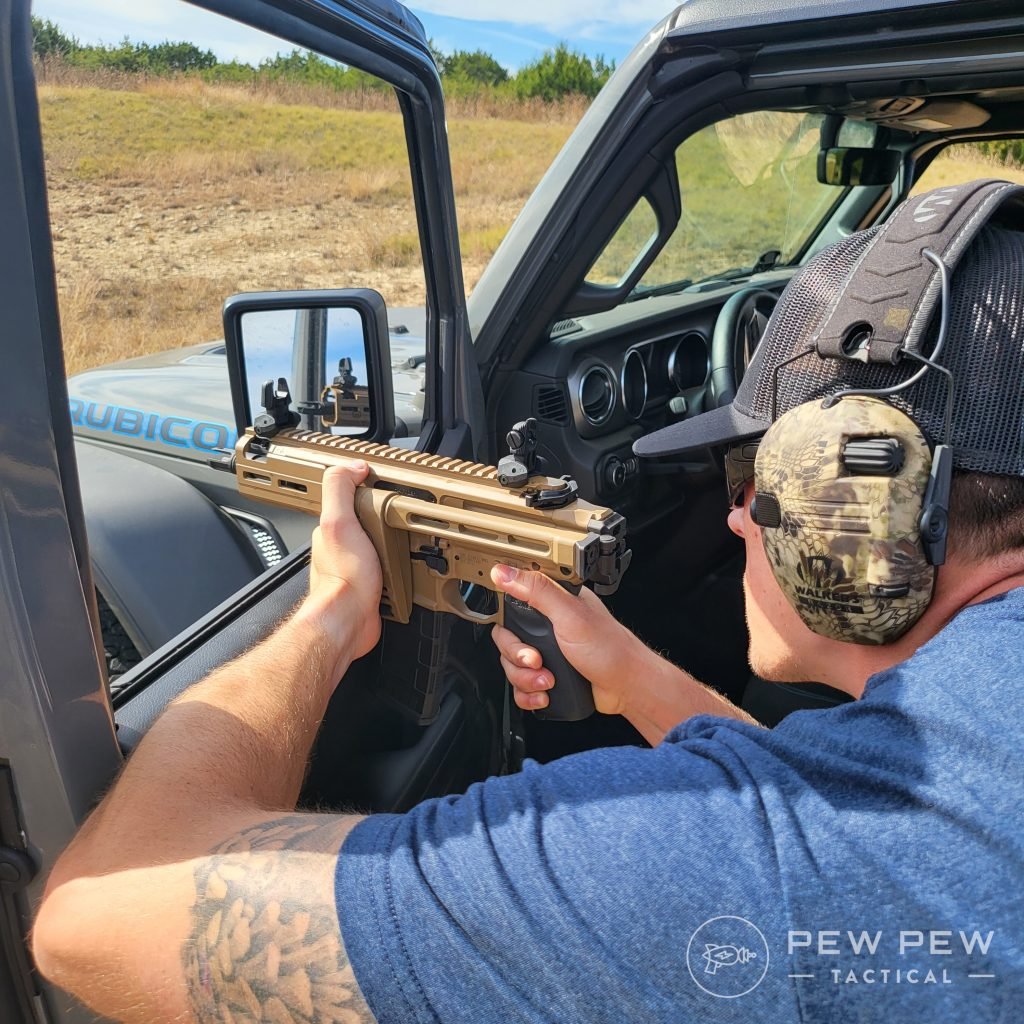 Customization: 5/5
Things to consider with the AR Pistol is the lack of furniture you can put up on the handguard. Due to some tricky ATF rules, you must be sure it doesn't have any vertical foregrips, which obviously would be nice considering how short the handguard is (No fault to the gun). Suppressors, slings, optics, grips, and lights are all able to be attached. This thing still has some ability to be unique for every owner.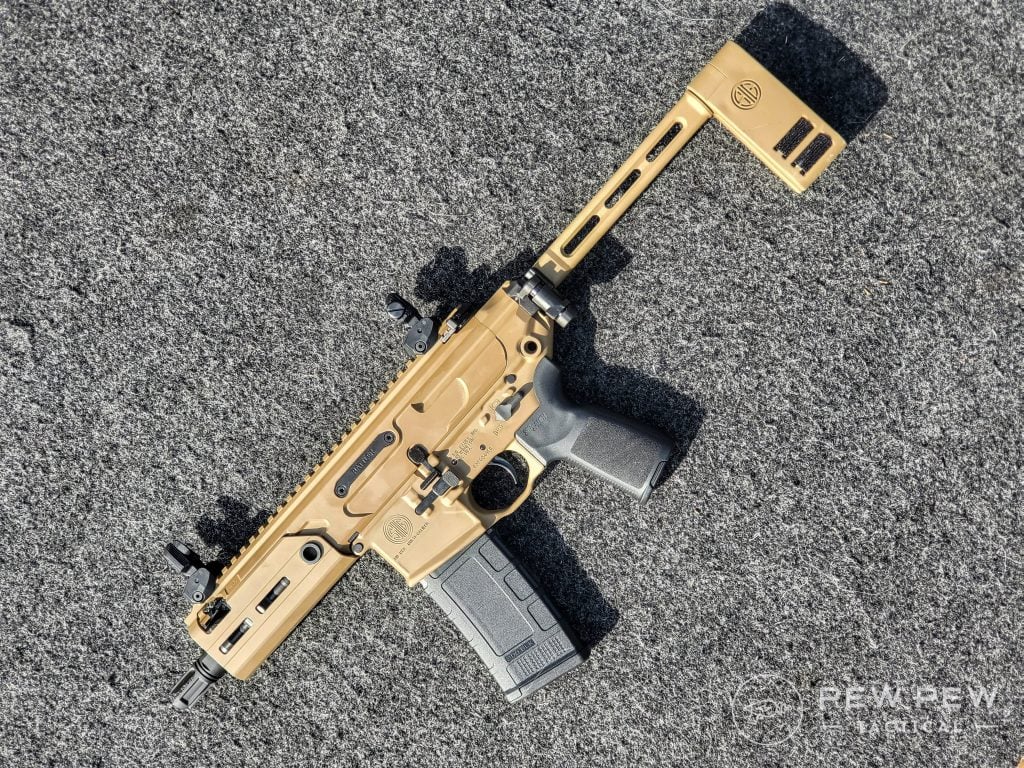 Bang for the Buck: 3/5
You're going to need to hand over a pretty penny for this gun. Coming in at over $2,400 the price tag is not for the faint of heart.
2399
at Gunprime
Prices accurate at time of writing
Prices accurate at time of writing
Overall: 4/5
The MCX Rattler runs reliably on supersonic ammo every time and is a great defense weapon you can take anywhere. This is a super fun gun that packs a punch and looks cool too.
Conclusion
The MCX Rattler is still an absolutely fantastic gun when shooting supersonic ammo. It is small, and concealable in any standard backpack.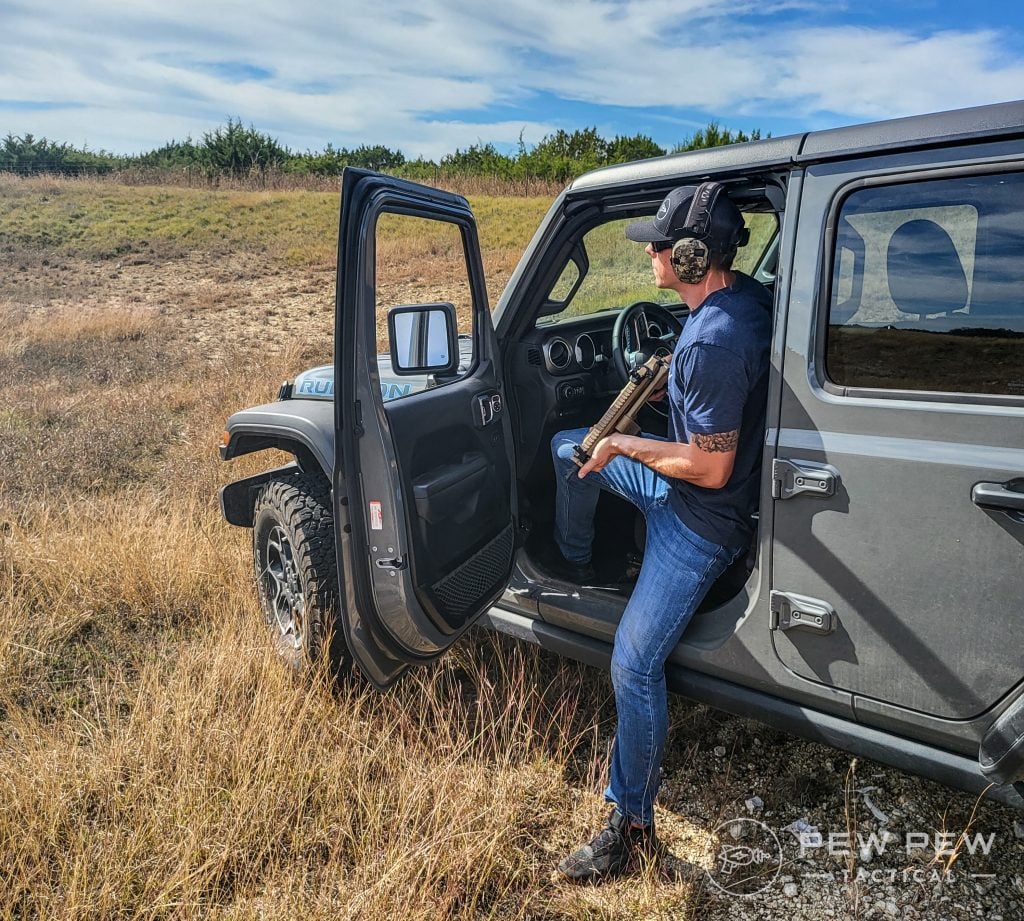 Not to mention, it packs a punch with a 30-round magazine that can reach out to a couple of hundred yards. Plus, it just looks really cool.
Just make sure you pay attention to what ammunition you purchase and feed it if you are not running it suppressed.
2399
at Gunprime
Prices accurate at time of writing
Prices accurate at time of writing
What do you think of the Sig Sauer MCX Rattler PCB? Be sure to let us know in the comments below. Want more .300 BLK in your life? Check out our list of the Best Uppers & Ammo for both .300 BLK and 5.56 NATO.