A good safe is one of the first things that most gun owners buy, or at least should buy.
Safely and securely storing our firearms is critical not only for safety but also to protect our property from criminal hands.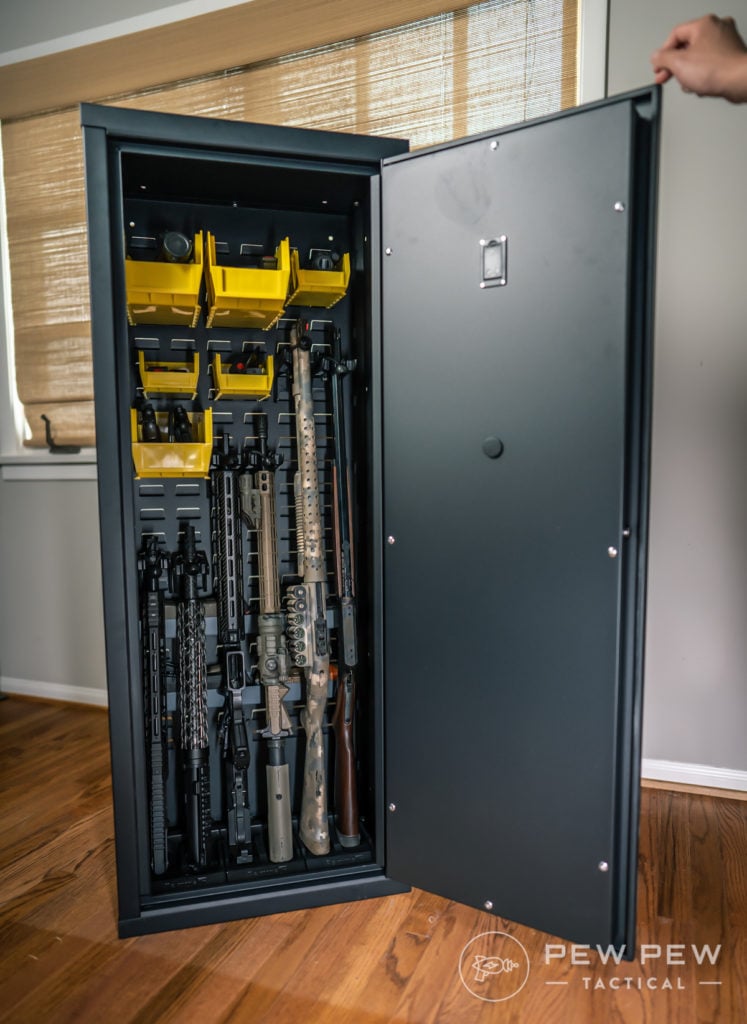 But for a lot of us a 500lb+ safe just isn't practical. Maybe you rent, maybe you move a lot, but either way – you need something a bit more…Agile.
EASIEST TO INSTALL/MOVE SAFE
719
at SecureIt
Prices accurate at time of writing
Prices accurate at time of writing
And now…we've secured a 10% off coupon for Pew Pew Tactical readers with code PEW10.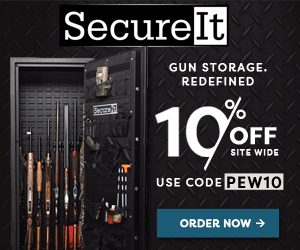 Read on for our full written review, or check out our new video review:
If that helped, please subscribe to our YouTube channel where we upload every week!
Table of Contents
Loading...
What It Is
The Agile 52 is a gun safe with the modularity and portability of a cabinet.
Shipped to your door in a large box weighing about 100lbs this is a great option for people that don't have the space or permanency to install a full-sized safe.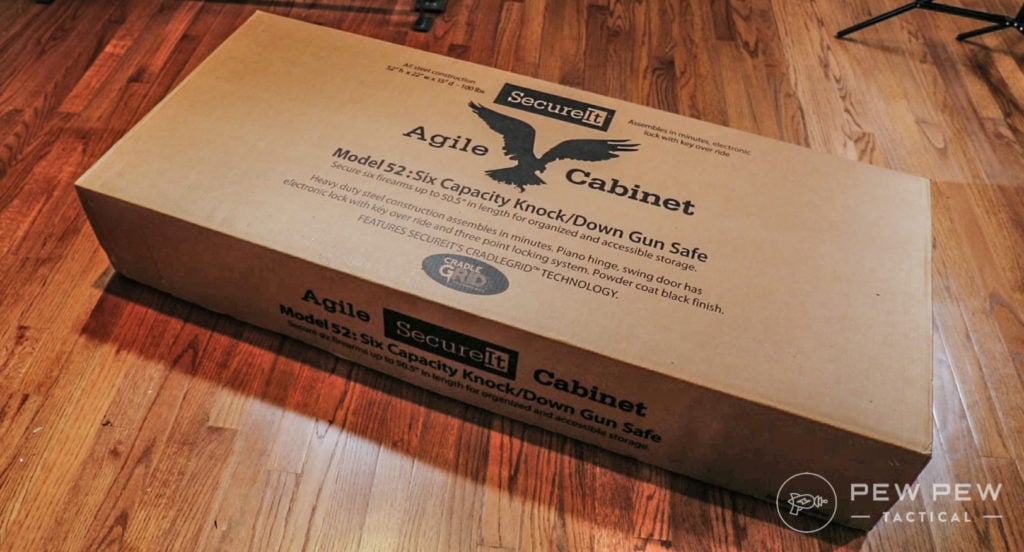 It helps to have a friend on hand, but even solo it is possible to install the Agile 52 in just about any kind of domicile.
Features!
Obviously, the big selling point is the portability of the Agile 52, but that doesn't do much good if it isn't secure!
Security
Built of heavy-duty large gauge steel, the walls and floor of the safe are solid and will easily prevent any smash and grab attempt.
The ability to bolt the safe down to the floor will also ensure that any would-be threat can't just walk off with the safe as a whole unit.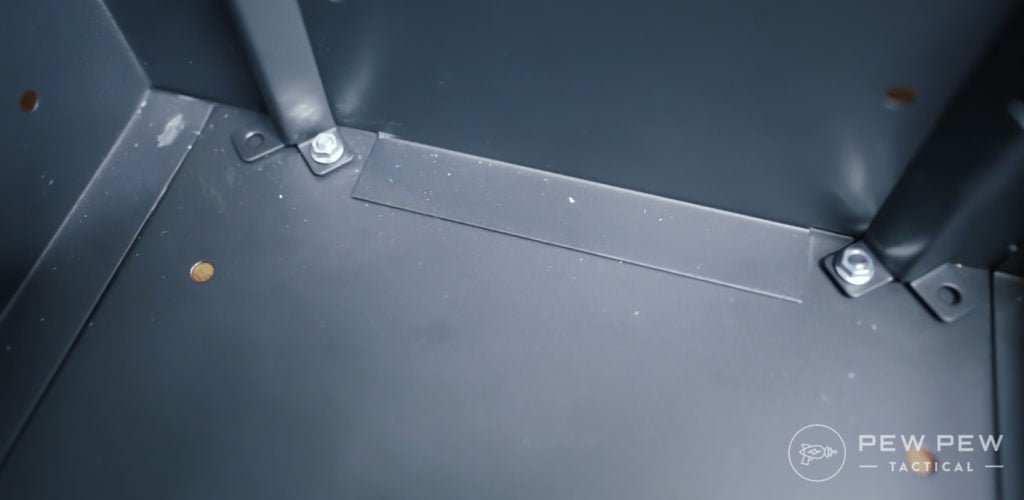 Combined with the mounting hardware being securely placed inside the safe and the full frame, recessed, piano hinge swing door with 3 locking points – a direct attack on the safe would be time-consuming and problematic at best.
Key Pad
Primary method of opening the Agile 52 is a keypad and 6 digit code, we find this to be an acceptable level of security while still maintaining a reasonable amount of convenience.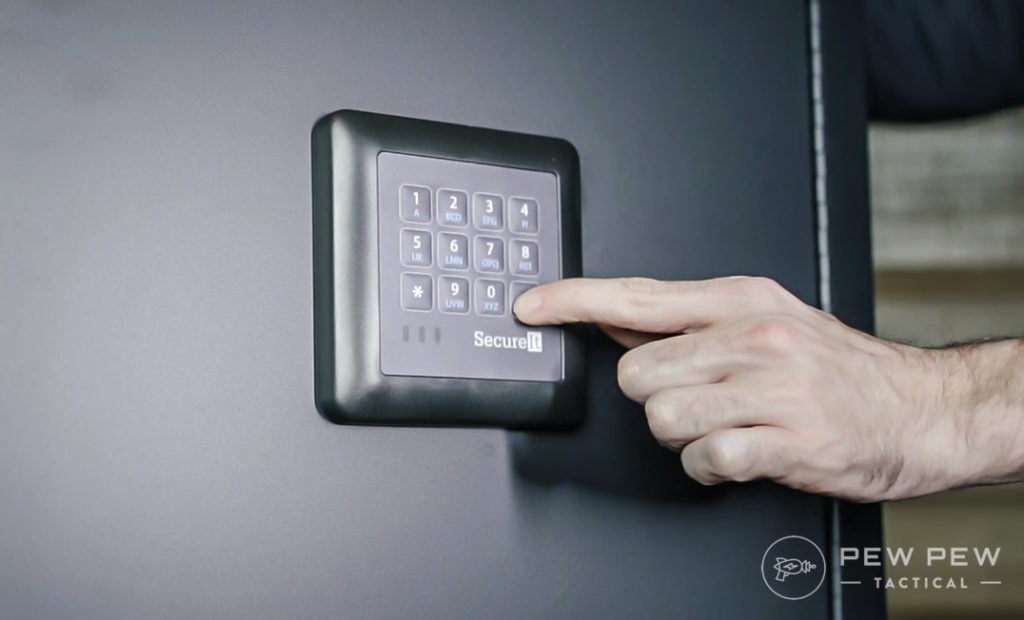 Running on a standard 9-volt battery the keypad is simple, easy to use, easy to reprogram, and has the added benefit of a muting function in case you want to be rid of the standard beeps and boops.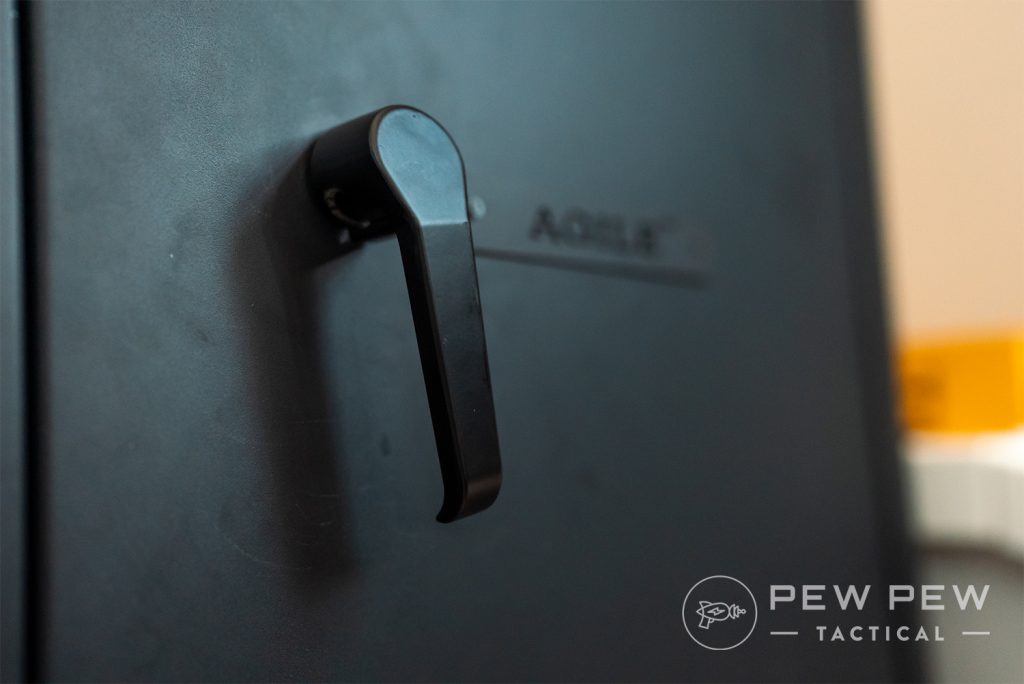 If the battery runs out on you – the safe can also be opened via a physical key backup.
CradleGrid System
A good safe is nice, but a great safe also helps you organize! SecureIt uses the CradleGrid System to allow for a plethora of mounting options and customization inside the safe.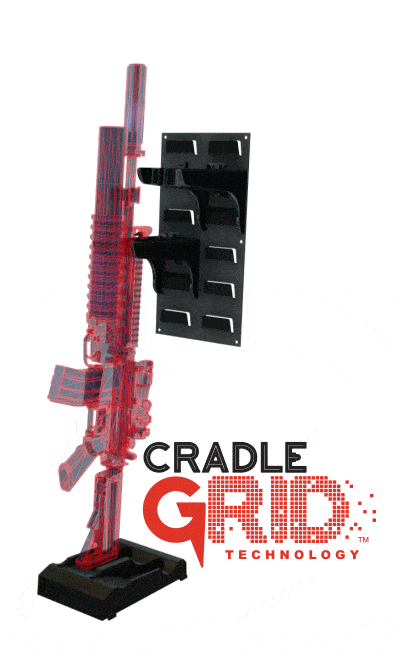 SecureIt offers a wide range of options for the CradleGrid system including rifle mounts, pistol mounts, and parts buckets.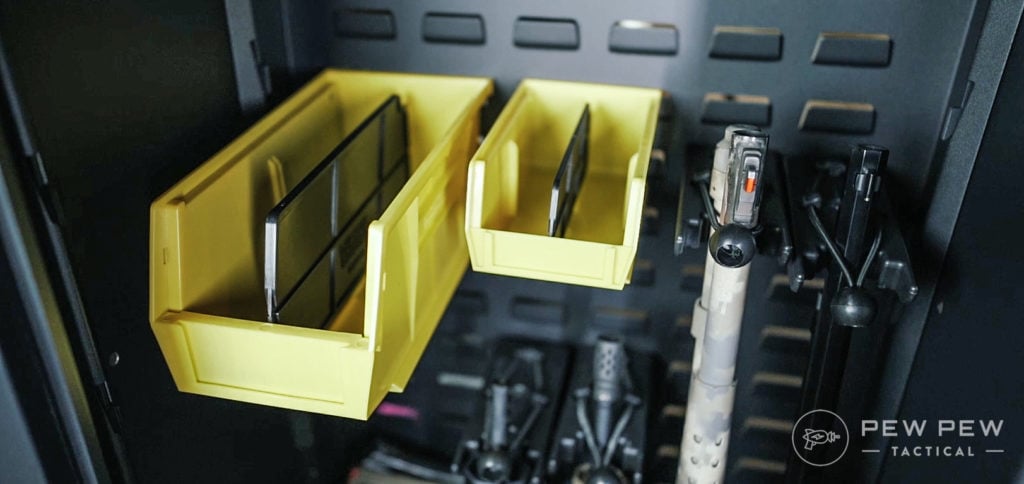 Size Matters
Since this is a more portable option than a full-size safe, it also doesn't have the capacity that a huge safe might have. However, it does give you some room to store more than the average cabinet.
Especially with the CradleGrid.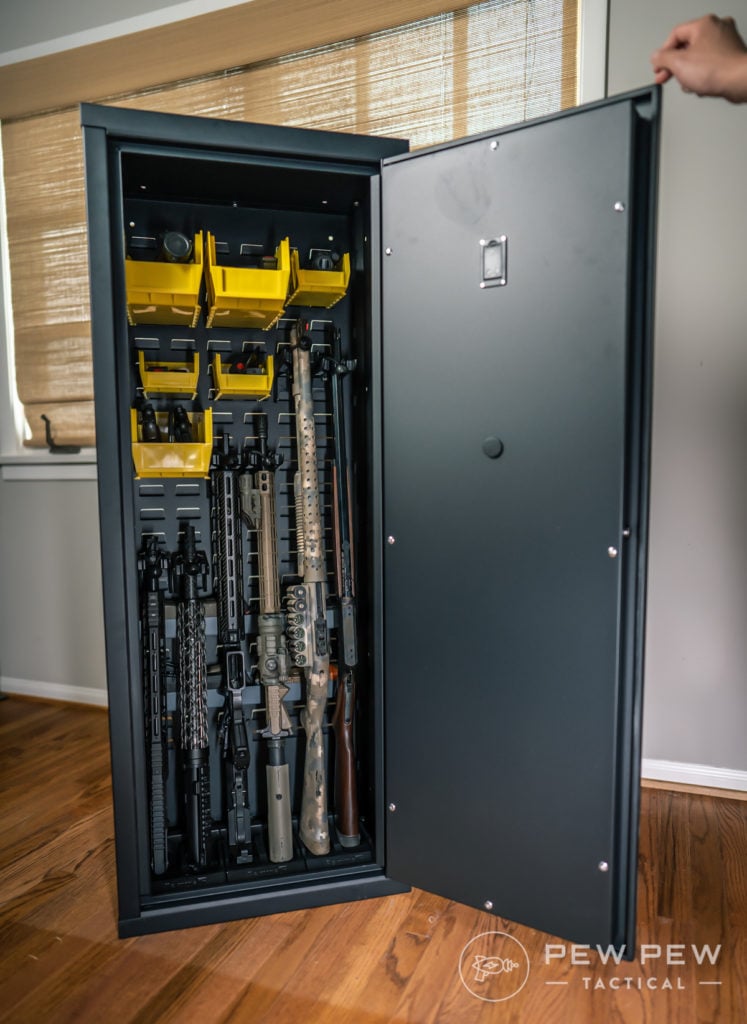 We can easily fit 3 rifles, a shotgun, 2 AR-15 uppers, several pistols, and a number of scopes and accessories in our Agile 52 – and we're not even Tetris masters!
Plus, if you need even more room – SecureIt does offer a Quad Model 52 and 40 of their Agile safes so that you can stack them and store even more goodies.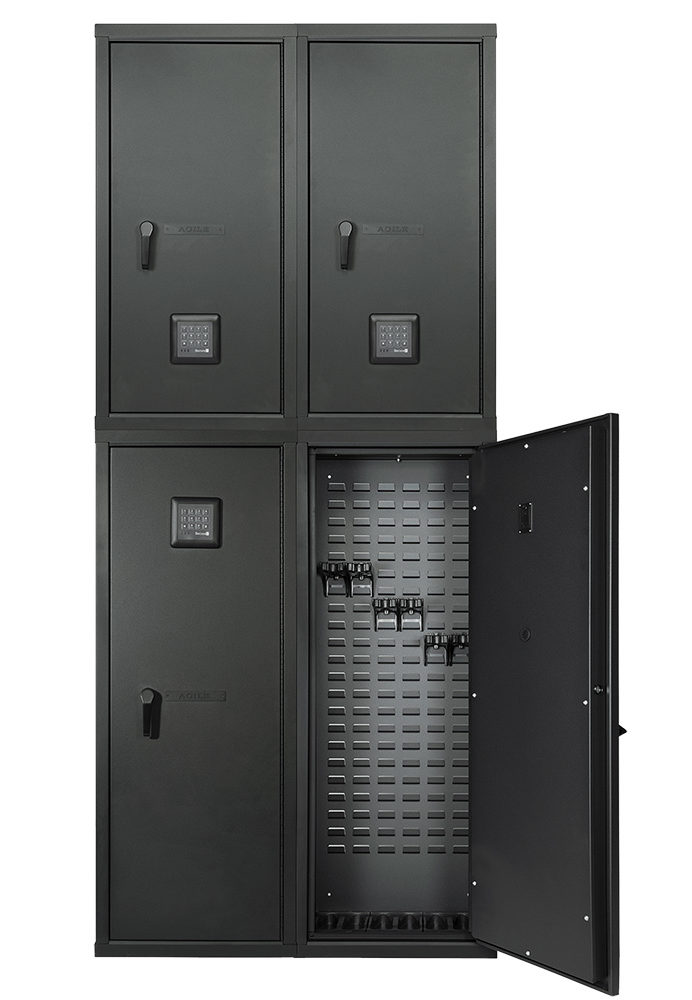 Speaking of size, the dimensions for the Agile 52 are:
Height: 52″
Width: 20″
Depth: 15″
Weight: 105 lbs
We recently set up another one with a slightly different layout…you'll see it holds the same number of long guns but we moved around the shelves and bins.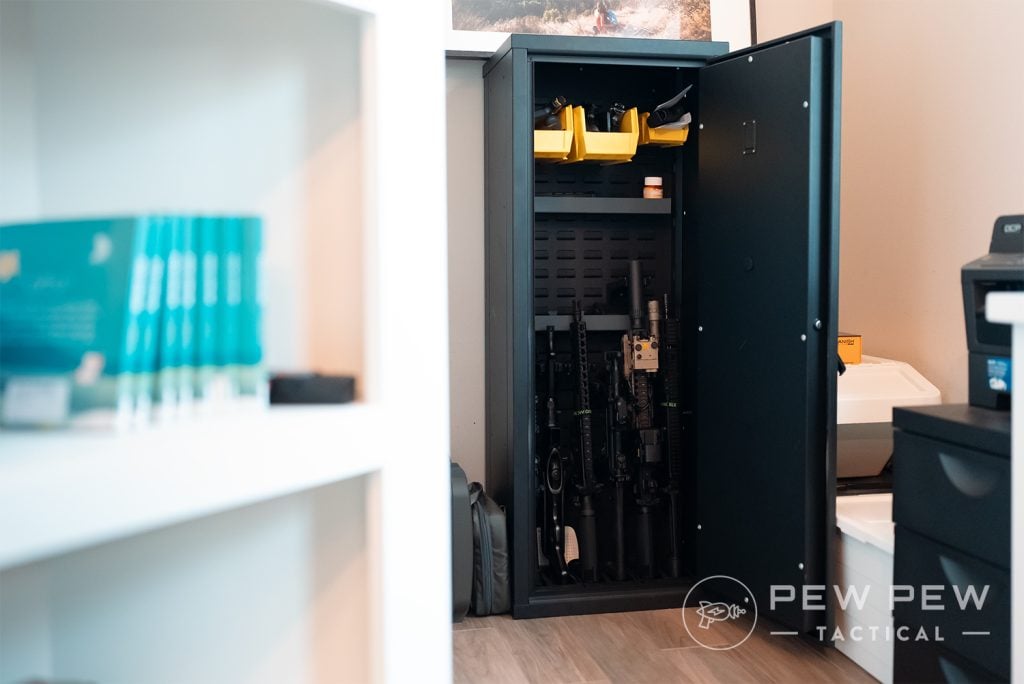 Assembly
This is where the Agile 52 could see some improvement. While the fact that it comes disassembled and portable is really nice, putting it together is kind of like trying to put together IKEA furniture…only heavier and with aggressive edges.
The directions are…adequate, but not stellar.
The only video SecureIt offers on assemble is for an older model that while helps to get you in the ballpark, it isn't great.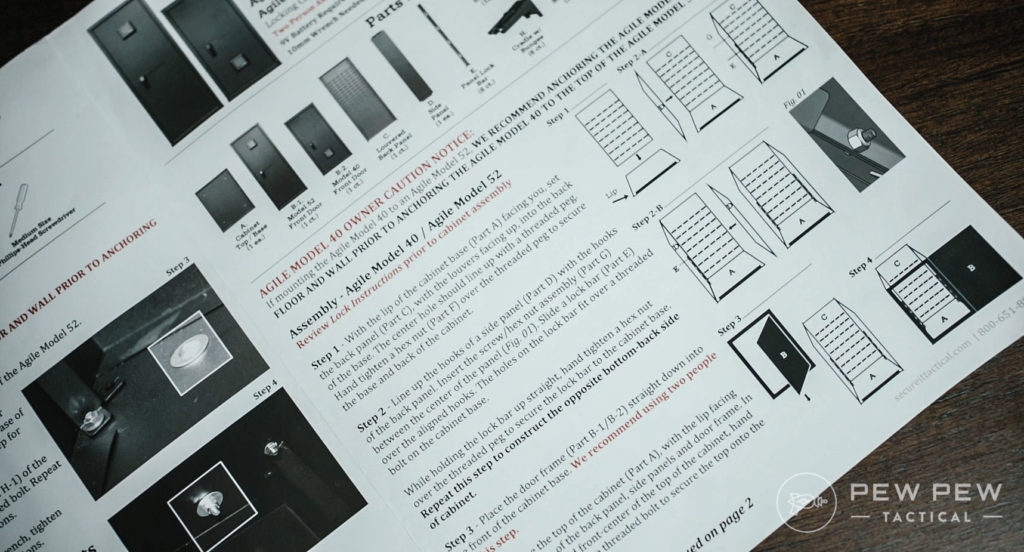 In all the project only took about 40 minutes, but it was a frustrating 40 minutes.
Thankfully, if you have a friend on hand to help hold some things – the process is a lot smoother. And the further you get in assembly the quicker and cleaner it becomes due to the safe taking shape and lining each part up.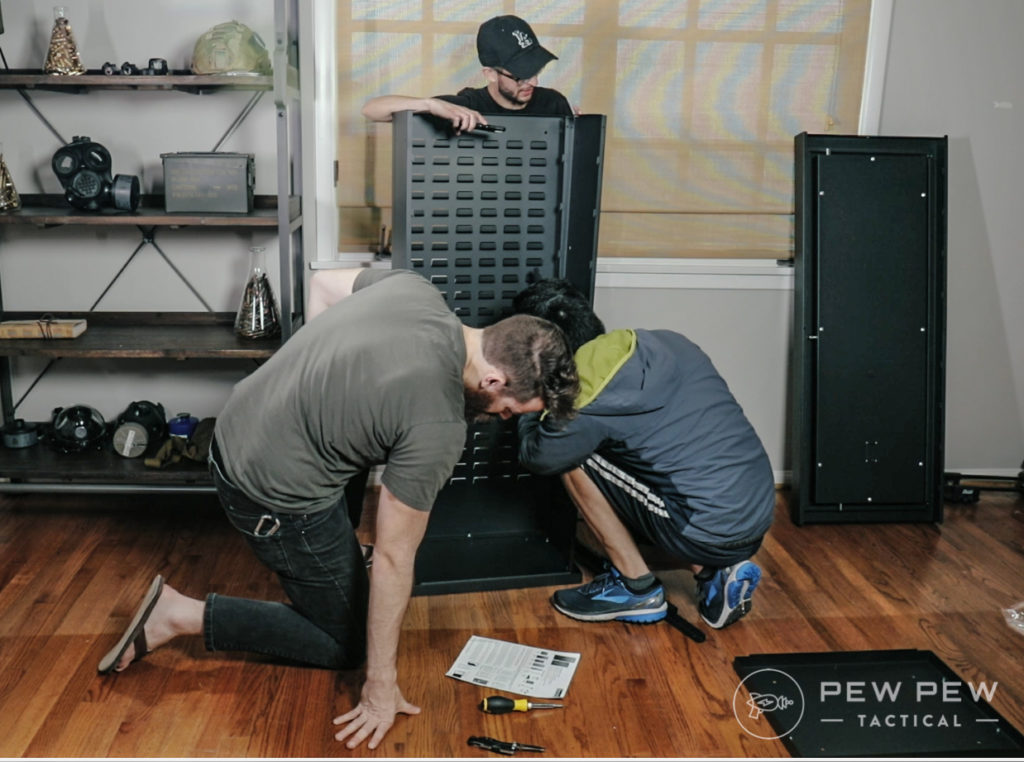 Conclusion
The SecureIt Agile 52 gives you a portable and easy to setup safe at around 100 lbs yet still retains decent security and access speed.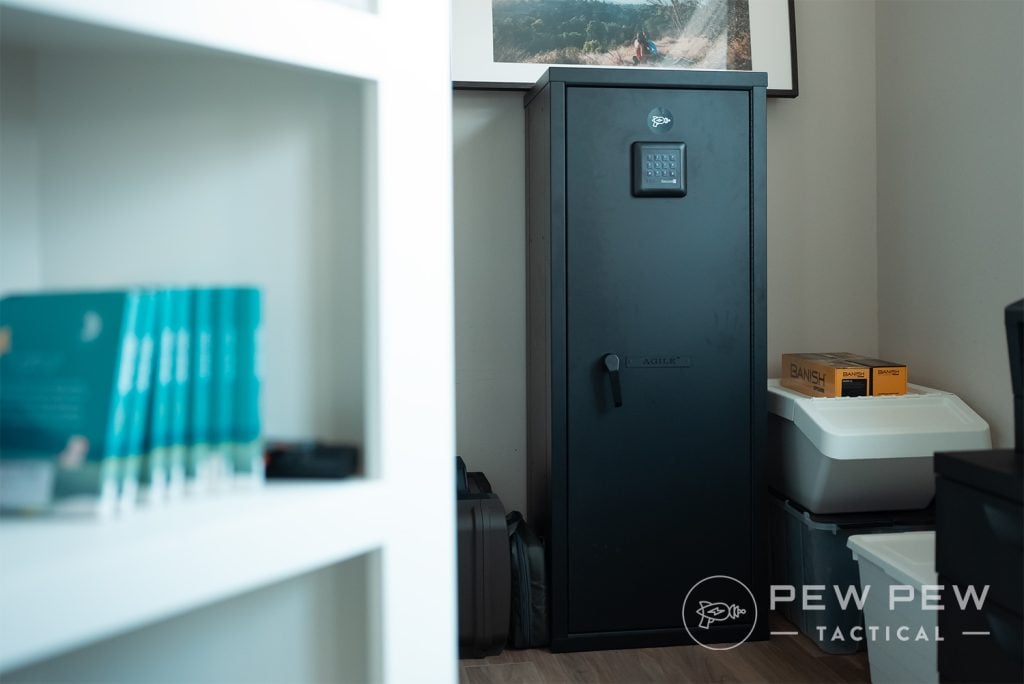 The interior is incredibly modular and we fit a large number of rifles and accessories with ease. Some assembly hiccups here and there still don't detract from a full recommendation.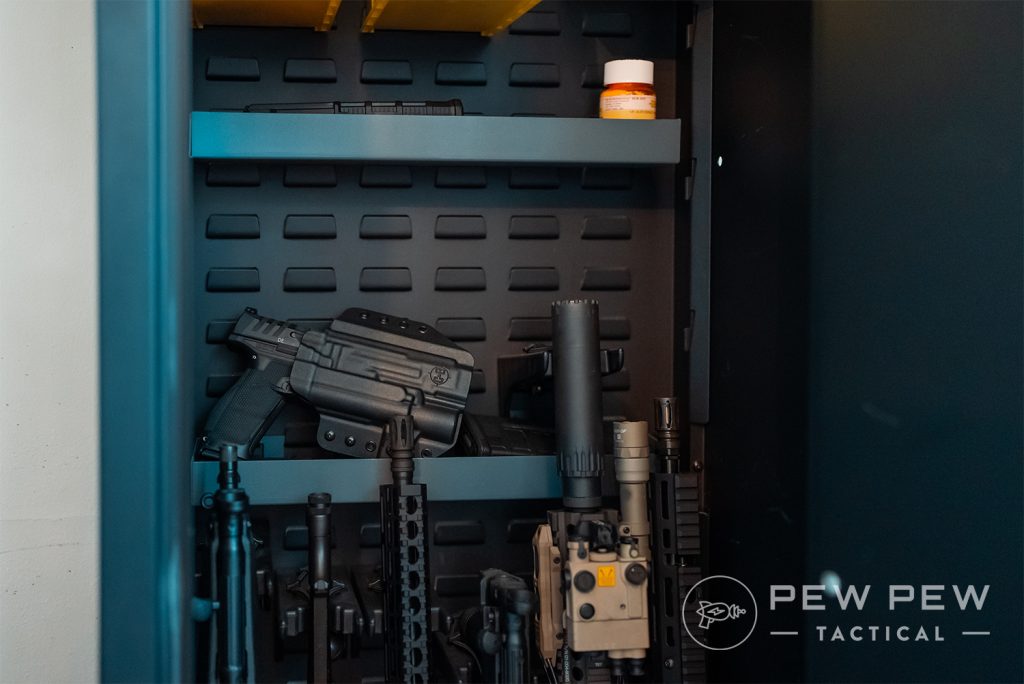 So is the Agile 52 the answer to your storage problem?
If you're short on space or if you plan on moving soon or often, then its a great option over a normal full-sized safe.
The Agile 52 gives you the security that you need right now while giving you a portability option that would otherwise be expensive and difficult with other safes.
Remember code PEW10 for 10% off!
EASIEST TO INSTALL/MOVE SAFE
719
at SecureIt
Prices accurate at time of writing
Prices accurate at time of writing
Do you use a security cabinet or a gun safe? Let us know in the comments! If you're looking for more options check out our Best Gun Safes for Pistols & Long Guns or Best Safe Dumifidiers.