Revolvers are dead, right? Why would someone buy a gun that doesn't spit empty cases past your ear and only has 6 shots?
I might offend some Glockies by stating that revolvers still have a purpose, but they do.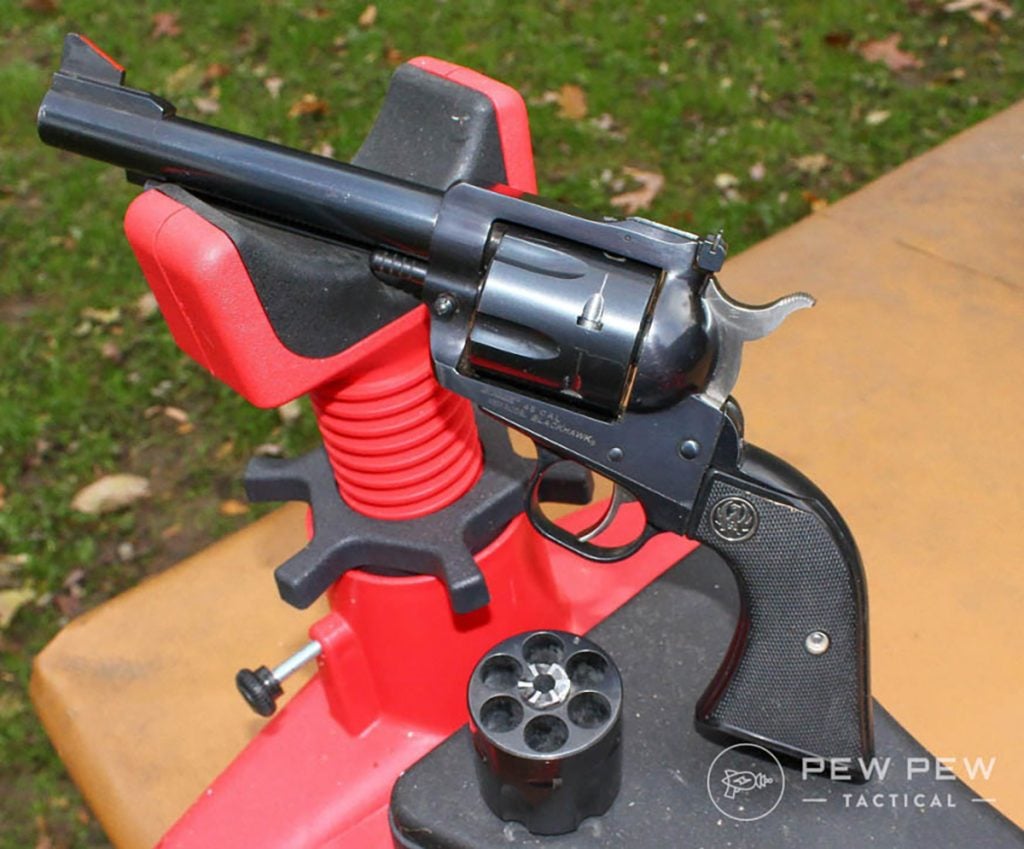 I've been shooting and reloading for over 40 years and have always had a Blackhawk around.
They honestly don't suck — they're great for hunting and home defense.
Do I own semi-auto pistols? Certainly! I've reviewed dozens of them and own more than you could shake a stick at if that's your thing.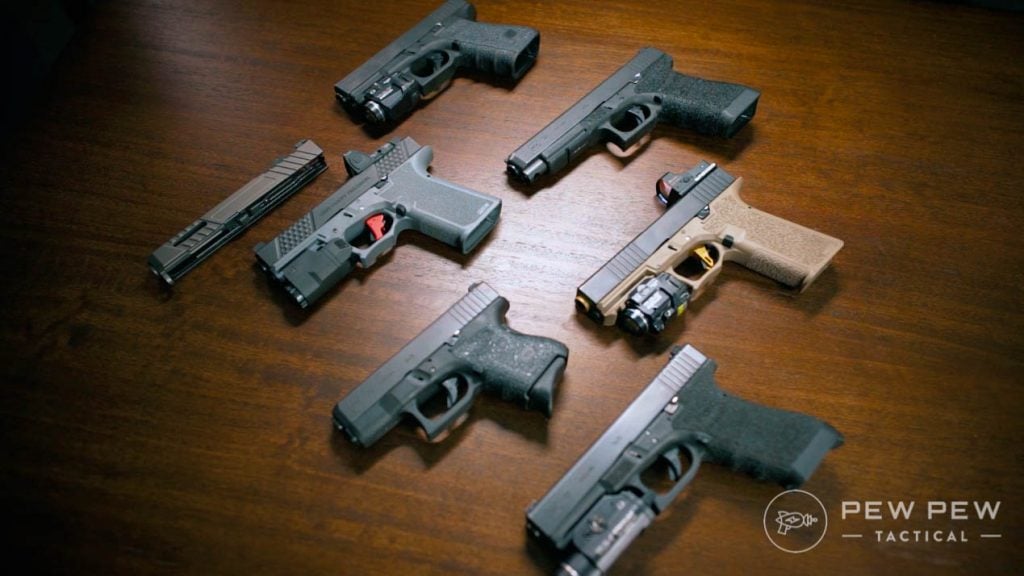 But single-action revolvers are a thing, and the Blackhawk is one of the best. So let's look at the specs and features, and why the Blackhawk is worth your attention.
Table of Contents
Loading...
Ruger Blackhawk Review at a Glance
Pros
Versatile
Simple enough to get the job done with no muss, no fuss
Pretty accurate
Cons
Not a large aftermarket
Only 6 rounds
Reloading isn't always the easiest…well, in comparison to a semi-auto
Bottom Line
The Ruger Blackhawk is an effective and easy handgun with enough versatility to keep things interesting for a revolver. It's limited in its after-market options but still effective.
786
at Kygunco
Prices accurate at time of writing
Prices accurate at time of writing
Specs & Features
Specs
Caliber: .45 Colt
Length: 11.38″
Barrel Length: 5.50″
Weight: 40 oz.
Capacity: 6 rounds
Features
Options on finish, caliber, barrel lengths, and grips
Traditional Western style
Transfer bar mechanism and loading gate interlock for security
Background
Before there was a Blackhawk, there was a .22 pistol. Bill Ruger started in 1949 with his standard .22 pistol, which became the Mark I. That little gun sold like proverbial hotcakes.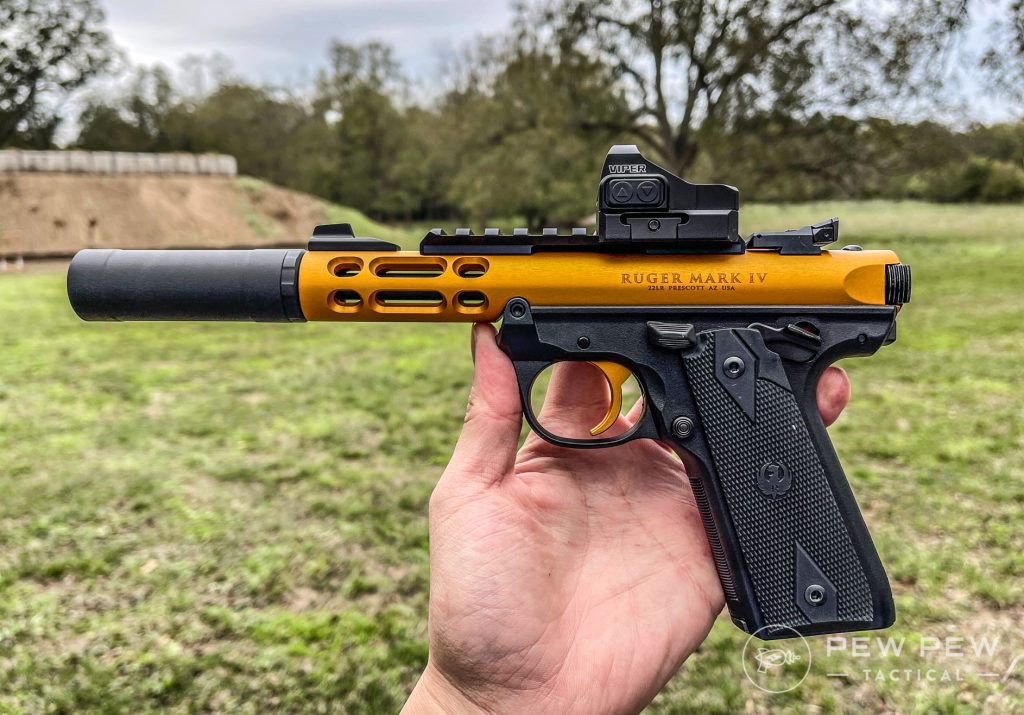 Ruger wanted to cash in on the TV & movie cowboy craze in the 1950s next, so he came out with the Single Six .22 revolver in 1953. The .357 Magnum Blackhawk followed two years later, and the rest is history.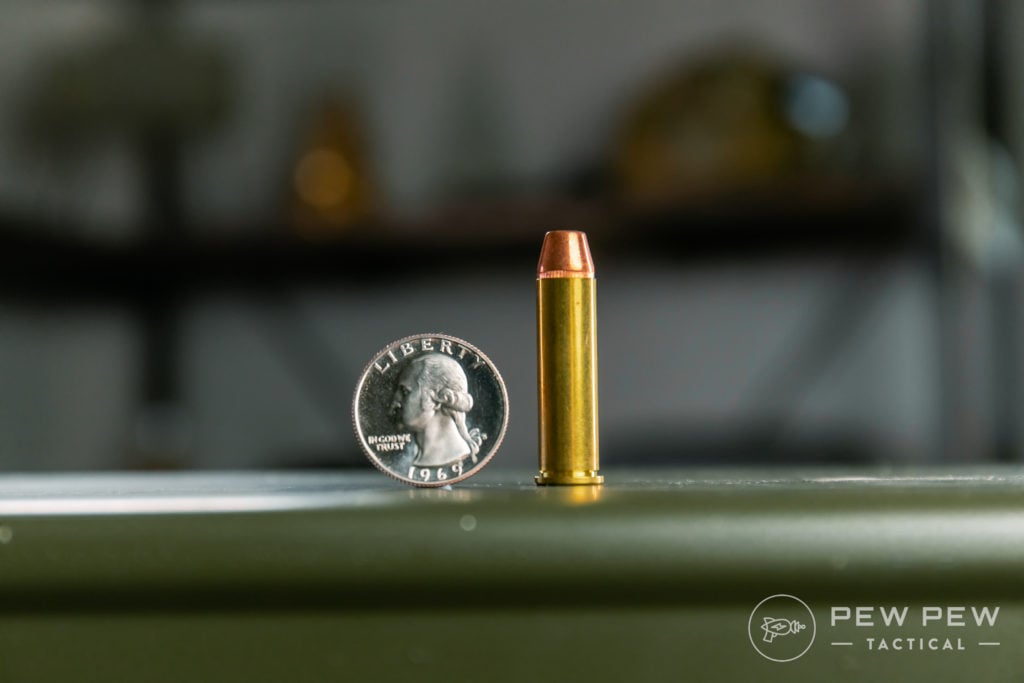 The Blackhawks put Ruger on the firearms map to stay, just inside the Land-of-Affordable-Guns-That-Work.
Who's It For?
The Blackhawk single-action revolver is one of the most versatile handguns out there. It can handle hunting like a champ and makes for a good home defense or hiking gun.
Since you use the ejector rod to kick the empties out one at a time, there is no problem with extraction. This opens up your possibilities.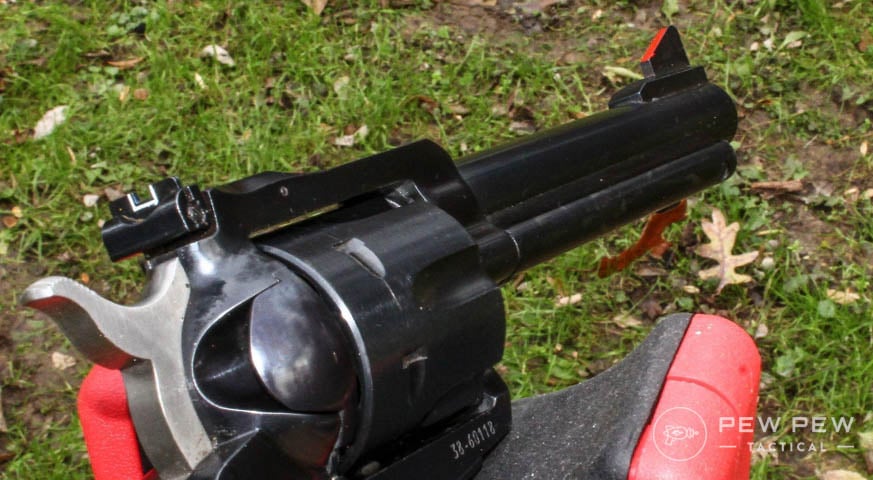 I could see hunting squirrels or such critters with a lighter cast bullet over a minuscule load of a fast powder.
I'm not suggesting you carry this thing concealed — you'd have to have pants made by your local Tent & Awning company — but for hiking in bear country with a suitable load, it's plenty suitable.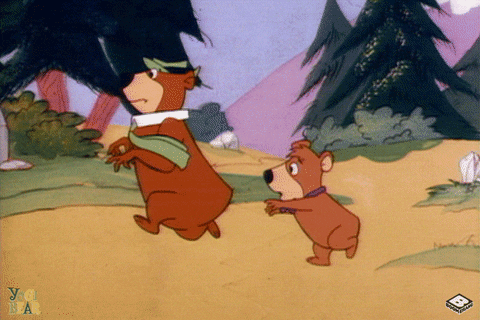 And let's not forget home defense. Stick this gun in a drawer with some extra cartridges and a flashlight, and you're good for whatever critter tries to turn you into a statistic, be it two- or four-legged.
It's no slouch and should take care of whatever you need to be taken care of.
Fit & Feel
The bennies of having a grip shaped like a plow handle is that it allows the gun to rotate up in your hand upon firing.
The gun doesn't come straight back so much as it rolls skyward.
Let's face it; a single-action revolver is not all that complicated. Just design it to contain the round it's designed to fire over and over, and you pretty much have it made.
Even poking out the empties from a 1973 or newer Blackhawk is easy-peasy… just open the side gate, rotate the cylinder to line up the chamber with the ejector rod, and poke out the empty case.
Need to stick in an ACP cylinder? With the side gate open, press the cylinder lock pin in and withdraw the cylinder pin. Roll the gun to the right and take the old cylinder out and stick the new one in.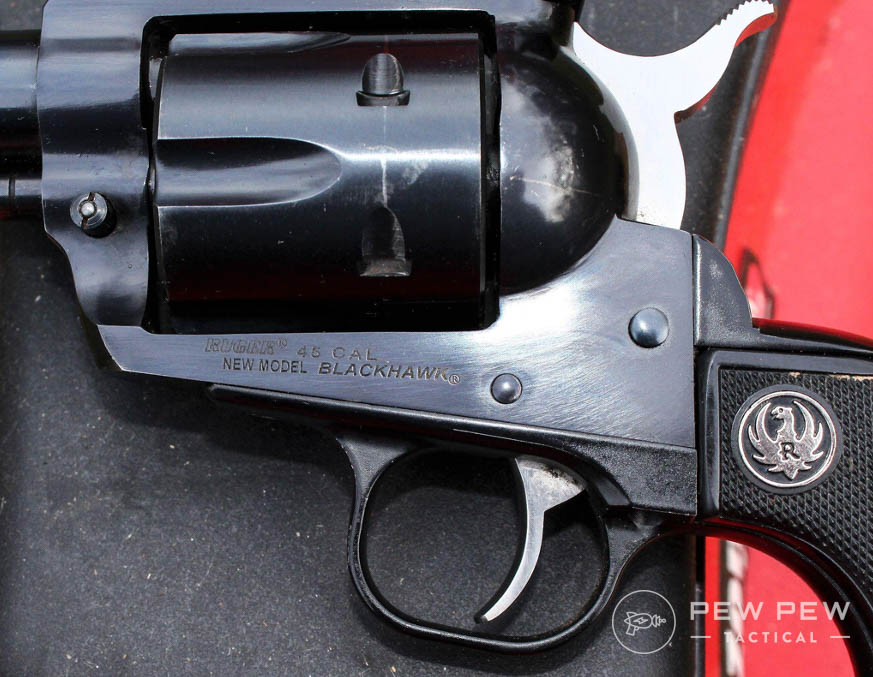 Line it up with the pin, press the button again and push the pin in all the way.
Not to mention, you really can't hurt a Blackhawk by just shooting it. These guns will take a licking and keep on ticking.
How Does It Shoot?
My Blackhawk was more than accurate enough to put a deer in the freezer at 75 yards.
I am an inveterate reloader and have been for over 40 years. The very first cartridge I reloaded (using the old Lee pound-the-case-in-with-a-hammer set of dies) was the .45 Colt.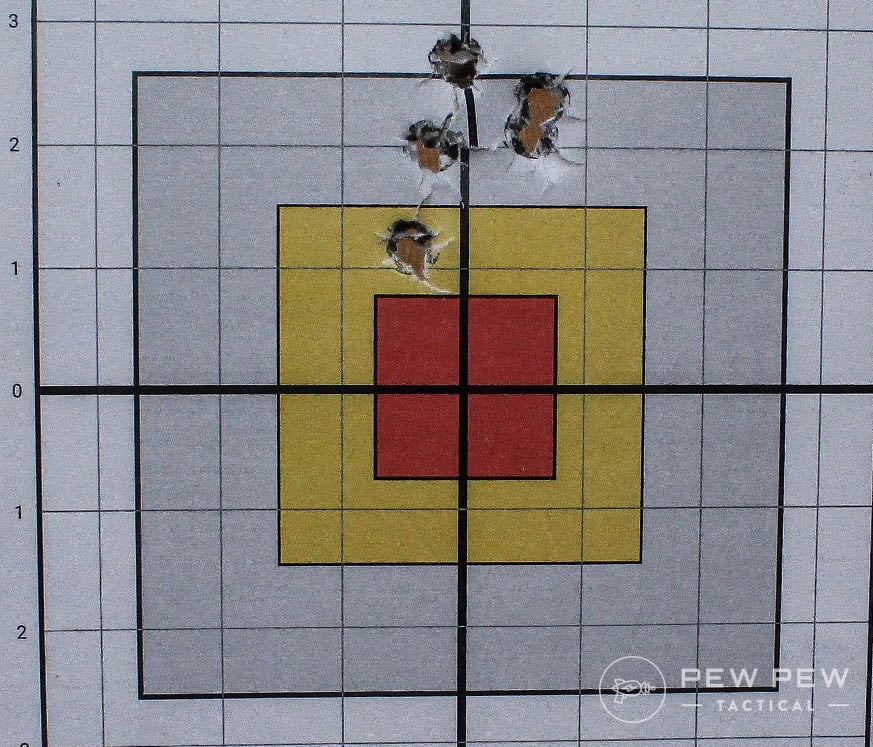 I feel that I know this round, so I shoot about 95% handloads in my Blackhawk. They are of two varieties — powder-puff or I'll-have-feeling-back-in-my-hand-tomorrow.
The gun will put its bullets in a tight group when the shooter does his or her best.
By the Numbers
Reliability: 5/5
Ruger single-action Blackhawks are the M1 Abrams of the mainstream production revolver world.
Ergonomics: 4/5
The ergos of a single-action revolver are simple, but they work. The plow handle grip allows a good grip on the gun while helping to take recoil out of the picture.
Accuracy: 5/5
The Blackhawk is one accurate single-action revolver. I'd mentioned earlier about that 75-yard shot I made — that was not an isolated incident.
Value: 4/5
The Ruger Blackhawk may not be as inexpensive as some semi-autos but it might just last longer. Its reliability paired with simple design makes it a no-brainer for defense or even camping/hiking.
Overall: 4.5/5
786
at Kygunco
Prices accurate at time of writing
Prices accurate at time of writing
Upgrades for the Ruger Blackhawk
One accessory that helps with .45 Colt fire-breather loads is a Hogue Monogrip…
22
at Sportsman's Warehouse
Prices accurate at time of writing
Prices accurate at time of writing
It's one way of taming the dragon. Let's face it — the .45 isn't a .44 magnum, but when you push a 260-grain bullet out of the barrel at 1,000 f.p.s or better, it's gonna kick like a Missouri mule.
Final Thoughts
Are revolvers old-fashioned? Of course. That's the point — "old-fashioned" still works, and it puts venison in the freezer.
If you're a shooter who has learned to shoot only handguns of the self-shucking variety, give the Ruger Blackhawk a look.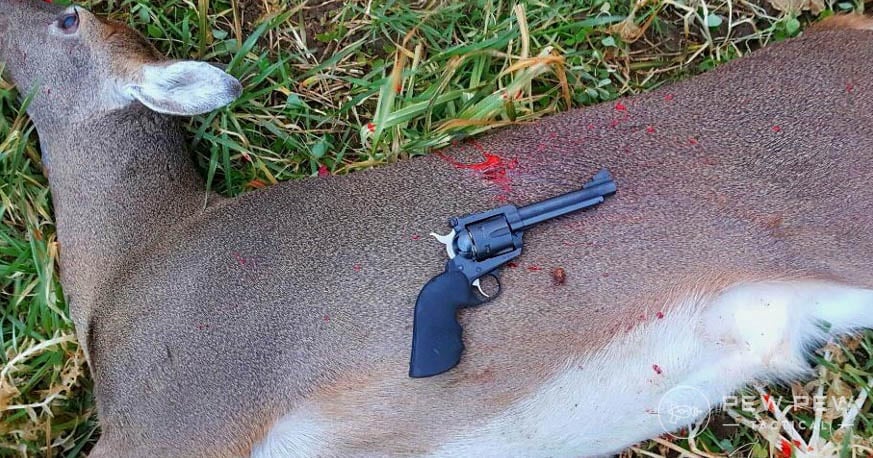 I've owned and reviewed dozens of autoloaders, but I still like my archaic wheelguns, and the Blackhawk tops the list.
What do you think of the Ruger Blackhawk? Let us know in the comments below. Need more revolvers? Check out the Best Revolvers for Concealed Carry.