Palmetto State Armory has long been known for its affordable firearms.
Now, the company has jumped head-first into the striker-fired, polymer pistol market with the debut of the Dagger – a Glock Gen 3 clone.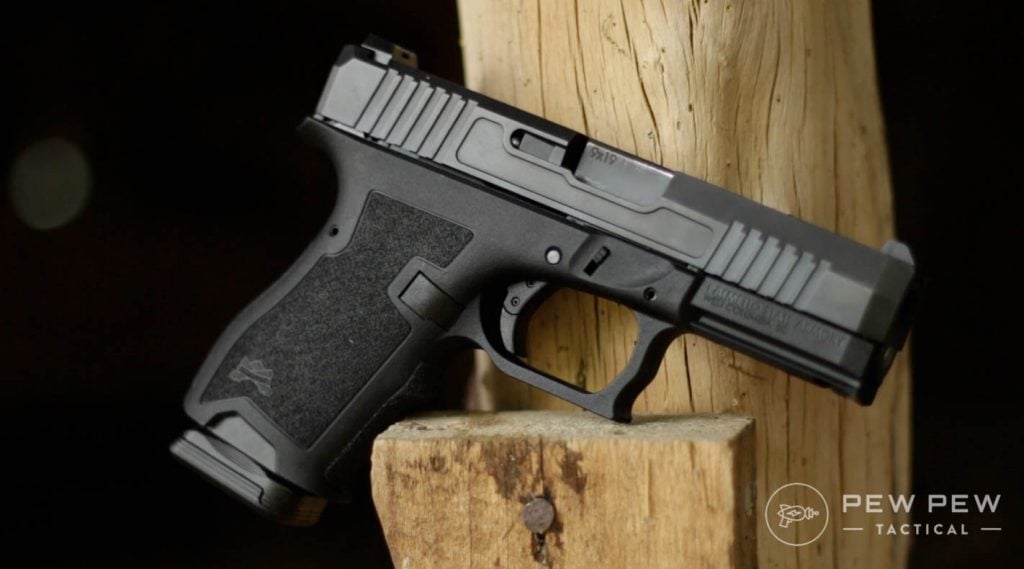 Of course, I had to try this bad boy out. I put over 1,000 rounds downrange…in the middle of an ammo drought…and I have some thoughts.
After the biggest and most expansive range test I've ever got to be a part of, I'm ready to tell you whether this 9mm is worth your time.
Table of Contents
Loading...
299
at Palmetto State Armory
Prices accurate at time of writing
Prices accurate at time of writing
We'll dig into the specs and all that good, good science stuff as well as how it did out at the range.
So let's get to it!
If you don't like reading and prefer to see the Dagger in action, check out my full video review below.
As always, make sure to check out Pew Pew Tactical's YouTube Channel for more awesome gun and gear content.
PSA Dagger Pros & Cons
Pros
Great for the money
Accurate and reliable
Lots of customization options
Cons
Issues with mags stuffed at full capacity
No option for changing backstops
Only comes with 1 mag
The Bottom Line
It's a great Glock 19 clone for the money. At under $300, this gun ran without any issues.
PSA Dagger Specs
The Dagger is essentially a Glock G19, Gen 3 clone or, rather, PSA's take on the Gen 3 Glock.
And, before we go any further, yes, the Dagger takes Glock magazines.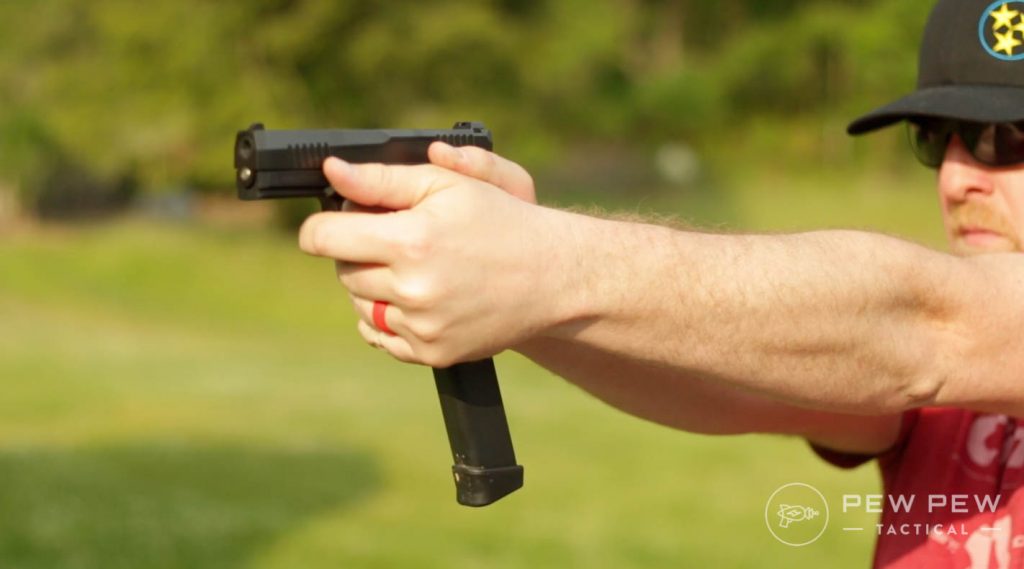 PSA announced a striker-fired pistol in 2020, creating quite the buzz. Naturally, people were looking forward to the release…but, the company held off on the launch.
Rumor had it there was an issue with a part, so PSA put the project on hold to resolve that.
Fast forward to mid-2021, and the Dagger is officially here.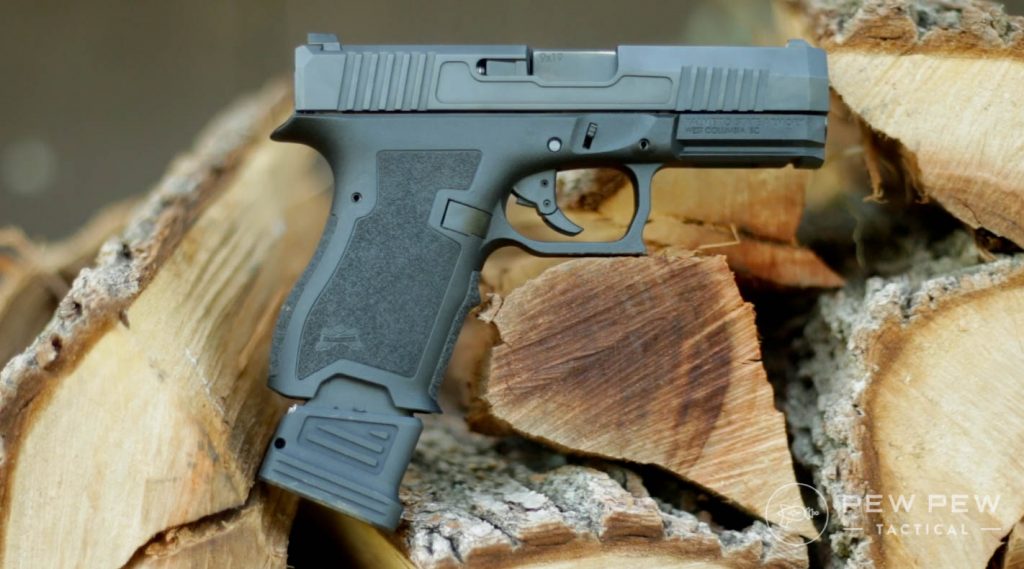 So enough talk, what is it?
This striker-fired, polymer-framed 9mm takes Glock's G19 head-on. The semi-auto Dagger manages a 15+1 capacity.
Size-wise, it measures just over 7-inches in length, 1.25-inches wide, and stands 4.78-inches tall.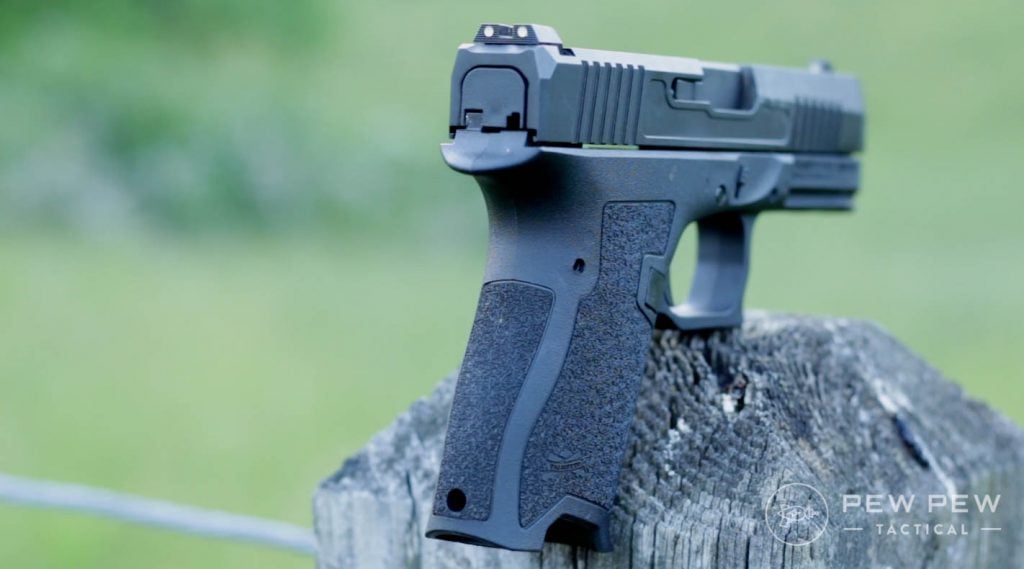 Barrel-wise, the Dagger opts for a stainless steel, DLC coated barrel just shy of 4-inches.
And the whole thing weighs in at 22-ounces and some change.
Also, parts are interchangeable with the Gen 3 G19, and that's a huge plus!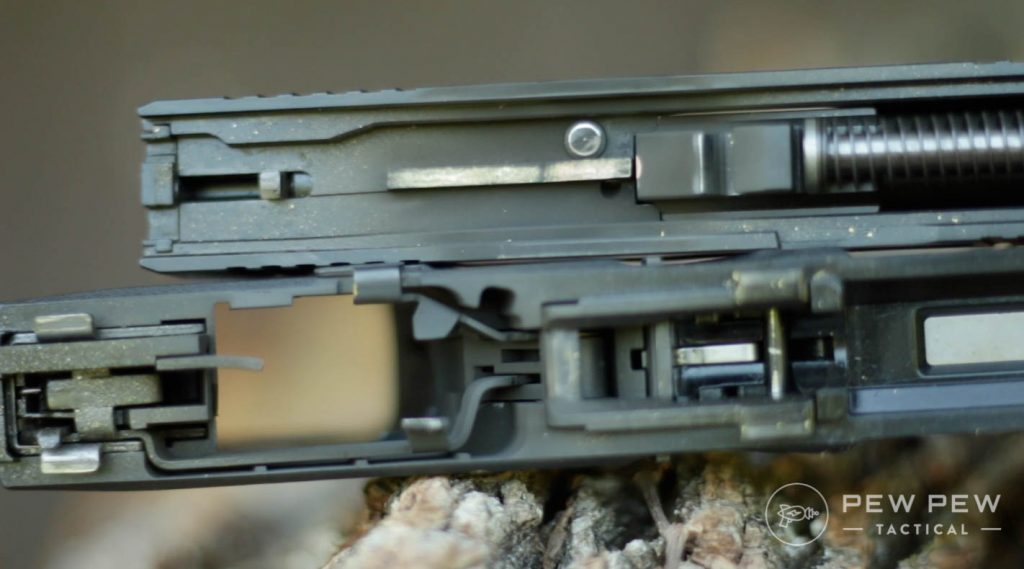 The market is stuffed with options for Glock triggers, sights, and lights. So this opens the door to a number of options for customization.
(Psst…see what upgrades are available for Glocks and Glock Clones here.)
PSA Dagger Features
Again, if I haven't said it enough, it squares up to Glock's G19 Gen 3, BUT with a few tweaks.
One feature I think stands out against the Glock is the stainless steel guide rod.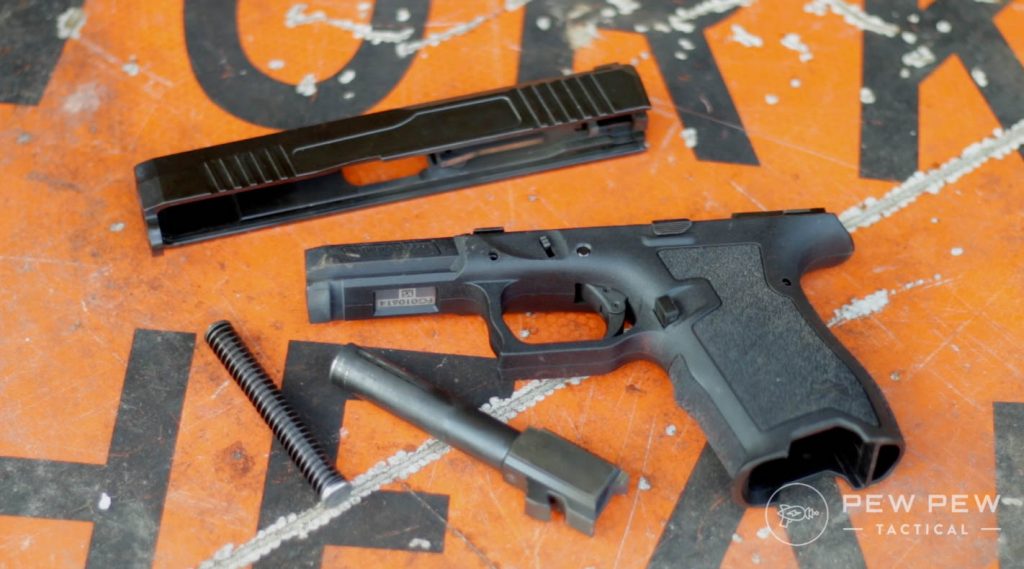 Glock's is plastic, and this one ain't. Nice!
Controls and take-down levers will all feel familiar, and it field strips the same way as the Glock.
There's no external safety to fumble with, but it does use a trigger safety and an internal striker block safety.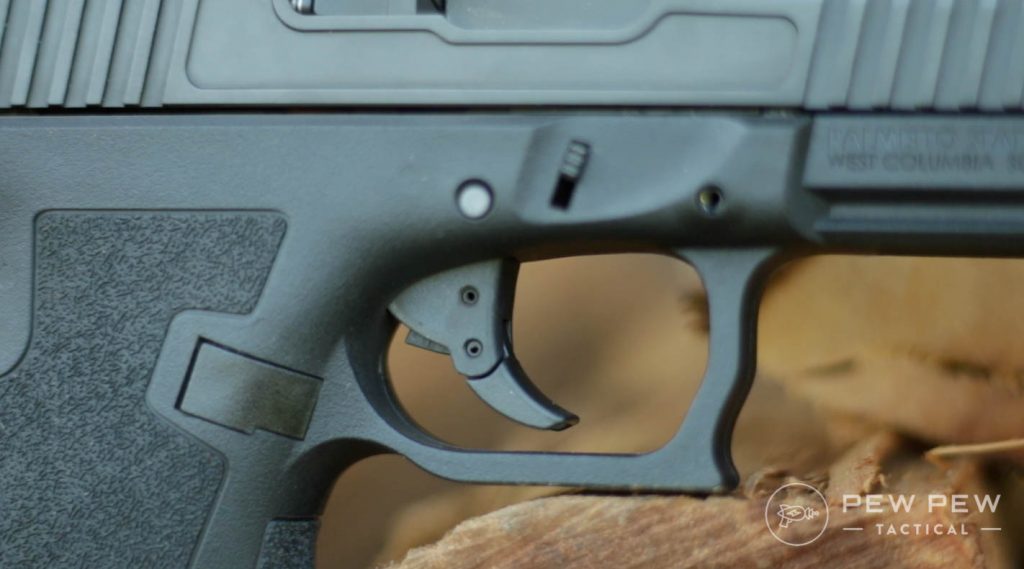 The sights opt for a familiar 3-dot system, with a single dot up front and a box cut in the back. But PSA rejects the plastic sight trend and, instead, sports steel sights. Not bad.
Of course, you can always change them out super easy for night sights if you want to.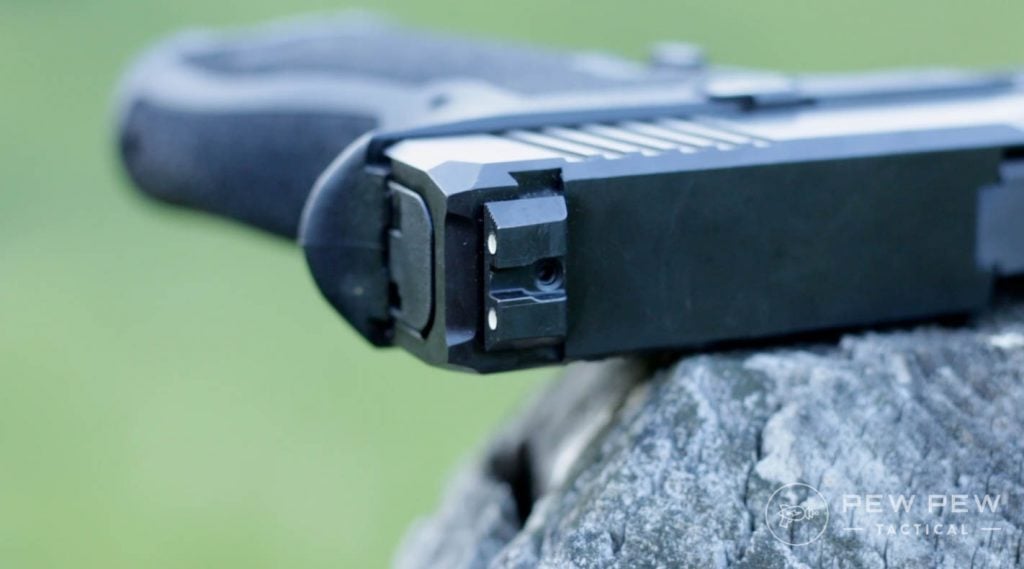 Carry Cuts?
Another thing you'll notice on the Dagger is the slide.
It's stainless steel with a great texturing up front and on the rear. So, you can index however you want and still get a good grip.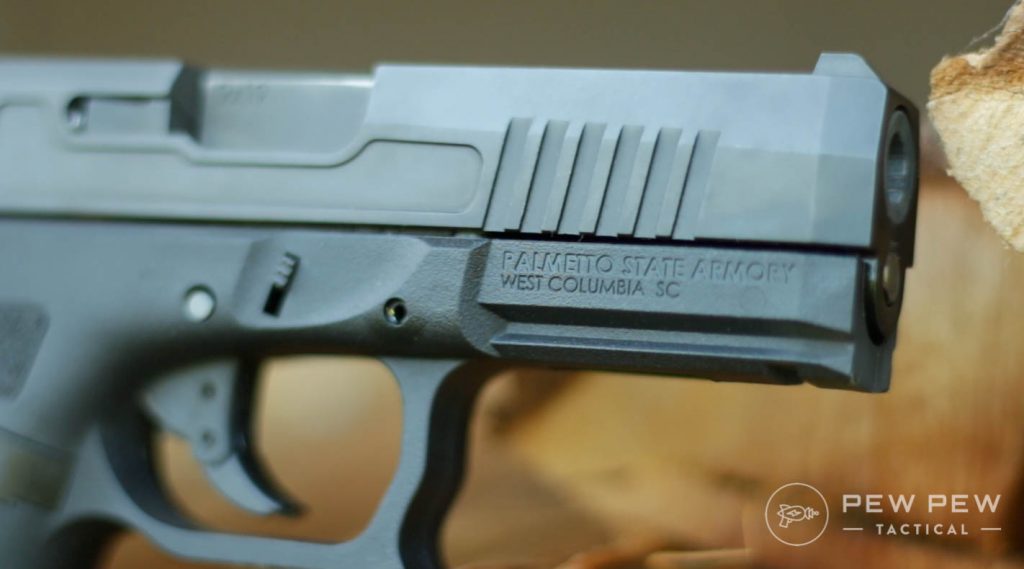 There's some beveling on the front and rear of the slide, and PSA calls these carry cuts.
These carry cuts look to prevent the slide from snagging when drawing from concealment. It's sort of a rounding off of the slide, but to me, it seems like it's solving a problem people don't really have.
Ergos and Aesthetics
As far as ergonomics, not to put too fine of a point on it, but yeah, in your hands, it's gonna feel exactly like a G19 with a different grip texture.
The grips on this one feel really good – a huge upgrade from stock Glock grips. You get a nice texture with just a little bit of palm swell to them.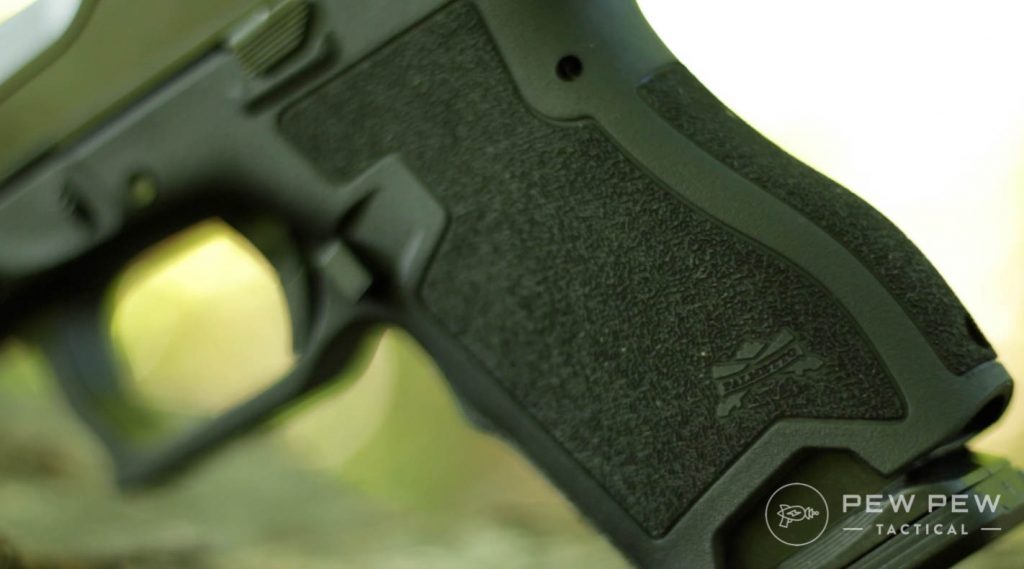 I'm gonna say that they have more grip than Glock but aren't as aggressive as Taurus or Sig grips.
There's also a little cut-out under the trigger guard – a nice touch, I think.
Oh, and there's a rail up front so you can throw on your favorite light.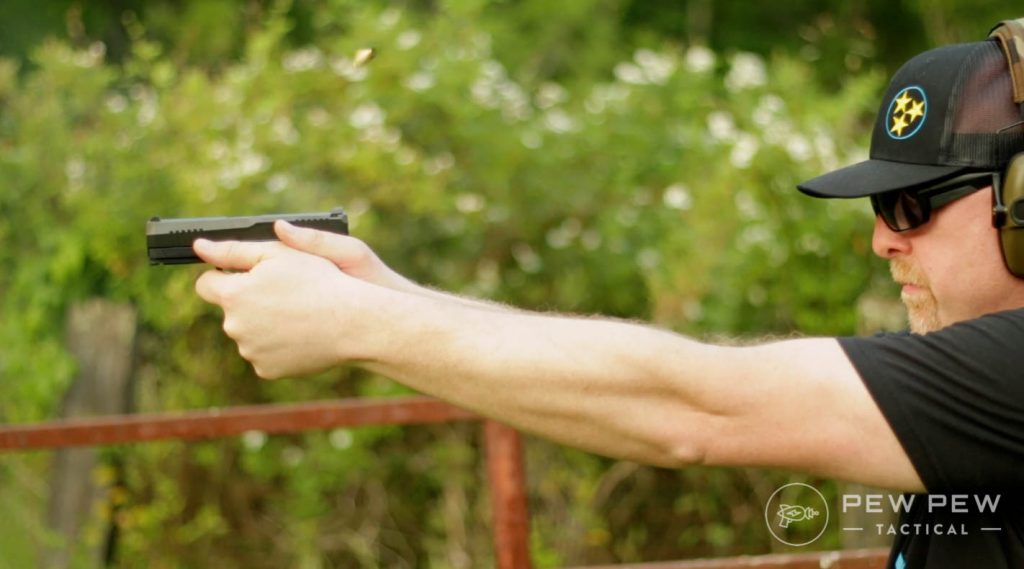 As far as aesthetics…it's a boxy black plastic pistol. This is not the girl you're gonna take home to mamma.
But I think PSA did okay keeping the branding to a minimum.
As I said, the Nitride finish on the slide looks clean. So for the looks department, I'm gonna say it's okay.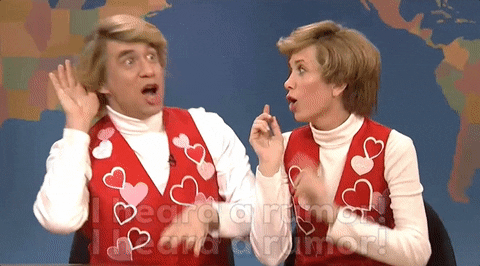 Rumor has it that PSA will eventually release slides with RMR cuts and just the Dagger frame, but we'll see…
Packaging…Because We Care About That Stuff
What it comes with is a nice package – a blue and black box, with squishy packaging. Personally, it's a nice box and setup to open.
Inside is a sweet Dagger challenge coin…not sure what to do with it, but it's kinda cool.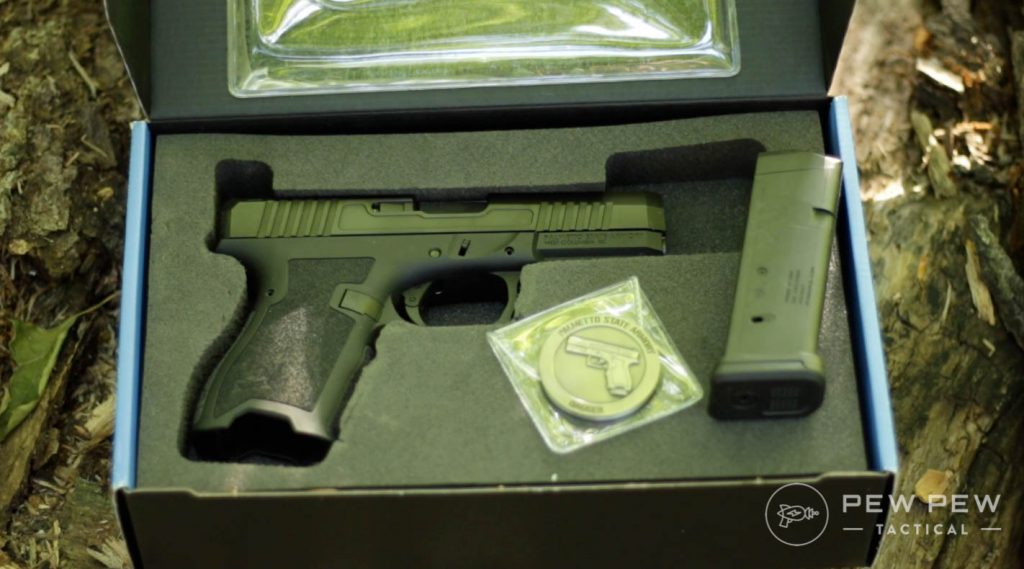 The Dagger ships with one 15-round P-mag…one.
And I know some of y'all like to know this. The polymer frame is what is serialized, not the fire control group.
So the "gun" or the regulated part is the frame itself.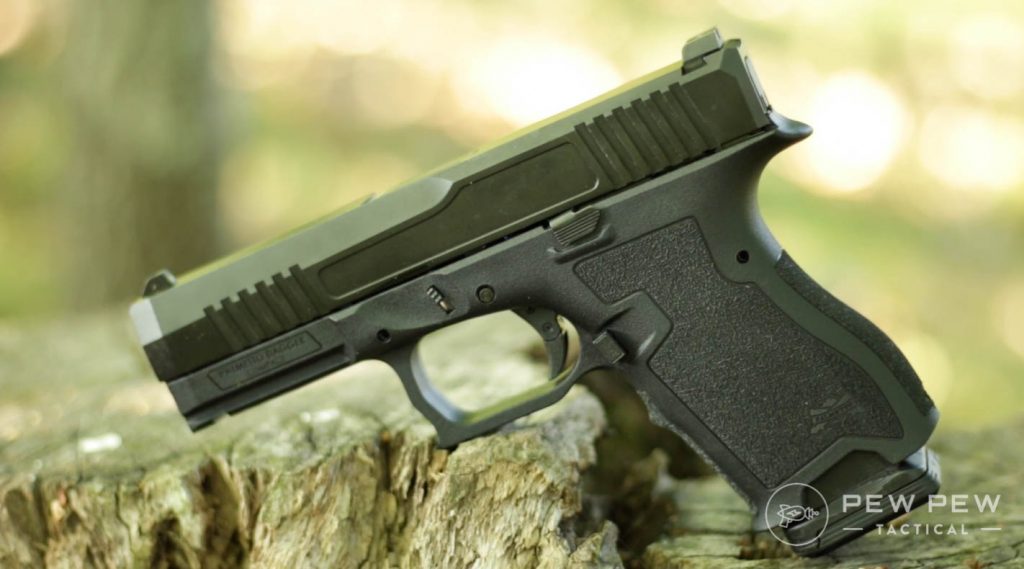 The Selling Point…Price
With the specs and features out of the way, let's talk about the real selling point here.
That's the MSRP.
PSA offers the Dagger for $299.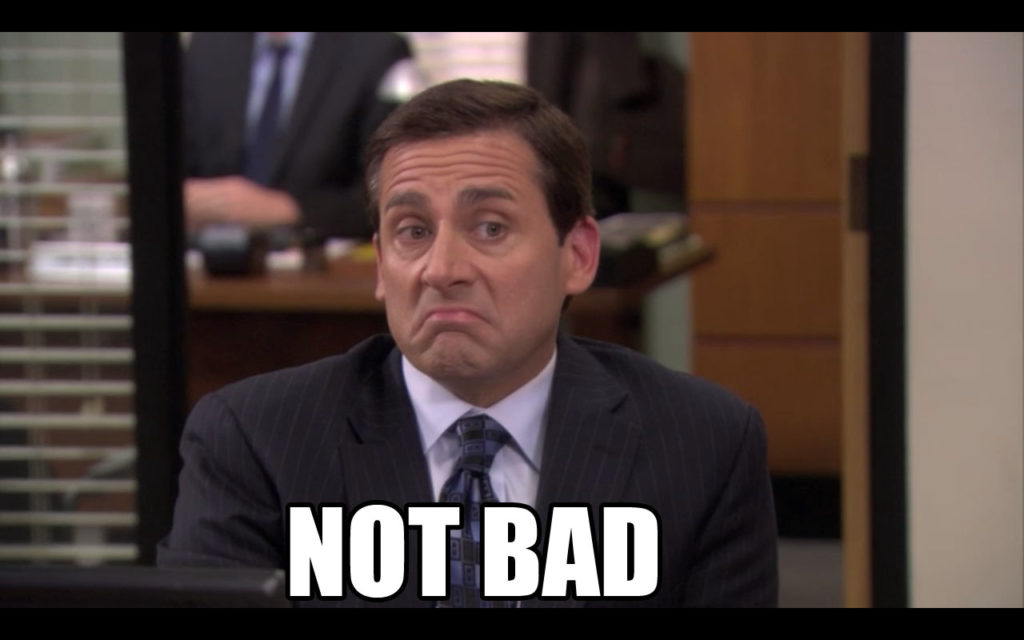 I think that's far and away from the most attractive part of the Dagger. But, it's what really has folks talking.
This price puts the Dagger in a unique place for a 15-round compact pistol.
Who doesn't want a super affordable 15-round Glock clone?
Range Time with the Dagger
For this review, I took 20 boxes of Federal brass 115-grain 9MM, every Glock-style magazine I own and let her rip.
On top of all that Federal brass, I also put 100 rounds of Russian steel ammo down the pipe. Because…why not.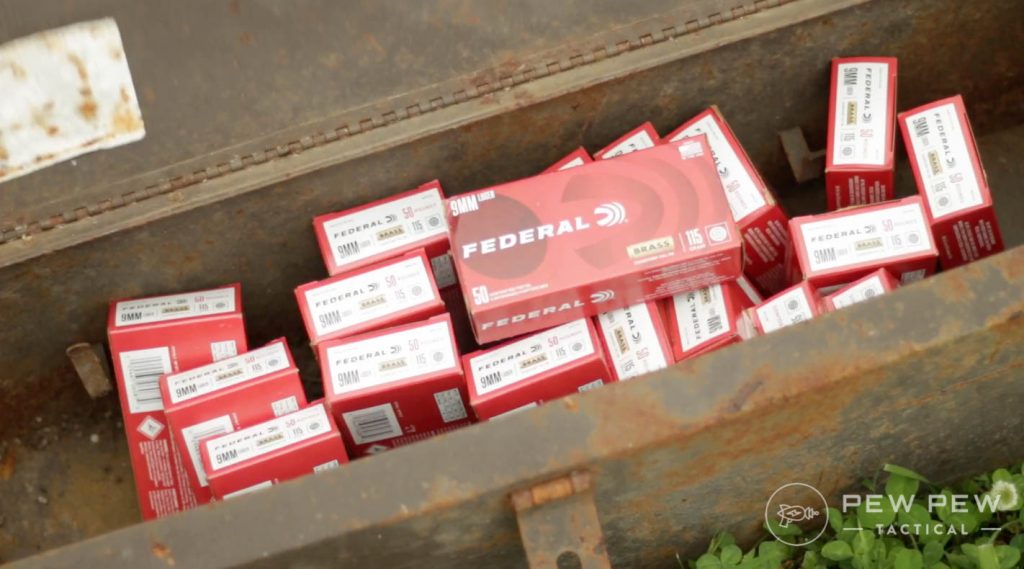 First thing of note while shooting, the trigger. The Dagger sports what PSA calls a flat-faced trigger. Uptake is not that clean or smooth, but the break is okay.
I definitely liked the shallow reset, though.
All in all, the good and bad on the trigger offset each other.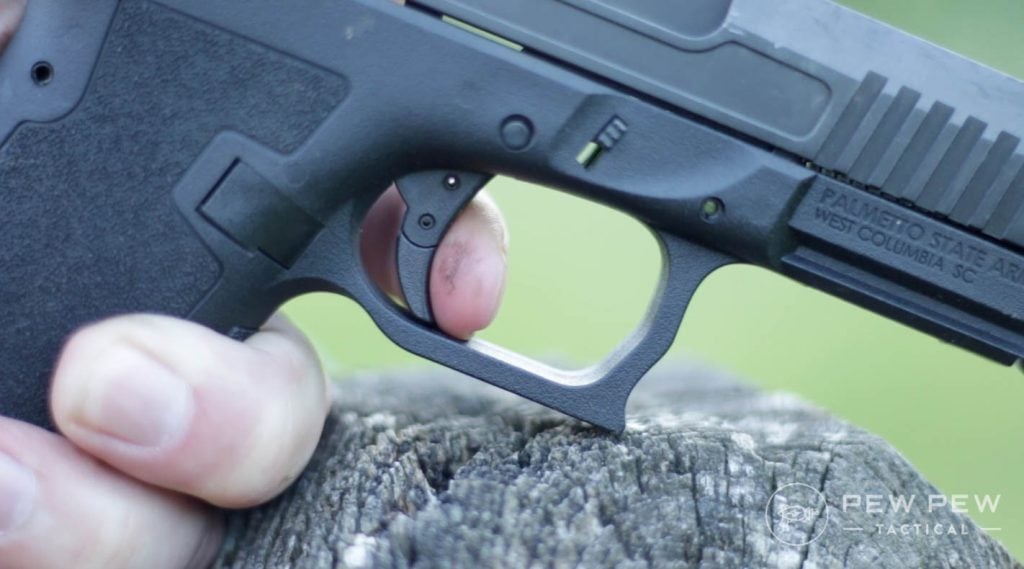 I have a feeling some people won't like it. That said, it's not hard to change out Glock triggers.
(Need help? See our Glock Trigger Guide.)
Shots-wise, the Dagger shoots well. It's not overly snappy. Instead, it eats that recoil, letting you come back on target easily for follow-up shots.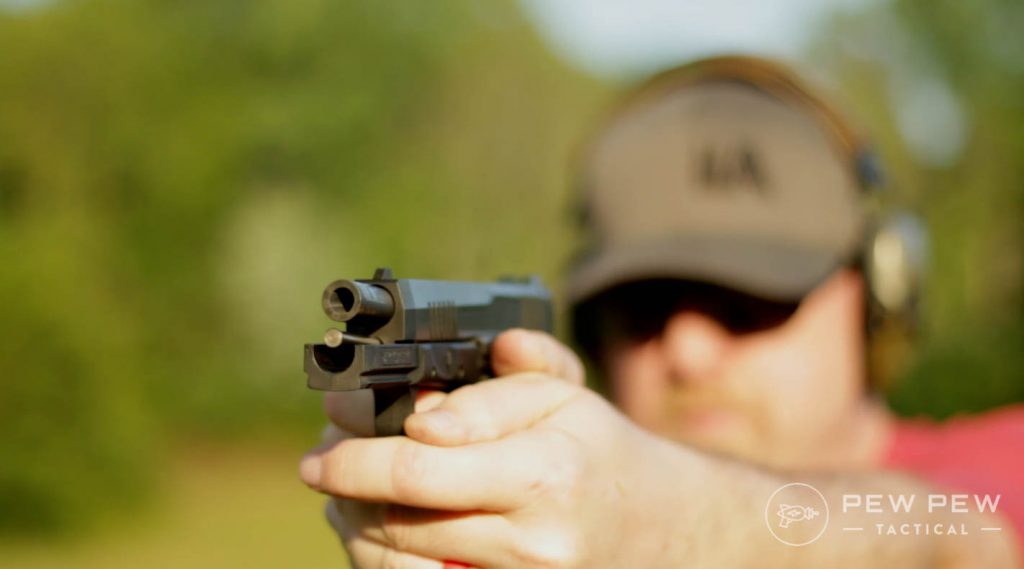 As far as accuracy is concerned, I shot the Dagger well, pinging torso steel.
I also did a ton of 5-shot groups from different distances, and I feel good about the accuracy, at least in my hands.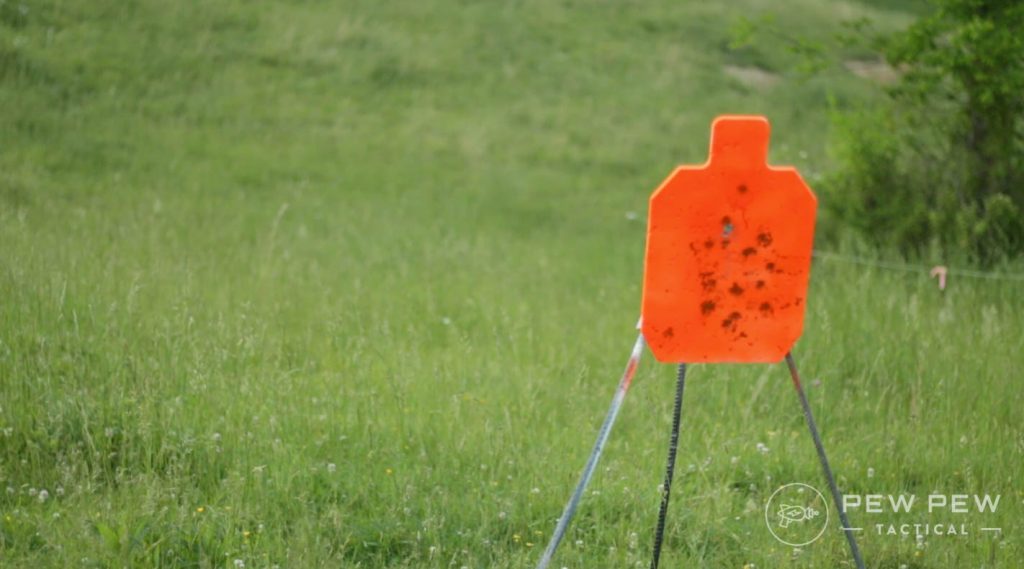 I would label the Dagger a crisp, clean shooter.
How did it hold up overall after 1,000+ rounds?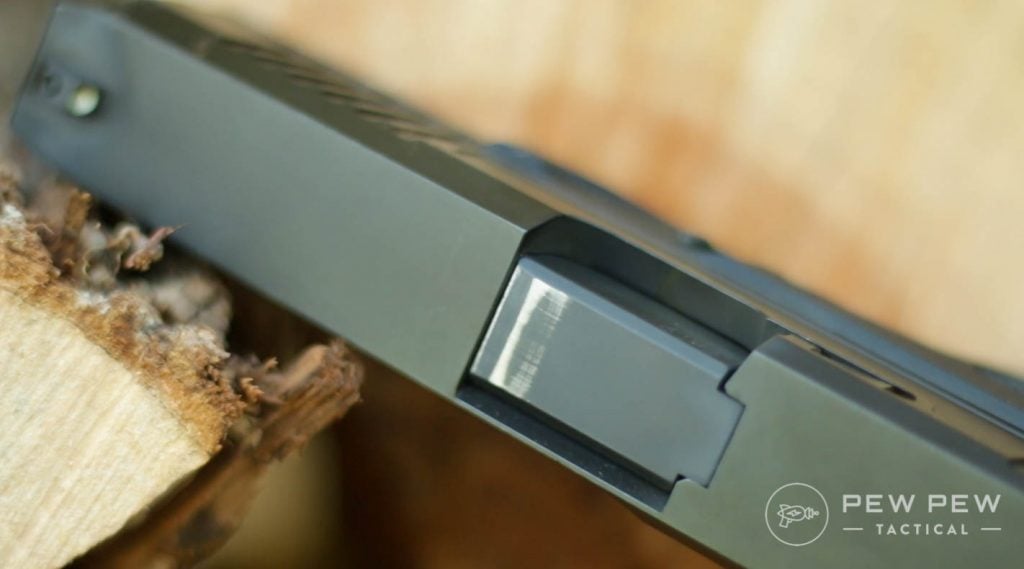 The only wear I could find was just a little off the top of the barrel. Overall, it ended the test just as strongly as it started.
Also, it ran great, mag after mag. It just kept on going.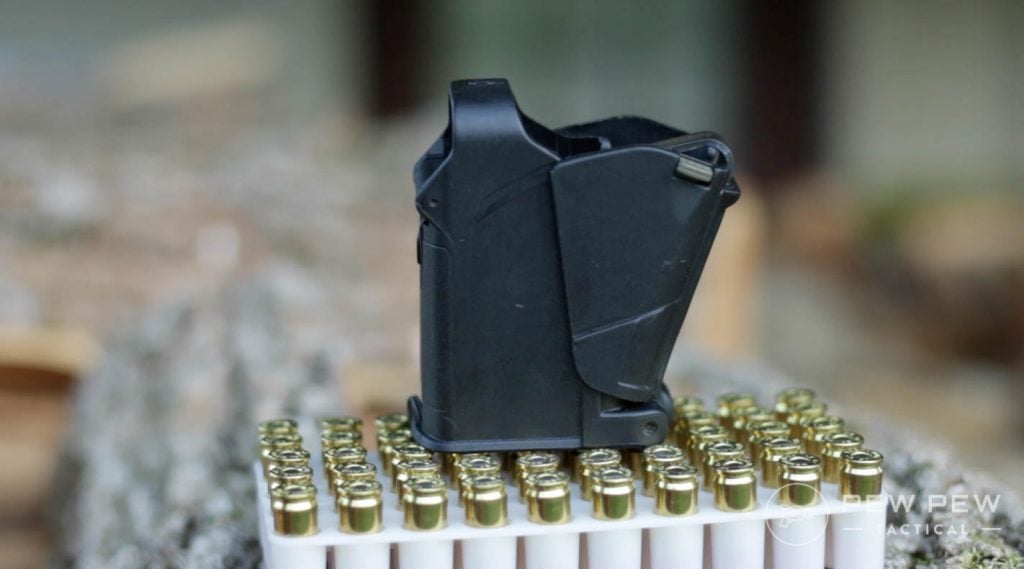 Now, The Downsides
But, obviously, nothing is perfect, and there are some downsides.
While it loaded, fired, ejected, and fed great, there's one caveat that I need you to know.
I consistently had trouble feeding the Dagger with magazines stuffed to full capacity.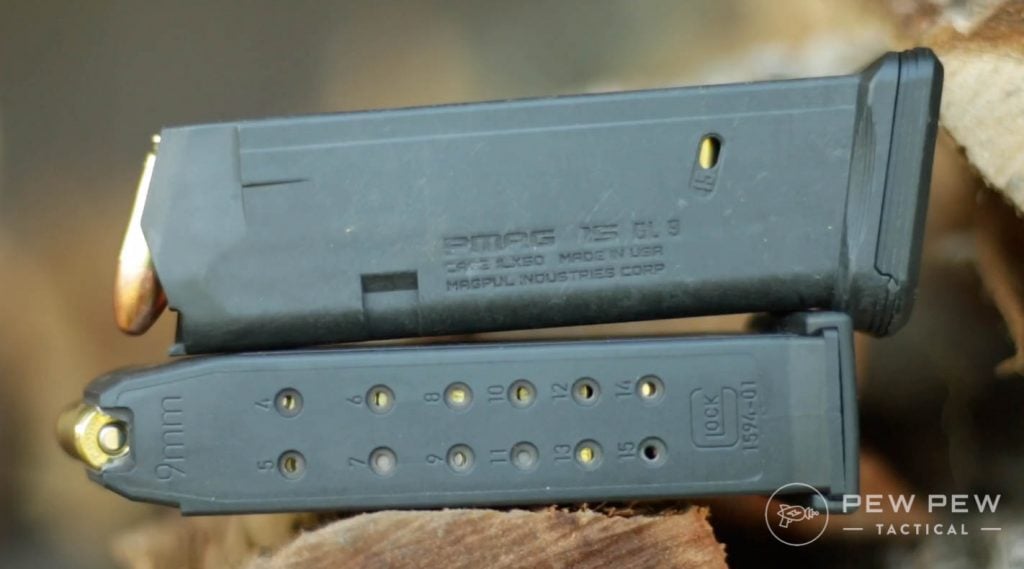 Didn't matter whether I used Glock mags or P-Mags, 15 or 30 rounds, when filled up completely, the first round refused to feed all the way in.
And it did that about half the time, consistently.
So, to be clear, as long as I put one less round in the magazine, it ran great.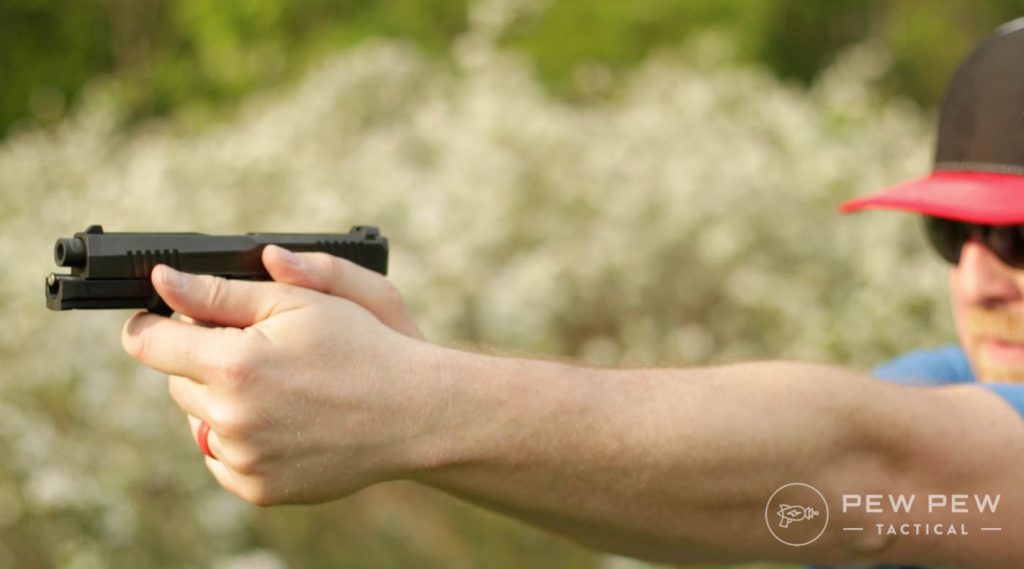 Solid reliability at 14+1, not 15+1.
To be fair, a lot of guns do this, so it's far from a unique problem.
Also, it's worth mentioning; this is the only Dagger I've put my hands on. Maybe it's a fluke with this particular gun.
And, let's not forget it's brand new, so maybe this issue will work itself out down the road. But, I can't say for sure.
Second, you get no options for changing out the backstraps.
The grip just is what it is.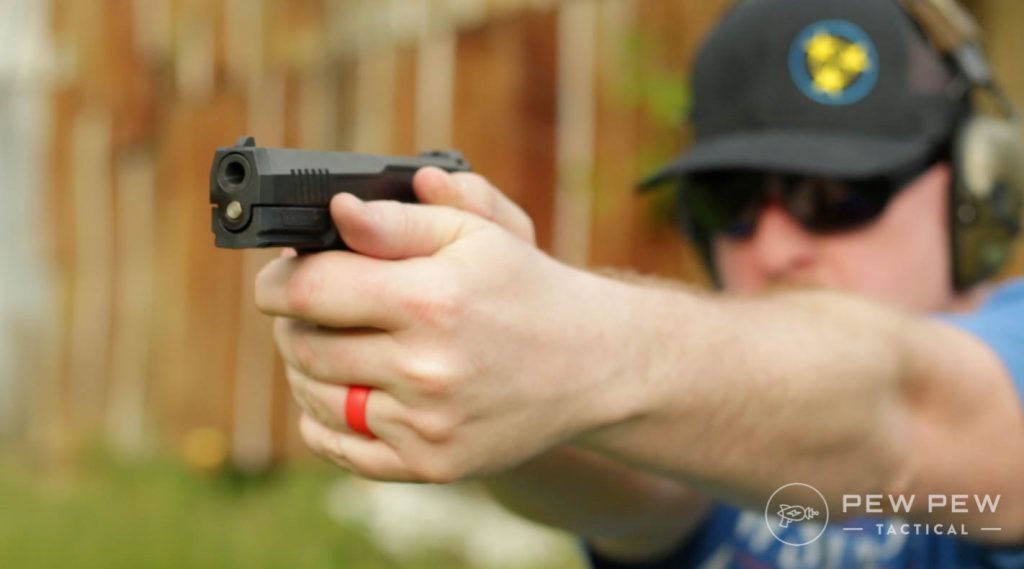 Personally, I never change out backstraps, but teeny tiny shooters might struggle without this option.
And, let's be real, interchangeable backstraps have become somewhat of an industry-standard, even on budget guns. Taurus has them, as does Canik.
If you're on the petite side, you might want to find a way to try before you buy, just to make sure it fits your hand.
And, finally, I think one magazine is kinda lame.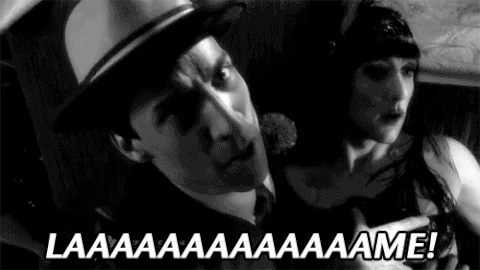 I'll gladly trade a nice box and that challenge coin for an extra mag that I'll actually use.
But, for $299, I guess I can afford to go buy extra mags.
By the Numbers
Reliability: 4/5
This one is a little funky. With minus one in the mag, it's a solid 5/5. But with the mag stuffed full, it's a little less.
Ergonomics: 5/5
Great grip angle. Solid controls. And that slide texturing is the bees knees.
Accuracy: 5/5
At defensive distances, I shot this one fantastically. Easy to stay on target.
Customization: 5/5
Go have yourself a good time. Sights. Triggers. Threaded barrels. Frame stippling. And rumor has it an RMR option is coming down the road.
Value: 5/5
Three words: Two. Ninety. Nine.
They are still out of stock for most of the day. But if they are like PSA's other items they usually pop up weekdays around 4pm EST.
Overall: 4.5/5
I tried to not like it. But I do. Keep in mind it's a sample size of one. But this one ran great, looks good, and that value is maybe the best in the market for a compact shooter.
Conclusion
Bottom line: it's a 9mm Glock 19 Clone for under $300 that runs surprisingly well at its price point.
Full disclosure, I went into this thing sort of rolling my eyes. Like it's a $299 gun from PSA, it's gonna be a cheap piece of plastic.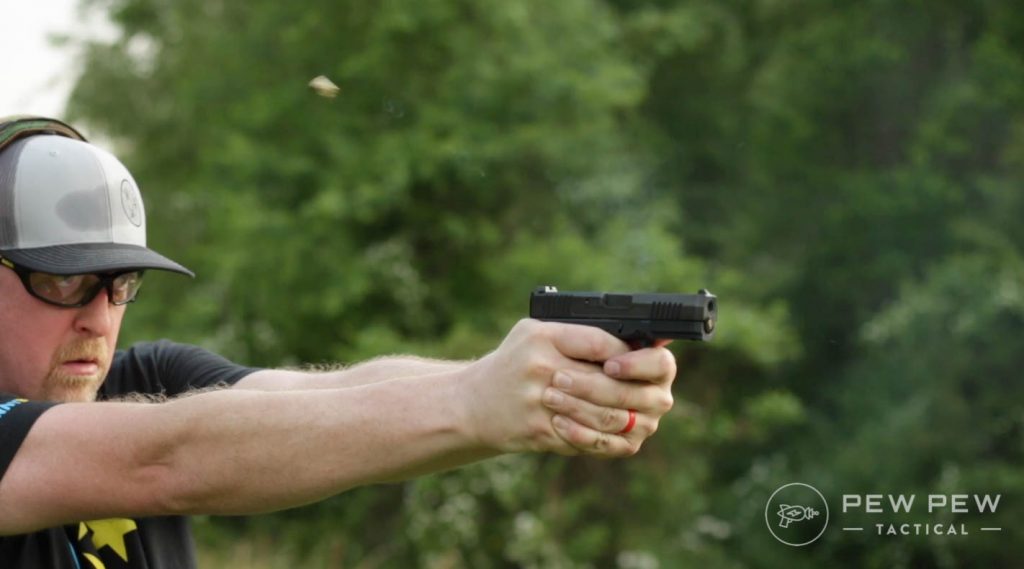 But after the first time at the range and 700 rounds down the pipe, I texted my editor and told him, "OMG, I think it's good."
After another 400 rounds later, I can confidently say it's accurate, reliable, and outstandingly priced.
299
at Palmetto State Armory
Prices accurate at time of writing
Prices accurate at time of writing
I sort of tried not to like it, but alas, I do. It gets the ole thumbs up from me.
Want to see the Dagger do its thing? Check out my full video review below.
What do you think of the PSA Dagger? Let me know in the comments below. Want to see more PSA guns? Check out our Review of Almost All PSA's Guns.