How does a new company dive head-first into a fiercely competitive industry that's overrun by brilliant manufacturers?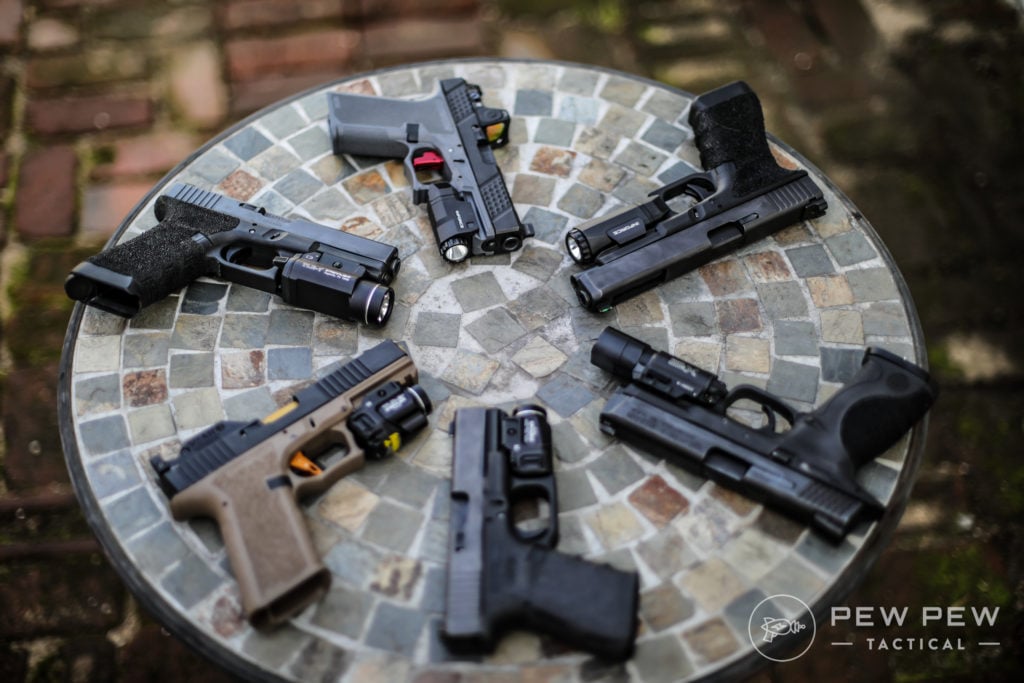 Well, you've got two choices: You design something new and revolutionary, or you manufacture an advanced but recognizable product and sell it at a lower cost.
Oh, and you'll need to fire up that marketing machine!
Which brings us to Olight, an ambitious company that is quickly achieving success by accomplishing all three.
Olight manufacturers high-quality illumination tools for flashlight enthusiasts, adventurous outdoorsmen, and tacticool operators.
This company didn't just enter the tactical market in the late 00s; it exploded onto the scene with innovative flashlights and pistol lights that double as self-defense tools—and all at an affordable cost.
But how does Olight measure up against tried-and-true companies like Surefire, Modlight, Streamlight (my fave), and Cloud Defensive?
Today, we're going to find out.
I got my hands on two tactical laser lights from Olight's PL series, the PL-Pro Valkyrie and the PL-Mini Valkyrie 2. Let's give them a run for their money.
Also keep reading for a 10% coupon off for Pew Pew Tactical readers!
PL Pro Valkyrie
The PL-Pro Valkyrie, or PL-Pro, is basically a souped-up, rechargeable version of the PL-2 Valkyrie.
And that's not a bad thing to be.
While I tend to prefer battery-made models, I'll never mark rechargeability as a strictly negative feature.
This little powerhouse of a light has been upgraded with a lockout mode and a magnetic port and is a great accessory for guns like the Glock 17, Sig Sauer P226, and the CZ P-09.
The PL-Pro Valkyrie has a max lumen count of 1,500 with a reported throw rate of 280 meters.
It is equipped with high and low modes, as well as three output options: momentary, constant, and strobe.
On low mode, the light releases a 300-lumen beam that preserves its battery life. However, the candela at full power is a stunning 19,600.
The PL-Pro Valkyrie comes with rail adapters to make it compatible with even the weirdest rails available on the market.
It also has a quick detach mount that makes it easy to attach and remove as you please.
I appreciate the QD mount, even if it adds some bulk to the light.
Use code PEWPEWTACTICAL for 10% off regular priced items.
PL-Mini Valkyrie 2
The Pl-Mini Valkyrie 2 is a cute little fella.
In many ways, it reminds me of myself: a bit chunky and awkwardly shaped, but it still has its charms.
This tactical light has a neat (if awkward) design and is practically made for sub-compact firearms like the Hellcat, Taurus G3C, and the Smith & Wesson M&P line.
The PL-Mini Valkyrie 2 also comes with a convenient rail adapter for mounting the light to your gun.
You can adjust the position of the light by sliding the rail mount back and forth. Once you find that perfect position, secure it by locking the swing arm in place.
This rechargeable light pushes out 600 lumens of power with a 100-meter beam throw. The PL-Mini Valkyrie 2 also releases a surprising 2,500 candela, which isn't bad for such a small light.
From what I can tell, Olight doesn't sell a battery-powered version of this model. But I guess that makes sense.
This light is so small, I'm not sure where you could even fit a battery—and certainly not a powerful one.
To The Range!
Most of the stats listed above are facts and claims marketed by Olight.
That's all fine and dandy, but our mission today is to see how Olight's tactical lights stack up in a field rife with fantastic weapon lights.
Olight makes some pretty bold declarations, like asserting that both lights are IPX6 waterproof. We're glad they let us know because now we get to drop and drown them.
Never let it be said that hands-on testing isn't the name of the game at Pew Pew Tactical.
Testing The Lumen Output
There is no denying that the PL-Pro Valkyrie and the PL-Mini Valkyrie 2 are both very bright lights.
However, while Olight's lumen calculations are technically accurate, they're also a little misleading.
The PL-Pro Valkyrie's 1,500 lumens is excellent…for about a minute.
After approximately 60 seconds, the lumens start decreasing, and the light gets dimmer for about 30 seconds before finally settling in at 600 lumens.
Which is great, but not 1,500 lumens great.
The PL-Mini Valkyrie 2 has the same issue, but the end result is noticeably worse because it's only a 600-lumen light.
Once again, it only takes about a minute for the light to start dimming—and boy does it! After about 10 minutes, you're stuck with a 60-lumen light.
Of course, you'll never find this information openly advertised on Olight's website or in the official product specs.
Your only hint is that the company uses the term "max lumens" to describe the output.
I had to dig deep into the website and instruction manuals to see how the lights actually work.
But is this a big deal?
I recently spoke with Scott "Jedi" Jedlinski from Modern Samurai Project, and he said something that stuck with me: "Statistics are a cold comfort to a man who got struck by lightning."
In truth, defensive encounters rarely necessitate prolonged light use.
That's why we like momentary modes, right?
The only time I ever used a light in a tactical, defensive manner was during a 10-minute ordeal in Afghanistan.
Am I glad I had it? Absolutely. But it was a one-off incident.
So, I'm going to slam the gavel down and say this point isn't a "big deal," depending on your needs, shooting preferences, and tolerance levels.
But it's certainly worth knowing before purchasing an Olight.
Battery Life & Drain
Olight made a good choice with the rechargeable lithium-ion polymer battery.
They tend to be more expensive than NiC batteries, but who doesn't love higher energy densities, increased charging speeds, and limited waste?
For the parasitic battery drain test, I fully charged both lights before putting them away for a month.
When the month was up, I set a timer, turned on both lights, and sat back to watch a Netflix movie with my little Olight buddies.
Theoretically, the Pl-Mini Valkyrie 2 should last about 60 minutes while the PL-Pro Valkyrie has a runtime of 45 minutes on max power mode and 90 minutes on low power mode.
Both lights exceeded their respective times.
The PL-Mini Valkyrie 2 lasted about 70 minutes before the light was too dim to be useful. Likewise, the PL-Pro Valkyrie was able to shine a whole hour before dying out.
I was also impressed at how quickly the PL-Pro Valkyrie and the PL-Mini Valkyrie 2 recharged after the test was over.
The big brains at Olight were smart to choose magnetic charging cords for these lights. Many other companies rely on charging ports that tend to break or fail over time.
The magnetic switch attaches with ease and charges like a dream.
Unfortunately, the chargers are not interchangeable.
But they won't attach to the wrong light either due to different magnetic polarities. I call that "Travis-Proof."
Ergonomics
I have zero complaints when it comes to ergonomics.
Pick up either light, and you'll find ambidextrous switches that are nicely textured, easy to reach, and comfortable to activate.
It's a pretty nice feature, especially since the two lights aren't identical.
The PL-Mini Valkyrie 2 switches push down, while the PL-Pro Valkyrie clicks inwards.
Speaking of clicks, the tactile feedback from both lights is excellent. It's a small detail, but one that I enjoy.
The PL-Pro Valkyrie and the PL-Mini Valkyrie 2 are lightweight, easy to mount, and shouldn't impact your gun's balance.
Want more good news? The robust QD mount clamps on tight without any issues.
On that note, I need to shine a spotlight on the PL-Mini Valkyrie 2 for a second.
While it's technically designed for use with pistol-sized firearms, you could mount it on a larger gun by using the adjustable rail adapter to slide the light rearwards for easy access to the controls.
Night-Time Light Test
The PL-Pro Valkyrie and the PL-Mini Valkyrie 2 are both lights, so testing how they fare at night is pretty darn important.
After all, what good is a light that doesn't work well in the dark?
I got lucky on testing night.
The sky was clear of moonlight and starlight, so I was able to test these lights at various ranges, including 10, 15, 25, and even an optimistic 50 yards.
My target was an old green polymer silhouette fella that blends into the darkness.
Testing at 50 yards is a little silly, but hey, why not? The PL-Pro Valkyrie model advertises a rifle switch, so I may as well make use of it.
At 50 yards, the PL Pro Valkyrie shone well enough, so long as it stayed at 1,500 lumens. As previously mentioned, that doesn't last very long. But it's still impressive.
I could see the silhouette target decently at this range, but I couldn't make out any details. It's just too far away.
Now, onto the PL-Mini Valkyrie 2. Let's be real; the PL-Mini Valkyrie 2 is in no way designed for this range. This 50-yard test is just for curiosity's sake.
Unlike the PL-Pro Valkyrie, I could only see the target's head when using the PL-Mini Valkyrie 2—and that's only because of the white background. Other than that, nothing was visible.
I was really impressed with the PL-Pro Valkyrie at 25 yards.
The extended range beam lit up the target and eliminated any shadows surrounding it. I could see the target in vivid detail and quickly established PID.
In comparison, the PL-Mini Valkyrie 2 has much more spill and lights up the area. It's not a direct beam pointing at the target.
At 25 yards, I could make out the target, but it's nowhere near spotlight-bright.
The PL-Mini Valkyrie 2 really shines, both literally and figuratively, at 15 yards.
It illuminates the area surrounding the target with a bright, white light. I could easily see the target as well as objects in my periphery.
The PL-Pro Valkyrie is a focused beam of light that illuminates the target but has minimal spill. This cuts off your peripheral sight for the sake of a powerful beam that hits your target like a torch.
While the PL-Pro Valkyrie's light beam is bright, it's a bit more yellow and less white. I tend to prefer clean white beams. But I can't deny that it's effective.
Next, I wanted to test if these lights are capable of penetrating a photogenic barrier, so I equipped my target with a 100-lumen flashlight to create an opposing source of light.
The weapon lights defeated my little flashlight without any issues. And I have to give credit where it's due: The PL-Pro Valkyrie is a powerful light, and it turned the flashlight beam into a blip.
These are great results, but we have to remember that they only apply when the light is burning at "max lumens." (Thanks again, Olight.)
Your first thought might be, "Well, I'll just switch the light on and off to bring it back to full power."
I tried it, friend. It works at first, but when the battery starts to drain, the light has to "rest" before booting back up again at max power.
Shooting With Olights
Ah, my favorite test of all.
I tossed these lights on guns, grabbed different ammo types, and hit the range with the fervor of a child opening presents on Christmas.
Who doesn't love a good day at the range?
Well, I say "day," but I ended up keeping my Olights equipped. For the last few weeks, I haven't shot a gun that didn't have an Olight.
In a way, that's an endorsement in itself!
But for the actual test, I shot various drills with 115-grain training rounds, 9mm NATO, and M17 JHPs.
By the end of the day, I shot enough rounds to nearly blacken the entire lens of the PL-Mini Valkyrie 2. The PL Pro Valkyrie's lens was also pretty cloudy by the time I wrapped up.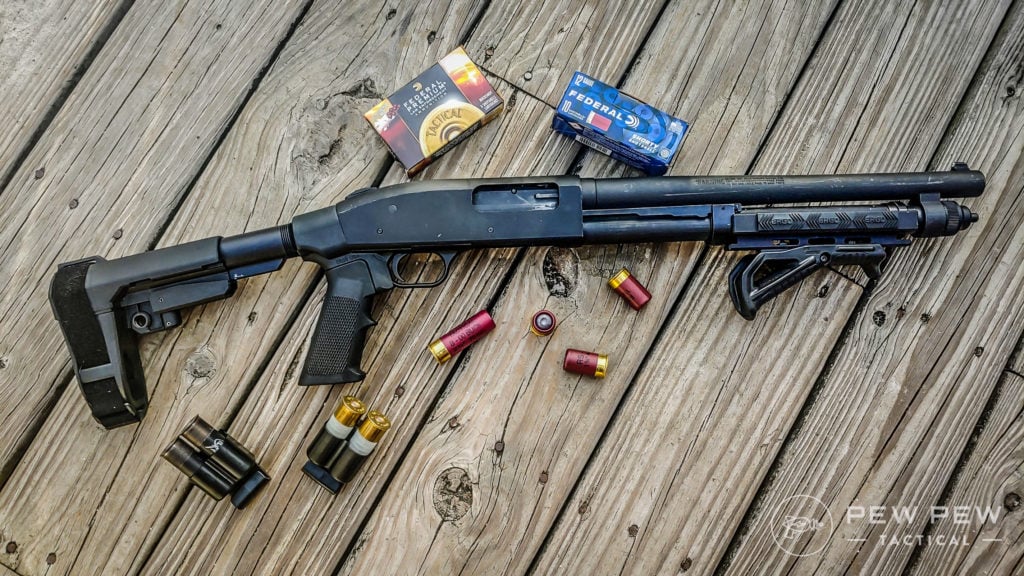 Just for fun, I tossed the lights on my Ultimate Mossberg 590 build and subjected them to a healthy dose of 12 gauge recoil.
Both weapon lights continued to function perfectly well, regardless of the recoil they were forced to withstand.
Playing with these Olights makes me wish I had a SCAR. I would love to mount them on a real battle rifle and see what happens. Alas, all I can do is strap them to normal guns.
Auspicious Water Test
I need to clarify a few things before we get into the details of this test.
Most brand flashlights and tactical lights come with a rating, like IPX4 or IPX6. This rating represents the degree to which a light is protected from harmful debris, liquids, and interaction with solid objects (like your fist).
Olight advertises that the PL Pro Valkyrie and the PL-Mini Valkyrie 2 are both waterproof with an IPX6 rating.
But that rating introduces some subjectivity to the term "waterproof." More specifically, these lights are not designed to withstand complete submersion, but they can resist jets of water.
As you can imagine, I was a little stumped on how to fairly test Olight's waterproof claim. I couldn't drop the lights in a bucket of water, and it's not like I have a scientific lab with built-in jets.
But hey, I live in Florida. Ask for water and eventually you shall receive.
While I was at range for a different article, a few clouds decided to turn on their faucets. Who am I to ignore such luck?
When I got home, I put the Olights outside to suffer in the rain.
More specifically, I chose an area where the rain pours off the roof hard and fast.
I set a timer, turned on the lights, and watched them pitifully drown for 5 minutes.
And you know what? Both lights survived this cruel watery assault. They stayed on, didn't flicker, and still worked after I dried them off.
Drop Test Time
What haven't we done with these lights? We've soaked them, shot with them, and even tested them out in the dark.
But we aren't finished yet. That's right, it's time for my famous drop test.
And when I say "drop," I mean drop them, bang them up, and kick 'em around to see if they hold up.
We are nothing if not thorough at Pew Pew Tactical.
I dropped the PL-Pro Valkyrie and the PL-Mini Valkyrie 2 on three different impact areas: standard soft dirt, hardened lime rock, and cinder blocks.
And not just once.
The lights were dropped twice on each side, twice falling straight down, once from chest-height, and once from head-height.
So, each light was dropped six times per impact surface for a total of 18 drops per light.
Both the PL-Pro Valkyrie and the PL-Mini Valkyrie 2 survived the testing without any major damage. There are a few scuffs and scrapes, but nothing to write home about.
The PL-Pro Valkyrie popped off the rail a few times, but you can always tighten it, especially when switching between guns.
Rail specs are more like suggestions, anyway.
As for the minor damage…
I did discover one issue with the PL-Pro Valkyrie's switch design.
After one of the drops, the switch button, which pushes inward, failed to fully accentuate. A quick look-see revealed that something was preventing the button from clicking into action.
The space under the push-in buttons was jammed with sand and lime rock.
Luckily, this problem was easily remedied.
I tapped it against a table a few times, made a little pile of dirt, and bam—the PL-Pro Valkyrie lived again.
By The Numbers
Reliability
PL-Mini Valkyrie 2: 5/5
I tried my best, but the PL-Mini Valkyrie 2 refused to fail. I dropped it, drenched it, and kicked it around, but it keeps on keeping on.
PL-Pro Valkyrie: 3/5
The PL-Pro Valkyrie proved its worth during most of the tests. But it shut down after a little debris got stuck under the buttons.
I was able to fix it by banging the dirt out, but I'm still not impressed.
Ergonomics: 5/5
Both lights score a 5/5 when it comes to ergonomics.
The buttons deliver great feedback and are easy to reach and access.
I think the QD attachment systems are slightly bulky, but it's easy to pop the lights on and off, so whatever.
Looks
PL-Mini Valkyrie 2: 3/5
The PL-Mini Valkyrie 2 isn't going to win this beauty contest. It's a stubby little fella with some awkward edges. That seems to be the norm for most small lights, though.
PL-Pro Valkyrie: 4/5
Comparatively, the PL-Pro Valkyrie has a fairly simple and streamlined design. But I hate when companies slap big logos and lettering on their lights.
Bang For Your Buck
PL-Mini Valkyrie 2: 3/5
My biggest complaint with both lights is that the advertised lumens are not an honest calculation. It only accounts for turbo mode, and that rubs me the wrong way.
But if you're looking for a little light that isn't too expensive, you can't go wrong with the PL-Mini Valkyrie 2. Very few lights of its size and quality fall into that price range.
PL-Pro Valkyrie: 4/5
The PL-Pro Valkyrie is a tough sell, in my opinion. It looks sharp and has some perks, but it's pricey and imperfect.
For $10 more, you could buy a TLR 1 HL with 1,000 lumens that last longer than a minute. Sorry, PL-Pro Valkyrie. When it comes to illumination, I prefer function over beauty.
Overall Scores
PL-Mini Valkyrie 2: 4/5
The PL-Mini Valkyrie 2 occupies a niche space in this industry. I can't think of many lights that share its size, durability, efficacy, and price tag.
Don't get me wrong, I'm still unimpressed with its falsely advertised lumen count, but it is what it is.
PL-Pro Valkyrie: 4/5
The PL-Pro Valkyrie deserves some points for its durability and ergonomic design.
However, I can't recommend it over the TLR 1 HL because debris disabled the buttons during testing. It's too pricey to have such a noteworthy design flaw.
But, as always, the choice is yours.
Pew Pew Tactical Olight Coupon
As promised…use code PEWPEWTACTICAL to get yourself 10% off!
Conclusion
At the start of this article, we posed a pretty big question: How do the PL-Pro Valkyrie and the PL-Mini Valkyrie 2 rank against similar tactical lights being manufactured by Olight's competitors?
After thorough testing, I've come to my own conclusions.
Although these lights are cheaper, they are a few tiers below comparable lights made by Streamlight and Surefire. But they're infinitely better than most of the lights you can find on Amazon.
Olights are new to the tactical market and are making a big splash.
The PL-Pro Valkyrie and the PL-Mini Valkyrie 2 performed very well during testing. That said, there are some notable and flaws and quirks that you should keep in mind before making a purchase.
If I had to pick a favorite, it would be the PL-Mini Valkyrie 2. It's small, affordable, and can squeeze onto long and subcompact firearms.
I hesitate to recommend the PL-Pro Valkyrie because better lights exist, like the TLR 1 HL. It may only last an hour, but I still prefer it over the Pl-Pro Valkyrie's high-powered, short-term settings.
What do you think about the PL-Pro Valkyrie and the PL-Mini Valkyrie 2? Do you have any personal experience with Olights?
If you're curious to learn more about weapon lights, check out 9 Best Pistol Lights [Hands-On Review]. Or, if you're looking to protect your Olight, head on over to 6 Best Holsters for Olight Lights.