Last Updated: July 9, 2017
Disclaimer:  While the information provided here is legal in nature, it is not to be construed as legal advice, and is for educational and entertainment purposes only.  
States across the country all have their own laws on carrying a handgun, and when it comes to carrying concealed, things can get even trickier.  
While Minnesota has a pretty involved process to purchase a handgun, actually getting a CCW permit isn't nearly as complicated.  This guide will go over how to get your CCW permit from Minnesota, and what to watch out for once you've got it.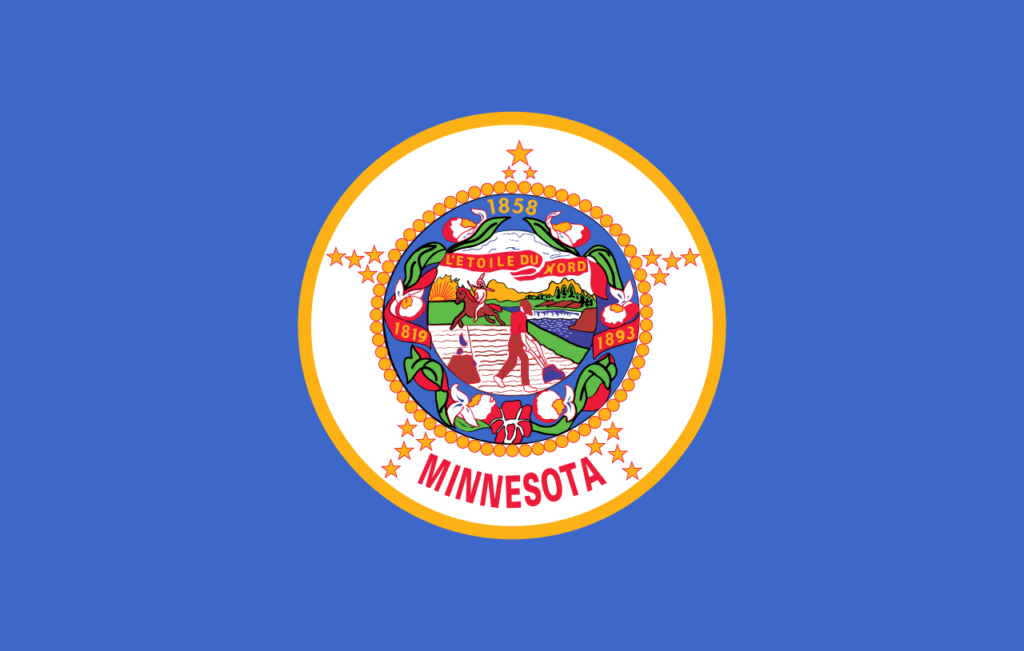 Getting the Permit
First things first, it's useful to know that Minnesota is a shall-issue state.  That means, as long as you fill out the application correctly and meet all the requirements, a CCW permit, officially a "permit to carry", will be issued to you.  So don't mess it up!
A permit to carry (PTC) is required in Minnesota to both open carry and carry concealed.  Basically, if you want to be able to carry your handgun outside of your property, you will need to get a PTC.    
Applications have to be submitted in person, so even though the state allows non-residents to apply for permits, mailed applications will not be accepted.  Road trip!
So How Do You Qualify?
To be eligible for a PTC, you must:
Be 21 or older;

Be a US citizen or legal permanent resident;

Be legally allowed to own a firearm (duh!);

Not be listed in the criminal gang investigation system;

Be a resident of the county you are requesting the permit for (non-residents can apply with any county sheriff);

Provide a certificate of completed firearms training.
The training is not too difficult, but must meet some requirements to be considered an authorized training course.  Typically any course that is Minnesota-specific and taught by an NRA-certified instructor would likely meet the requirements, but you should always double check to make sure you are getting your money's worth!
The training course must include:
Instruction in the fundamentals of handgun use;

An actual shooting qualification exercise;

Instruction in the fundamental legal aspects of handgun possession, carry and use, including self-defense and the restrictions on use of deadly force.
Of course, if the sheriff determines that you are a risk to yourself or others, then you may still be denied the permit.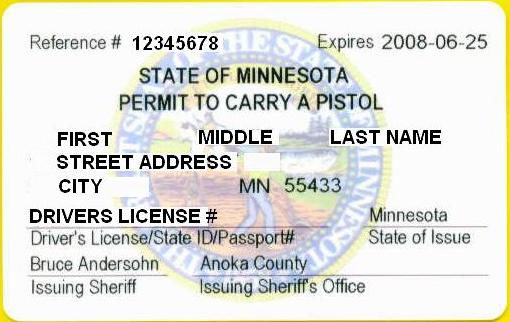 In Case of Emergency
If you are in an emergency situation and cannot wait for a permit to be issued through the normal process, you can go to your county sheriff's office and tell them why there is an immediate risk to your safety or the safety of someone in your household.  
If you are granted the emergency permit, it is still a good idea to apply for a standard permit, since the emergency permit is only good for 30 days.  The 30 days should give you plenty of time to go through the standard application process and be able to get a permanent PTC.
Wait a Second
After your fill out the application (make sure to double check you included everything!), your permit will be issued or denied within 30 days.  Because Minnesota is a shall-issue state, it should be just a month waiting and checking your mailbox for the permit.
If you are denied the permit, the reason will be explained in the letter that is mailed to you, and you can go to your county sheriff's office to address any of the issues that caused you to be denied.  
Once you've got the permit, don't forget to renew it every 5 years!
The most important thing to keep in mind is to always have your PTC and ID on your at all times, as you are required to present both to any law enforcement officer when they ask for it.  The last thing you want is for an officer to find you are carrying concealed without any ID.
Where Are You Going?
Even with a PTC, there are still places where your trusty handgun is not allowed.
For those of you who already read through our Minnesota gun laws section, you'll know that antique firearms don't have to follow the rules for standard firearms.  That means if you are carrying an antique firearm (for whatever reason), you won't need a PTC, and it is treated just like carrying your phone, wallet, or any other non-firearm item you would carry.  
For that Glock (or any other non-antique firearm), you'll need to pay attention to where you are going, and make sure you don't take it somewhere firearms are prohibited.
Guns, even with a PTC, are not allowed in:
Schools or school property (all public, private, elementary, middle, or secondary schools);

Childcare centers (when children are present);

Federal lands (national parks, federal courthouses, prisons, etc.); and

Anywhere on private property where the owner has put a sign that says "(Owner's name) BANS GUNS IN THESE PREMISES".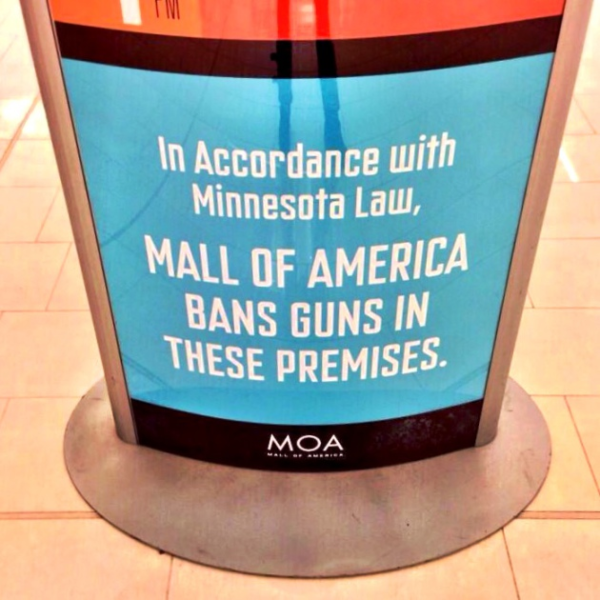 Basically, you want to keep your guns away from schools, and anywhere that has metal detectors.  Restaurants and stores that have signs banning guns should be pretty obvious by looking at the signs out front.
Keep an Eye Out for Special Situations
Even though owners of private property can ban guns on their property, a landlord cannot restrict tenants or their guests from carrying on the property.  Along those lines, however, the owner of a home can prohibit firearms on their property.
Basically, whoever is legally allowed to be living at a house gets to decide whether to allow or prohibit guns in their home.  Makes sense.  
However, at work, that is a different matter.  Your company is allowed to have a policy that prohibits guns in the workplace when employees are working.  
Reciprocity
Of course, the PTC is not only useful in Minnesota, but also when you travel outside of the state!  Well, sometimes.  About half the states in the US recognize a Minnesota PTC.  You'll want to be careful when you pick your next vacation if you want to be able to keep your hand gun strapped to your waist during the trip.    
A Minnesota PTC is recognized in:
Alabama

Alaska

Arizona

Idaho

Indiana

Iowa

Kansas

Kentucky

Louisiana

Michigan

Missouri

Mississippi

Montana

Nebraska

Nevada

North Carolina

North Dakota

South Dakota

Utah

Vermont

Virginia

Wisconsin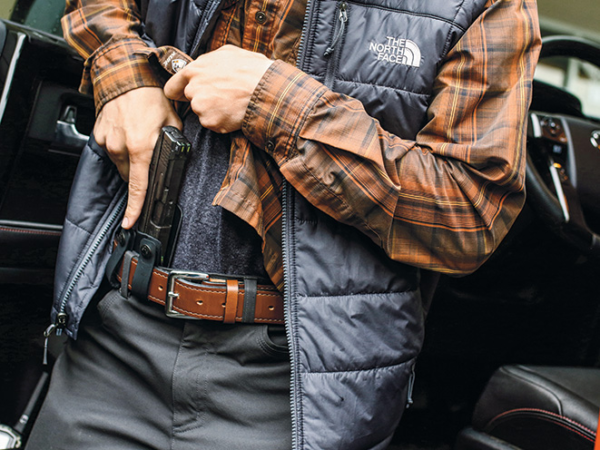 If You're Just Visiting
As a visitor to Minnesota, there's a chance your CCW permit may be recognized just like it is back home!  Well, a small chance.  Minnesota only recognizes CCW permits from a couple states, and in some instances, only specific versions of CCW permits from those states.
Minnesota recognizes CCW permits from:
Alaska

Delaware

Idaho (enhanced permit only)  

Illinois

Kansas

Kentucky

Louisiana

Michigan

Nevada

New Jersey

New Mexico

North Dakota (Class 1 only)

Rhode Island

South Carolina

South Dakota (enhanced permit only)
If you're lucky enough to be from one of those states, then when you visit Minnesota on your next trip, you can keep carrying just like you normally would!
Carry On!
That's it!  All you need to know about getting a PTC from Minnesota!  Take a look at our recommendations for concealed holsters if you're looking to put that new permit to good use, and don't forget about CCW insurance, too!
And don't forget to check out our general Minnesota gun laws section and brush up on your knowledge!