Last Updated: August 28, 2021
Disclaimer:  While the information provided here is legal in nature, it is not to be construed as legal advice, and is for educational and entertainment purposes only. 
With so many gun laws varying from state to state, it can be tricky to keep track of and navigate the gun laws of your own state.
Fortunately, Ohio only has a handful of gun laws you'll need to know about in order to be a responsible and law-abiding gun owner. 
We'll give you the short and sweet version of the gun laws so you'll be able to buy and own all the guns your heart desires! (Sorry, wallet!)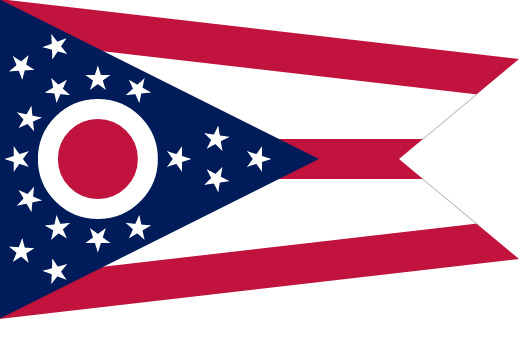 Buying a Handgun
Getting your hands on a gun in Ohio is pretty straightforward, especially when compared to states like California and New York. No permit is required to buy a handgun in Ohio, and there is no waiting period between when you pay for the handgun and when you can take it home with you.
There are some basic rules before you can just pick out your favorite type of Glock and take it home, though. 
To buy a handgun, you must:
Be 21 or older;

Provide state ID; and

Have a background check performed by a licensed firearms dealer.
Of course, if those three steps are still too much for you, you can always buy a handgun from a private seller and avoid the background check.
Even if you meet those basic requirements, though, there are still some situations that would prohibit you from owning a firearm in general. 
You cannot buy or own a firearm if you are:
A fugitive from justice;

Are under indictment or have been convicted of any felony offense of violence, or adjudicated a delinquent for an offense that would have been a felony offense of violence if committed by an adult;

Under indictment or has been convicted of felony offenses involving illegal possession, use, sale, distribution, or trafficking in any drug or adjudicated a delinquent for the same type of offense that would have been considered a felony offense if committed by an adult;

A drug dependent, in danger of drug dependence, or a chronic alcoholic;

Adjudicated mentally incompetent, have been committed to a mental institution, or have been found by a court to be mentally ill or involuntarily committed to a mental institution.
If none of those situations apply to you, then you're good to go!  Find your nearest local gun store and pick out your shiny new toy!
It's also important to keep in mind that the only laws you need to worry about when it comes to firearms, firearms parts, and ammo, are the ones passed by the state of Ohio.
All other laws and regulations that local governments within the state try to impose on its residents are superseded by Ohio state law and have no effect!  Take that, city council!
For antique collectors…
Some bad news. The state of Ohio treats antique and replica firearms the same as any other firearm, which means all the rules on purchasing and owning them apply just the same as they do any modern gun. Sorry.
Don't forget about long guns!
While you're out buying your handguns, you might as well pick up some long guns to keep them company. Fortunately, the rules on purchasing long guns aren't much different from the ones for handguns. 
To buy a long gun, you must:
Be 18 or older;

Provide ID; and

Have a background check performed by a licensed firearms dealer.
Just like with handguns, if you decide to buy your long gun from a private seller, you can avoid the background check. But they should still check your ID and make sure you're at least 18!
What about the children??
Don't worry, kids! Even if you don't meet the age requirements for buying a long gun or handgun, you can still use either type of gun, as long as it is for hunting (with a permit!), participating in a shooting event, or while attending a hunter's safety or other type of firearms course.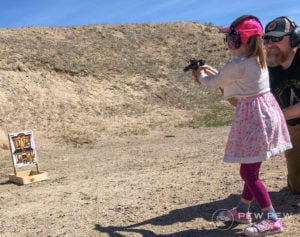 Where Can You Carry Your Gun?
Once you've got your firearms in hand, you still need to be careful! Ohio does not prohibit open carry of firearms in most situations, but you should still be careful where you bring your guns.
Typical places where open carry, and even concealed carry, is not allowed, are places like courthouses, police stations, detention centers, and any government building or property in general. Basically, if there are metal detectors you need to go through, you probably should not be trying to bring your guns with you.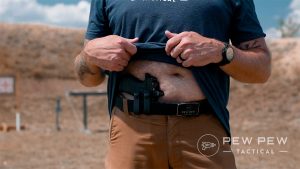 One other place firearms are not allowed is in any place where liquor is sold. If you're heading to a bar with your friends, you should lock up your handgun in your car safe and pick it up after you leave (sober!).
And, of course, if the building, store, or property you are entering has a nice big obvious sign with the specific language, "Unless otherwise authorized by law, pursuant to the Ohio Revised Code, no person shall knowingly possess, have under the person's control, convey, or attempt to convey a deadly weapon or dangerous ordnance onto these premises," then you'll have to leave your firearm in the car or at home. Or just go somewhere else.
Concealed Carry 
Ohio does allow gun owners to carry concealed, and as of 2022, no permit is required to carry. That means that any Ohio resident that is 21 or older (who is not prohibited from possessing a gun) can carry a concealed handgun.
Ride Along
When you're not carrying your firearms around town, there are a few rules to keep in mind for transporting your guns in the car.
If you aren't carrying, you can only transport firearms if they are unloaded. In addition to that, the firearm must be:
In a close case, box or package;

Secured in a rack

in plain sight

;

In a compartment that can be reached only by leaving the vehicle (i.e. in the trunk, not in the back seat or passenger seat); or

In plain sight, with the action open or the weapon stripped, unless the action will not stay open or cannot be easily stripped (

this option only applies to long guns

).
Ohio Special 
And because it's Ohio, there's a special law just for the Buckeye State. It is illegal to discharge a firearm in, over, or within 100 yards of a cemetery unless you discharge the firearm while on your own land. 
Not really sure why you'd be shooting near a cemetery in the first place, but apparently, it was a big enough problem that it had to be written into law. Stay away from cemeteries and stick to approved shooting ranges!
When to Use Your Guns
Whenever you need to! Sort of. Ohio has laws on self-defense, but only when you are at home. The law, commonly referred to as the "Castle Doctrine," allows you to use deadly force, if necessary, to defend yourself or others while at home, a.k.a. your "castle."
Specifically, you can use deadly force against someone to defend yourself or another person if someone is in the process of, or has already illegally entered a home or occupied vehicle where you are. 
Our observant readers will notice the law allows for you to defend yourself in a home or occupied vehicle. So if you are in a car and someone breaks into it, you can use deadly force to defend yourself in that situation. If someone breaks into your car while it's sitting in the driveway and you see it from inside your house, you cannot use deadly force to defend yourself, because you are not under threat. 
No one wants to have their car stolen, but the law does not allow you to kill someone just because they are trying to steal your car.
It is also important to keep in mind that you must be legally allowed to be in the house or vehicle yourself. If someone breaks into your house or your parents' house (assuming your parents are ok with you being in their home), then you are justified in using deadly force to defend yourself, but if someone breaks into the same house that you broke into 5 minutes earlier, then you are not justified in shooting them, and may also need to rethink your life choices.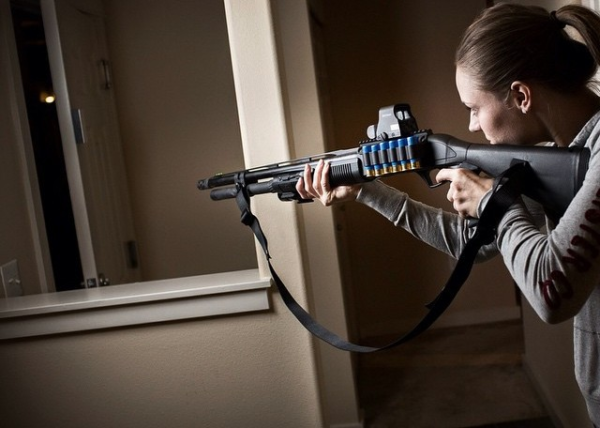 Standing Your Ground
There is another doctrine of self-defense many states have adopted, known as the "Stand Your Ground" doctrine. This doctrine, which got a lot of attention from the Trayvon Martin shooting in 2012, basically says that if you are outside your home, but somewhere you are legally allowed to be, you do not have to retreat to safety and can use deadly force to defend yourself.
Ohio does not allow you to "stand your ground" when you are not in your home or occupied vehicle. If you are out on the town, have your firearm with you (which you always should!), and encounter a situation where you may need to defend yourself or retreat to safety, you cannot engage the threat, under Ohio law, and must instead choose to retreat.
Even with all these laws on self-defense, you should always use your best judgement to decide what type of force is appropriate. Just because you are allowed to use deadly force doesn't mean you have to. Taking any life is always a serious decision, and may not always be necessary in order to end a threat to you and your loved ones.
Final Thoughts
And on that happy note, we're done!  You now know everything there is to know about gun laws in Ohio!  Well, except for the concealed carry laws. But we've got you covered with our Ohio CCW section, so go check it out!
If you don't need to know about the concealed carry laws just yet, that's ok too!  You can work on your gun collection instead!  You might want a nice safe to keep all your new toys, though. A sturdy safe can also keep your guns from prying eyes and curious kids.
If you want to start smaller (for some reason), a gun cabinet, or even just a decent handgun safe may be a good investment, so all those rifles can have a quiet place to rest after a busy day at the range. Now go out and pew pew!