Full disclosure: I like GLOCKs.
After more than a decade running a ridiculous number of handguns, my GLOCK 19 remains a relied-upon staple in my gun wardrobe.
If you're hunting for a reliable self-defense handgun they should be on your list.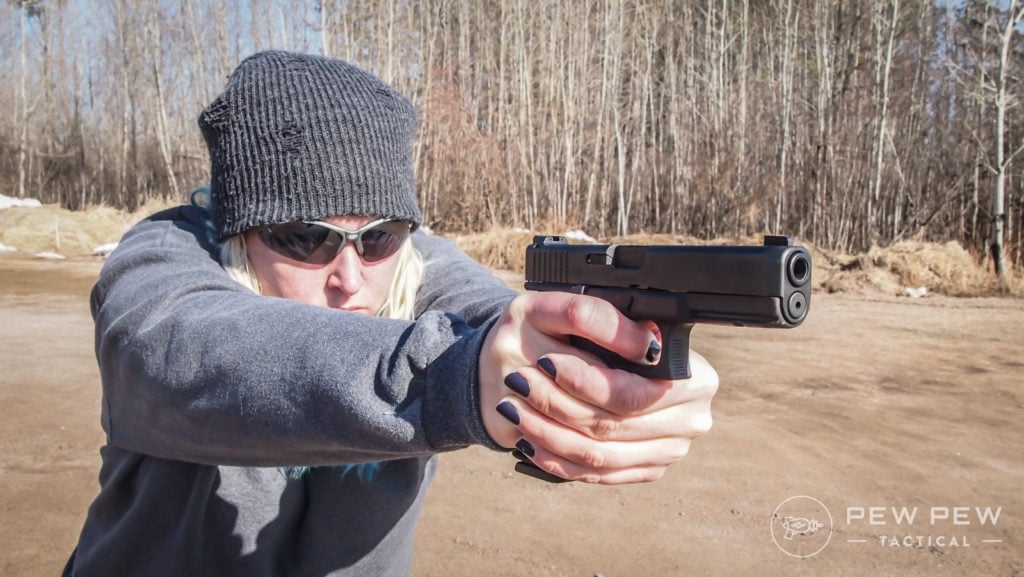 Wondering if the fifth generation of Gaston's creation is worth it?
Here's my take with diving deep into the specs and shootability.
539
at Palmetto State Armory
Prices accurate at time of writing
Prices accurate at time of writing
Plus possible upgrades!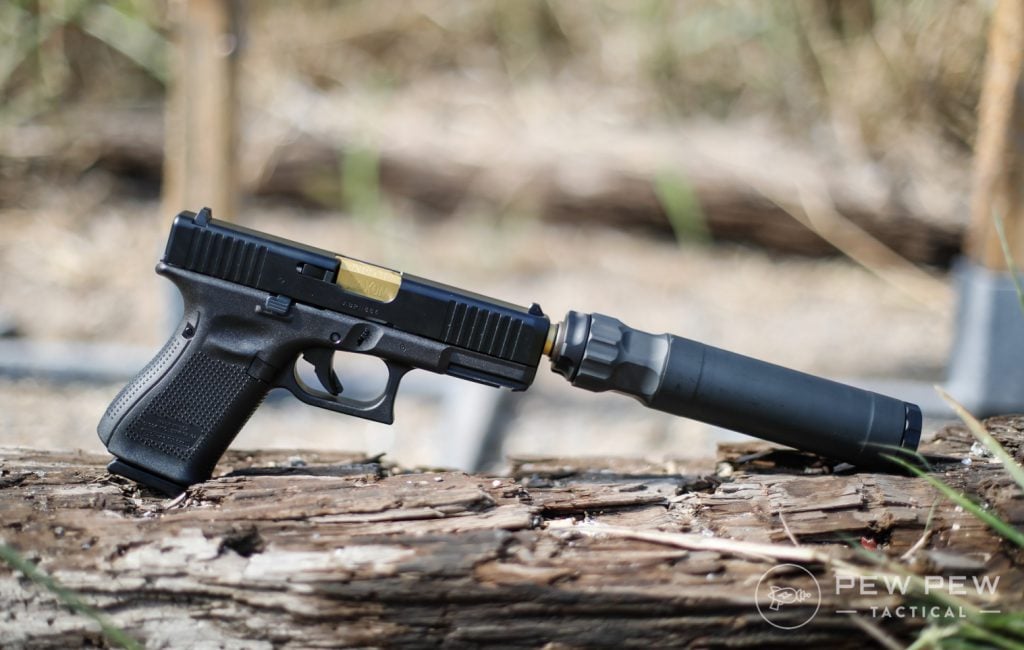 Table of Contents
Loading...
Glock 19 Review at a Glance
Pros
Renown reliability
Comfortable grip with removal of finger grooves
Adjustable backstrap
Easy to field strip
Tons of aftermarket support
Cons
Stock sights are not great
Trigger takes some getting used to
The Bottom Line
The Glock 19 Gen 5 leads the way in sales with stellar reliability, aftermarket support, and much better ergonomics compared to previous generations.
Specs & Features
Specifications
Caliber: 9x19mm
Capacity: 15+1
Barrel length: 4.02″
Weight (unloaded): 23.6 oz
Weight (loaded): 30.16 oz
Dimensions: 7.36″ x 1.26″ x 5.04″
Features
Fixed sights
Adjustable backstraps
Safe Action trigger safety
Source: Glock
Background
The most popular model of GLOCK currently on the market is, of course, the G19.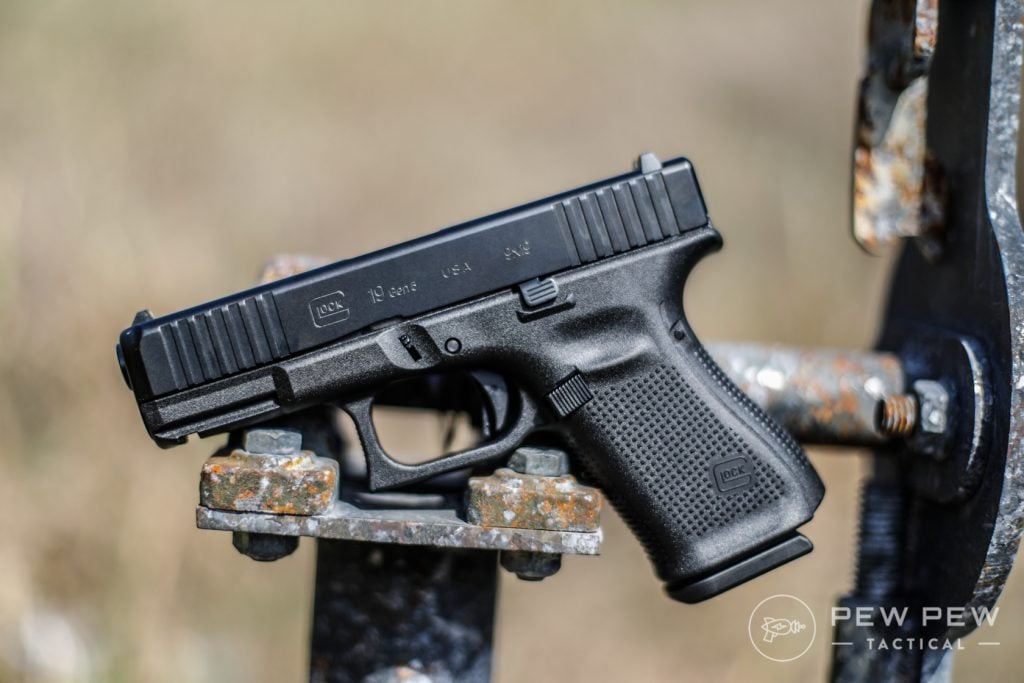 Yes, the G17 full-size is a common duty gun for law enforcement and alphabet agencies around the globe, but the G19 is where it's at (or so the sales say).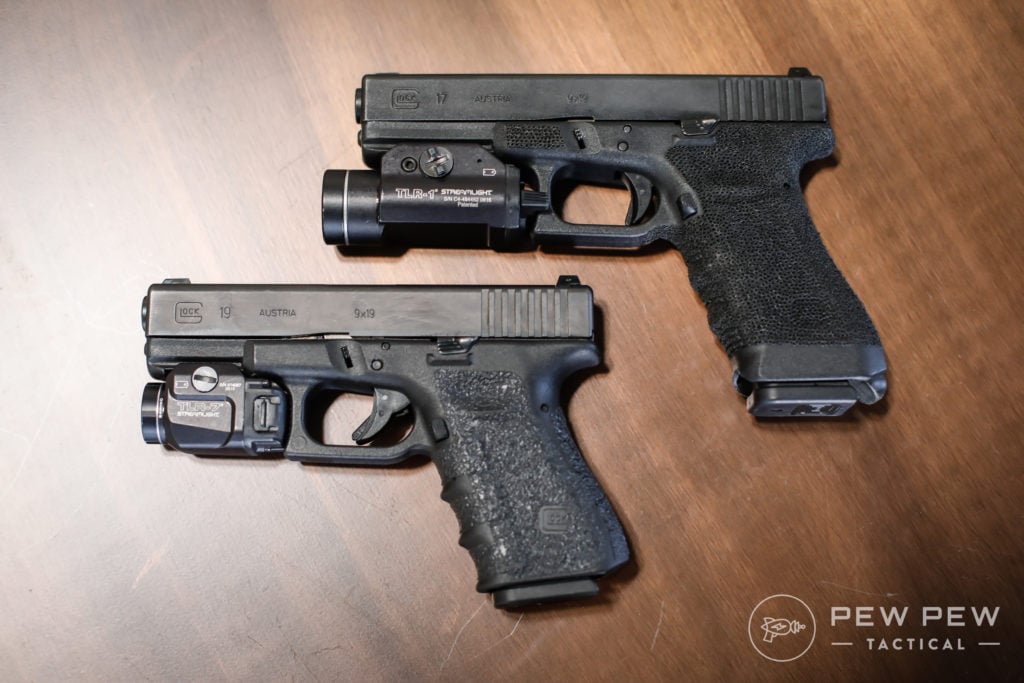 There aren't just hundreds of thousands of these plastic fantastic pistols out there, there are millions. More than 20 million as of 2020.
History
Did you know GLOCK Ges.m.b.H didn't start out manufacturing firearms?
Gaston Glock founded the company back in 1963 but it wasn't until the 1970s he made his foray into firearms in an explosive way – by manufacturing grenade casings and machine gun belt links. (Admit it, now you want a GLOCK grenade.)
Then, in 1981, a 52-year-old Gaston designed and manufactured his first gun for the Austrian military. Sorry, G19 fans, the first GLOCK was a G17. Thus began Gen1.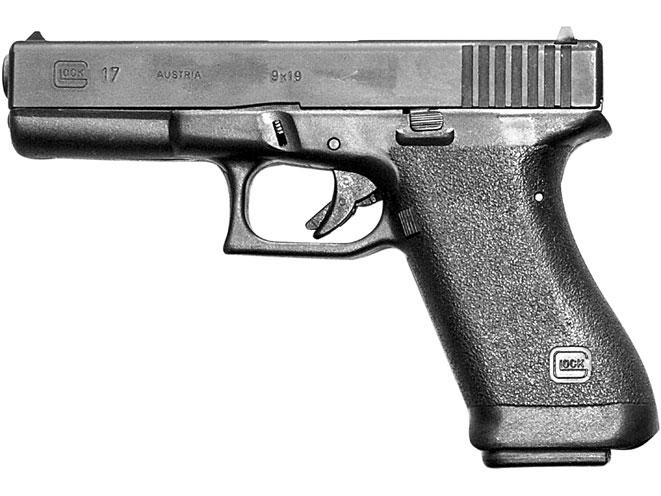 For your sake, I'll subdue my inner gun geek and summarize the gun's history instead of taking a deep dive into the generations. Basically, Gaston created the inaugural model to meet the military's specific needs.
The Austrian military wanted a handgun capable of being fired quickly and accurately; when it came down to it, Gaston decided in order to meet the level of speed they demanded, external safeties had to be eliminated.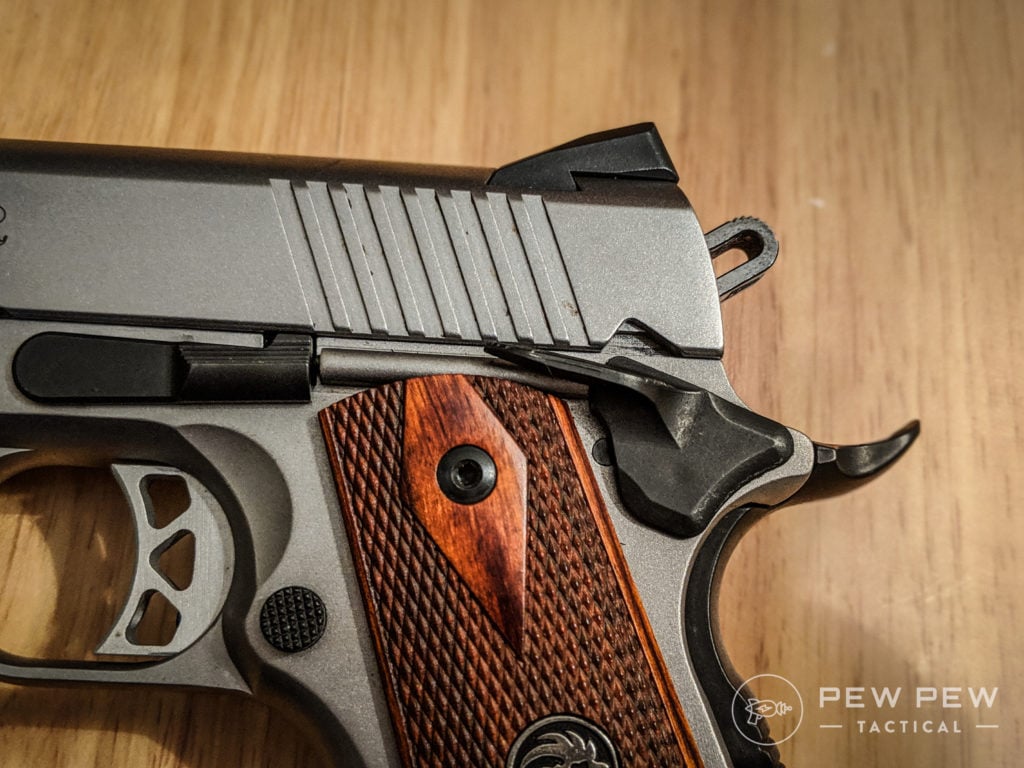 He spent eighteen months designing the Gen 1 GLOCK, developing the well-known SAFE ACTION System and its trio of internal safeties: trigger, firing pin, and drop safeties. The internal safeties of the GLOCK are the most-argued feature of the handgun.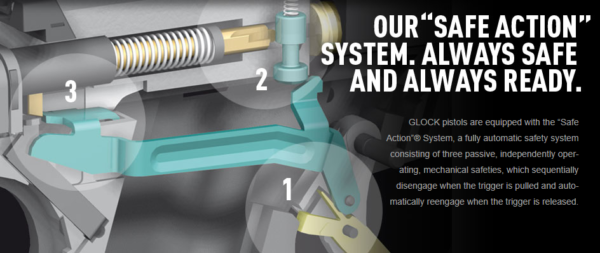 Simplicity
GLOCKs are simple.
The average GLOCK contains 35 parts, way less than the approximately 58 of a 1911 or a Colt Python with 57 parts.
Fewer parts translate to fewer potential failure points and have the benefit of simplifying repairs, maintenance, and modifications. Sounds like a win to me.
There are currently five generations of GLOCKs.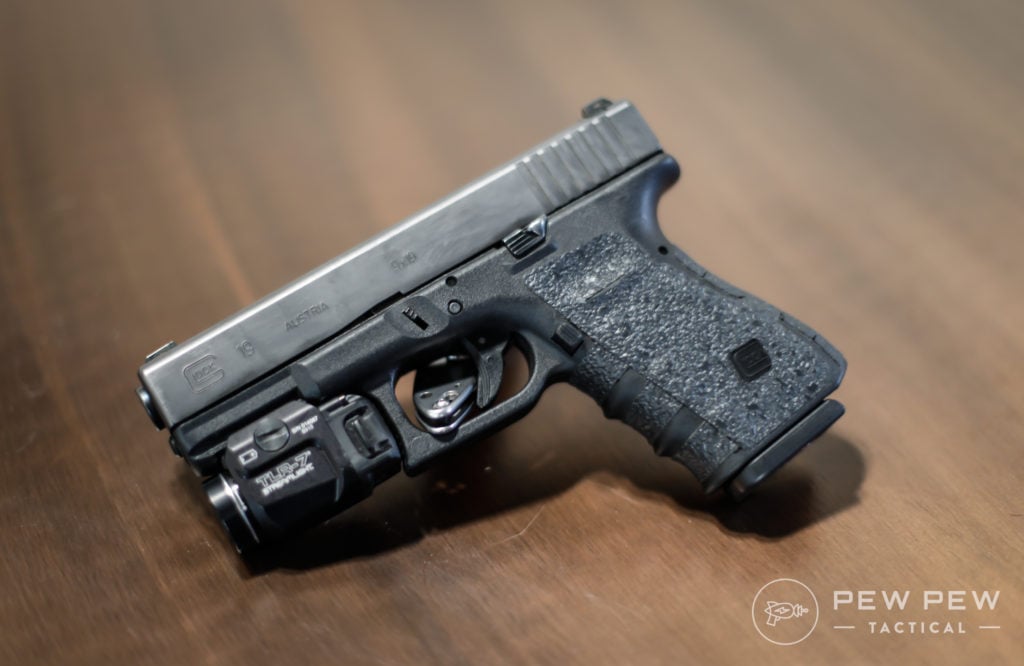 Over the years changes have been made like the Gen2 texturing of the front and backstraps, Gen3's forward accessory rails and locking block pin, and Gen4's reversible magazine release, to name a few. We nerd out on the generations here.
Generation 5 Glock
When GLOCK launched the Gen5 G19 it was the removal of the finger grooves that thrilled me.
Let's face it, it's rare to have your fingers precisely fit grooves on mass-produced guns.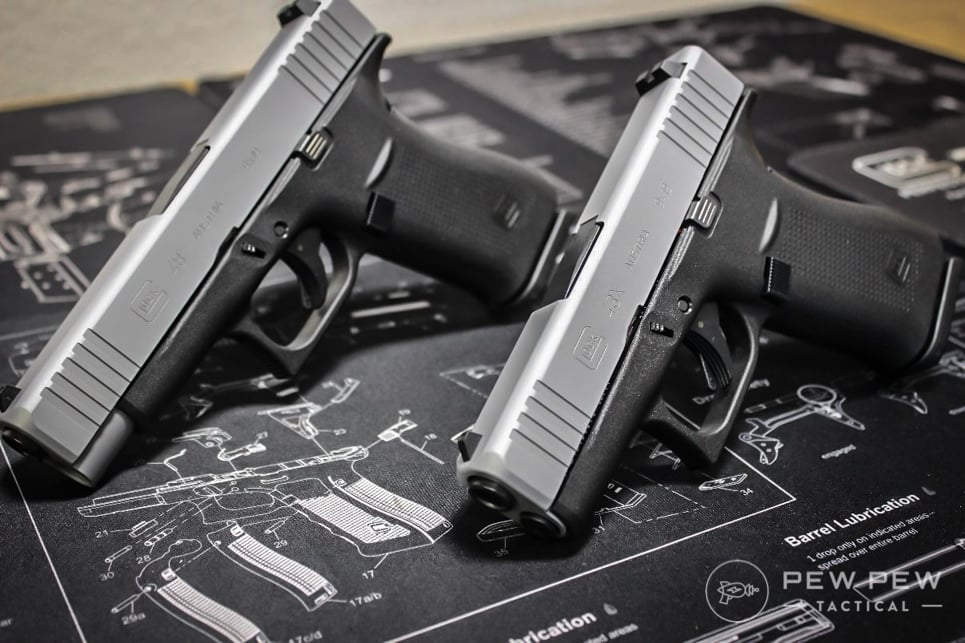 There were about twenty changes made to the gun including non-polygonal rifled, match-grade barrel, nDLC finish, ambidextrous slide lock levers, and a ramped striker safety plunger.
They replaced the leaf spring of the slide lock lever with a coil spring, too.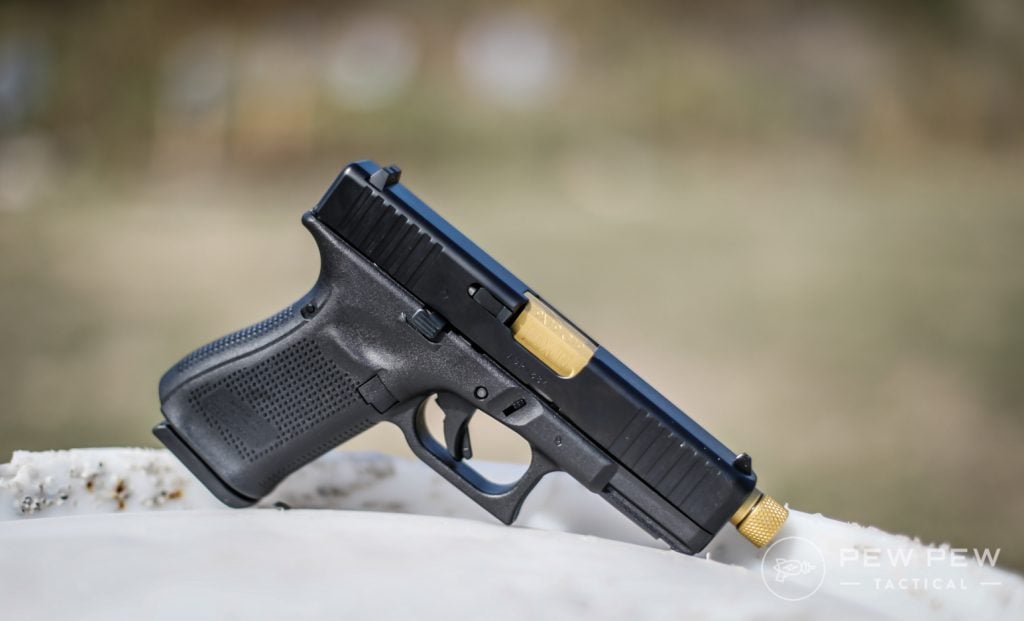 A multitude of changes, but do they really matter?
Who Is It For?
Anyone looking for the gold standard in handgun reliability that's also the Goldilocks size…not too big and not too small. 15+1 rounds of 9mm is no slouch and Gen 5 ergonomics make the Glock 19 the winner compared to previous generations.
Fit & Feel
As soon as the Gen5 G19 was available I got my hands on one.
It wasn't love at first grip, exactly, but it was mild infatuation.
The gun fits my hands more comfortably than previous generations thanks to the removal of those pesky finger grooves.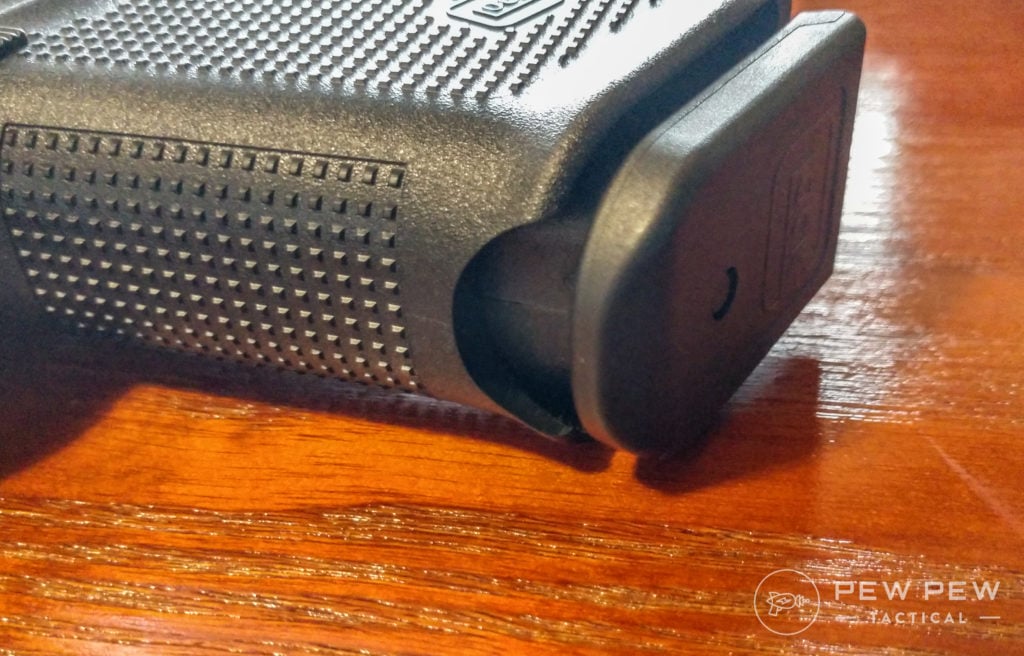 It wasn't just that, though…the dimensions of the Gen5 G19 may not technically be different but it has an entirely different feel in your hands than the earlier generations.
Trigger reach remains at 2.76-inches but the changes to the grip itself made it fit my long fingers better.
The gun is fractionally heavier than the other gens, too. Those might sound like inconsequential changes but sometimes it's the seemingly minute details that make a gun rock.
The Technical Part
For those who want technical details, this is for you. The Gen 5 G19 and G17 are versions of the 19M and 17M GLOCKs used by the FBI. These new-to-the-civilian-market GLOCKs are made for duty use and affordability.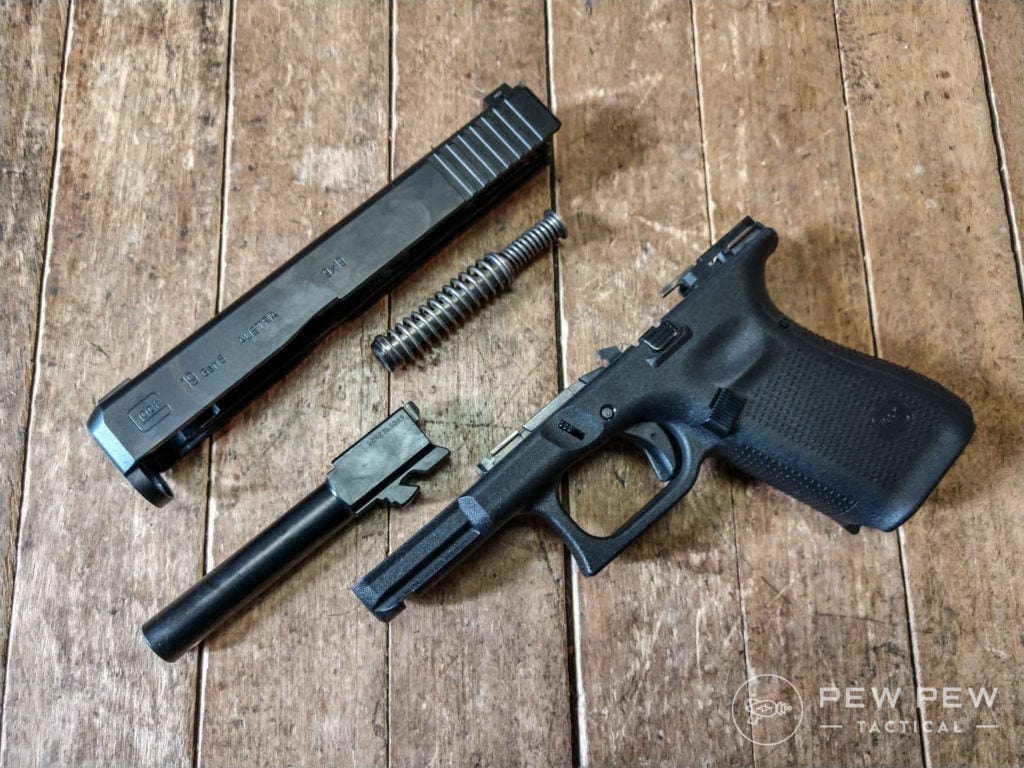 Holstering is meant to be easier with these Gen 5 guns thanks to a somewhat more aggressively tapered slide; choosing a holster is as easy as always, too. There is a possibility your old G19 holster will be a bit snug but most likely the Gen 5 will fit well.
A number of internal changes were made to the Gen 5, none of them really impact you the shooter/owner though. But it does change the landscape of aftermarket options you once had…
Basically, the only components the Gen 5 has in common with the previous four generations are the trigger connector, striker spring, striker spring sleeve, and striker spring cups.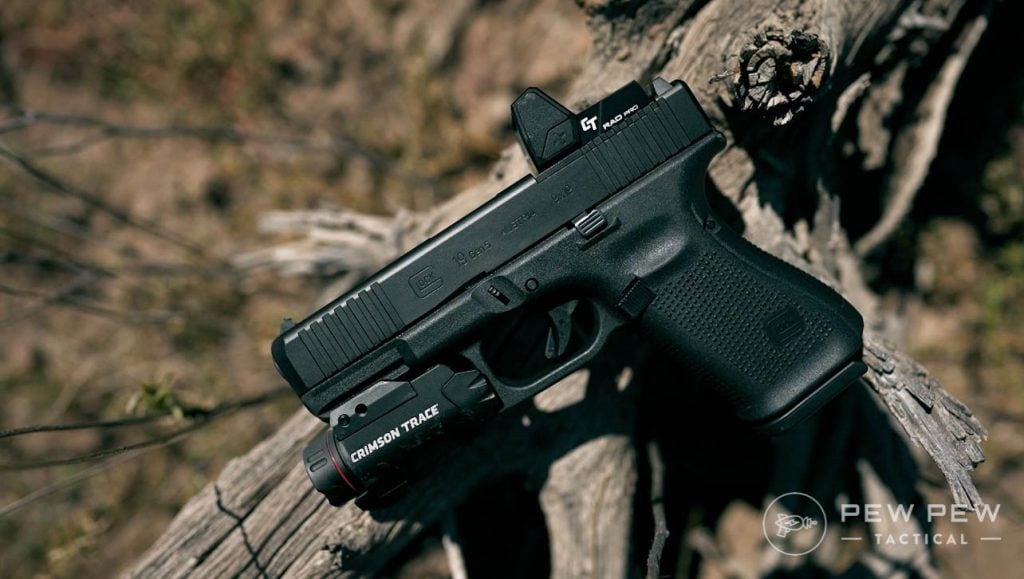 So if you were hoping to re-use all of the awesome upgrades you have in your Gen 3-4 for your new Gen 5…think again.
Externally, there are no forward cocking serrations on the slide. Some shooters have complained about this, but here's the deal: you should be racking the slide from the rear, anyway. Speed and safety, guys. Quit putting your hand over the ejection port.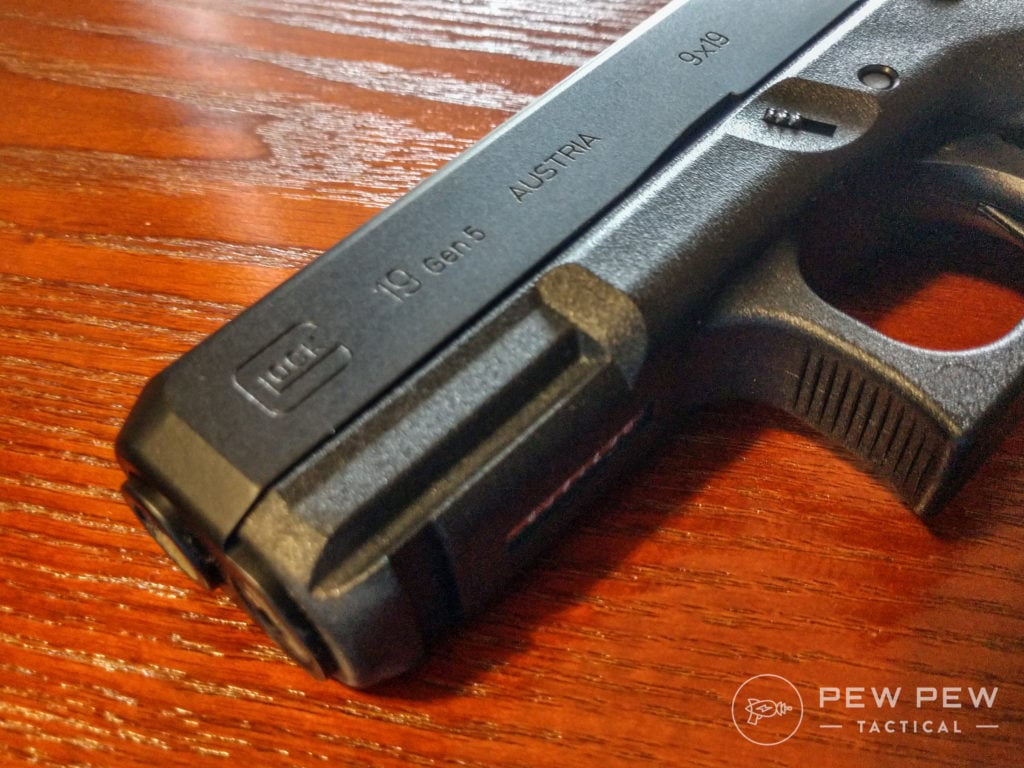 The GLOCK Marksman barrel is a solid upgrade.
It features aggressive rifling – still polygonal – a recessed crown, and promises greater accuracy overall. Of course, accuracy is partially dependent on the trigger. The good news is the triggers seem better in the Gen 5s, too.
After running four Gen 5 G19s I can attest with confidence to the lighter triggers and the slightly crisper break. They're still the expected GLOCK factory trigger, meaning a lot of people will replace them, myself included. It's improved but not vastly.
Remember, prior-gen aftermarket triggers will not fit your Gen 5.
How Does It Shoot?
Let's jump right into the awesome times I've had with the Gen 5 G19.
I spent a couple weeks in Washington State attending MAG-40, Northwest Tac-Con, and Active Shooter Interdiction at the Firearms Academy of Seattle (FAS).
Mas Ayoob and Gail were in attendance for the duration, putting me in the interesting situation of shooting alongside them as students rather than instructors.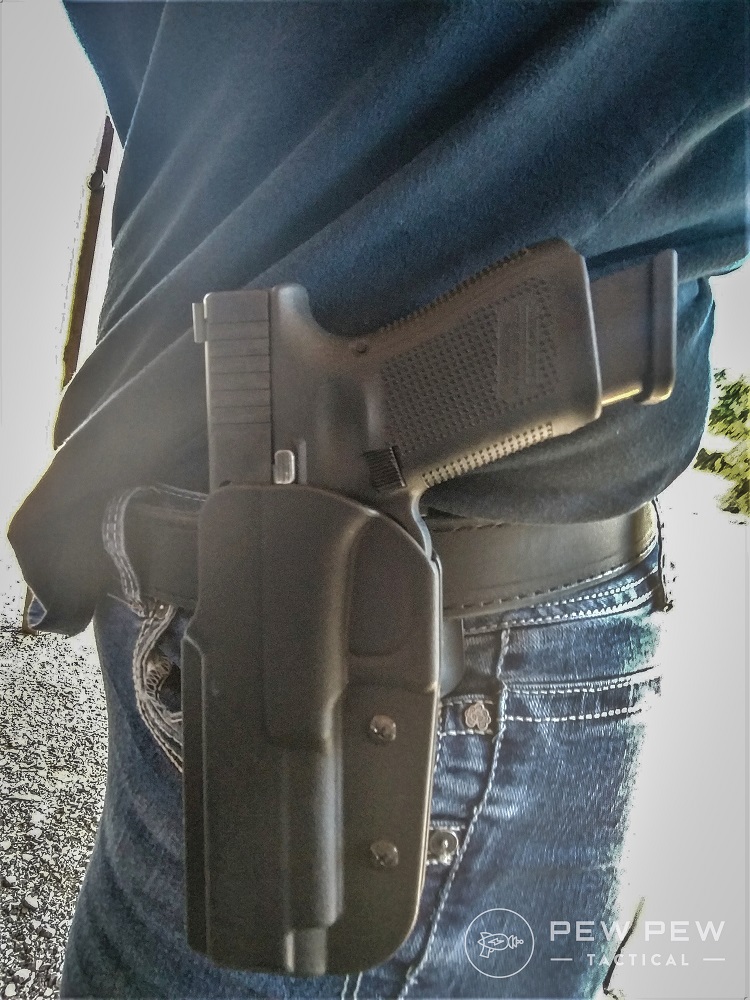 As a writer, I attend these trips using specific guns supplied by the manufacturer, and let's just say it wasn't going well.
It goes down as the most horrific trip for failures I've ever had. After watching me curse and fight with multiple review guns, Mas offered his Gen 5 G19.
Yes, I had a slight fan-girl moment.
During Active Shooter Interdiction I ran the GLOCK out to 50 yards on steel doing shoot-and-move drills and also did team drills with my friend Paul Lathrop, the host of the Polite Society Podcast.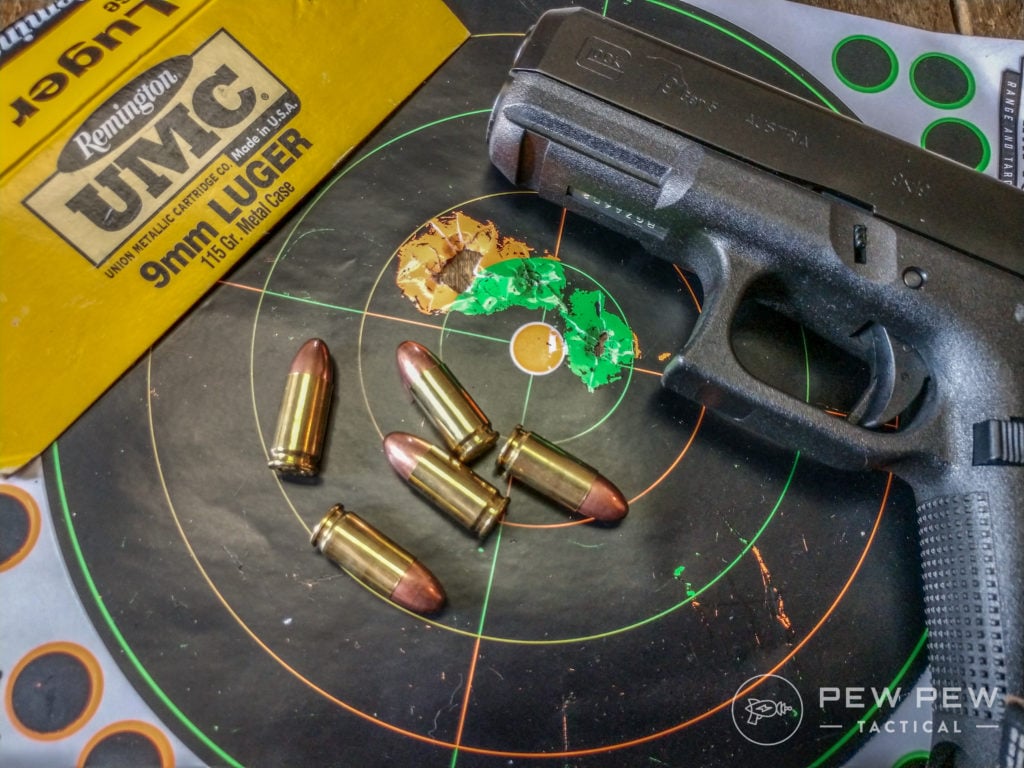 I experienced one FTF with Winchester white box ammunition but the gun otherwise ran flawlessly (I'd borrowed a handful of the ammo and immediately unloaded it following the failure). I'd shot the model before, but it was in this class the gun won me over.
Working for days on end from the holster on moving targets, in the dark, and on longer-range steel plates – longer for a 9mm – was enough to show me this gun runs and hits like a champ.
At home, I put the gun through a variety of drills. Whether I was drawing from the holster on a timer or shooting slow and steady playing card drills the GLOCK performed with consistent accuracy.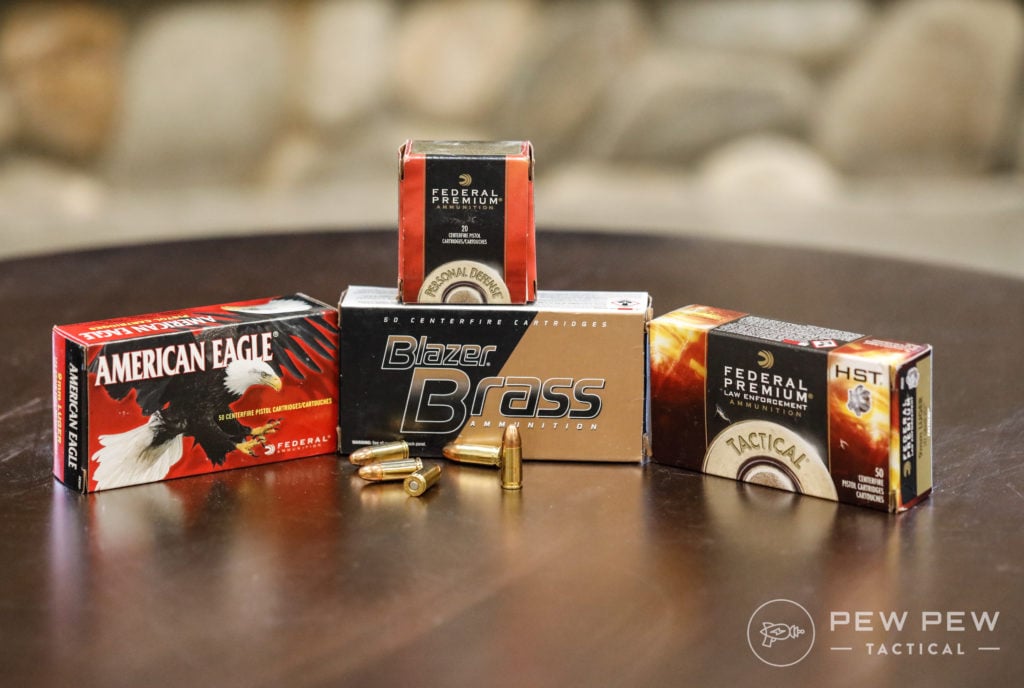 Just like with any gun, the groups are tighter with some brands of ammo than with others. It could shoot through one hole with Remington UMC 9mm.
Check out our favorite 9mm ammo for range shooting & self-defense.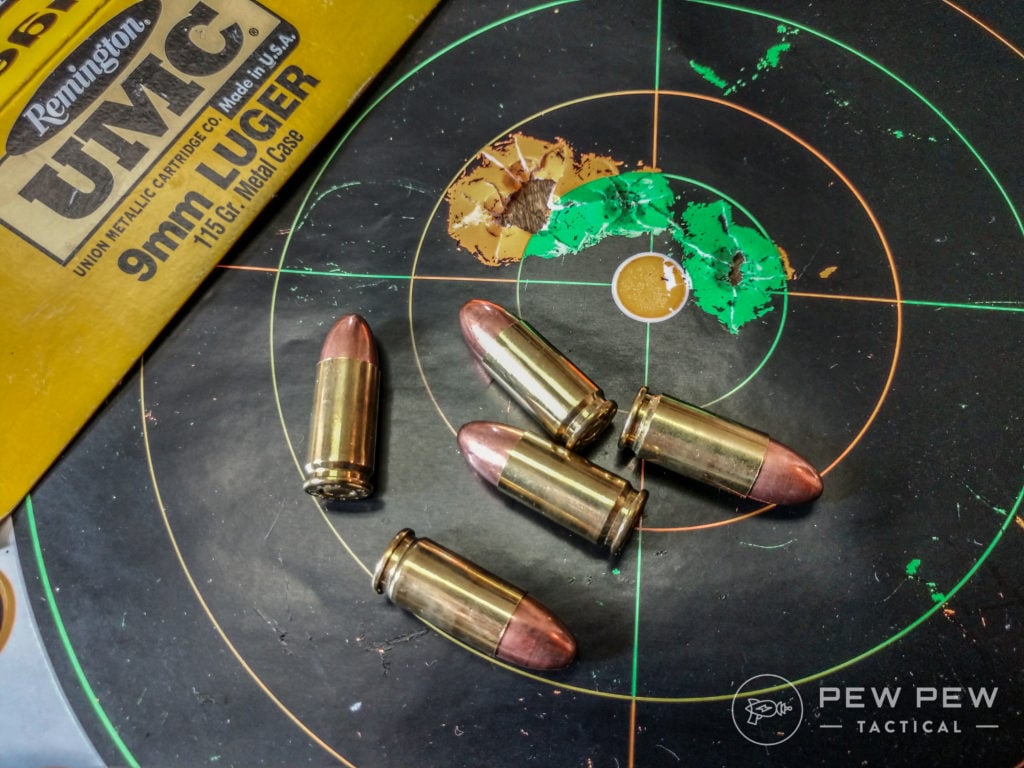 Glock 19 vs Glock 19x
If you've reached this far in the review you've probably done some research and also come across the Glock 19x.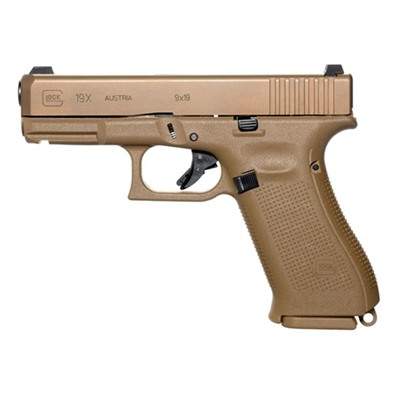 What are the main differences between the Glock 19 and Glock 19x?
Glock 19x has a longer full-size grip than the 17 with the slide of a 19
Factory Coyote colored slide
Improved nPVD slide coating
New Glock Marksman Barrel
Lanyard loop
Main thing…if you have giant hands or really want the coyote color you might want to consider the G19x variant.
It's more for open carry instead of concealed carry because of the increased length of the grip.
589
at Palmetto State Armory
Prices accurate at time of writing
Prices accurate at time of writing
By The Numbers
Reliability: 5/5
Spanning all four Gen 5 G19s I've run, I've put over 3,500 rounds through this model (the number continues to grow since it's the gun currently at my side). The only failures have been ammo-related.
I prefer to put a minimum of 500 rounds through any handgun I'm considering carrying and the Gen 5 G19 soared through those first 500 rounds beautifully. This is a reliable gun (of course it is, it's a GLOCK).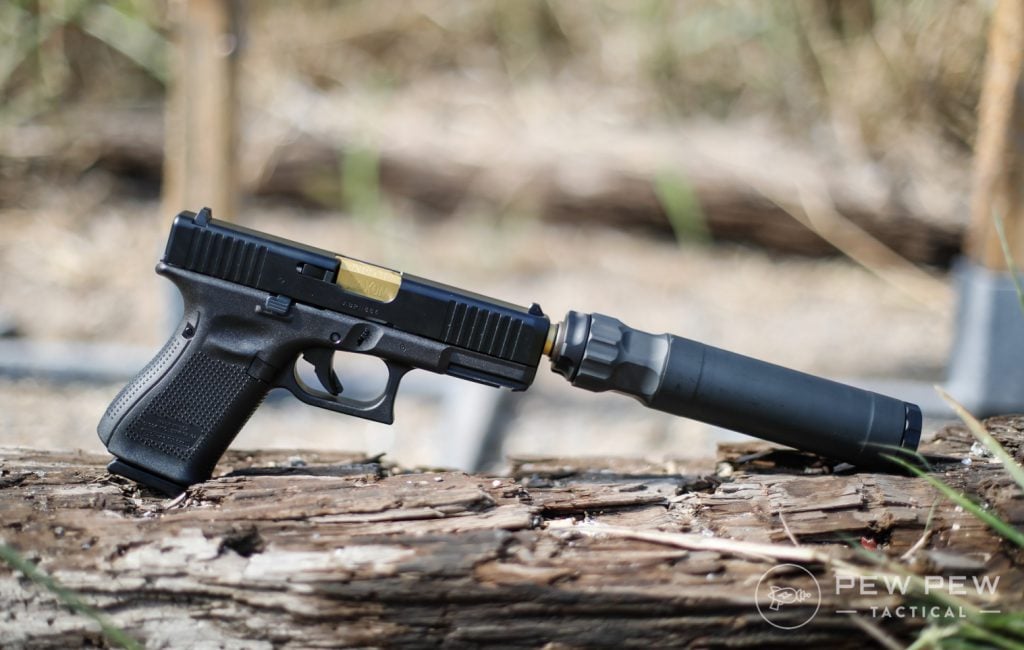 The Pew Pew Tactical team has also had great success with suppressing their G19 and it running flawlessly.
179
at Faxon Firearms
Prices accurate at time of writing
Prices accurate at time of writing
Looking for a great multi-caliber suppressor? Check out our Best 9mm & .45 ACP Suppressors.
Ergonomics: 5/5
This is a slightly subjective evaluation. The gun fits my hands as if it was made for me, but it might not fit you the same way. The removal of the finger grooves is a huge bonus, in my opinion, and the alterations to this generation somehow made it more natural for me to draw and fire.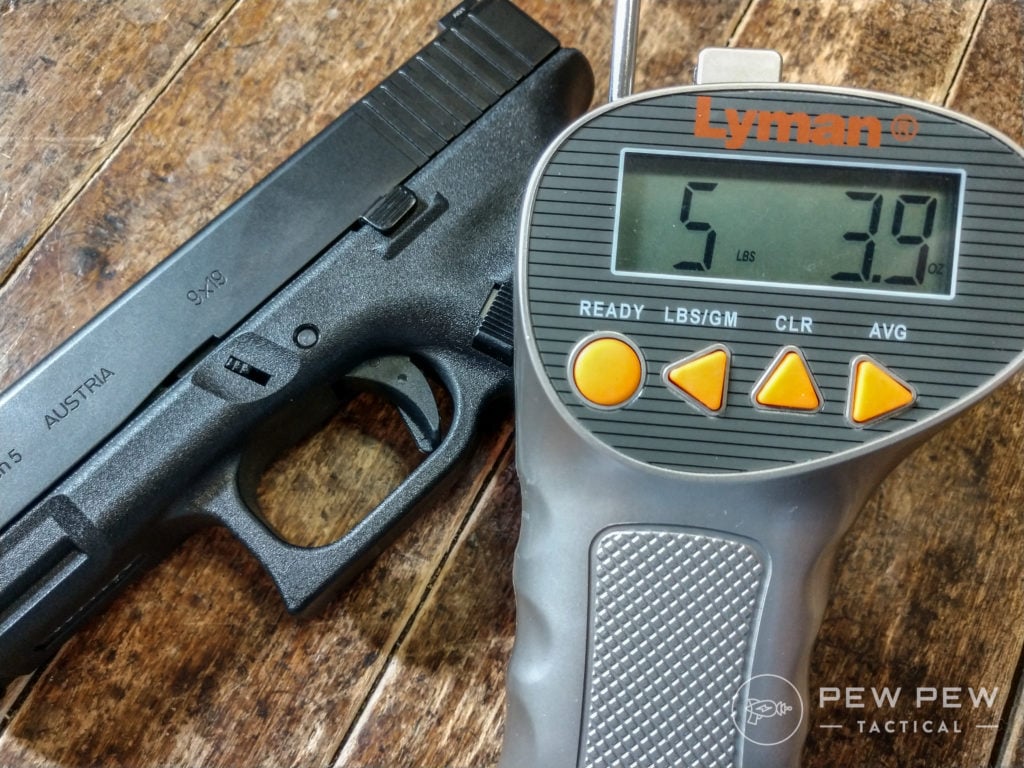 I can work the controls without shifting my grip and fire it quite precisely one-handed, strong or support side. GLOCK included a cut-out at the front of the mag well which does annoy me because it's directly under my pinky finger. It's a minor thing but worth mentioning.
Accuracy: 4/5
The Gen 5 G19 loses a point here because it dislikes some ammo. For example, it consistently shot ragged one-hole groups at ten yards, shooting offhand, when loaded with Remington 9mm 115 grain UMC. But when I switched to Federal Syntech 9mm 115 grain RN the groups expanded.
This is not unique to the model; the majority of firearms prefer one ammo over another. It is less a complaint and more an observation.
Customization: 5/5
Things have caught up to the latest Gen 5 iteration and there's now tons of aftermarket support.
Value: 4/5
GLOCKs are workhorse pistols. They aren't high-priced BBQ guns and I don't expect a factory gun to perform to the same level as a custom gun.
Most Dependable
559
at Palmetto State Armory
Prices accurate at time of writing
Prices accurate at time of writing
Overall: 4/5
Upgrades for the Glock 19
If you want a go-to gun for home defense you'll want a light. And the TLR-7 fits nicely on the G19.
120
at Amazon
Prices accurate at time of writing
Prices accurate at time of writing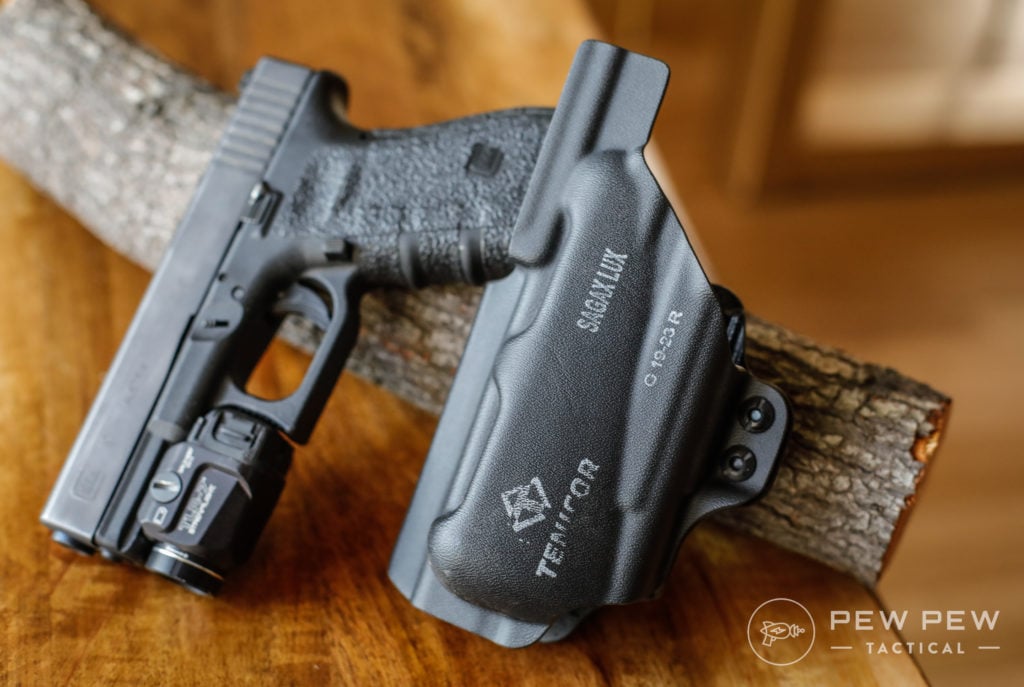 Looking for a comfy pure Kydex holster? We like the Tenicor Sagax combined with the TLR-7.
99
at Tenicor
Prices accurate at time of writing
Prices accurate at time of writing
How about a hybrid holster that combines Kydex with a soft suede backer? Our go-to is Hidden Hybrid Holsters (check the full review).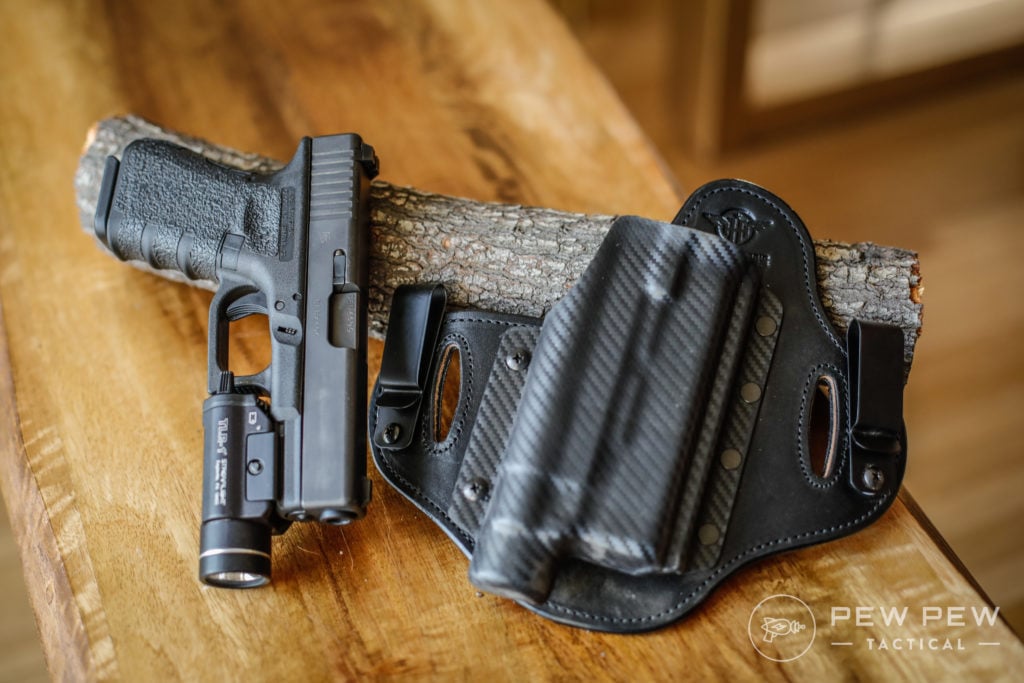 There are a bunch more options for the ubiquitous G19…so much so that we have a Best G19 Holsters article.
And magazines…you can never have too many. For me, I adhere to at least five for each firearm. The go-to is the factory OEM…but we also have another article on Best Glock Magazines.
25
at Gun Mag Warehouse
Prices accurate at time of writing
Prices accurate at time of writing
Remember our complaint about the stock Glock sights?
You'll probably want to switch them out for glow-in-the-dark tritium night sights. This is the most cost-effective one but you can see our other recs in Best Glock 19 Sights and also How to Install Glock Sights.
54
at Amazon
Prices accurate at time of writing
Prices accurate at time of writing
Check out the rest of our favorites in Best Glock Upgrades to Gucci your Glock as much as your pocketbook allows.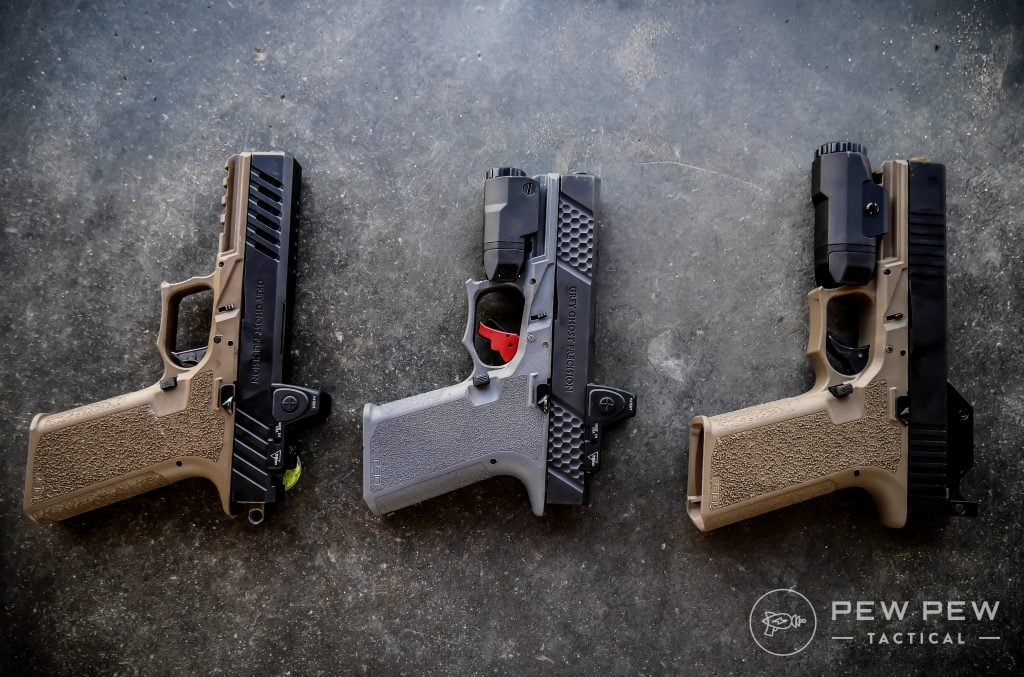 Final Verdict
The Glock 19 Gen 5 makes some great improvements over the last generations. It's no wonder countless police agencies and military units choose the G19 for its legendary reliability, decent ergonomics and accuracy, and ammo capacity. Plus the size lends itself for concealed carry.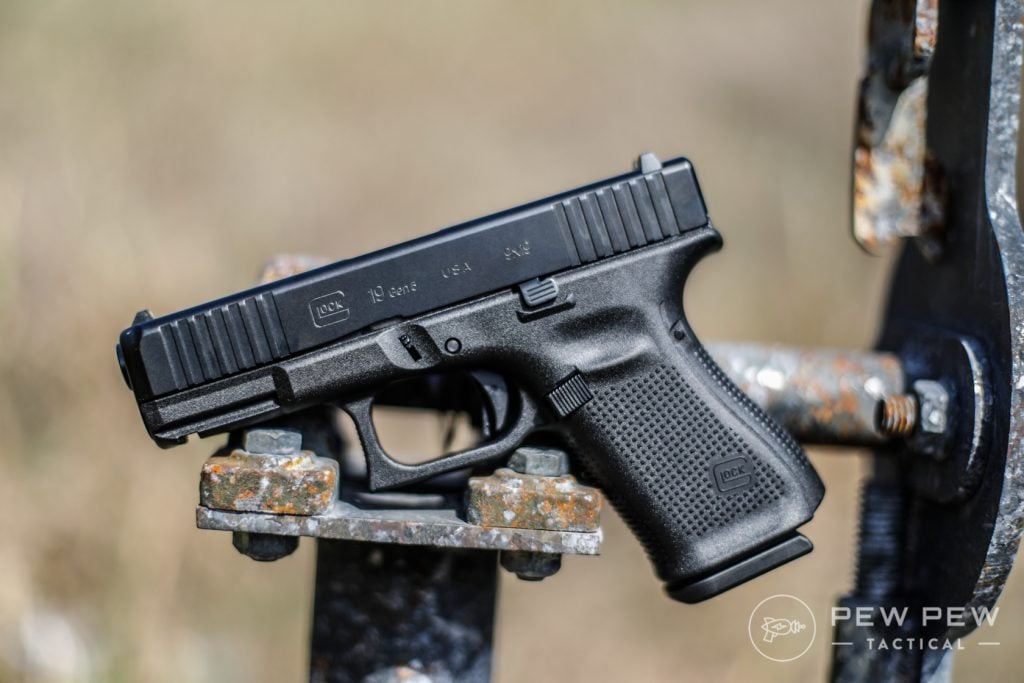 Although I've liked the other gens of this model, the Gen 5 was the first to make me love it. My planned mods include taking advantage of the ambidextrous slide stop to move it out from under my strong-side thumb and replacing the trigger.
If you're in the market for a reliable, accurate carry gun chambered, this gun is well worth checking out!
539
at Palmetto State Armory
Prices accurate at time of writing
Prices accurate at time of writing
Are you running a Gen 5 Glock? If you are running an older model still, maybe it's time to upgrade with some of the Best Glock Upgrades!
And some even more fun Glock articles:
Own this gun? Drop a review down below!