Want to have a more successful and safe shooting range trip?
Make sure you've got the right gear!
Find out all the things you need to have a fun day at the range, from the essential to "nice to have" to stuff that is awesome but you probably don't need…yet.
Essential Shooting Range Gear
Ear & Eye Protection
The most important of our essential shooting gear since it's mandatory for most ranges. You don't want to go blind from ricochets or deaf from hearing loud gun shots right?
Mandatory so you don't go deaf!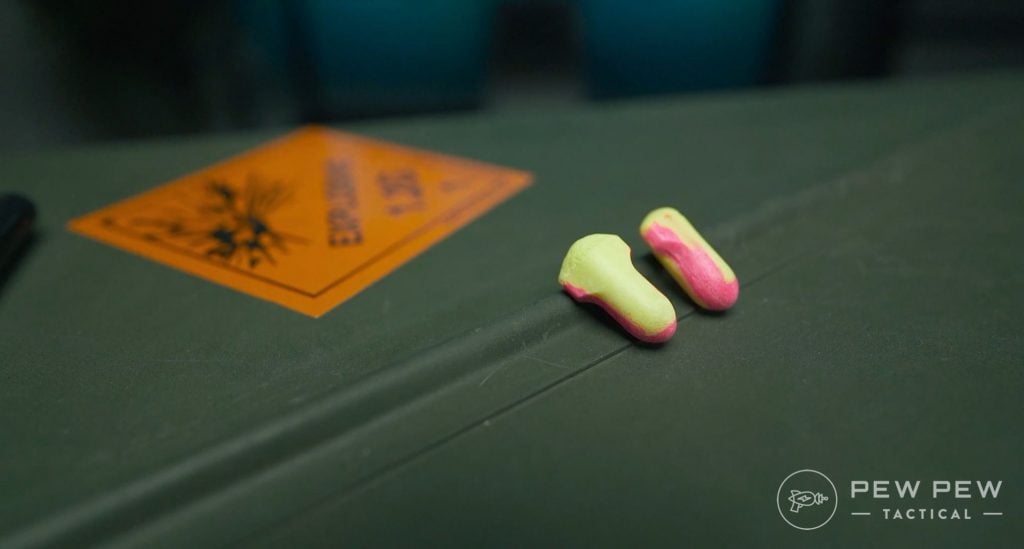 We first started with foam ear plugs ($12 for 50) for our first few trips but started doubling up with actual ear muffs since lots of people at our range had very loud muzzle brakes…great for keeping sights on target, but terrible for people around you.
We also recommend doubling up especially when you start going into higher calibers as well.
We recommend Axil TRACKR electronic ear muffs since they are thinner to allow for a nice cheek weld…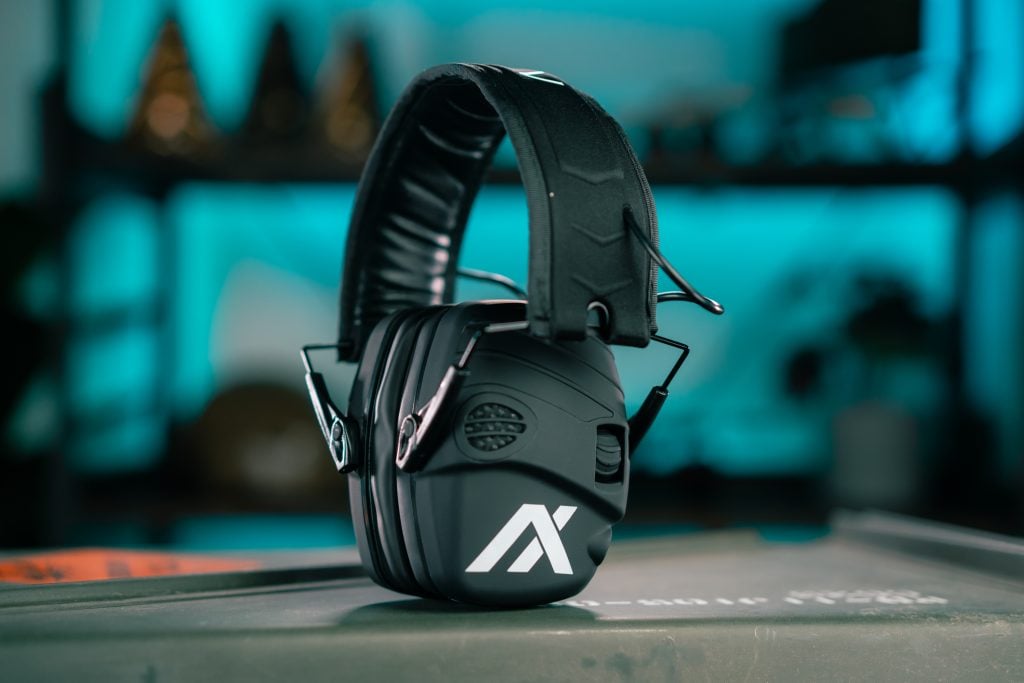 And provide decent protection against gun shots while amplifying ambient noise.
Others such as the 3M Peltor Optime ($18, 30 dB) offer better protection but are large and obstruct a cheek weld.
Good choice if you are only shooting pistols.
We've also moved away from foam ear plugs since they are annoying to keep putting in or taking out during a class or competition. Although we got fitted with custom ear plugs at a gun show, this DIY kit gets rave reviews. Be sure to combine it with the neckcord so you can tell which side is which and not lose them as easily.
See more of our favorites in our Best Shooting Ear Protection article.
Eye Protection
Another mandatory item so you don't lose an eye out there.  Sunglasses and regular prescription glasses are usually fine for all ranges, but I go with ones that are military rated, comfy, and don't break the bank like the Wiley X Saber.
See more in our full Best Shooting Glasses article.
Portable Cleaning Kit
We go over what we like for our at home cleaning kit in our Best Cleaning Kits article, but for the range we just bring the bare essentials in this portable kit for the infrequent emergency cleaning.  It has everything you need and even a squeeze bottle to bring a small bit of M-Pro 7 gun oil.
Screwdriver and Allen Keys
Something always comes loose or you need to change something on the fly. Pick up a sturdy screwdriver ($5) and Allen/hex key set ($12) for yourself.
I prefer the long sets since sometimes you need some extra torque and if you ever install/remove an AR-15 pistol grip you'll wish you had one!
Targets
Your range may have some steel targets or paper targets, but it's hard to see where exactly you're hitting, especially when you are shooting handgun or zeroing a scope.
We love Shoot-N-C targets since they turn a bright color when you hit them. Plus, they also come with extra black stickers to repair your targets.
What's your take on the splatter targets?
If you really want to upgrade your target game though, take a look at AR500 steel targets from Shoot Steel that we use in our video reviews.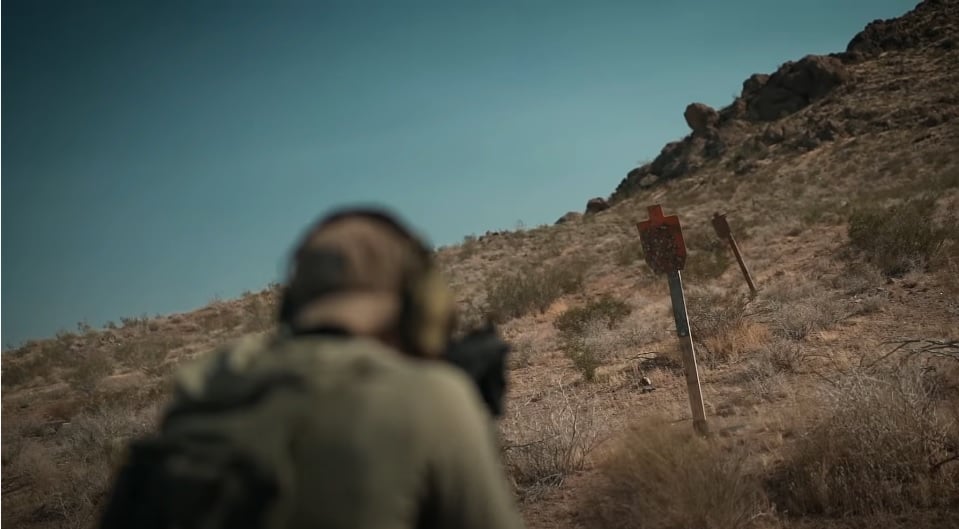 Check out our review on all of Shoot Steel targets.
Ammo & Mags
It's no fun if you don't have anything to shoot.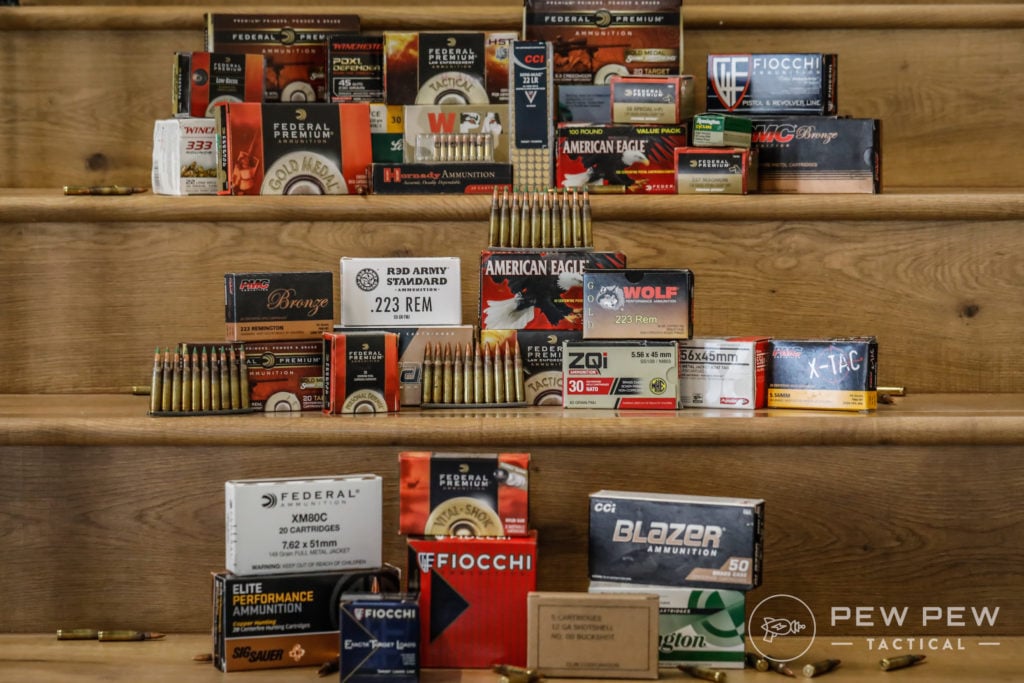 Read up on common calibers and bullet types before checking out our Best Place to Buy Ammo article. And for mags, check them all out at Brownells.
Ammo Can
Ammo can ($10)—our favorite method to carry stuff. Light and sturdy enough to handle anything and can even be used as a gun rest if needed.
Range Bag
Check out our YouTube review first:
One of our go-to bags is the Orca Tactical ($59) range bag.
Enough space for most outings, built tough with a nice strap, and even Velcro to show off your patches.
Or something with more volume and accessible side pockets for mags and other accessories…check out the Osage River Range Bag ($49).
We've got a special deal for Pew Pew Tactical readers for 15% off with code PEWPEW15 at their direct store.
But our favorite rifle case is Savior Equipment's Urban Warfare. Use code "PEWPEW15" for 15% off!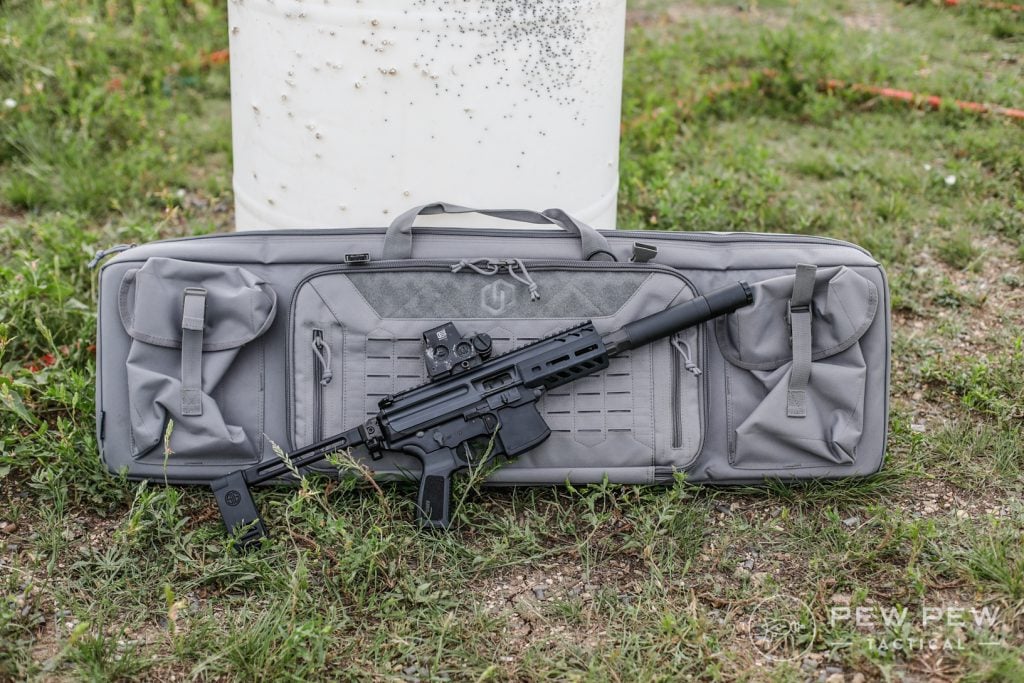 We go more in-depth on more range bags in our Best Range Bags article.
Handgun Case
The plastic case that came with your handgun does the job…but it screams GUN!
We created the Pew Pew Tactical Handgun Case ($16) to be a little more discreet…and unlike the major competitors out there…it will fit almost all full-sized handguns WITH light.
First Aid Kit
We go fully into what should go into a kit in our Med Kits article. But the bare basics would be:
Nothing is a substitute for good training, though, so make sure to invest in at least one first aid class to go with that kit. We have some recommendations here.
"Nice to Have" Range Gear
Nothing essential but just "nice to have" stuff to make your range time a little easier.
Magazine Loader/Unloader
Contemplated putting this in the essentials section, but these MagLula loaders ($28) (especially the pistol one), really save your thumbs after a range session.
Great especially for tighter loading magazine firearms such as Glocks where I always struggle with the last one or two rounds.
Seems a little expensive, but well worth it to your sanity (and thumbs)! Also comes in an AR-15 version ($26).
We cover the MagLula and other options in our Best Magazine Speed Loaders. Now with a video too:
Electronic Ear Muff
An electronic earmuff ($40) lets you hear normal conversation sounds easily while automatically blocking loud gunshots. And still thin enough to not mess with your cheek weld. Now you don't have to keep taking things on and off during ceasefire.
Want to go even more baller…see our review on the best electronic earmuffs.
Shooting Front & Rear Bag
You want a stable platform to shoot & zero your precision rifles, and these shooting bags ($30) fit the bill. Or be DIY and make the rear bag by filling a sock with rice.
Shooting Mat
Sometimes you want to shoot prone, and this combo bag can handle everything.
Although NCStar is not normally known for quality products, their VISM Rifle Case & Shooting Mat is awesome and has held up through dozens of range sessions for us. Separate shooting mats are about the same price and can't carry two rifles.
Or you can always go with a yoga mat…
See more at our Best Gun Cases article.
Brass Catcher
Attach to your rifle's handguard to catch spent brass for reloading. Even if you don't reload now, a brass catcher ($10) is good to have since you never know when you'll get into it!
Plus, you are more than likely having to pick up brass at the range anyways.
AR500 Targets
Fun to set up if your range allows it, or if you are out in BLM land.
AR500 Steel Targets will take a beating with almost all handgun calibers and rifle calibers (past 100 yards).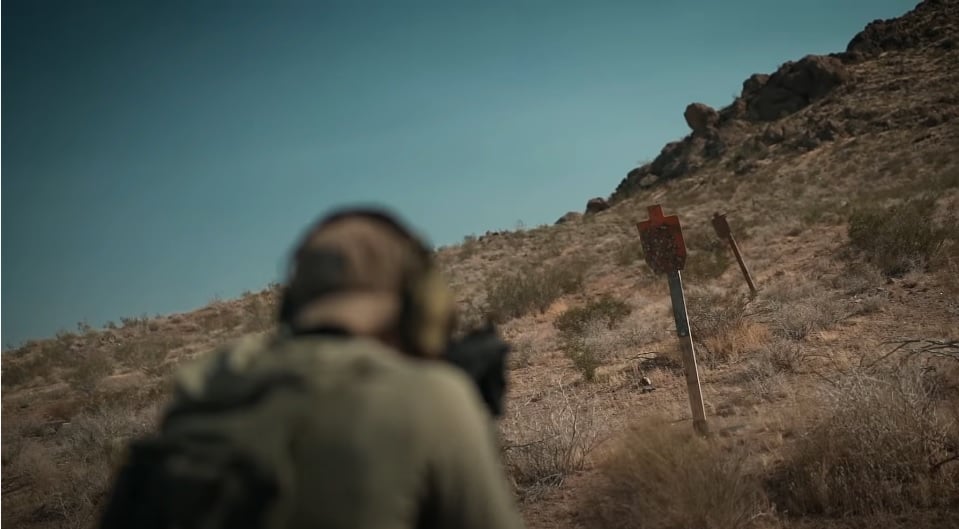 And who doesn't love that ting sound of hitting metal?
For more of our favorites…check out Best Steel Targets.
Shooting Belt
If you're looking to handle reloads (or even drawing if you have a range that allows it), I started off with simple Uncle Mike's shooting belt ($25). It's great for a pistol and two magazines or one rifle mag. If you're looking to have multiple rifle magazines you might want something stiffer.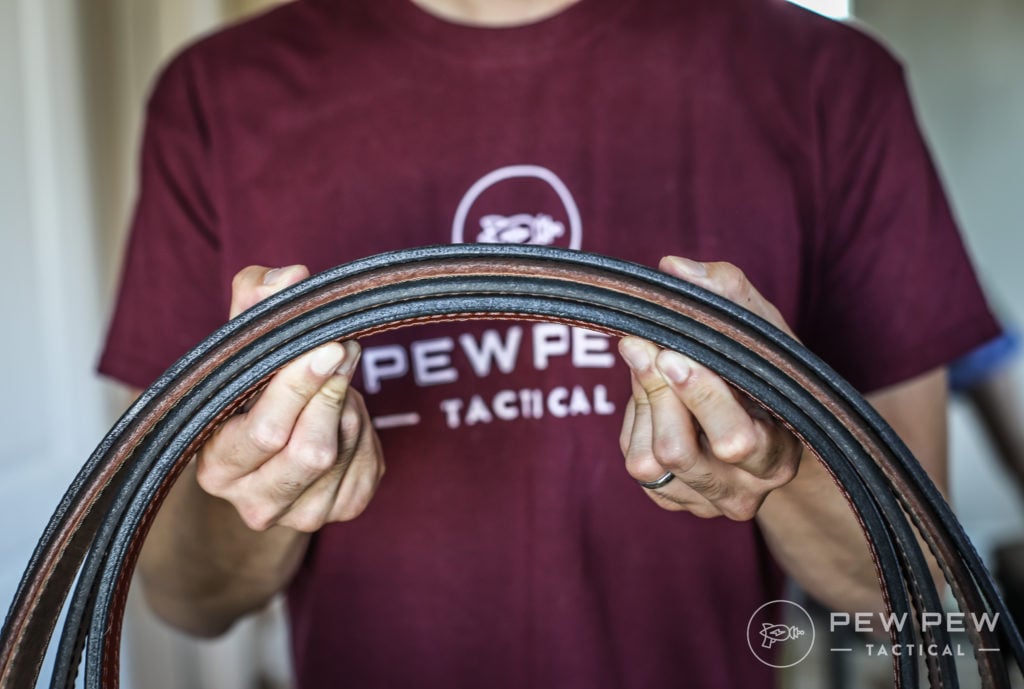 Another option is a good CCW belt that can work for the range as well. This might be better if you like to go for a bite to eat before or after the range, this way you're not walking around looking like a tactically tactical dude at the Denny's.
My favorite is a Kore Essentials belt that allows for easy adjustment when you need to sit down for an extended period of time. Use code "PEWBELT10" for 10% off.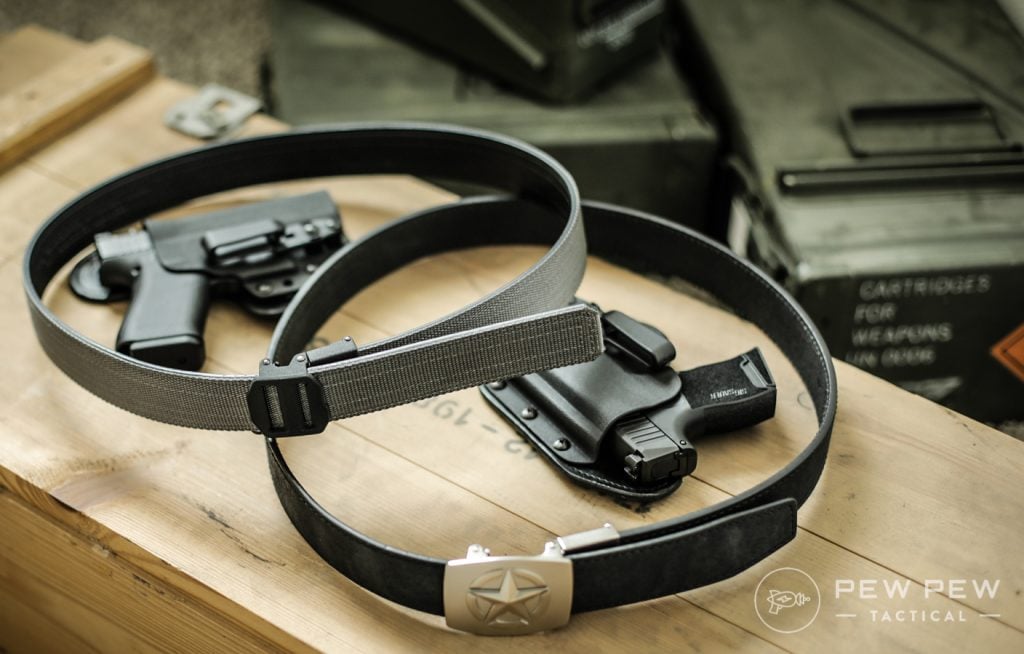 Check out my full Kore Essentials review and also my overall Best Gun Belts article.
Holsters
There's A LOT to unpack in holsters. So much so that we have dedicated articles for each type.
Check out our Best Concealed Carry & OWB (Outside the Waistband Holsters).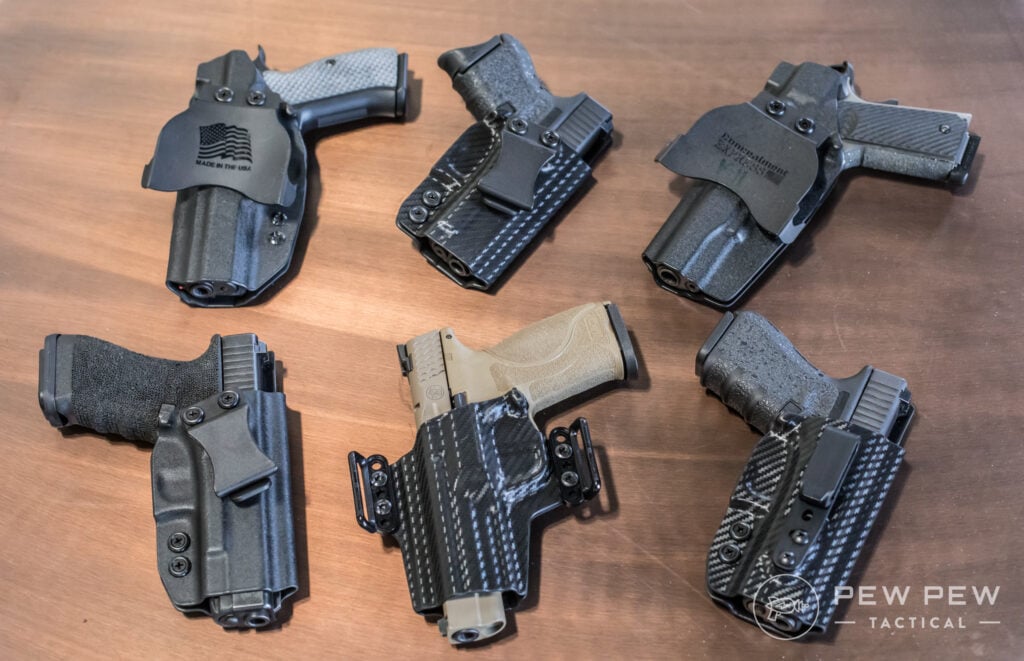 Magazine Pouches
As for magazine pouches, I go with Safariland ($20) again since they have tilt and tension adjustable models.
I like single mag pouches since they aren't as bulky feeling. These are also future-proof since you can add quick connectors onto the back to easily modify a competition belt.
Bleeding Targets
These super cool "Threat Down" targets from Triumph Systems ($20) have lots of individual dye packets for critical hits. The more you shoot…the more patriotic you become!
Check us out using them at the end of this video:
Spotting Scope
If you're pushing out past a few hundred yards…or need to quickly zero…you'll want a spotting scope.
Our go-to best bang-for-the-buck one is the Celestron 55250 giving you 20-60x magnification at decent quality.
Plus the 45 degree angle works well to reduce strain on your neck. And the adjustments are easy to do on the fly.
Check out the rest of our Best Spotting Scopes for some higher end models and our recommended tripods.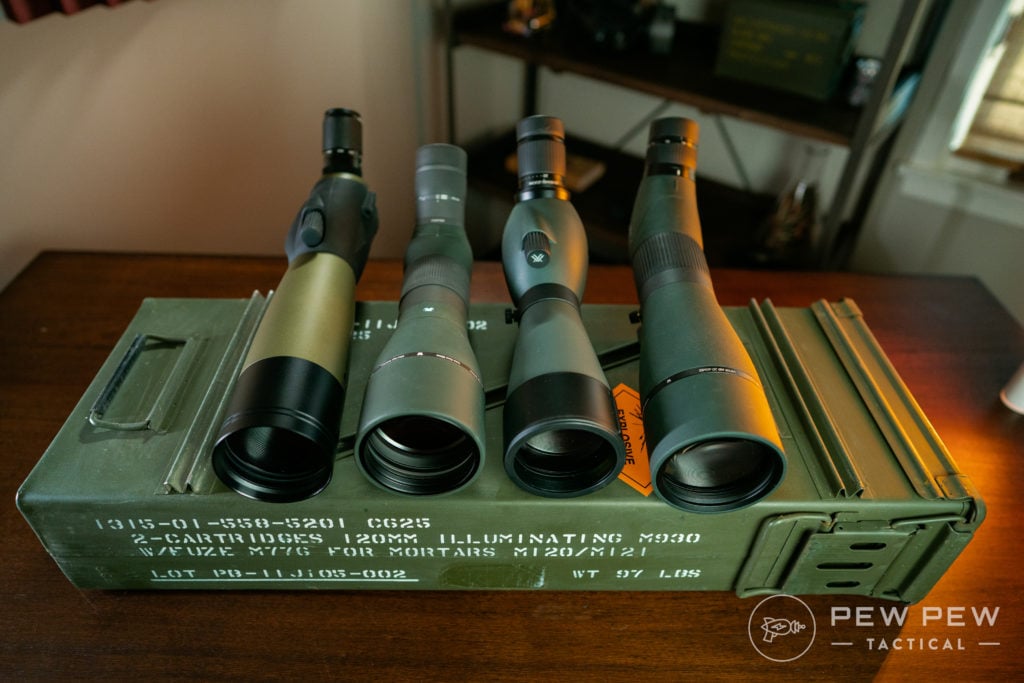 Elite Range Gear
If you're hand-loading ammo or shooting very far range, you'll want to check out these goodies.
Electronic Ear Muffs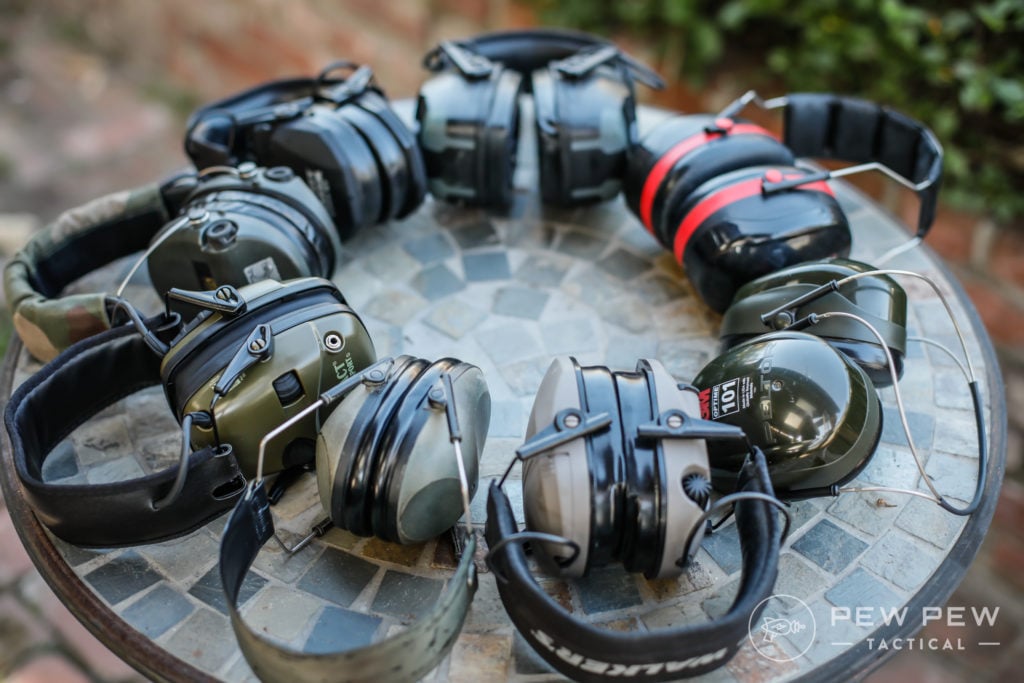 We cover a lot of options in our Shooting Hearing Protection article, but the ones I personally use are the MSA Sordin Supreme X ($260).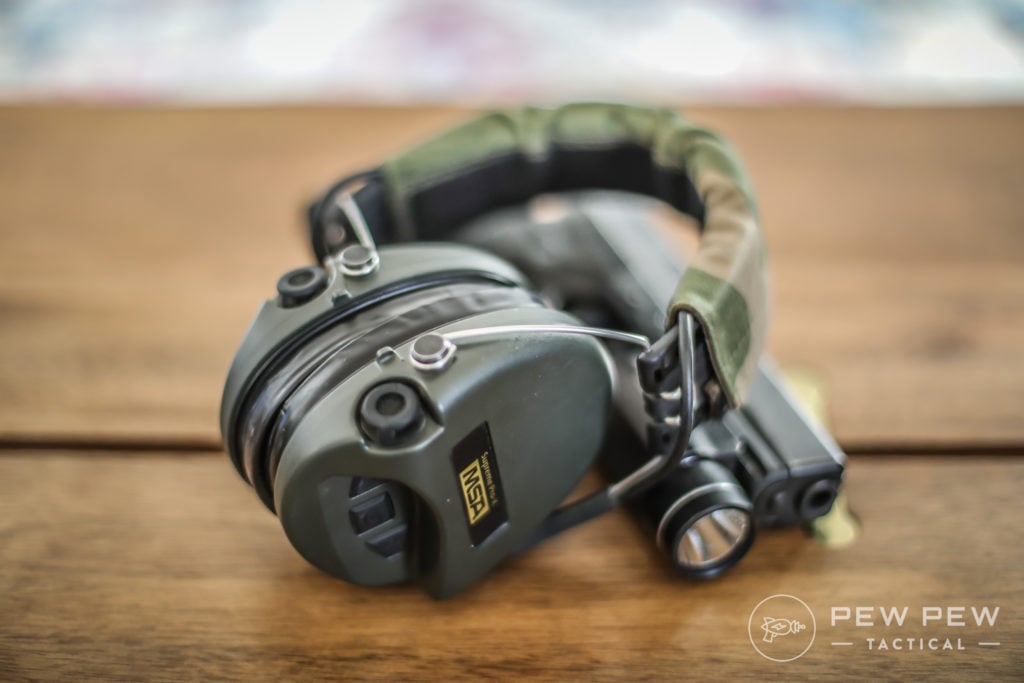 Awesome clarity, build, cheek weld, and most importantly…comfort.
These guys have gel seals that let me wear them for hours at competitions.
Mobile Firearm Rack
Got too many guns and you're not at a traditional range with benches?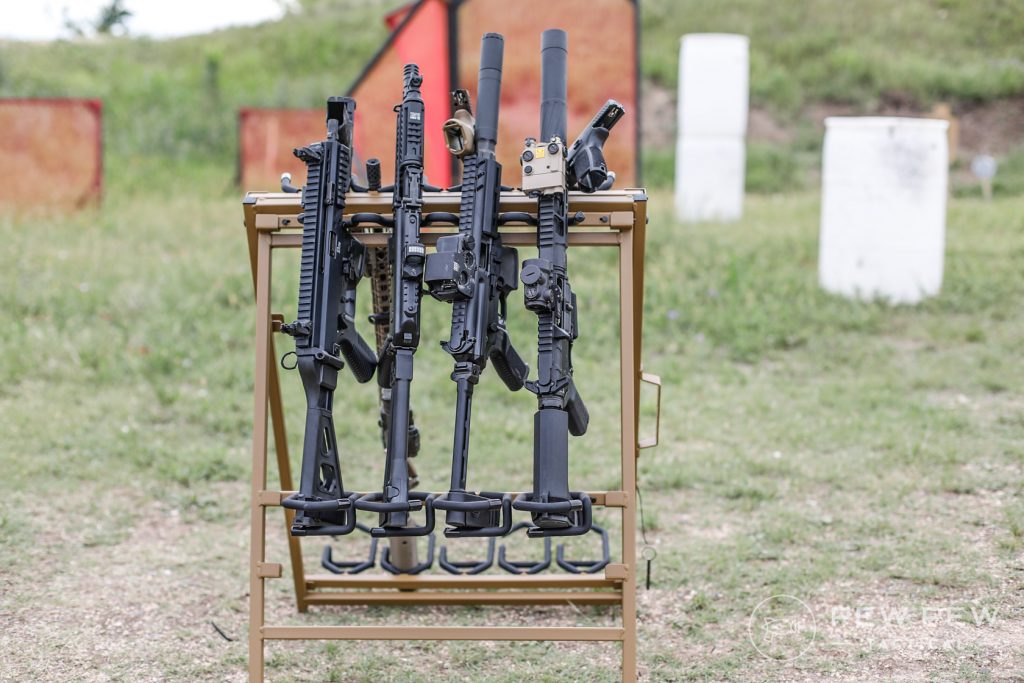 The Savior Equipment Mobile Rack folds out and gives you tons of room for rifles and pistols. Use code "PEWPEW15" for 15% off.
It's all metal and has stood up to multiple range trips without any wear.
They have both full-size rifles and also a shorty version like I have for my "pistols."
Chronograph
With a MagnetoSpeed Sporter Barrel Mount you can check your velocities for your factory or hand-loaded ammo. Plug that info into your favorite shooting app and you'll get your holds.
Check out the rest of our Best Chronographs For Shooting.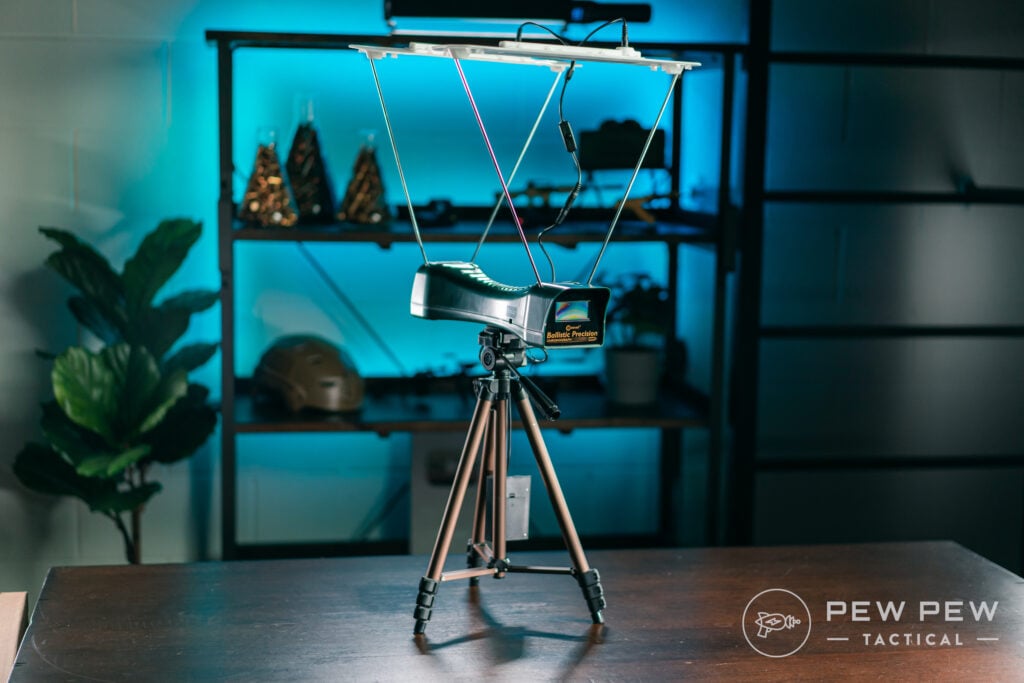 Lead Sled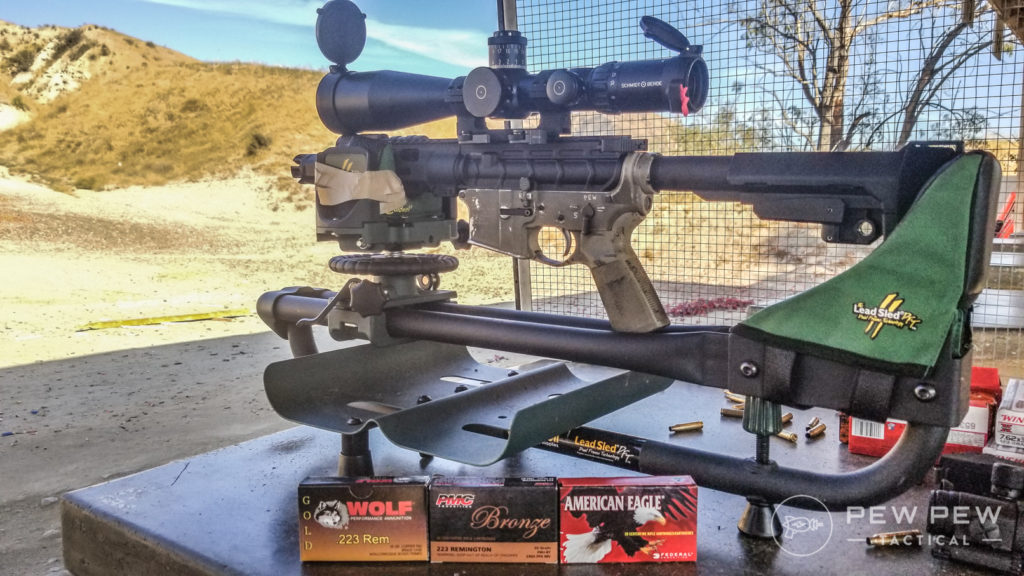 For something more steady than sand bags to zero, or if you are shooting magnum rounds, the lead sled ($110) is here to help. You can put a lot of weights or lead shot into it to really reduce recoil.
Shooting Sticks
With shooting sticks ($30+), you're no longer limited by your bipod or shooting bags.
Laser Rangefinder
You can't hit something if you don't know the distance. Use your laser rangefinder ($100+) to figure it out so you can dial in your scope.
Check out our favorites in Best Laser Rangefinders (All Budgets).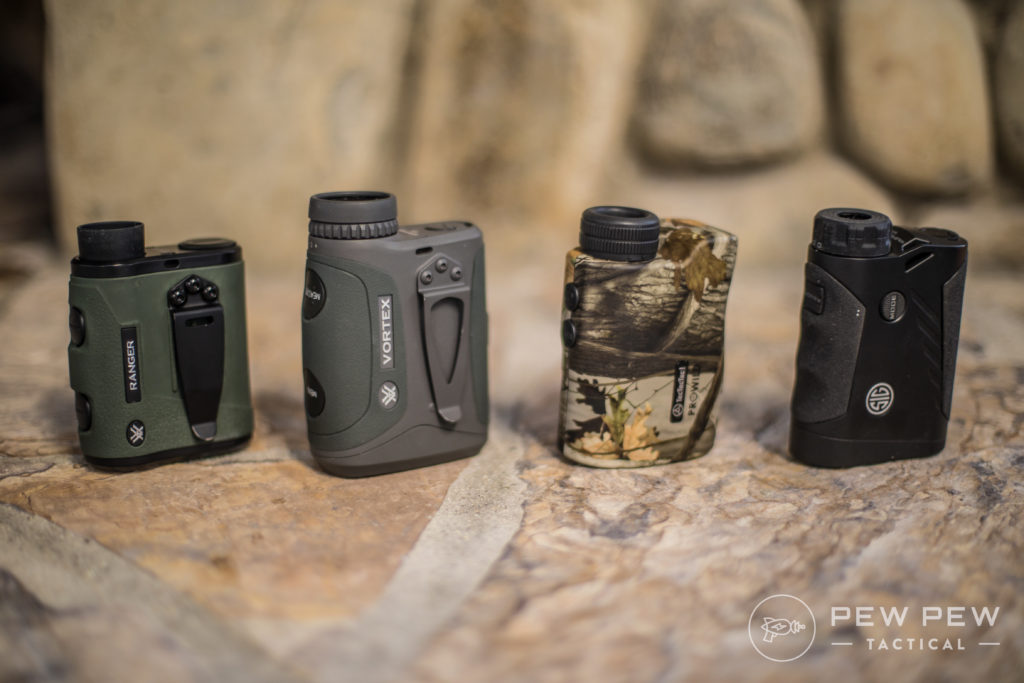 Weather Meter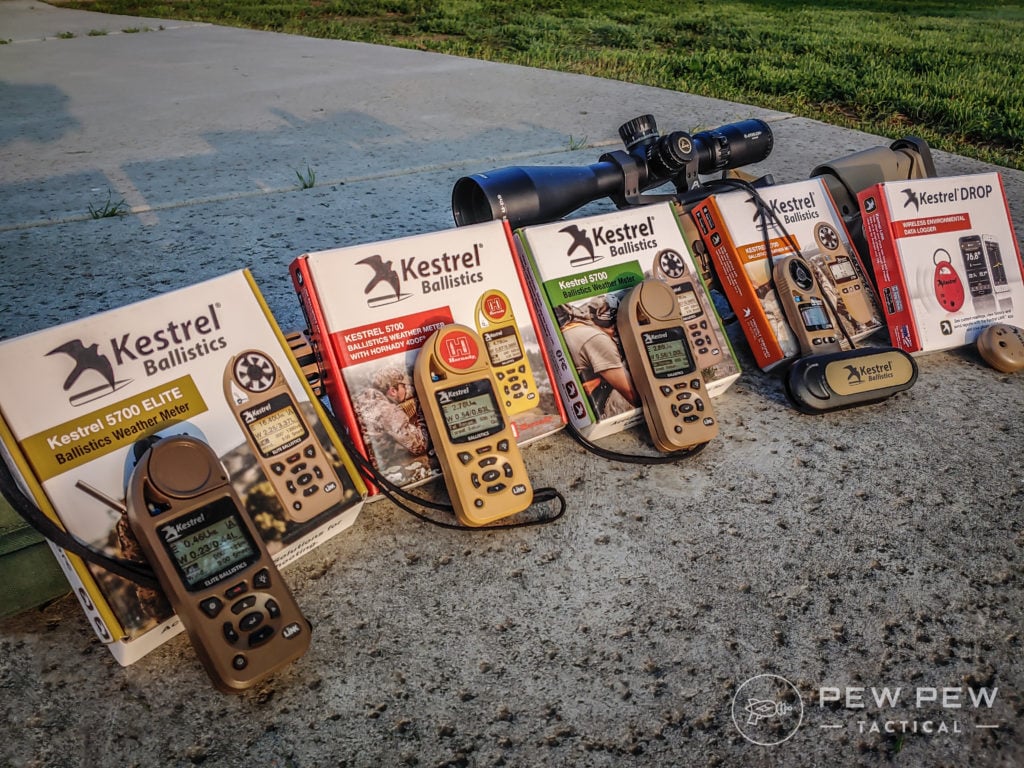 Wind messing with your dope? Get a Kestrel weather meter ($100+) to get your wind, pressure, and temperature measurements.
We have a full review on All the Kestrel Models.
Competition Belt
I love my ELS competition belt ($50) since it has two layers (inner one that you put into your belt loops is velcro) so you can quickly remove and put on your likely heavy gear.
Also, it lets you use quick disconnect backers ($25) on your holsters/pouches so you can adjust for whatever stage you're running.
Shot Timer
And for the competitors out there, get your own shot timer ($100+) to see how your strings stack up against the pros.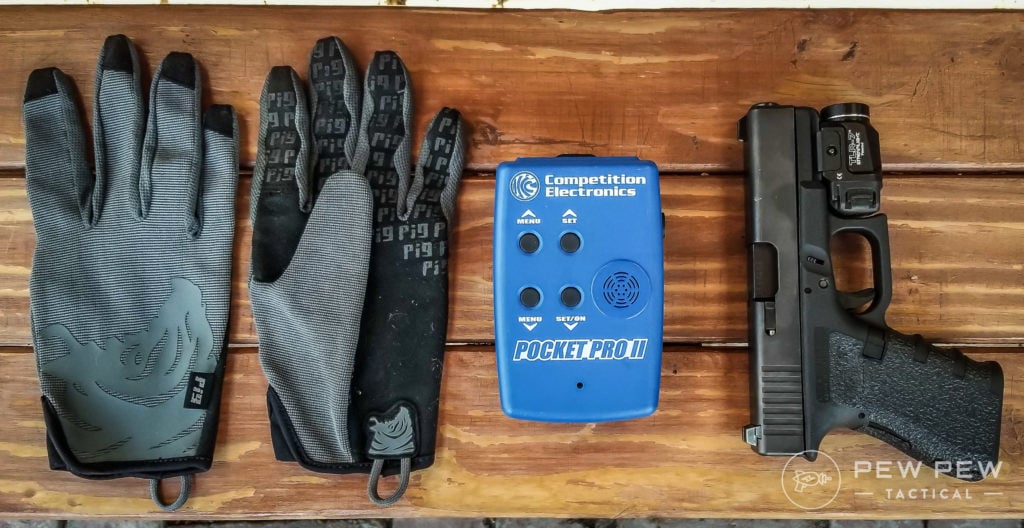 But check out our other picks in Best Shot Timers.
Self-Healing Targets
What about non-metal targets (so you can shoot up-close) and that self-heal. Plus have the ability to fall down on a direct hit?
Enter…FAB Defense's RTS Self-Healing Static Targets ($150).
Now…"self-healing" is a bit of a stretch. It's not going to be magical as you can see. The plastic does close up a little bit in the front. The backside is much better with white marks where the bullet passed through…but not much of a hole.
Comes two torsos to a set.
It was really windy when I tested mine…but here's how you can set it up to fall down after a hit instead of staying static:
Conclusion
Did I miss anything else? Let me know in the comments below!
And are you truly prepared for the shooting range? Check out our Gun Noob to Gun Slinger video course…especially catered to beginner handgun shooters.