It's easy to get a good AR-15.
But the AR-10 has always been a different beast, trickery, and harder to get really top-end goods.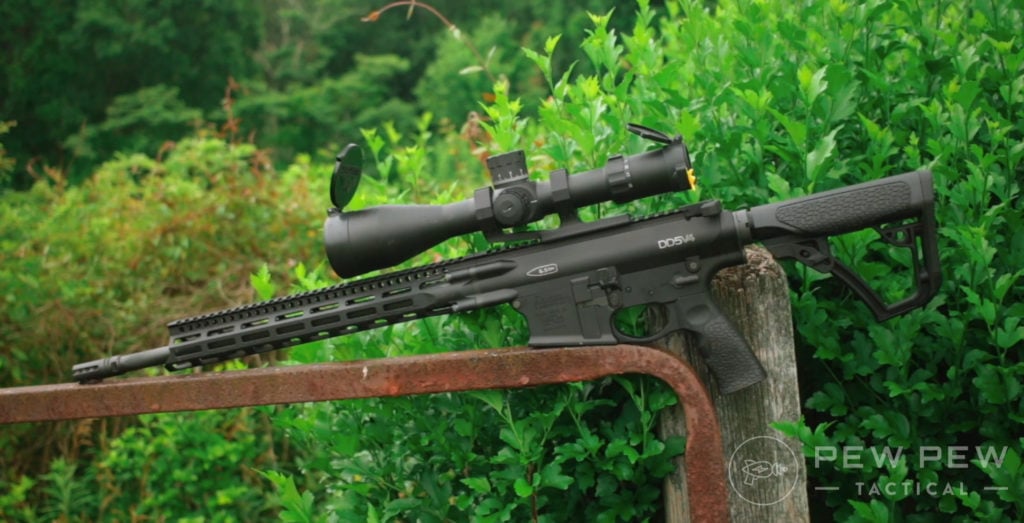 Brands like Danial Defense have branched out of their AR-15 roots and stepped up to answer the need for top quality large frame ARs in 7.62×51 NATO, and in our case, 6.5 Creedmoor!
Does it live up to what you would expect? Can Johnny hit a target past 100 yards with it? Check out the video below!
If you like that kind of thing, don't forget to subscribe to the Pew Pew Tactical YouTube Channel!
Now let's get on with the review…and keep going for a special $50 off coupon for our readers.
Table of Contents
Loading...
Specs
Other than the meticulous build quality, the DD5 V4 comes with a host of features also.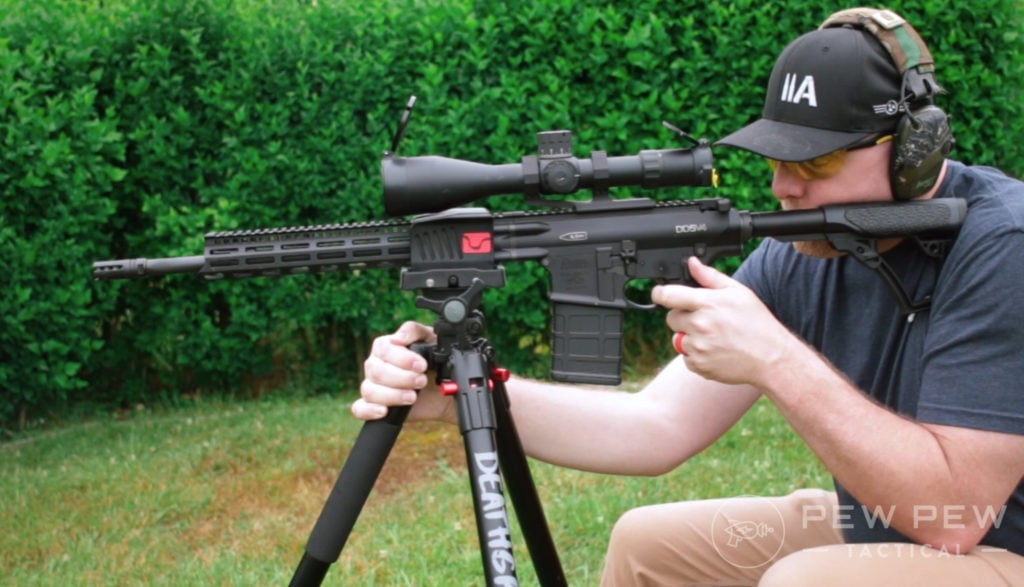 Adjustable gas-block, DLC-coated BCG, dual ejectors, 18″ Cold Hammer Forged and chrome-lined barrel, anti-gas and independently Ambi-charging handle!
Each of these features not only improves the rifle as a whole but are normally features that you simply cannot find on cheaper rifles.
And they help explain the price tag of this long range blaster.
It also comes with what you would expect, a DD buttstock, grip, Mil-Spec trigger, and more.
Most Proven AR-10
2500
at Daniel Defense
Prices accurate at time of writing
Prices accurate at time of writing
And just for Pew Pew Tactical readers…you get $50 off any DD5 with code PEWPEW50 at checkout.
Range Report
Flawless. It's hard to write a review about something that simply worked perfectly, but the DD5 did.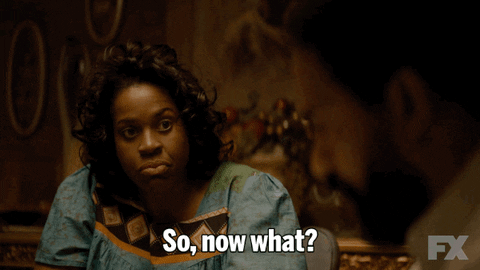 Really though, that is what we expected when it came to a rifle like this.
Great rifle, great ammo, and it just works as it should. While this doesn't seem like it's much to talk about, this by itself is already way above most of the competition.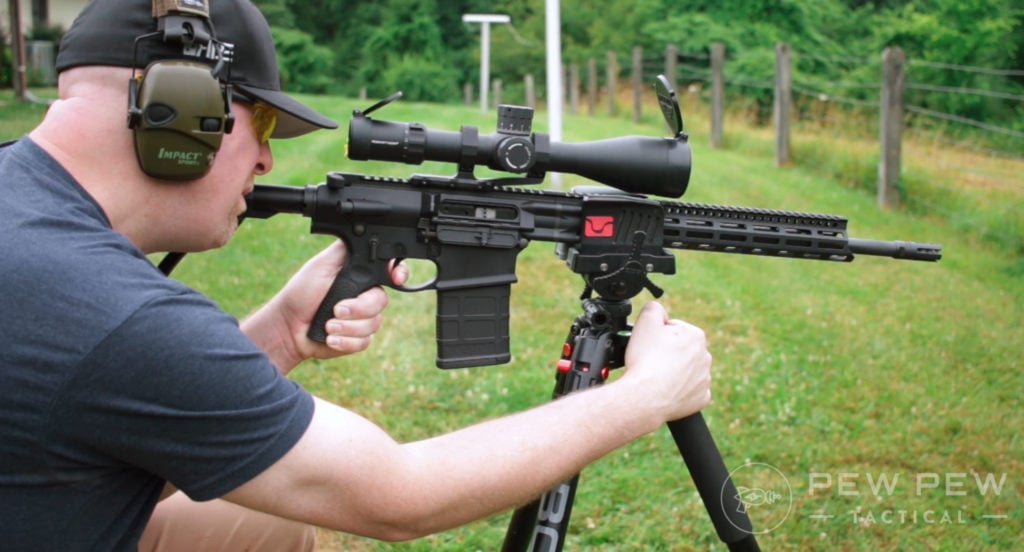 Recoil harder than 5.56, but softer than .308 and likely softer than what you would expect. The weight of the rifle helps soak recoil and 6.5 Creedmoor isn't a punchy cartridge to start with.
While it came with a standard AR-10 PMAG, we also tested Lancer mags and both fit perfectly. Some AR-10s can be picky with it comes to mags, but the DD5 fed them all.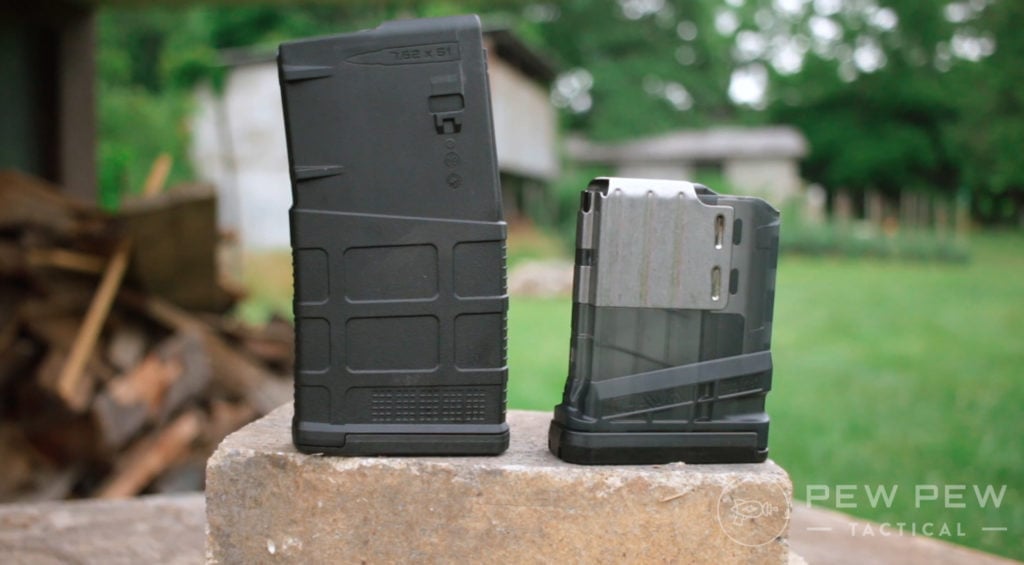 Primary Arms and BOG DeathGrip Tripod
Two pieces of kit that helped make all of this possible was the Primary Arms PLx 6-30x56mm FFP Rifle Scope and BOG DeathGrip tripod.
Primary Arms was nice enough to send this scope out for testing and it is a huge hit already. Japanese glass, lifetime warranty, FFP, and illuminated — this scope rocks.
1500
at Primary Arms
Prices accurate at time of writing
Prices accurate at time of writing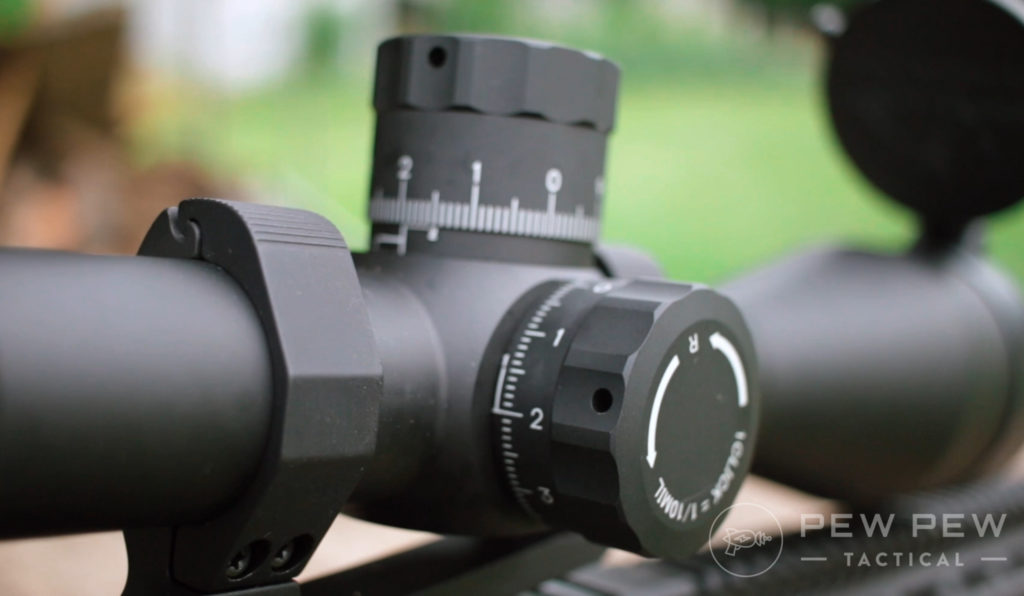 Big turrets make it easy to dial and every part and feature ran exactly as it should. Great tracking, bright glass, no complaints.
If you haven't shot off a tripod, it's hard to describe what a good tripod feels like over a cheap one. And if you're thinking about those cheap camera tripods you get free with things, then you're thinking about the wrong kind of tripods!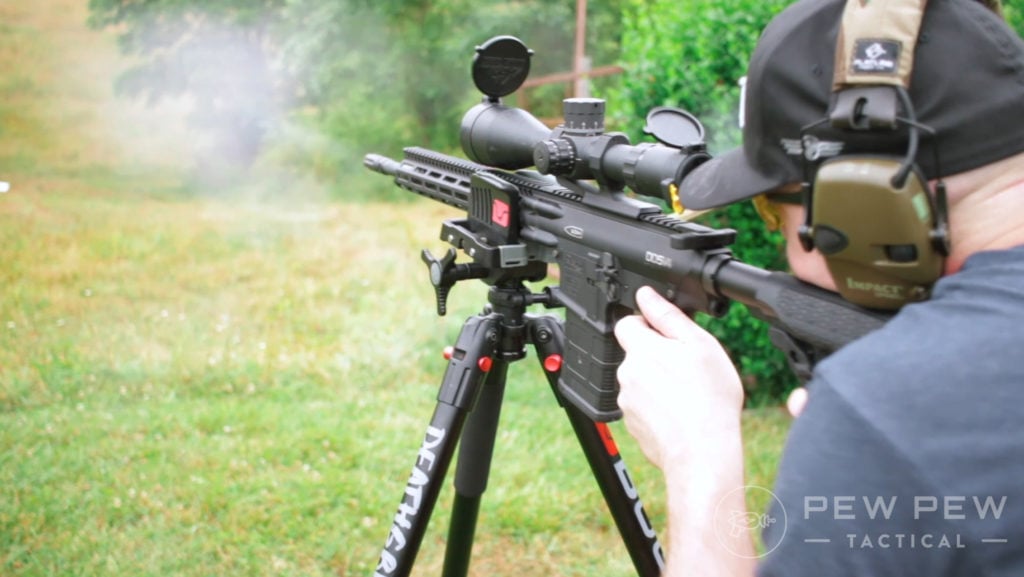 BOG is well known for making great gear and this one has been used and abused for years. Still, it keeps on trucking and providing a stable platform for long range shots.
169
at Brownells
Prices accurate at time of writing
Prices accurate at time of writing
The DeathGrip head is great for multiple rifles since it is a non-marring clamp and doesn't rely on ARCA, M-LOK, or other hardpoint attachment systems.
Sig Sauer Ammo
We've always loved Sig ammo, from their .380 V-Crown to their .300 BLK — it's just high-quality ammo that you can count on.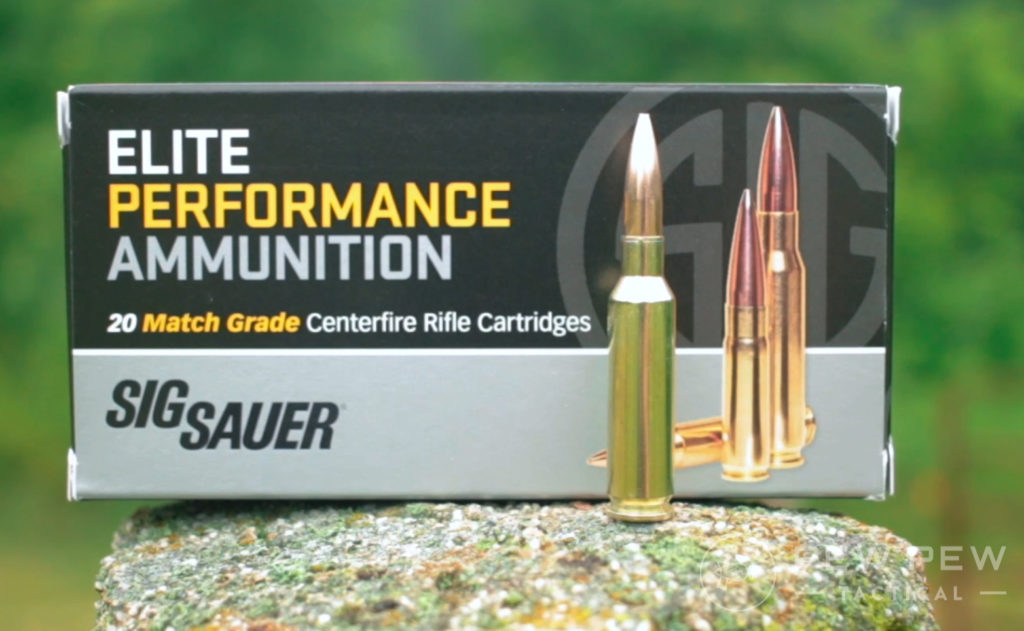 But what we've probably shot the most of is their 6.5 Creedmoor offerings, ball, match, and now full copper hunting ammo, this stuff delivers. Always.
24
at Primary Arms
Prices accurate at time of writing
Prices accurate at time of writing
They were kind enough to provide the ammo for this review and the Daniel Defense DD5 absolutely loved it. Perfect function, flawless rifle.
Uncle Ricky
Johnny isn't a long range shooter, so he drafted someone who can at least start to stretch the legs on the DD5 — his Uncle Ricky!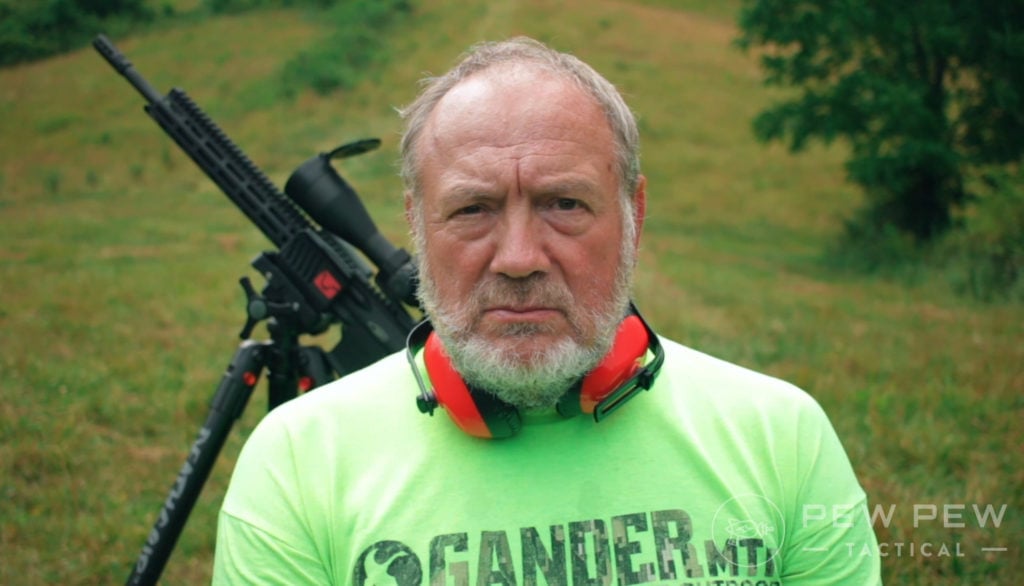 While their range only allowed them to push the rifle to 250 yards, Uncle Ricky did put down an incredible .66 MOA group on steel at that range — and did it off a tripod!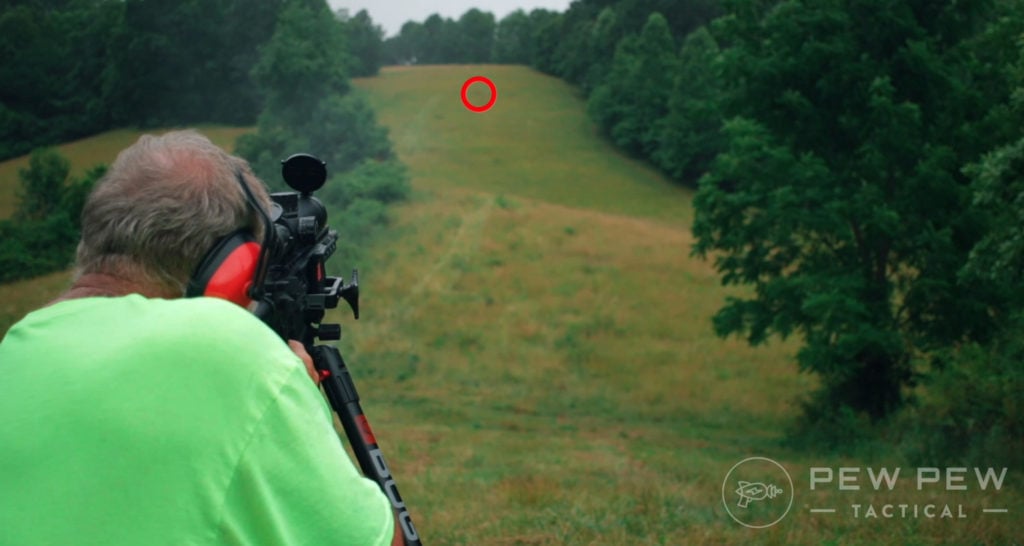 That says a lot not only for the Sig ammo and the DD rifle but also for what a true Appalachian man like Uncle Ricky can do.
Things To Love
First and foremost, the rifle just works. The AR-10 doesn't have the same uniform specs like the AR-15 does, so getting one that is really great can be very hit and miss from brand to brand.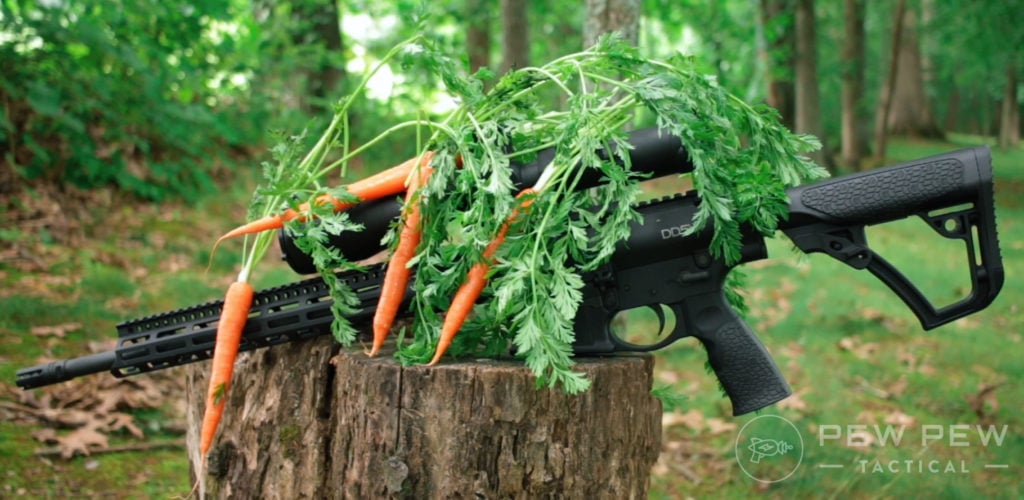 It's clear to us though that Daniel Defense has put in the time to make sure their rifle actually runs as it should. Sure, you pay for that — but it's money well spent.
And in the grand landscape of AR-10s, the DD5 V4 actually isn't that bad of a price.
Some other parts to point out is the handguard, buttstock, and grip.
Handguard
If you're wondering what a built-to-last handguard looks like, this is it.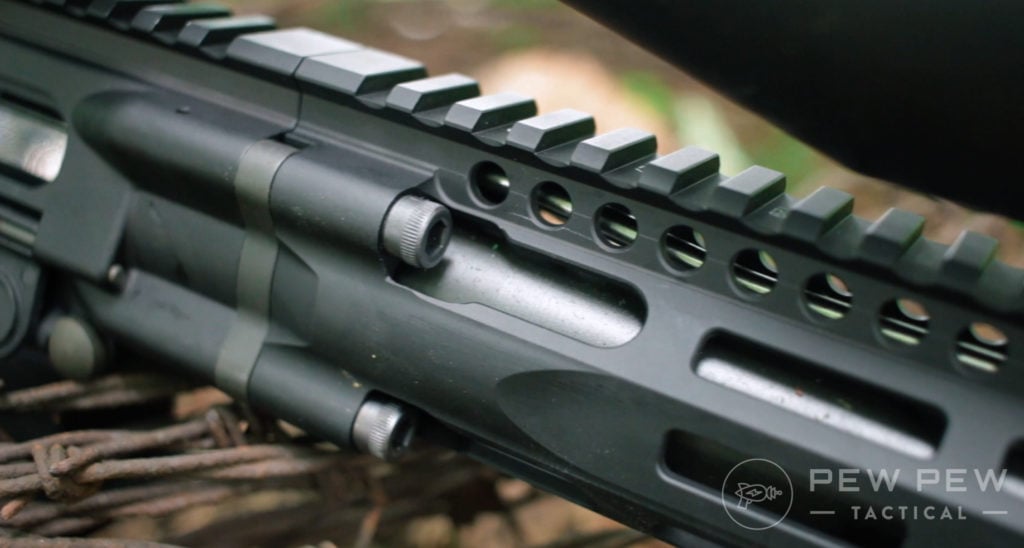 Indexing and flex issues are two problems you will never find on a DD handguard like this one. That comes in handy if you plan on treating your rifle like the field gun it should be.
It also helps for mounting heavy optics or other goodies like night vision!
Buttstock & Grip
Classic DD buttstock and grip. We like it, but not everyone does. It's grippy, secure, and it looks good.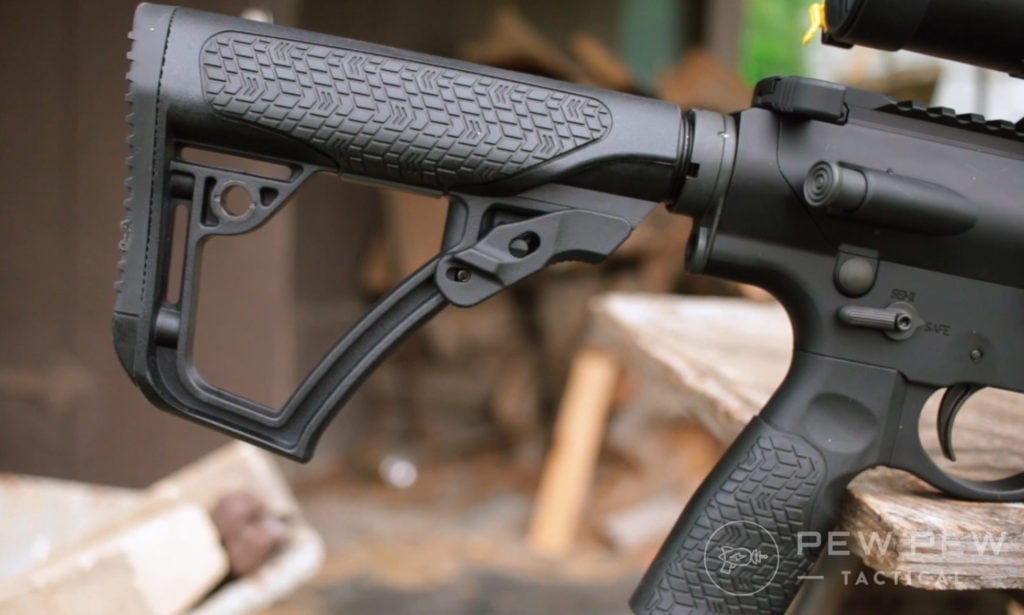 Eh… This Trigger…
Okay, not everything was a perfect 10 in our book. And really this one kind of surprised us but the trigger is… not great at all. It's sort of funky.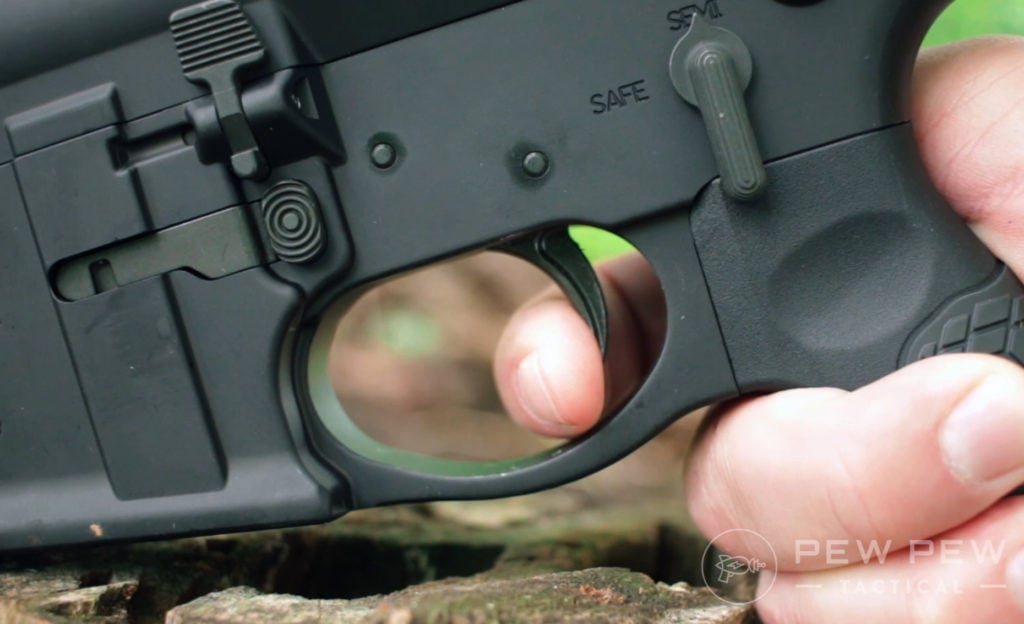 Creepy and without any kind of crisp wall that we like to see, the DD mil-spec trigger in this rifle wasn't on par with what the rest of the rifle deserves.
In our book — this is a part to replace with your favorite precision or combat trigger. Top of our list would be the TriggerTech Adjustable.
219
at Brownells
Prices accurate at time of writing
Prices accurate at time of writing
Take a look at the Best AR-15 Triggers for a ton of options and hands-on testing!
By The Numbers
Reliability: 5/5
Some AR-10s are finicky on mag choice. This one ran like a Swiss clock.
Ergonomics: 4/5
It's an AR, not an Italian leather driving glove. But for comfort we like that DD stock & grip big time.
Accuracy: 5/5
If you're not sub-MOA, it's on you or your ammo… not the rifle.
Customization: 5/5
Needs nothing but glass. And a trigger. And maybe a bi-pod. And…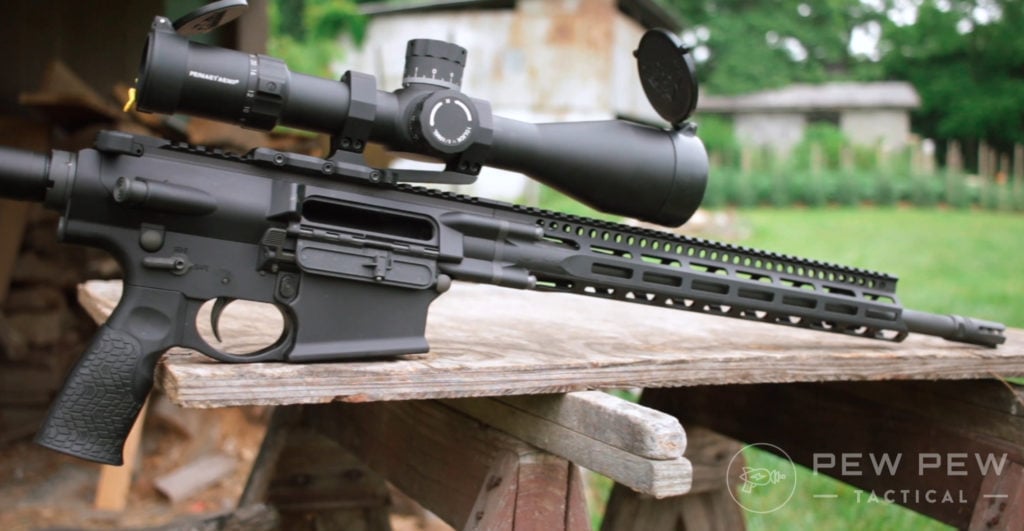 Value: 4.5/5
It's high, but you'll get a thousand yard gun on day one. Buy once. Cry once. And head straight to the range.
Most Proven AR-10
2500
at Daniel Defense
Prices accurate at time of writing
Prices accurate at time of writing
Overall: 4.5/5
Not a lot to complain about on this one. You'll be eating rice and beans for a month after you buy it, but you'll never need another distance rifle again.
And remember the code PEWPEW50 for $50 off the DD5 series for our readers!
Conclusion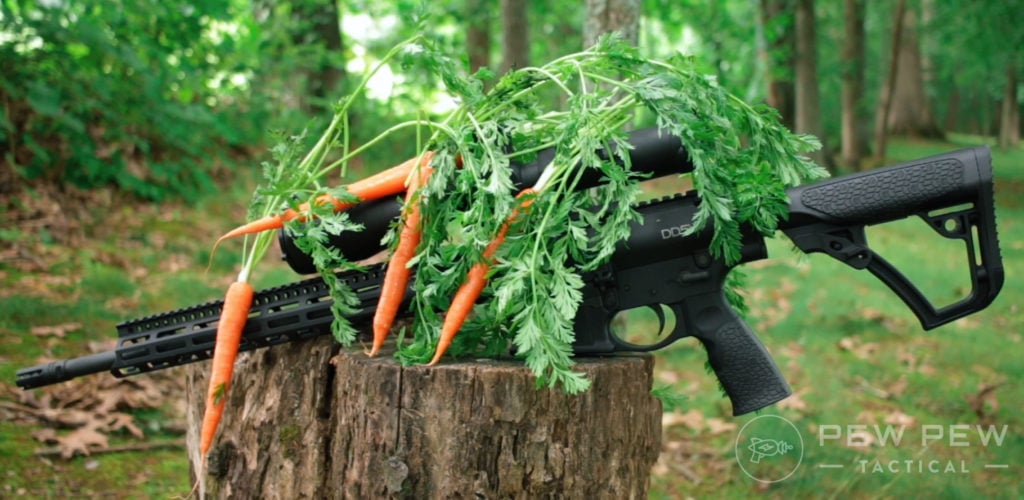 Daniel Defense manages to do with the DD5 V4 what few others can, make a truly top tier AR-10, and do it really well. Reliability with different ammo and mags was 100% and it's on you if you don't get sub-MOA accuracy. Buy once cry once on the price but you get a 1000 yard gun out of the box.
Most Proven AR-10
2500
at Daniel Defense
Prices accurate at time of writing
Prices accurate at time of writing
What do you think about the DD5 V4? .308 Vs. 6.5 Creedmoor for an AR-10? Let us know in the comments! Don't forget to take a look at the Best AR-10 Rifles and for another DD gun…our full review on the DDM4 PDW in .300 Blackout.