Let's play a game.
Name five modern duty pistols off the top of your head.
Great, now how many are striker-fired designs?
Most of them right?
CZ, the Czech company known for the famous CZ 75 design, has decided to change it up a bit. The CZ P-09 ($499) is their latest take on a modern duty pistol…and it's hammer fired.
599
at Sportsman's Warehouse
Prices accurate at time of writing
Prices accurate at time of writing
We're going to go over everything you need to know about this Czech beauty, and give you an idea of what the venerable Ceska zbrojovka Uhersky Brod (Aka CZ) has unleashed upon the world with their newest duty gun.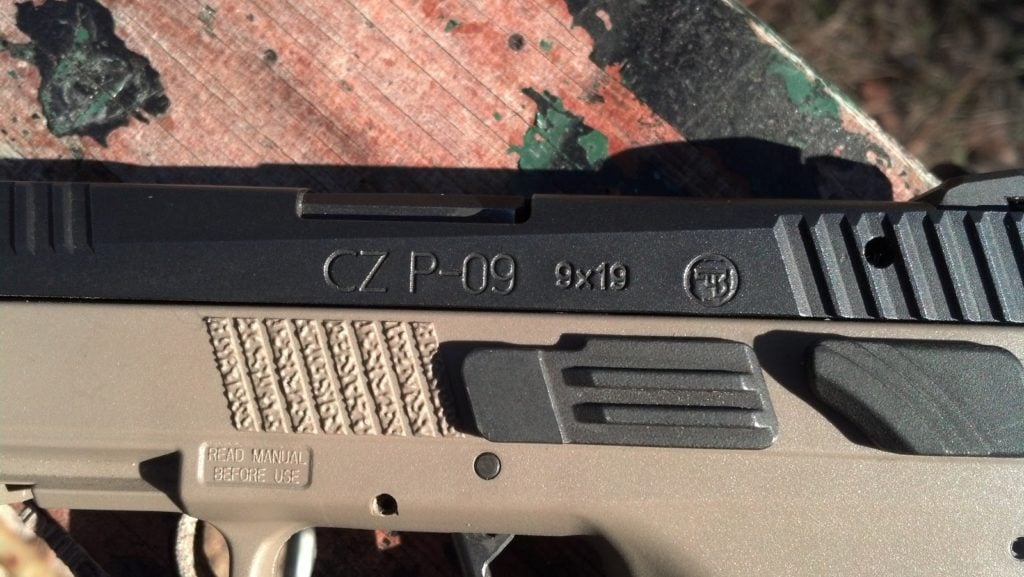 Table of Contents
Loading...
A Little Background on the CZ P-09
Some quick stats on the CZ P-09.
DA/SA action

Picatinny Rail for accessory attachments

19 round capacity (15 in 40 S&W)

Comes with two magazines and two +2 extensions for ( Totals 21 rounds in 9mm and 17 in 40 S&W)
Czech Yourself
I'm a big fan of the CZ 75 series of handguns and have long enjoyed my classic CZ 75 B, including the fact it is made of metal.
I don't dislike polymer pistols…but I found it hard to believe that you can replicate the famed ergonomics of the CZ 75 with a polymer frame.
Even though I was hesitant, I had a little extra cash and decided to modernize my CZ collection.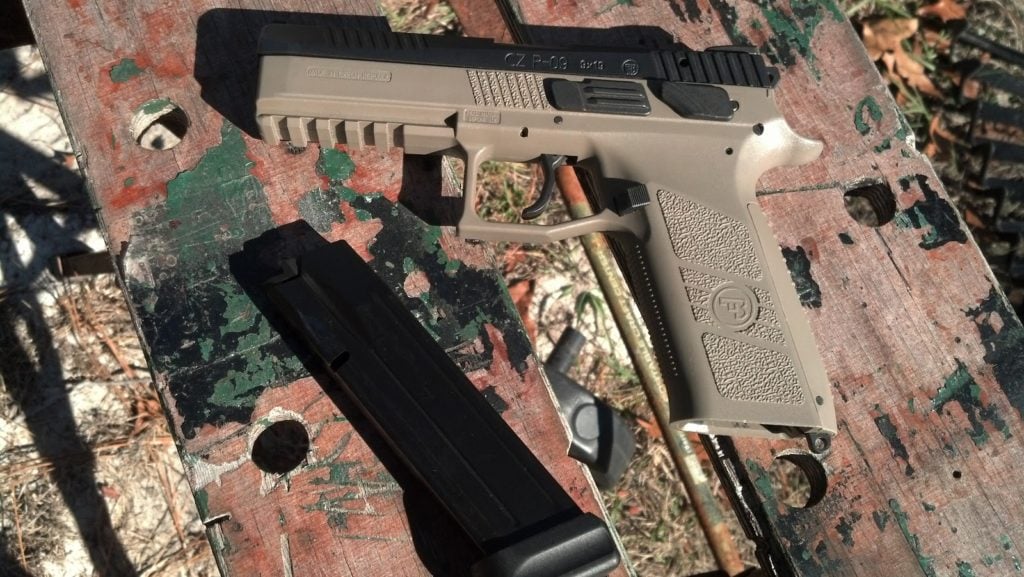 I'm a CZ enthusiast, and I tend to prefer DA/SA guns. I carried the Beretta M9 during my time in the Marines and came to love hammer fired, DA/SA, guns. The CZ P-09 is very similar to the CZ 75, but it has a few differences.
The CZ P-09 is a modern, duty-sized weapon. This means it's a full sized firearm, with a large capacity, and is easy to handle when firing for extended periods of time.
This specific model is my personal firearm and is chambered in 9mm. The weapon comes in four variations, the standard all black, the suppressor ready model, the urban grey suppressor ready model, and my two tone FDE frame variant with night sights.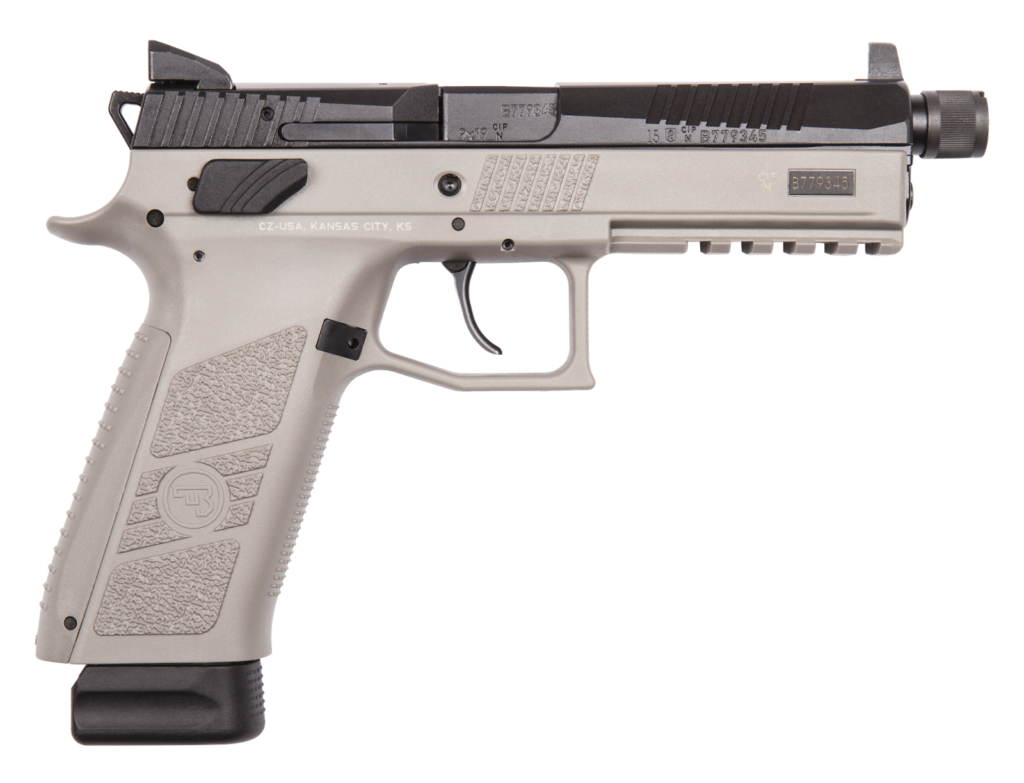 Why Buy a CZ P-09?
The CZ P-09 fits a variety of roles rather well. Its modern design makes it a solid fit for police and military use. Its large capacity and polymer frame keep the weapon up to date with other similar duty sized firearms.
The CZ P-09 is also a great choice for a home defense handgun. Its large size, and capacity lends itself well to the role, and it's reliability make it a safe choice. The ability to mount a light to the picatinny rail makes it easy to use regardless of the time of day.
Many will say a weapon like this is too big for concealed carry. For a lot of people this may be true.
However, I've carried it concealed both IWB and OWB. I'm also 6 foot 5 inches tall and weigh 250 pounds…so this may not be the best option for everyone.
At the end of the day if someone is comfortable with carrying a full sized firearm the CZ P-09 is a solid option.
Fit and Feel
The finish is a hard blackened finish that is applied evenly over the weapon. The slide features both forward and rear grip serrations that add some extra purchase when manipulating the slide…perfect for a defensive scenario when your fine motor control might leave something to be desired.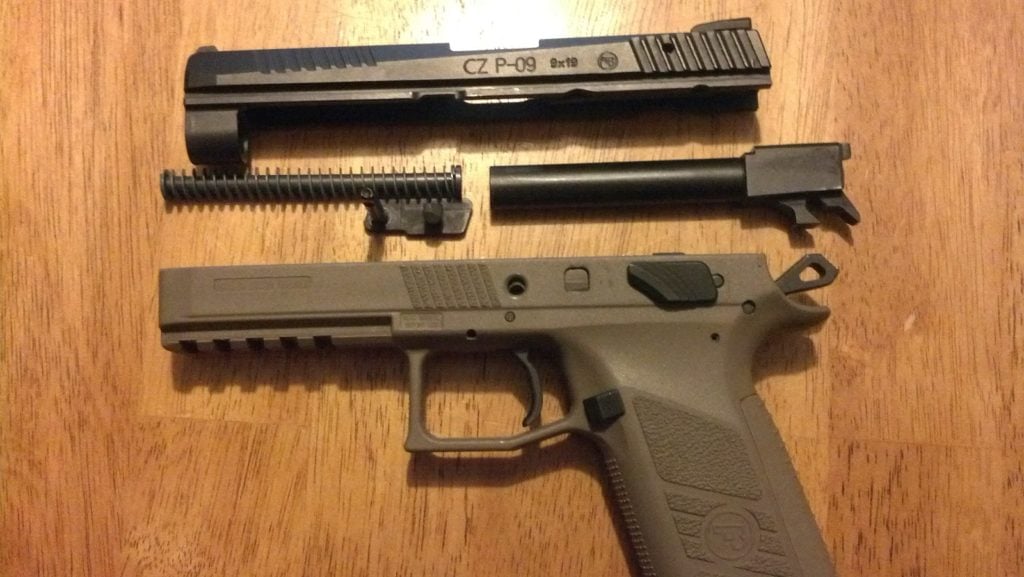 The polymer frame is stippled for increased grip, and right above the trigger is a stippled section to place your trigger finger.
Everything locks together smoothly.
There is no play between the slide and frame, the trigger is all-metal and semi flat, and the hammer locks forward and rearward nice and tight.
CZ put a lot of time into completing this pistol and it shows. They modernized the CZ design where it needed to be modernized, but kept what worked from the classic CZ 75.
Ammo Used
Ammo wise I'm a cheapo. I go with cheap ammo that works for target practice.
I've put steel case Tula, aluminum cased Federal, brass cased Winchester White box, and brass coated steel rounds from Freedom Munitions. It's all functioned perfectly fine.
However, when it comes to self-defense ammo, I tend to spend more money for high quality ammo. I swap defensive ammo about every six months.
When I swap to new ammo I fire the old ammo…a good practice if you're serious about carrying.
I've put 20 rounds of Speer Gold Dot 124 grain through it without issue, 50 rounds of Winchester Ranger 115 grain, and then 50 124 grain Sig jacketed hollow points. None of them had any issues.
42
at Optics Planet
Prices accurate at time of writing
Prices accurate at time of writing
CZ P-09 Accuracy
I'm not a bullseye shooter so I don't get out there and measure targets with calipers. Nothing wrong with doing it that way, but it's not my way.
At ranges from five yards to twenty-five yards the CZ P-09 performs. The benefit of a full sized firearm is just how far you can shoot effectively with it…and this one can put rounds on target from a surprising distance.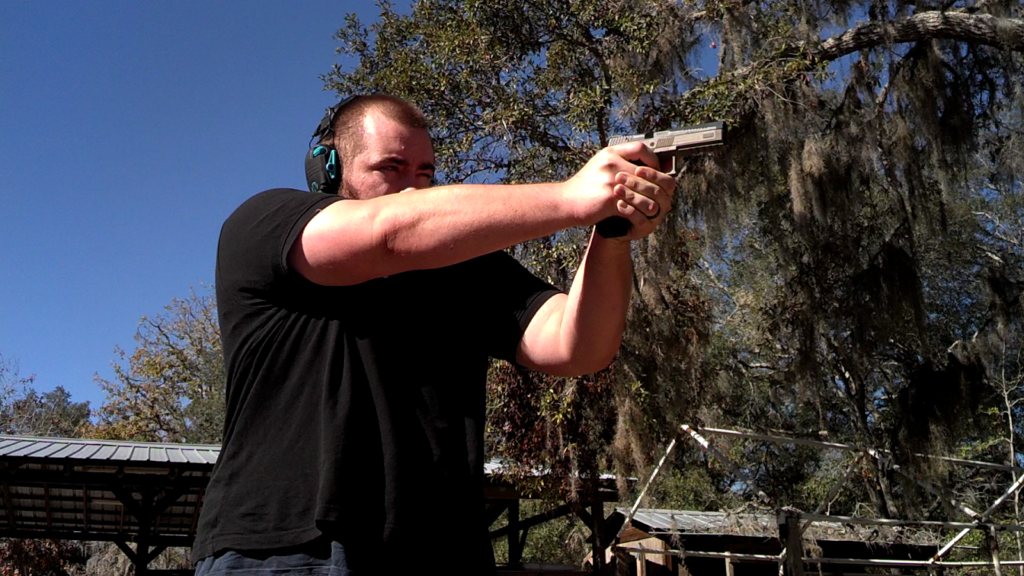 At five yard to seven yards I can make one ragged hole. At 10 to fifteen yards I can consistently make headshots on an FBI Q target. From 20 to 25 yards I can make 50% of my headshots on average, and at the same time demolish the torso section.
That's more than good enough for self-defense scenarios.
Recoil on the CZ P-09
The slide sits very low compared to other modern guns. The P-09's slide is so small and sits so low because the slides ride inside of the frame. Most pistol's slides ride over the top of the rail.
The benefits is lowering the bore axis, which reduces muzzle flip. This makes it easier to stay on target when firing rapidly.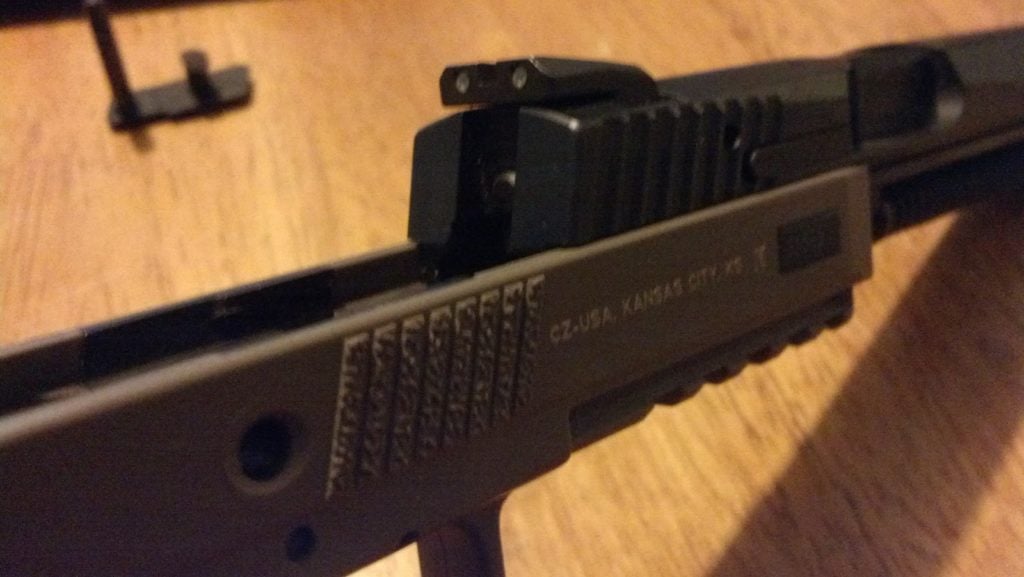 The recoil impulse of this pistol is pretty unique. It goes rearward and slightly up. Normally with an average height bore axis the feeling is up and slightly rearward.
Because the weapon barely rises when firing you can get your sights back on target quickly.
Concealing the CZ P-09
I prefer to carry full sized firearms when I can. Although I cannot always carry this gun due to simple clothing requirements, many people would have trouble carrying this firearm concealed, and I'm a bit of an outlier.
70
at CrossBreed Holsters
Prices accurate at time of writing
Prices accurate at time of writing
To the general population this firearm is nearly impossible to comfortably carry IWB, but if you're someone who can handle OWB carry, then this is a great choice. Not sure what holsters to get…check out our complete Concealed Holster Guide.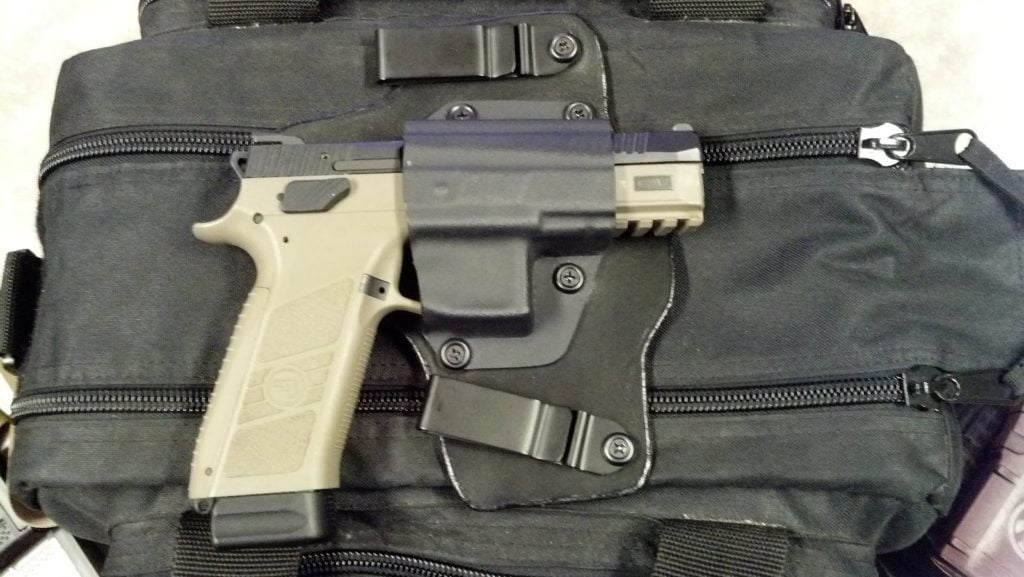 Resources
The CZ series of firearms have a cult like following. They aren't as popular as Glocks or Smith and Wessons, but their enthusiasts love them.
There are lots of videos out there to teach you the ins and outs of CZ firearms. I've installed a trigger upgrade and a short reset kit with nothing more than a punch and some Youtube videos.
By The Numbers
Reliability 5/5
The CZ P-09 continues the CZ 75's tradition of reliability. Even using cheap rounds the CZ P-09 is incredibly reliable.
I haven't had any malfunctions with the firearm and have had zero failures to extract, eject, or have the magazine fail in anyway. I honestly haven't kept an ammo count, but I've had the weapon for two years and it's one of my favorite to shoot. There has been at least 500 ball rounds fired without issue.
37
at GunMag Warehouse
Prices accurate at time of writing
Prices accurate at time of writing
Accuracy 5/5
We covered this more a bit above, but it's a combat pistol and is mechanically accurate enough that you won't outshoot it.
Ergonomics 4/5
The slide does not offer as much space to grip as a traditional firearm. For some this makes manipulating the slide difficult, especially when attempting to clear malfunctions. With time and training it can be overcome.
The grip is quite wide compared to the CZ-75. To be completely honest I was partially right when I said CZ could not replicate the ergonomics of the metal gun. The metal frame CZ-75 B is the superior weapon ergonomically.
With that said the CZ P-09 is still quite ergonomic. The grip is fatter than the CZ-75, but it fills my hands well. The gun comes with a small and medium backstrap to slightly customize the weapon.
However, swapping back straps can be a pain. Without writing the manual, it involves applying a lot of pressure to the lanyard ring while simultaneously pushing a pin out. Do the process in reverse to swap grips.
Looks 5/5
Well this is subjective, but I think the firearm looks great. Compared to a standard plastic fantastic it stands out well.
Customization 3/5
The CZ can't touch the Glock or even the Smith and Wesson in customization. It's just not popular enough for lots of 3rd party support. However, CZ Custom and Cajun Gunworks offer high quality upgrades for most CZ Firearms.
I installed a short reset kit and some other parts from Cajun Gun Works and love it.
One nice thing is it does have a rail, perfect for mounting lights and lasers to. My pick would be a Streamlight for duty or CCW.
215
at OpticsPlanet
Prices accurate at time of writing
Prices accurate at time of writing
Bang for your Buck 4/5
The standard CZ P-09 can be had for under 500 dollars. Between $450 and $500 for a new gun isn't uncommon. My FDE variant with night sights was $530 and I love it. I'm knocking a point off because magazines are over 40 bucks apiece. (Mec Gar makes great CZ -mags and I'll buy all of them.)
Overall Score 4.5/5
The CZ P-09 is an overall excellent handgun. It's a modern option for those who desire a polymer frame, hammer fired, DA/SA gun. It's taken the CZ-75 platform and brought into the modern era of defensive handguns. The P-09 is a great handgun, and it performs where it needs to.
Conclusion
The CZ P-09 is a classic take on CZ's styling, updated for modern requirements. While it's not the most customizable, if you're looking for a full-size polymer gun that goes bang every time, you could certainly do a lot worse than the P-09.
Check out more of our favorite CZ's in our reviews of the CZ SP-01 and P10C.