Pistol caliber carbines have become increasingly popular over the last few years, attracting attention for their convenience, versatility, and cheap ammo.
And, of course, they're just plain fun to shoot with little recoil and muzzle rise relative to most popular rifle cartridges.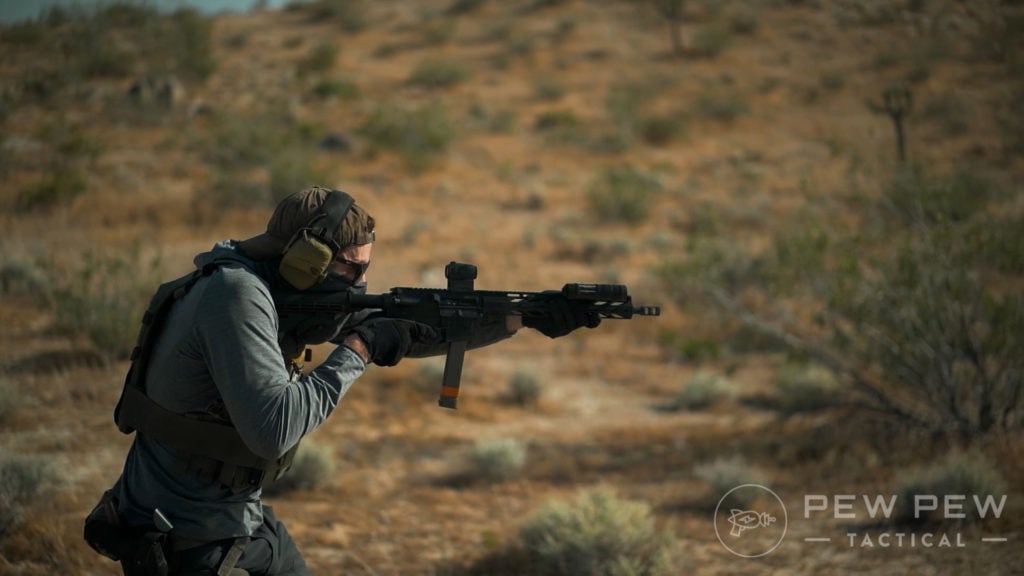 Various competitive shooting organizations have taken notice and introduced PCC divisions for their shooting competitions.
While PCC divisions certainly aren't universal, major organizations like 3-Gun, USPSA, and even IDPA have adopted PCC divisions. 
But if you want to be competitive, not just any PCC will do. You need a gun that offers top-of-the-line accuracy while also being comfortable to shoot.
And it needs to work for your budget too.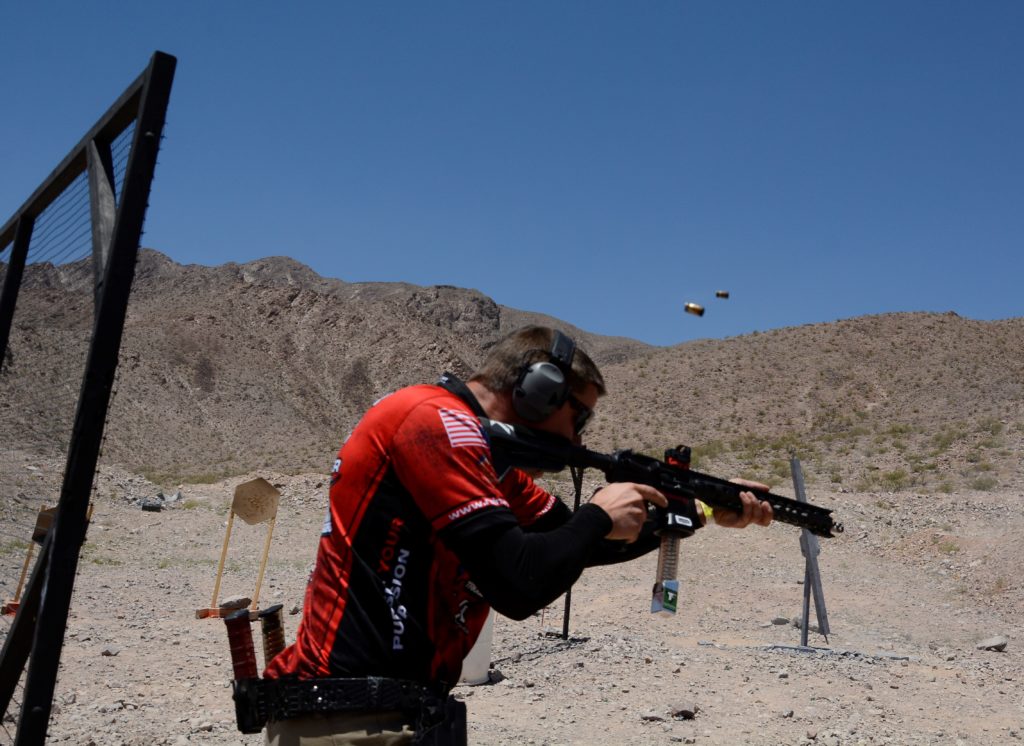 To achieve that, many competitors opt for a custom PCC. However, not everyone has the time or budget for that. 
With these things in mind, we've assembled a list of the top out-of-the-box pistol caliber carbines that are perfect for competitive shooting.
Read on to learn more about our picks. 
Best Competition-Ready PCCs
1. JP Enterprises GMR-15
The JP Enterprises GMR-15 is the most popular out-of-the-box choice for USPSA PCC shooters and for good reason.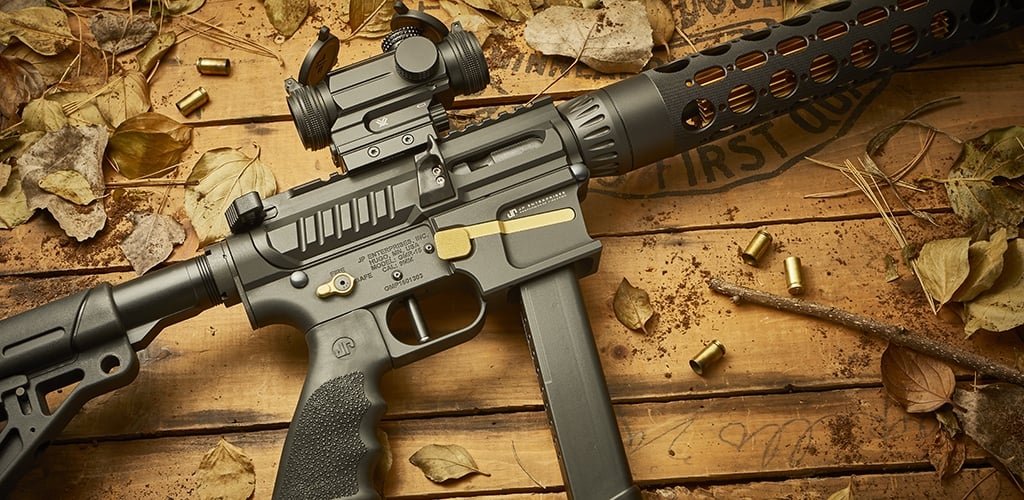 This 9mm PCC features a 14.5-inch Supermatch match-grade barrel with a light contour and 1:10 rifling.
At the end of the barrel sits JP's Competition Series Compensator to minimize recoil and muzzle rise. The Silent Captured Spring helps reduce recoil further. 
This PCC accepts Glock 17 magazines and features a last-round bolt hold open, extended magazine release, and a flared mag well for fast reloading.
The GMR-15 is also known for its reliability, so you shouldn't have to worry about malfunctions mid-competition either.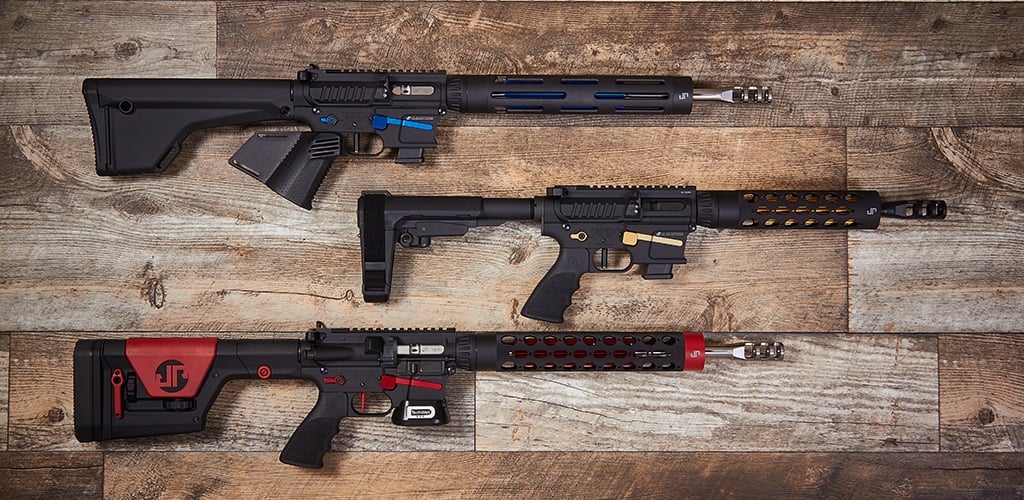 Other features include the 12.5-inch MK III modular handguard, Radian Raptor-LT, and Hogue grip and stock.
It has a curved trigger with a 3- to 3.5-pound pull weight.
1661
at Rainier Arms
Prices accurate at time of writing
Prices accurate at time of writing
2. CMMG Mk9 Resolute 300
The Resolute, and other CMMG PCCs, stand out from other PCCs because of their Radial Delayed Blowback system.
In contrast to most PCCs, which use a straight-blowback system, the CMMG's blowback system uses the bolt head's rotation to increase the speed of the bolt carrier. This allows the Resolute to use a lighter bolt, which reduces felt recoil.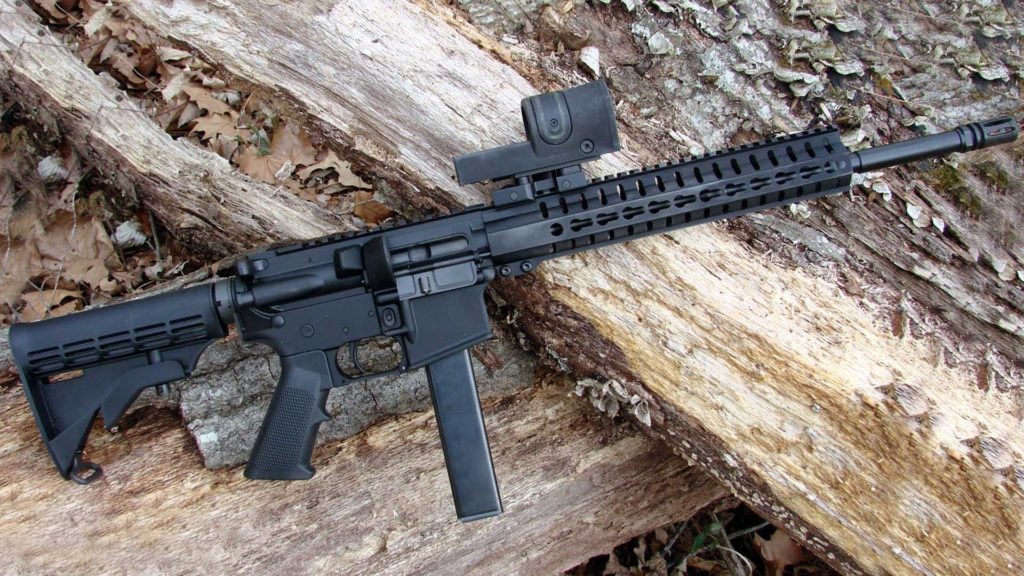 It also allows the Resolute to handle a wider variety of cartridges with ease, so this particular PCC is available chambered for not just 9mm, but also .40 S&W, .45 ACP, and a variety of rifle cartridges.
Specifically, we recommend the Mk9 Resolute 300, CMMG's higher-end 9mm option.
It boasts a 16.6-inches M4 profile barrel with a 1:10 twist and a CMMG SV muzzle brake. The Resolute also features a Geissele Automatics SSA 2-Stage trigger, an oversized ambidextrous charging handle, and a collapsible 6-position CMMG RipStock.
It has a Cerakote finish on the receivers and handguard.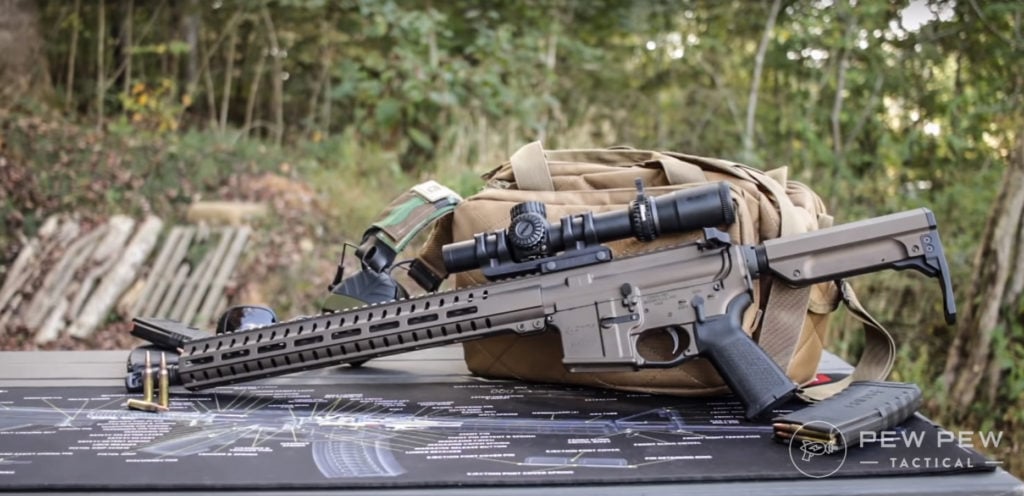 The Mk9 takes Colt patterned magazines, though CMMG also makes the MkGs Resolute 300, which is a virtually identical PCC that takes Glock mags.
If you're looking for something a bit more budget-friendly, you may want to instead look at the MK9 Resolute 100, which will save you about $500.
The fundamental bits of the guns are the same, but the Resolute 300 has upgraded peripheral pieces like the furniture, trigger, and muzzle devices. 
1680
at Brownells
Prices accurate at time of writing
Prices accurate at time of writing
3. CZ-USA Scorpion Evo 3 S1
The CZ-USA Scorpion Evo 3 S1 is another popular choice among PCC competition shooters, but costing between about $1,000 and $1,100, it's also far more affordable than the GMR-15 or Mk9 Resolute 300.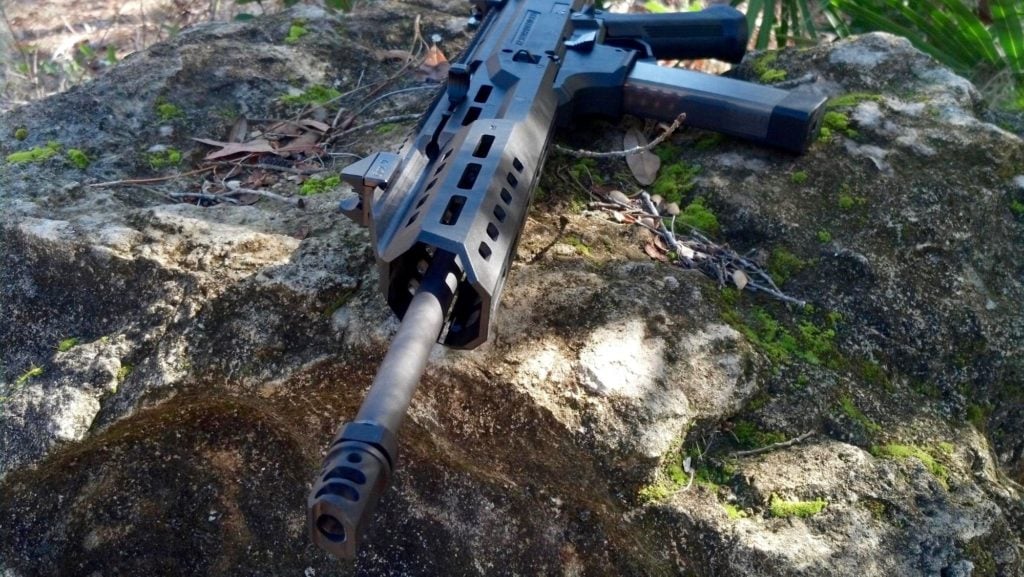 Like the other guns on our list, the Scorpion Evo 3 S1 is ready to compete straight out of the box.
However, it's highly upgradeable with pretty solid aftermarket availability, so you can customize and make improvements to your heart's desire.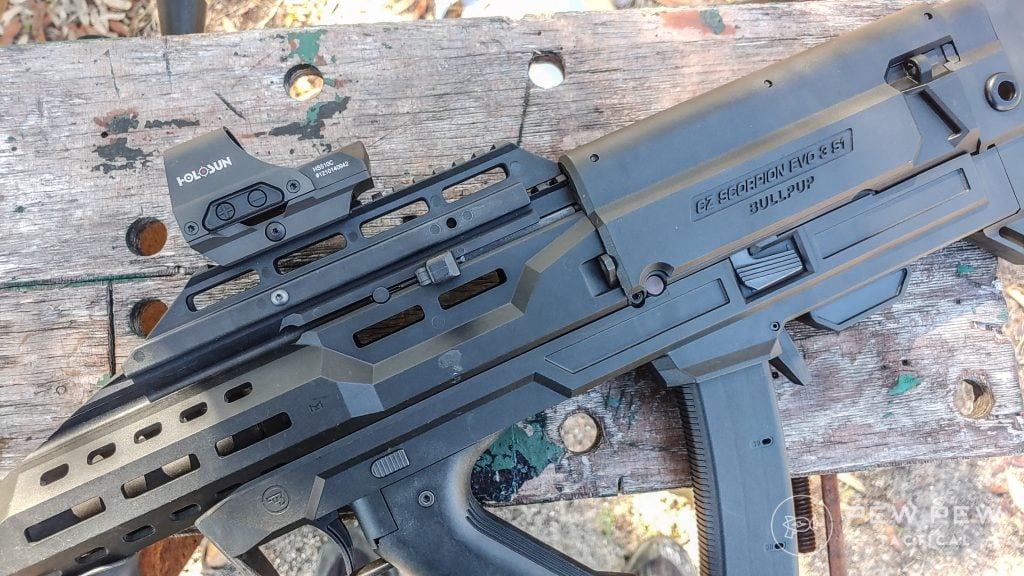 And you can spread out the expense to get your perfect competition PCC rather than having to drop a ton of money upfront. Magpul in particular is a good option for finding upgrades. 
Even out of the box, the Scorpion Evo 3 S1 works for a wide variety of shooters. All the controls are ambidextrous, the trigger reach is adjustable, and the charging handle is swappable.
Most PCCs are based on the AR-style platform, but the Scorpion EVO 3 S1 is based on the platform of CZ's submachine gun, the Scorpion EVO 3 A1, setting the S1 apart from the PCC crowd.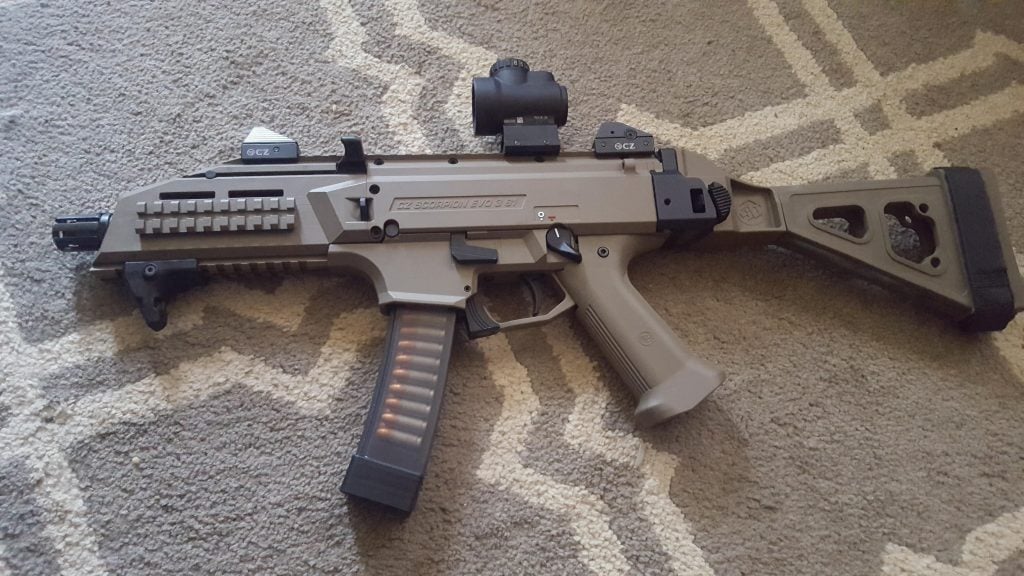 It has a 16.2-inch barrel and comes in versions with either a faux suppressor or a real compensating muzzle brake. For competition purposes, we recommend going with the muzzle brake.
This 9mm PCC also has an M-LOK handguard and a folding stock.
The Picatinny rail along the top of the gun comes with adjustable iron sights pre-installed. These iron sights are pretty decent, but you may want to upgrade them, especially if your competition allows for glass optics.  
We took a look at the CZ Scorpion EVO S1, so check out our review for a deeper dive into the platform.
Best Pick Pistol Caliber Carbine
1300
at Brownells
Prices accurate at time of writing
Prices accurate at time of writing
What do you think of the CZ Scorpion EVO? Rate it below!
4. Ruger PC-9 Carbine
Competition guns can be expensive and opting for an out-of-the-box competition-ready PCC can be one way to save money. However, even those PCCs can still be quite pricey.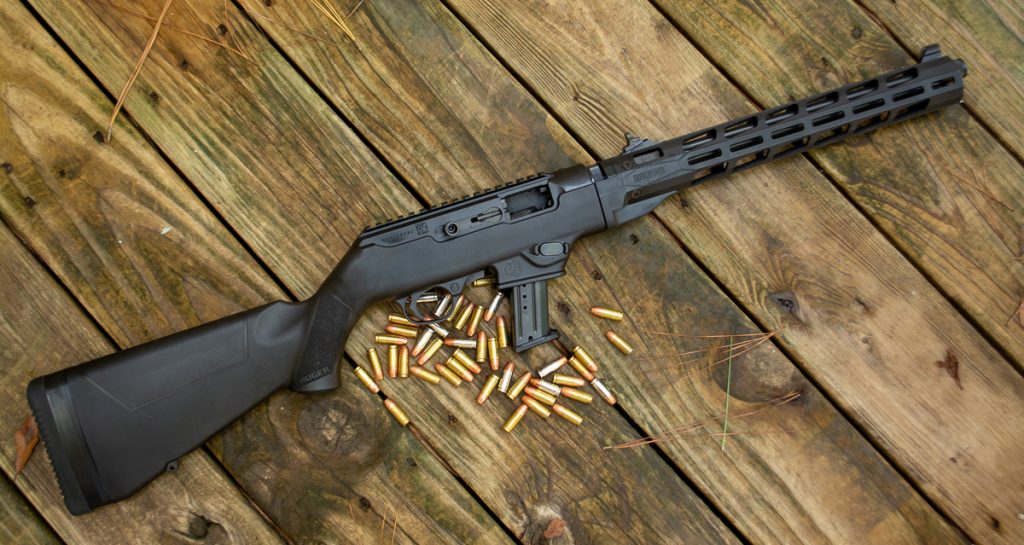 For a truly budget-friendly PCC, the Ruger PC Carbine is the way to go. Retailing at around $750, it's more affordable than even the Scorpion Evo 3 S1.
Available in 9mm and .40 S&W, with the 9mm being the more popular choice for competition shooters. The .40 S&W is only available in one particular conversion, but the 9mm is available in three main variants.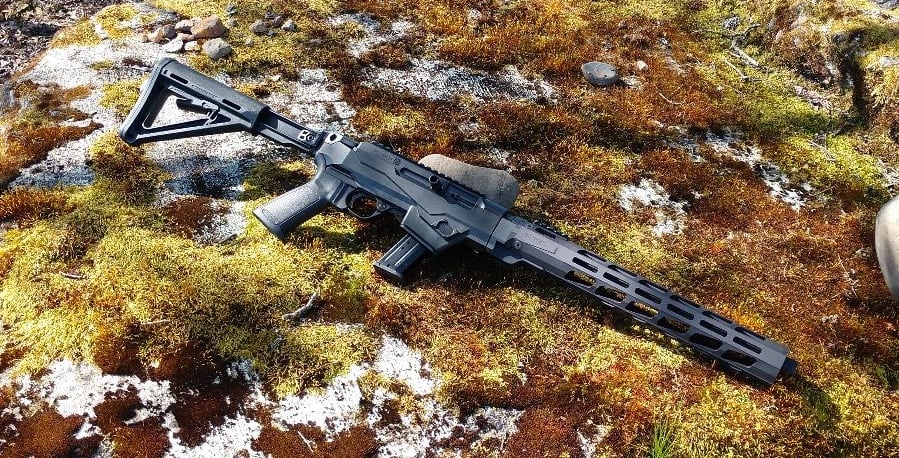 Our favorite for competition is the 9mm Model 19122, which has a 6-position adjustable stock and a free float M-LOK handguard.
It doesn't include sights or an optic, though, so you'll need to pick those up separately. There's also a Picatinny rail along the top of the receiver and another short section on the top rear of the handguard. 
Regardless of model, the PC Carbine has a 16.12-inch fluted, threaded barrel with 1:10 rifling. The charging handle and magazine release are reversible for either right or left-handed use.
It also allows for takedown for convenient transportation to and from the range.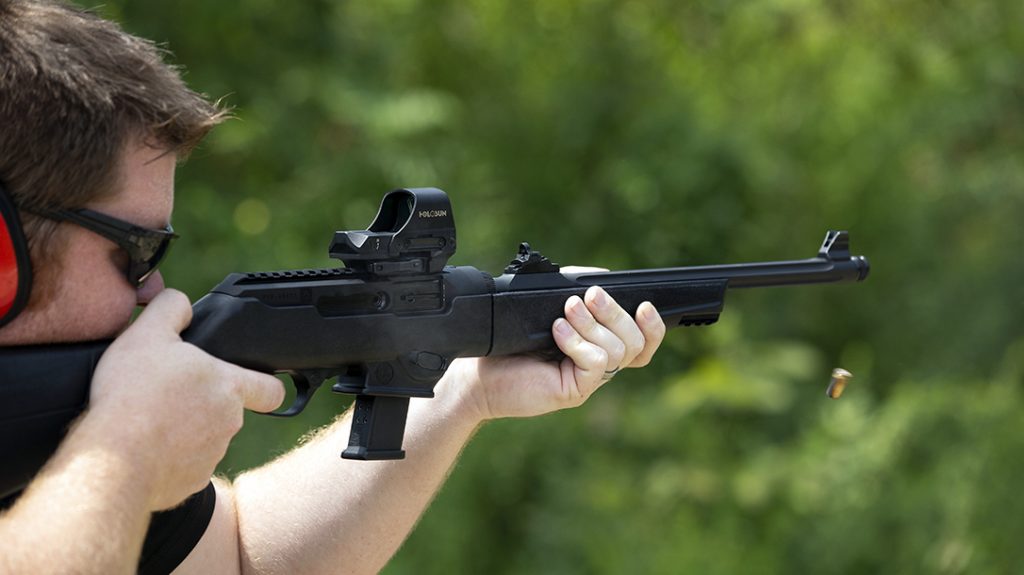 The PC Carbine is designed to use Ruger's SR-Series magazines, though the PC-9 also accepts Security-9 mags.
However, it also comes with an interchangeable magazine well that allows the PC Carbine to also accept Glock mags. The mag well is flared for easier loading.
One downside is that the PC Carbine is on the heavier side, weighing 7.3-pounds. Still, if you need a highly affordable competition PCC, it's hard to beat the value of the Ruger PC Carbine.
600
at Brownells
Prices accurate at time of writing
Prices accurate at time of writing
5. Sig Sauer MPX 
As the most expensive PCC on our list, costing about $2,000, the 9mm caliber Sig Sauer MPX is kind of the opposite of the PC-9 Carbine.
However, you get a lot for your money, so it's definitely worth it if you have the dough.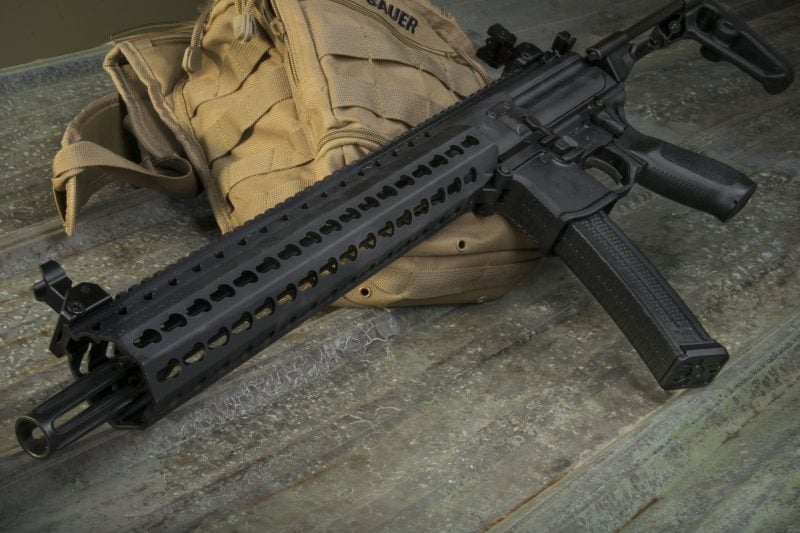 For one, MPX offers unparalleled customization. Most PCCs are based on the AR-15 platform, but the MPX is so similar to the AR-15, that many AR-15 parts can actually be used with the MPX, including the trigger.
This gives you tons of options for aftermarket upgrades and accessories.
But even the MPX parts that aren't interchangeable with AR-15 parts have tons of aftermarket availability, including plenty of options specifically designed for competition.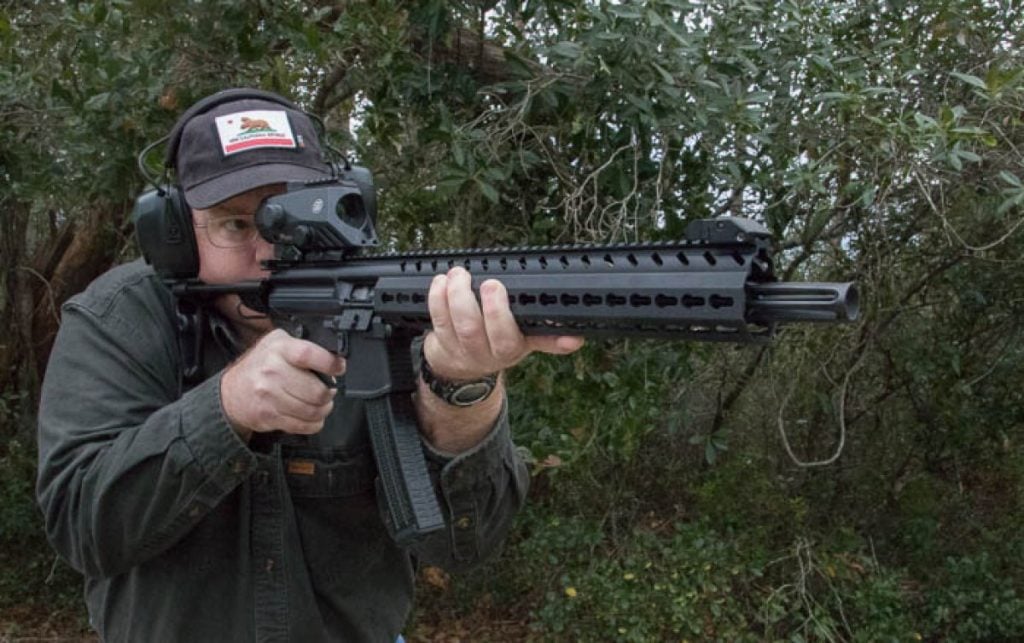 The modular design makes it easy to make those upgrades, even if you're not experienced with upgrading firearms.
However, even out of the box, the Sig Sauer MPX is an excellent competition PCC.
It comes with a single-stage Timney trigger custom-designed for the MPX, an adjustable folding stock, and an M-LOK handguard.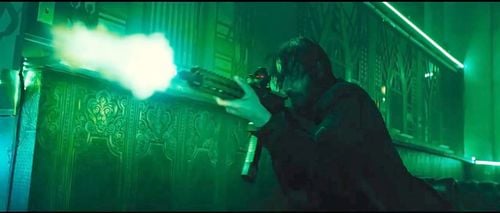 Its 16-inch barrel is capped with a 3-chamber compensator.
The MPX is also lightweight, weighing just 6.63-pounds.
Word of warning, it does not come with sights or an optic, though, so you'll need to grab some separately. 
1578
at Brownells
Prices accurate at time of writing
Prices accurate at time of writing
Conclusion
Each of these pistol caliber carbines is a favorite among PCC competition shooters and each is competition-ready straight out of the box.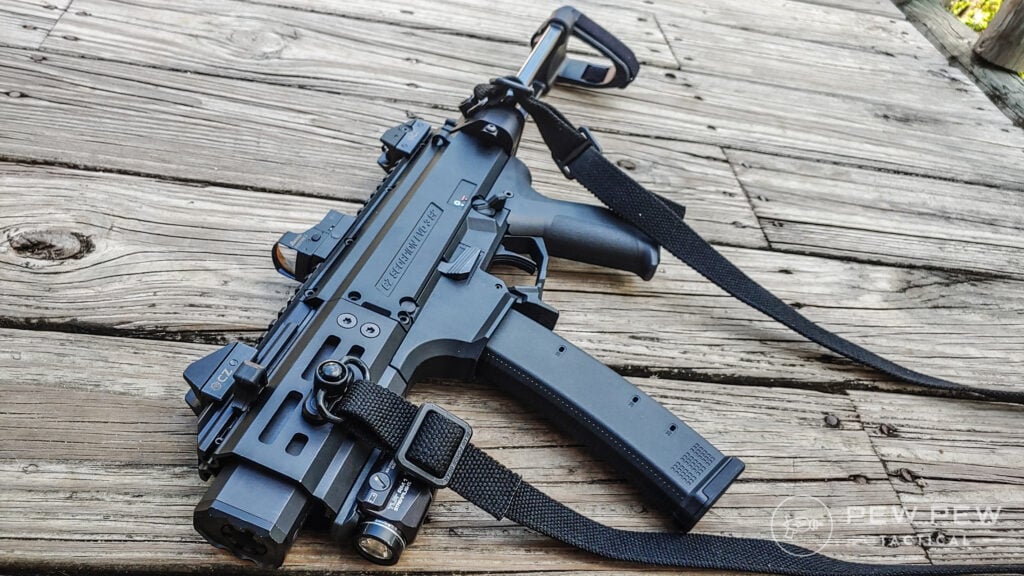 You can't go wrong with any of them, so the right one for you just depends on your budget, preferences, and how much customization you want to be able to do down the road.
What are you looking for from a competition-ready pistol caliber carbine? Let me know in the comments below. For more PCC goodness, check out our round-up of the Best Pistol Caliber Carbines: 9mm & Beyond or upgrade your build with the Best 9mm AR-15 Uppers.