I know what you're thinking: "Ugh, another budget red dot?"
Sure, these things are like flies in summer these days, but there is a good reason for that. We've finally entered an era where red dots can be cheap and good.
Shocking, right?
You skeptics can relax. We love beating up cheap red dots to help our readers make informed opinions before opening their wallets.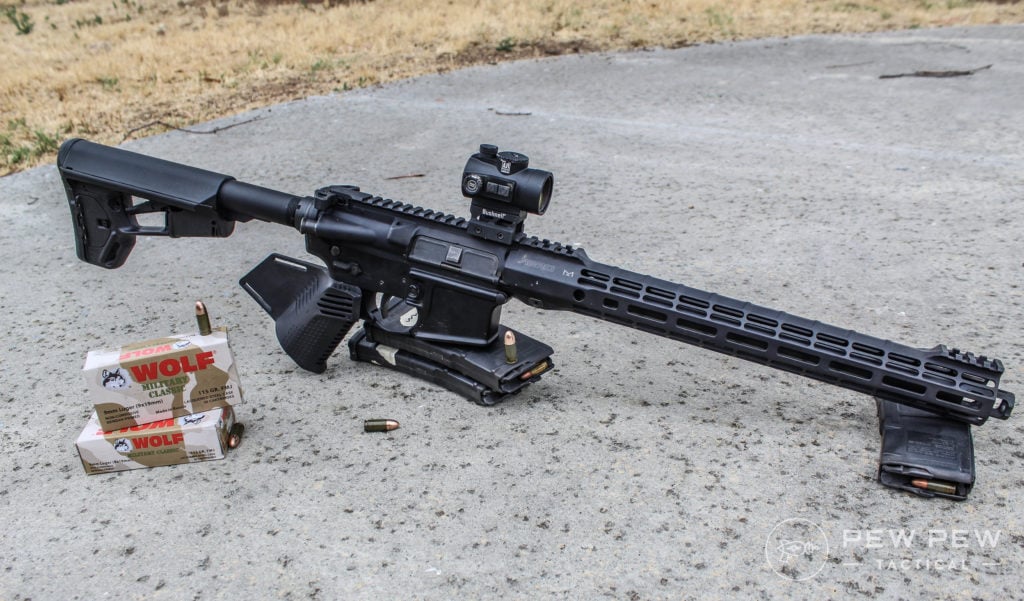 Today, we're going to evaluate if the Bushnell TRS-26 can join the growing pantheon of worthy red dots.
I dropped it, kicked it, and shot with it to find an answer, so let's get started!
Table of Contents
Loading...
Bushnell: The Next Generation
For years, the Bushnell TRS-25 (full review) has held the crown for being an affordable and accurate red dot that's still worth its price tag, especially for beginners new to shooting and optics.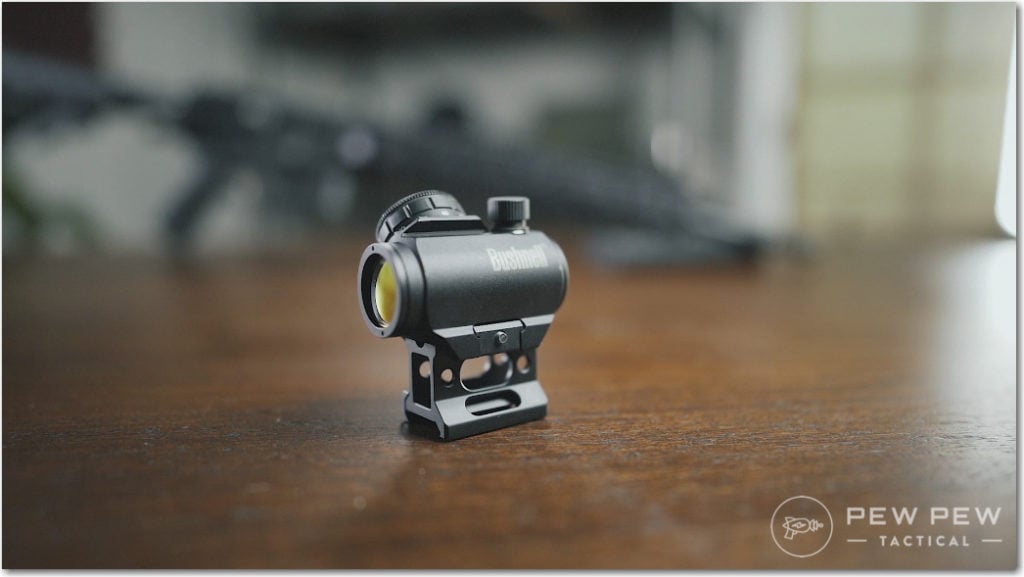 But make no mistake; it's a reliable option for the experienced gun owner on a budget as well.
Most Affordable Red Dot
64
at Amazon
Prices accurate at time of writing
Prices accurate at time of writing
Eric has equipped the TRS-25 for well over 3,000 rounds, while I've shot about 1,500 5.56 rounds and 500 rounds of buckshot and slugs.
Alas, this old model isn't without its issues. It failed our drop test (boy, did it), and the mounts it came with are known for being…ultra-cheap, and not in a good way.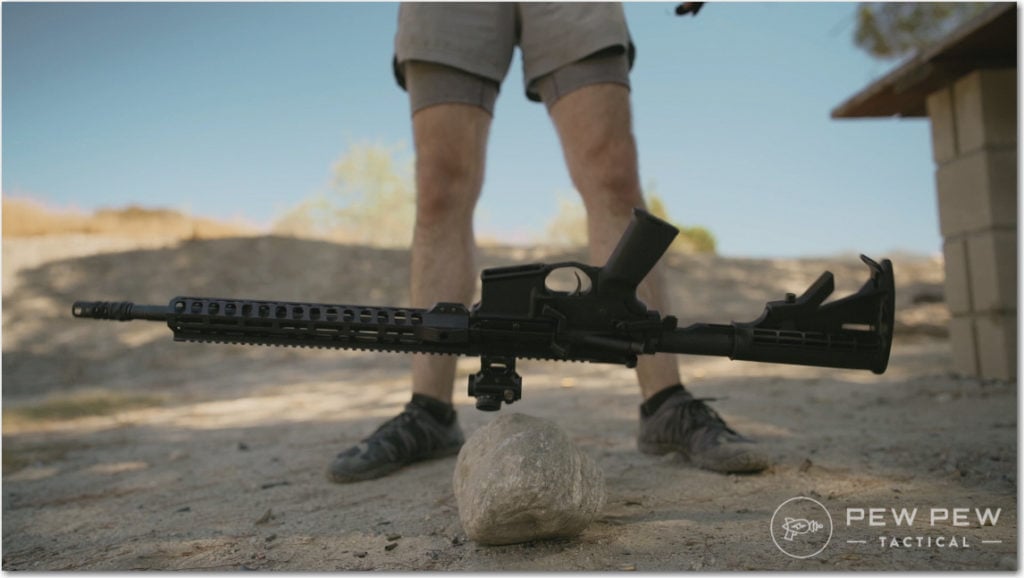 In short, it was good enough for the range and barely acceptable for home defense, but not a product to rely on at a rough carbine class.
But the updated model, the TRS-26, is one number higher, so it has to be better, right?
TRS-26 Basic Stats
Good news!
Based on the stat sheet, we can already tell that the TRS-26 is a HUGE improvement over the TRS-25.
Just look at this comparison chart:
| | TRS-25 | TRS-26 |
| --- | --- | --- |
| Battery Life | 3,000 Hours | 50,000 Hours |
| Obj. Lens | 25mm | 26mm |
| Auto Off | No | Yes |
| Brightness Settings | 11 | 12 |
| Weight | 113g | 170g |
As you can see, the biggest jump is in the product's battery life. It can be argued that 50,000 hours have become the industry standard for optics, so it's nice to see Bushnell keeping pace.
Range Report
Testing for the TRS-26 was mostly done with my Pandemic Build AR-9 and 600 rounds of 9mm. To be thorough (and to have fun), I also threw it on my HD AR-15 for about 300 rounds of 5.56.
No problems.
You will experience some minor color distortion when looking through the TRS-26. This is because the manufacturer applies a coating to the lens that improves the visibility of the dot.
Personally, the green tint doesn't bother me. But your mileage may vary.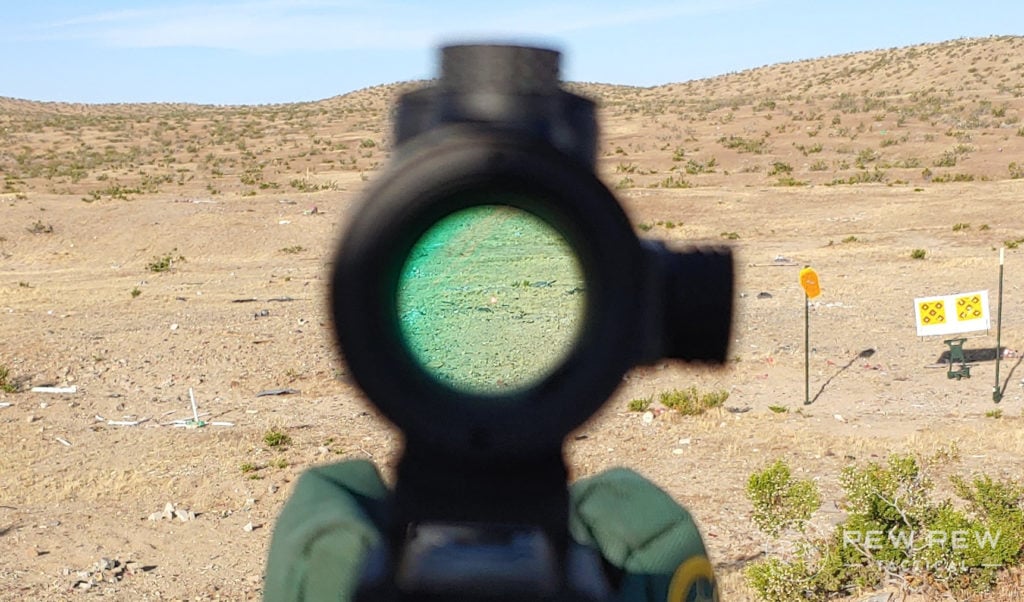 And waaaay better compared to the old TRS-25.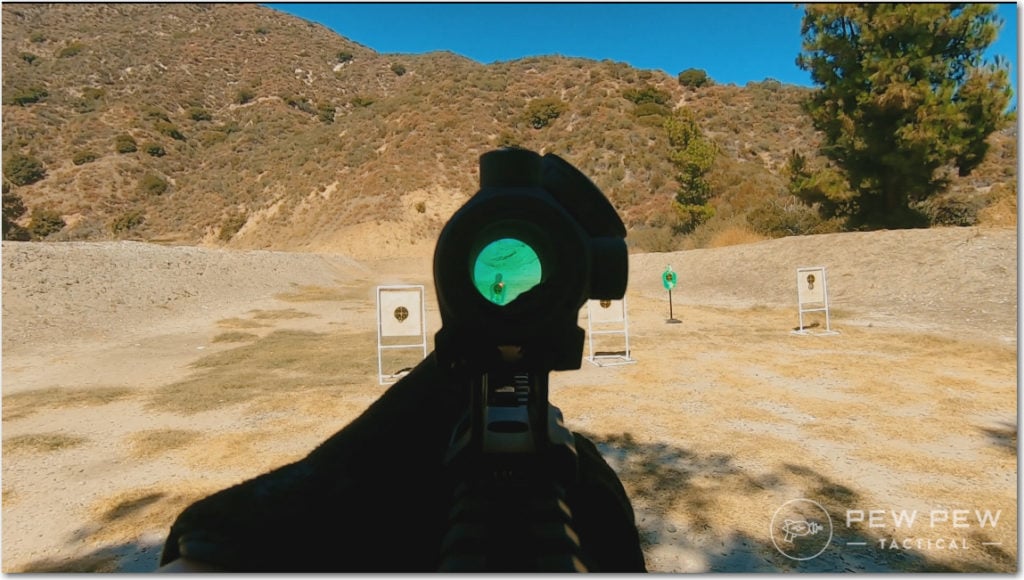 Buttons and Brightness
Where the TRS-25 has a large dial on the side to adjust brightness, the TRS-26 has fairly large and easy to mash rubberized buttons instead. I like the dial better, but the buttons work as intended so I can't really complain.
The zero adjustments are basically the same as the TRS-25; they work but are nothing to write home about. That said, I think the caps are definitely an improvement. They feel a bit more beefy and able to take a good punch.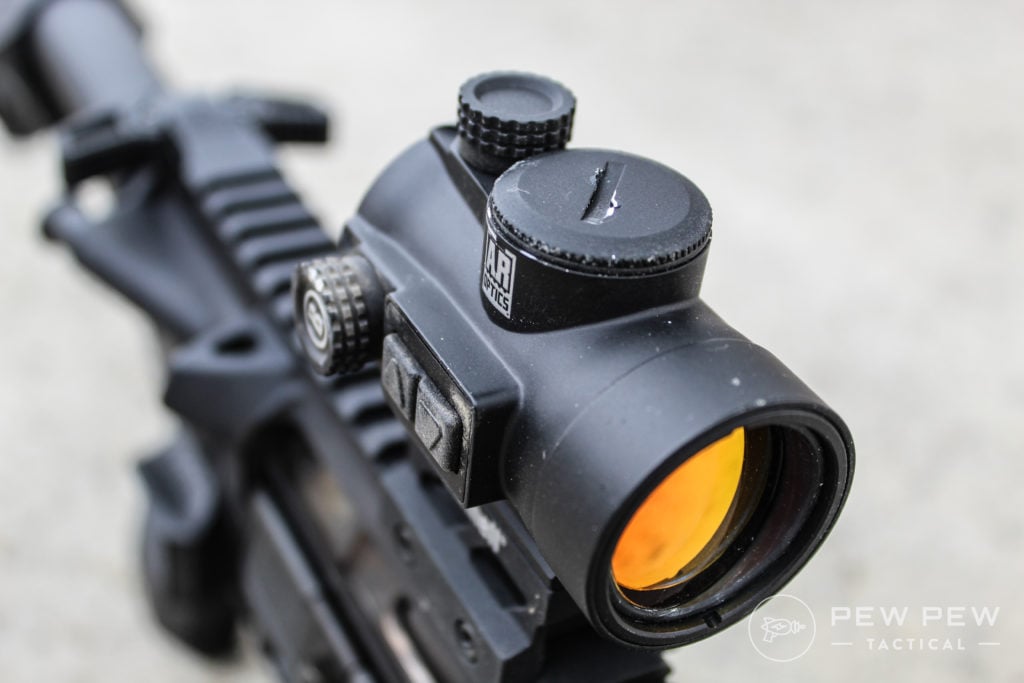 The brightness of the 3 MOA dot is hands-down awesome—even in the desert hellscape of California, I was able to see clearly and use the dot without having to keep it on the max setting.
Know what that means? A longer battery life!
New Mount
This new mount is NICE.
One of the main issues we had with the TRS-25 is that the mount sucks. Period. It really does. But this one is good to go.
First off, the TRS-26 uses a standard T1 mounting footprint, so there are boatloads of aftermarket options to explore.
Secondly, this mount is just better in every conceivable way: It's stronger, easier to use, and it held zero after being removed and replaced.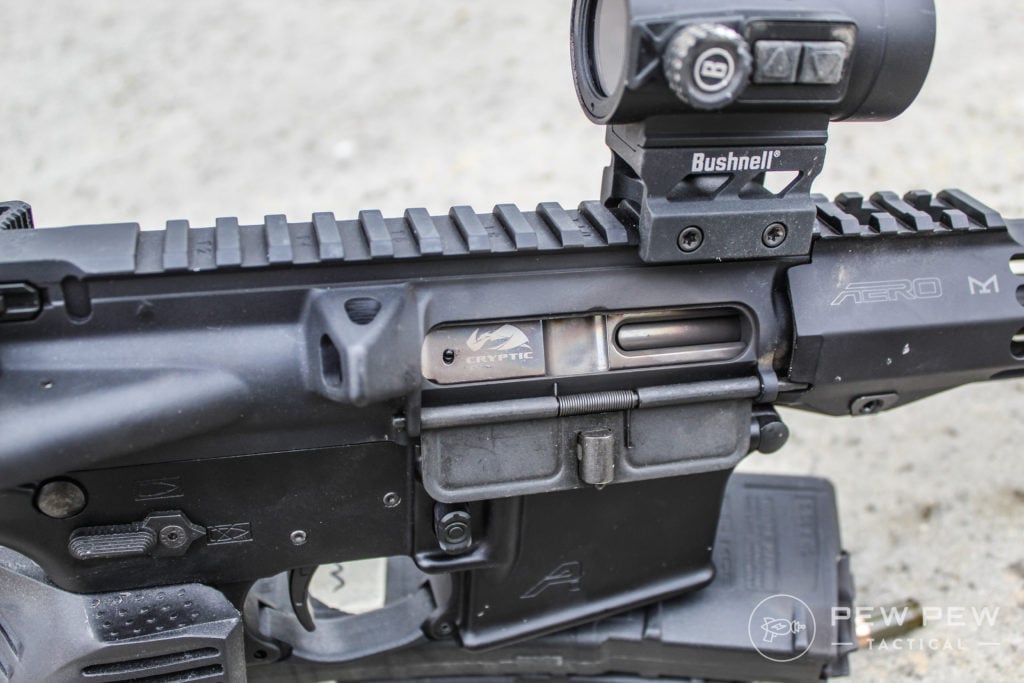 During my range trips, I switched back and forth between the TRS-26 and the Holosun 510C-GR Elite. There are no issues to report, and both mounts held their zeroes multiple times. Success!
340
at Amazon
Prices accurate at time of writing
Prices accurate at time of writing
But a red dot not dying during normal use is basically the bare minimum of what I expect from any red dot these days, so I went a few steps further with the TRS-26.
Meet Steve
"Steve" is the name of the rock that volunteered by proximity to serve as my assistant in drop testing the TRS-26.
Steve is a good rock.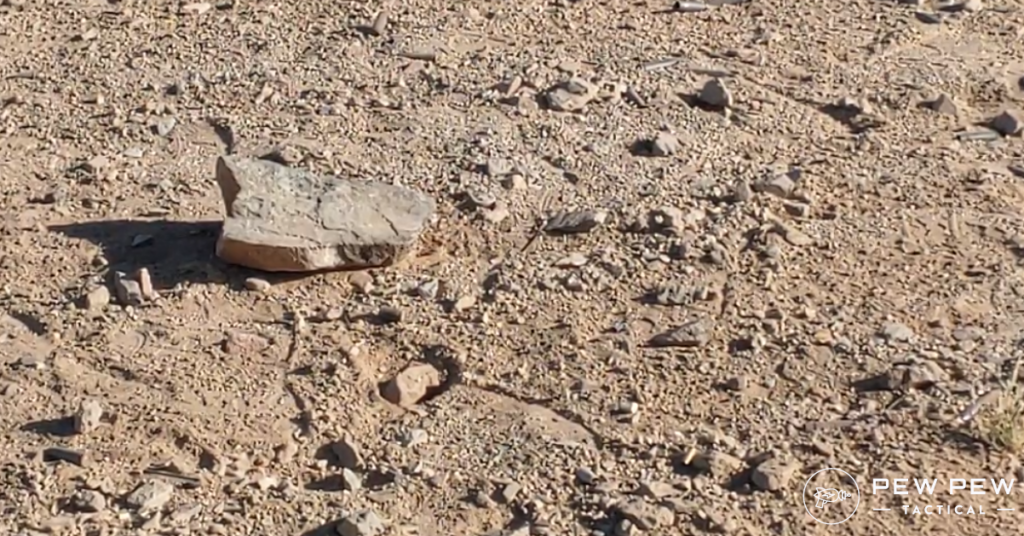 The test itself is simple: Drop the product on a rock and see what happens.
I started with a group of Wolf steel cased 115gr 9mm and a group of CCI Blazer Grass 124gr 9mm. Both groups were shot at 30 yards as a means of testing the POI (Point of Impact) shift post-drop.
I'm 6'2" and dropped this baby at chest-height, so the gun experienced a good 5' of air before hitting Steve, my trusty testing companion.
No rocks were harmed in the making of this video. (No, Steve is not available for comment.)
Right off the bat, I could see that the battery cover took the brunt of the blow, and now it's peened a bit and can't be moved by hand.
But the main concern is if the drop broke anything important or shifted POI. The dot was on—a good sign, but I still had to shoot it.
Again: two groups, 30 yards, Wolf and CCI ammo. Here is the before and after shot: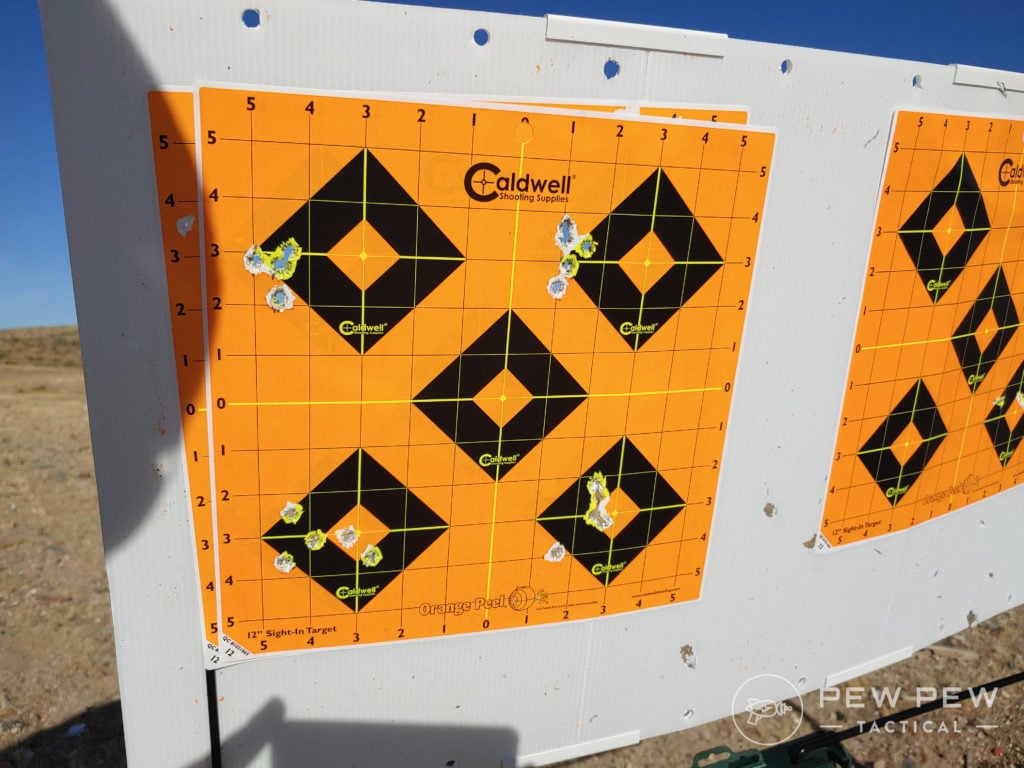 To my eye, the POI did not shift. Keep in mind that this isn't match ammo, and the dot is 3 MOA, so precision groups are…well, not exactly precise. But the POI is the same before and after dropping the TRS-26, and that's what matters most!
Now, as for the battery…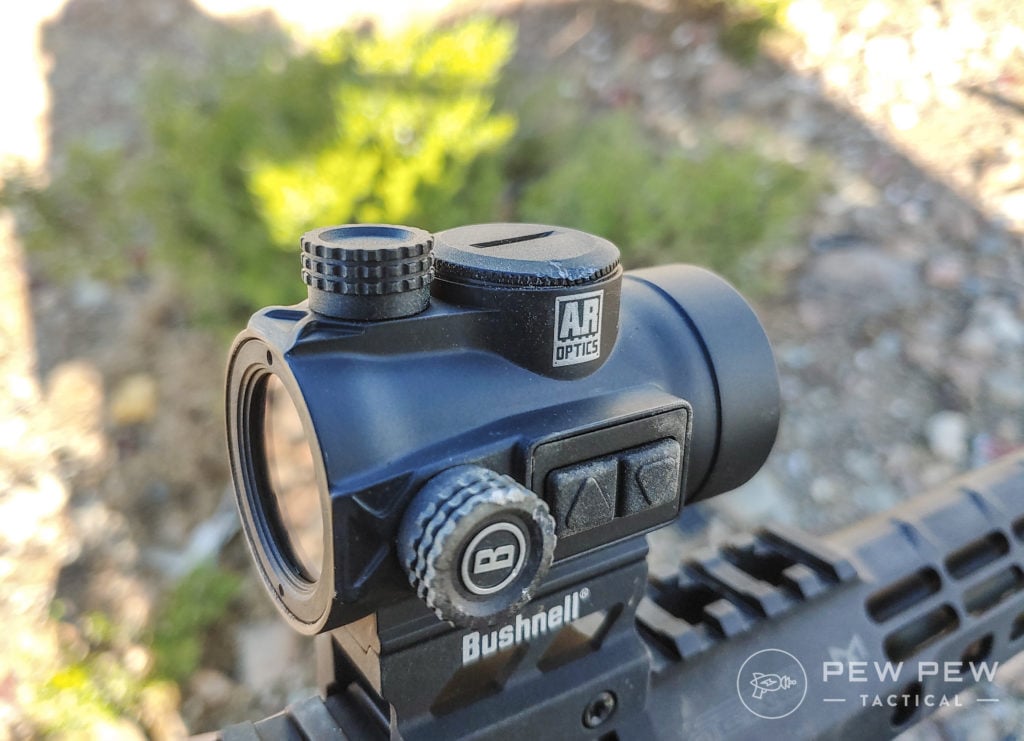 I tried to remove the battery cover with a coin and a screwdriver but didn't have any luck. After I got home, I was finally able to remove and reinstall it using a pair of pliers.
Honestly, that's not a deal-breaker, in my opinion. With a 50,000-hour battery life, it's unlikely that you'll need to replace the battery anyway.
But if you do, you certainly can. At home. Replacing a battery is not something I consider "in the field maintenance" unless you have no other choice.
What I Don't Love
For me, the only real downside to the TRS-26 is the auto-off. If this is a range gun, then an auto-off doesn't matter either way.
However, if you want to install this product on a home defense weapon, I can't say that I'm a fan of the auto-off if it doesn't also have an auto-on—and the TRS-26 does not have an auto-on feature.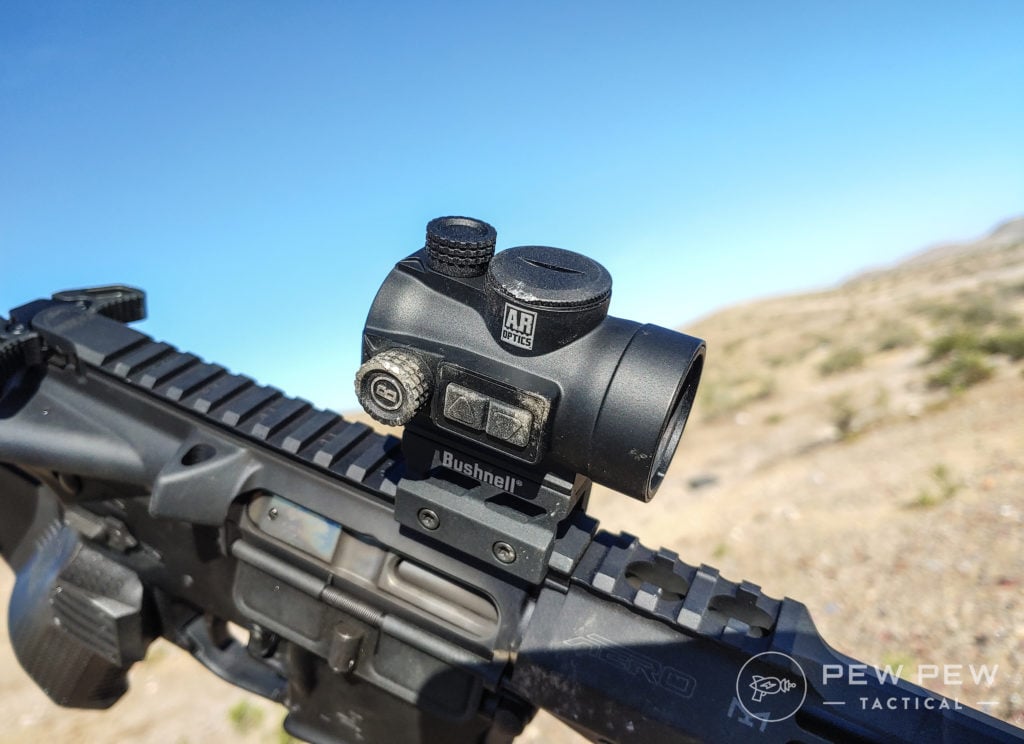 Picture this:
You're startled awake because something is going bump in the night, and it's definitely not the dog. The atmosphere is tense and danger is creeping up the stairs. You raise your rifle…only to discover that the optic isn't turned on because you forgot to hit the button.
In life and death situations, the little details always matter.
For this reason, I struggle to recommend the TRS-26 as an HD optic for home defense, especially when there are so many other red dots that come with an auto-on function, including almost any Holosun and the Sig Sauer Romeo5.
Brutally Tested Budget Red Dot
109
at Brownells
Prices accurate at time of writing
Prices accurate at time of writing
And that's disappointing because it's a great optic in every other respect.
So, Who Should Buy the TRS-26?
The TRS-26 is an excellent optic for any kind of recreational rifle or shotgun—and it comes at a great price!
140
at Optics Planet
Prices accurate at time of writing
Prices accurate at time of writing
Hunting shotgun? Range plinker? Ready to try out competitive shooting? The TRS-26 has you covered.
I really like having it on my Pandemic AR-9. With the 26mm lens, the TRS-26 gets on target fast and cleanly, which is great for short range 9mm PCC blasting or local competition shooting.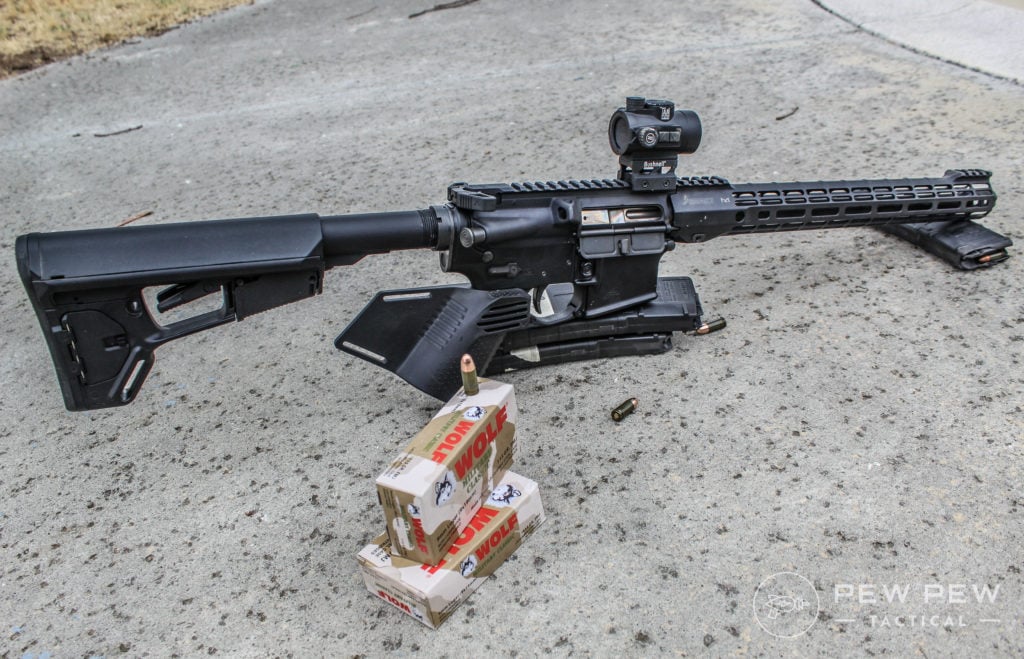 If you're in the market for an optic you don't have to treat with white gloves to have fun with, the TRS-26 is very high on my list.
But if you want an HD optic, I would recommend a product with an auto-on function that doesn't mess around when you need to pull it out of the safe or off the wall.
If want to learn more about red dots, check out our hands-on review 8 Best Red Dot Sights: Rifle, Pistols, & All Budgets. Still struggling to decide between red dots and holographic sights? Oh, have we got your back! Click the link to find out What's Best For You?
By the Numbers
Reliability: 5/5
There are dozens of cheap red dots on the market that can't survive the rock abuse I literally dropped on the TRS-26. Sure, the battery cover is a bit harder to take off now, but it held zero and functioned after the fall. And that's the detail that truly matters.
Accuracy: 5/5
A 3 MOA dot is a little big for a rifle, but it works and holds zero. While precision groups won't be your thing, it gets on target faster and is easier to pick up. Great for a beginner!
Ergonomics 4/5
Okay, so I don't love the illumination buttons, but that's my only gripe. Everything else is spot on.
Bang for the Buck/Value: 5/5
Bushnell's OG TRS-25 was an out of the park home run on value. The TRS-26 is more expensive, but the increase in cost really delivers on features, quality, and function. The improved mount alone is worth the extra money.
Overall Rating: 5/5
This isn't the optic I would take to war, but for a range gun, training rifle, and maybe home defense, the TRS-26 is on the very short list of optics I would trust with my life that are under $350.
Conclusion
The TRS-26 is a great successor to the TRS-25, and well worth the increase in cost. It has an awesome mount that uses a common footprint, durable to trauma, and huge battery life makes this a solid and respectable optic. I'm a little disappointed in the auto-off, especially since there isn't an option to disable it, but in every other way, the TRS-26 performed well above my expectations.
Is this the budget red dot for you? What will you put it on? Let us know in the comments! Also check out our Best AR-15 Optics. Interested in some high-end testing, take a look at the High-End Optics Torture Test [Trijicon, EOTech, Aimpoint, Sig Sauer]!