What's the best way to get an SBR sized weapon without going through the hassle of getting a tax stamp, or losing barrel length?
The answer to my incredibly specific question is to get a bullpup.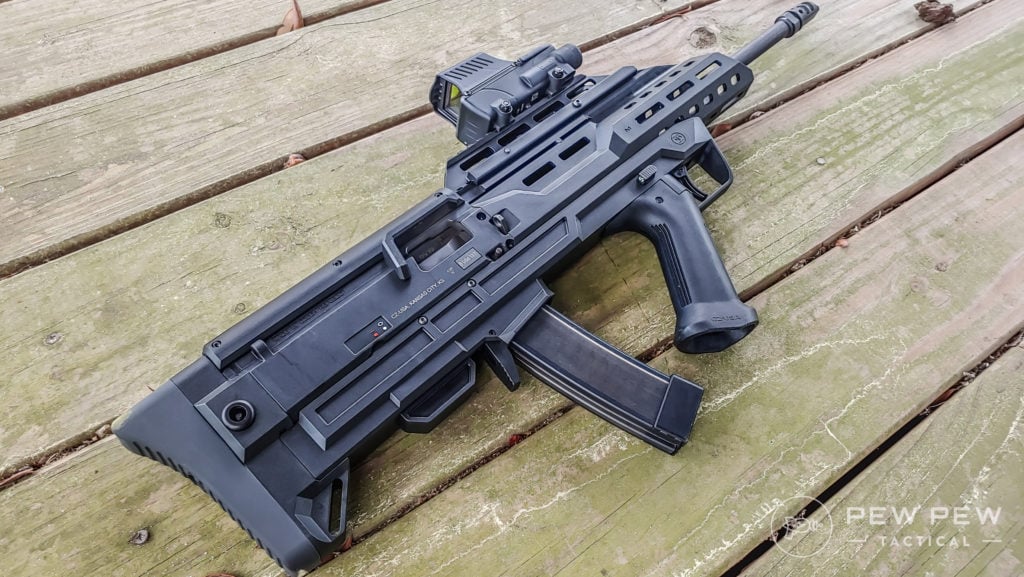 Back in the day, there used to be a number of kits out there to take a standard rifle or even a shotgun and turn it into a bullpup. But those are mostly gone now.
Mossberg made one, Century made some for AK rifles, a company called Muzzlelite made them for Ruger's rifles, and I could go on and on about some questionable quality kits from the early 90s.
Those kits aren't fully dead though, in fact, what we are talking about today is the new CZ Scorpion bullpup kit from Manticore Arms. 
One of the big things I love about CZ is their ability to keep their finger on the pulse of the aftermarket their weapons generate. They even share a booth at SHOT Show with CZ Custom.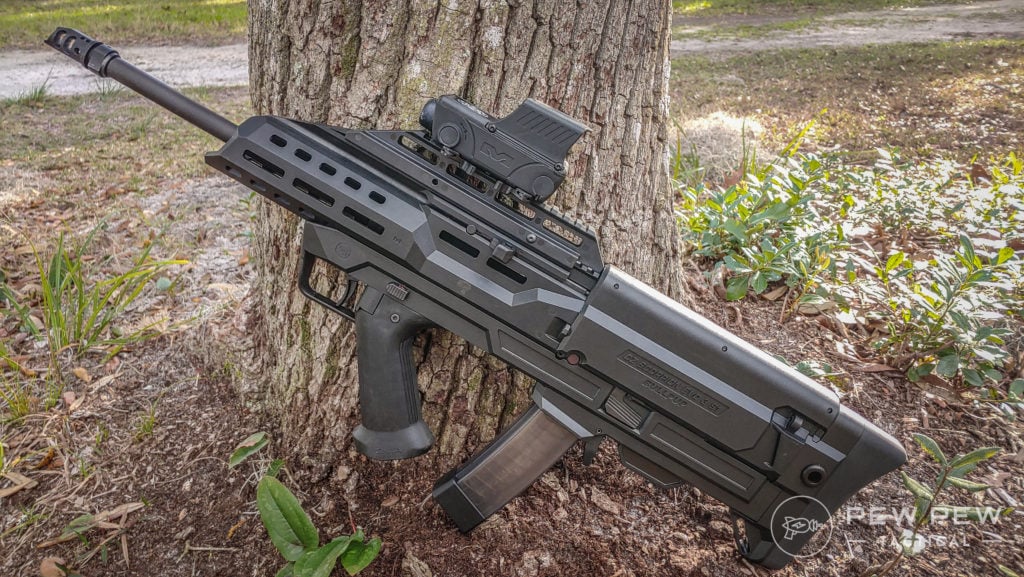 Manticore Arms is a small company that has grabbed a lot of the Scorpion aftermarket.
When they came up with the idea of a bullpup kit for the CZ Scorpion rifle series, the guys and gals at CZ USA partnered up with them to make it a reality.
The benefit of working CZ meant the looks and design of the bullpup kit looked natural and organic to the CZ's rifle design.
The partnership also ensured proper fit, finish, and a high-quality kit. These kits are currently for sale at CZ's website so that says a lot about their legitimacy.
Best Pick Pistol Caliber Carbine
1300
at Brownells
Prices accurate at time of writing
Prices accurate at time of writing
Table of Contents
Loading...
What's The Point?
The CZ Carbine is a big gun, and bullpupping (that's totally a word, right?) it makes it much shorter.
In fact, it shrinks it down to 26.25 inches, which makes it very handy for indoor use and in the home defense role. A bullpup Scorpion is much more maneuverable.
In a lot of ways, a full-sized PCC rifle is a bit goofy already, but bullpupping does allow you to make it shorter, and handier.
Bullpup rifles might not be America's first choice, but they have proven themselves with numerous other armed forces.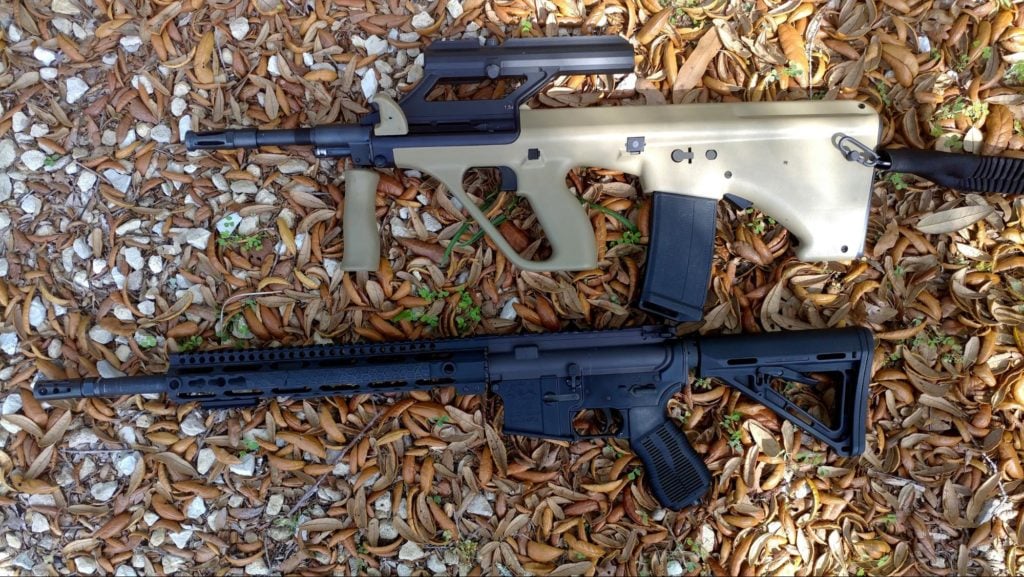 Plus, a bullpup PCC is an absolute ton of fun.
Compatibility
The kit was designed around the Scorpion EVO S1 Carbine with its 16-inch barrel and M-LOK handguard. The M-LOK handguard is a necessity for the kit, and you cannot install the kit without it.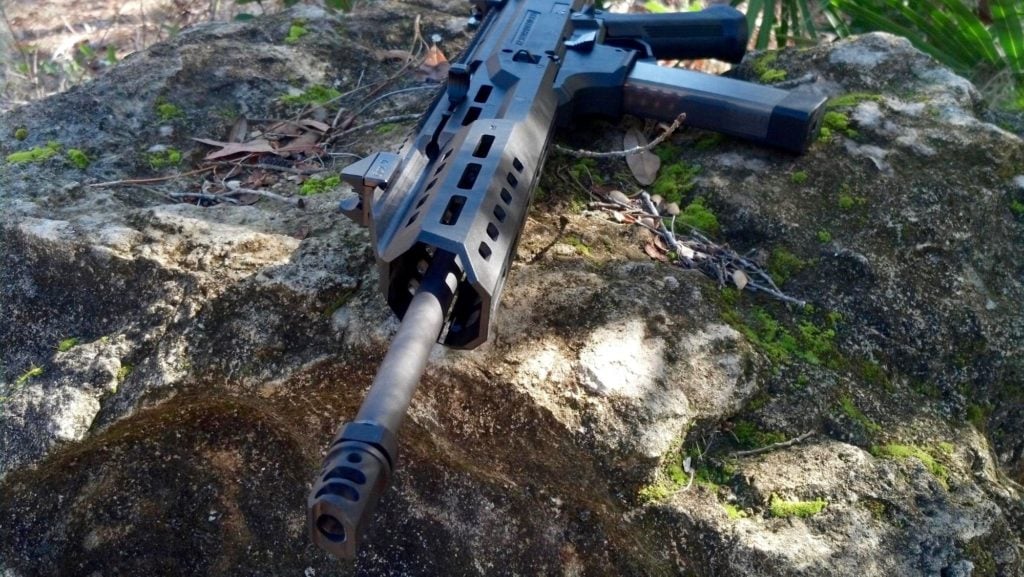 This is not confirmed, but it would appear the pistol model with the M-LOK handguard and flash can could work, but you would need to file a form 1 for NFA purposes.
To convert the original S1 pistol variant, you'll need to replace the handguard with an HB Industries or Manticore Arms M-LOK handguard. You'll also have to file for a tax stamp.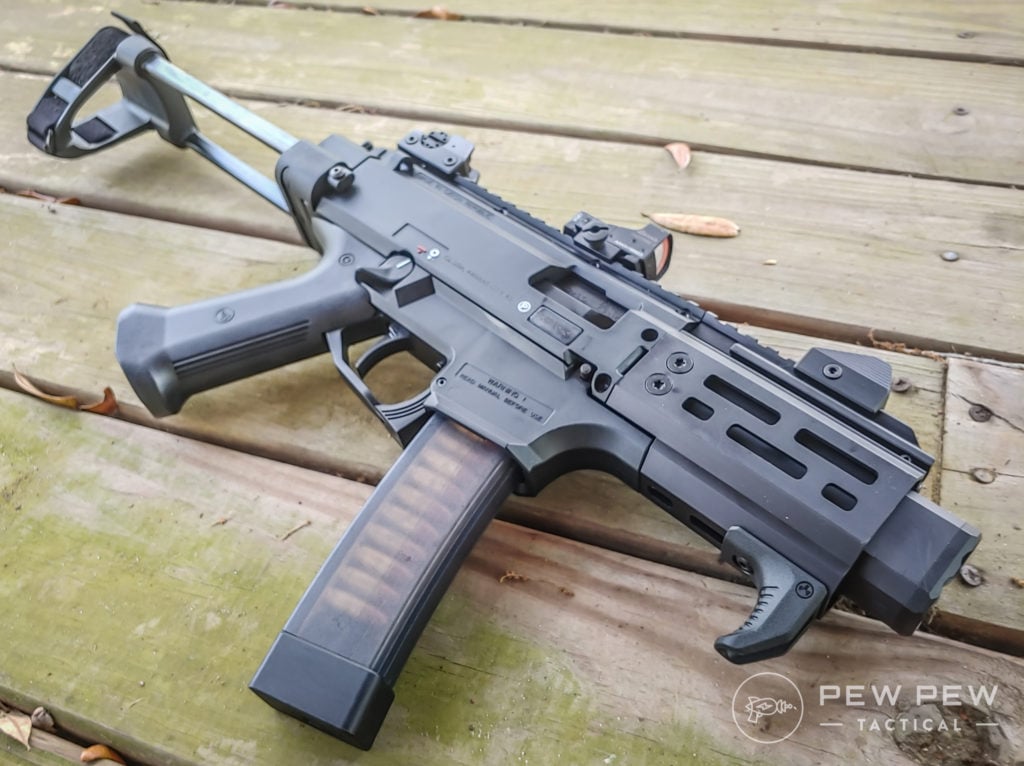 Also, you need to check if your trigger pack is welded. If it is, the kit is not compatible until you remove that weld. You'll also need the stock pistol grip. Some aftermarket models may work, but I can confirm the Magpul model does not.
You do basically lose your ability to use iron sights. I mean, you can toss them on the small section of rail, but the sight radius is abysmal.
I tossed on my new favorite optic, the Meprolight Foresight. 
The Build Process
Putting the kit together is an involved process. It took about an hour for me to finish, but I did take my time and ensure everything was done correctly.
Not to insult CZ or Manticore, but the instructions suck.
395
at Manticore Arms
Prices accurate at time of writing
Prices accurate at time of writing
Luckily the internet provided a good video of the process, and I followed it. This is not a simple drop-in kit. Going back to a standard format will be another involved process.
Make sure this is the route you want to take before you hit that buy button.
The Scorpion S1 Carbine was a great gun, but it is a full-sized 9mm rifle in the world of braced pistols. Using the bullpup kit shrinks the gun to roughly the same size as the traditional Scorpion pistol with a stock or brace.
The kit itself comes with a cheek rest and brass deflector to avoid getting slapped in the face by 9mm brass and the added riser also gives you a comfortable means to mount optics in coordination with the cheek rest.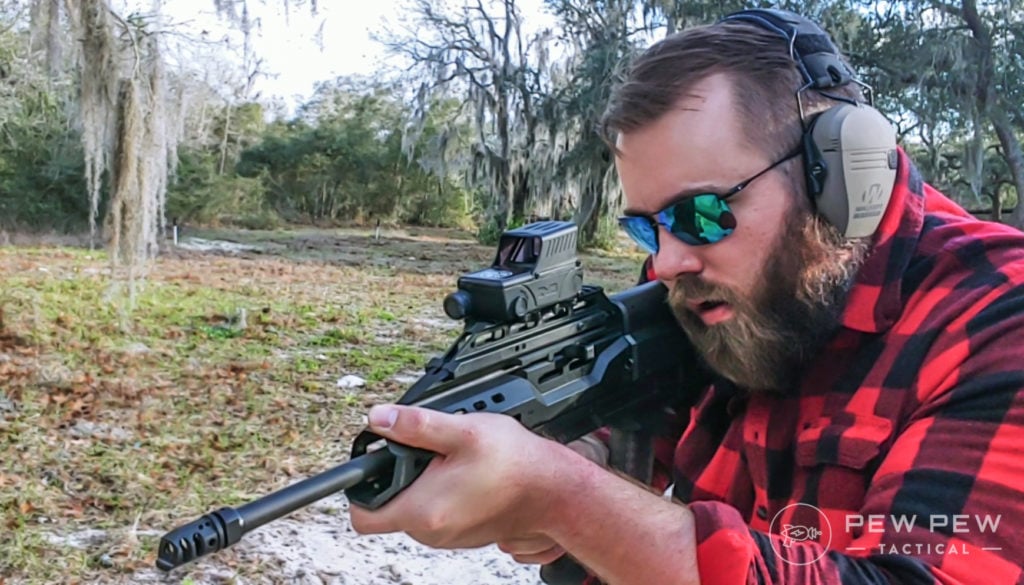 Range Time
Once everything was put together, I'd have to wait until the next morning to get out there and get on the range. I was excited and nervous. My biggest fear was reliability. 
Was the kit installed correctly? Would the kit compromise reliability? I had to figure that out before anything.
I loaded up a variety of CZ 30 round magazines as well as the new Magpul Scorpion PMAGs and hit the range.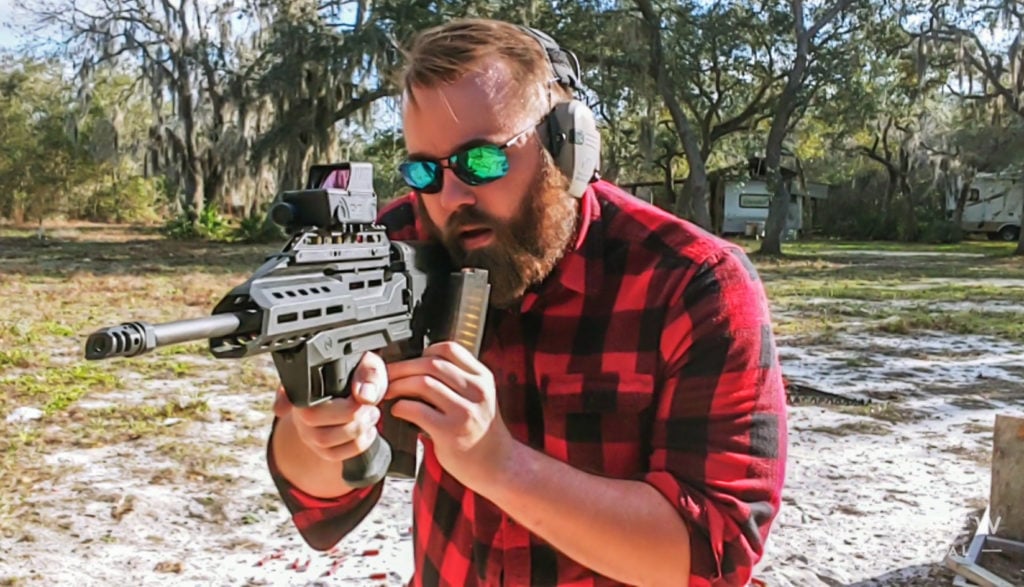 Throughout my testing, I used a variety of ammo, including SIG Ammo 115 grain, some M17 124 grain JHPS, some Tula, some Academy Monarch, and a pile of Winchester White box.
Best 9mm Range Ammo
20
at Palmetto State Armory
Prices accurate at time of writing
Prices accurate at time of writing
It's retained the reliability the Scorpion has had since day one of owning it. My first concern was addressed. Now the next concern was the trigger.
Bullpups aren't known for having great triggers, but to be entirely fair, neither is the Scorpion.
The Trigger
I own more than one Scorpion, and when compared side by side to a standard Scorpion trigger, I will say the difference is noticeable, but not crazy.
The trigger pull is a little longer, a little grittier, but feels lighter, to be honest.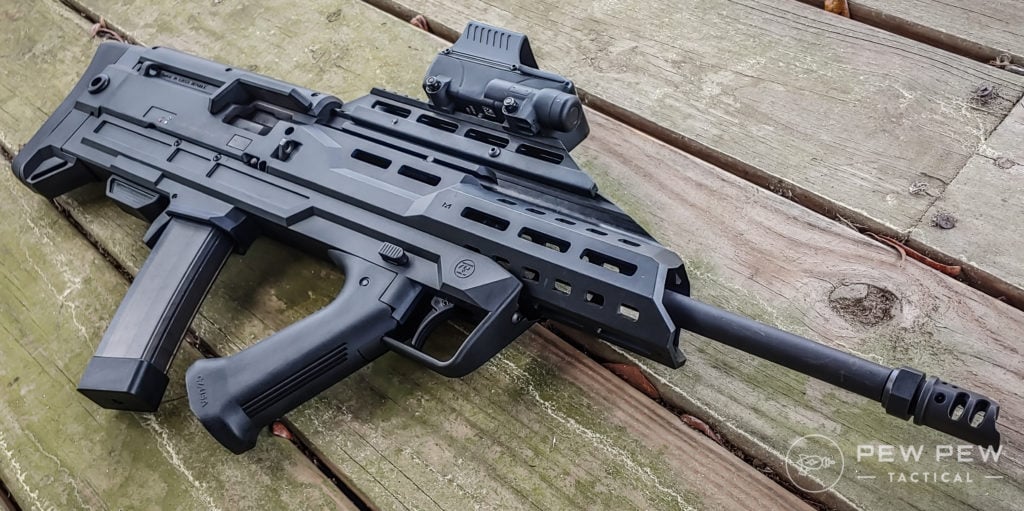 It's not amazing, but it's also far from as bad as it could be. The final downside with a bullpup platform is reloading. Putting the magazine behind the trigger and firing control unit makes things trickier.
Ergonomics
The CZ Scorpion bullpup does have a few changes to the ergonomic functions of the gun. First and foremost, it's no longer lefty friendly. You'll be getting brass cases to the face if you fire left-handed.
The safety is no longer a switch, but a button that moves from one side of the gun to the other. It's simple and doesn't dig into the hand like the ambidextrous safety found on the standard model.
The charging handle stays the same, although it's much closer to your face.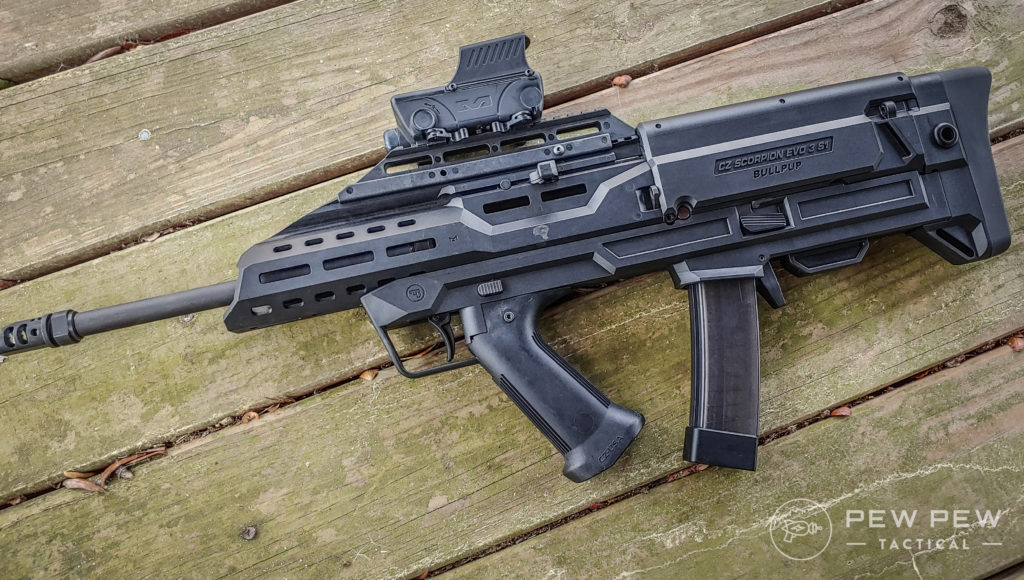 The front of the weapon gives you just enough room to grip the weapon with your support hand. The weight is all in the back of the weapon, so pivoting the weapon up and down as well as left and right is quick and easy.
Another big benefit to the bullpup Scorpion is the fact you can wield it with one hand very easily. In fact, it's easier to shoot one-handed than any Scorpion handgun.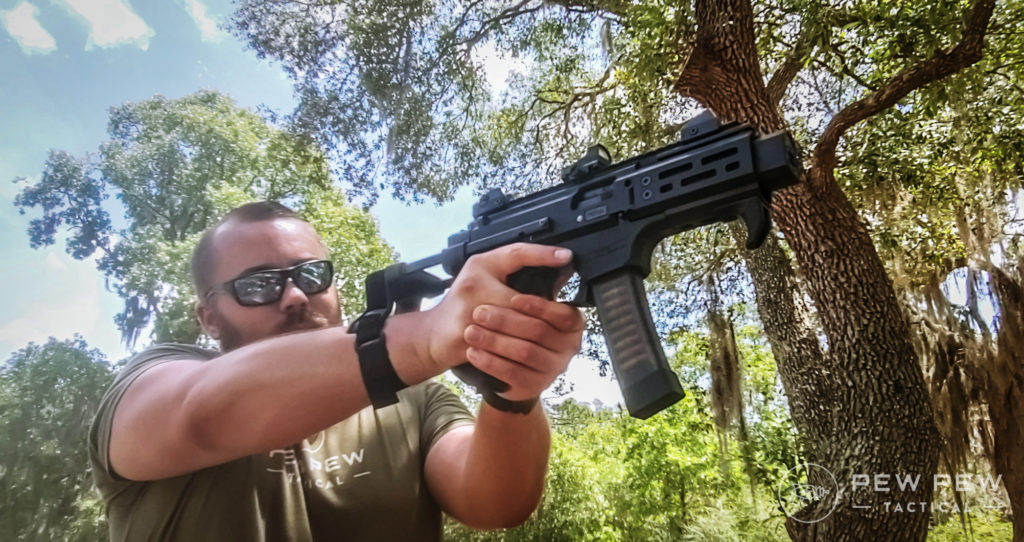 You can still maintain two points of contact while using your spare hand for other tasks.
Reloading
Your front hand has to travel rearward significantly more than a standard rifle platform. This does slow you down quite a bit. I took out my same Micro Scorpion and compared the two for reloads.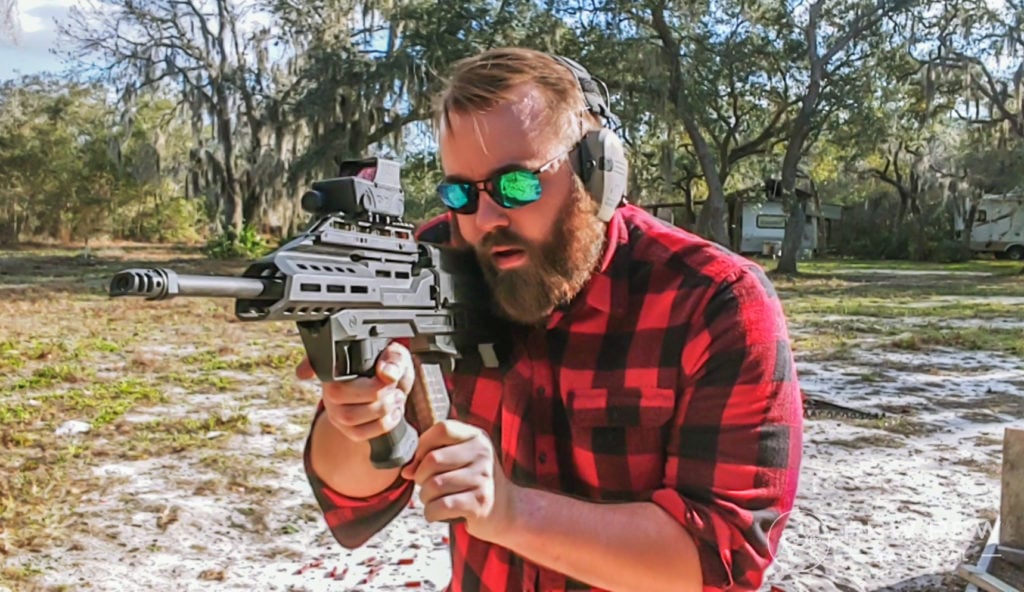 Without a doubt, I was much faster with the Micro Scorpion and its standard layout.
I shot a little video to better showcase the difference between reloading the bullpup Scorpion versus the standard Scorpion.
I did have some concerns that the magazine would be too curved and would strike the pistol grip as I reloaded. If you've ever had a vertical grip on an AK, you have experienced this. However, the magazine went in and out without interruption.
Even the longer 35 round Magpul magazines went in and out easily enough.
19
at Gun Mag Warehouse
Prices accurate at time of writing
Prices accurate at time of writing
Practical Shooting
Along with my reliability and reload testing, I wanted to see what the gun could do with a few basic drills.
I used three simple but easy to time drills to see how the weapon handled. I ran these against a timer to give me an objective standard.
Snap Drill
Snap drills are simple. Start in the low ready, and when the timer buzzes, raise your weapon and fire an accurate shot as fast as possible at 15 yards. I went for headshots.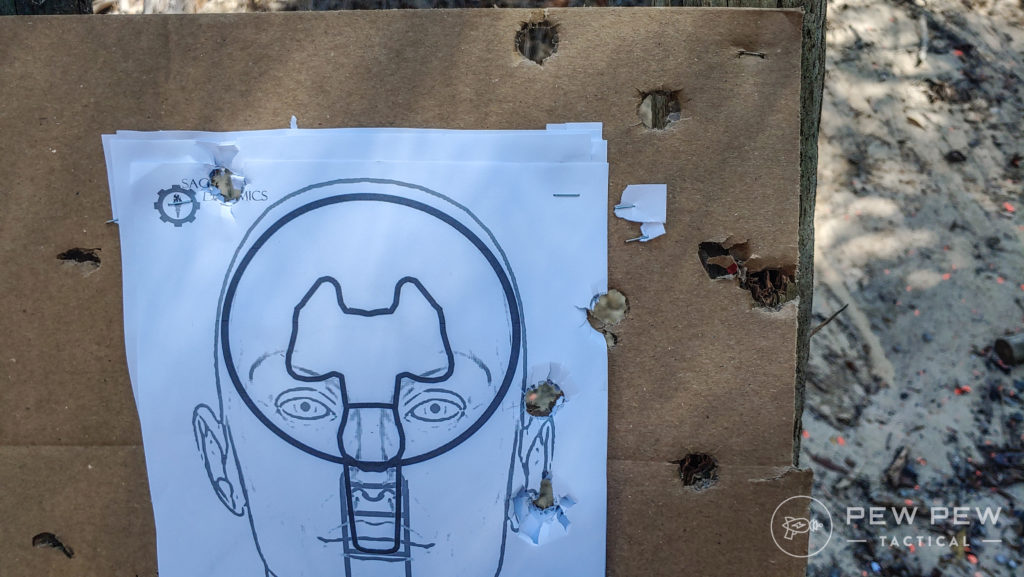 The thing that was shocking is without a warm-up or any previous practice, and I hit a sub-1-second snap drill with an accurate headshot on the first try. From there, the time only went down, and I reached a .89 as my fastest snap drill.
The gun is so short, and the weight is to the rear creating a pivot point that is unbeatable. Swinging the gun upwards is easy and controllable.
Failure to Stop Drill
A failure to stop drill is a practical shooting drill in which you fire two rounds into the chest of your target, and then transition to place one well-aimed shot into the head of your target.
I started at the low ready, at 15 yards, and let it go.
My average time was 1.29 seconds, with a solid headshot. Again the weapon was superbly easy to maneuver due to the bullpup design. It moves quickly and without resistance.
The trigger pull may be slightly longer, but it doesn't prevent rapid-fire double taps.
Box Drill
The box drill is a failure to stop drill on two targets. It starts with a double-tap to the first target, then you transition to the second target for another double-tap and a headshot.
From that headshot, you swing back to the first target and place a final round in its cranium.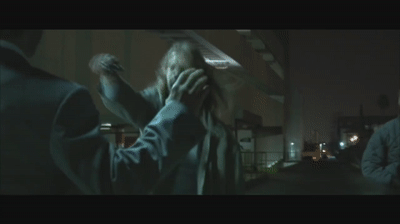 The gun proved to be excellent at multi-target engagements. It moves so easily and naturally between targets.
My absolute best time was 1.52 seconds with the bullpup Scorpion, and the gun moved so cleanly, and I could 'drive' the gun for lack of a better term.
Accuracy
A lame trigger could be a detractor to a rifle caliber rifle due to their extra range potential.
The good news is with a 9mm rifle, your range is limited to about 100 yards, and inside that range, the trigger can't cause enough issues to throw a shot.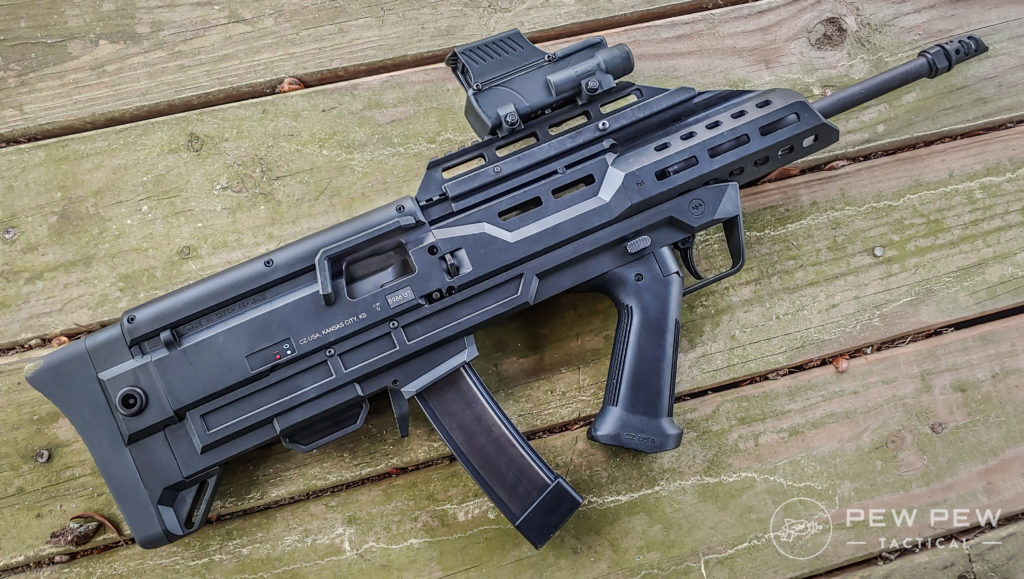 At 100 yards, I was stacking rounds into the chest of a man-sized target and ringing a 10-inch steel gong with boring regularity in the prone position.
Even in a kneeling or standing position, I would hit the gong more than I'd miss.
The big issue comes into play inside of 15 yards or so. Because the height over bore is so much more significant in the bullpup form, you are going to have aim high—roughly four inches or so.
My solution is the Meprolight Foresight's BDC reticle.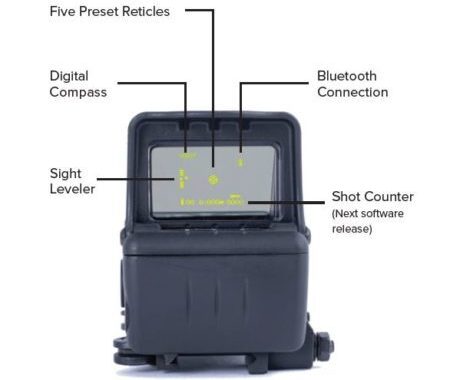 With the optic zeroed at 25 yards, I could use the lowest point on the BDC for close-range shooting.
Additionally, something like the Swamp Fox Blade Prism sight comes equipped with a reticle designed for height over bore compensation.
Recoil
Recoil doesn't change between this gun and any other CZ Scorpion. As a blowback gun with a big heavy bolt, you get about the same recoil impulse as an AR 15. It's mild but noticeable.
Anyone can safely handle and shoot this weapon.
Best Pick Pistol Caliber Carbine
1300
at Brownells
Prices accurate at time of writing
Prices accurate at time of writing
By The Numbers
Reliability: 5/5
The Scorpion Bullpup platform proved to be just as reliable as a standard Scorpion rifle. The gun cycled and fired everything I put through it without argument. The Bullpup kit does nothing to reduce reliability.
Accuracy: 4/5
It's a 9mm rifle, so accuracy isn't a huge concern. Within the 100 yards in which this weapon should be used, you'll find it plenty accurate and capable. The trigger is still a downside, but nothing significant.
650
at Palmetto State Armory
Prices accurate at time of writing
Prices accurate at time of writing
Ergonomics: 3/5
Lefties lose out on the ergonomics department. Reloads are also much slower. The big benefit is the ability to wield the gun comfortably and accurately with one hand.
Looks: 5/5
I like it, but I'm betting a lot of people don't. CZ teaming up with Manticore ensured the gun looks like a Scorpion and matches the look and feel of the Scorpion series.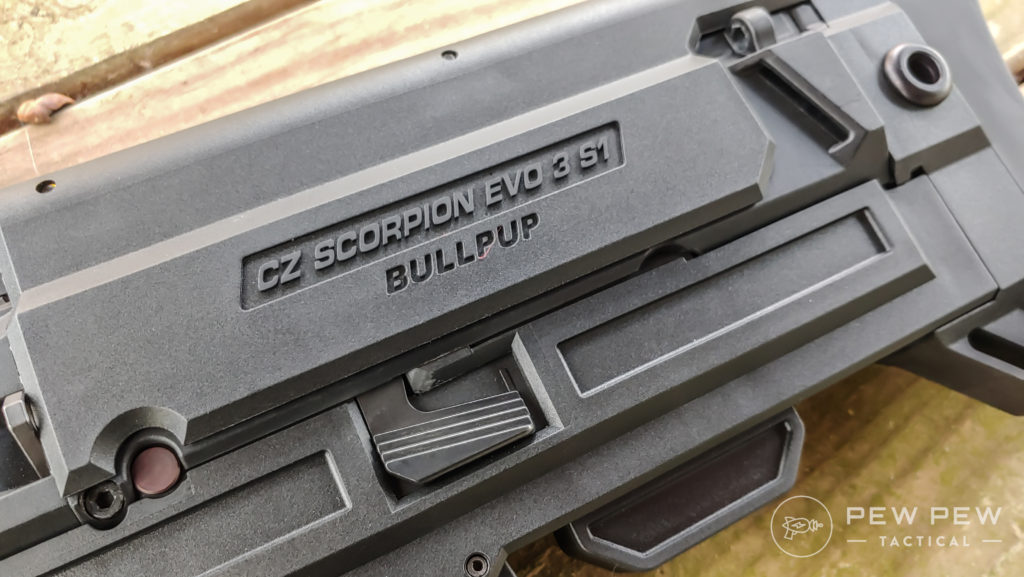 Customization: 2/5
You do lose some of your ability to customize the weapon. This includes some aftermarket grips, trigger components, stocks, and more. You can still attach optics, slings, and accessories via M-LOK rails.
Overall: 4/5
The CZ Scorpion Bullpup kit is, without a doubt, one of the best bullpup conversion kits I've ever seen. It's well made, looks amazing and fits together tightly.
395
at Manticore Arms
Prices accurate at time of writing
Prices accurate at time of writing
It looks like it could have been an original weapon from CZ and not a monstrosity.
Color Me Surprised
The Scorpion Bullpup kit is well made, and looks so cool and futuristic.
It trims down the size of the bullpup rifle into something much more manageable. Everything works seamlessly between the kits and gives you one awesome bullpup PCC.
Are bullpups for you? Would you take a bullpup scorpion to the big dance? Let us know in the comments! For some more bullpuppy action, check out the Steyr AUG and IWI TS12!