Ah…kydex holsters have come a long way.
Or at least the ones that can hold a handgun+light without going the bulky one-size-fits-all route.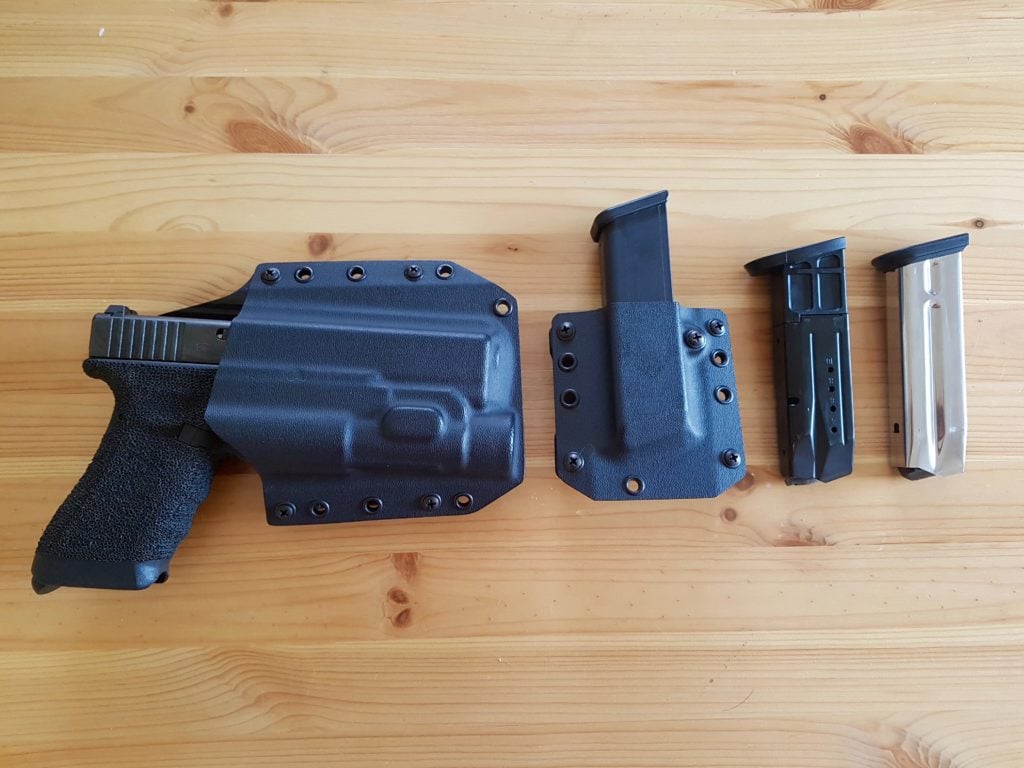 Follow me as I review Bravo Concealment's OWB (outside the waistband) holster with light and their universal pistol mag holster.
29
at Amazon
Prices accurate at time of writing
Prices accurate at time of writing
Not looking for OWB?  Check out our Best Holsters for Any Way You Carry or Best Ways to Carry for Women.
Introduction
This was one of those things that I never knew I needed until Bravo sent me one of their holsters.
I was fine for years going to the range, competitions, classes, and BLM excursions with my trusty (but bulky) Safariland holster of yesteryear.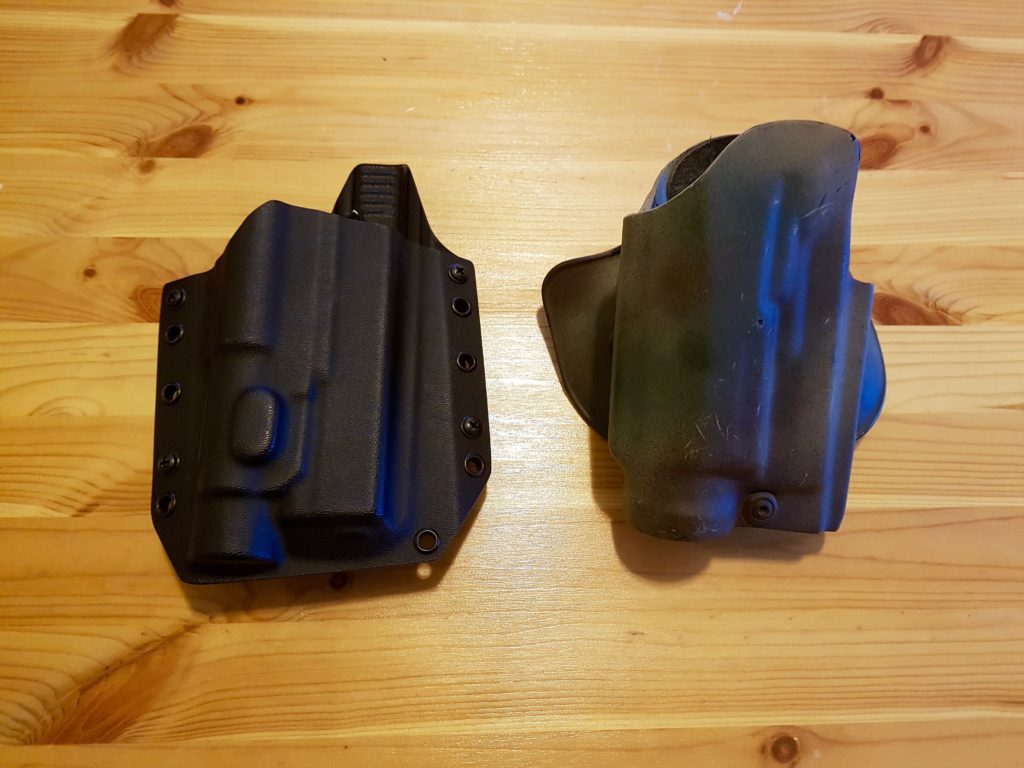 OWB Holster
But hey…if there's an option to have something specific to your current gun…I'm going to take it.  Enter their OWB light bearing model for my Glock 17 with Streamlight TLR-1.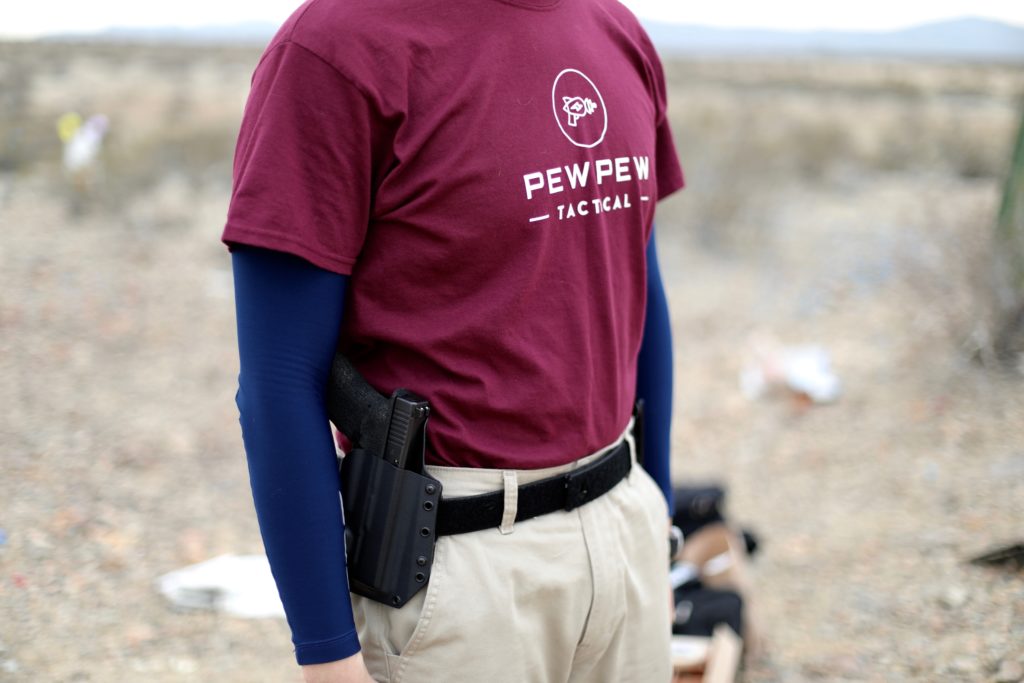 Side note…this was one of the few times I wasn't using my competition belt that's super sturdy.  Instead I only used the velcro inner-layer which was not the best for a holster.
If you're looking at daily OWB or IWB (inner waist band) carry, go with what I'm currently testing ($60) and loving since it's sturdy but not tactical looking.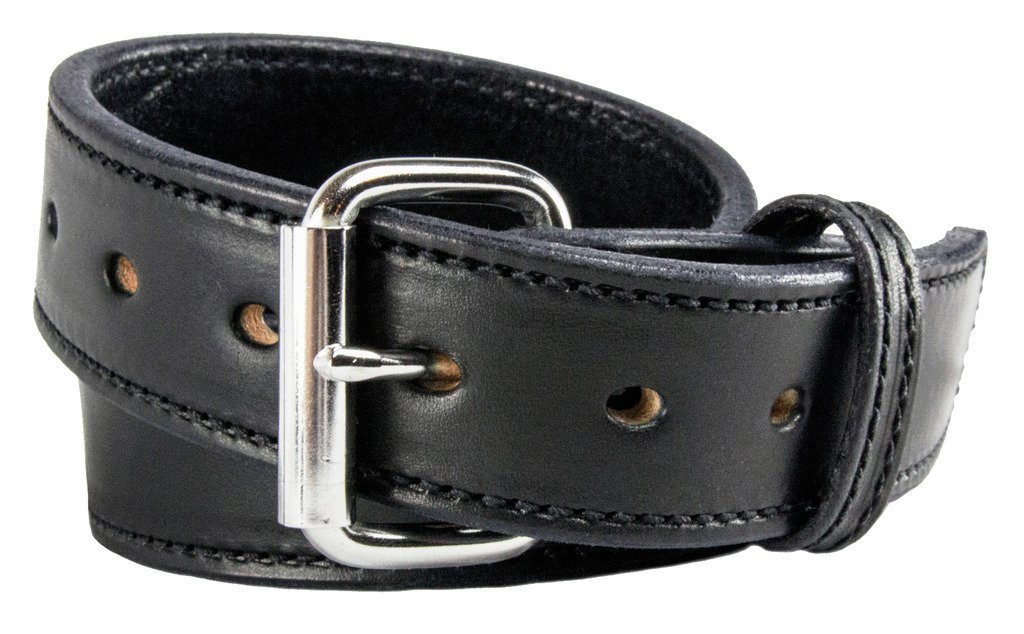 Ok…back to the holster!
And in case you wanted a closer look at how precise the molding is…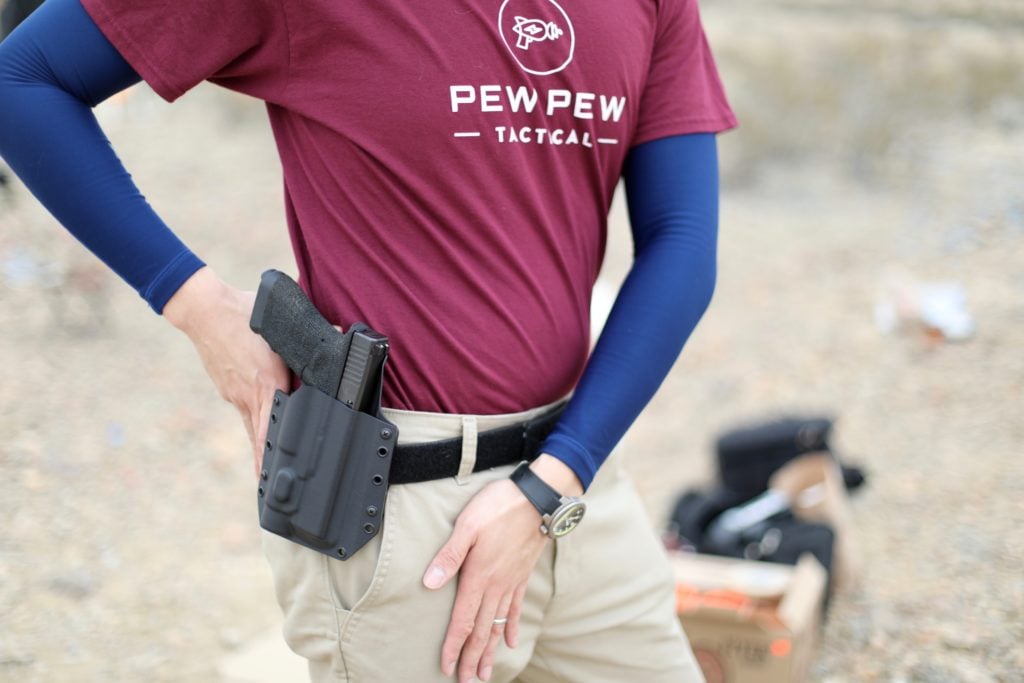 It retains well…I don't think it would come out if I took a tumble or somehow ended upside down.
Everything that's supposed to be covered (like the trigger) is correctly covered.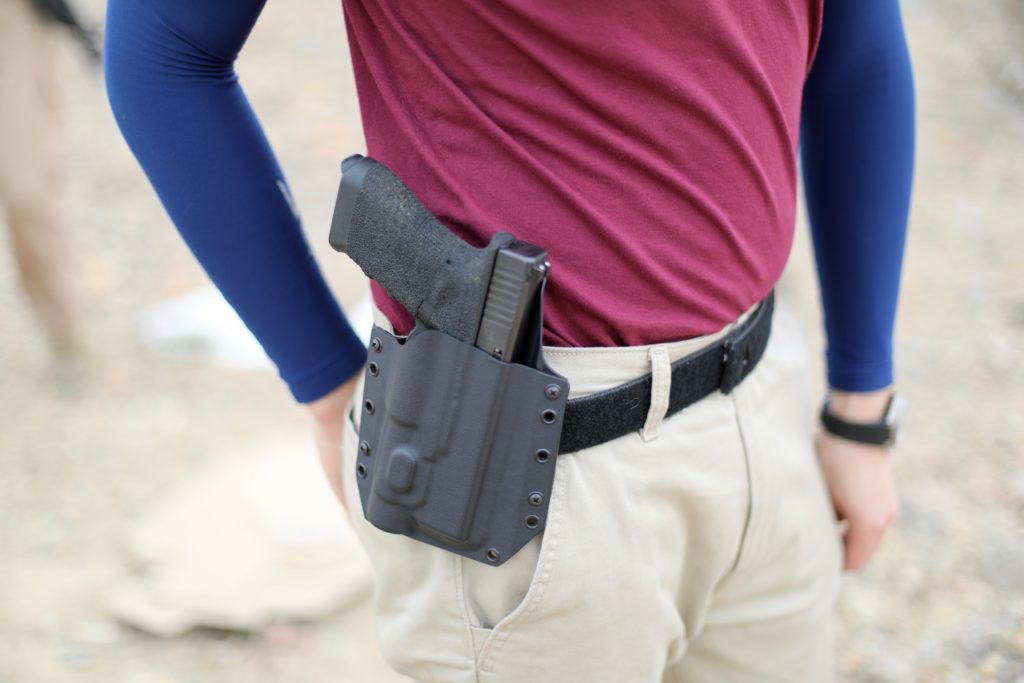 And it's still easy enough to unholster at speed.  Plus pretty form fitting where if I were wearing a jacket I don't think I'd have a problem concealing.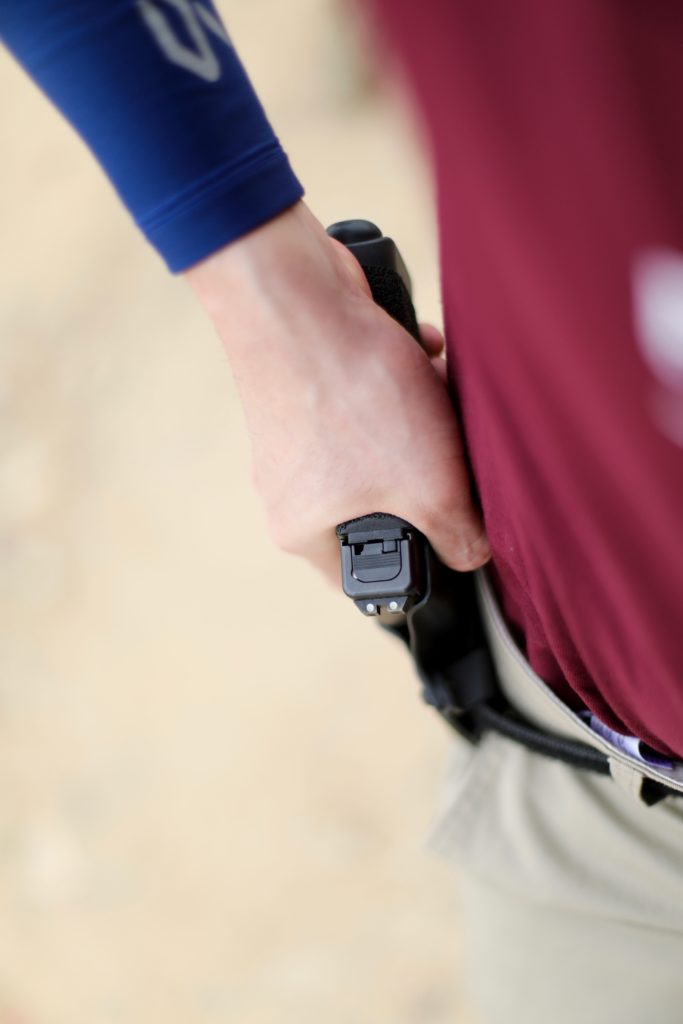 Magazine Holster
You probably want some additional ammo to go with that gun…so here's their Universal Mag Holster ($30).  With a tightening screw you can fit most double-stack 9mm and .40 magazines.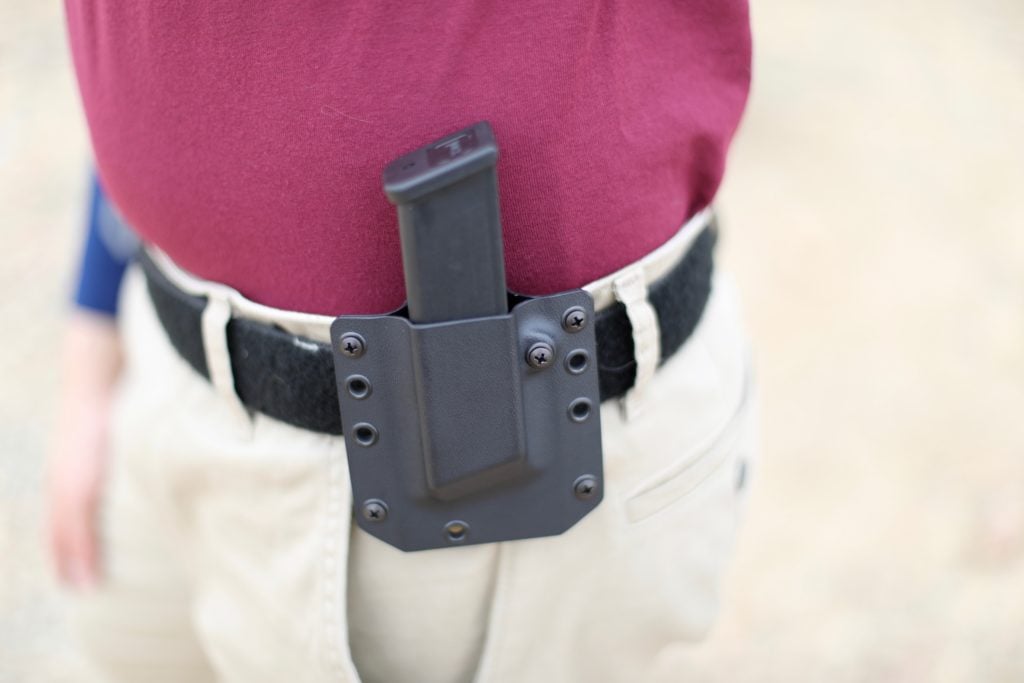 My full-size 9mm Glock mags fit perfectly and with a couple turns I also fit my M&P 9mm mags.  However, my 9mm XD mags were still too thin to fit.  But then again…they weren't on the list of mags that would fit so I can't fault them there.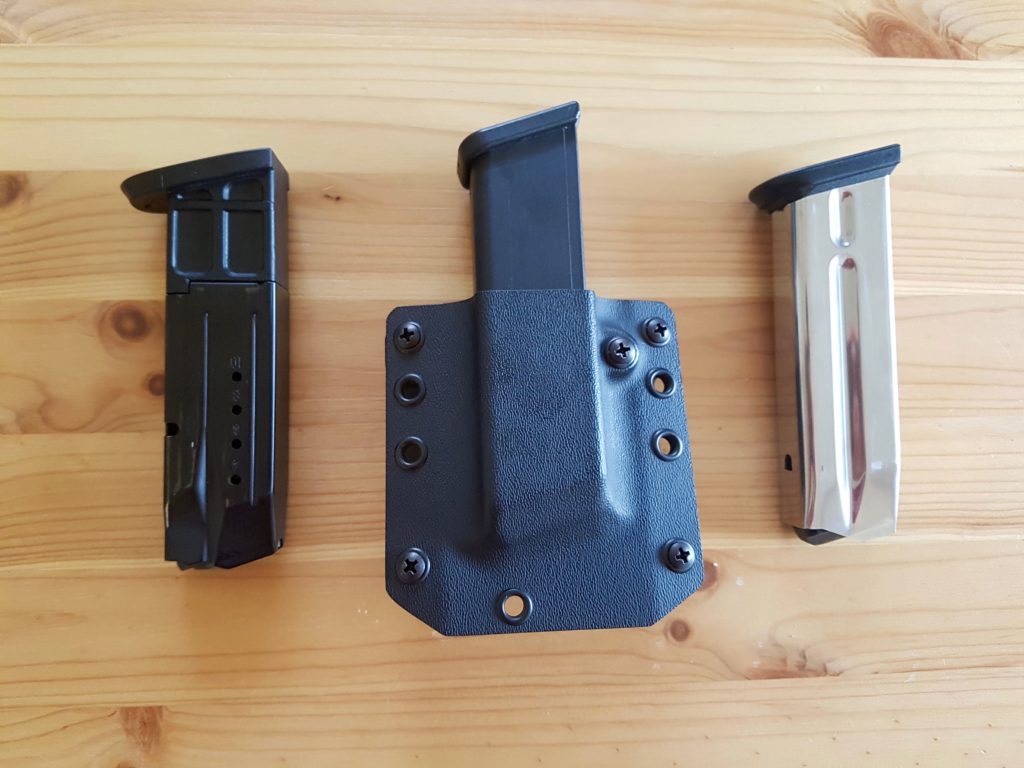 Also very easy to grab for reloads.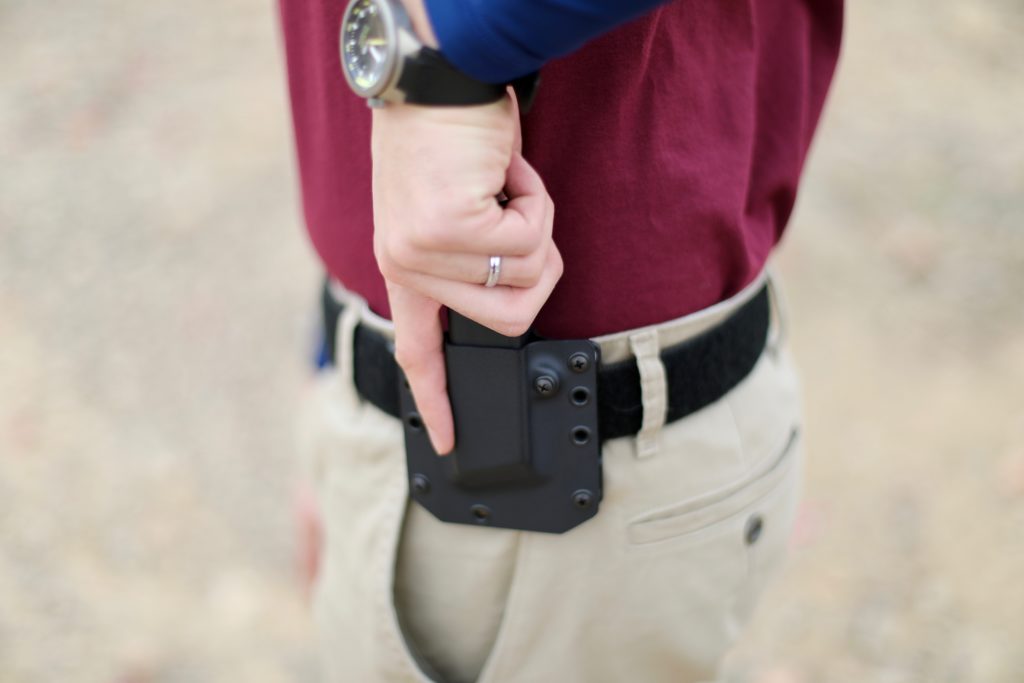 Now What?
Ok…so there's a bazillion holster companies out there…what makes Bravo special?
The quality is definitely there…perfect fit, no sharp edges, good retention, and ease of removal.  Bear in mind that quality is going to cost you…
A holster runs around $50 while a combo of holster + two mag holsters is around $87.
What I especially like is their speed and availability of holsters in stock.
Not on their list?  They still have their custom shop but be prepared to wait the industry standard.
Conclusion
You can't go wrong with their OWB holster…
29
at Amazon
Prices accurate at time of writing
Prices accurate at time of writing
If that doesn't satisfy…check out my list of the Best Holsters for Any Way You Carry.
Let me know how you like them, or who else you went with, and if I have a future as a holster model?