---
Whether you are a fan of striker-fired guns or not, they are what's hot, what's hip, and they are here to stay.
But what has all that popularity gotten us? Well, a lot of black polymer pistols that look really similar.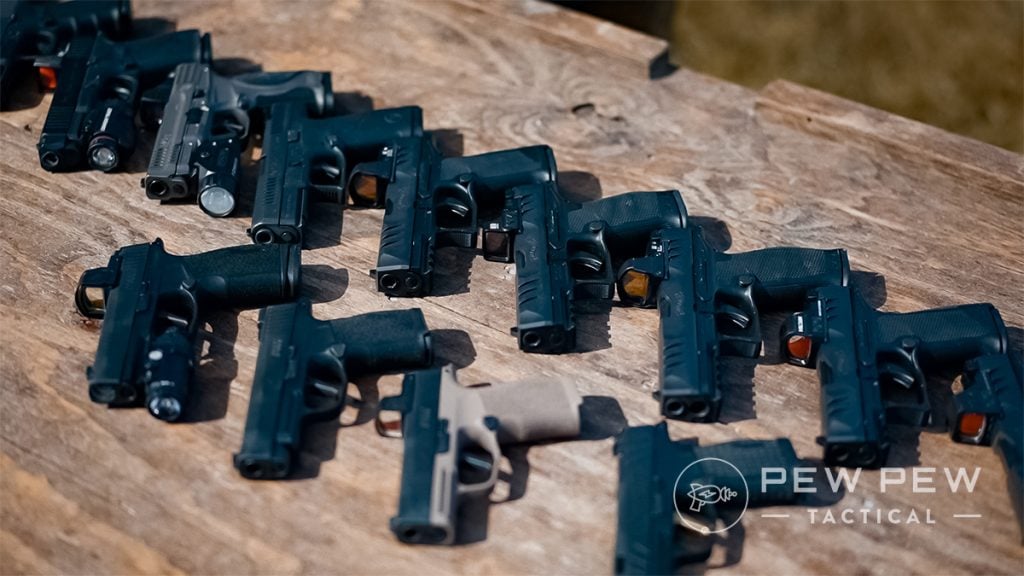 There is a dizzying amount of striker-fired pistols on the market today, and it can be tough to figure out what sets them apart from the competition and, more importantly, which one might be right for you.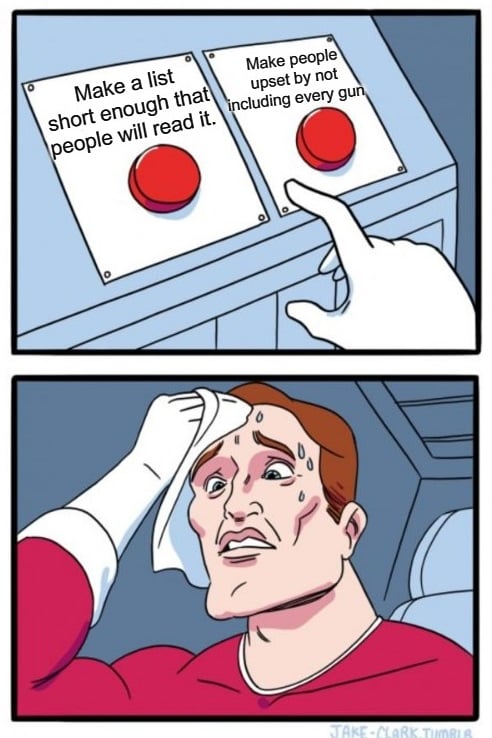 With that in mind, we filmed a video and compiled a list of our favorite striker-fired pistols (in no particular order) and why we think they rock.
Keep reading to see what we recommend!
Summary of Our Top Picks
Table of Contents
Loading...
Best Striker Fired Handguns
But first…if you aren't familiar with the differences between striker-fired and hammer-fired pistols, we have you covered with our complete breakdown here!
Now, onto our faves!
1. Sig Sauer P365 X-Macro
The X-Macro is Sig's latest evolution of their ultra-popular micro-compact P365, and we have to say…it delivers.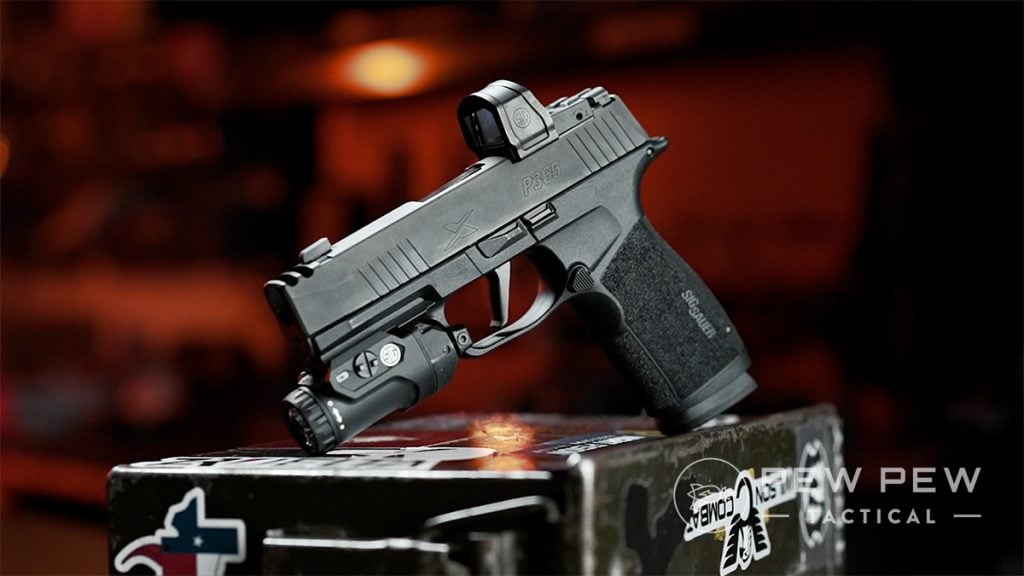 Even though it is only 1.1 inches wide and 5.2 inches tall, the X-Macro has a mind-boggling capacity of 17 rounds of 9mm.
No other manufacturer has managed to stuff this many rounds in a gun this size.
Features include an optics-ready slide that lets you keep the rear sight when a red dot is installed, X-Ray night sights, a full 1913 accessory rail, extended beavertail, and an integrated compensator.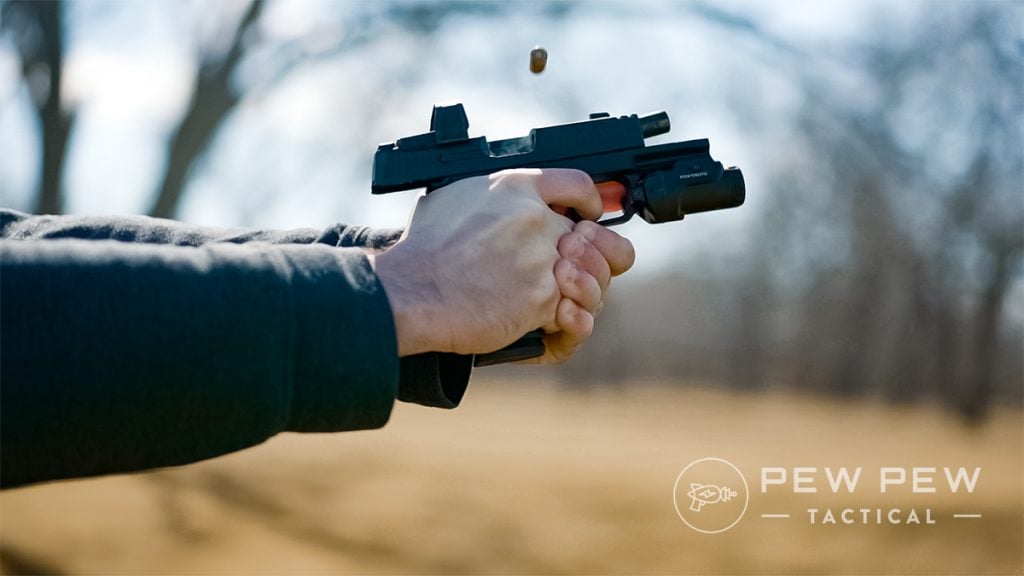 Additionally, Sig was able to retain the full frame, slide, and fire control unit compatibility with previous versions of the P365.
Overall, the solid ergonomics, a good trigger, and the compensator make the X-Macro far easier to shoot than you might expect, making it an excellent choice for those wanting to maximize capacity without getting a full-size pistol.
Best for Concealed Carry
799
at Palmetto State Armory
Prices accurate at time of writing
Prices accurate at time of writing
Don't forget to check out our review of the P365 X-Macro in the video below or read up on the deets in our full review!
2. CZ P-10C
Sometimes guns punch above their weight class, and we definitely feel that way about the CZ P-10C.
It may look like another Glock 19-type clone, but in the end, you are getting more for your money.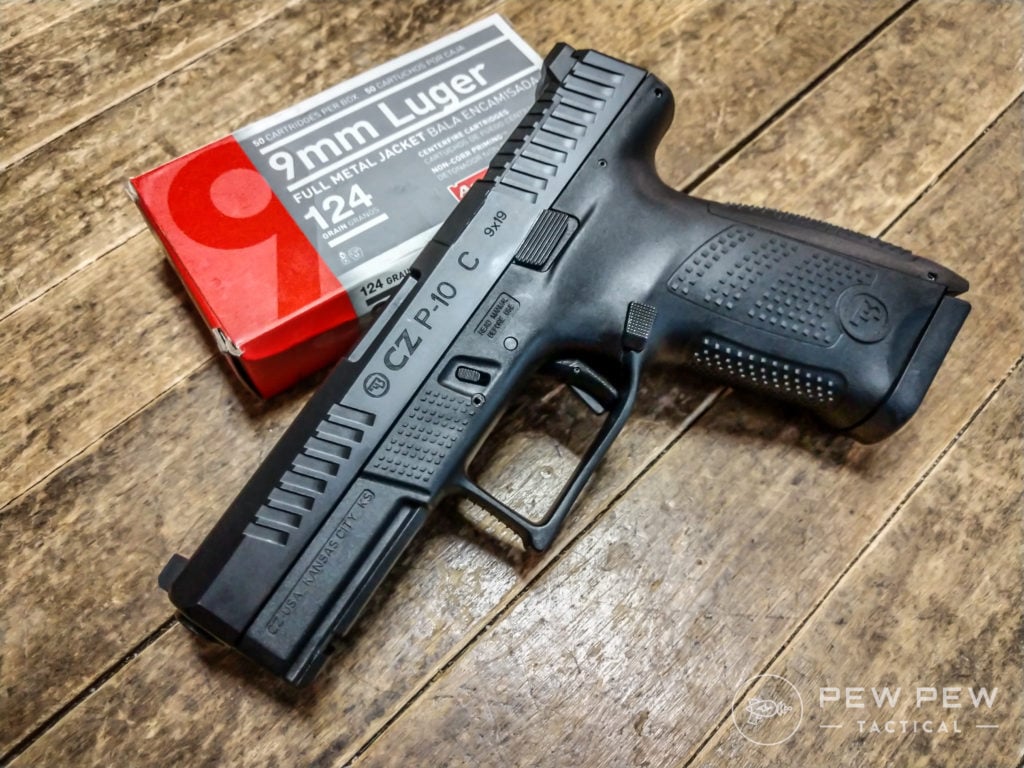 For starters, users will find a surprisingly nice striker-fired trigger on the P-10C. Secondly, CZ worked their ergonomic magic to produce a gun that avoids that blocky 2×4 feeling of some other polymer pistols.
Aggressive grip texturing and slide serrations, a deep beavertail, and mild palm swells help this pistol feel like it "locks in" to your hand.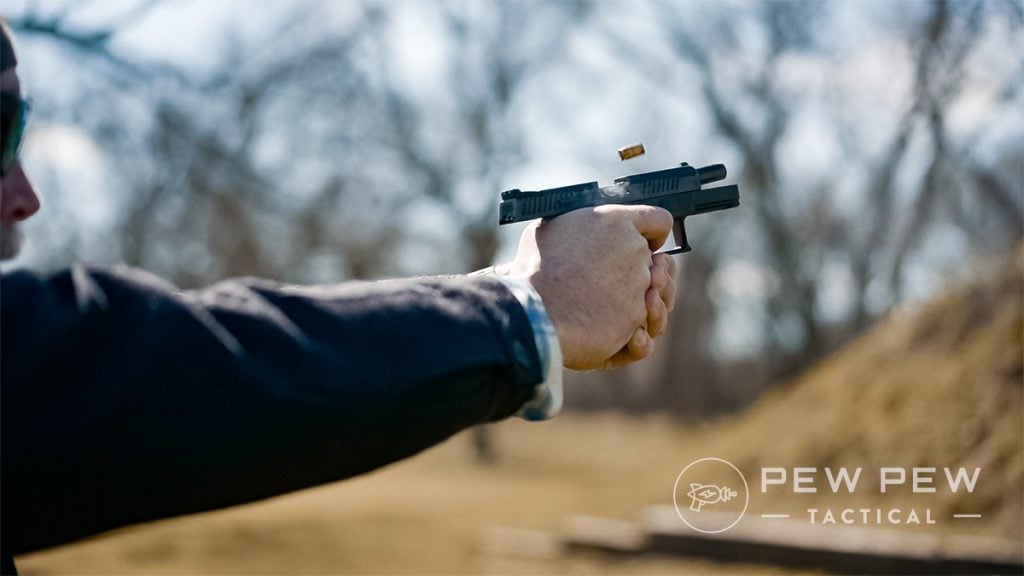 Metal sights are also a nice upgrade over much of the competition, and optics-ready versions are also available. Metal 15-round magazines are also standard.
The result? A super flat shooting, comfortable pistol with great features that comes in under $500.
Best Value
467
at GrabAGun
Prices accurate at time of writing
Prices accurate at time of writing
Want to know more? Head on over to see our full review of the CZ P-10C!
3. Glock 19
You knew it was coming. We knew it was coming. What list isn't complete without a Glock 19?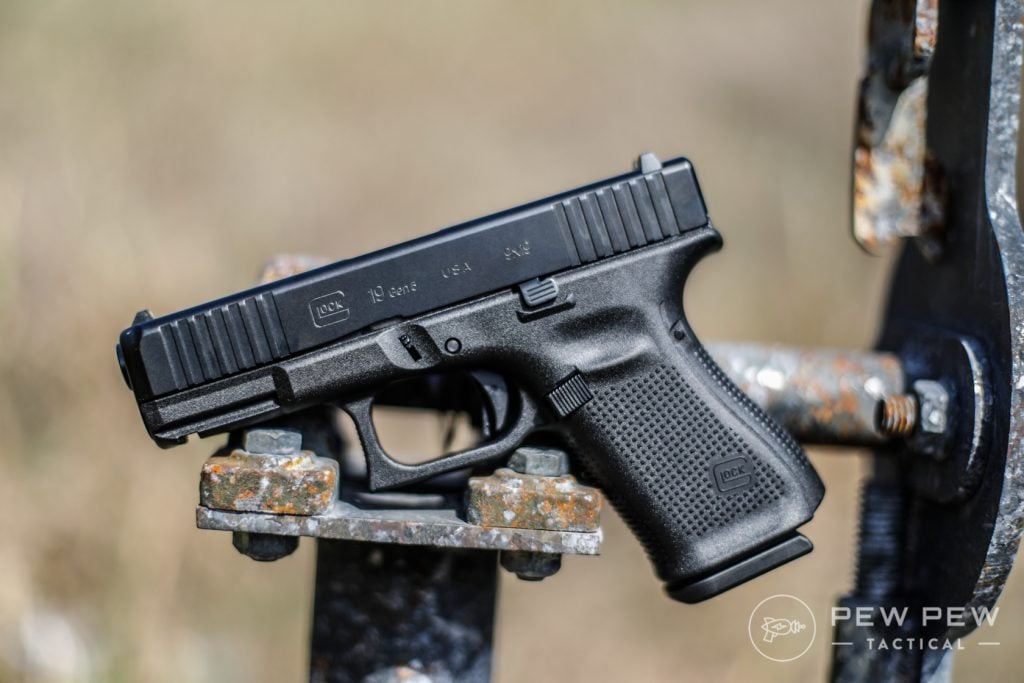 Many designs have come and gone, but the Glock 19 has remained and is widely considered the gold standard of striker-fired pistols.
Why is that? One word — reliability.
With decades of military and law enforcement use under its belt, the Glock 19 is the most time-tested handgun on this list, in addition to being the most popular handgun in the world (with the biggest aftermarket).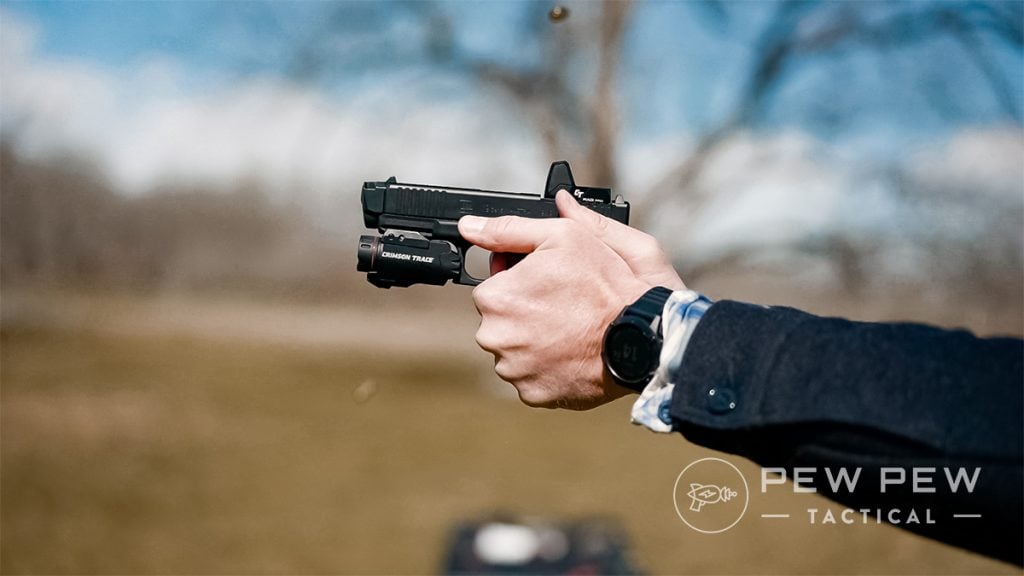 Its 15+1 capacity and 4-inch barrel have become the industry standard size for compact pistols.
The trigger isn't the best and is pretty spongy by today's standards, and the ergonomics are a bit blocky for our taste. However, these guns still point well, shoot well, and their simplicity and ease of use can't be understated.
Those who put a premium on reliability, flexibility, and simplicity will be hard-pressed to find a gun that does those better.
Most Reliable
539
at Palmetto State Armory
Prices accurate at time of writing
Prices accurate at time of writing
Don't forget to take a peek at our 3,500-round review of the Gen 5 Glock 19!
4. HK VP9
I know it sounds like heresy, but HK's best gun just might be their cheapest one — the VP9.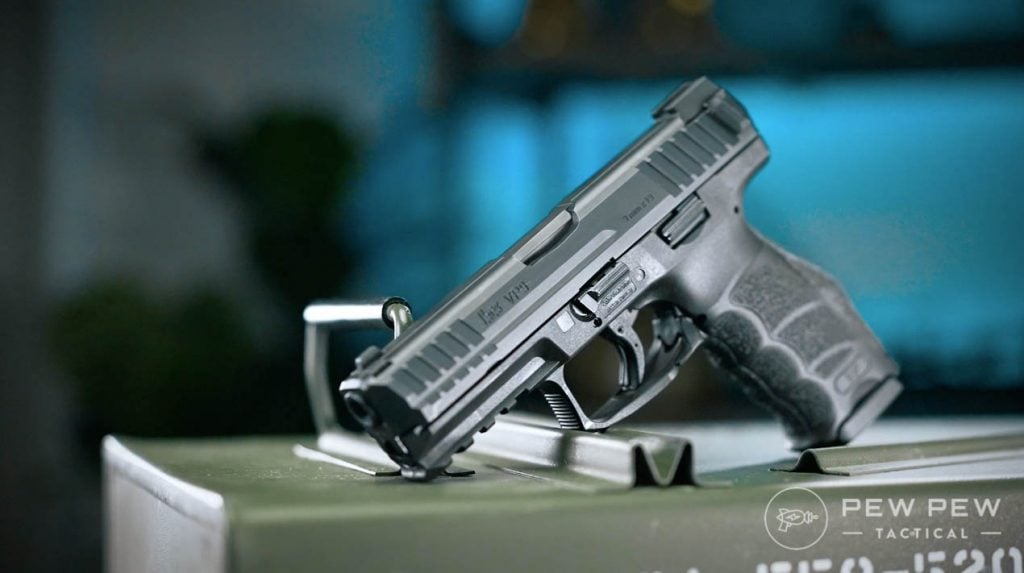 Why is that, you say? Well, they finally made a handgun to compete for civilian sales rather than trying to lock down military and agency contracts.
Taking aim at other striker-fired guns on the market, the VP9 set out to do a lot of things better, and it did.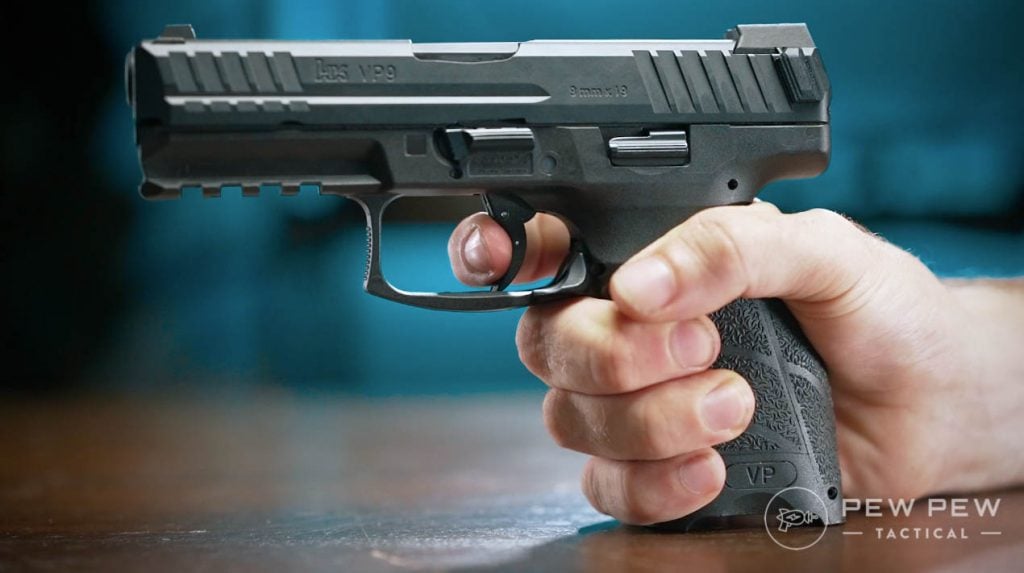 For starters, the VP9 has one of the better striker-fired triggers on the market. It is relatively crisp, with a predictable break and a fairly short reset.
Old models used 15-round magazines, while newer models have a 17-round capacity.
Where this gun truly shines is ergonomics. Not only are the backstraps interchangeable, but the side panels are too. This allows left or right-handed users to adjust the palm swell to fit them perfectly.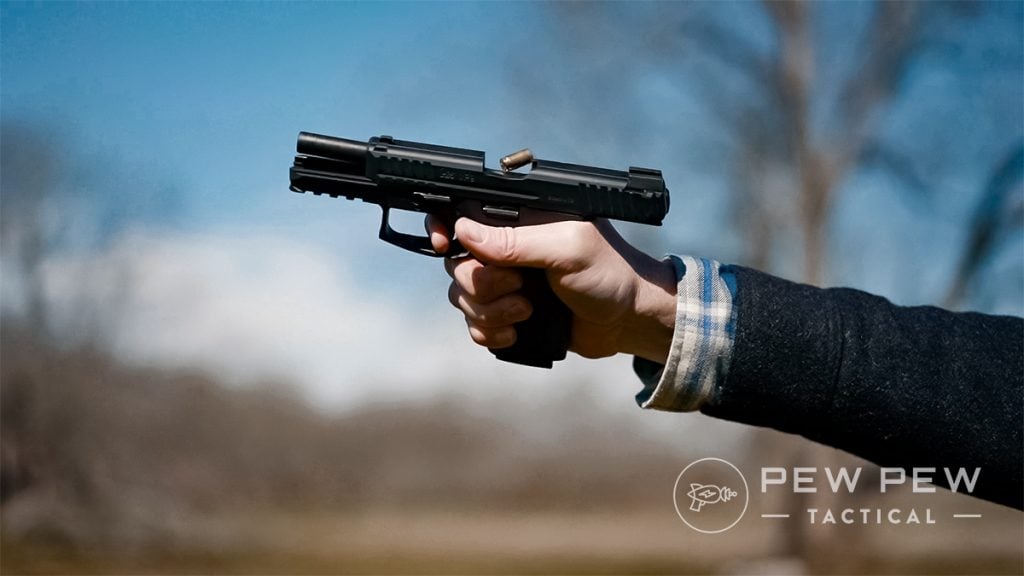 Standard VP9s sport an ambidextrous paddle magazine release. It can take some getting used to, but it is quick and intuitive after the switch is made. For those that prefer a traditional button release, HK also produces a VP9-B variant.
Additionally, you get good slide serrations, as well as rear cocking wings that make racking the slide a breeze. It is capped off with a sizeable ambi slide release, making this one of the most lefty-friendly guns out there.
Most Ergonomic
559
at GrabAGun
Prices accurate at time of writing
Prices accurate at time of writing
These guns are accurate, comfortable, and still deliver the famed quality and reliability that HK is known for.
Wondering if this is the gun for you? Take a look at the video review below or read up on it in our full review of the VP9!
5. Walther PDP
Last but definitely not least is the Walther PDP, and boy, does it have us in a lather. To be honest, we love these guns, but for a good reason.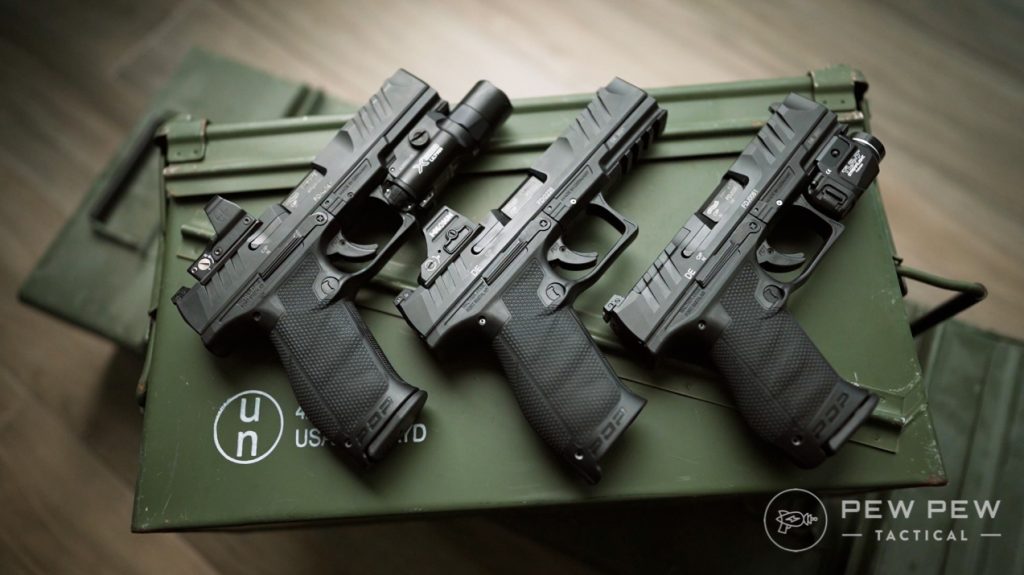 Walther's Performance Duty Trigger has a little bit of take-up to a defined well, then a very clean break right at around 4-4.5 pounds, and a very short reset.
This is one of the best striker-fired triggers on the market, only matched by guns like the Canik Rival (a Walther clone).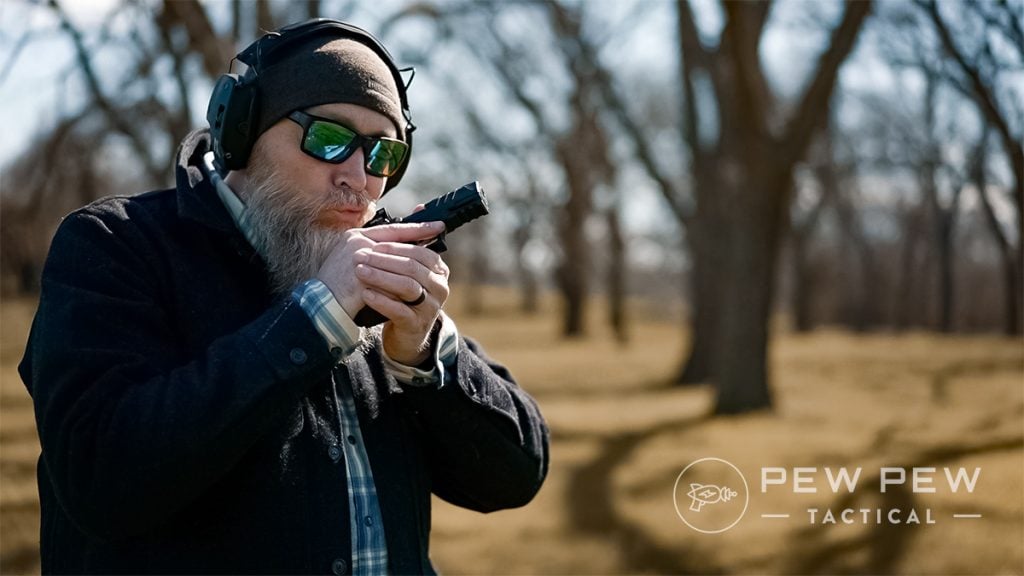 All PDPs come with optics-ready slides, but the downside is that you have to submit a request to Walther to have them mail you the adapter plate for your specific red dot.
As usual, Walther implemented excellent ergonomics in the form of good grip texture and chunky Super Terrain slide serrations.
Users with small to medium-sized hands will also appreciate the extended, easy-to-reach ambidextrous slide release.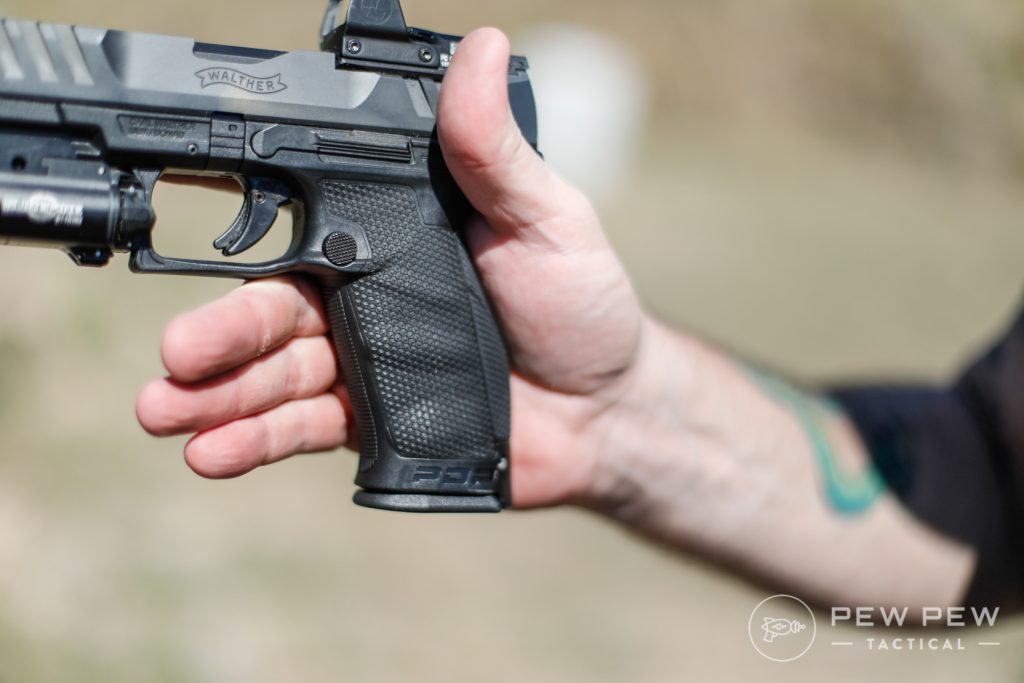 The PDP is also available in various barrel lengths and also with full-size (18+1 capacity) and compact (15+1 capacity) grip sizes.
Additionally, Walther has recently introduced the PDP-F, which features a reduced grip to trigger reach and an easier to rack slide.
Accuracy and reliability are hallmarks of all Walther duty guns; the PDP has that in spades.
Best Overall
649
at Grabagun
Prices accurate at time of writing
Prices accurate at time of writing
Still not sold? Check out our 10,000-round review video of the PDP below and our written review!
Honorable Mentions
Narrowing it down to just five pistols was challenging; unfortunately, not everything could make the cut. With that in mind, we snuck in two pistols in the video that didn't quite make our best of but that we still like.
Smith & Wesson M&P 2.0 Metal
Life is better with a bit of heavy metal, right?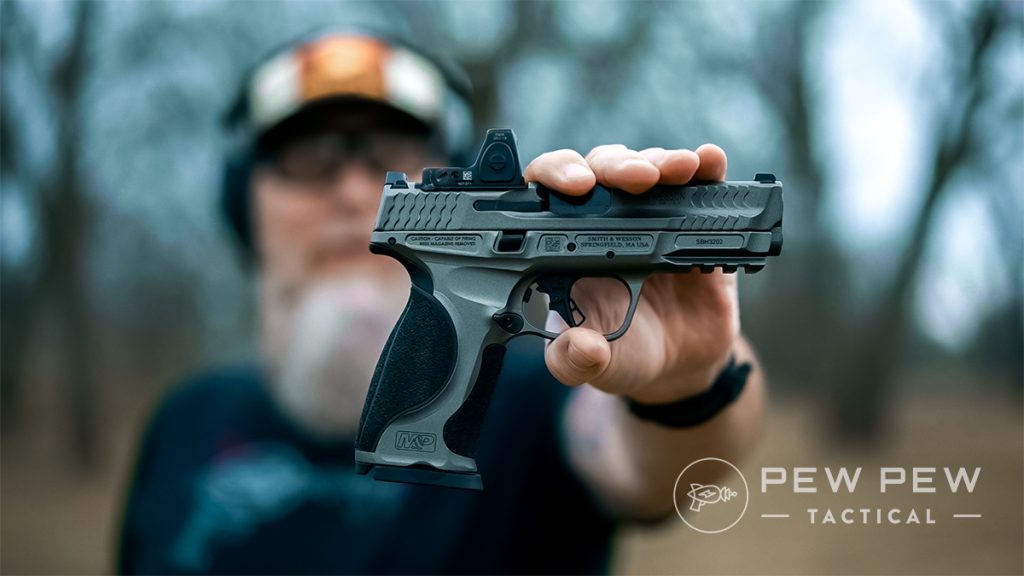 Smith and Wesson took their venerable M&P and glammed it up with an all-metal frame and an improved trigger to create the M&P 2.0 Metal.
With good looks in tow, it also has a jaw-dropping performance to match. These guns are extremely accurate, fast shooting, and soft-recoiling.
849
at GrabAGun
Prices accurate at time of writing
Prices accurate at time of writing
They are a bit heavy for duty use for some and are on the slightly spendier side for a striker pistol, but they run.
You can see our video on the M&P 2.0 Metal below or take a look at our full written review!
Grand Power Q1S
The Grand Power Q1S is by far the strangest inclusion on the list, but hey, some of us are strange people.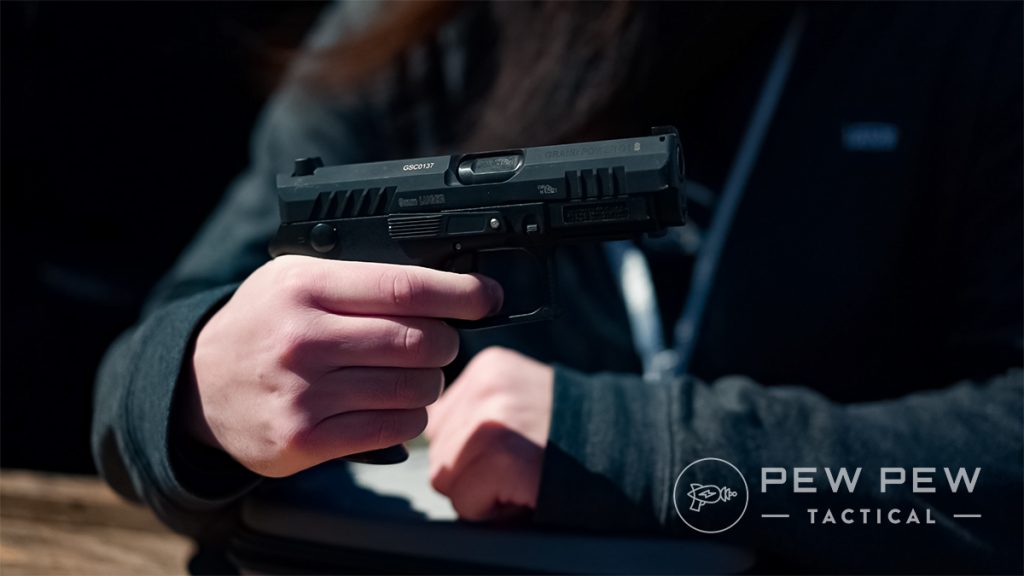 Much like the Beretta PX4, the Q1S features a rotating barrel design that helps reduce muzzle flip. With a smaller 3.6-inch barrel, the recoil reduction is both noticeable and welcome.
Additionally, the gun has a shockingly good 3.5-4lb trigger that breaks cleanly at 90 degrees.
408
at Double M Defense
Prices accurate at time of writing
Prices accurate at time of writing
Consider the fact that you get metal sights, fully ambidextrous controls, and three 12-round magazines for around $400, and you have a real sleeper on your hands.
Final Thoughts
Striker-fired pistols have improved so much in the last 15 years that it is hard to pick just five and keep the list manageable.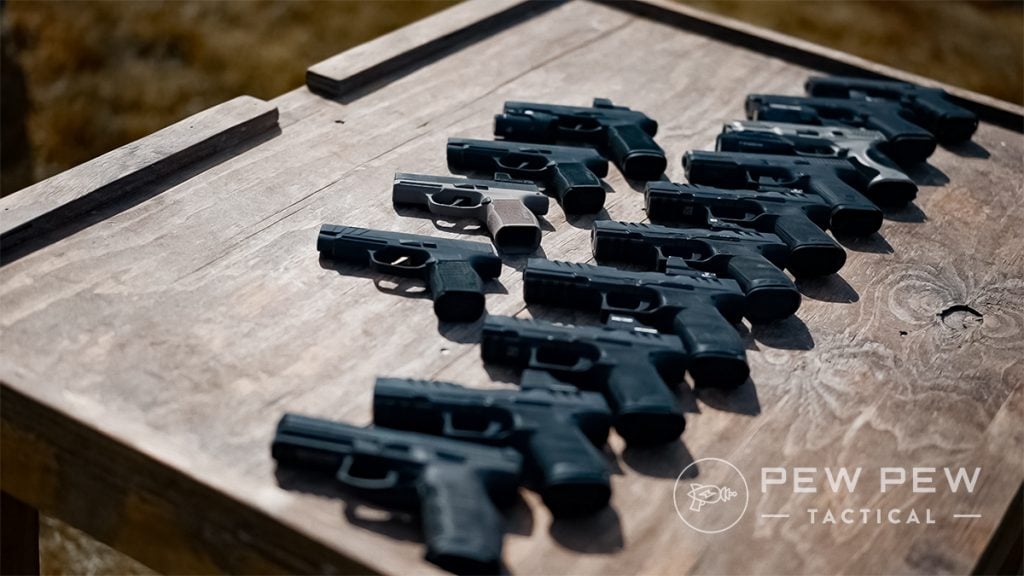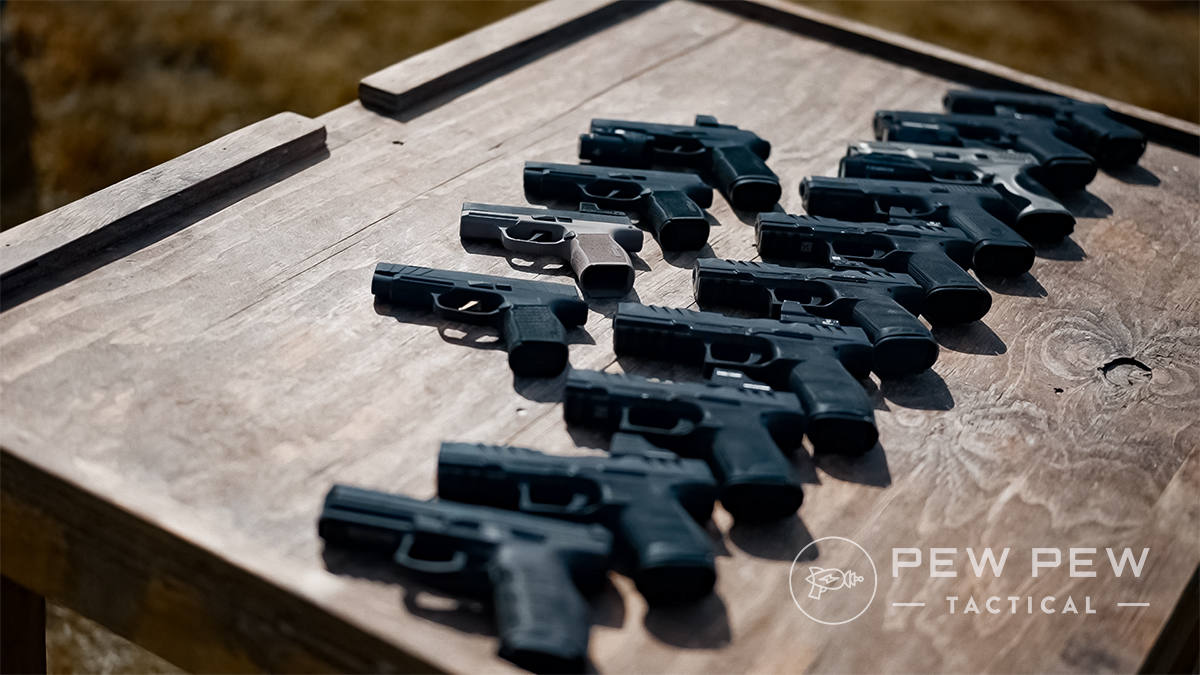 If you didn't see a specific gun here, be sure to check out our other articles, as we might just have what you are looking for.
What's your favorite striker-fired handgun? Sound off in the comments below. Want to dive into the world of pistols even more? We got you. Check out our recommendations for the Best Beginner & Home Defense Pistols and Best Concealed Carry Guns.