The AR-15 is one of the most versatile platforms in the gun world. With the ability to basically build these things like Legos, you can really fine-tune what you want.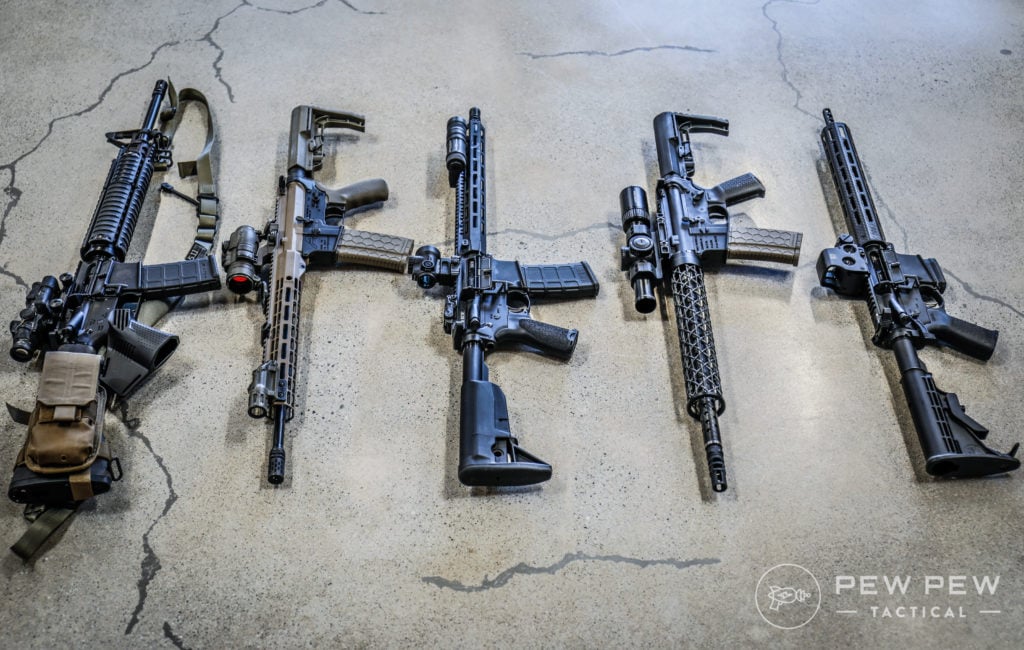 And side-charging AR-15s are a great way to have a more unique AR. You'll also probably never see another AR like yours at the range.
So, let's dive into why you'd want to upgrade to a side-charging AR, how they work, and finish out with some of the best ones out there.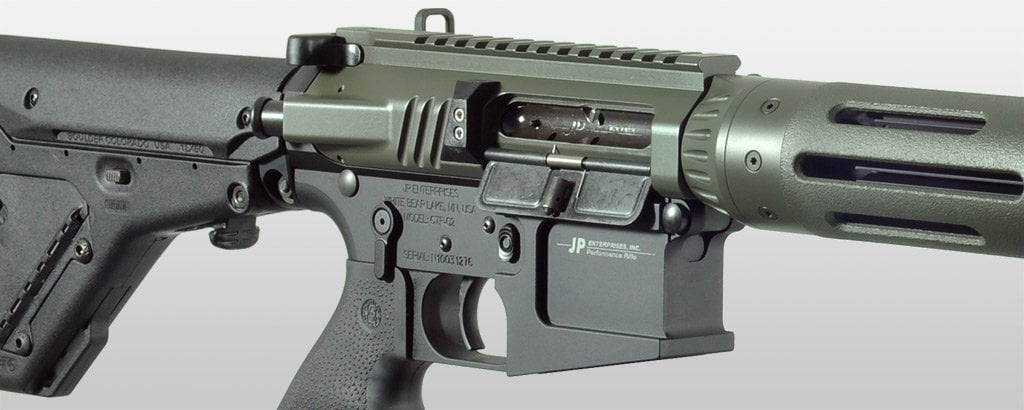 By the end, you'll know if a side-charger is right for you.
Summary of Our Top Picks
Table of Contents
Loading...
Why Use a Side-Charging Upper?
The chief benefit besides aesthetic concerns is the fact that you can clear a jam and charge the weapon without breaking your firing grip or changing your shooting position.
It also makes it easier to charge the weapon one-handed in an emergency or to cycle the weapon manually in the event of a failure in the gas system.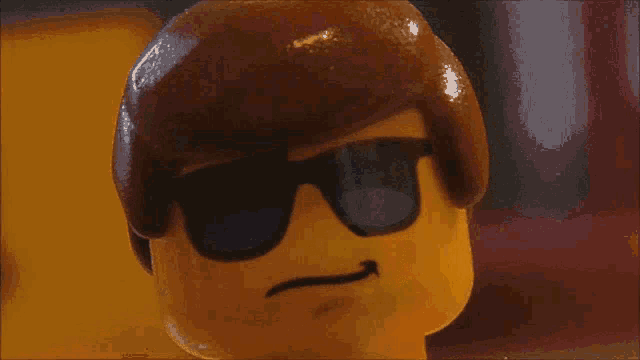 It also just looks really cool.
Best of all, other than the upper and charging handle itself, your AR doesn't really change so you can use all the same parts, barrel, gas system…same everything. You just need the upper itself and charging handle and the specialized bolt carrier.
How Do Side-Charging Uppers Work?
A normal AR-style rifle charges from the rear, right? You pull back on the charging handle, which extends from the rear of the receiver, that retracts the bolt and cycles the gun. Probably 99% of you are familiar with this process.
If not, reviewing our Best AR-15 Charging Handles article might help refresh your memory.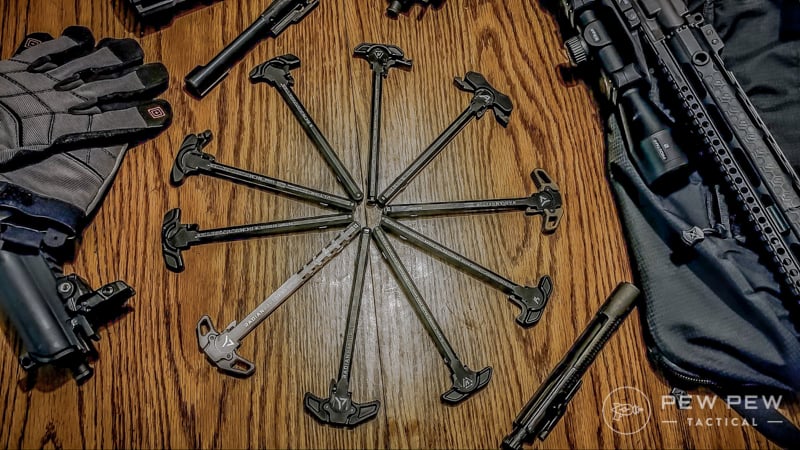 On a side-charger, you might have guessed…the charging handle is on the side.
These uppers are specially cut to allow for a groove on the left side for a charging handle, as you'd find on a SCAR or an MP5.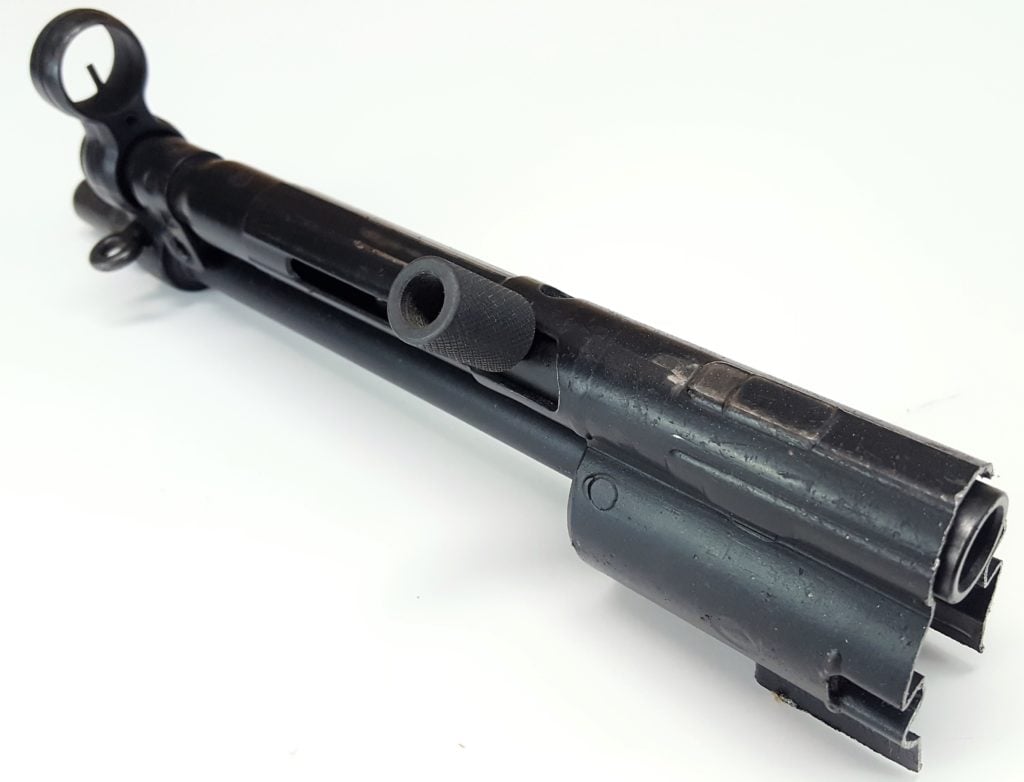 These charging handles are non-reciprocating and typically attach to a specially-machined bolt carrier group (which you can either buy or have a standard BCG machined with the needed notch).
Some only need a new cam pin, however, so be sure to look at those options if you're not looking to change your bolt carrier group too much.
Best Side-Charging AR-15 Uppers
So, if you're sold on the idea of a side-charging upper, you have a surprising number of options to choose from...
1. Faxon Firearms ARAK 21 Upper
Let me get this out of the way now…I freaking love the Faxon ARAK-21 Upper. I want one of these so bad, and I've wanted it since I first got to handle it over a year ago.
This upper is designed from the ground up to be a side charger. It actually moves the charging handle forward a good bit — almost like an HK G3 — rather than the typical side-charging AR-15 position with the charging handle in line with the bolt carrier group.
1199
at Faxon
Prices accurate at time of writing
Prices accurate at time of writing
The ARAK is designed to be a cross between the AR-15 and the AK-47, and it truly does bring you the best of both worlds.
As you would expect of an AK-ish design, the ARAK is a piston-operated system more so than it is an upper. It includes a barrel assembly and an integrated gas-piston system.
Best of all, it comes with everything you need to swap from 5.56x45mm to 7.62x39mm and back as your needs change, or just as the mood strikes you.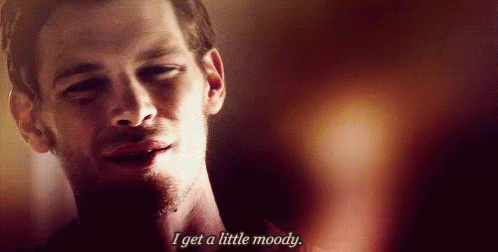 The upper is extremely reliable and comes with an adjustable gas system so you can tune your gun for suppressed use, or even manual operation with the side charging handle.
Overall, this is the option I'd go with if money wasn't an object because it gives you some extremely practical benefits, and is truly unique.
What do you think of the Faxon system? Give it a rating below.
2. Gibbz Arms G4 Side-Charging Upper
Gibbz Arms specializes in side-charging uppers, and their G4 upper receiver is a good-looking and hard-working upper that won't let you down.
They're designed to work with standard AR-15 lowers. Other than a modified cam pin you have to install, there are no changes needed to the rest of your setup.
Most Durable
245
at Brownells
Prices accurate at time of writing
Prices accurate at time of writing
The G4 uppers are available in a number of factory Cerakote colors, manufactured right here in America, Arizona specifically. They are some of the best-machined uppers I've put my hands on lately.
I'd put them alongside other high-end manufacturers like Aero and Faxon.
Overall, not a bad choice at all for a side-charging AR-15.
3. Quarter Circle 10 Side-Charging Upper
Quarter Circle 10 specializes in pistol caliber parts, and their QC10 side-charging upper is simply awesome.
This upper is modeled on the Gibbz G9 upper. Quarter Circle 10 worked with the engineers at Gibbz to produce something reflective of their pistol caliber expertise.
Best PCC Upper
279
at Rainier Arms
Prices accurate at time of writing
Prices accurate at time of writing
This upper is designed specifically to work with pistol-caliber lowers and it's the perfect choice for PDW builds. The latching, the non-reciprocating charging handle is one of the most well-designed and easy-to-operate charging handles around.
This is the upper I'd choose for a 9mm Glock-compatible lower, and would definitely be my first choice for a PDW-style build, especially a pistol-caliber SBR or AR-style pistol.
4. CMT Tactical UPUR-3A Side-Charging Upper
Are you looking for a precision rifle side-charger build? Do you need the most accuracy possible from your side-charger system?
Cross Machine and Tool (CMT) has you covered with their UPUR-3A side-charging upper.
Most Accurate Upper
130
at Rainier Arms
Prices accurate at time of writing
Prices accurate at time of writing
CMT has designed this to be an extremely accurate and reliable upper for precision rifle builds. They've brought their trademark precision machining to bear in the manufacturing process.
These uppers are machined from 7075 T6 aluminum, which is almost 70% stronger than the standard 6061 mil-spec aluminum.
They also utilize a five-axis machining process that allows them to be much more precise and turn out a much more well-finished product.
Overall, this is the upper I'd go with for a super high-end precision build that I needed to squeeze all the accuracy possible out of.
5. JP Enterprises PSC-12 Side-Charging Upper
JP Enterprises is known for its high-end ARs and accessories and the PSC Series Side Charging Uppers maintain that reputation for quality.
This upper comes in a lot of flavors from full-mass to low-mass 5.56, 9mm, and even AR-10 uppers that work with DPMS-style or Armalite/Knights pattern lowers.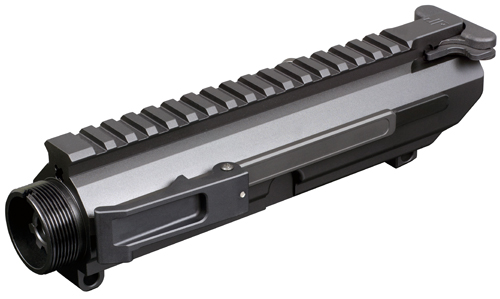 And, unlike most uppers, it actually has a standard charging handle and the side charging handle, giving you the best of both worlds.
Though it is certainly pricey, you get a bolt carrier group, and an otherwise complete upper receiver, you just need to add a complete lower, barrel, gas system, and handguard. The upper has Picatinny rail all along the top for optics mounting, and is easy to assemble, and disassemble as needed.
Final Thoughts
Side-charging uppers are a great way to add some pizzazz to your AR-style rifle, and they bring some practical benefits and functional improvements as well.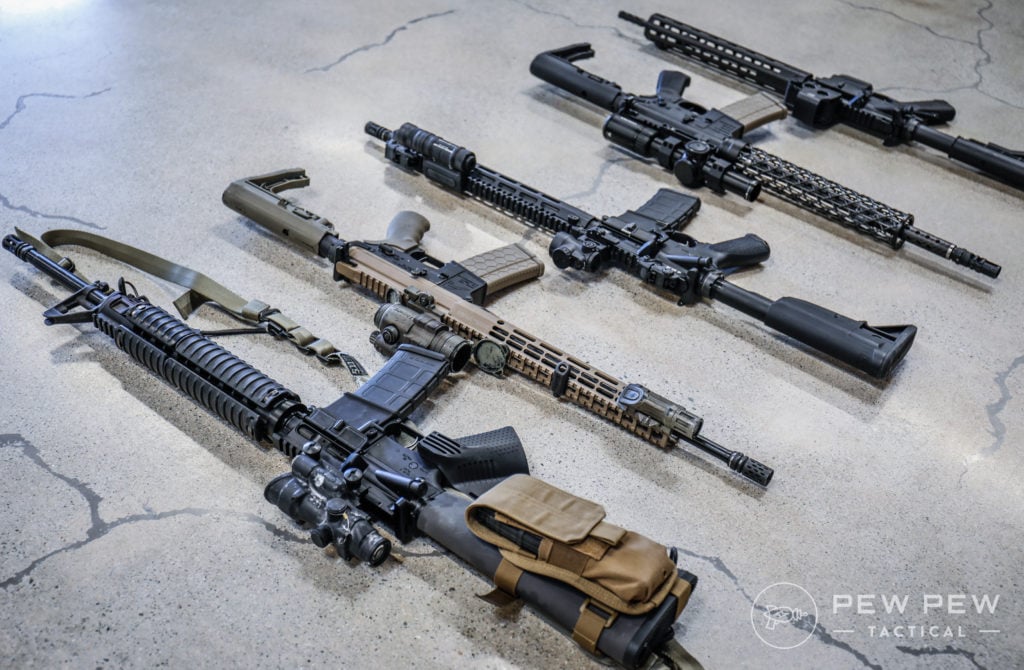 If you're looking to upgrade your AR, start a new, unique build, or just want to try the side-charging life, there's never been a better time to get one.
What do you think of these side-charging uppers? Do you want one for your next build? Let us know in the comments below! Ready to put a great optic on your rifle? Take a look at the Best AR-15 Scopes & Optics!