Need a range bag to carry ammo, eye/ear protection, tools, and maybe a handgun or two?
We've tried out the most popular ones…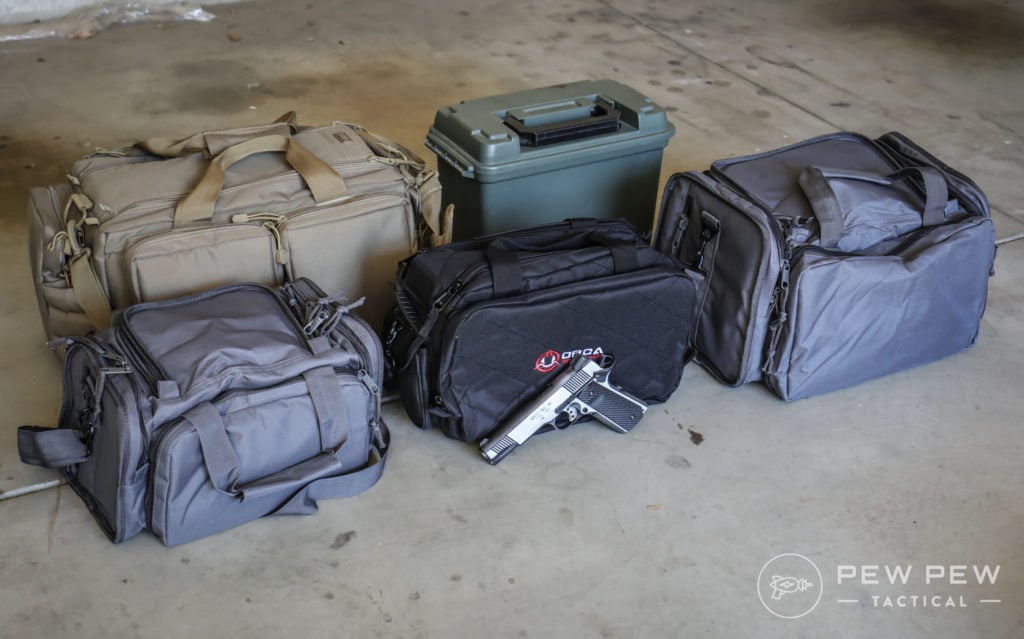 That span size, budget, and material. By the end…you'll know the perfect bag for your range trips.
Summary of Our Top Picks
Best Range Bags
1. Savior Equipment Specialist
We love their full-sized rifle bags…but Savior Equipment also has a couple awesome range bags in their Specialist line.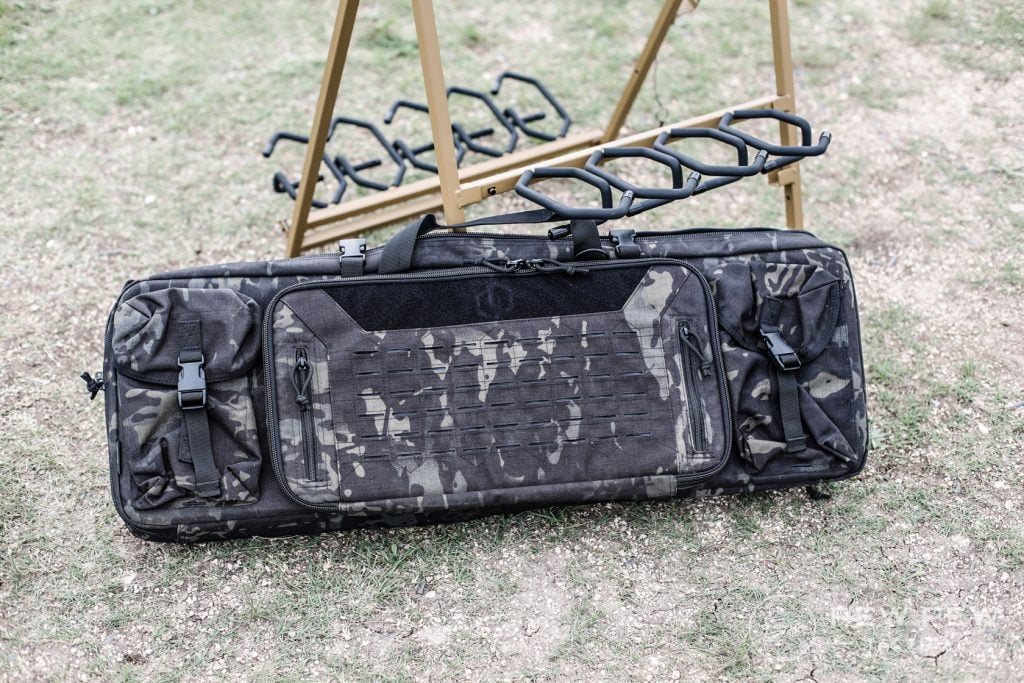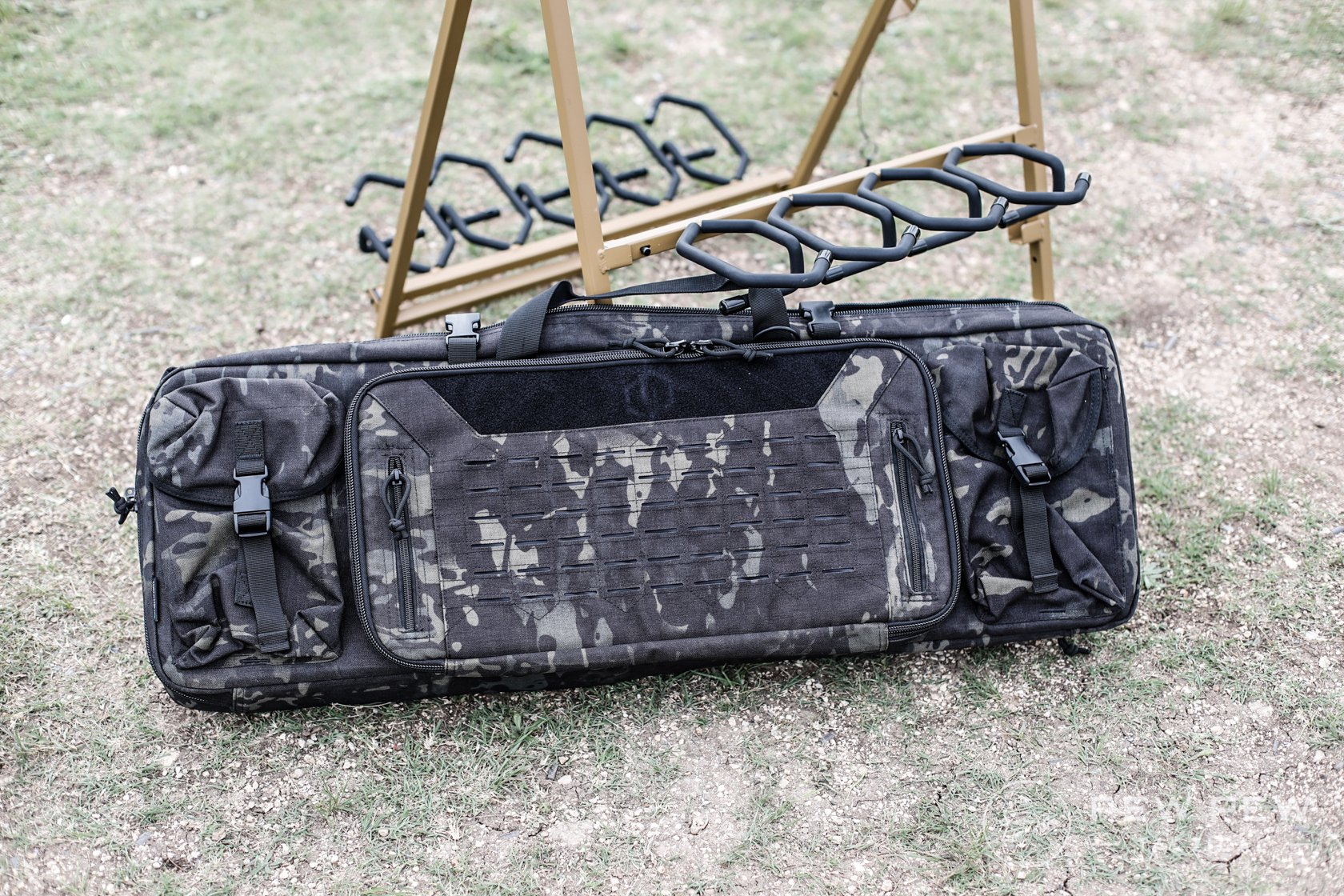 The "smallest" range bag is perfect for one or two handguns and a couple of mags.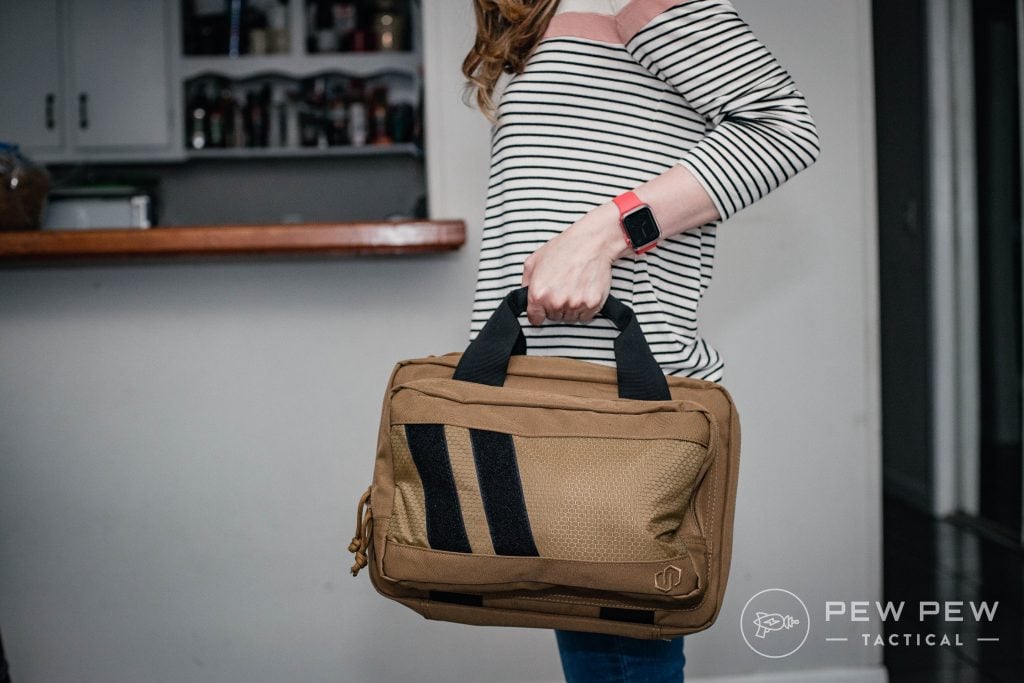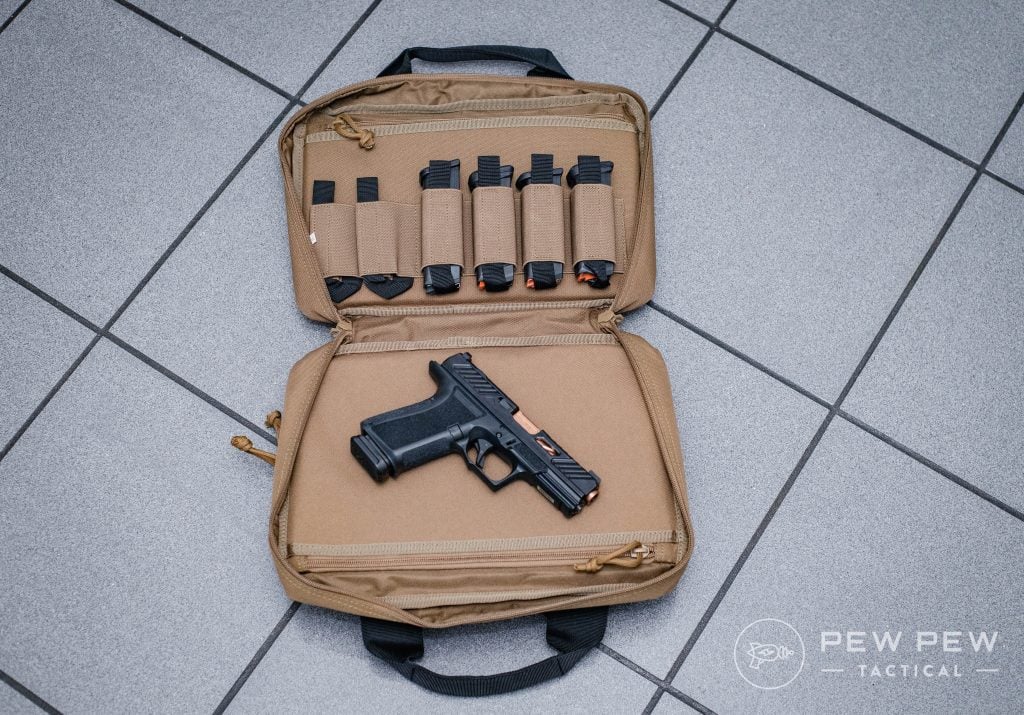 And a good amount of miscellaneous stuff in the front too. The perfect quick-range trip bag, in our opinion.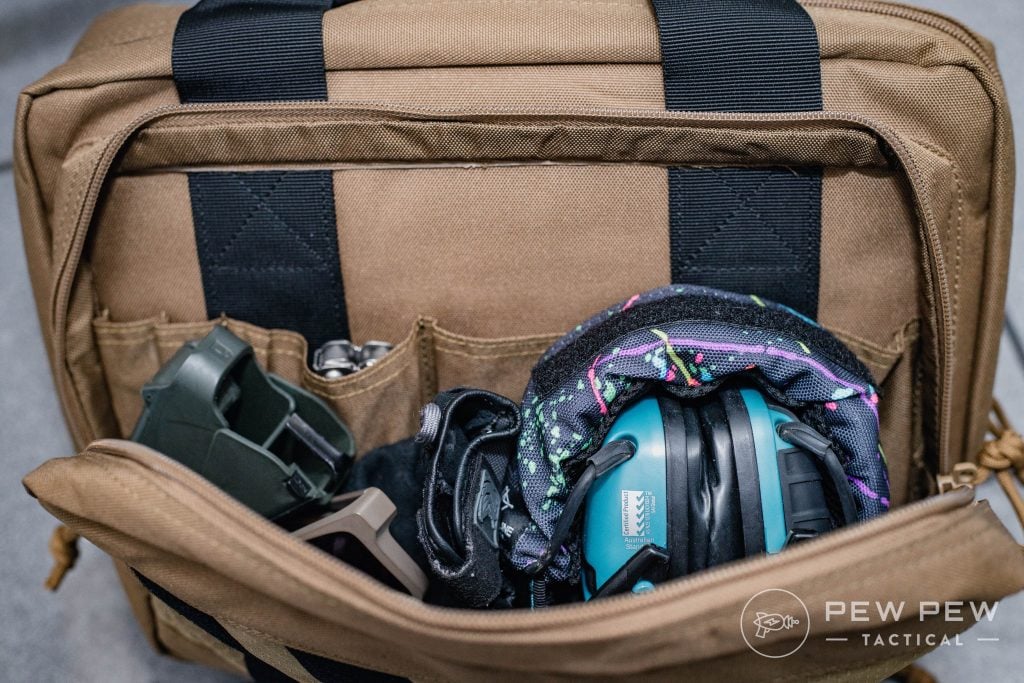 Use code PEWPEW15 for 15% off.
Best for One Pistol
30
at Savior Equipment
Prices accurate at time of writing
Prices accurate at time of writing
The next size up is the Mini Range Bag which gives you three compartments and plenty of space for multiple pistols and even long guns.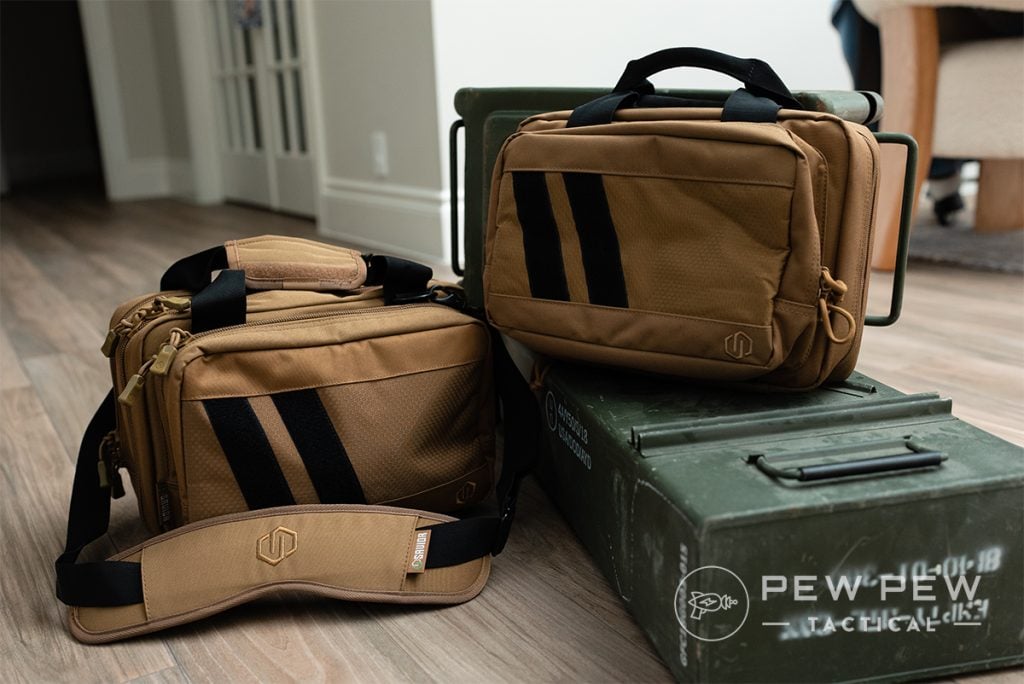 The middle compartment gives you mag space and some really nice zipped see-through compartments I've been using for ammo and electronics.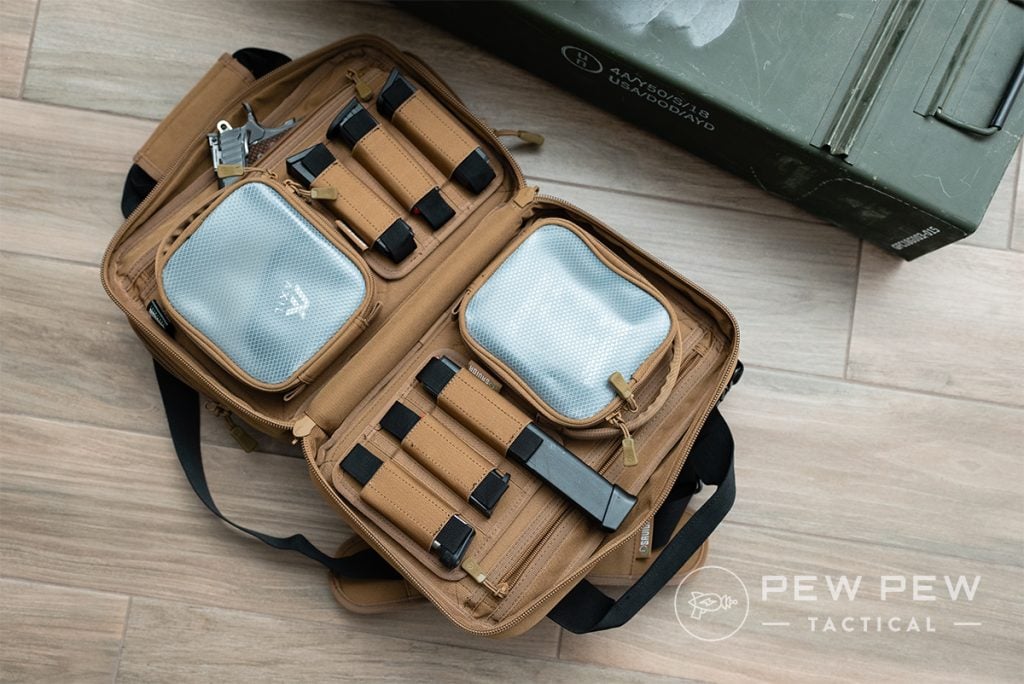 Plus, you can Velcro them around and even sub out for other compartments.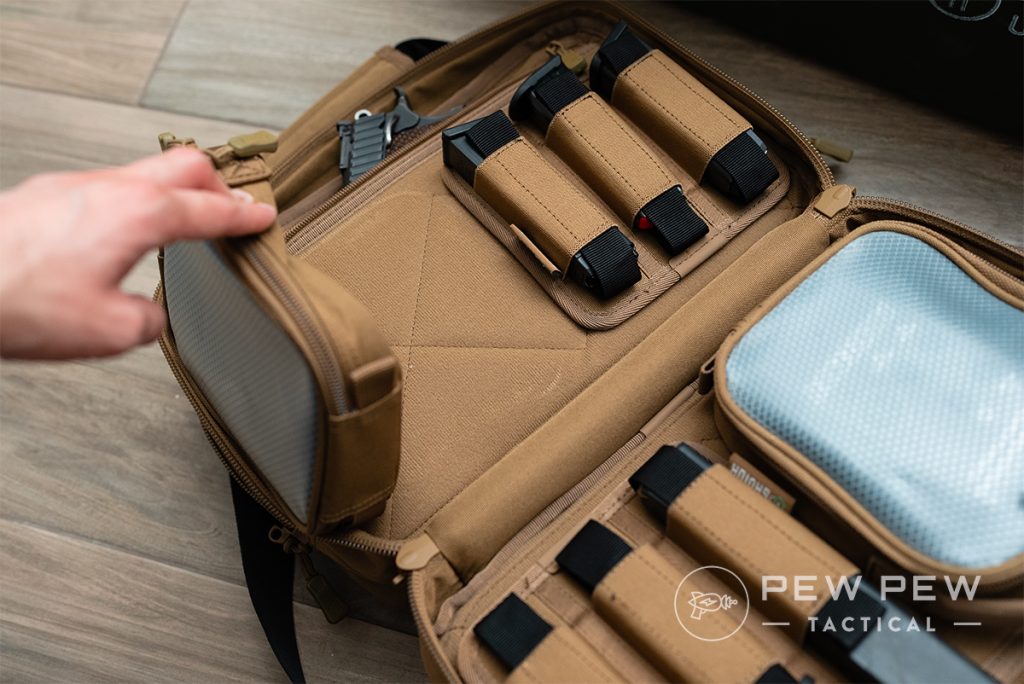 The rear compartment is more open so I've been using it for sub-guns or two pistols.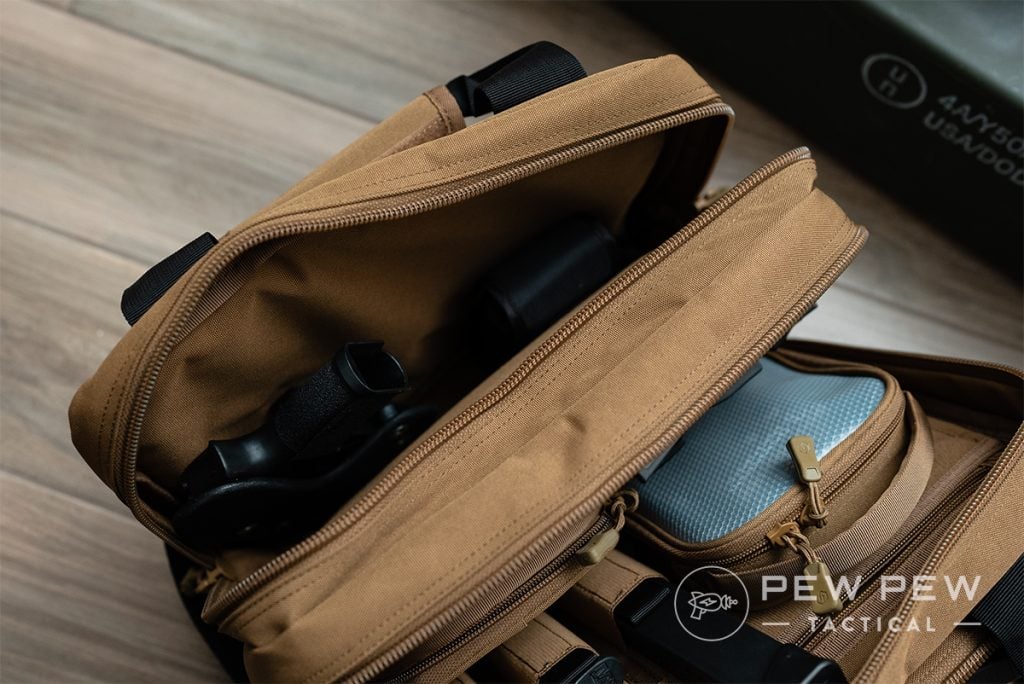 While the front is oriented towards rifle mags but I've been putting ear pro as well as suppressors there too.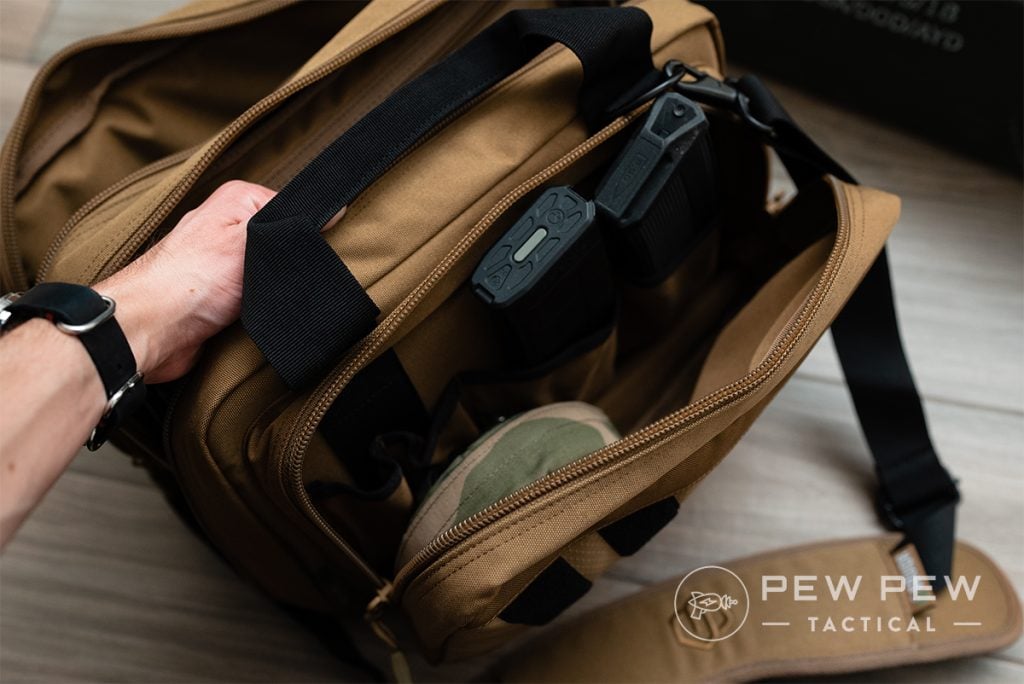 Great for most standard range trips!
65
at Savior Equipment
Prices accurate at time of writing
Prices accurate at time of writing
They've also just come out with a full-size bag which I'm excited to try out.
99
at Savior Equipment
Prices accurate at time of writing
Prices accurate at time of writing
What's your take on these bags? Rate them below!
2. Osage River Range Bag
Osage River Range Bags are probably the most highly rated range bags on Amazon…so I had to try out both their sizes.
First up is their "Light Duty" which measures 13.5 x 10.5 x 7.5 inches. Full-sized 1911 in there for scale.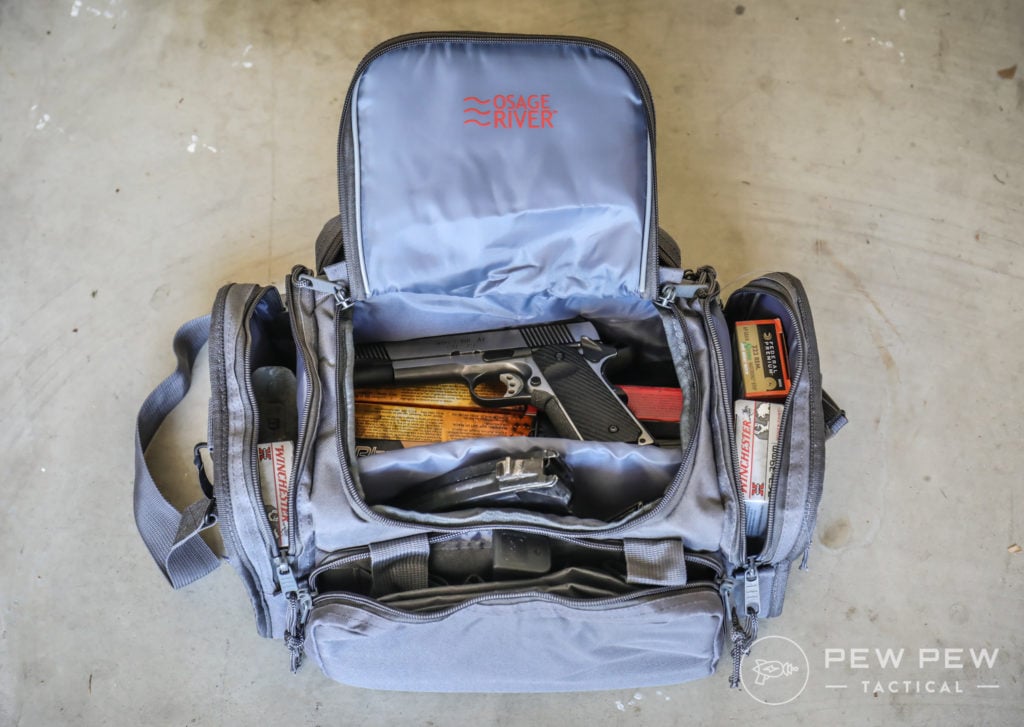 It's a pretty good size if you're bringing one or two handguns and not that much ammo…although you can probably squeeze in 200 rounds utilizing the pockets.
The main compartment also has a Velcro divider, so you can choose to partition it however you want…I'd probably have one thin side for a handgun.
The two large side pockets have two dividers and also 5 pistol magazine holders each. This bag is clearly geared for handgunners.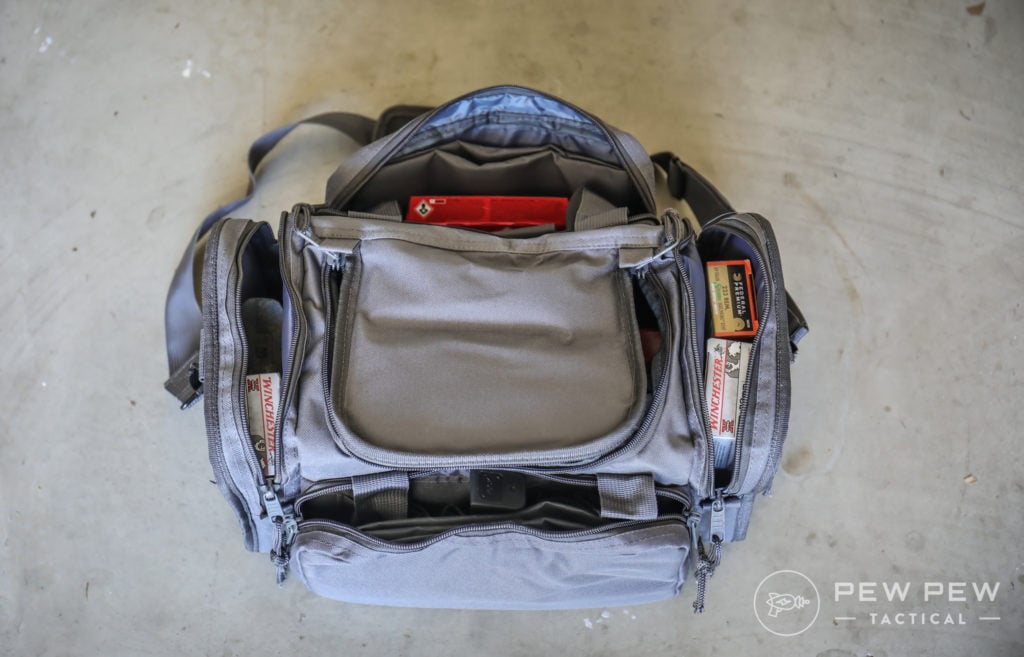 Overall, it's light in weight and flimsy in a good way…like you can fold it down when not needed.
The bottom has nice rubberized feet that will prevent sliding and premature wear.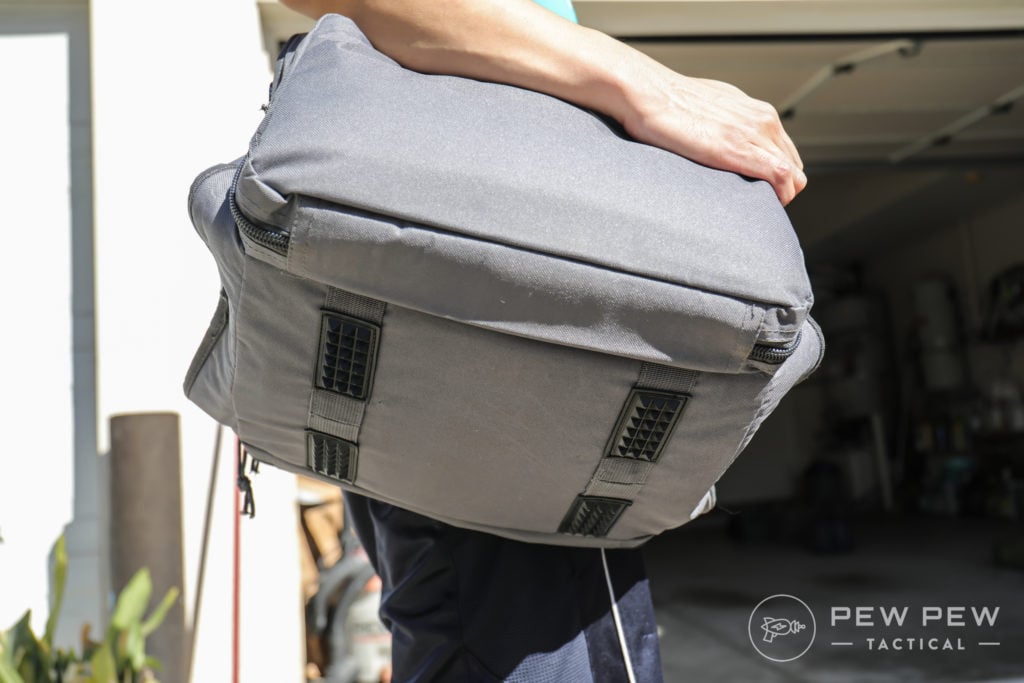 Also comes with thin straps that do their job…unless you're carrying pure ammo. Also…tactical sandals for the win.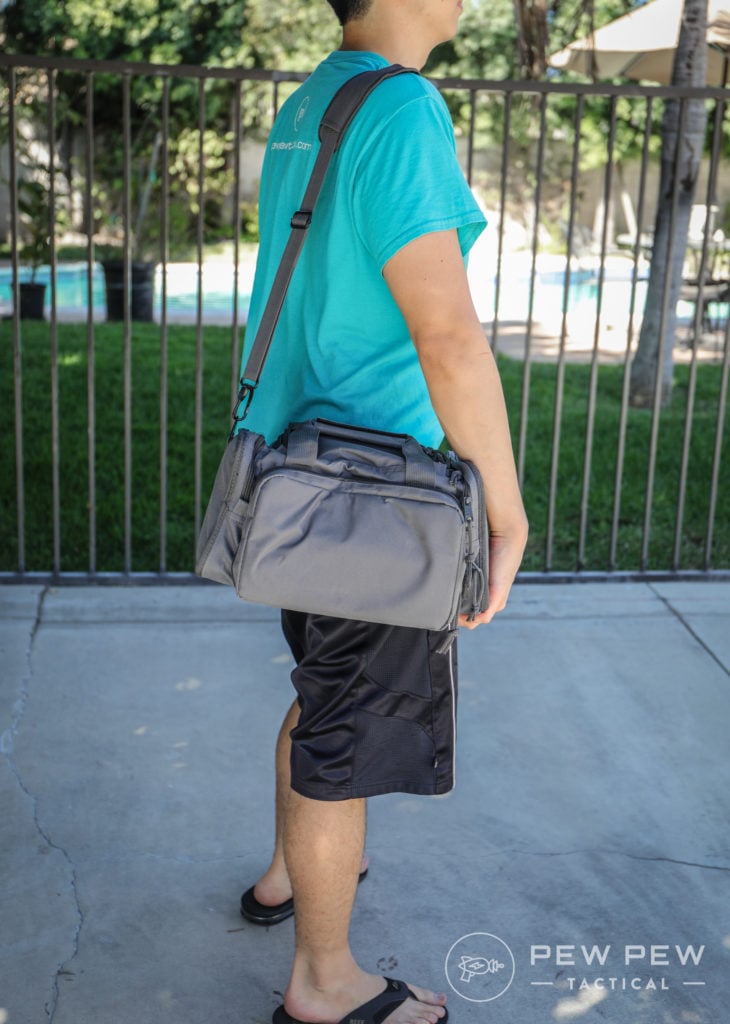 The Light Duty and Standard all come in four colors.
We've hooked it up for our readers to save 15% with code PEWPEW15.
The Standard size is a little bit larger at 18 x 13 x 10 inches. And the panels and zippers are also beefed up.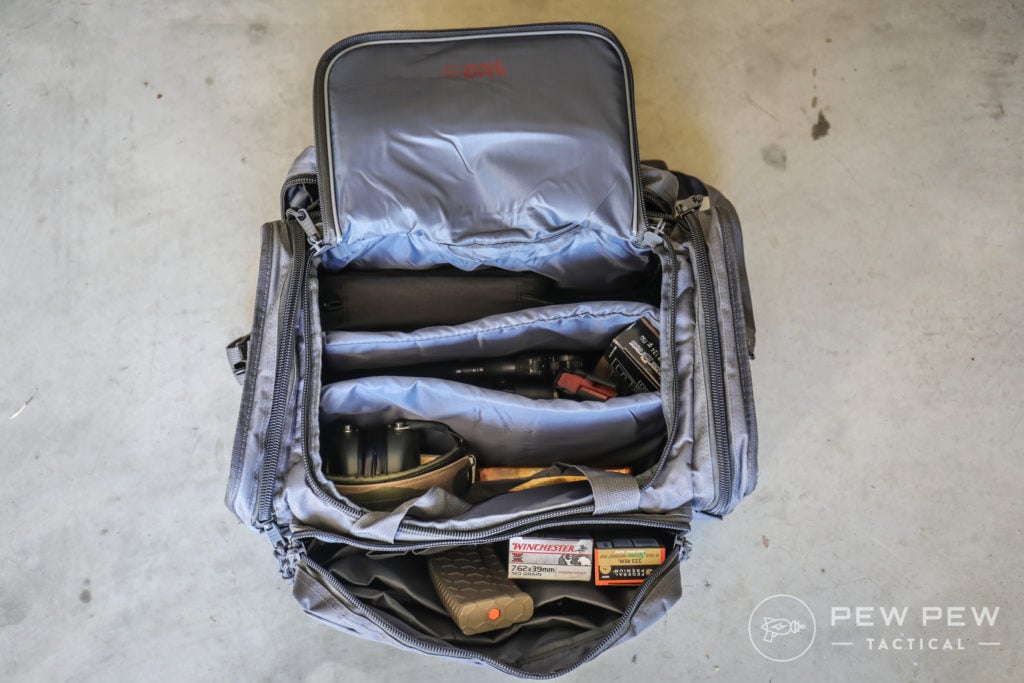 There are two partitions that you can move around in the main compartment. And now the large pockets on the outside have 7 handgun mag holsters each.
The one thing I'd wish for is to have rifle magazine holders too.
Standard is the size I'd recommend for most folks…especially if you're going to be shooting both long guns and handguns.
Here are all the bags for comparison again…Osage River are the two gray ones in front.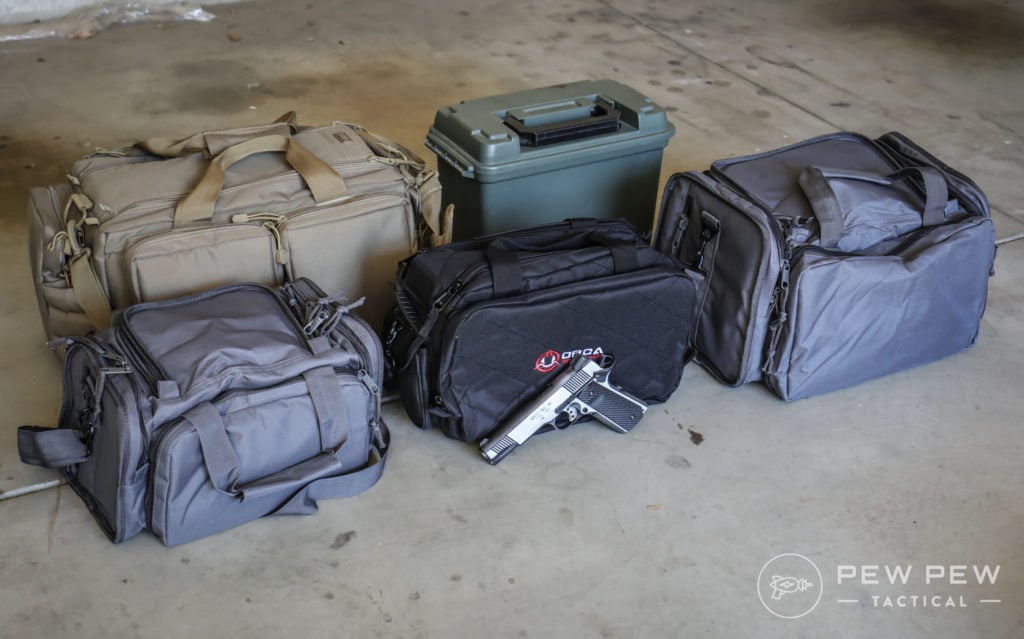 Shoulder straps are the same as the Light Duty. If you load this up to its full capacity…you're probably going to be using the handle straps instead.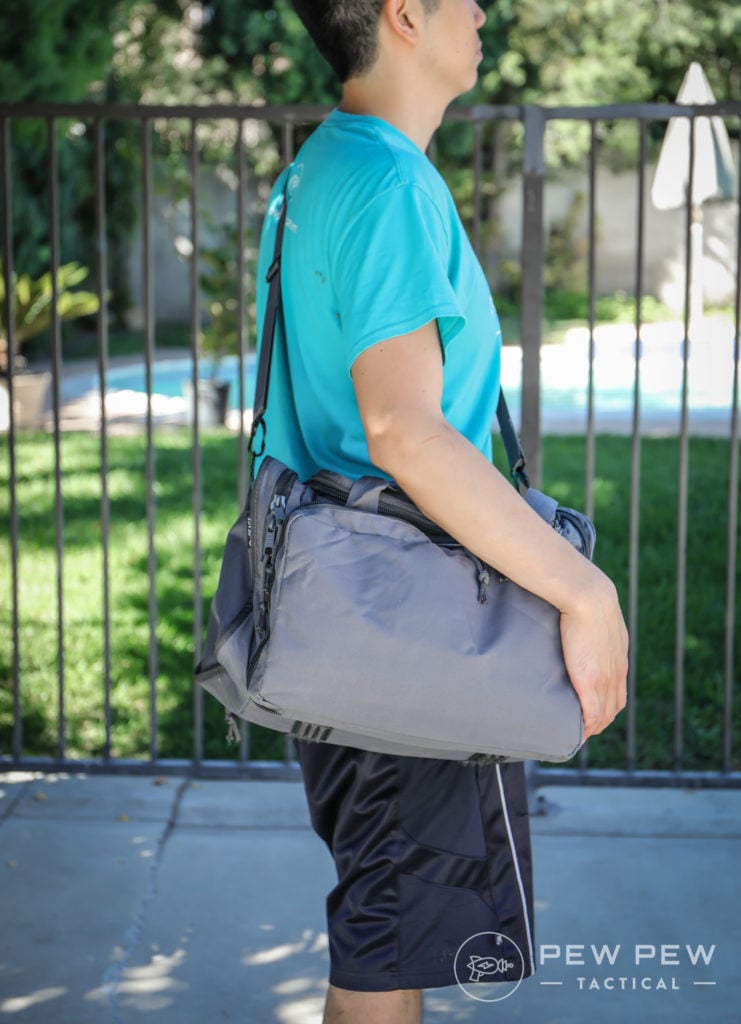 I can see how it's the best-selling bag out there. For the money, it's hard to beat…plus you get different sizes and color choices.
I'd opt for the Standard size unless you're sure you're only going to be shooting a handgun or two.
Also Great
55
at Amazon
Prices accurate at time of writing
Prices accurate at time of writing
One more time…PEWPEW15 coupon to save 15% off your bag direct from the source.
3. Orca Tactical Range Bag
Another very popular bag is the more premium Orca Tactical. I like the heavier-feeling material and cross-cut pattern.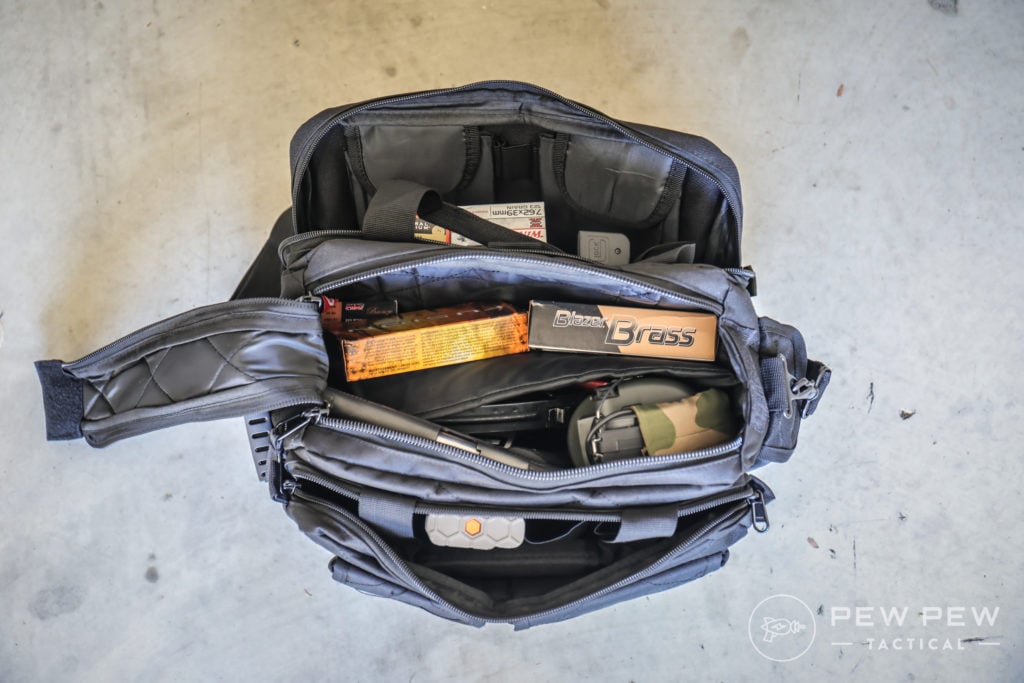 It's a Goldilocks size of being in between the Osage River Light and Standard range bags. Still plenty large if you're shooting multiple guns and bringing in some tools.
Another thing I really like about it is that it has 4x rifle and 6 pistol magazine slots. Finally!
Also has rubberized feet on the bottom.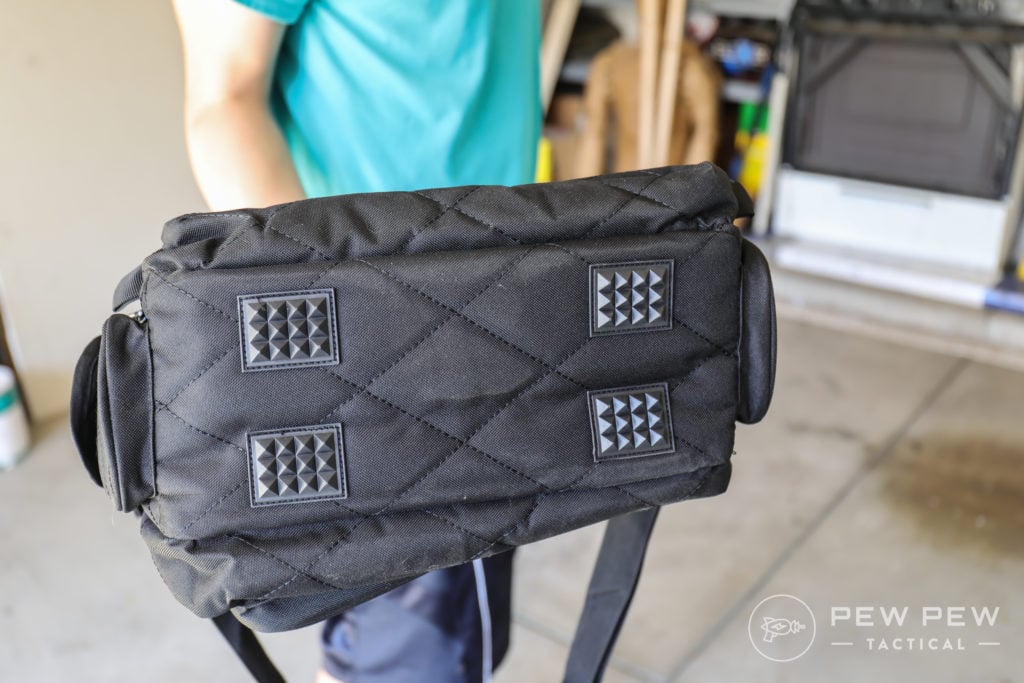 The interior compartment is also adjustable with Velcro, plus overall it feels more heavy-duty than the Osage River.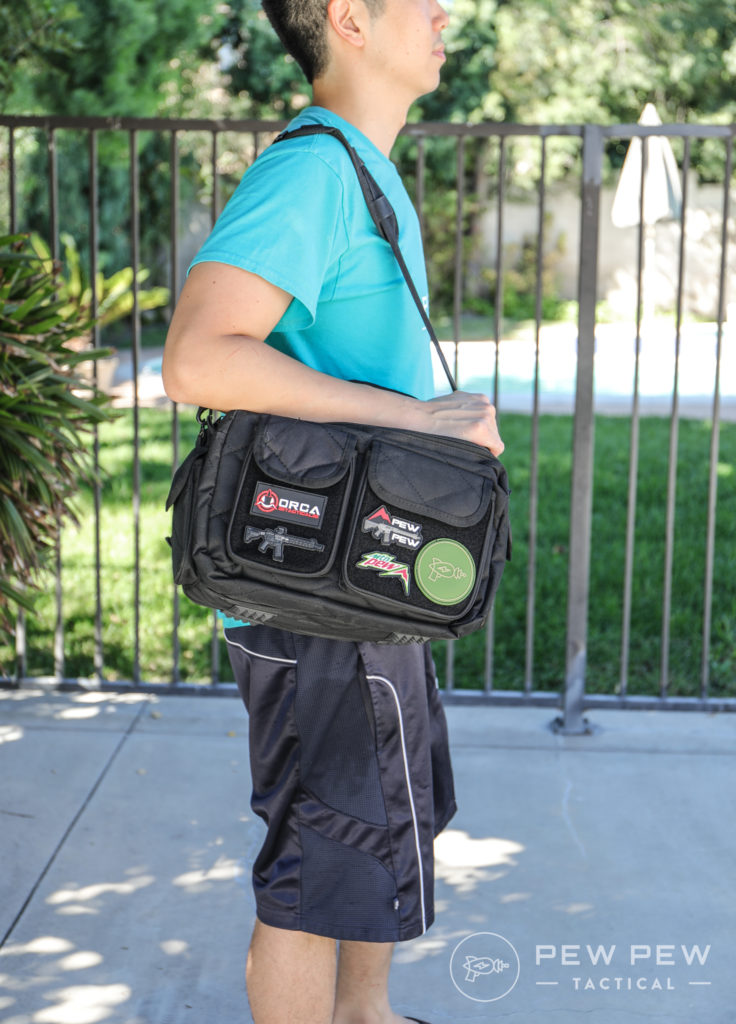 Shoulder strap is also comfier. Oh, and there's Velcro on one side for your patches!
My choice if you want something more heavy-duty feeling with more thought-out pockets and sides.
Also great
59
at Amazon
Prices accurate at time of writing
Prices accurate at time of writing
4. Ammo Can (.50 Caliber)
No list is complete with some ammo cans…the OG range bag!
I like the .50 Caliber Ammo Can size for hauling around ammo or heavier items.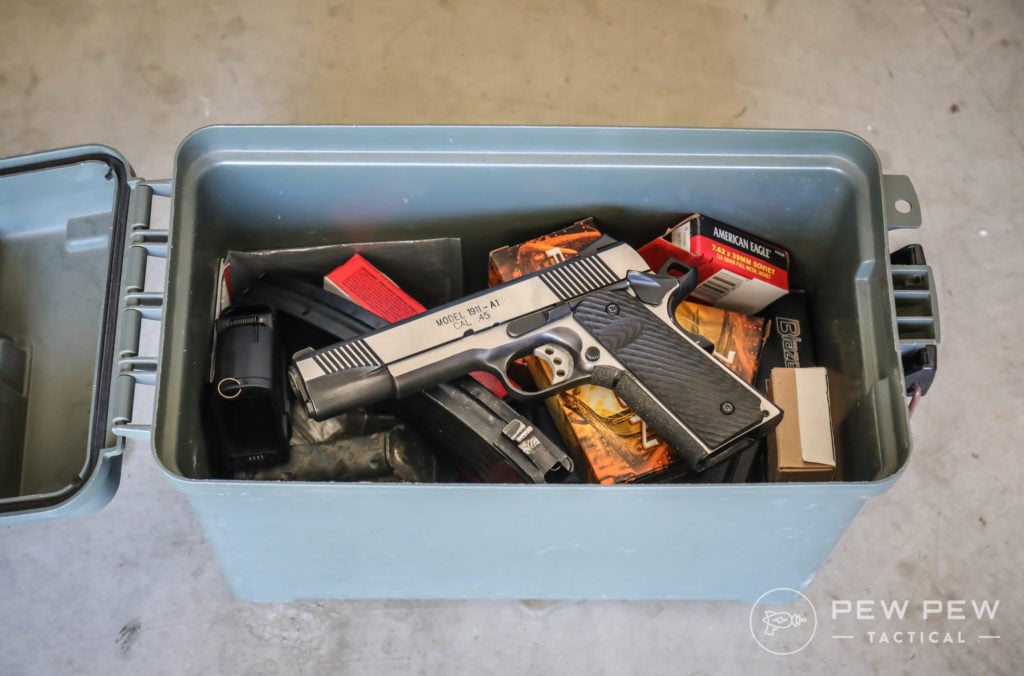 Plus, it can double as an impromptu shooting rest if needed.
If I'm shooting a lot of guns in a range session…I'll usually take a standard soft range bag with magazines, tools, and gear…and throw the heavy ammo in an ammo can.
Best Ammo Can
19
at Amazon
Prices accurate at time of writing
Prices accurate at time of writing
Ammo cans are also great for…storing ammo. For that, I like using .30 Caliber sized cans.
30
at Amazon
Prices accurate at time of writing
Prices accurate at time of writing
5. 5.11 Tactical Range Bag
5.11 is well known for making massive amounts of tactical gear.
The 5.11 Tactical Range Bag is no different.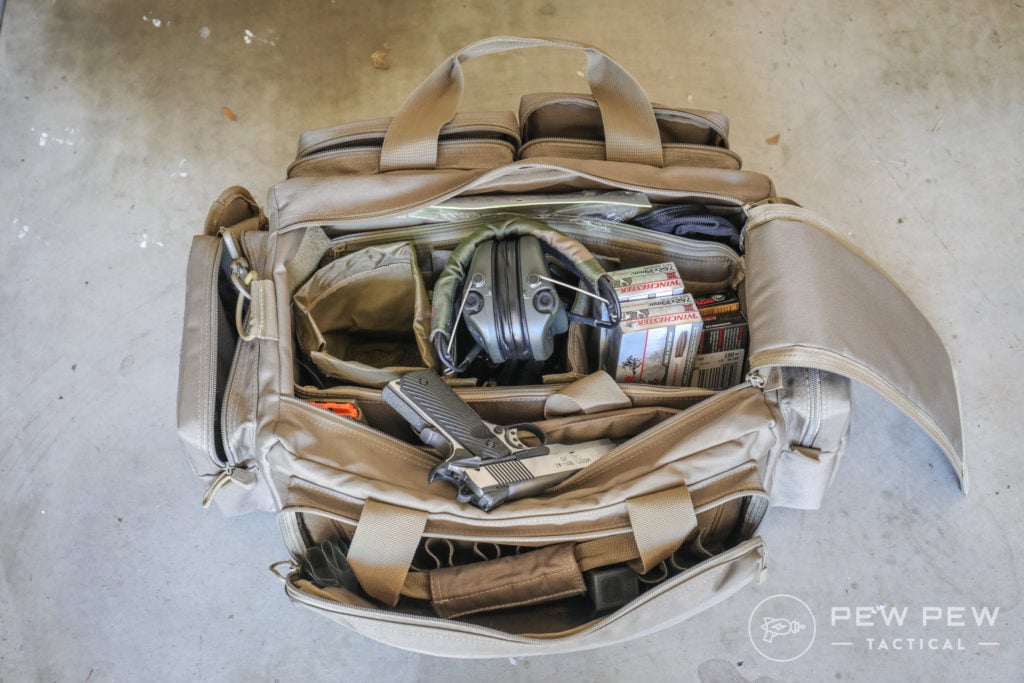 It's a big bag…capable of packing quite a bit of gear. It's also adaptable, and it certainly appears to have been built by shooters.
Excluding the main pouch, you get five pouches on the outside of the bag. The largest is outfitted with 8 pistol mag pouches that can hold 8 double stack mags or 16 single stack magazines. This main pouch zippers all the way down and forms an excellent little cleaning mat.
In the rear of this pouch is a divider, and it's the perfect space to store your handguns. The other 4 pouches are a little smaller but large enough to store ammo boxes, a set of full-on earmuffs, and other moderate-sized goodies.
There are also two removable sections inside for segmenting small items and a brass collection bag.
Usually, I have it so crammed full of stuff that I've taken off the shoulder straps…but they are there.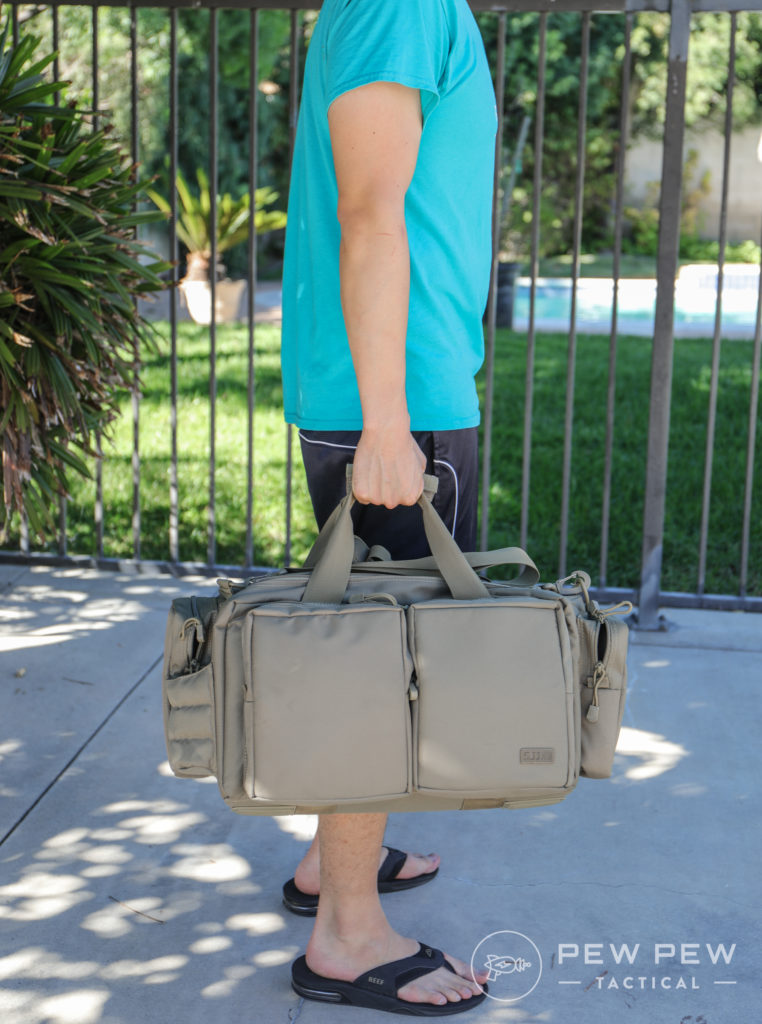 And, of course… there are some rubberized feet to protect the bottom.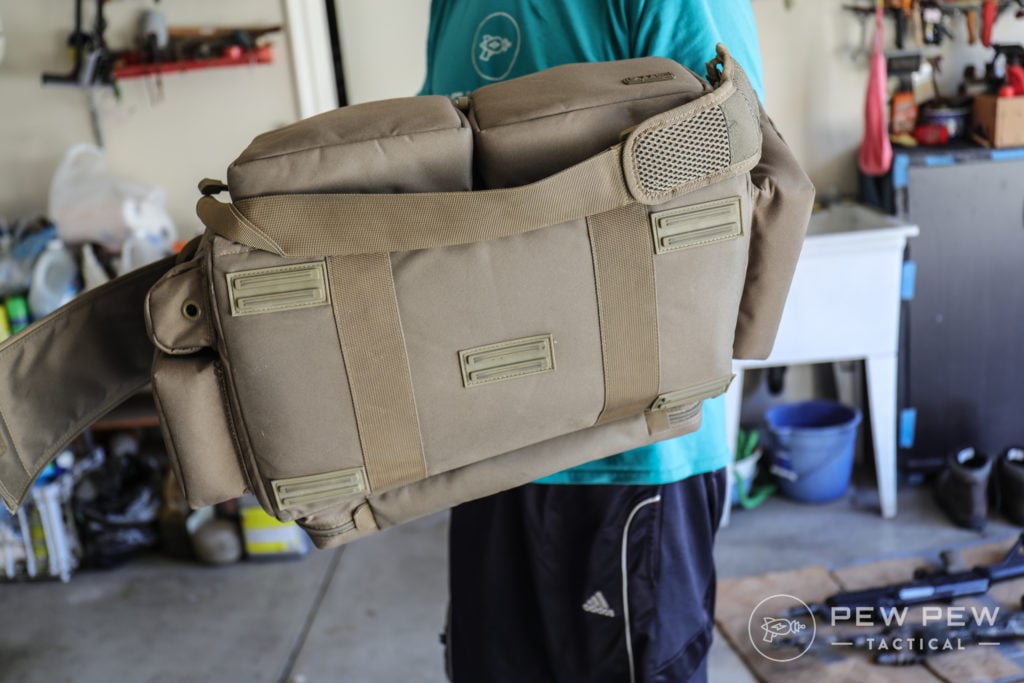 Overall quality is great…better than Osage, but not as robust feeling as Orca. Which is probably good since then it would weigh too much.
Right now, it's a perfect mix.
If you really carry a lot of stuff to the range like me…get the 5.11 and combo it with a utility wagon ($69).
Best Large Range Bag
115
at 5.11
Prices accurate at time of writing
Prices accurate at time of writing
6. Savior Equipment S.E.M.A. Mobile Arsenal Backpack
If you shoot pistols and need a way to tote a few to the range alongside other essentials, we suggest the Savior Equipment S.E.M.A. Mobile Arsenal backpack.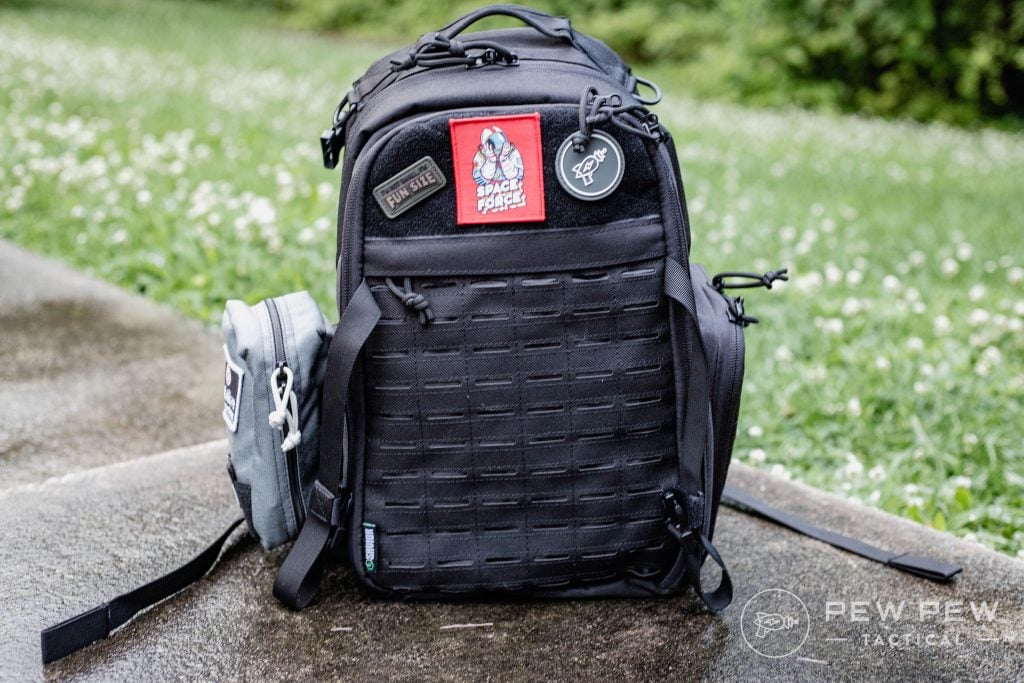 Divided into sections, the backpack provides an internal pocket that can support three pistol cases that ship with the backpack.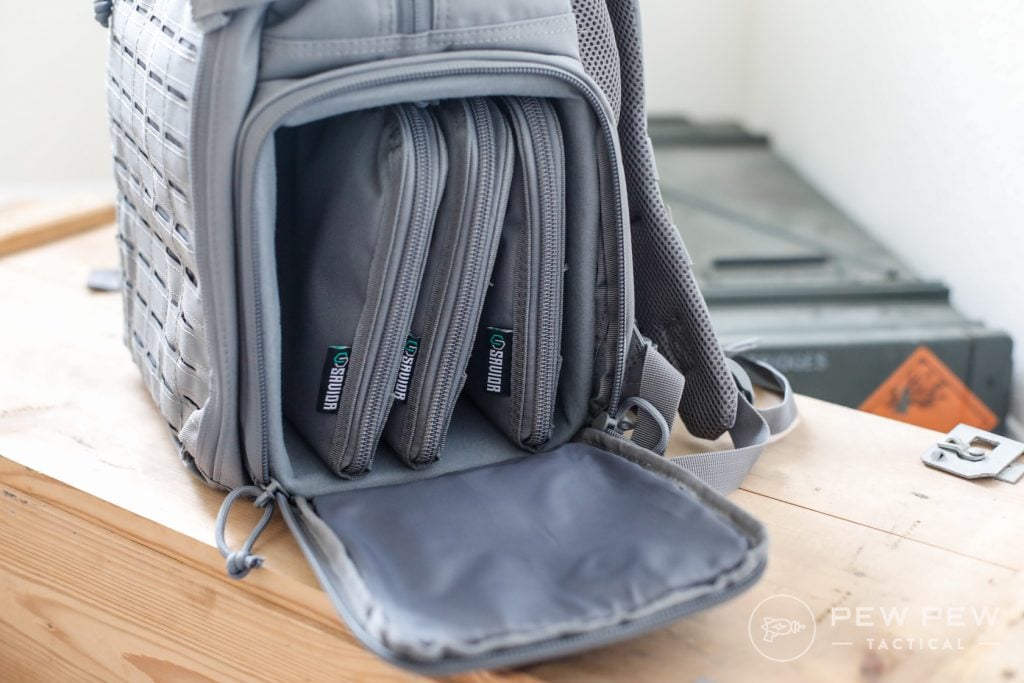 Up top, you get a nice pocket for ears, eyes, and ammo.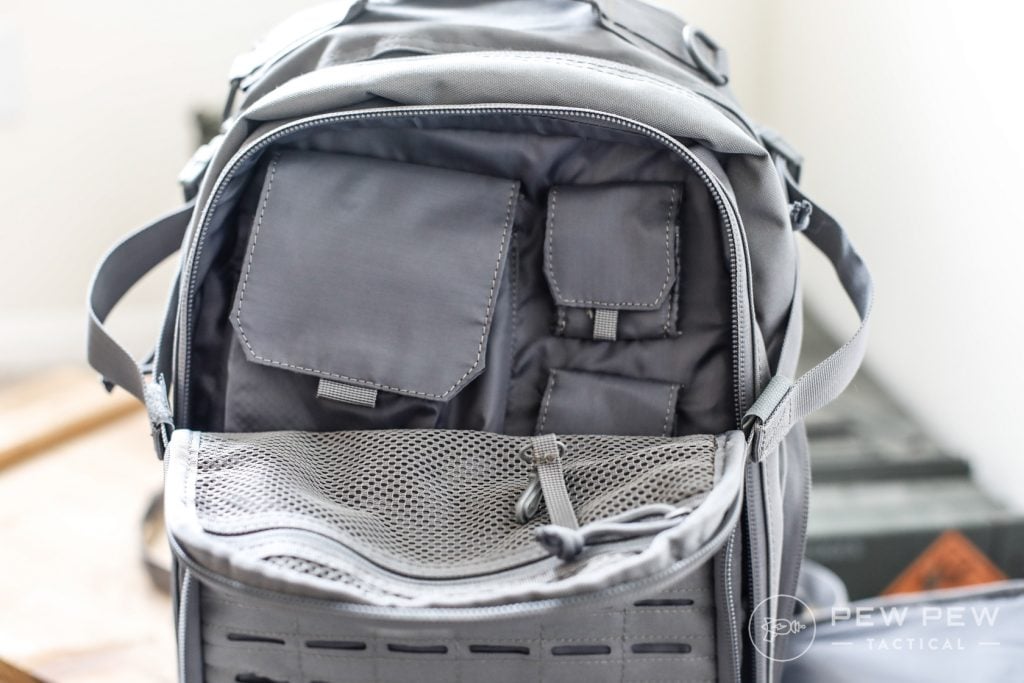 Rounding out the features, the bag comes with attachment points to add pouches and even a patch area to show your love for your favorite brands (ahem…Pew Pew Tactical pouches, anyone?)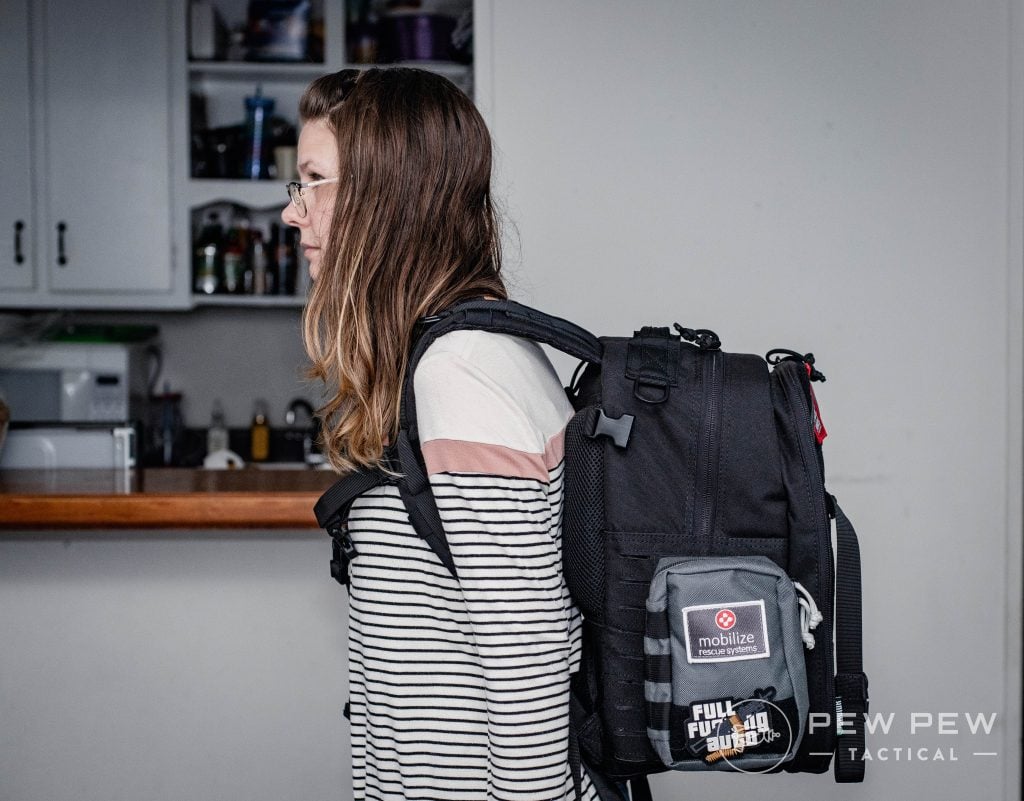 The S.E.M.A is a great option for shooters who like a good backpack and want to tote more than one pistol to the range.
Best Backpack
119
at Savior Equipment
Prices accurate at time of writing
Prices accurate at time of writing
Bagged and Tagged
There you have it…5 of our favorite range bags out there.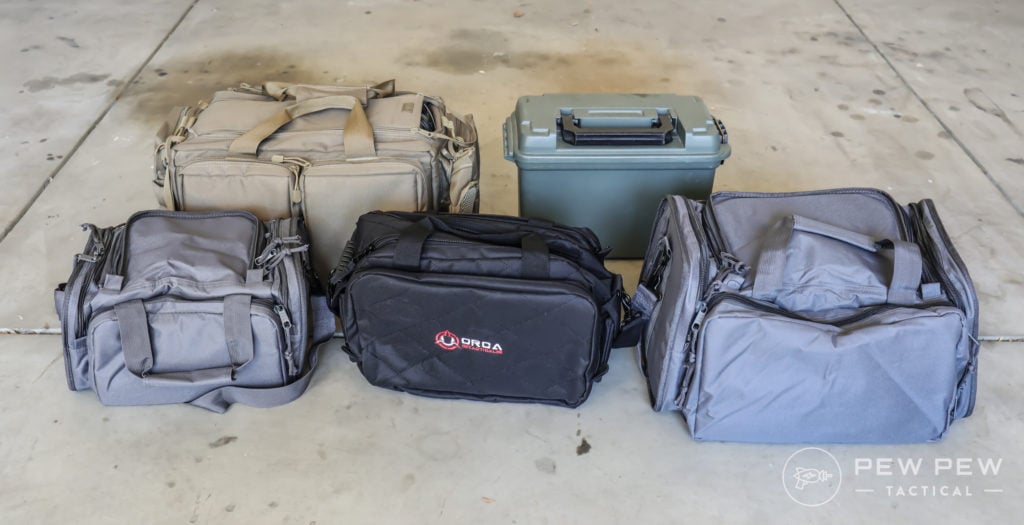 To sum it all up:
Now that you've gotten your range bag picked out…check out how to carry your guns in Best Pistol & Rifle Cases…or our favorite eyes and ears in Best Shooting Hearing Protection and Best Shooting Glasses.