Pistol-Caliber Carbines have absolutely exploded in popularity in the past several years, and I for one am Here. For. It.
PCCs offer the cheap, light-recoiling ammo off handguns with the shootability of rifles, all in a nice, easily-compacted package. They're great for self-defense, target shooting, training, competition, and even hunting in some cases.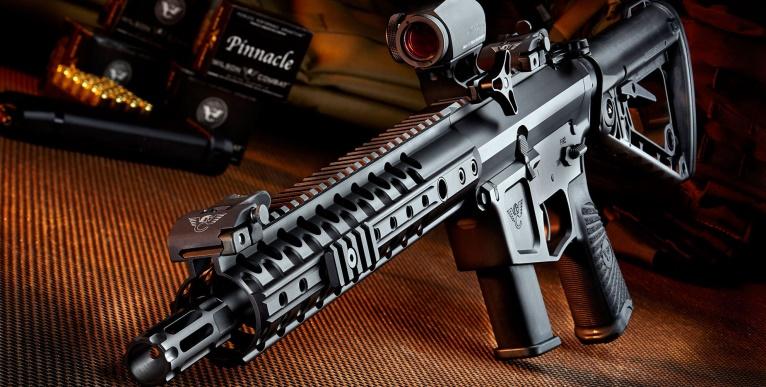 But as excellent as they are, we at Pew Pew Tactical have never met a gun we couldn't improve and make better, so we set out to find the best PCC barrels out there. There are… many.
Fortunately, we have a small addiction to the carbine life in this household, so testing a bunch of our favorite barrel-makers offerings was no hardship, and in fact, was a whole lot of fun.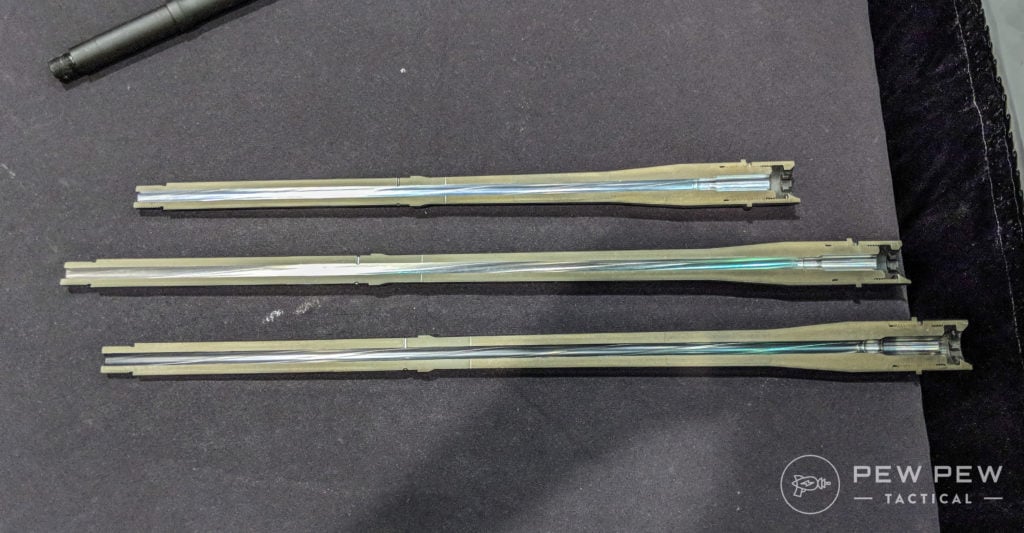 Here then are the barrels that we know to be the best of the best, most of which are currently in either a competition setup or a fun range toy sitting in our safe.
If you need a PCC barrel, one of these will surely be the right choice.
Choosing the Best PCC Barrel: What to Look For
There are a lot of pistol-caliber carbine barrels out there. Hypothetically, if I was putting together a list of all of the very best ones, I could perhaps be a bit annoyed at the sheer amount of choices out there.
Fortunately, there are some things to look for in a PCC barrel that can help narrow down the field quickly.
First and foremost, trust the experts. Buy from either established barrel-makers or big names in the PCC world.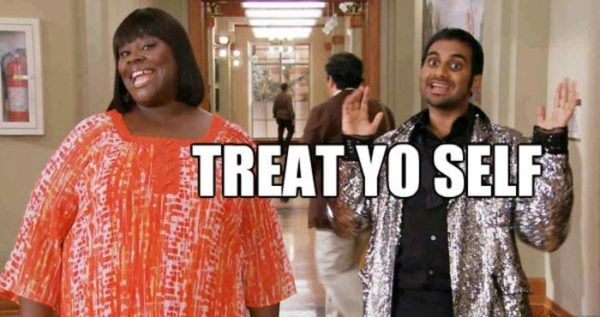 Sure, there are half a million shops out there making AR barrels these days, and many of them are very very good. Many of them are also very very bad.
Even amongst the good ones, experience tells, and there are plenty of general AR-part manufacturers that make good 5.56 barrels but terrible 9mm/.40/.45 barrels.
Next, we need steel on the harder side because any PCC is going to get shot, and shot, and shot some more.
359
at Bereli
Prices accurate at time of writing
Prices accurate at time of writing
Finally, accuracy is something we always strive for, but it's especially important in a PCC. These are guns that are almost always used for either home-defense or competition/target shooting, and neither of those scenarios is forgiving of misses.
So, what barrels meet our standards? Let's start with…
Best PCC Barrels
1. Foxtrot Mike Ultralight Barrel
Foxtrot Mike Products, also FM Products or just FMP, make some of the absolute best PCC parts, accessories, and complete firearms currently available, so it makes sense that their barrels wouldn't suck.
Their Ultralight barrels are perfect for a match-grade PCC for competition or home defense.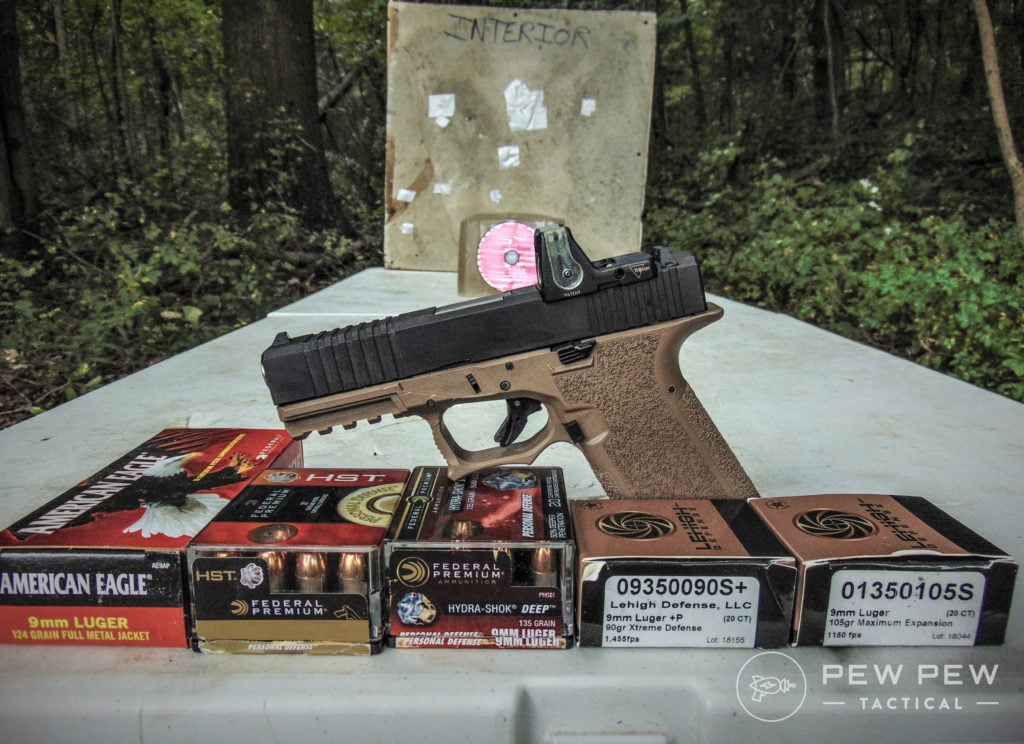 These are extremely accurate, and you can get them either with bare threads on the end or with FMP's excellent blast diffuser which will help direct some of the gas from these short barrels forward which will help you avoid that awful gas blowback that's so common with 9mm PCCs.
It'll also keep your range neighbors from wanting to strangle you, which is no small benefit as well. On top of that, you have multiple barrel lengths to choose from, and feed ramps that work with Colt or Glock style mags with equal aplomb.
85
at Brownells
Prices accurate at time of writing
Prices accurate at time of writing
Finally, the overall construction is 41V50 Chrome Moly Vanadium steel, which makes it a little bit more durable than other options, which translates into 2-3k more rounds before you need to change the barrel, which you likely will in a competition gun,
2. Faxon Light Taper Barrel
Faxon is one of the top barrel manufacturers, and their PCC barrels are incredibly popular with builders, which is perfect for our needs.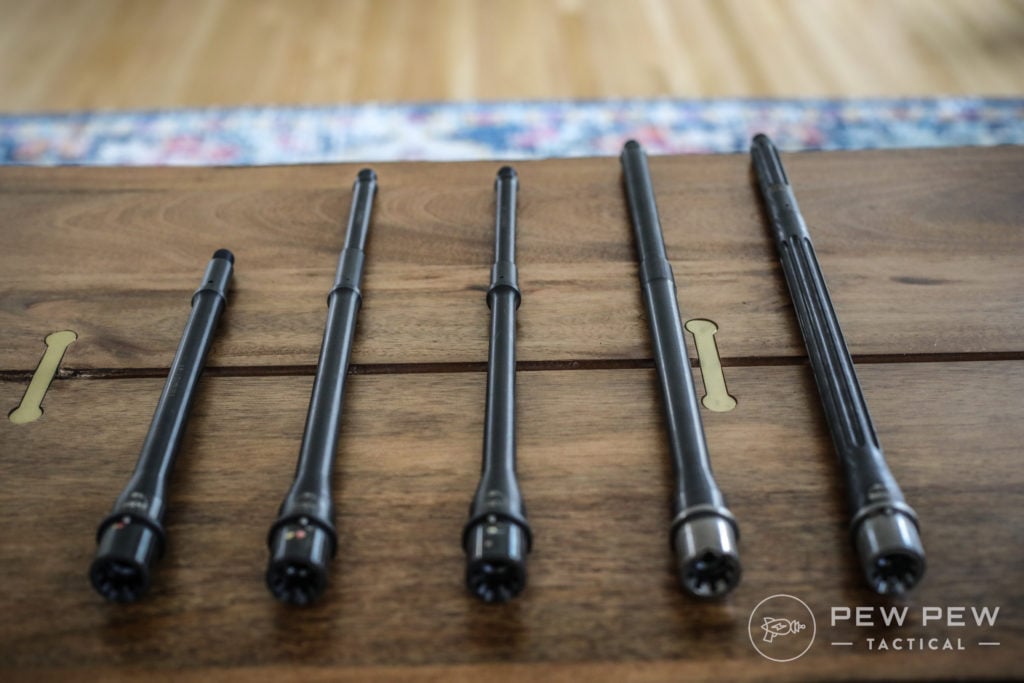 Their light taper barrels are geared towards competitors, but they can work well in just about any build unless you're experimenting with benchrest 9mm carbine shooting.
Which, whatever you do you, but if you're a normal person with normal PCC needs, Faxon has a barrel option for you.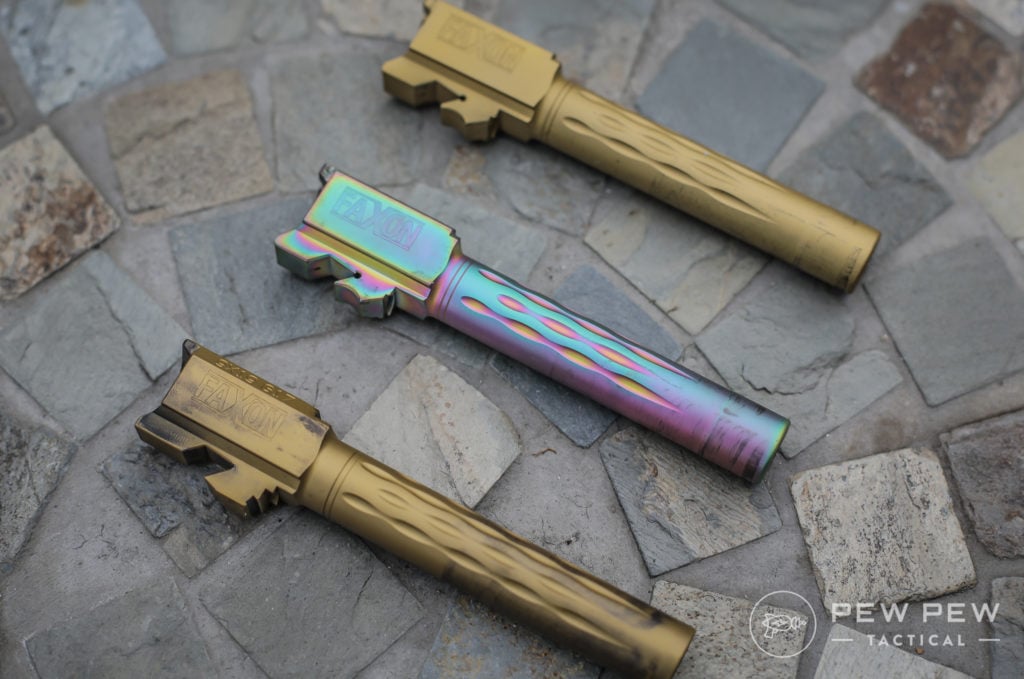 And they are excellent barrels.
They're made of 4150 steel and feature a 1:10" twist, feed ramps that work with Glock and Colt mags, and button rifling.
A huge range of various finishes available and the standard light tapering gives you excellent heat dissipation and weight savings.
Best Lightweight 9mm AR-9 Barrels
110
at Faxon Firearms
Prices accurate at time of writing
Prices accurate at time of writing
These aren't the most accurate barrels on the list, but they're certainly better than most.
If you're looking for a light, maneuverable PCC (of course you are) Faxon is a good place to start.
What's your take on the Faxon barrels?
3. Lead Star Arms Ultra Light Competition Barrel
Never heard of Lead Star Arms? Shame on you. If you have, you know they're one of the premier names in PCC barrels and other accessories, and they even sell complete rifles… all of which we absolutely love.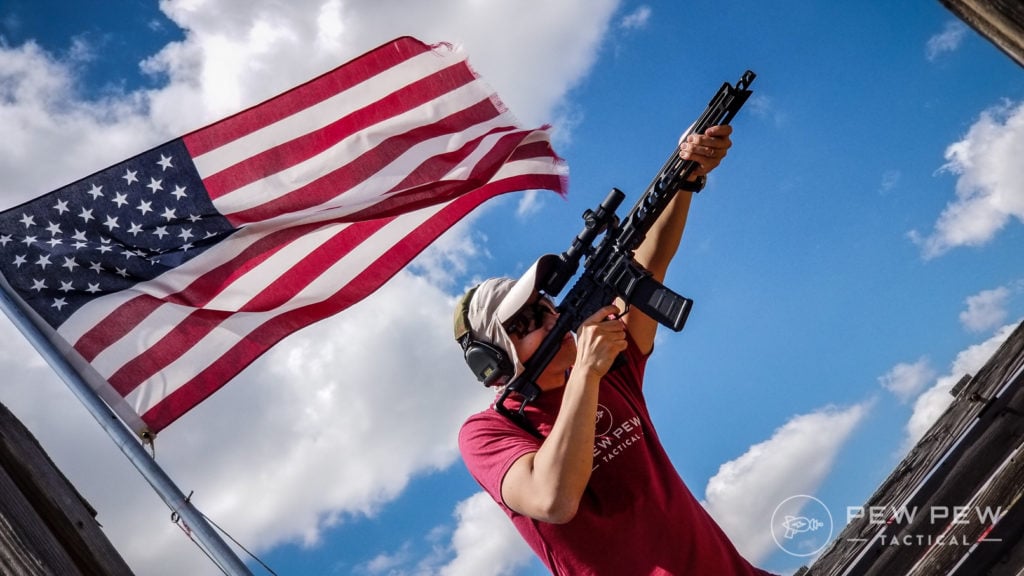 All of their PCC barrels are precision-machined from 416R stainless and coated with a black, Glock-esque finish to protect your investment from rust.
The 1:10 twist barrel isn't the lightest at almost 20oz, but it's still much lighter than a standard 5.56 barrel.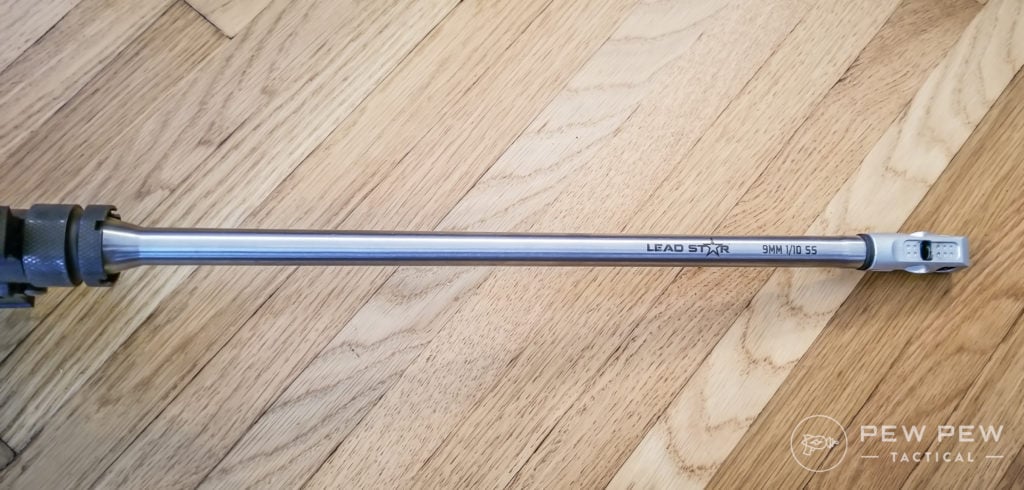 This is a good option if you want a little more weight forward on a build to help with shooting off a barricade or what have you.
In our testing, this was one of the more accurate barrels, and subjectively, it seemed to point extremely well in the carbine we had it in.
130
at Palmetto State Armory
Prices accurate at time of writing
Prices accurate at time of writing
These barrels are superbly balanced for the rapid transitions you'll see in almost every PCC competition, and they're pretty affordable as well. It's hard not to recommend them if you're looking for a good value option.
4. Rainier PCC Barrel
Rainier is mostly known as a retailer of high-end firearms and accessories, particularly AR-related stuff, but what many people don't realize is that they actually make some genuinely excellent barrels in house as well.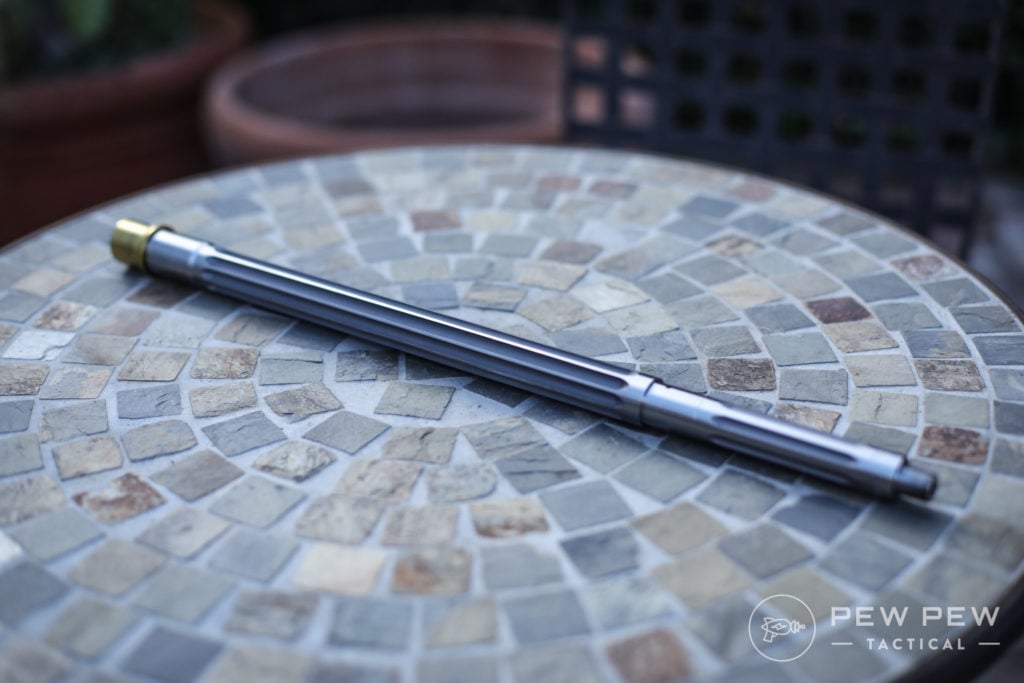 Their fluted Ultra Match offerings stood out as one of the most accurate options in our testing, and the Craftsmanship Guarantee Rainier backs these barrels with is second to none.
Basically, if you have a similarly-priced barrel and this barrel doesn't outperform it, you can send it back to them for a full refund.
Rainier is able to offer this guarantee because each and every one of their barrels are hand-finished in house by some truly gifted machinists, each one crowned and chambered by hand to ensure the tightest of match-grade tolerances for some of the best performance in the world.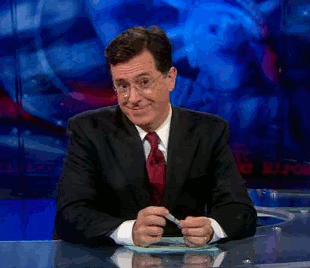 These are the barrels most of our PCCs are built with, and honestly, we have yet to have a complaint.
150
at Rainier Arms
Prices accurate at time of writing
Prices accurate at time of writing
You have three length options available, 16", 5", and 4", and the 16" and the 5" are both available with fluting for further weight savings, making even the 16" barrel surprisingly handy.
5. Ballistic Advantage 9mm Barrels
Ballistic Advantage is another barrel maker, and they specialize in match-grade options for competitors.
Their modern 9mm series of barrels are excellent lightweight options for turning a 5.56 AR into a 9mm AR.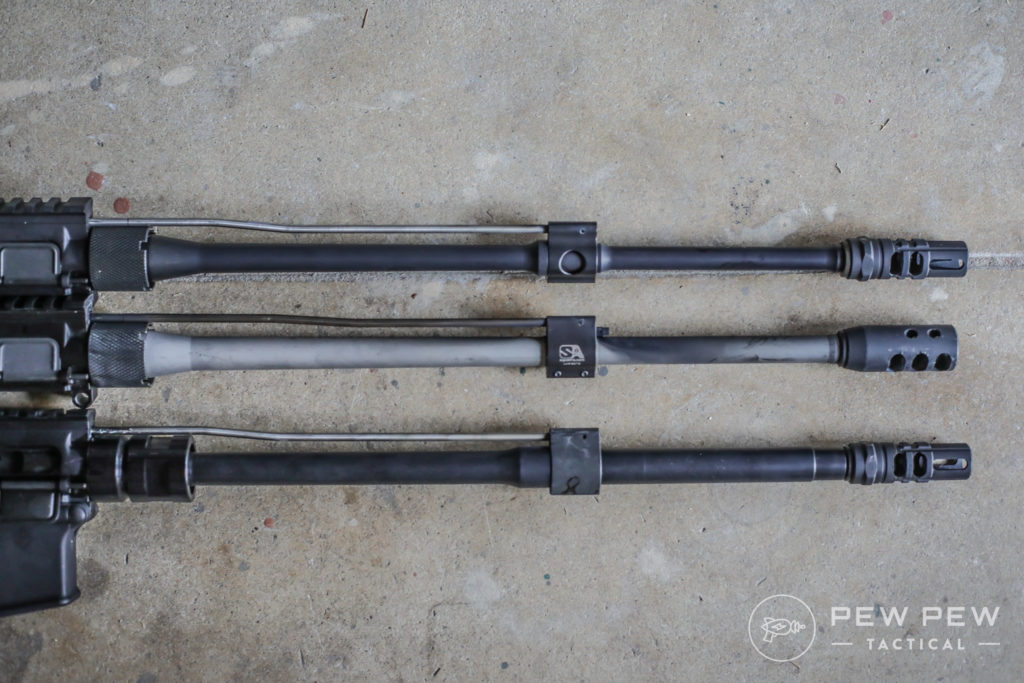 This series actually uses a near-identical external dimension to your standard AR barrel, making it a solid drop-in solution.
These are pencil profile barrels with a really excellent QPQ finish to prevent corrosion and scratching.
They do require either a dedicated Glock lower or a magwell conversion to be used for UZI-style mags, but other than that, this is the perfect barrel for anyone looking to get their 5.56 AR converted to a PCC.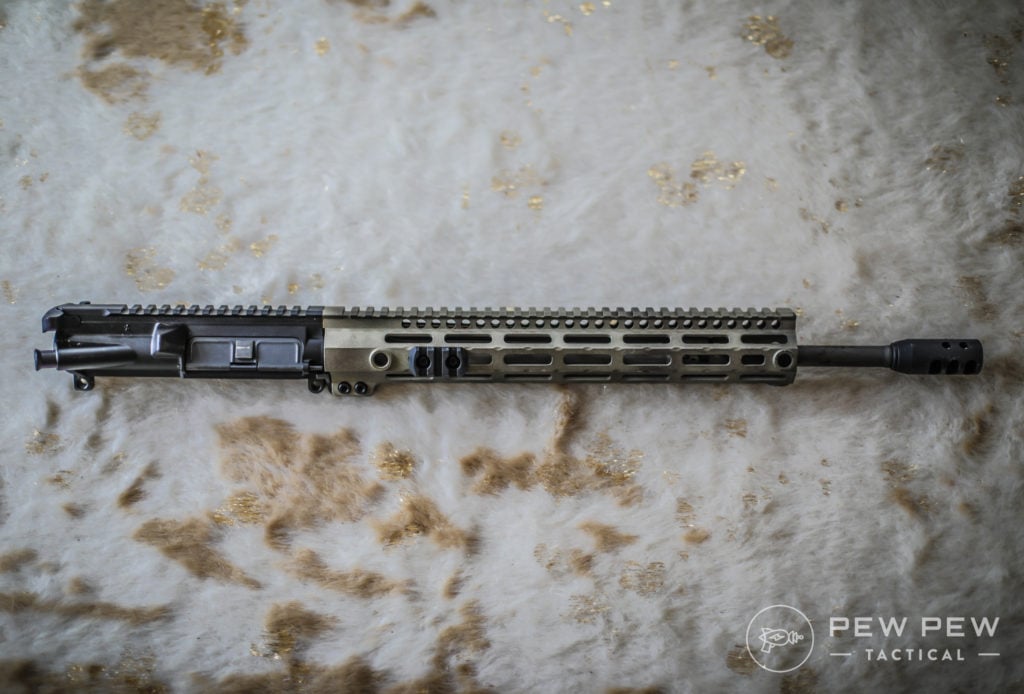 The steel is 4150 Chrome Moly Vanadium, making this an exceedingly durable option as well…perfect for a high-round-count competition gun, or a frequently abused range toy.
Finally, there's the accuracy.
BA offers a sub-MOA accuracy guarantee with match-grade ammo. If you don't get that, call them and they'll make it right, whether you need a new barrel, troubleshooting tips, or a refund.
I'm on my third BA barrel and not once have I had anything less than sub-MOA accuracy from the barrel and knowing that BA stands behind their product so staunchly gives me all the confidence in the world to recommend them.
Oh, and they aren't super pricey either, and they actually outperform some of the cheaper options out there.
135
at Ballistic Advantage
Prices accurate at time of writing
Prices accurate at time of writing
Plainly said, Ballistic advantage knows their stuff, and they stand behind their products forever and ever amen. What's not to love?
6. BSF PCC Barrel
Have you got a big budget for high-end PCC build? Looking to build the best possible pistol-caliber carbine competition gun to give yourself every advantage at your next USPSA match?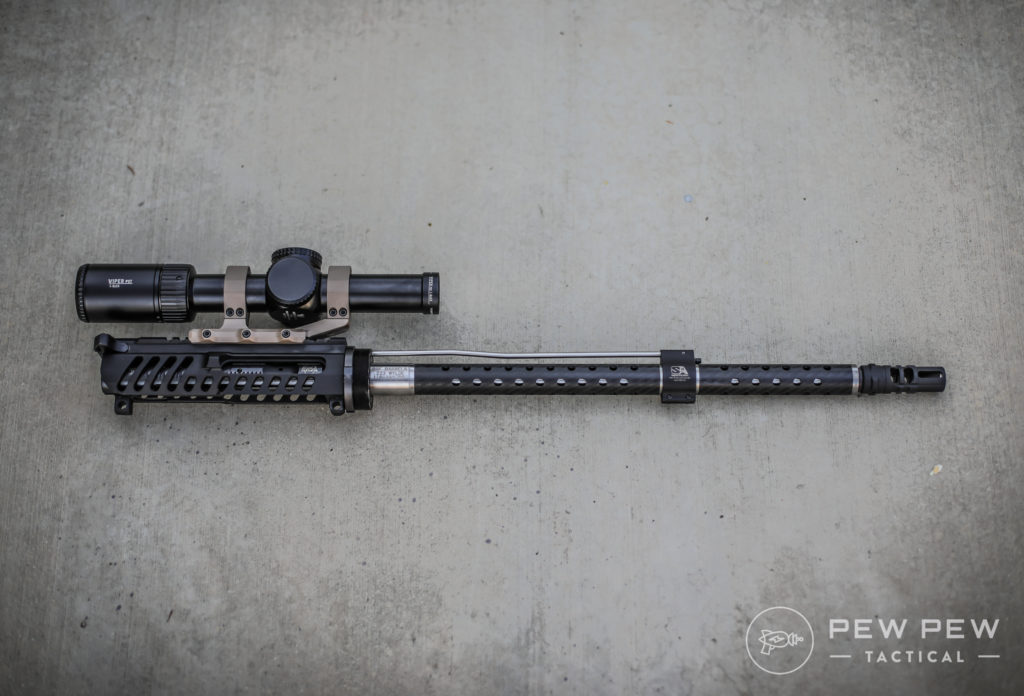 Or maybe you're looking to have the ultimate home-defense carbine to keep handy in case something goes bump in the night and you need to bump back?
You answered yes to any of these questions, you need a BSF pistol-caliber carbine barrel.
They are not cheap, but they are the most accurate of the PCC barrels we tested, and though you'll pay as much for this barrel as you will say, a complete upper from FMP, if you're a pro or you're looking for the best of the best, this is it.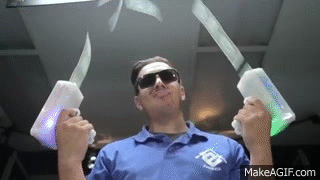 The barrel starts as a 416R stainless match-grade blank that BSF then uses a proprietary process to sleeve in carbon fiber.
The CF jacket is specifically designed to expand and contract at the same rate as the 416R steel core, so the jacket will basically never delaminate from the core.
This jacket keeps the barrel incredibly stiff, stiffer than a solid steel barrel in fact, but makes it almost 30% lighter.
330
at Rainier Arms
Prices accurate at time of writing
Prices accurate at time of writing
This material also sheds heat much better than steel does, so you get a barrel that will last thousands of rounds longer as well thanks to this improved heat dissipation.
In short, if you have $400 to spend on just a barrel and you need the absolute best of the best, look no further.
Parting Shots
And there you have it, all of the very best PCC barrels money can buy. If you're looking to build or upgrade your pistol-caliber carbine, these are the options we recommend looking at first and foremost.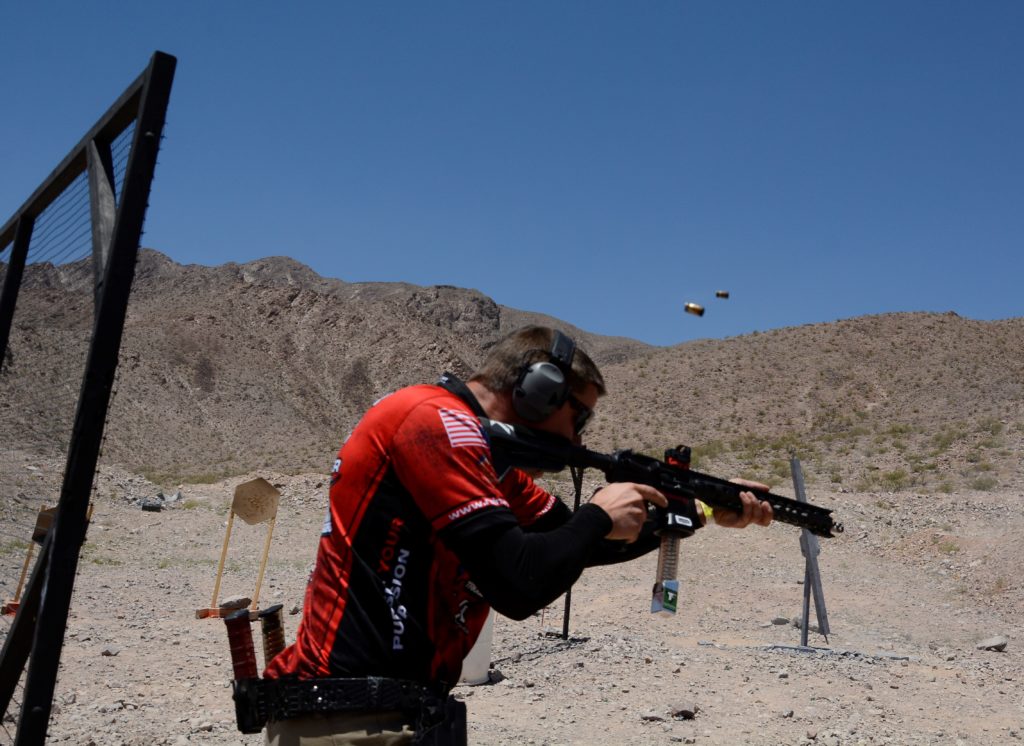 All of these manufacturers are excellent across the board as well, so if you need something a little different than the options here, be sure to check out their other offerings.
They may very well have what you're looking for if you didn't find it here.
Which of these PCC barrels is your favorite? Is there one that you think you might add to your build?