SHOT Show is done…
While there's quite a lot of new ARs, hunting rifles, target guns, competition guns, and guns for every other purpose and need, one of the most exciting genres will always be new carry guns.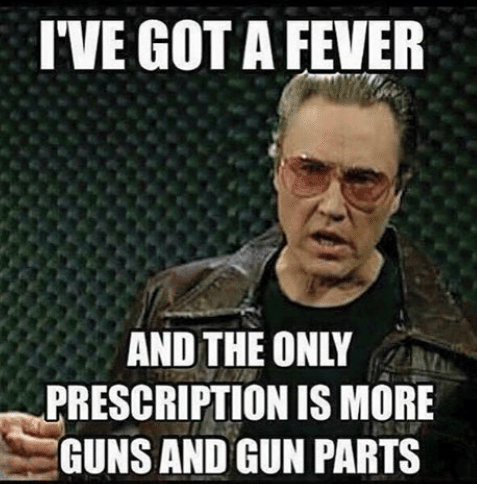 2018 is going to be an excellent year for those looking to pick-up their first carry piece, or for all my fellow gun-nuts that just need a few more options (always just ooooonnneee more, right folks?).
Here are some of the most exciting new compact carry options available this year.
Table of Contents
Loading...
Why These Guns?
You may notice all of these guns are from long-established giants in the firearms industry… and there's a reason for that.  These guns all have a heritage of reliability and performance.
That's not to say there aren't a number of excellent CCW options out there from other companies.  I'd heartily recommend Kahr, Canik, CZ, and several others, but for industry support you won't be able to beat the guns on this list.
I've also left out revolvers like the Charter Arms Bulldog XL and the new Kimber K6s ($850) because most folks are carrying semi-autos these days.
And…this is a list of new guns.  If you want to see our evergreen list…check out Best Concealed Carry Guns which is organized by caliber.
With that out of the way, let's take a look at the guns.
1. Sig Sauer P365
The belle of the ball for SHOT Show 2018.  Ask anyone what was the top 3 coolest new things that came out during the show and I bet almost 100% will list the P365 in their list.
AND…it's already available for pre-order.
499
at Brownells
Prices accurate at time of writing
Prices accurate at time of writing
10+1 capacity in a micro-compact configuration thanks to a new double-stacked magazine.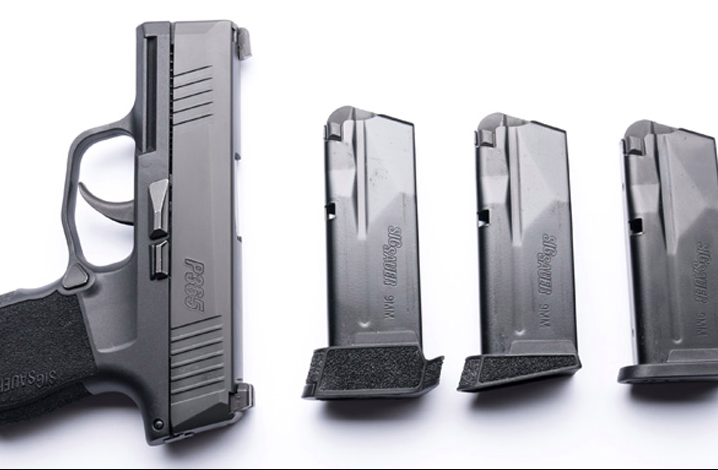 Also three different "lengths" of the magazine to fit any sized mitts.
Standard 10 round magazine
Extended 10 round magazine
12-round magazine
I especially liked how the standard 10 magazine fit my three lower fingers.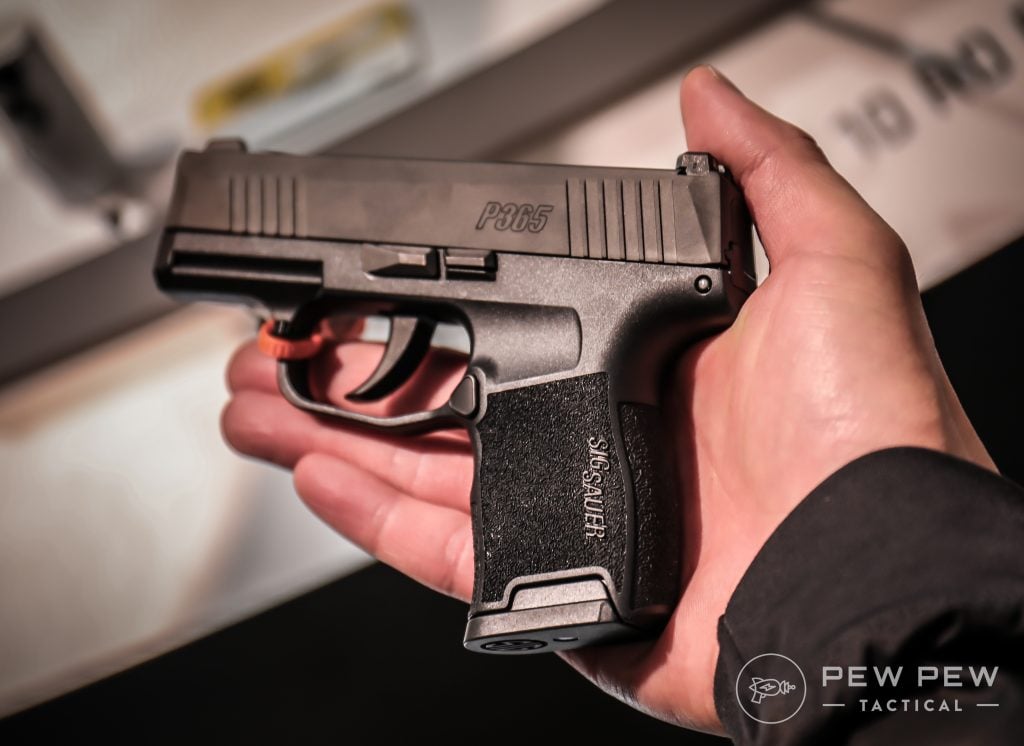 And for people with bigger hands…the extended 10 round and the 12 round will be sure to fit.
I was at the booth for around 10 minutes and everyone that came over loved the fit (great traction on the grip) and very decent striker trigger.
Stay tuned for an in-depth review coming soon.
2. GLOCK 19 Gen 5
539
at Palmetto State Armory
Prices accurate at time of writing
Prices accurate at time of writing
First up is a gun that was actually released in 2017, but one that will no-doubt have a strong showing this year, and  in the years to come.
The GLOCK 19 is, in many ways, the standard to which all other CCW pistols are judged.  The Gen 4 19 was one of the most popular carry guns the world over, and still sees good sale numbers, even though it's no longer being made.
The Gen 5 19 comes with a full 20 upgrades from its Gen 4 predecessor, including a GLOCK Marksman barrel, flared magwell to facilitate faster reloads, a more robust finish, and ambidextrous slide stops (left-handers rejoice).
GLOCK also did away with the much-maligned finger grooves from the Gen 4 version, which is a decision I wholeheartedly endorse as someone who's fingers just don't line up with Gaston's vision on the ideal human.
Overall, you couldn't ask for better aftermarket support than what you'll find for GLOCK products, and you're getting a gun from a company that is the first and last word in reliability.
This thing was mentioned by almost every one of our writers when we asked for their go-to carry pieces, and its a gun I've trusted my life to, and actually defended my life with.  It's hard to come up with a higher recommendation than that.
What's not to love?
The G19 made our list of great GLOCKs–see what else did!
3. Ruger Security 9
Well, the price, for one. With even the older Gen 4 19s going for $550+ when not on sale, its difficult to recommend the new 19 to the cash-strapped among us.
Worry not, the Ruger Security 9 is here to fill the GLOCK 19-shaped hole in your heart without making a hole in your wallet.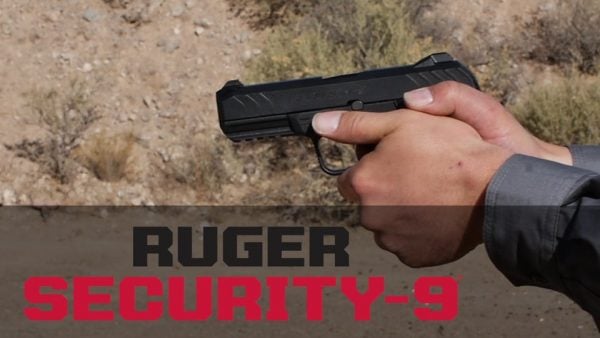 The new Security 9 is virtually the same size as the 19 in every direction, and even has a fairly similar grip angle.  It also comes in the same 15+1 capacity as the 19.
It comes with the same mild grip texturing as the LCP II, and is in almost every way a budget version of the GLOCK 19, aside from being hammer-fired.
It also has one of, if not the absolute best, factory triggers in this price range.  I'd be comfortable calling this trigger good in a gun that cost twice as much as the Security 9. 
My only real niggles are the sights which are a similar ball-and-bucket, U dot affair… just like factory GLOCK sights, which I also don't love.  It also comes with a thumb safety which is aggressively unnecessary in my opinion, but I'm a long-time GLOCK guy.  
I'm sure you dirty, filthy 1911 people will just loooove having it. (ED note: 1911s are awesome, Matt is just grumpy cause he can't shoot them for shit).
Beyond that, the slide rails are aluminum, which should only be a problem if you're a high-volume shooter.  I put 400ish rounds through the Security 9 I borrowed without any noticeable issue, but you may want to check your rails for wear after a while, and be sure to keep everything clean and lubed to get the most life out of your gun.
This is definitely something to be aware of if you're shooting something like IDPA or other competition, but other than that it shouldn't be a huge problem in a carry piece, just an extra thing to check when cleaning.
The big thing with the Security 9 is of course the one area that it thoroughly kicks the GLOCK 19's ass: price.
I have seen, on numerous occasions, a brand new Security 9 on sale for less than $300.  That's about 50% of what you'll pay for a new Gen 5 19 at your local gun store.  I think the lowest I've seen it go for was maybe $275.
That's right.  For the low price of 2 ⅔ Highpoints, or about the same as a surplus Mosin, you can have a solid shooting, accurate, near carbon copy of the best all-around carry gun ever.  That's hard to argue with.
Overall, I'd highly recommend this for those who are looking for a first carry piece and landed on "I'll buy a GLOCK 19 when I have the money."  The Security 9 is a great entry into the world of carrying a firearm, and its size and affordability mean it's perfect for those looking to start carrying for the first time.
It has a very forgiving form factor for concealment, while still remaining large enough that it's easy to shoot.  Comparing it directly to a GLOCK 19 again, recoil is a little bit stiffer because of the lighter recoil spring, but it's also easier to rack the slide because of this, which would make it good for shooters that don't quite have the strength to work a slide as well as they'd like.
My mother has arthritis and is generally a bit on the smaller side and she much preferred the Security 9 to my 19, even with my tuned springs, so that's something to think about as well.
4. Springfield Armory XD-E .45ACP
470
at Brownells
Prices accurate at time of writing
Prices accurate at time of writing
Early last year, Springfield Armory released the XD-E in 9mm, and it was met with a lot of good press.  I personally loved my time with the 9mm version so like many of my colleagues in the industry, I perked up when Springfield Armory released the .45 ACP version last November.
The XD-E in 9mm is an imminently shootable little gun, and the same can be said for the .45 ACP version.  Its dual-spring recoil system makes for a soft shooting .45, and its Low Effort Slide means that like the Security 9 above, it's great for shooters without the hand strength to work stiffer slides.
If you're looking for a hammer-fired carry piece, I'd strongly recommend the XD-E series.  Springfield Armory put a lot of effort into making the hammer on the XD-E series as ergonomic and easy to work as possible, with an aggressive texture and a shape designed to facilitate solid contact in any conditions, the likelihood of fumble-fingering the hammer even in a high-stress defensive situation is relatively low.
It's this commitment to making a gun that is imminently usable in a defensive situation that I like.  It's already a sturdy, reliable weapons platform, and according to the folks at The Firearm Blog, the .45ACP chambering option is a direct response to customer feedback saying they'd like the additional stopping power of the .45ACP in the same form factor as the 9mm version.
"Our customer told us they'd like the fight-stopping power of a .45 ACP, with the easy carry of our XD-E Series," says Springfield Armory CEO Dennis Reese. "The new XD-E .45 gives them exactly what they asked for: a no-compromise .45 weapon that forges quickness and control into a pistol so comfortable against their body they'll carry it everywhere."
I, personally, would absolutely carry the XD-E, even given my short time on the trigger.  I've heard not one word of complaint regarding reliability, and I was able to put a full magazine in one ragged hole at both 7 and 15 yards, even with the combat rear sight and relatively short sight radius.
 If I was going to carry a hammer-fired .45 ACP firearm, the XD-E would almost certainly win my vote, especially with my relative lack of ability with 1911's. (ED: See?)
Don't get me wrong, I love a 1911, and I compete with a 2011 which is obviously similar, but something about my hand on a single-stack 1911 just doesn't work as well as it does with other guns.  
I can still produce good groups with a 1911, but I have to work harder at it, and they don't point as instinctively for me as say, a GLOCK-shaped GLOCK.  For that reason, I will gladly shoot them, and compete with them, and even carry them if I have no other options available, but I wouldn't actively choose to carry one over say, a .45 ACP GLOCK.
With the XD-E though, my groups were as effortlessly tight as with even the GLOCK 34 that is my other competition pistol, granted I didn't stretch the XD-E's shorter sight radius out to longer distances like I would with either my 2011 or my GLOCK.  But it's a carry piece.
And normally, I'd say I'd want a striker-fired .45 ACP over a hammer-fired one, even with a DA/SA trigger (modern defensive ammo is almost certainly not going to misfire because of a hard primer, so the double-action capability is less of a selling point these days when it comes to worrying about light strikes.)
The XD-E's hammer is a beautiful blend of form and function though and it is truly a joy to use, and it makes for an even lighter slide rack, which is great for some shooters, and makes the prospect of chambering a round one-handed in an emergency a much less worrisome prospect.
Of course, that's beyond the fact that if you're racking the slide one-handed in an emergency, something has already gone wrong somewhere.
5. Smith and Wesson M&P9C 2.0
439
at Primary Arms
Prices accurate at time of writing
Prices accurate at time of writing
I've already discussed my deep and abiding fondness for my GLOCKs, and so it'd be perfectly understandable for you to think that I hold no fondness in my heart for the M&P series from Smith and Wesson.
You'd be absolutely correct in fact.  I know people like Jerry Miculek swear by (and are sponsored by) Smith and Wesson, particularly the M&P series, but I have always greeted the M&P series with a resounding "meh" when it comes to both competition and carry.
The grip is aggressively mediocre, the gun is widely unintuitive to point, and its generally regarded as an exquisitely functional gun with shockingly lack-luster ergonomics.
The M&P 2.0 Series, is a horse of a completely different color.
Granted, I have undoubtedly ruined myself when it comes to grip angles because I've mangled my hands into thinking that GLOCK's weird grip angle is normal, but I absolutely loved the way the M&P9c 2.0 felt in my hand.  
The texturing is extremely grippy without feeling like you're holding onto a cheese grater with a taste for human flesh, the grip angle just…works.  It feels like you're holding a gun designed by actual humans with human-shaped hands who wanted other humans to successfully shoot their pistol.
Overall, I'd say if you have no bias towards grip angle, or want to start with a gun that won't give you a bias, unlike what many GLOCK and 1911 shooter's do, I'd definitely say give the M&P9c a shot (pun absolutely intended).
The guns relatively lower bore axis and stellar geometry also makes for a phenomenally soft-shooting gun that really shines on the double-tap and rapid fire.  A lower bore axis means less vertical muzzle flip, and thus and easier time keeping your sights on the target.  A job made even easier by the 2.0 Series' combat-style three dot sights.
I also appreciate the fact that S&W offers the gun both with and without an external safety.  Thumb safeties on a carry gun are largely a matter of preference, and its good to see both options available.  The best gun to carry is the gun you're most confident in carrying, and I hold no grudge against those who like a thumb safety, even if I eschew them on all my guns.
Finally, we have to talk about the trigger.  The original M&P trigger was…not great, as I'm sure most of you have heard.  For the most part, I'd say the 2.0 series addresses most of the complaints leveled at the original, but as others have noted, the curve of the trigger shoe is a little bit too…curved.
I'd thoroughly appreciate a less extreme curve to the trigger face, but I like nice flat go pedals on my guns, like the ones in my upgraded Buckmark.  I just couldn't get my finger completely comfortable on the trigger in the M&P9C 2.0, but that's absolutely something that can be solved either with training, or an aftermarket upgrade.
Parting Shots
These guns are all relatively new to market, but have already made a big splash.  If you're looking to upgrade your carry, or start carrying for the first time this year, these are the options I'd look at first if you're seeking something in the compact size range.
Which of these carry options do you like the most?  Is there an option you think I should have included?  Let me know in the comments below.  These were the new guns…how about overall our Best Concealed Carry Guns: By Caliber?