Who doesn't love Magpul?
Over the last 20 years, Magpul has earned rockstar status in the tactical community for manufacturing high-quality magazines and rifle accessories that are built to last.
Want to customize your standard factory rifle into something a little more "you?"
Check out Magpul—their products have been adopted by American military forces, police organizations, NATO, and millions of gun enthusiasts worldwide.
And trust me, you'll keep coming back for the PMAGs. Just ask my wallet.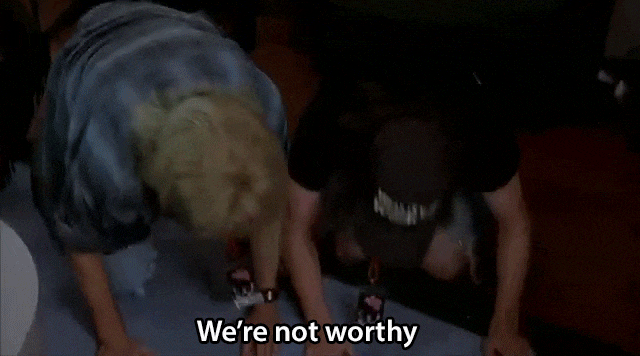 Today, we are all about the PMAG. Have questions about the different generations, calibers, and platforms? Want the 411 from someone with hands-on experience?
This article is for you.
If you're new to firearms (welcome!), you may find this topic a bit overwhelming. After all, there is so much to learn and so many wonderful products to try!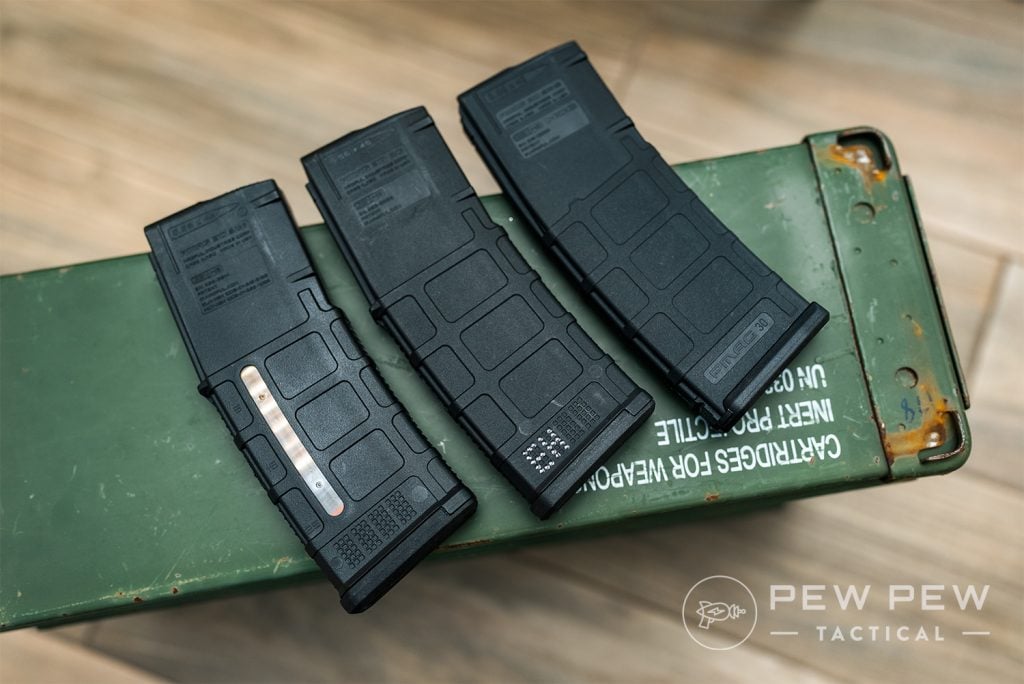 Don't worry. I've got your back. By the time we're done, you'll understand why Magpul reigns supreme in the world of magazines.
How Magpul Started
Magpul's origin story is as American as the 4th of July:
In 1997, Marine Sergeant Richard Fitzpatrick (Semper Fi!) started tinkering with dual friction bands in the garage of his Colorado home.
His experiments resulted in the production of a rubberized pull loop—side note: "Magpul" is short for "Magazine Puller"—that allows for quick magazine changes.
Since then, Magpul has expanded its product line to include top-quality accessories to satisfy many of your AR, shotgun, AK, and Glock needs.
Ready to be more impressed? From screws to fasteners, all Magpul accessories are 100% American-made!
But the industry giant's golden goose is undeniably its line of polymer rifle magazines (PMAG)—the world's first successful, reliable, and affordable rifle magazine.
Today, Magpul manufactures more than a dozen PMAGs for various calibers, weapons, and capacities.
Best PMAGs: America's Favorite Magazines
1. AR-15 & STANAG PMAGs
Let's ease into the topic of PMAGs by examining the original poster child.
The AR-15 PMAG is easily the most popular magazine produced by Magpul; in fact, it's so in demand that the company continues to mass-produce two generations of this magazine.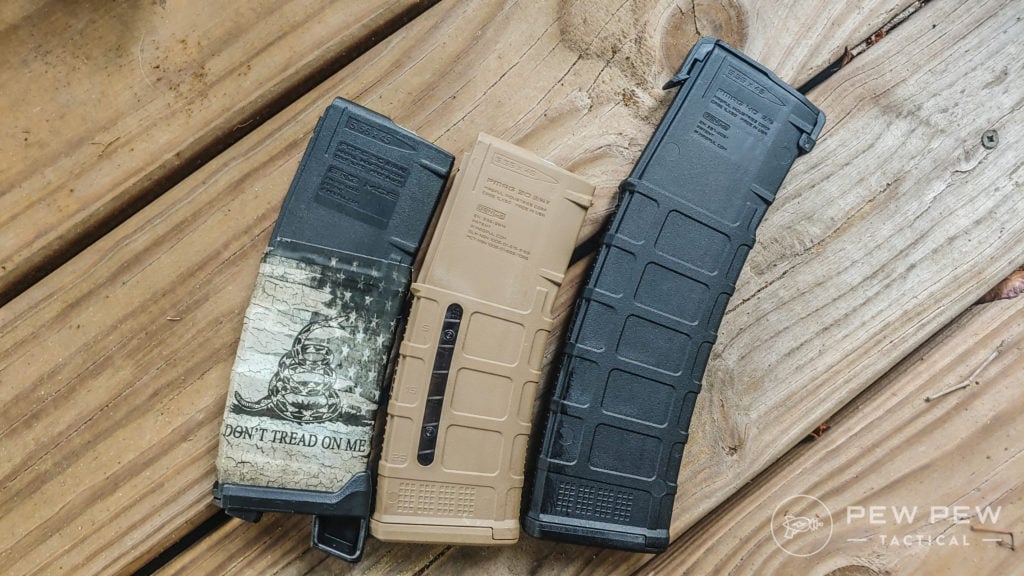 Why two generations?
The first answer boils down to weapon compatibility.
The PMAG 30 AR/M4 Gen M2 MOE was manufactured exclusively for AR-15 and M4 compatible weapons.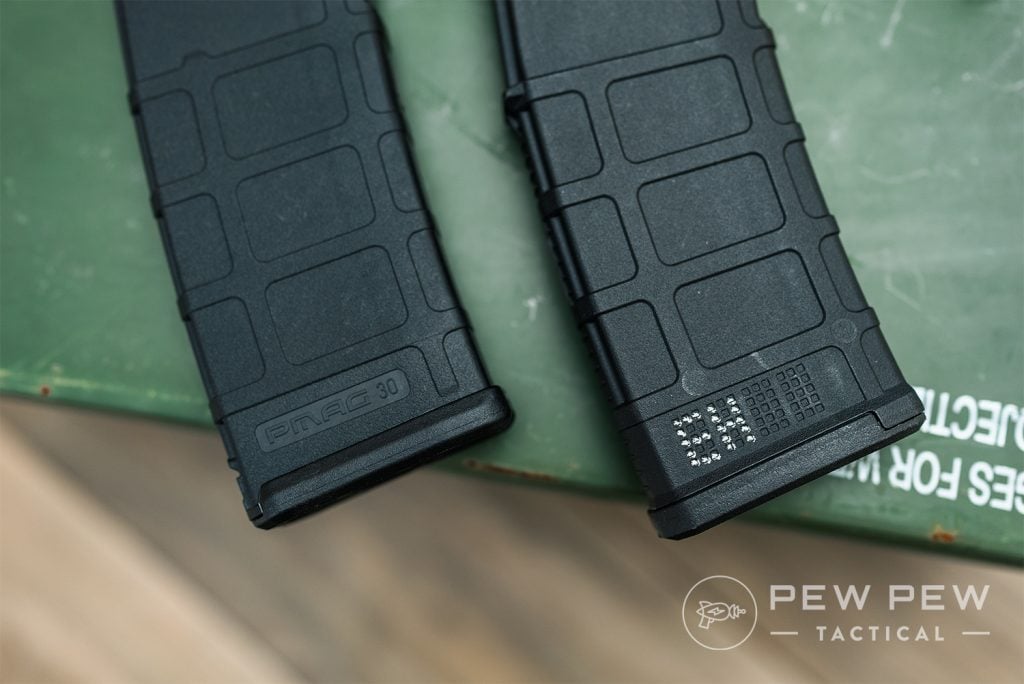 You can try to use Gen M2 in other rifles (be careful experimenting, you could damage your gun), but it's hardly a versatile option, let alone worth your money when Gen M3 products are readily available.
Alternatively, the Gen M3 series was designed to work for any STANAG 5.56 weapon. This includes the Stoner family of rifles, like the AR-15/M4/M16, as well as the SCAR-L, the HK416/M27 IAR, some models of the AUG, and the SA-80.
You can see why Gen M3 deserves its crown as the current king of AR-15 magazines.
The second key difference between the two generations regards magazine capacity.
Gen M2 MOE magazines are isolated at 30 rounds. However, Gen M3 magazines are sold in various capacities, including traditional 30 rounders, extended 40 rounders, and even 10- and 20-round options.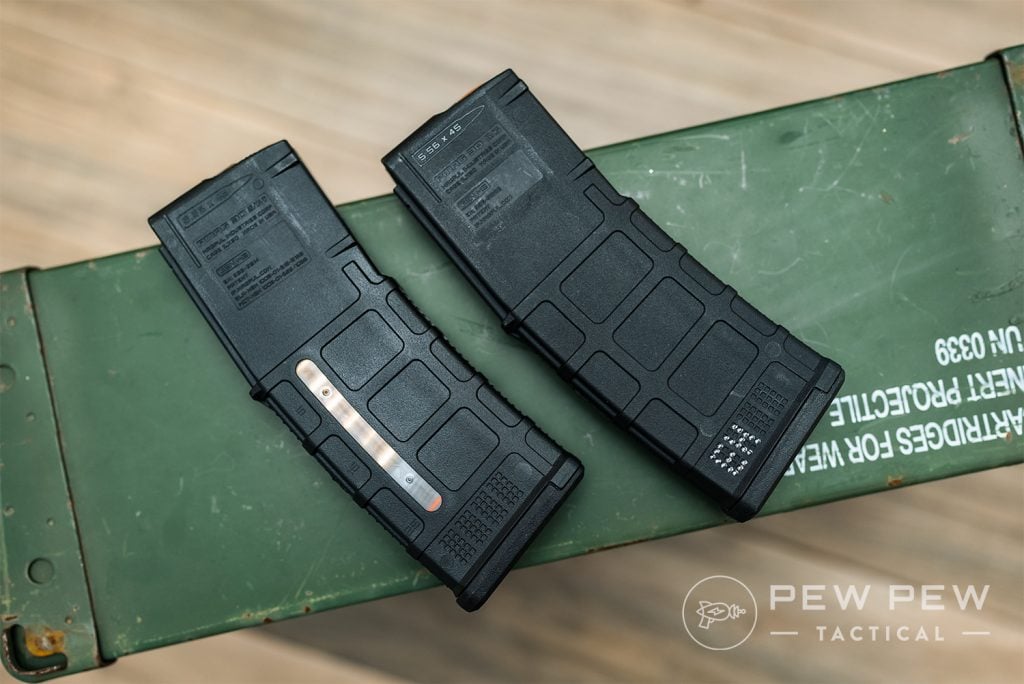 Magpul also sells windowed variants of the 30-round Gen M2 MOE and Gen M3 models. With this brilliant perk, you can quickly and safely check how many rounds are left in the magazine (ish—nothing's perfect).
Okay, I need to make a quick detour to give a specific Gen M3 product its moment in the sun.
Magpul manufactures a magazine optimized for 300 Blackout rounds, the PMAG 30 AR 300 B Gen M3.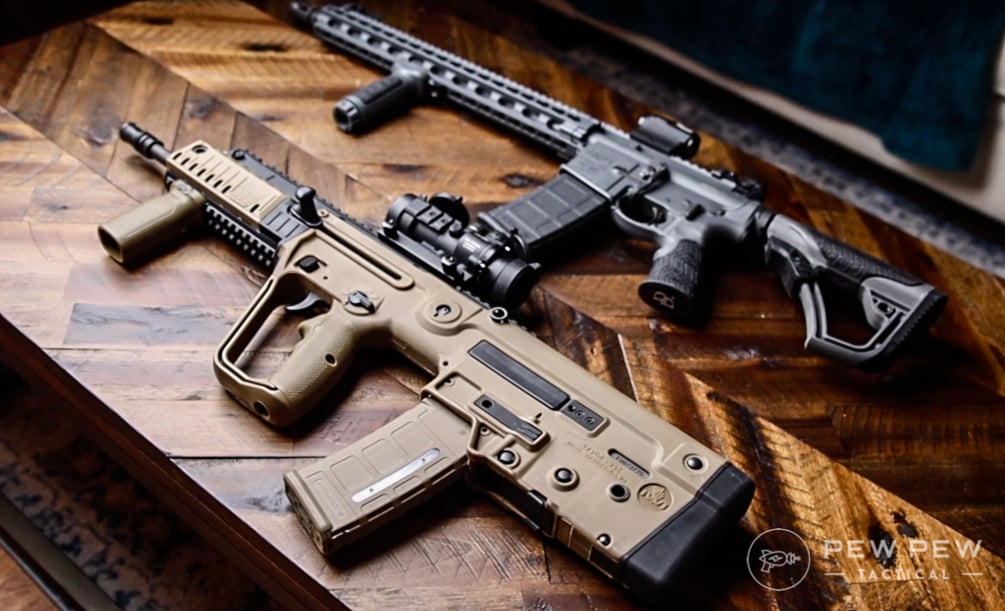 True, .300 AAC Blackout works well enough in AR-15 magazines, but using the purpose-designed PMAG ensures reliability and is the safest way to feed your rifle.
Fanboy moment over. Detour complete. Thank you for your time.
Magpul AR-15 magazines are built from high-quality, impact-resistant polymer. In other words, these PMAGs are made to be abused.
What can I say? This company knows and loves its customers.
Gen M2 MOE and Gen M3 PMAGs are outfitted with anti-tilt followers to ensure consistent and dependable action, regardless of any external conditions or rifle issues.
The magazines are textured for an easy grip, and the base plates are interchangeable with various ranger plates or even a mag pod, which can turn your magazine into a bipod.
Being popular certainly has its advantages! You can find everything from extended base plates to magazine pouches to accommodate your PMAGs.
Want a more in-depth look at the Gen M2 and Gen M3 PMAGs? Check out our comparison guide, Magpul PMAG M2 vs M3 [Does It Even Matter?]. Spoiler Alert: ¯\_(ツ)_/¯.
What's your take on the almighty AR-15 PMAG?
2. AR-10 (SR-25 Pattern) PMAGs
If you're a fan of the AR-10, then I'm sure you love Magpul for producing the most affordable, high-quality SR-25 pattern magazines on the market.
Magpul's AR-10 PMAGs are available in various sizes, including 10-, 20-, and 25-round magazines. Like other PMAGs, they are reasonably priced and extremely well made.
These magazines are manufactured with several praiseworthy features, including a DOT Matrix for marking purposes, the Gen 3 self-leveling follower, and an impressive grip texture.
Magpul also makes the oddball PMAG 25 M118 LR/SR Gen M3. This lightweight magazine is designed to accommodate pattern rifles using longer—specifically, .308 rounds longer—than SAAMI-spec match ammunition.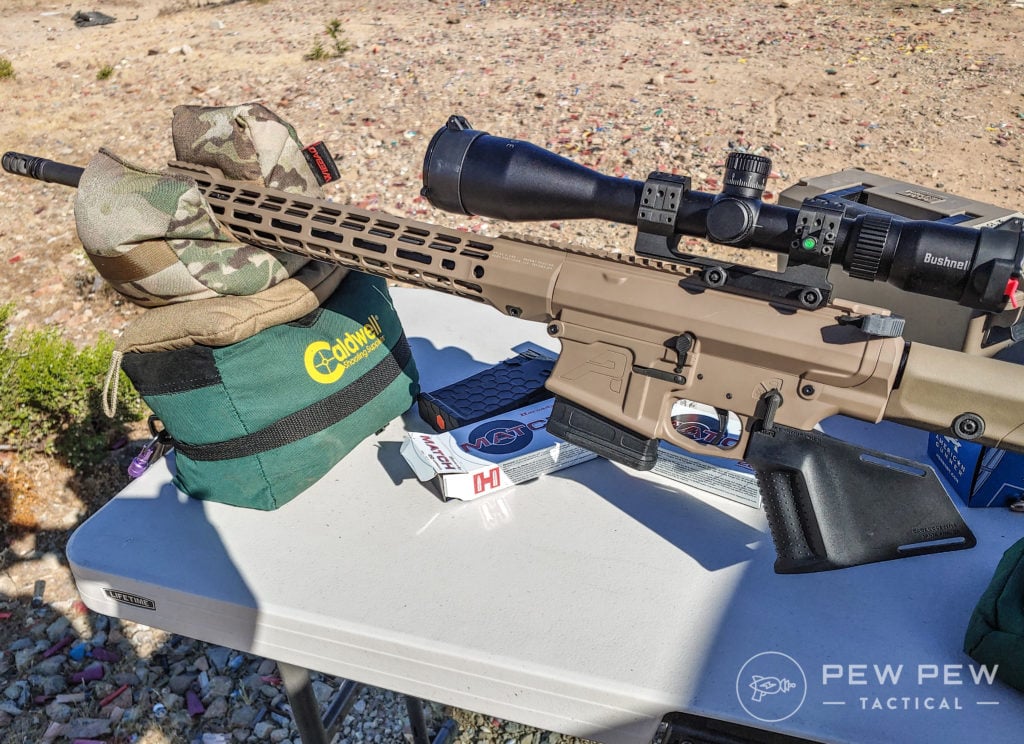 The 25-round PMAGs are also sold with translucent windows, so you can estimate how many rounds you have left. I love it.
With all these cool features, it's no wonder that Magpul's PMAGs have essentially become the industry standard for AR-10 manufacturers.
3. PMAGs for the AK Series
The AR series may dominate the American market, but AK rifles rule the world.
Fortunately, Magpul offers two generations of reliable and cost-effective magazines for the AK-47 and AK-74 series of rifles.
The first generation is the Gen M2 MOE series, which is available in 10-, 20-, and 30-round capacities.
This generation incorporates many of the improvements critical to the success of Gen M3 AR PMAGs, including aggressive texturing along the front and spine of the magazine, a DOT Matrix for markings, an anti-tilt follower, and a flared floor plate.
The PMAG 30 AK/AKM Gen M3 is a durable AK-47 magazine that is only compatible with 7.62 x 39mm pattern rifles. When it comes to design, this model is almost identical to the Gen M2 MOE magazines.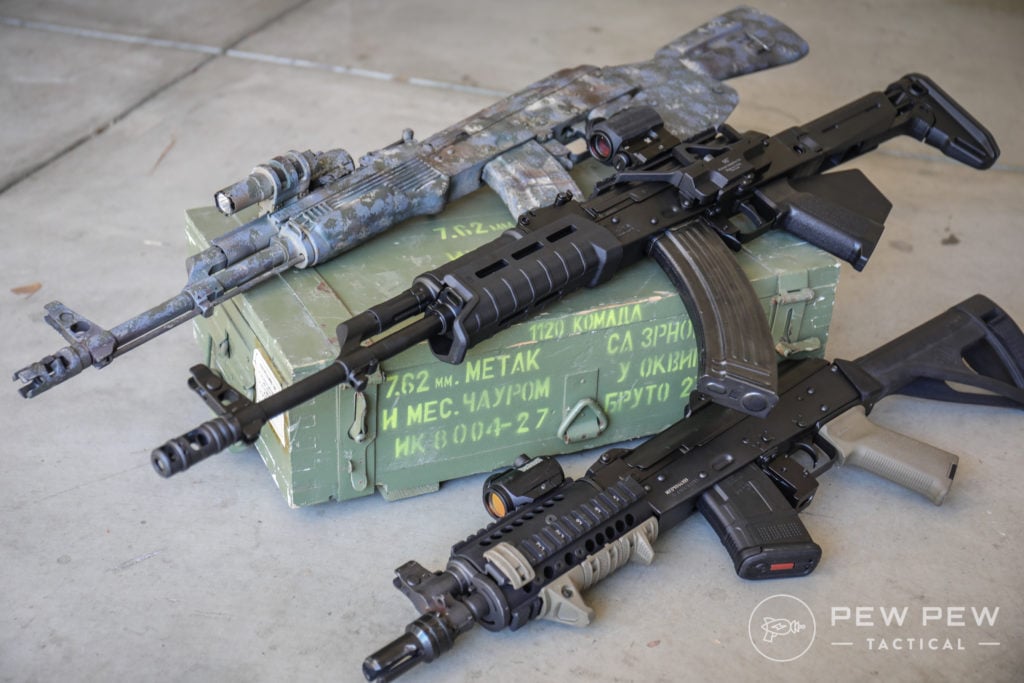 Magpul's M3 magazines are outfitted with a steel rear locking lug and a reinforced front lug for enhanced durability.
Personally, I love the M3 magazines, but they can be difficult to find and are a little costly.
4. G36 & Steyr AUG PMAGs
To satisfy our gun-loving European friends across the sea, Magpul produces magazines specifically for the Heckler & Koch G36 and the Steyr AUG (full review).
The G36 isn't exactly a household item in the United States. Unless you purchase a converted TommyBuilt Tactical model, you'll probably never get to feed this beast (or its SL8 stepchild).
Don't despair! You'll have much more luck purchasing the bullpup-style Steyr AUG.
The PMAG 30 AUS GEN M3 and PMAG 306 MagLevel-HK G36 are both Generation 3 magazines.
However, only the AUG magazine features Gen M3 external features, including the bold texturing, slim base plate, DOT Matrix, self-leveling follower, and (to whom it may concern) 922(R) parts.
I've used the AUG magazine, and it worked like a champ—no complaints, just a good time.
The PMAG 306 MagLevel-HK G36 is an odd duck. It doesn't have Gen M3 features like texturing or a DOT Matrix, nor can you connect the PMAGs together like factory G36 magazines.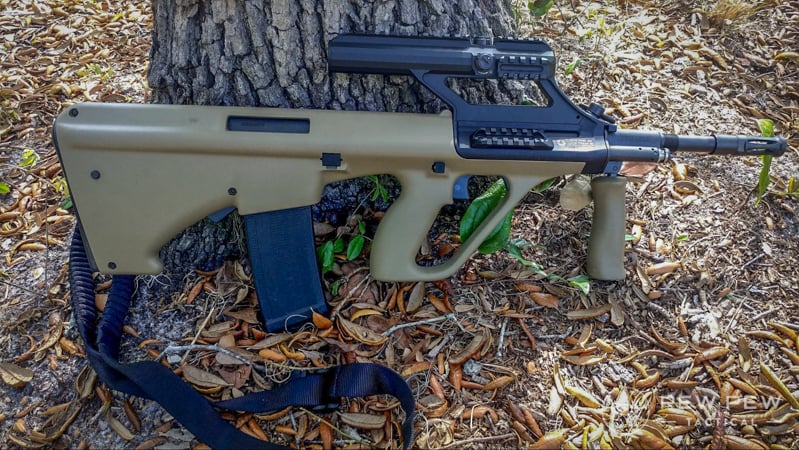 Unfortunately, I haven't had a chance to try this puppy out, so I can't give you a solid opinion or recommendation.
But I can say this: If you're EuroTripping on exclusive rifles, Magpul has got you covered.
5. Glock PMAGs
The Glock magazine pattern is easily one of the most popular on the market; after all, it's used for rifles and pistols of all types and calibers.
Once upon a time, Magpul hit a rare stumbling block when trying to release their Glock magazine line. The first batch wasn't exactly a stellar or reliable product, and the class-act company owned up to it fairly quickly.
Since that debacle, Magpul has been manufacturing spectacular Glock PMAGs that are practically flawless.
Although the company's PMAGs are only available for 9mm Glocks, they can be purchased in different capacities, including traditional 10-, 15-, and 17-round magazines, extended 21- and 27-round magazines, and a 12-round Glock 26 magazine.
No matter the product, every Glock PMAG is equipped with a high visibility follower, the Dot Matrix, and an enhanced (and easy to remove) floor plate.
The 21- and 27-round magazines may seem like odd capacities, but they serve a very specific and fun purpose.
You see, most shooting competitions have explicit regulations regarding the length of magazines. For example, the USPA restricts shooters to magazines that are 140mm in length.
But you can maximize capacity and abide by the rules with the PMAG 21 GL9. Problem solved!
I primarily use Glock PMAGs in my Glock pattern weapons (quelle surprise). They're reliable, easy to buy, and more affordable than OEM magazines.
Plus, you know Magpul is doing something right when even Glock takes a hint and adds high visibility followers to their Gen 5 OEM magazines.
6. CZ Scorpion PMAGs
The CZ Scorpion is hands-down my all-time favorite PCC.
How much do I love it? I own three models of this gun and have written detailed reviews of the CZ Scorpion EVO 3 S2 Pistol Micro and the CZ Scorpion Evo 3 S1 Carbine.
I was thrilled when I learned Magpul was finally going to release magazines for the CZ Scorpion.
True, it took a helluva time for the PMAGs to finally hit stores, but the wait was totally worth it.
Magpul's PMAG 35 EV9 is a 35-round capacity magazine with witness holes located at 10-, 20-, 30, and 35-round intervals.
This magazine is fitted with the DOT Matrix and textured like the standard Gen M3 models. It's also equipped with an impact-resistant floor plate and an orange high visibility follower that's super easy to see.
I was an instant convert to Magpul's CZ Scorpion magazine—it's cheap, high-quality, and works like a dream.
And hey, there is a 922(R) advantage for people looking to convert their CZ Scorpion pistols to short-barreled rifles.
7. PMAGs for Bolt-Action Rifles
Never fear, rifle lovers. Magpul has embraced AICS pattern magazines and is producing PMAGs for bolt-action rifles.
From a business standpoint, it only makes sense: Magpul is already manufacturing the Hunter 700 Stock and the Hunter 700L Stock for the Remington 700 series (Buyer's Guide), which both use AICS patterns.
It was probably an easy jump to move onto money-making PMAGs.
Magpul's bolt-action PMAGs are durable Gen M3 magazines for .300, .308, and .30-06 Winchester-based cartridges.
Anything associated with AICS tends to get a little costly, but Magpul found a way to cut the price in half with their polymer magazines.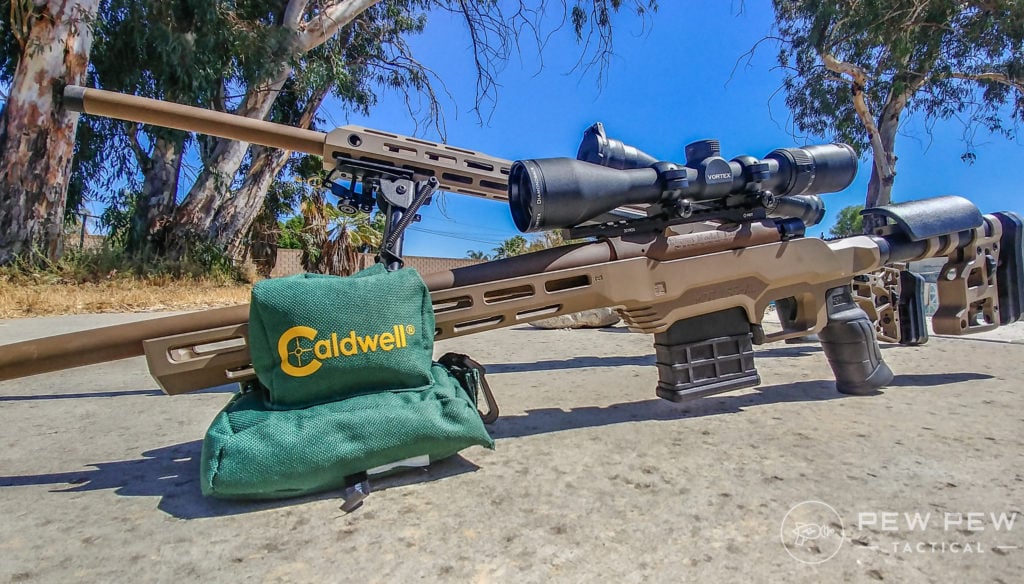 The price tag is still greater than most of their brand PMAGs, but don't let that deter you. These magazines are a great deal.
If you're running an AICS pattern gun, I highly recommend checking out Magpul's PMAGs for bolt-action rifles. These magazines are of the best quality and easily the most affordable options on the market.
8. PMAG Drums
Last, but certainly not least, we have Magpul's drum magazines.
Drums are a tricky beast. They're large, bulky, and heavy, so getting a configuration to work—and work well—takes some genius engineering skills.
Magpul currently has two models available: the PMAG D-60 AR/M4 for the AR-15, and the PMAG D-50 LR/SR Gen M3 for the AR-10.
My opinion? As far as drums go, Magpul has cracked the code. The D-60 and D-50 are incredibly reliable, and that's a surprising declaration to make for any type of drum magazine.
I'll even go a step further and say that the D-60 might be the best large capacity AR-15 magazine available on the market.
Heck, even the USMC is issuing D-60 magazines to infantry units! That's a pretty impressive seal of approval.
The D-60 and the D-50 are shorter than 40-round PMAGs and allow for a low prone position.
Both products are made from Gen M3 polymers, feature a DOT Matrix, and are designed to be left stored and loaded. The drums also incorporate a loading level that makes it easy to swap rounds.
Plus, they are easy to take apart and clean. If you've purchased a drum before, you know how remarkable this detail is!
Fun fact: These drums work with most speed loaders, including USGI clips and the StripLula.
Happy shooting!
Magpul It Out
There are countless magazines available on the market, and it can be challenging to pinpoint the best products for your gun. After all, the last thing you want is to purchase a faulty or useless magazine that fails to feed.
You can avoid a sad day at the range by researching your weapon, reading product reviews, and experimenting with products from reliable companies.
Magpul is popular for a reason. Since 1997, the company has been on a mission to manufacture firearm accessories that are fun, reliable, innovative, and efficient.
And when it comes to magazines, this company has more than succeeded. PMAGs function as intended and rarely fail to deliver an exceptional user experience.
They're even becoming the go-to product for gun manufacturers. Who knows, you might receive a PMAG the next time you purchase a new rifle!
What's your experience with PMAGs? Love 'em? Are you the rare person with a tragic PMAG backstory? And if you want more awesome magazine picks, check out our list of Best AR-15 Magazines. We also have our favorite gun and gear recommendations available in Editor's Picks.