It's wild that there used to be an era when leather was the only option for a good holster.
Leather was and is still great, but many modern holsters are now made from a polymer material commonly called Kydex.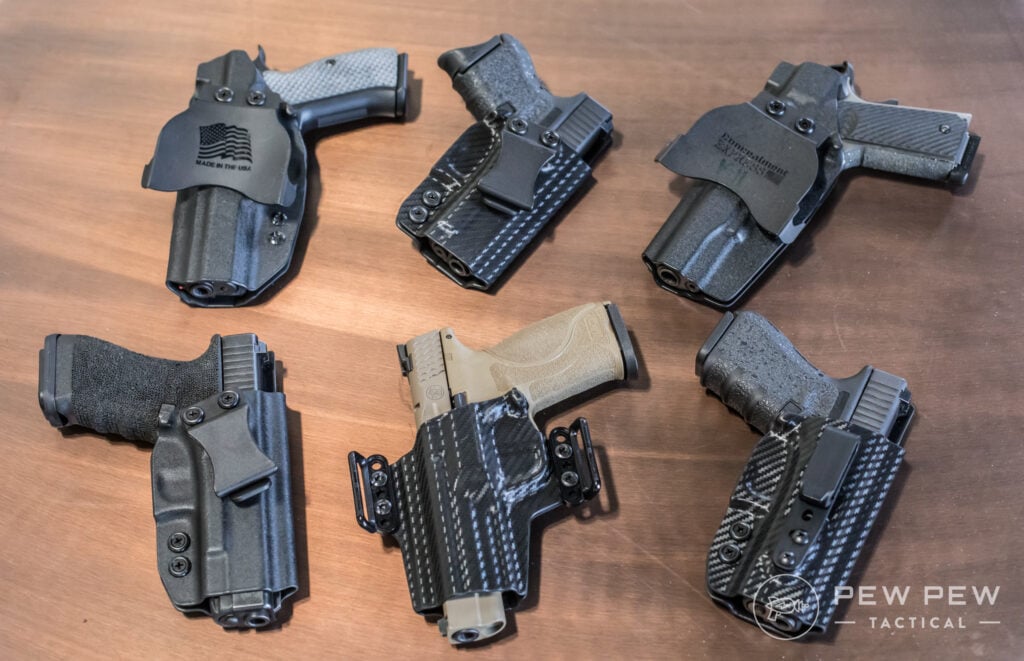 Kydex has become the Kleenex of polymer holster-making materials. It is a specific mix of thermoplastic materials, but we often use Kydex when we mean bolatron or proprietary nylon blends like Safariseven.
I am expanding the term Kydex for our reader's benefit. If we only stuck to Kydex holsters, we would be leaving a ton of great holsters off our list.
Table of Contents
Loading...
Why You Should Trust Us
Input into this article came from the PPT editorial team and our writers. Together we have a combined shooting experience of 30+ years, including instruction, competition, and of course, concealed carry.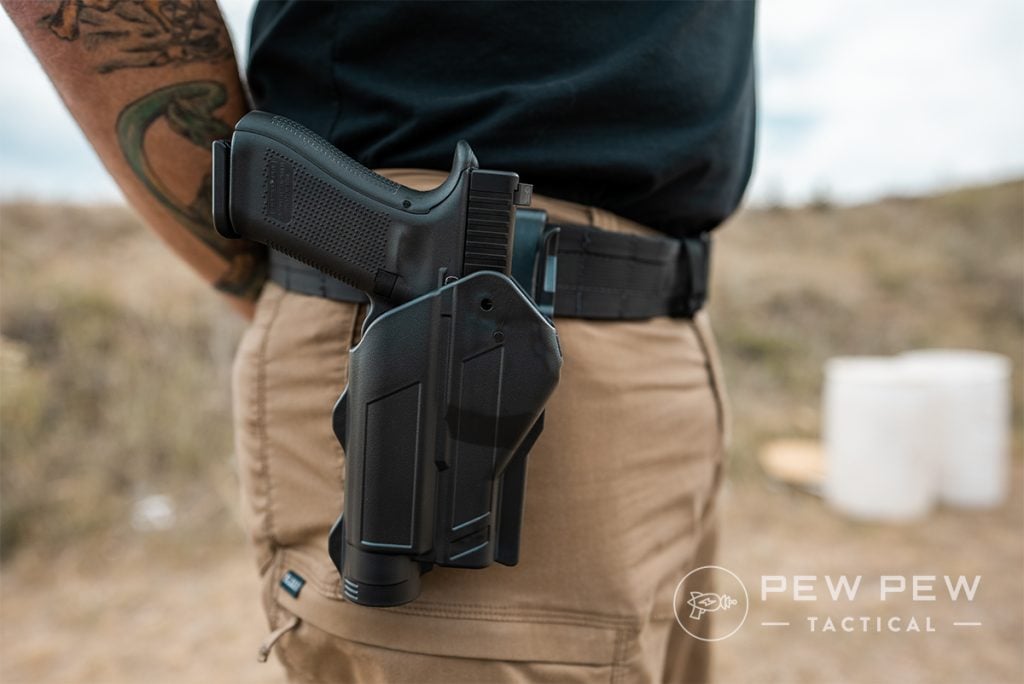 We've spent countless hours researching and analyzing guns and gear to determine which is the best when it comes to features, reliability, ergonomics, and bang for your buck.
Best Kydex Holster Makers
To be clear, we aren't covering the best Kydex holsters but the best Kydex holster manufacturers. Let's dig in and look at the companies making waves.
Phlster
Phlster is an authentic manufacturer of Kydex holsters that has been kicking around for quite some time. Outside of being around for a bit, they are a fairly innovative company.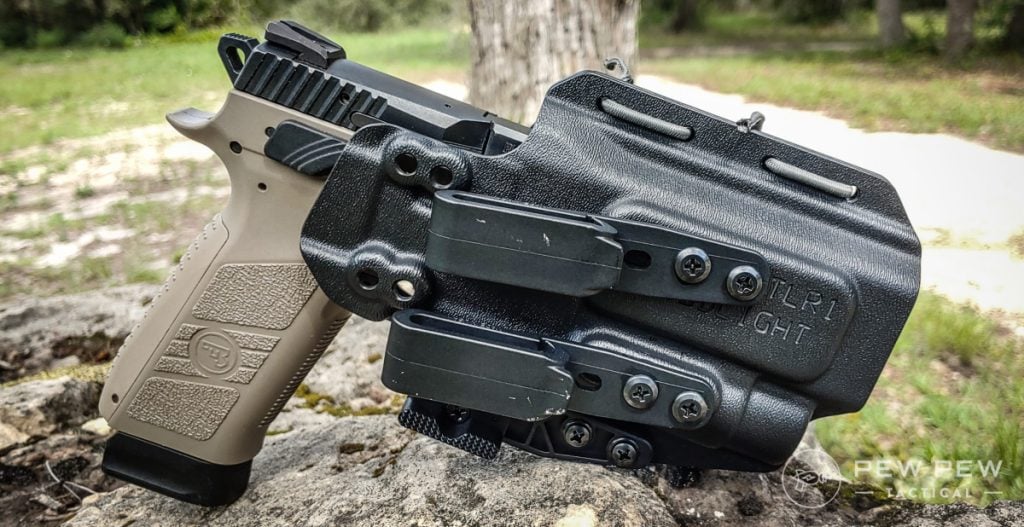 They produce excellent holsters that mainly focus on concealed carry, with their bread and butter being holsters that disappear inside your waistband.
Holsters like the City Special bring Kydex to revolvers, rigs like the Floodlight that introduced a quasi-universal design for light-bearing guns, and innovative carry systems like the Phlster Enigma.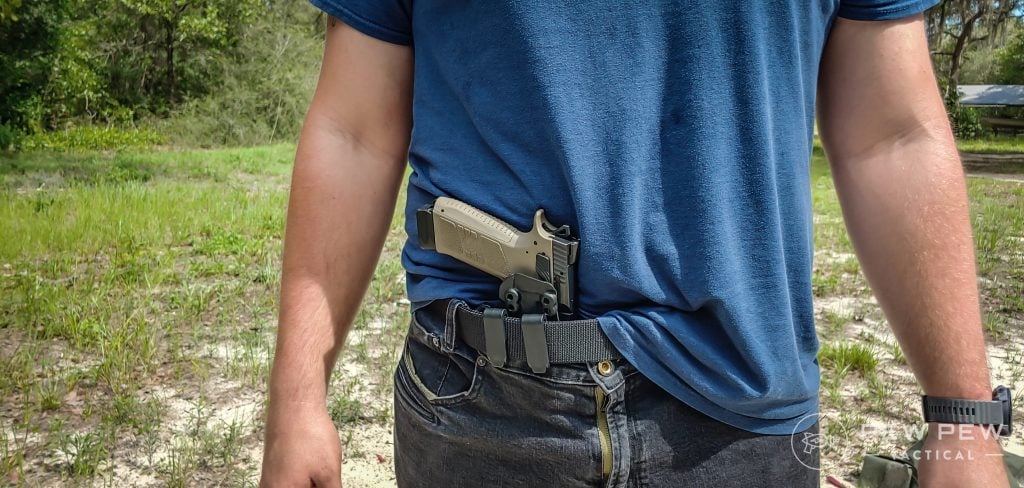 Their holsters are premium-grade rigs, offering modularity that's tough to beat and compatibility with popular holster carry options like loops, the Monoblock, clips, wedges, wings, and more.
They even have an active social media community that educates concealed carriers and brings them together to learn from one another.
79
at Brownells
Prices accurate at time of writing
Prices accurate at time of writing
Vedder Holsters
How do you set yourself apart from other companies? By offering both a variety of holster styles and an extensive catalog of firearms you make holsters for.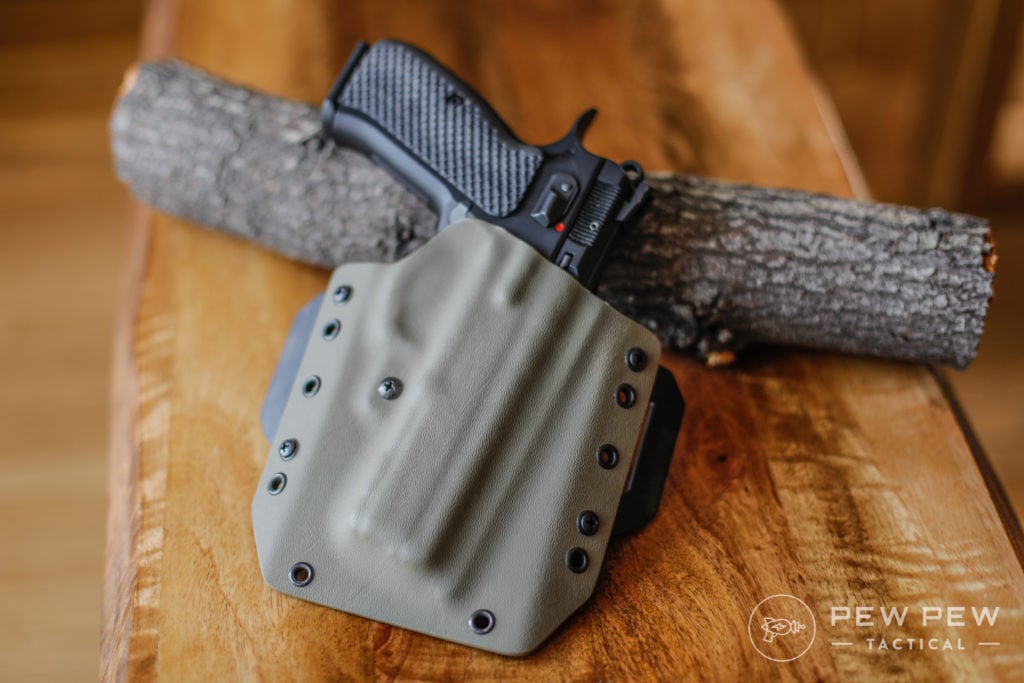 Finding a holster isn't too tough if you have a Glock, M&P, or a P365. But this can be an issue for people with CZ, Walther, Canik, Mossberg, and other less mainstream pistol manufacturers.
With Vedder, if you have a compact gun with a 4-inch barrel, you don't have to suffer with buying a full-size holster that also "fits" your compact model. They make holsters for very specific models, and they don't cut corners.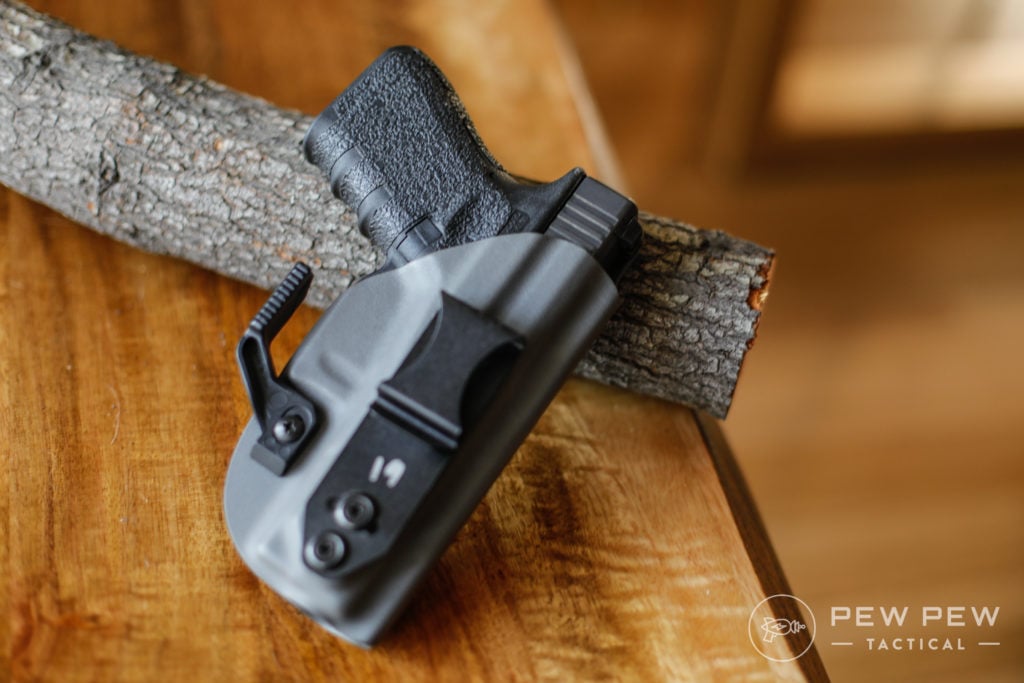 Even small details like thumb safety or no thumb safety, rounded versus squared trigger guards, and Picatinny rail versus Sig proprietary curved rail are addressed.
The end result is not only high-quality holsters but ones that are precision molded to your gun without compromise.
Aside from the impressive list of guns, you get five different IWB options, three OWB options, and even a pocket holster option. No matter what you are looking for, Vedder has you covered.
49
at Vedder Holsters
Prices accurate at time of writing
Prices accurate at time of writing
Tulster
The Tulster Oath Series for my P365 was the first holster I wore long enough, and after more than a year of retention training, the wing broke in half.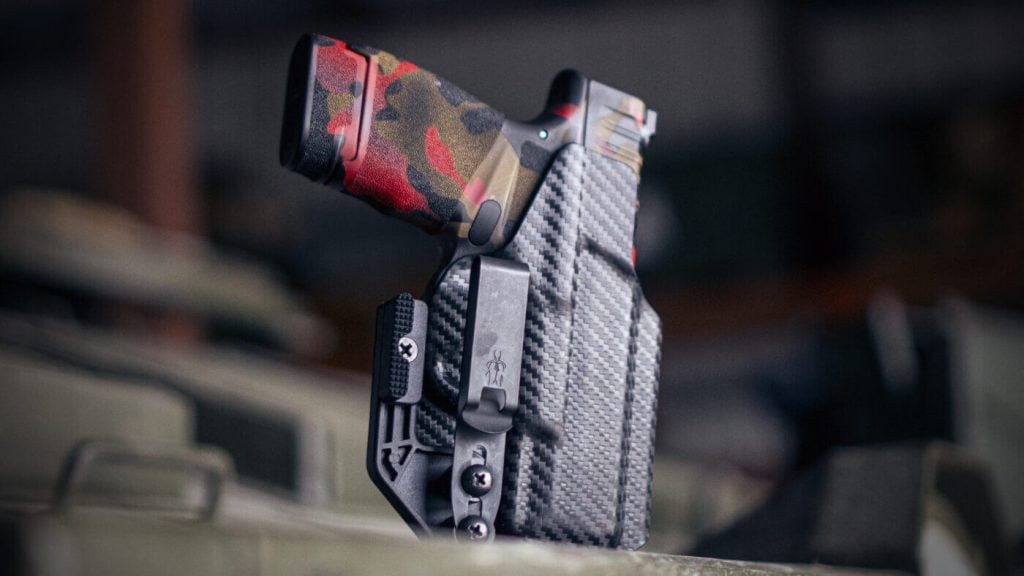 That's not a downside — It's a testament that I loved the holster enough to wear it often and train with it that hard. Replacing the wing took no time at all.
Tulster makes a diverse series of holsters that focus on concealment. This includes both IWB, AIWB, and even OWB options.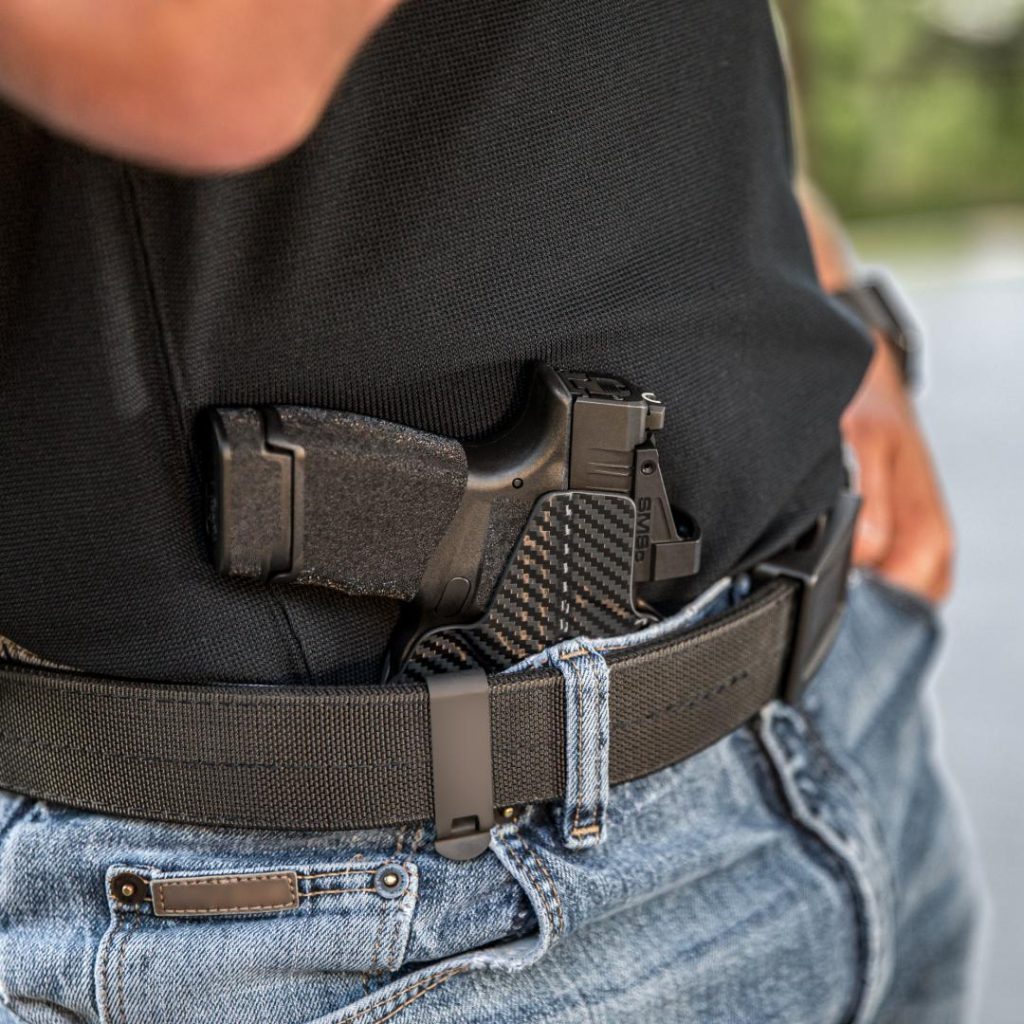 OWB can be quite concealable when produced correctly, and the Tulster Contour fits tight to the body and high on the belt. Their Profile series steers away from AIWB and focuses more on traditional IWB.
All of their holsters are very well made and easy to conceal, with most being quite thin and very comfortable for long periods.
Tulster accommodates modern features like optics, too. With a little something for everyone, they have become undeniable.
74
at Amazon
Prices accurate at time of writing
Prices accurate at time of writing
Bravo Concealment
While Kydex is fairly easy to mold and produce, some polymer holsters can get exceedingly expensive. Not everyone wants to pay $85-100 for something that isn't leather.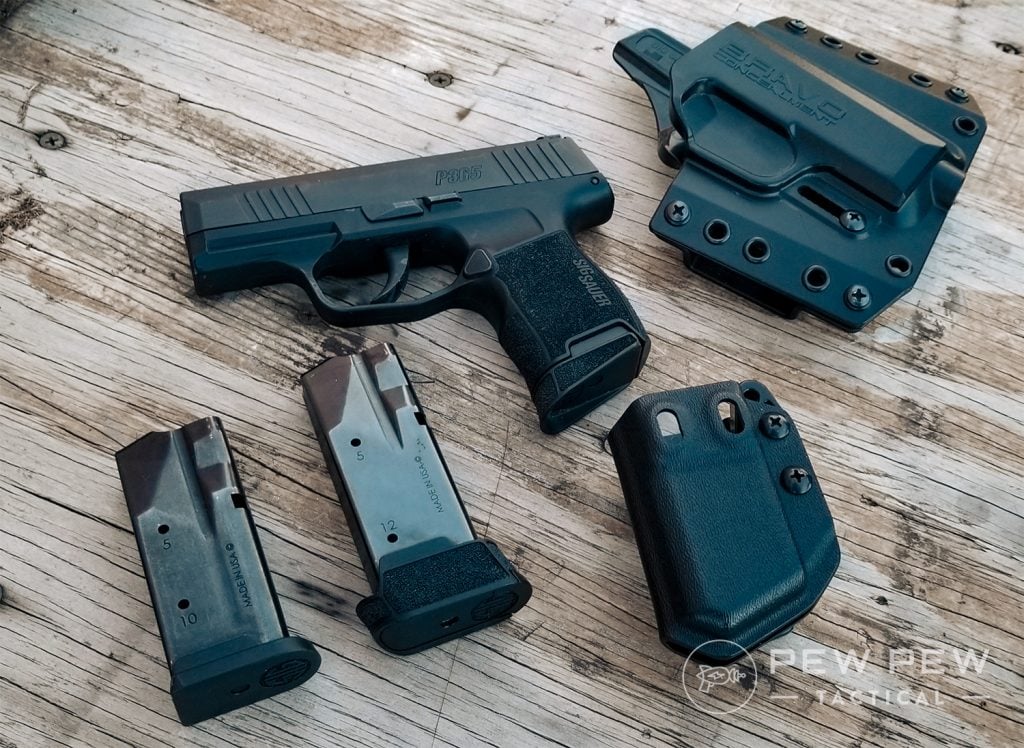 This is where Bravo Concealment saves the day.
Everyone wants an affordable holster, but no one wants a cheap holster. It still needs to work well and properly secure your gun.
Bravo Concealment offers both IWB and OWB that are molded relatively well and have solid retention and comfort levels, all while keeping things priced modestly.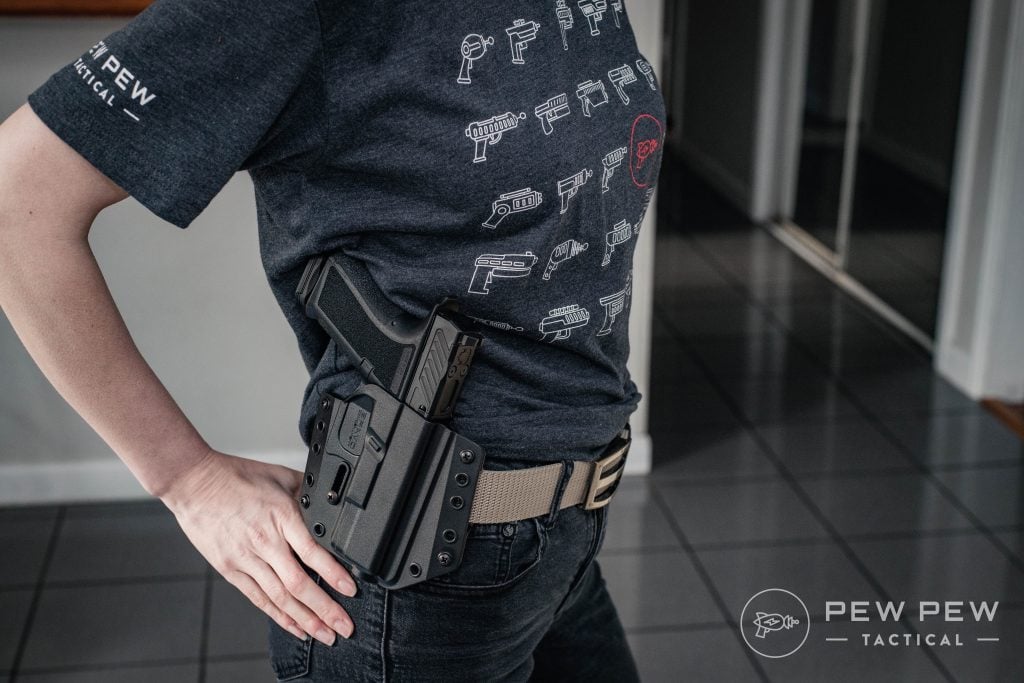 Most of their holsters come in between the $30-40 mark, even their light-bearing holster.
Additionally, they frequently run sales on their products to help keep prices even lower.
While their gun library is limited, if they have a holster for your model, you will end up with a well-fitted, retention adjustable, durable holster that won't break the bank. Most models ship super fast, too — no 8-12 week lead time here!
34
at Amazon
Prices accurate at time of writing
Prices accurate at time of writing
Raven Concealment
Raven Concealment is an OG in the world of polymer concealed carry holsters. Enough so that they have effectively expanded their offerings outside of handguns. Heck, they make one of my favorite setups to carry spare shotgun ammo.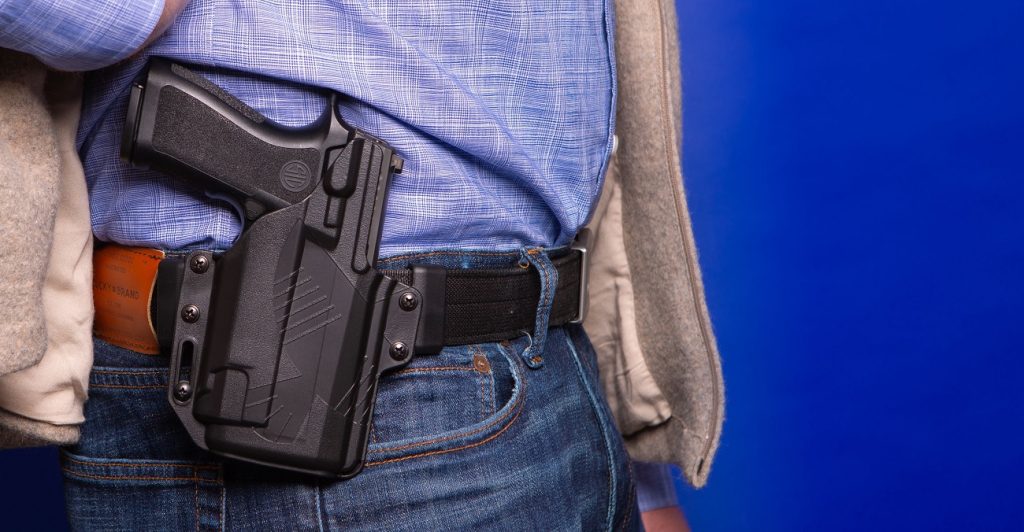 We are talking holsters, so rigs like the Eidolon and Perun have to be mentioned.
The Perun redefined what an OWB concealment holster could be. It disappears against the body, and nothing more than a T-shirt acts as an invisibility cloak.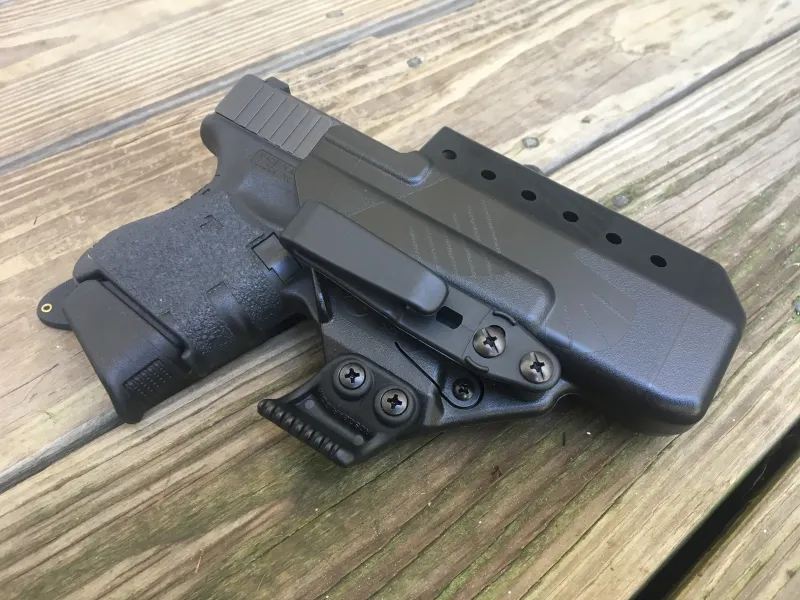 The Eidolon is a legendary holster that is exceptionally comfortable, well made, cut for an easy draw, and designed to maximize its compatibility with modern accessories.
If concealment isn't your jam, Raven Concealment still has you covered. Holsters like the Phantom deliver an OWB duty-style rig with light compatibility and a rugged, close-to-the-body design.
Raven Concealment has something for everyone and has held a top spot for decades. Their quality is top-notch, and their rigs are capable of a lifetime of service.
32
at OpticsPlanet
Prices accurate at time of writing
Prices accurate at time of writing
Dara Holsters
Dara Holster produces a wide variety of holsters. We aren't just talking about Kydex OWB, IWB, and AIWB — although they make those. We have to break down the categories even deeper than that.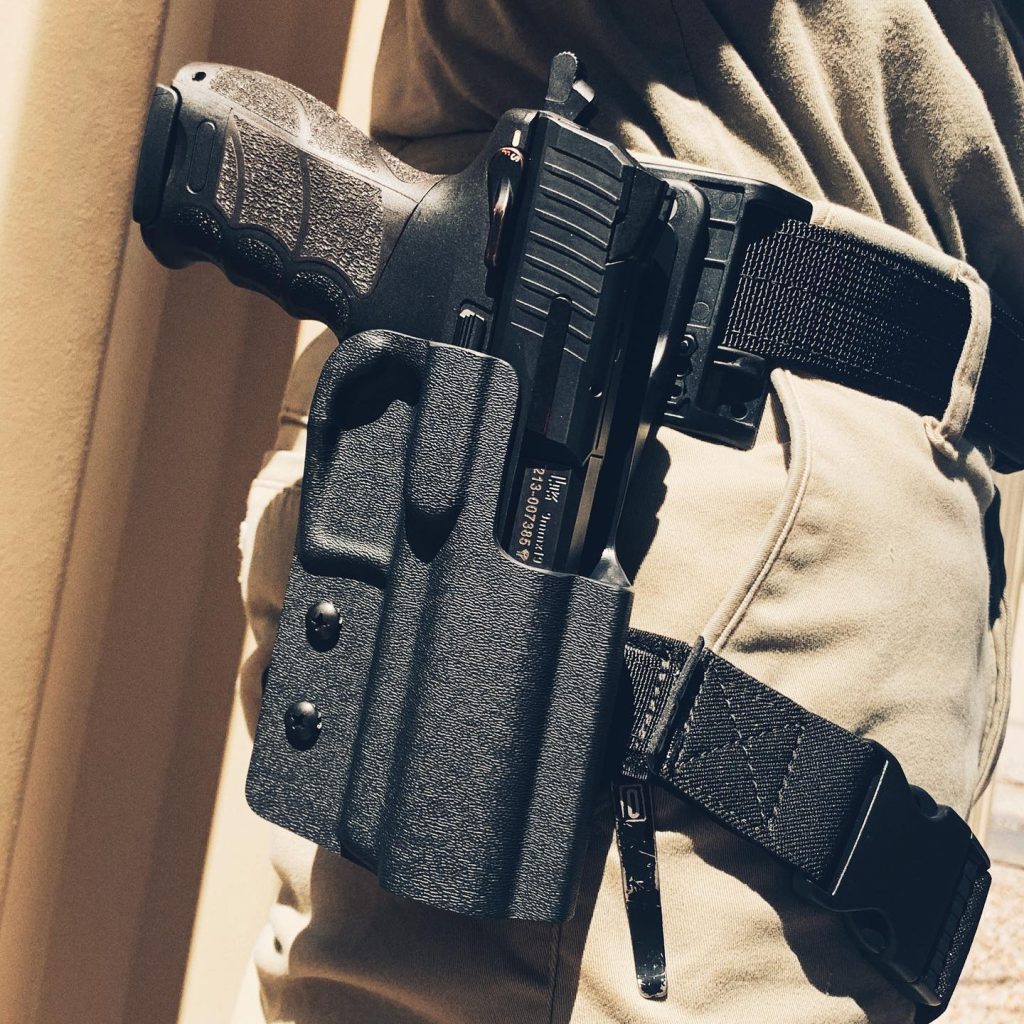 Do you want OWB? Okay, cool. Do you want a level 2 retention alongside it? Do you want it for concealment or competition? How about AIWB light bearing? Regular IWB? Does it need to be tuckable? There are options for all of those.
Dara Holsters isn't the Walmart of holsters and simply pumping out a ton of crappy holsters. They are well-made, modern, long-lasting, and worth your hard-earned dollarydoos.
The variety of holsters is downright astonishing, but they have something for everyone and every purpose.
59
at Dara Holsters
Prices accurate at time of writing
Prices accurate at time of writing
Safariland
Safariland needs no introduction. They are one of the most used holster companies, at least in the United States.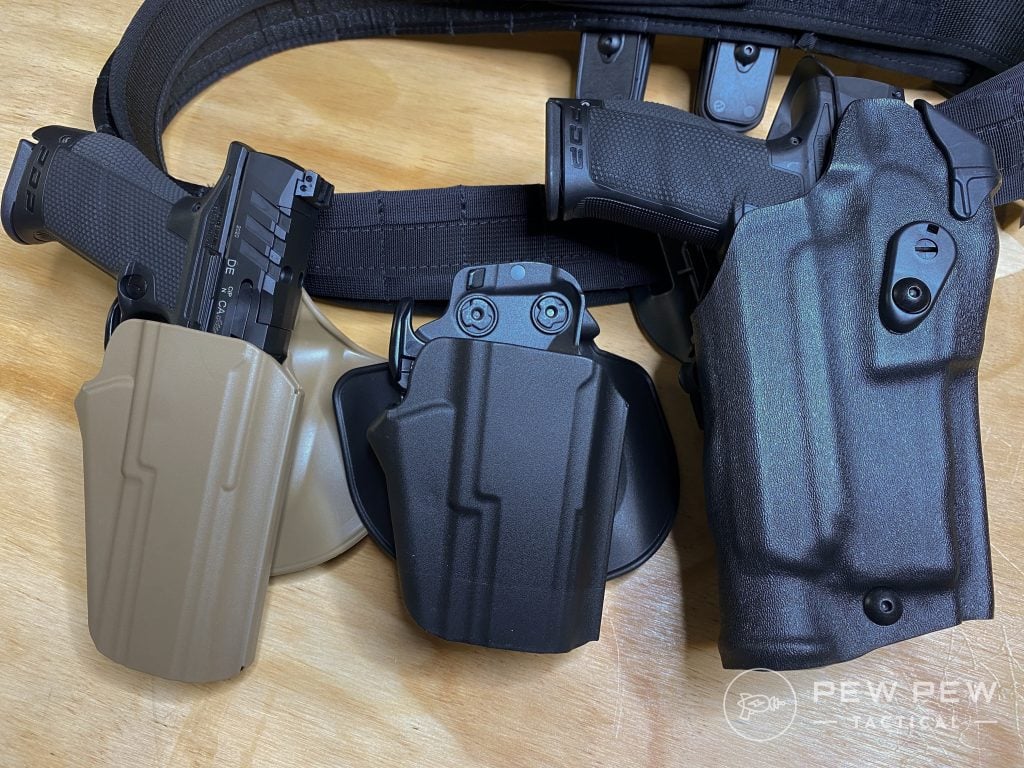 They can be found in the hands of countless police forces, and their holsters were selected for the Army's M17 and M18 handguns.
Their quality is backed up by the fact they are almost universally beloved by their users. Strength, durability, and various options are all hallmarks of Safariland.
Safariland doesn't use Kydex. Instead, they focus on their own proprietary Safariseven blend of polymer material. It is a rugged, long-lasting material typically used in their duty rigs.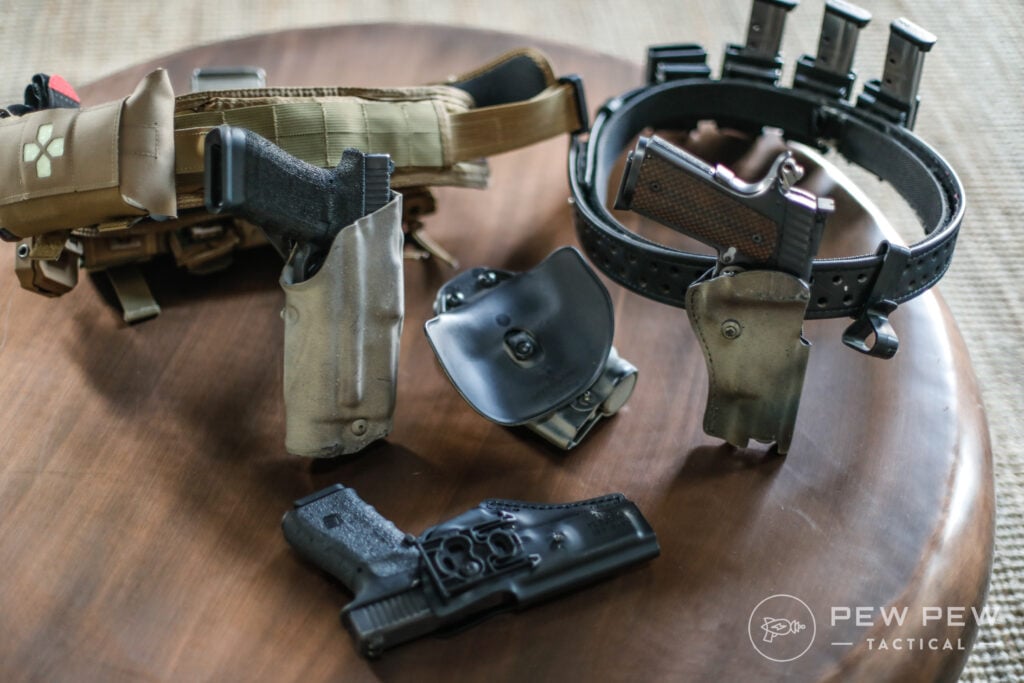 Duty holsters are the bread and butter of Safariland, but they also offer concealed carry holsters like the Schema, as well as several OWB and even shoulder carry options aimed at concealment.
Their duty rigs are often armed with active retention devices, and Safariland is considered the gold standard for reliable duty rigs. If you need active retention, they are tough to beat.
Safariland may not be true Kydex holsters, but they shouldn't be left off the list.
Editor's Pick (OWB)
49
at Safariland
Prices accurate at time of writing
Prices accurate at time of writing
Why Kydex (And Other Polymers)
There are tons of benefits to using modern polymer designs. Soft materials are fine, but they are limited in their designs.
Kydex is ultra-thin and ultra-lightweight but quite rugged. Unlike soft materials, it can't lose stitching, eventually stretch out, and doesn't collapse when the gun leaves the holster, making it perfect for IWB use.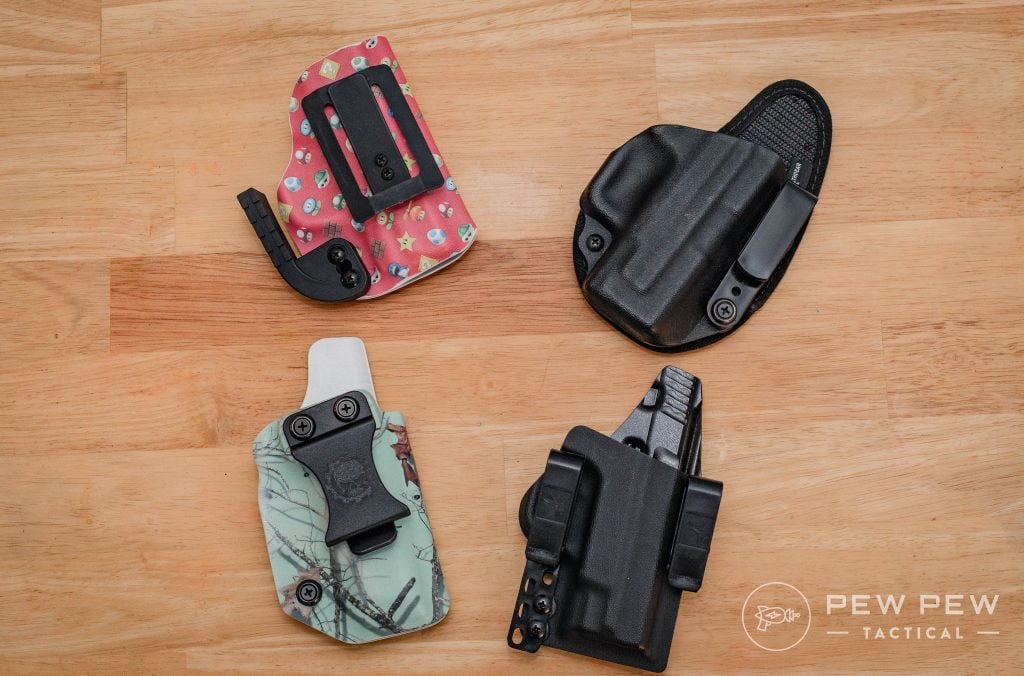 It is water-resistant and generally resistant against the elements. When it gets cold, your holster doesn't necessarily stiffen up.
Another bonus is that while it is a hard material, it is easily malleable and molded to individual guns. This allows the holsters to fit most guns with nothing more than some heat and molding.
Kydex and other polymers can be incredibly thin and very lightweight. It's easy to work with and can be fitted with various screws, bolts, and attachments to make it easy to carry in many ways.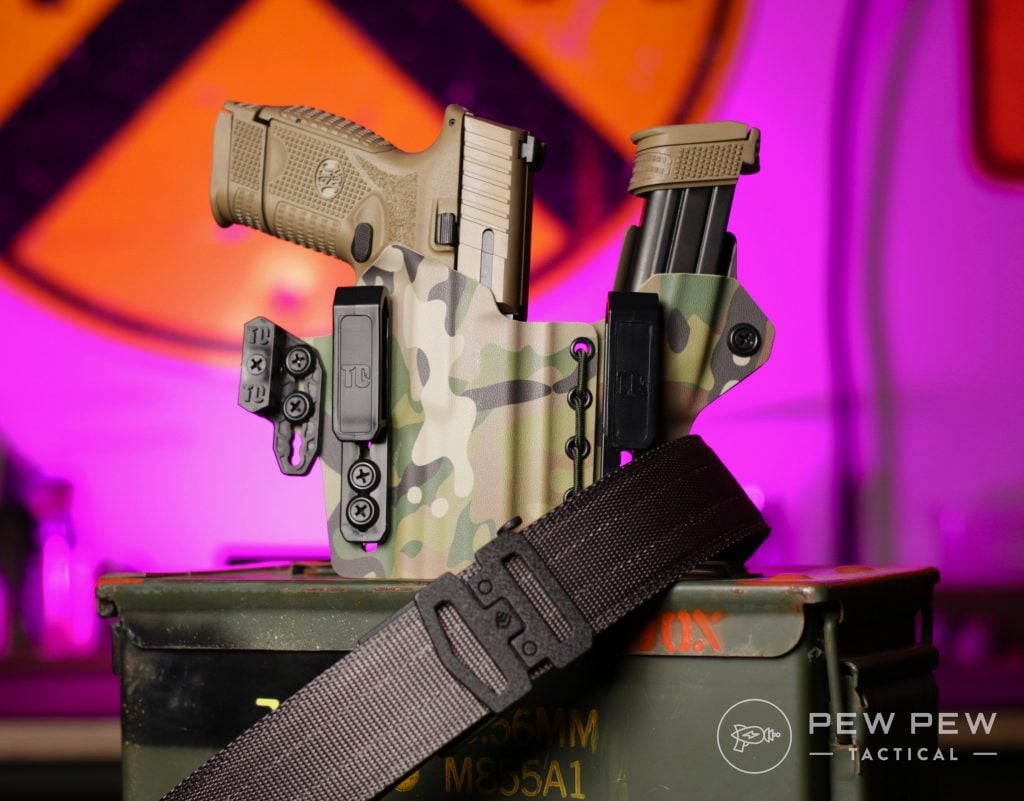 You can also act more mechanical functions to Kydex, like active retention buttons, hoods, and various belt mounting methods.
Final Thoughts
Kydex isn't going anywhere anytime soon. Polymer materials have increased the overall quality of the holster market and effectively lowered their price point.
It's wild how nice holsters have gotten, and they have continued to advance.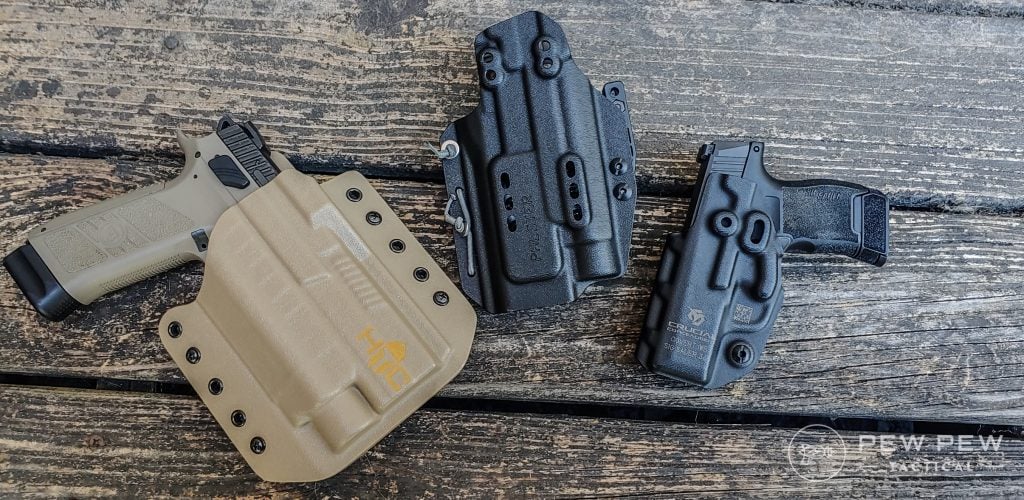 These are just a few of our favorite Kydex holster manufacturers. Do you have experience with any of them? Are there any we missed? Let us know in the comments below!
What is the number one most important feature you look for in a holster? Let us know below in the comments. If you're looking specifically for concealed carry holsters…take a look at our Ultimate Holster Guide for Any Way You Carry.