Cold hands suck, always.
But thanks to modern technology we don't have to suffer anymore!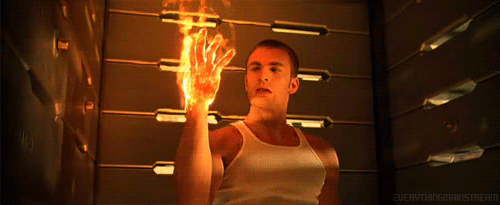 Lots of great gloves on the market will keep your hands warm, but a lot less of them will actually warm your hands for you – that's where heated gloves come in.
We've found the best heated gloves around to keep your hands and fingers nice and toasty!
Do We Really Need Heated Gloves?
No one likes frozen fingers, but for me, cold extremities are an actual medical risk.
I have a condition called Raynaud's syndrome which means that my small arteries overreact to cold and constrict too much, limiting blood flow.
If uncontrolled, this can lead to frostbite and potentially necrosis.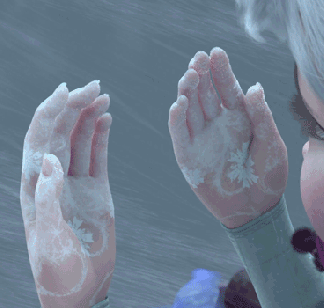 It sounds kinda scary, but it's really pretty easy to control so it doesn't actually impact my life too much beyond just making sure that my hands and feet stay warm.
One valuable tool for doing exactly that is a solid pair of heated gloves.
Now you don't have to have a medical condition to benefit from heated gloves, though mine does make me a bit of an expert.
Heated gloves are especially popular for snow sports, winter athletics, and motorcyclists.
They're also helpful for people who suffer from other conditions that are aggravated by cold weather, like diabetes and arthritis.
But they've got several advantages that make them good for just about any cold weather situation.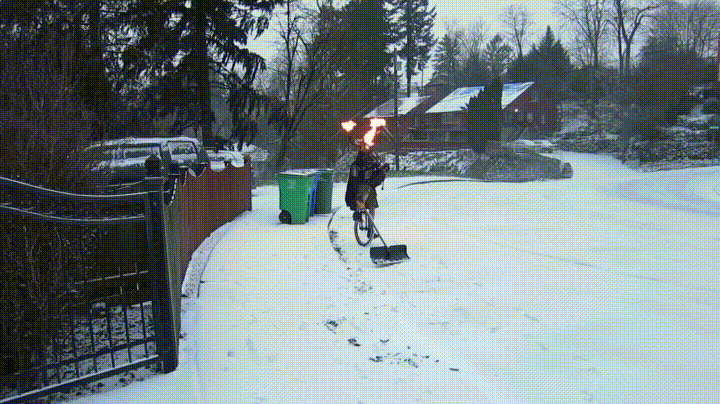 Since they're usually (but not always) less bulky than typically insulated gloves, they're ideal for situations where dexterity is important (like shooting!).
Electrically heated gloves also tend to distribute heat equally throughout the hand, preventing toasty palms with frozen fingertips.
And since heat is often adjustable in electrically heated gloves, you can set it to the level you prefer instead of having to choose between freezing hands without gloves and sweaty hands with gloves.
How to Choose Heated Gloves
When it comes to heated gloves, there's no blanket set of rules for what to look for. It pretty much just depends on what your preferences are and what you need from your gloves.
With that said, there are some areas that we can talk about to help you figure out exactly what those preferences and needs are.
Budget
First things first, you need to think about how much you're willing and able to spend. Heated gloves are great, but they can also get pricey.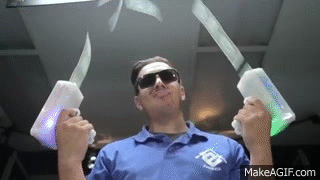 The ones on my list of recommendations range from about $100 to $350, but it's not hard to find gloves that cost more or less.
Often, the more you spend the more you get and the higher the quality, but that's not always the case and in many cases, the most expensive gloves have more bells and whistles than the average person really needs.
On the other hand, I wouldn't bother spending my money on a really cheap pair.
In general, these ones either don't do the job well or break on you quickly, so you'd have been better off spending your hard earned money on a nice pair of non-heated Carhartt or Timberland gloves that actually keep your hands warm and probably for less money.
Heat Source
There are two types of heated gloves: chemically heated and electrically heated.
Chemically heated gloves are more like traditional gloves, but they have a little pocket that you can slide one of those hand warmer packets that you expose to the air and shake to heat up, like HotHands Hand Warmers.
5
at Amazon
Prices accurate at time of writing
Prices accurate at time of writing
I don't love chemically heated gloves because they typically don't distribute the heat very well and you don't get the same control over your heat that you do with most electrical heated gloves. They do tend to be much cheaper than electrically heated gloves, though.
Electrically heated gloves have an electrical heating element built in that's powered by either rechargeable or replaceable batteries.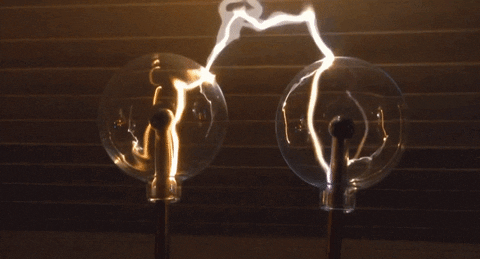 Unlike chemically heated gloves, electrical gloves have the potential to spread the heat throughout the glove and offer a certain degree of control over the level of heat.
Not all electrical gloves over those features, however. If you're thinking about a pair that doesn't, you generally might as well go with a pair of chemically heated gloves or just a good pair of traditional gloves and save some money.
In my opinion, however, these features are definitely worth the extra money if you've got it.
Battery Life
Obviously not a concern for chemically heated gloves, but definitely something to look at for electrical ones.
In general, you want the battery to last as long as you expect to be out in the cold, though if you have a pair with replaceable batteries, you may be able to get away with just carrying some spare batteries with you.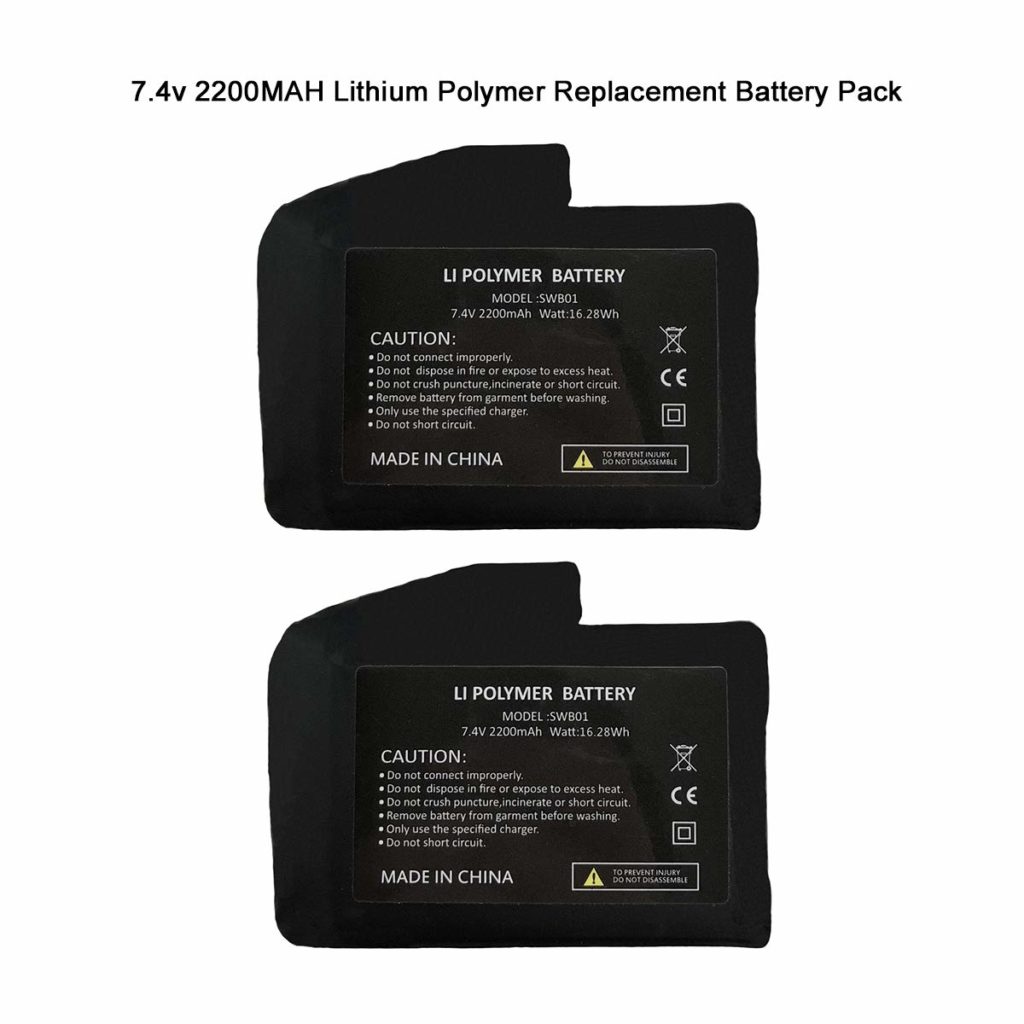 In general, electrical gloves typically last about 5 to 7 hours on low heat, 4 to 6 hours on medium heat, and 2 to 4 hours on high heat.
You can extend battery life by lowering or turning off the heat every so often until the heat starts to fade.
Also remember that during particularly active pursuits, like biking or skiing, you probably won't need your gloves to be set as high as when you start for the entire time you're using them and you may not even need them at all once you get into it.
Material
This is where we start seeing a lot of variation since the material is depending on individual needs.
If you'll be in the snow or wind, you probably want gloves with a waterproof or wind resistant (or both) shell.
For very cold weather, you'll probably want gloves with lots of insulation, but if dexterity is important, you'll need slimmer gloves. If you're planning on being active, you'll want moisture wicking gloves.
Wool, leather, fleece, and technical synthetics are all popular materials for heated gloves.
Fit
In general, glove sizing is based on the measurement entirely around the circumference of your dominant hand at the middle of the palm.
You can measure this yourself with a cloth tape measure and either a great deal of coordination and skill or a friend.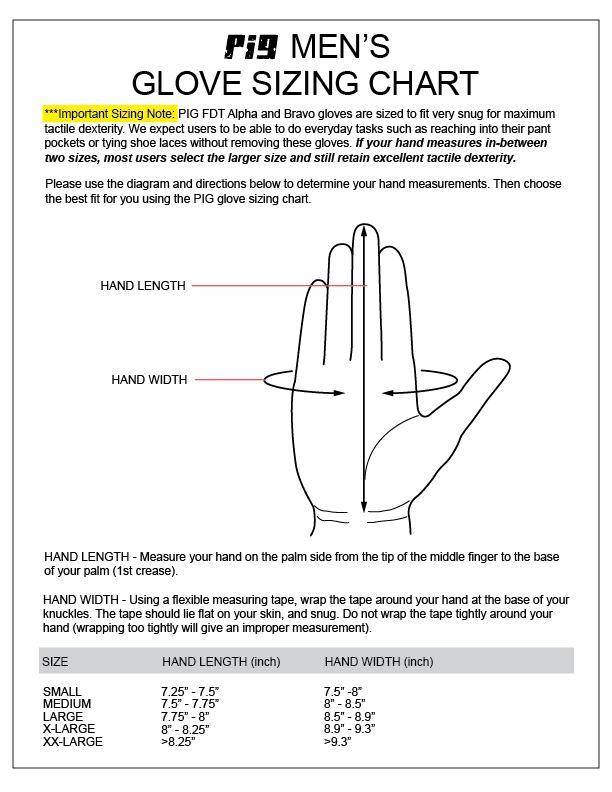 However, this isn't always the case, so double check how the manufacturer says their measurements were determined.
Some gloves come in different sizes, while others are one size fits all. Unless you're Mr. Joe or Ms. Jane Average when it comes to hand size, you'll probably get a better fit from a glove that has different sizes.
As I've discussed elsewhere on this site, I am pretty small and that extends to my tiny, child-like hands, so I've pretty much given up on one size fits all anything, especially gloves.
Other Features
Those are the important basics, but depending on what you're planning on doing in your heated gloves, there are other features available that you may benefit from.
For example, some gloves are touchscreen compatible. Some have grippy panels on the palms and fingers. Some are thinner around the joints for better dexterity and mobility.
Look for features that will make whatever you're doing easier.
Best Heated Gloves
These gloves come with a hefty price tag, but they're also pretty much the gold standard for heated gloves.
Outdoor Research designed Lucent Heated Gloves with professionals who work outdoors in very cold weather and serious winter outdoorsmen in mind.
If you're looking for something for the more casual wearer or live somewhere that doesn't get very cold, you don't need these gloves.
Lucent Heated Gloves do a lot to keep hands warm, even before the electric heating element is turned on.
The heating element is spread throughout the hand to keep both your fingers and your palms nice and toasty. It has three different settings to give you the amount of warmth that you want.
The battery packs are removable and rechargeable. They last for up to eight owers on the low setting and 2.5 on high.
The Gore-Tex outer shell is breathable but keeps wind and water out, while the soft fleece liner and lightweight, low profile EnduraLoft insulation in between those inner and outer layers help retain heat even when the heating element has been switched off.
On top of it all – they are made with abrasion-resistant goat leather palms, come with a carrying case, and are offered in 5 different sizes.
Like all Outdoor Research gear, Lucent Heated Gloves are backed by the company's Infinite Guarantee, the warranty against defects and product failures for the duration of the product's normal lifetime.
360
at Amazon
Prices accurate at time of writing
Prices accurate at time of writing
Outdoor Research also makes a Lucent Heated Mittens version if that's more your thing.
What's your take on the OR Lucents?
Volt Resistance is the leading brand in heated clothing, and Tatra 7v Heated Gloves are their best gloves.
Volt Resistance, inspired by conditions like mine, specializes in heated garments, which allows them to produce Tatra 7v Heated Gloves, which are of a similar style and quality to Outdoor Research Lucent Heated Gloves, but at a lower price point.
All of Volt's products, whether they're gloves, base layers, outerwear, socks, slippers, or whatever else, include their patented Zero Layer® heating system.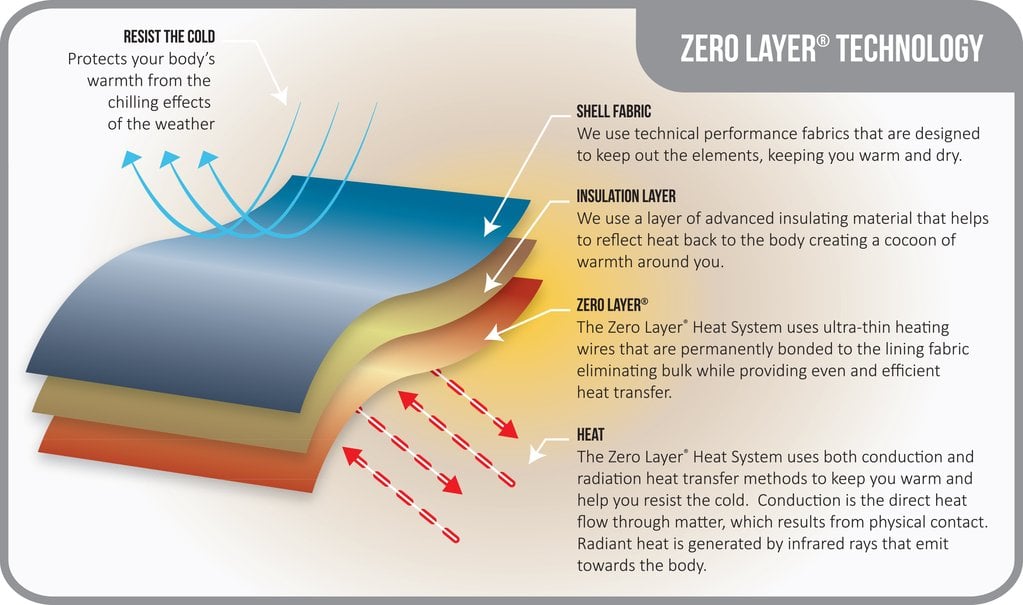 The outside of Volt Resistance Tatra 7v Heated Gloves is heavy-duty, waterproof nylon with a double reinforced leather palm for improved grip and durability. Inside is a breathable waterproof membrane, 150 grams of low-profile insulation, and a tricot liner. The electric heating element extends across the front and back of the hand and along each finger.
These gloves feature an adjustable strap at the wrist as well as an elastic cinch cord at the cuff, which work together to help keep warm air in and keep moisture and cold air out.
Powered by rechargeable lithium-ion batteries and the gloves come with a dual wall charger so that both batteries can be charged at the same time.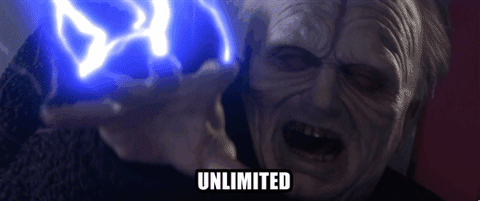 Volt Resistance also sells replacement batteries that you can charge ahead of time to switch out in the field.
The battery pocket is in the middle of the glove and can be opened and closed with a waterproof zipper for easy access to the batteries.
Batteries last for up to two hours on High and up to eight hours on Low.
Tatra Heated Gloves are available in versions for both men and women. All the above features are true about both.
90
at Amazon
Prices accurate at time of writing
Prices accurate at time of writing
The men's version comes in five sizes, small through 2XLarge, and in black and black/gray.
The women's version is only available in gray and in sizes Small through Large.
Savior is another company that specializes in heated garments, though they don't quite match the level of quality that Volt Resistance achieves and I wouldn't rely on these gloves for long hours out in sub-zero weather.
Still, Savior Half Leather Heated Gloves are a solid, middle-of-the-road option suitable for a wide variety of activities in less extreme winter weather.
They have a breathable yet wind and water resistant soft shell, lambskin leather palms, and velvet lining, making them one of the most comfortable heated gloves available.
Adjustable velcro wrist straps and elastic cinch cords at the mouths of the gloves provide additional insulation.
These gloves have three heat levels and warm along the back of the hand and along each finger. The heat control and level indicator is on the back of the glove next to the thumb, for super easy access and adjustment.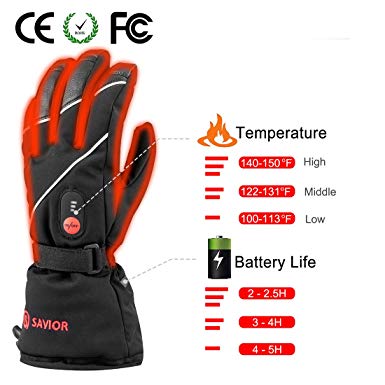 The battery pocket is less conveniently located, on the cuff on the inside of the arm, but this position is more comfortable than other locations and since the level can be controlled on the back of the glove, access is only needed to switch out the rechargeable lithium-ion batteries.
The battery life is only four hours on Low and two hours on high, but the gloves come with a dual charger so you can charge both batteries at once.
Compatible replacement batteries can help make up for the shorter battery life if you don't mind carrying them around and switching them out.
These gloves aren't designed specifically for one sex, but they do come in seven different sizes, ranging from X-Small to XXX-Large, so there's an option for virtually any hand.
140
at Amazon
Prices accurate at time of writing
Prices accurate at time of writing
Just know that some reviewers report that they tend to run small compared to other gloves, so be sure to go by the size chart.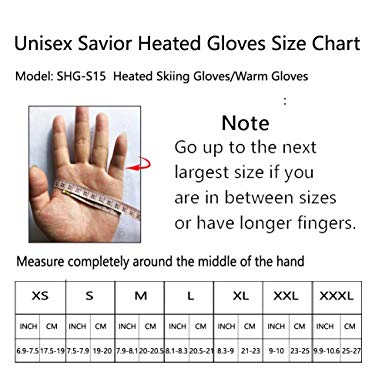 Caring for Your Heated Gloves
Once you've got yourself a pair of heated gloves, make sure that you're caring for them properly to make sure that they stay in top performance condition for as long as possible.
Your gloves should come with care instructions, but here's some general advice.
Now if the care instructions that come with your gloves contradict what I say here, always default to the manufacturer's instructions. They know better than I do how to care for their stuff.
Leather
Condition and waterproof your gloves as soon as you get them, even if they're already waterproofed, to ensure that they (and your hands) are as protected as possible. Condition them two or three more times throughout the winter season.
13
at Amazon
Prices accurate at time of writing
Prices accurate at time of writing
Never, ever launder leather gloves, electrical or otherwise. If they get really, truly dirty, in a way that you can fix by wiping them off, take the gloves to a leather cleaning professional.
Cloth
Cloth chemically heated gloves are generally pretty straight forward. Make sure there's not a heating packet in the pocket, then throw them in the washer on gentle.
For gloves with delicate features or to make it easier to pair up the gloves again after washing, you may want to toss them in a mesh laundry bag before washing. Then either air dry or tumble dry on gentle.
7
at Amazon
Prices accurate at time of writing
Prices accurate at time of writing
Electrical gloves, on the other hand, should never go in the washer for obvious reasons.
Instead, spot treats them as needed with water and a mild detergent taking care to not get the electrical components wet.
Conclusion
Now you know everything you need to in order to pick out a pair of heated gloves yourself. The pairs I've suggested here are a cross-section of awesome options at different prices, but they aren't the only good heated gloves out there.
If none of them quite tickle your fancy, don't be afraid to keep looking and find a pair that you like better!
So which pair did you end up going with? If you need normal shooting gloves, take a look at the Best Shooting Gloves!