You're starting a new build, you have all the parts picked out…but you're not sure what length handguard to get!
Thankfully, you found this article.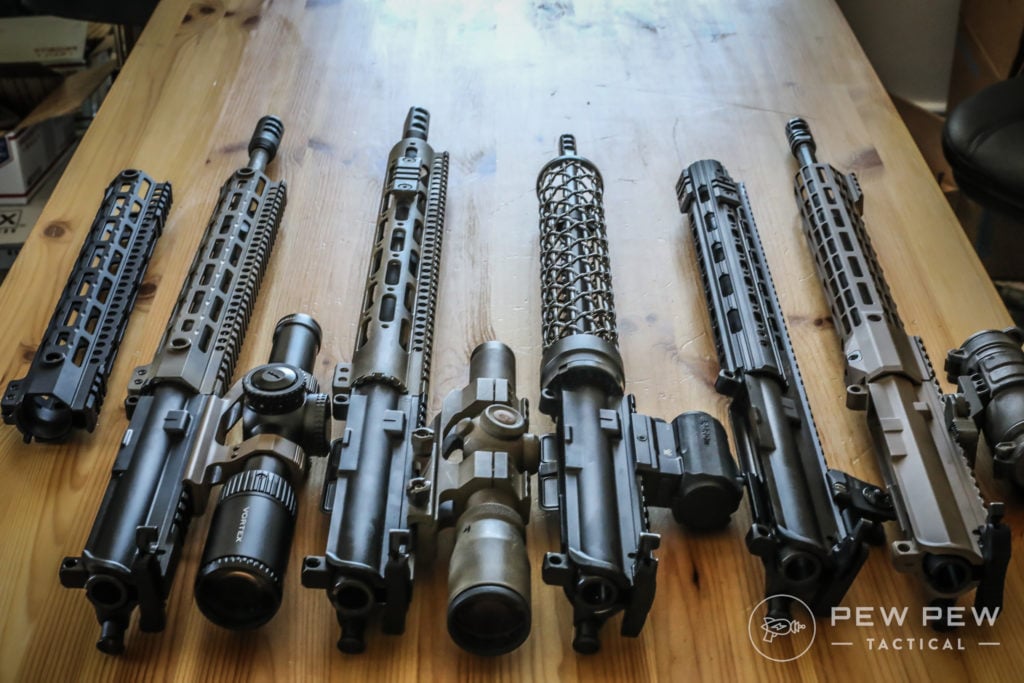 We'll talk about some things you should know, some of our favorite lengths, and why you might like them and get you sorted out and back to the range ASAP!
Table of Contents
Loading...
Things To Think About
First off, we're talking about free-floated handguards since these give you the freedom to choose your length. Drop-in handguards rely on the front sight block to attach to the rifle so you are limited to using the length that your FSB forces you to use.
Free-floated handguards only attach at the receiver, allowing you to have an endpoint of your choosing.
Barrel Length
How long your barrel is will, in most cases, give you a maximum length for your handguard.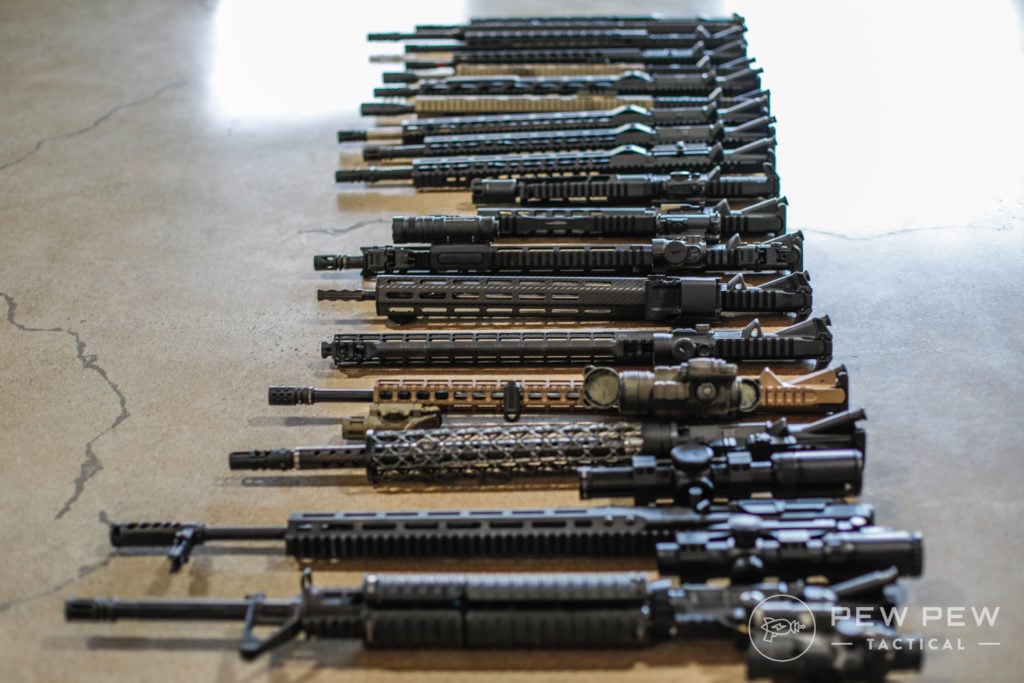 If your handguard extends past your barrel you're probably in for a bad time. First off, it's a safety hazard since you could get a blast of hot gases blown into your hand.
Secondly, there is a good chance it will damage or destroy your handguard. So don't do it.
The exception to this rule is if you plan on running a muzzle device that extends past the end of your muzzle and does NOT have ports to redirect gasses to the side.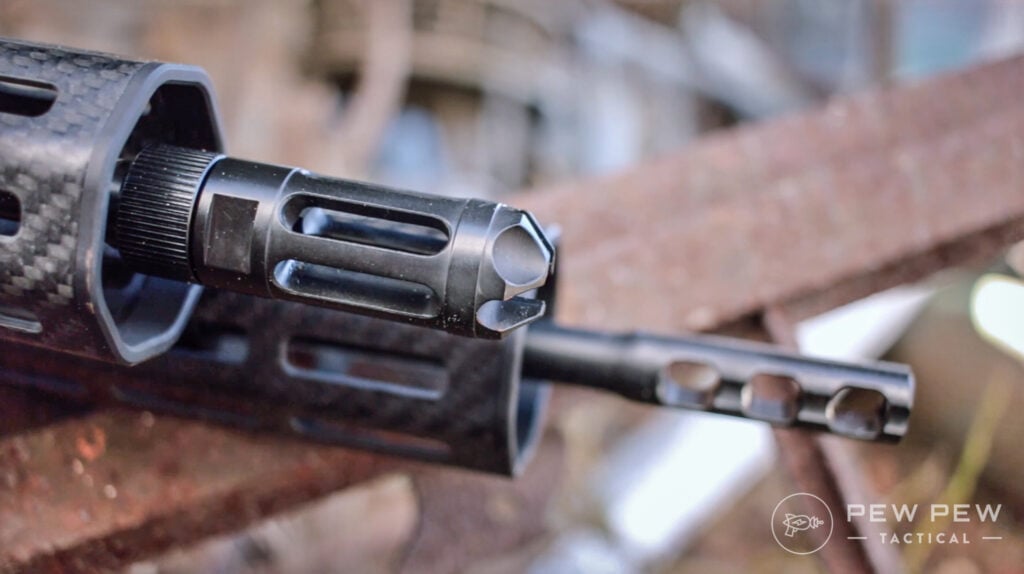 Suppressors and linear comps are perfect for this but are really for niche builds.
Gas System
While technically not a limiting factor, I strongly recommend you consider your gas system length to be the minimum length of your handguard.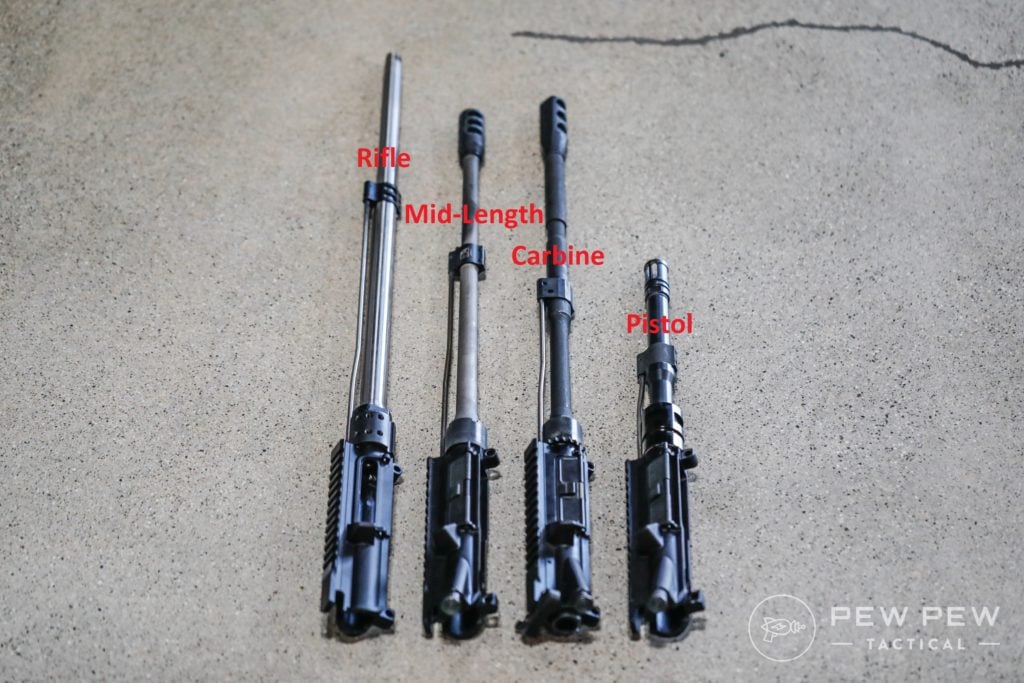 There aren't a lot of parts on an AR-15 that require protection, but the gas tube is it. If you have a rifle-length gas system but only a pistol-length handguard you're exposing several inches of bare gas tube to the world.
If you or anyone else touches it after shooting, it's going to burn like crazy.
It is also a critical part that could take a drop or hit. If the gas tube gets bent, broken, or cracked it can't function. Your rifle is a club until you fix it.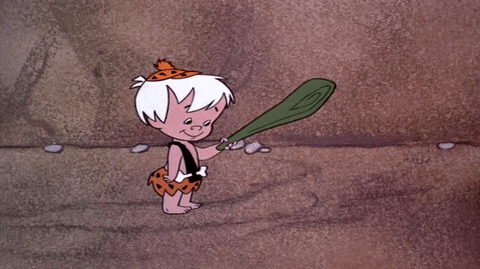 Required Minimum Lengths
Pistol Gas System: 4.5-inches
Carbine Gas System: 7.5-inches
Mid-Length Gas System: 9.5-inches
Rifle Gas System: 13-inches
Intended Use
Small and lightweight builds benefit from a shorter handguard, but having an exposed barrel at the end means it can be harder to shoot off barricades if you want.
Resting off of the barrel will cause POI shifts and it's just awkward.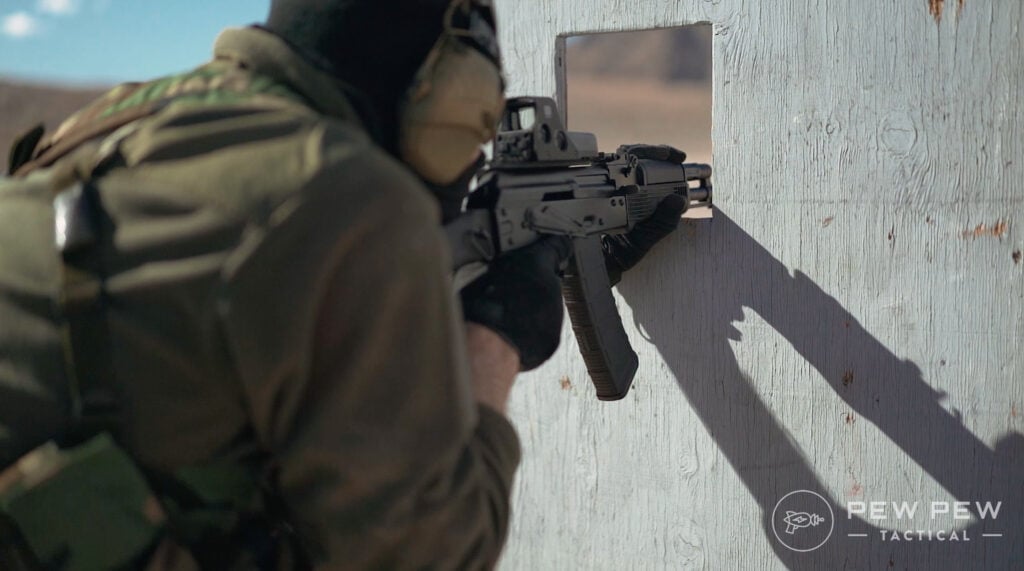 More length also gives you more room for stuff to hang off the rifle. Weapon mounted light, IR/visible laser, foregrip, and anything else you might want to attach.
If a bipod is central for your build, they work best when mounted as far out as possible.
The same can be said for iron sights, more length is always better.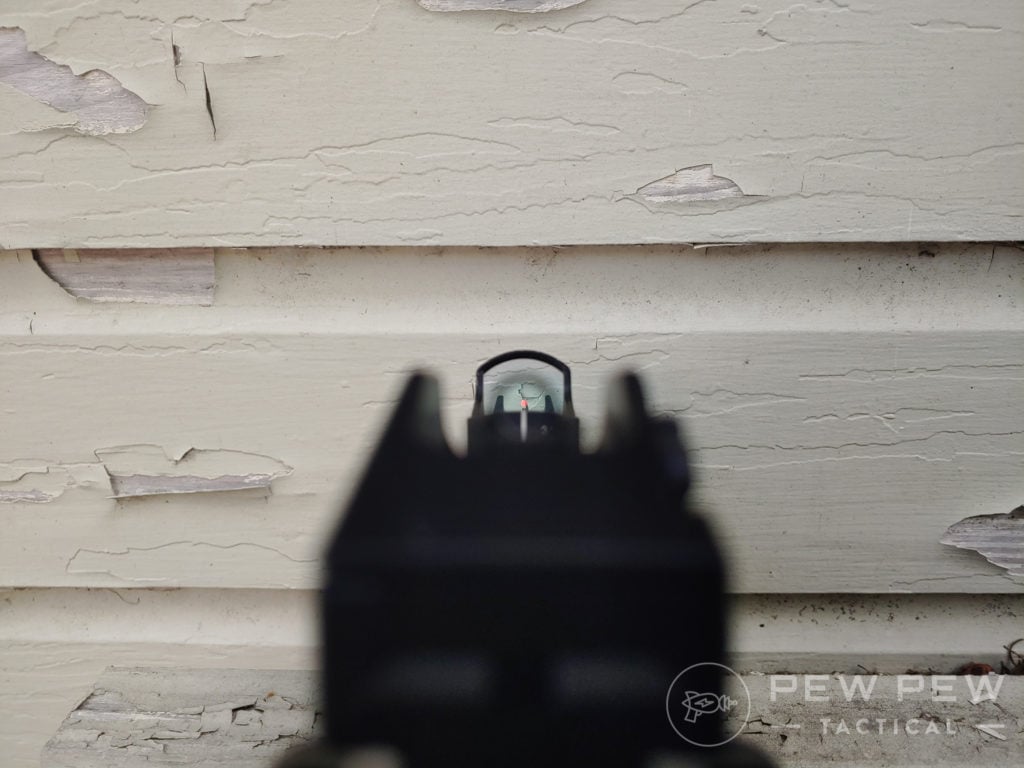 If you want a short stubby home defense rifle, go with a short handguard. If you want a long-range hog dropper shooting off a bipod, go long.
Best Handguard Lengths
Depending on your build, there are three lengths that I recommend. These are standard lengths that most manufacturers will offer and will give the best of most worlds in terms of options.
Also, keep in mind that these lengths can be plus or minus an inch or so normally. More so with shorter lengths, but not all brands offer a handguard in the same length.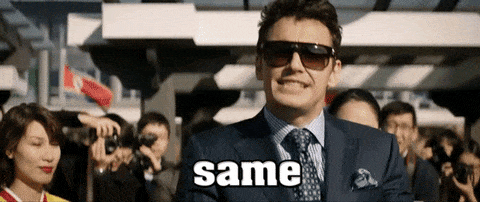 While 15-inches is pretty close to a gold standard — the shorter lengths can be iffy.
10-inches
These can be safely used on pistol, carbine, and mid-length gas systems and with barrels 10.5-inches or longer.
To me, this is the shortest I would ever go for a 5.56 firearm — sub-10.5-inch barrels and 5.56 act funny and lose a huge amount of punch.
For a pistol or SBR that needs to be super short, this is my lowest.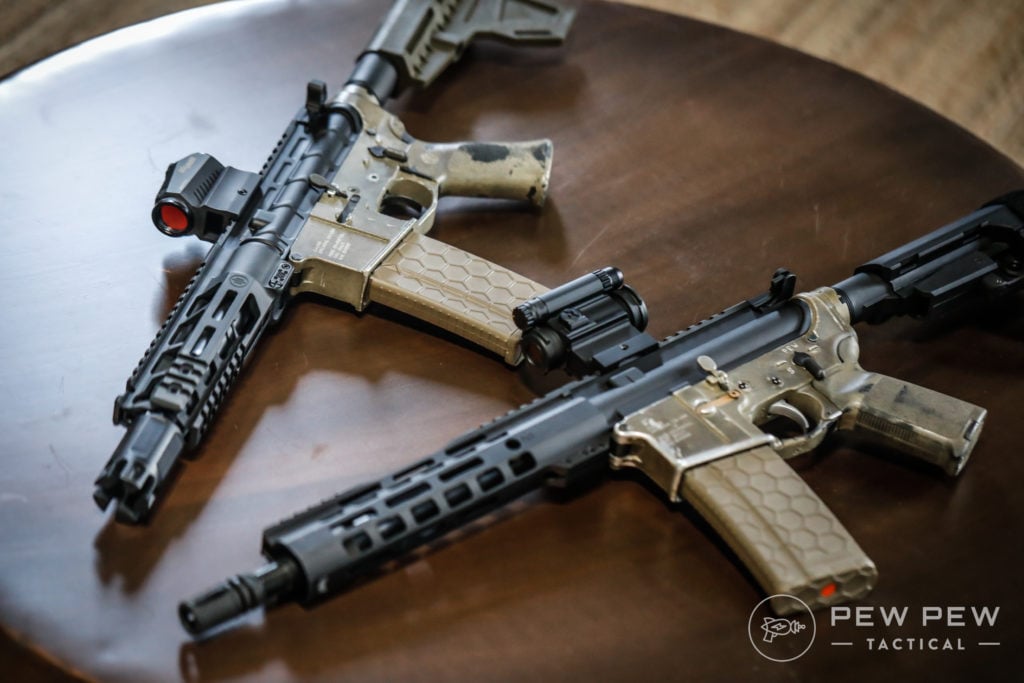 Of course, you can go lower if you really want to — but it's not really a path I would recommend unless you're really sure about your build and have experience with it.
12-inches
Perfect for mid-length and carbine gas systems, but still usable on pistol length.
Your minimum barrel length is 12.5-inches and that covers a wide range of common barrel types including the very popular 14.5-inches.
In fact, my HD rifle is a 14.5-inch barrel with an integrated muzzle brake to make it the 16-inches legal minimum. With a mid-length gas system on it, I use a 12-inch handguard.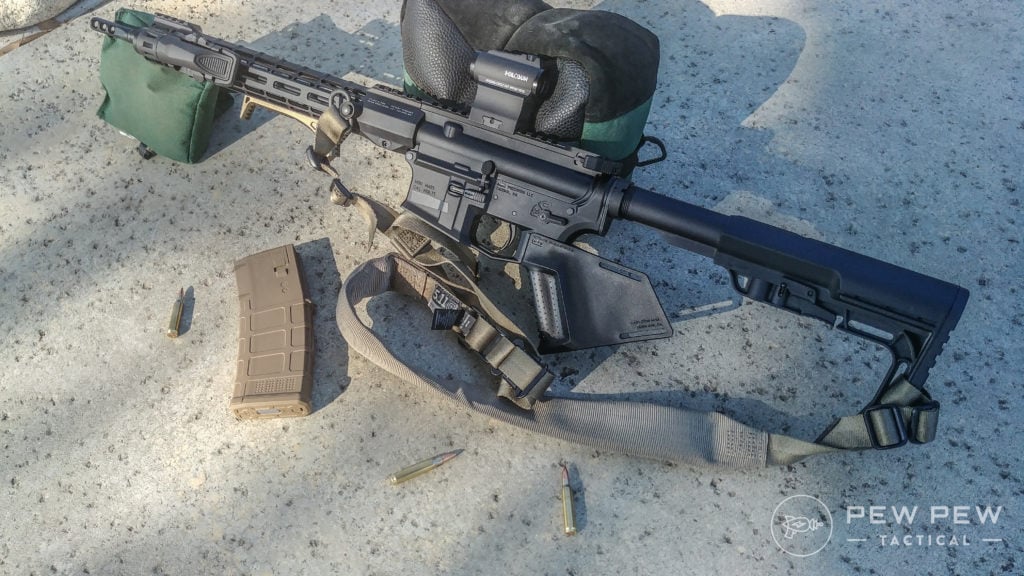 While this does leave a few inches of exposed barrel, it covers the important parts and keeps everything well balanced.
15-inches
Intended mostly for rifle-length gas systems, it's perfectly usable on any standard length gas system.
Generally, these will only be used on barrels that are 16-inches or longer and are probably the most common length for handguards.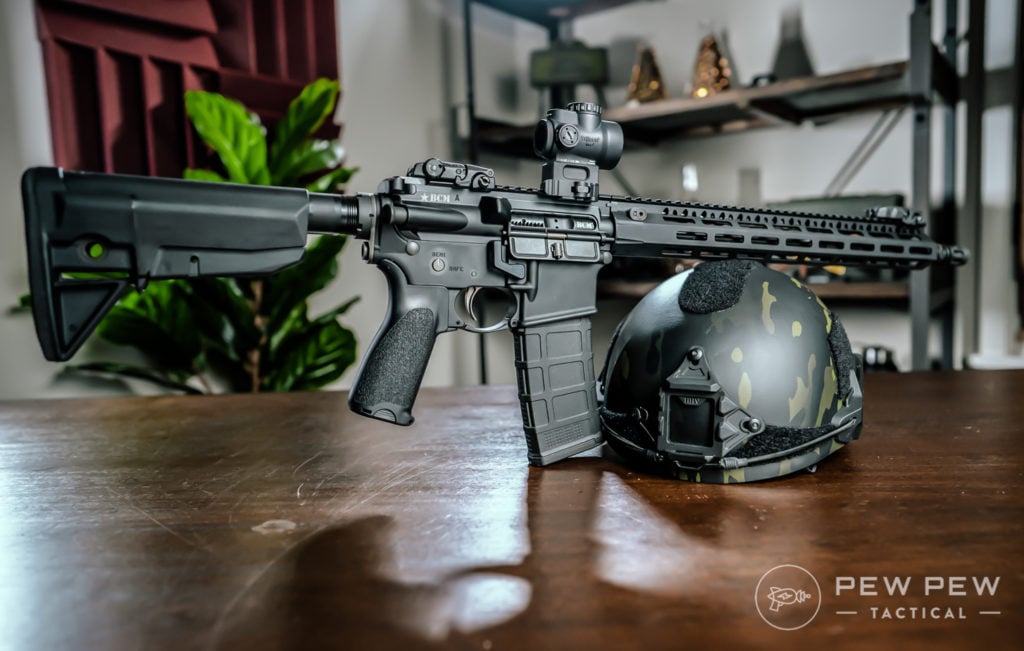 15-inches gives you a lot of room for attachments, a long sight radius for irons, and allows for a C-clamp grip that is as far as most people can reach.
Conclusion
When it comes down to it, you can use whatever handguard length you want as long as you keep in mind recommended minimum and maximum lengths.
If you want to throw a 15-incher on a pistol gas system, go for it. If you want a handguard that ends at the gas block, you can do that.
Free-floated handguards give a wide range of options and allow you to tailor your rifle more to your needs while also improving mechanical accuracy and giving mounting points for lots of toys.
What length is your go-to standard? Let us know in the comments! Don't forget to take a look at the Best AR-15 Handguards!