Some of you may know that I enjoy competition shooting, mainly 3-Gun.  That being said, I don't think I've ever talked about my absolute love for rimfire competition, and rimfire shooting in general.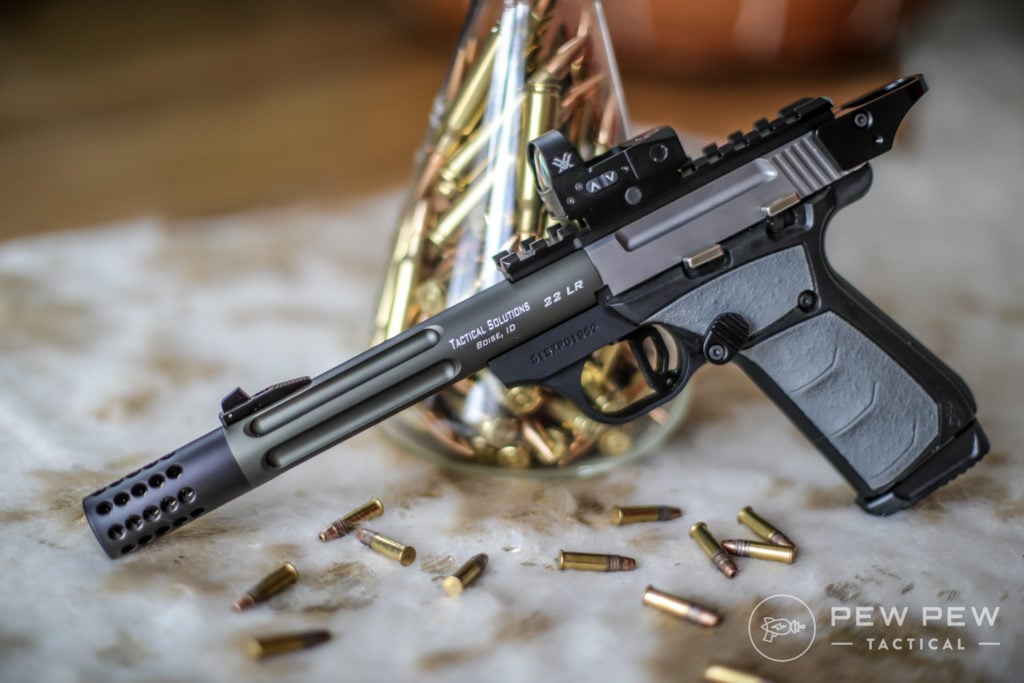 Something about being able to carry a silly amount of rounds in my pocket combined with the light recoil just makes me happy inside.  It might be because I grew up shooting rimfire rifles, and shooting anything rimfire today takes me back to a simpler time, before student loans and taxes.
So, when I got the opportunity to test out Tandemkross' "Everything Kit" for my Browning Buckmark, I jumped at the chance.  The kit includes just an amazing amount of stuff to take a regular old Buckmark and turn it into something truly special.
After I finished adding all the parts and putting everything together, the gun went from a perfectly functional firearm, to a piece that I could see myself carrying into a competition, or even hunting small-game with.
Let's Talk About the Gun
First of all, the Browning Buckmark is one of the finest .22lr handguns out there.  It has a long sight radius and one of the best triggers on any gun at this price point, full stop.  
Editor's Choice
449
at Brownells
Prices accurate at time of writing
Prices accurate at time of writing
I've long had one in my main range bag that gets taken out and shot just about every time I go out.  It's not a carry gun, it's not a home defense gun (unless you have someone that is very recoil sensitive), it is purely a FUN gun that you could conceivably kill a squirrel with.  We gunners need to start being honest with ourselves about what some of our guns are really for: pure, unadulterated fun.
Out of the box, the Buckmark is serviceably accurate, and is a good gun for training new or younger shooters.  It weighs about 2lbs, and most of that weight is in the barrel, which keeps the already light recoil extremely manageable.
There are also a ridiculous amount of variants out there, meaning that whether you want a target gun, or a fun gun, or a "oh shit, there's a snake in the yard" gun, you can find something for you.  My particular gun for this review was a Browning Buckmark URX.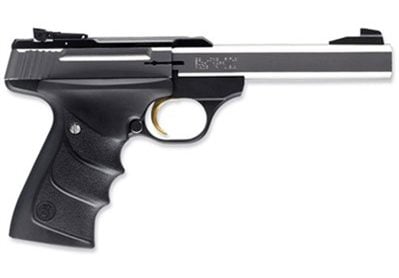 The Parts
So, down to the important part. Parts. The important parts.  
Specifically, the parts that come with the Tandemkross "Everything Kit" for the Buckmark.  Here's the list:
1 x "Race Gun Kit":
I'm going to tackle these in order, and go over what makes them so good in this particular firearm.  If you want say, the firing pin or the extractor, but not the charging ring or the mag release, you can purchase all of this separately if you just want this or that, or already bought some of it and want to upgrade.  Or if you're like me and you have to carefully moderate your gun budget so you pick up a piece here and a piece there until you have what you want, that works too.
Victory Trigger
35
at Brownells
Prices accurate at time of writing
Prices accurate at time of writing
The Buckmark already has a very good trigger with a nice snappy break and a "good enough" reset.  It's fairly light and breaks smoothly enough that you could conceivably use the gun out of the box as a funsies target gun, but you'll want something better for serious competition.
The Tandemkross Victory Trigger is a flat-faced beauty of a thing that replaces the curved trigger shoe of the Buckmark perfectly.  Installation is quick and easy and consists of just a couple pins that need driving out.  As always, use nylon or brass punches to avoid scratching up your finish.
The Victory trigger is available in two flavors, one with a textured shoe that has a very aggressive face for maximum control and grip, and another with a smooth face.  Personally, for this I like the textured version for the extra control, but if you don't already have calluses on your trigger finger like I do, you're going to start feeling it after a few hundred rounds.
"Halo" Charging Ring, "Buck Pro" Extended Base Pads, "Titan" Extended Magazine Release  
40
at Brownells
Prices accurate at time of writing
Prices accurate at time of writing
22
at Tandemkross
Prices accurate at time of writing
Prices accurate at time of writing
30
at Tandemkross
Prices accurate at time of writing
Prices accurate at time of writing
I'm going to cover all of these things at once because they all serve a similar purpose: making it easier to run the gun in a high-pressure situation.  The big Halo charging ring makes the already smooth slide even easier to rack, and gives you plenty of purchase to yank on to quickly clear a malfunction.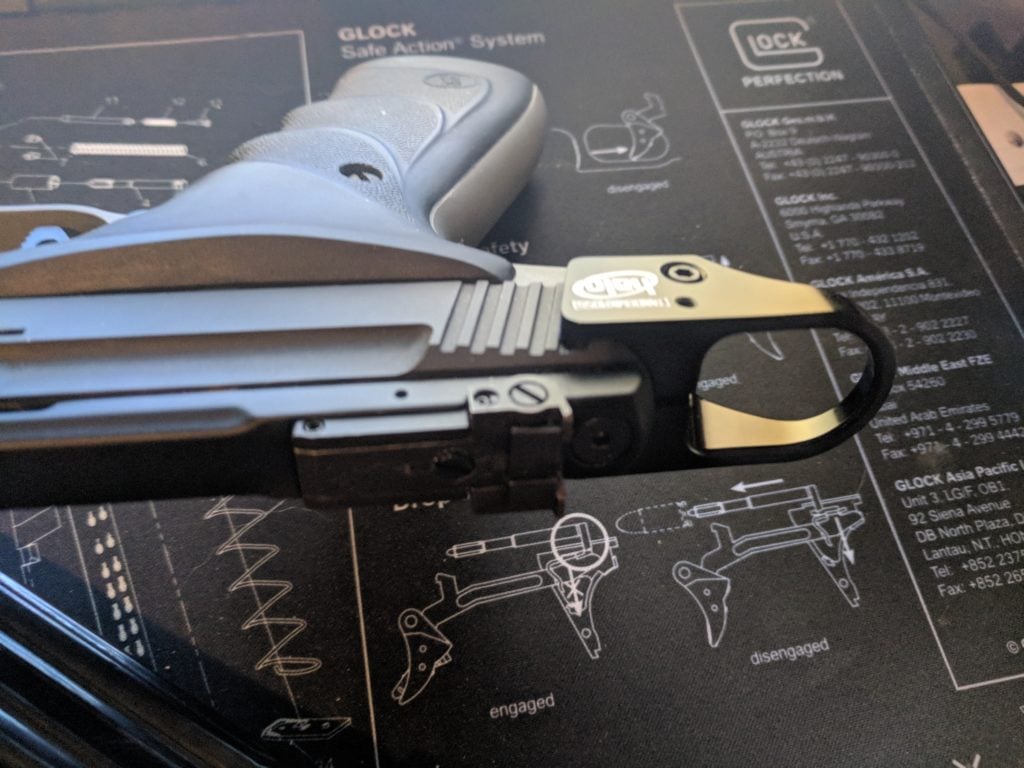 The Extended Base Pads help the magazines drop free consistently, and give you a little more to grip when you're trying to slam home a mag quickly.  If you've ever tried to seat a flush-fit mag of any type quickly, you're probably pinched something at least once.  It's not fun.  These base pads prevent that, but unfortunately don't add any capacity.  They do add a nice bit of weight to the mag though, and the install took about 10 seconds each.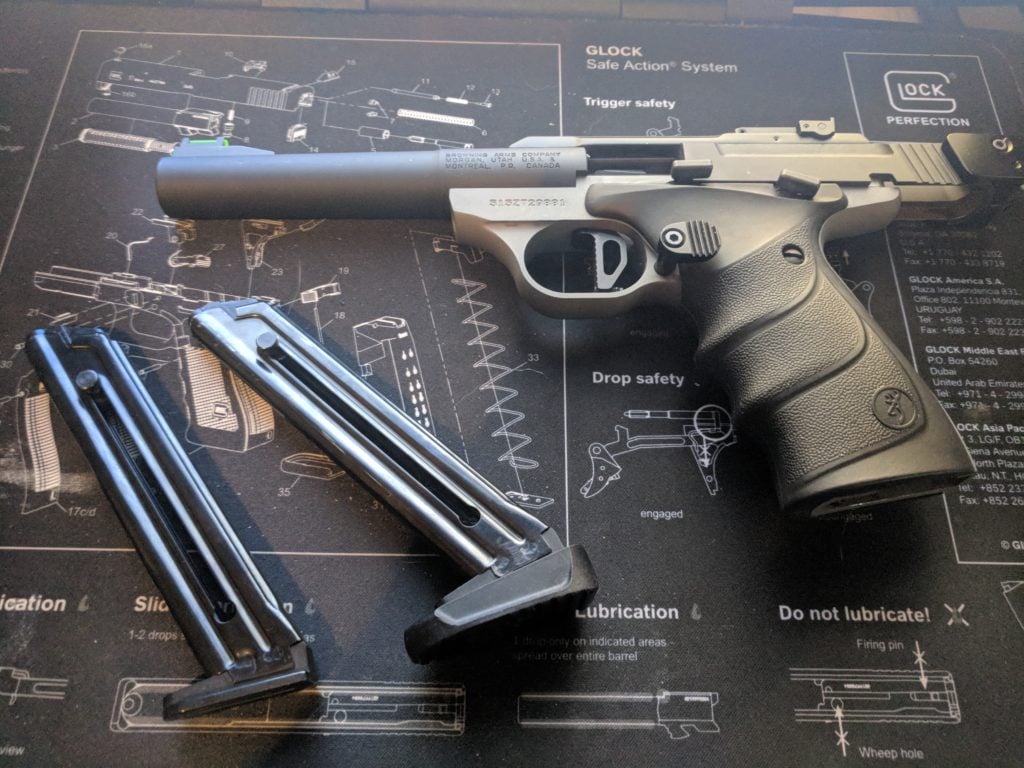 Finally, the "Titan" Extended Mag Release.  I have genuinely mixed feelings about this one.  On the one hand, if you have short, fat sausage fingers like me (or just small hands in general) it can be difficult to get your thumb to the Buckmark's mag release without dramatically changing the grip you have on the gun to get your thumb over there.
That's great.  However, for me and the admittedly cheapo holster I have for my Buckmark, the mag release sticks out so far now that it's basically impossible to holster the gun without it catching, and you can't really holster it on your body with a mag loaded because you're guaranteed to hit the release and spit your mag out onto the ground.
For me, this isn't a big deal because I wasn't really planning on carrying the Buckmark in a holster, but it could definitely be an issue if you're trying to put together a "yard gun" for the occasional snake, or you want something you can do competition with.  If you're going to do that, go ahead and spend the money on a decent holster, not the $12 one available from Browning on Amazon.
"Eagle's Talon" Extractor and "Fire Starter" Firing Pin
10
at Tandemkross
Prices accurate at time of writing
Prices accurate at time of writing
What's the biggest issue, typically, with rimfire firearms?  Reliability, right?  The occasional light strike that leaves a hot round in the chamber with a dented rim, extraction issues, failure to feed…that's what stops the fun when you've got a rimfire gun in your hand.
The "Eagle's Talon" Extractor and the "Fire Starter" Firing Pin fix a lot of these issues, and in the case of the firing pin, add a lot of longevity to the gun.  Titanium is less likely to break than the OEM steel pin, and the upgraded extractor is insanely aggressive, and helps kick that spent brass out a little bit more reliably.  
23
at Tandemkross
Prices accurate at time of writing
Prices accurate at time of writing
So aggressive that I actually had the occasional piece of brass come out a little shredded but it's not like I'm reloading .22lr.  This little thing could conceivably cause a horrific jam if it were to catch a piece of brass the wrong way and rip into the side of it, but I don't see that being very likely.
"Game Changer" Compensator
35
at Tandemkross
Prices accurate at time of writing
Prices accurate at time of writing
Wanna turn your .22lr handgun into a freakin' laser beam that you can fire as fast as your finger can work the trigger and feel basically upward recoil?  Do you want your .22lr handgun to sound a bit louder and throatier so nobody at the range realizes you're shooting a capgun?  Do you want to give yourself every advantage in an open rimfire competition?
Yes?  Well for one easy payment of $34.99, all this can be yours.  But wait, there's more.  You'll also get the pleasant bonus of having a badass looking, easy to clean, well-designed piece of hardware on the end of your gun.  If you can't have fun and dress up your "fun guns" what's the point?
Okay, seriously, this little thing works amazingly.  You can tell they put a lot of thought and effort into not only reducing muzzle rise, but also felt recoil.  The comp is threaded for ½-28 threads, just like basically every other rimfire thing that needs a threaded barrel.   Also, if your Buckmark doesn't have a threaded barrel and you don't want to get your barrel threaded, there are a number of replacement barrels you can get.
200
at Brownells
Prices accurate at time of writing
Prices accurate at time of writing
It doesn't add that much firing noise, but I definitely noticed a bit of a difference shooting a regular Buckmark and this thing back to back.  Something to note though, you're probably going to lose your front sight if you don't already have a .22 with a threaded barrel, so make sure you're ready to mount a red dot or something similar.
Tactical Solutions Trail-Lite Barrel with Compensator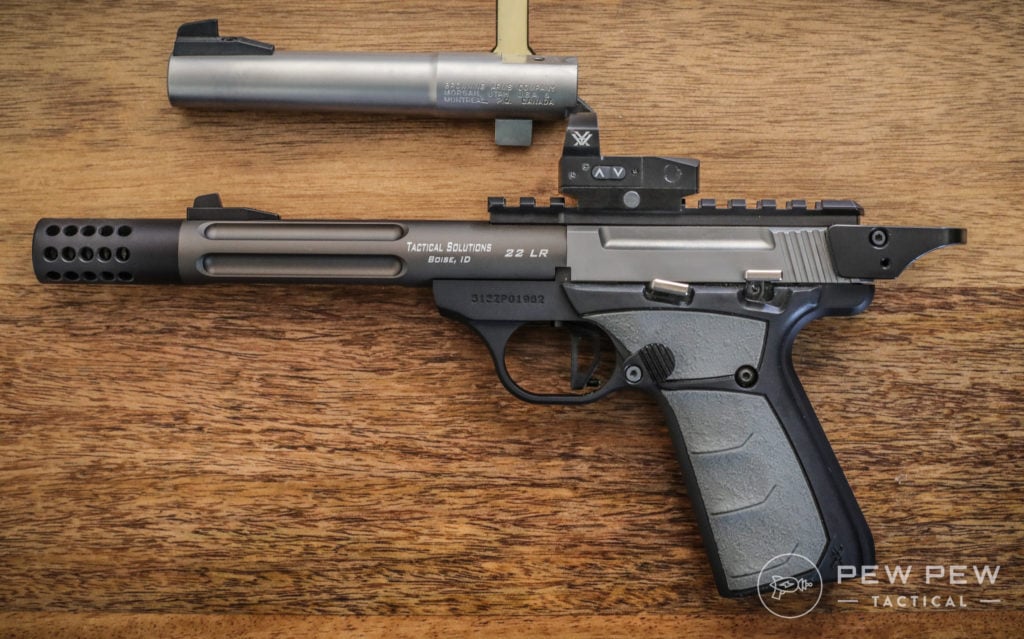 This barrel cuts the barrel weight down from almost 13 oz to 6.5 oz even with the attached compensator.
With that reduced weight AND longer barrel you get better handling, accuracy, and…of course, looks.
Check out our full review.
199
at Brownells
Prices accurate at time of writing
Prices accurate at time of writing
Vortex Venom Mini Red Dot
If you're upgrading your Buckmark…you might as well go all the way.
We tried out a lot of the most popular pistol red dots (Best Pistol Red Dots) and love the Venom for the Buckmark.
It's light and comes with the most low-profile Picatinny mount for attachment.
249
at OpticsPlanet
Prices accurate at time of writing
Prices accurate at time of writing
Shooting It
Alright, this is the important part.  How does my gun shoot after all this work and all these upgrades? (Editor's Note: It only took about half an hour to install all this, don't listen to him)
Really freaking well, it turns out.  Before, I was having no problem putting a full mag on an eight inch plate at 25 yards, which is already pretty solid for a .22lr handgun with cheapo ammo.  That was slow firing.
22
at Amazon
Prices accurate at time of writing
Prices accurate at time of writing
Afterwards, and with the addition of a red dot, I was ripping full mags as fast as I could and hitting the target with every shot.  I also noticed a lot fewer FTE issues.  In a straight up accuracy test, the gun shot about the same, maybe a little better with the red dot.  What really impressed me was the lack of recoil and the improved reliability.  
If you're looking to set up a gun for maximum fun at the range, or to give yourself the best possible chance at a rimfire open or speedshooting competition, this kit is definitely the way to go in my opinion.
Parting Shots
I think if my life or competition reputation was on the line, I'd send my gun to a gunsmith.  That's just me, and that's kind of a reach for a gun like this.  You're going to want some fine tuning like a refined action, maybe a better feed ramp, etc, for a truly bombproof competition gun.
That being said, holy crap if you want to spruce up that Buckmark or 10/22 or SW22 or whatever rimfire gun you have that Tandemkross makes a kit for, get this.  It reignited my love of rimfire plinking and might even get me back out to the range for rimfire competition.
It drastically improved the usability, reliability, and sheer fun of my already very fine gun.  And as one of the great scholars of our time said: "If you're not having fun, what's the freaking point?!"