A scope on your rifle, spotting scope in your bag, and binoculars hanging from your neck.
More optics than you have eyeballs!
It might all seem like a lot, but each of these tools has a real purpose and depending on what you're doing…may be critical in your endeavor.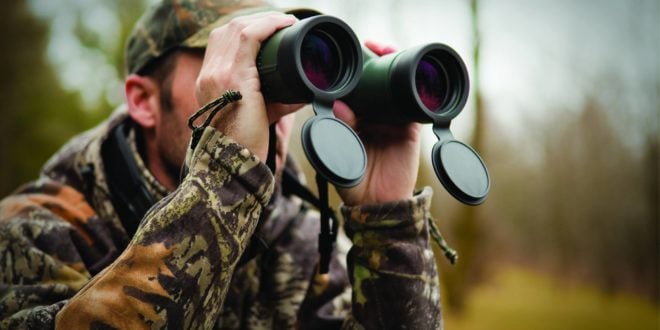 Be it finding that perfect buck, getting your eyes on a rare bird, or getting a better look at where your shot placement was going.
Read on and we'll cover why binoculars are useful, how to get the most out of them, and some of our favorite models for hunting, shooting, and more!
Binocular Basics
In simplest terms, binoculars can be thought of as two telescopes mounted side by side and regulated to point in the same direction.
This gives binoculars the ability to produce a more realistic or 3D view than a telescope or spotting scope.
Just like the depth perception you gain by viewing something with both eyes open, binoculars offer you the same depth perception and clarity by bringing two views at slightly different angles together in one image.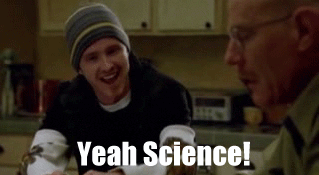 If you've been shopping for binoculars or thinking about upgrading for an upcoming hunting trip or vacation, the choices today can be overwhelming.
Of course, if you've strayed over to the European models by Zeiss, Swarovski or Leica you may also now be suffering from not only sticker shock but also shortness of breath.
Hopefully, the next few paragraphs will arm you with some basics of binocular design as well as some models to consider in your search for the perfect glass.
Some of this will get a little nerdy, but a little research might save you hundreds of dollars in wasted purchases!
Roof Prism vs. Porro Prism
You will likely run across these terms as you delve into the world of hand-held optics.
Basically, the prism system in binoculars is what allows the image you see to be right-side-up.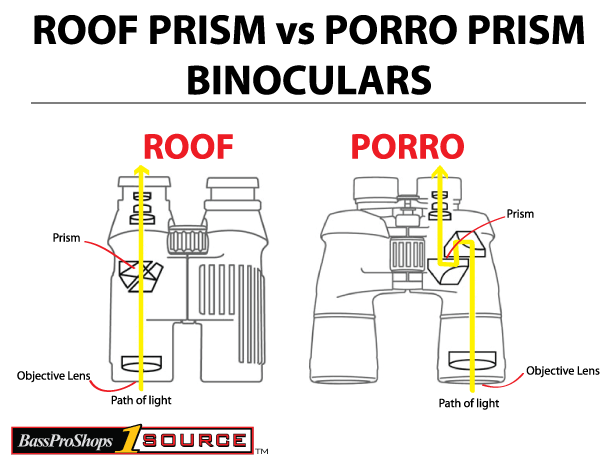 In a roof prism binocular, you will find the shape of the barrel to be more streamlined and compact.
The Porro prism models are little less streamlined. However, because of the cost of producing the more compact roof prisms, you may be able to get a higher quality and/or larger objective lens Porro prism model for the same or less money than a roof prism model.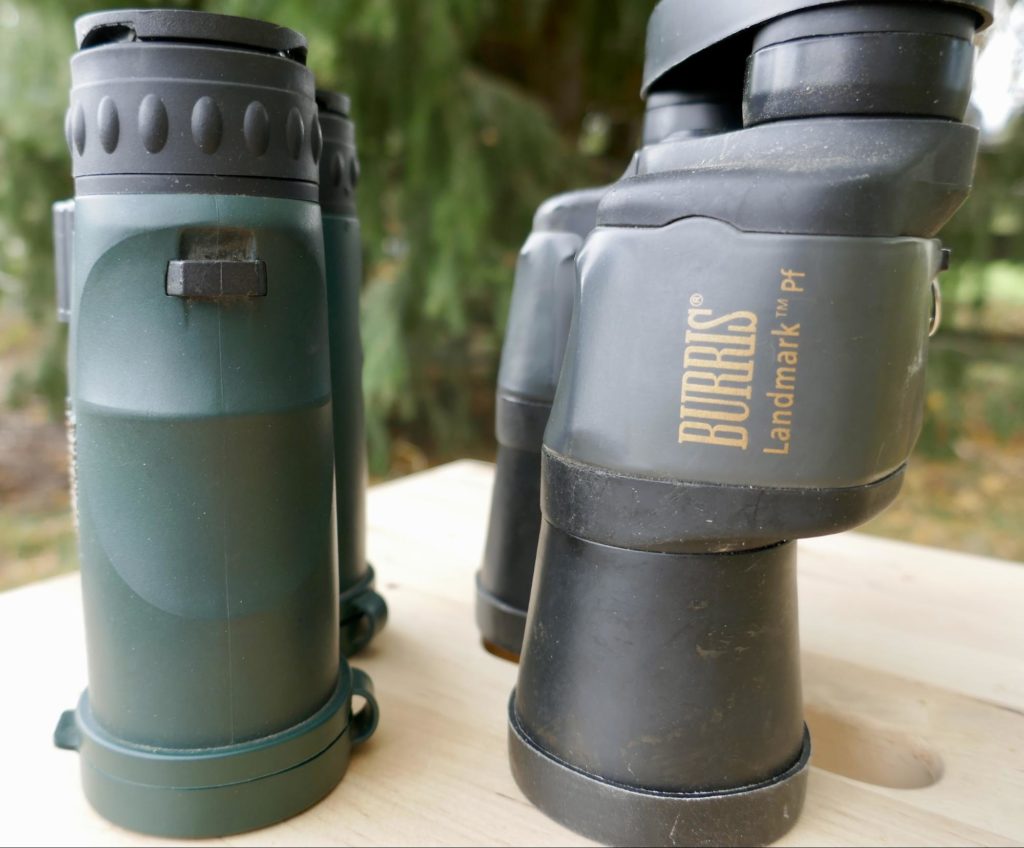 What Do the Numbers Mean?
If you know what the numbers mean for your rifle scope or spotting scope, then rest assured they work the same for binoculars also. But for those of us that are new, let me explain…
When you see a description for a given pair of binoculars you will likely see something like: 7×35 or 8×40 or 10×50. Quite simply, the first number is the magnification of the binocular.
In other words, if you have an 8×40 binocular, the view you see is as if the object is 8 times closer than it really is.
The second number is the diameter of the objective or front lens in millimeters. In simplest terms, the larger the objective lens, the brighter the image.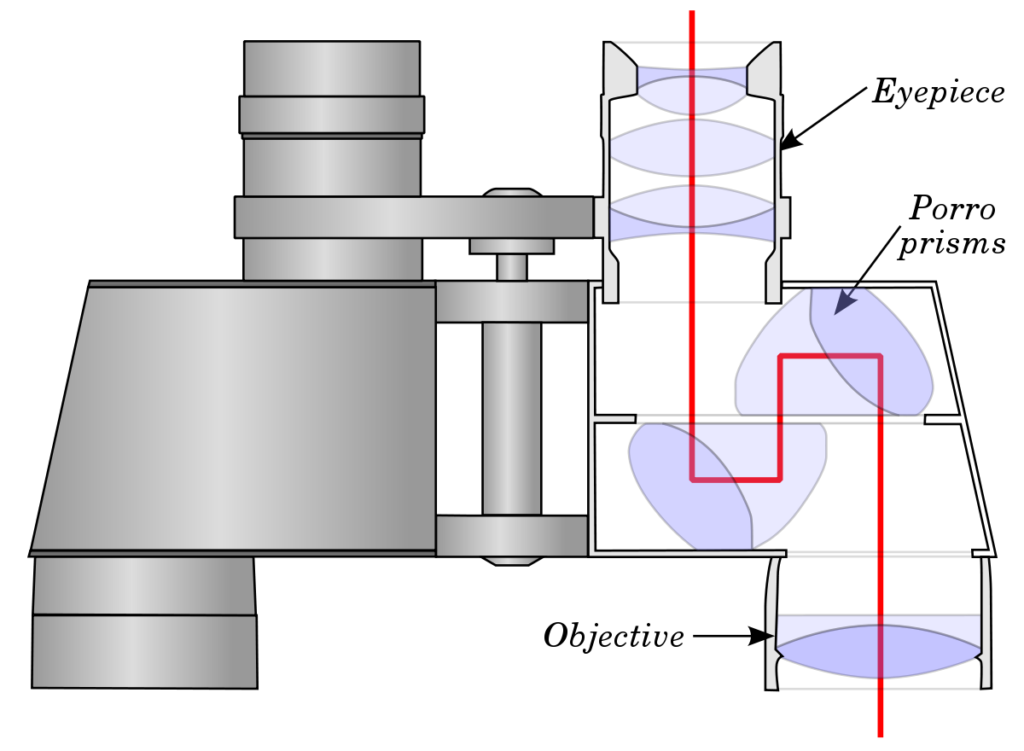 Some binoculars will have a zoom range much like a rifle scope or spotting scope. In that case, you may see a descriptor like: 10-30×60. Meaning the magnification goes from 10 to 30 power in a binocular with a 60-millimeter diameter objective lens.
Keep in mind that while it may be tempting to get the highest magnification available, you may not be able to comfortably hold much over 10 power steady enough to make good use of the tool.
For most hunting, bird watching and general outdoor use stick with something in the 7 to 10 power range. If you feel you need more magnification – consider a binocular with a tripod mount or look to adding a spotting scope to your kit.
Exit Pupil
The exit pupil is the diameter of the focused light hitting the eye in millimeters.
Generally, the diameter of the human pupil is about 1.5 millimeters in daylight to about 8 millimeters when fully dilated. So you want an exit pupil somewhere in the middle to get the most from your binocular.
A simple way to calculate the exit pupil for a given binocular is to divide the objective lens diameter by the magnification. On a 10×40 binocular the exit pupil would be: 40/10=4.0 mm. Contrast that with a compact binocular of 10×25 and you have only a 2.5 mm exit pupil.
Probably OK during the day, but in those critical last minutes of daylight looking for a big bull elk, you may not be able to make out your trophy at the far side of a meadow.
Eye Relief
Eye relief is the optimal distance from the eyepiece to your eye. This will be different for everyone. Be sure to look for binoculars that have an adjustable eyecup so you can get your eyes the right distance from the eyepiece to enjoy a full field of view.
For those who wear glasses, this is a critical thing to look for in a binocular. Try as many models as possible to be sure you can actually see through the binoculars with your glasses on.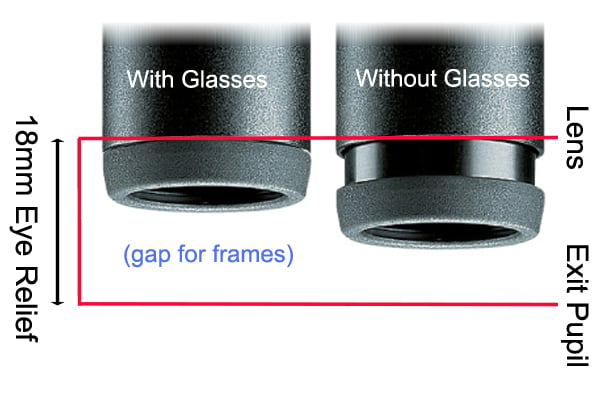 Glass and Coatings
Good binoculars have good glass and are properly ground to provide the best light transmission and clearest image. Low dispersion glass provides high image quality. With regards to the prisms in the binoculars look for BAK4 or BK7 glass. These are recognized as the best materials for prisms regardless of the design.
The coatings on the glass help to protect from dirt, dust, and moisture as well as to absorb and take in as much light as possible. Be sure to research the coatings and read reviews so you are getting a performance to enhance coating and not just a cool color tint on your lenses.
Durability and Weather Proofing
Look for binoculars that are at the very least "weatherproof". This means they are sealed with some sort of O-ring arrangement to keep the vast majority of dust and moisture outside.
Those that are rated as waterproof would be the ones to look for if your travels include Alaska, late season western hunts or coastal trips.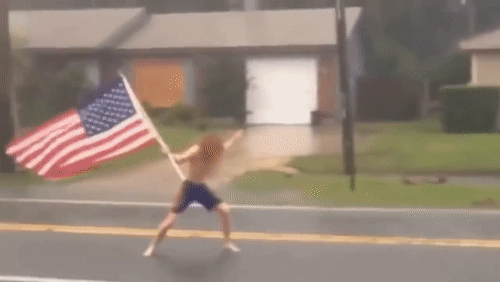 A word of caution: All fog proof binoculars are waterproof, but not all waterproof binoculars are fog proof. Nothing ruins a hunting trip like your glass fogging up so you can't see anything, so choose accordingly!
Best Binoculars for Hunting, Birding, and More
While this is not a "best of" type article, hopefully, the choices below will give you some places to start and features to consider in your quest for the perfect binoculars. As always, as objective size and perceived quality escalate, so does the price tag, in most cases.
I've had both the 10×50 and the 7×35 models in years past. For the money, the Action Extreme series is hard to beat. I preferred the 10×50 because it gave more magnification and a bit more low light performance.
154
at Amazon
Prices accurate at time of writing
Prices accurate at time of writing
The Action Extreme line is rubber armored, waterproof and fog proof. It has long eye relief and adjustable eyecups for those who wear glasses as well as diopter adjustments to fine tune the focus for each eye and provide more viewing comfort. In addition, the Action Extreme has BAK4 prisms. 10X50 model weighs in at 35.84 ounces.
The Action Extreme's come with a neck strap, a case, and a 25-year warranty.
You get a lot of optic in the Nikon for the price!
The Intensity HD line up at Cabela's offers impressive performance for the money.
Best Beginner Binoculars
190
at Cabela's
Prices accurate at time of writing
Prices accurate at time of writing
The binoculars are all armored, fog proof and waterproof. The prisms are BAK4 glass and phase coated to provide more true color transmission.
Eye relief is long at 17.2 mm plus it comes with adjustable eyecups to ensure that eyeglass wearers will be able to take full advantage of the view offered by these binoculars.
These binoculars weigh in at 26.1 ounces and come with a padded neck strap, lens covers, and Cabela's Brand Lifetime Guarantee.
Vortex is known for quality optics at affordable prices and the Viper HD binoculars are no exception.
These binoculars are a fairly compact roof prism model with phase corrected prisms and extra-low dispersion glass to provide excellent resolution and image quality.
Best Bang for the Buck
480
at Amazon
Prices accurate at time of writing
Prices accurate at time of writing
The Vipers are waterproof, fog proof, and shockproof.
The long, 17mm eye relief and adjustable eyecups ensure that all users can fine-tune the binoculars for the best viewing experience. There is also a locking diopter adjustment on the right eyepiece so users can make adjustments for the difference in their vision.
A nice bonus is that these binoculars can be used with a tripod adapter to make long glassing sessions more comfortable.
The Viper comes complete with a Rainguard eyepiece cover, tethered objective lens covers, neck strap, and a GlassPack Binocular Harness.
Throw in the Vortex VIP Warranty and a sub-$500 price tag and you have a great all-around binocular that will last a lifetime in the field.
What's your take on the Vortex?
Maven brand might not be one that you are familiar with.
The guys at Maven jumped into the high-end optics game in 2014 and utilized a direct-to-consumer sales model that allows them to furnish high-quality optics at a fraction of the price of some of the big names.
Top Tier Binos
950
at Maven
Prices accurate at time of writing
Prices accurate at time of writing
Now, they sell through Amazon (get that sweet prime shipping that way) or can be ordered directly from Maven.
Additionally, they offer the option to actually have your binocular or scope built to your specs for your specific purpose. A cool, but pricey, option!
For our discussion, we'll take a look at the B1 10×42 model.
These binoculars are a roof prism design featuring S-P (Schmidt-Pechan) prisms for superb light and color transmission. They are waterproof and fog proof and feature multi-position eyecups.
They have 16 mm's of eye relief. The weight is 29.75 ounces.
If you're ready to jump into some high-end optics for a reasonable price, give the guys a call and get your B1's on the way!
Although we have discussed the better low light performance of binoculars with larger objective lenses, as a backpack hunter I will gladly sacrifice some light gathering capability for lightweight, high-quality compact binoculars. Enter the Swaro Pocket Mountain Binocular.
820
at Amazon
Prices accurate at time of writing
Prices accurate at time of writing
These little wonders have 17 mm's of eye relief, twist-up eyecups, diopter adjustments and only weigh 12.2 ounces. They are waterproof and fog proof and fold up small enough to fit in a shirt pocket.
Perfect for those traveling far, fast and light.
To help offset the compact lenses the binoculars feature Swarobright, Swarotop and Swarodur glass coatings to produce bright and clear images.
The Swarovski name comes with a higher price tag, but also a reputation in the optics field for quality, durability and arguably the finest sporting optics available. The Mountain models feature an upgraded strap and carrying case – so that is handy.
Thumb through the African Hunting Gazette or Safari Magazine or Eastman's Journal and you'll like to see professional hunters, guides and outfitters with an old pair of…
slung around their neck or shoulders with a narrow strap or piece of paracord.
With all the fine new optics available, the Classic's have stood the test of time and still match the performance of the newcomers.
They are sleek, clear, bright and provide rugged performance that is critical to hunters everywhere.
You'll have to shop on eBay or other auction sites, but you can still find pristine Classics out there for about $650-1200. In my opinion, well worth the search and investment.
Final Thoughts
There are so many great choices in optics today, the only way to really find what's right for you is to check out as many models as you can.
Be sure you can see a full image through your eyeglasses. Ask if you can step outside the store and view things at long range. Check for sharpness around the edges and true color transmission. Check reviews on birder websites. These folks are very serious about their optics investments.
Finally, buy the best binoculars you can afford. Look at binocular purchases as a lifetime investment. Buy once, cry once.
Do you take binoculars out hunting or shooting? Tell us what we missed. And don't forget to choose a scope to go along with your new binos, 6 Best Long Range Scopes, and Best AR-15 Scopes & Optics will help you find exactly what you need!