BB guns are sometimes looked down on or seen as a kids' gun in the firearms community, but they can actually be pretty great.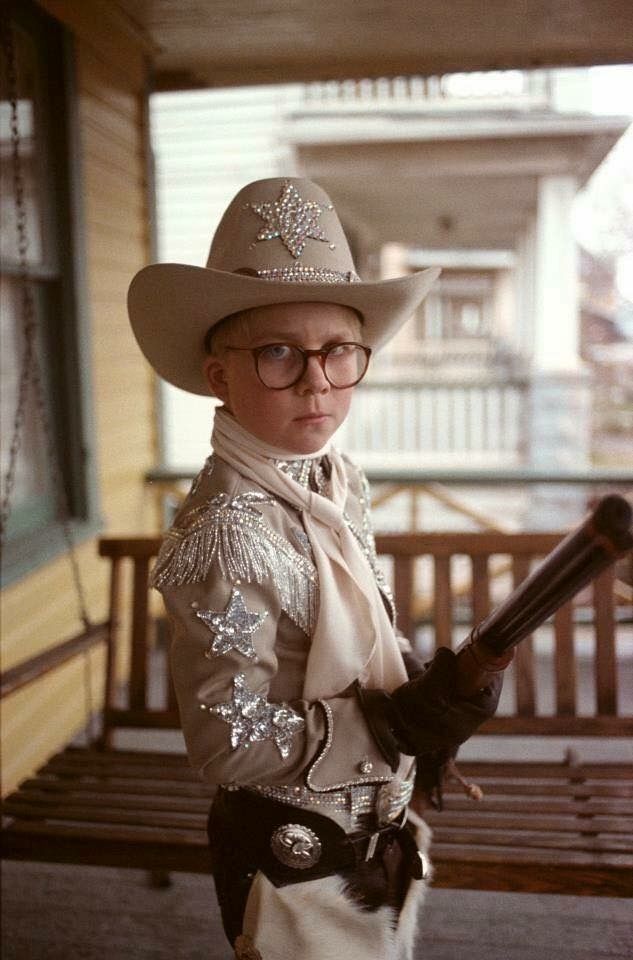 We'll go over a few reasons why they are great plus our favorites in both rifle and pistol flavors.
Why BB Guns?
For starters, there are far fewer laws regulating BB guns, which makes them a good alternative for recreational shooting in areas with strict gun laws. Furthermore, while firearms can be an expensive hobby, BB guns are far cheaper, both for the gun itself and the ammo you put in it.
With virtually no kick or noise, BB guns are also great for teaching kids marksmanship principles without the distractions and challenges of a more powerful gun. Many of us know this first hand from shooting BB guns as kids ourselves.

In fact, there are many BB guns that are made specifically for children and there are tons of youth BB gun shooting competitions, which can be a great way to introduce kids to competitive shooting.
Even adults that are new to firearms may benefit from learning marksmanship on an easy-to-shoot BB gun before moving to a more expensive, more powerful firearm.
BB guns shouldn't be looked at as merely as a weak, low-budget alternative to a true firearm though. While a BB gun won't do much for personal defense or hunting, that's not what they're for, really. BB guns should be looked at as primarily recreational.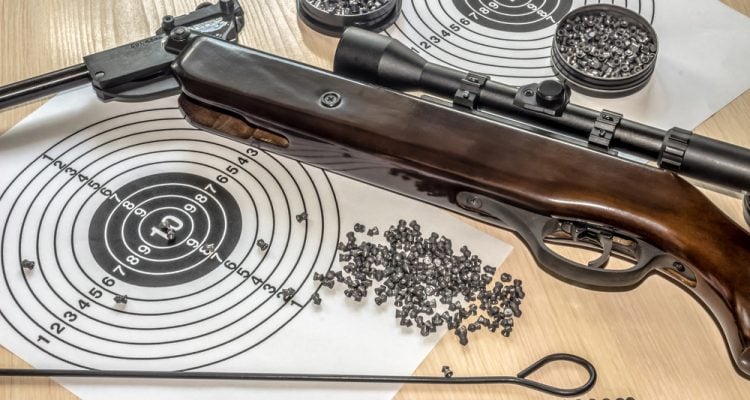 They're a ton of fun to shoot. Of course sending a large, high caliber round down range is a blast, but it's a different kind of fun. For an extended plinking session, there are definitely times I prefer a BB gun to a firearm, even a small caliber firearm, because BB guns are just so quiet and effortless to shoot.
BB guns can also be used as training guns, which was actually their original purpose.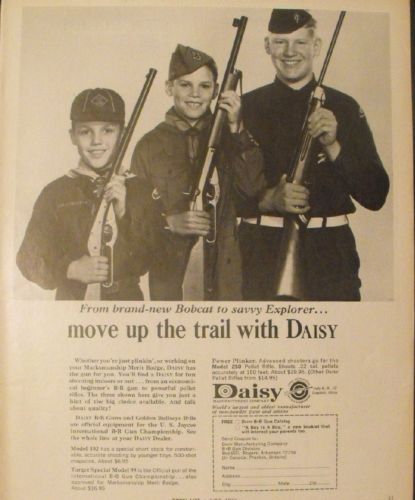 They can be handy tools for practicing marksmanship and there are even BB gun versions of many popular firearms which can be useful for training for using that specific firearm. Of course, while training with a BB gun can be useful and is definitely better than no training at all, it also shouldn't be looked at as a substitute for training with a true firearm.
Finally, there are also powerful BB/pellet gun combos that can even be used for varmint hunting, though they should be used with lead pellets for that purpose.
Lead pellets deform inside the animal in the same way a bullet does, making the wound more likely to be fatal, while BBs and synthetic pellets retain their shape and have a tendency to overpenetrate, leaving the animal wounded and forced to bleed out instead of dead.
With that said, I personally feel better just using .22 for varmints since I'm more confident that it will immediately and painlessly end the animal's life, and I definitely recommend using a .22 for varmint hunting if that's an option.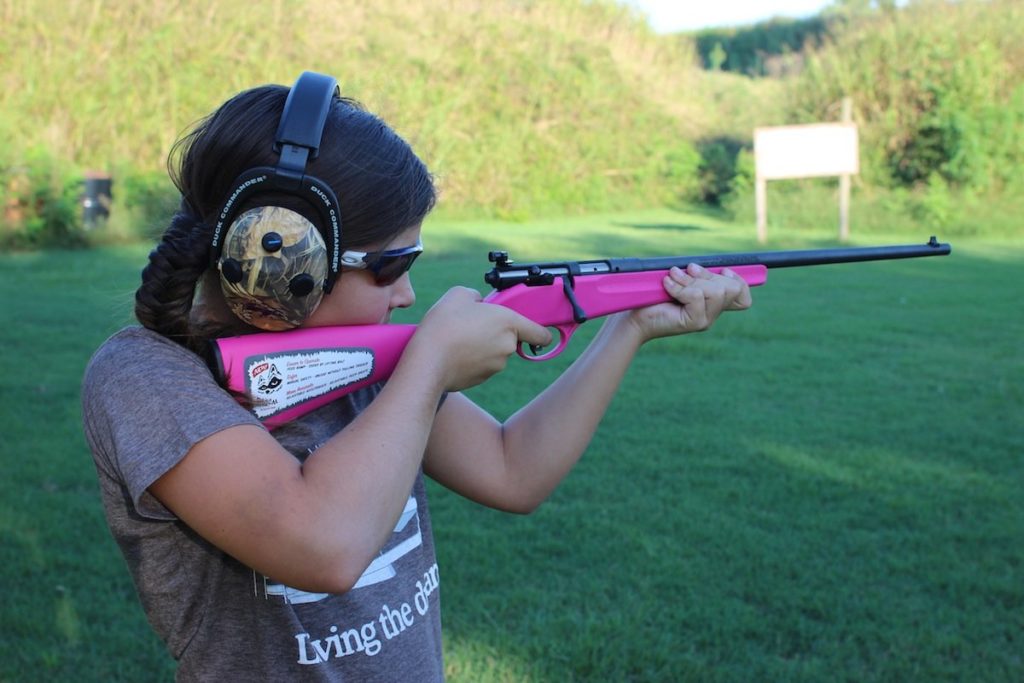 Anyway, now that you know what a BB gun has to offer, let's talk about some of the best ones on the market.
Best BB Guns
Rifle-Style BB Guns
Classic BB rifles are something just about all of us longed for as kids. Whether you wanted to play cowboy (or girl!), soldier, cops and robbers, or whatever–you know you wanted one of these.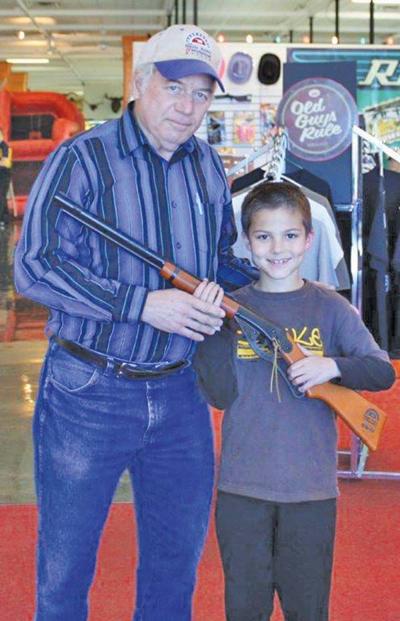 Now, there's nothing stopping you!
1. Daisy Red Ryder
Let's start with a classic.
The Daisy Red Ryder is probably the best known BB gun on the market. Whether it's because you shot one as a kid or have seen Ralphie Parker get warned against shooting his eye out in A Christmas Story (though the BB gun pictured and described in the film aren't accurate to the real Red Ryder), you're probably already at least aware of this BB gun.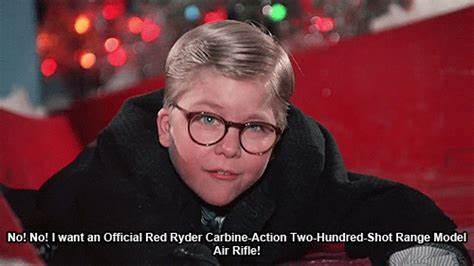 The Red Ryder was first released in 1940 and there's a reason it's still so popular now, 80 years later.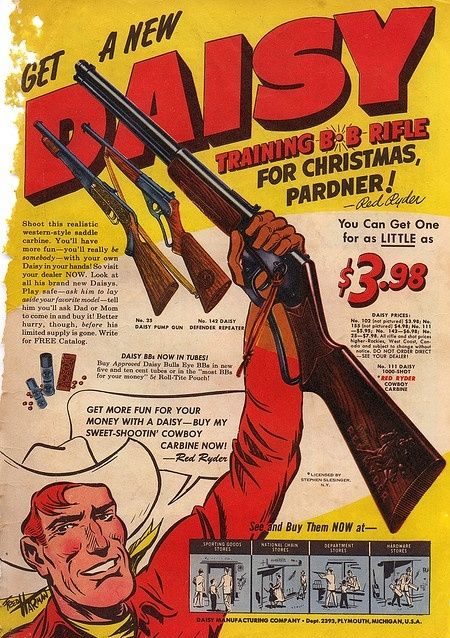 With a wood stock, blued receiver and barrel, and a leather thong near the trigger, the Red Ryder was based on the look of the Winchester rifle, a staple of Western films both then and now. The lever action and adjustable iron sights also pay tribute to the Winchester rifle.
The Red Ryder can shoot BBs up to 195 yards (though you'll lose accuracy long before that) with a barrel velocity of up to 350 feet per second. It also has a 650 BB capacity, so you can go a long time between reloads.
46
at Amazon
Prices accurate at time of writing
Prices accurate at time of writing
The manageable size (35.4 inches long with a 13.75-inch length of pull) and easy to operate design, the Red Ryder is a great option for kids, but adults can enjoy it too. Daisy also makes a slightly larger version of the Red Ryder that's actually intended for adult users.
(See our full review of the Red Ryder BB guns here!)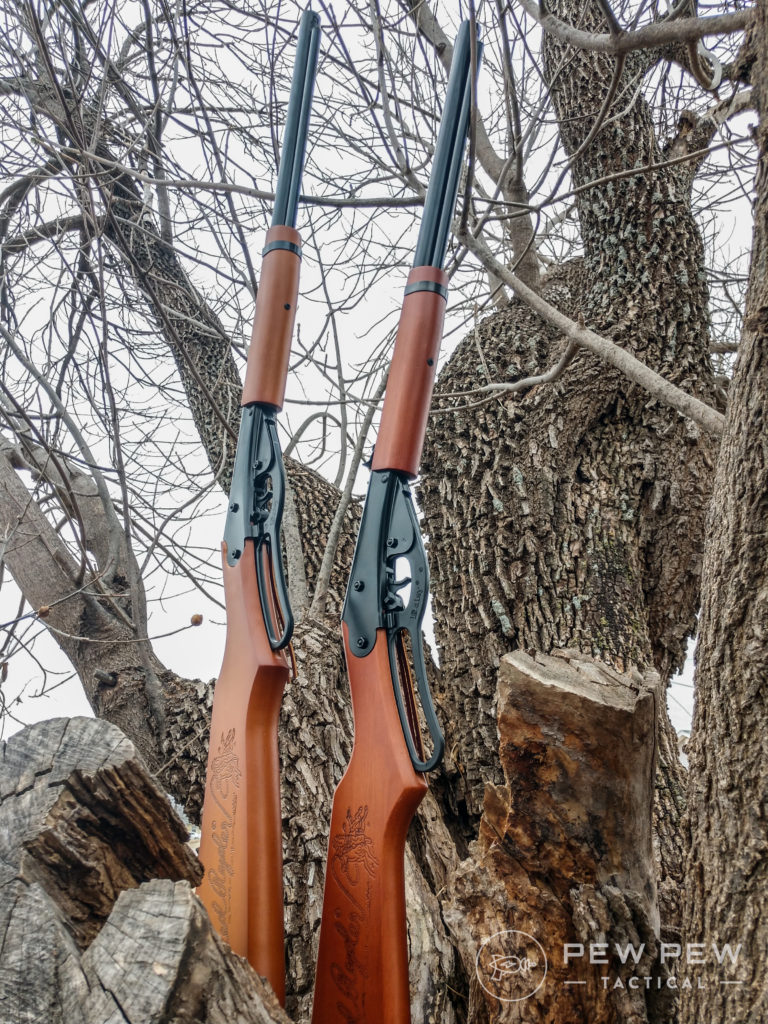 If you're looking for a Red Ryder for yourself, rather than a child in your life, the adult size Red Ryder may be the way to go to get the same nostalgia but in a more comfortable size.
48
at Amazon
Prices accurate at time of writing
Prices accurate at time of writing
What's your take on this classic?
2. Crosman M4-177 Pneumatic Pump .177 Air Rifle
Crosman doesn't have the same nostalgia that Daisy does, but they are a huge name in the world of airguns and airsoft. One of their most popular models is the M4-177.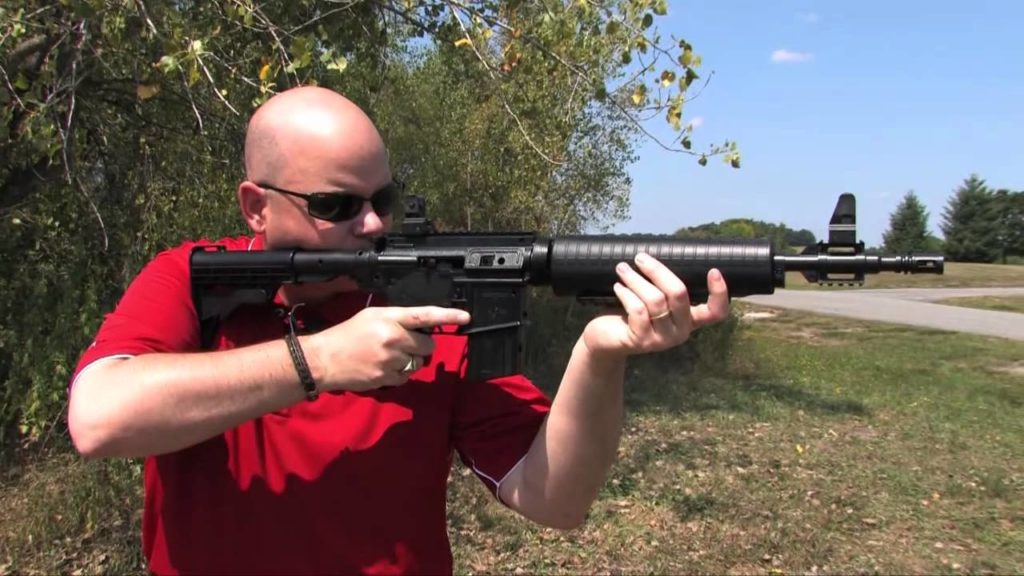 In the same way that the Red Ryder is based on the Winchester rifle, the M4-177 is based on, you guessed it, the M4 and is therefore also reminiscent of the AR-15.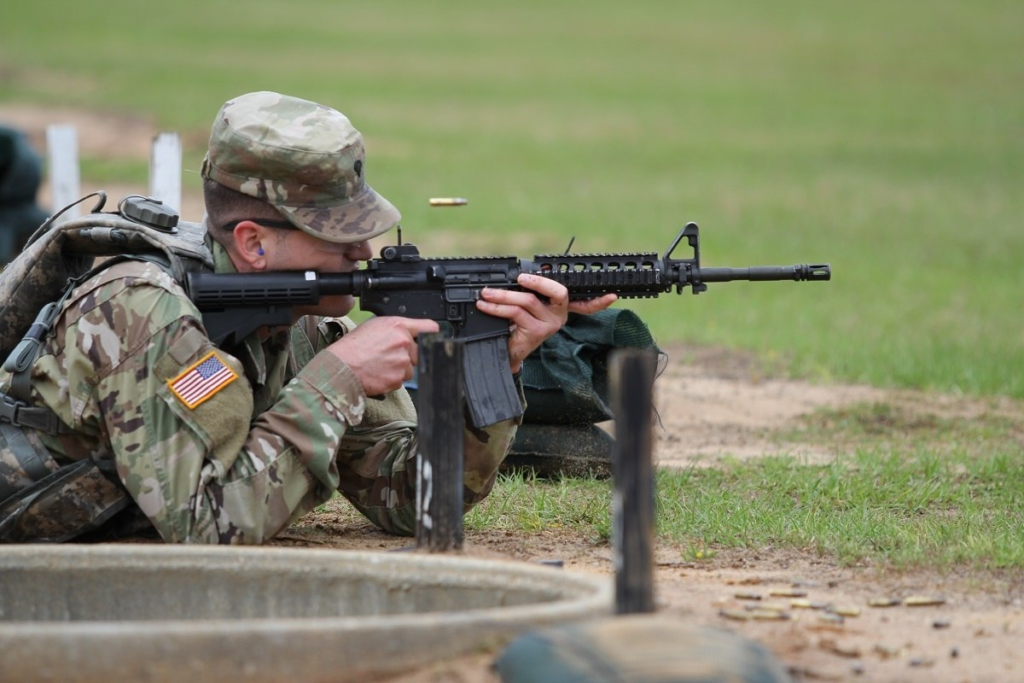 The M4-177 is a bolt action, variable pump rifle that shoots both BBs and pellets, but for accuracy's sake you'll want to stick to pellets smaller than 8 grains.
Since it's a variable pump rifle, it's great for both right and left-handed shooters, and you'll get better range, velocity, and accuracy with more pumps.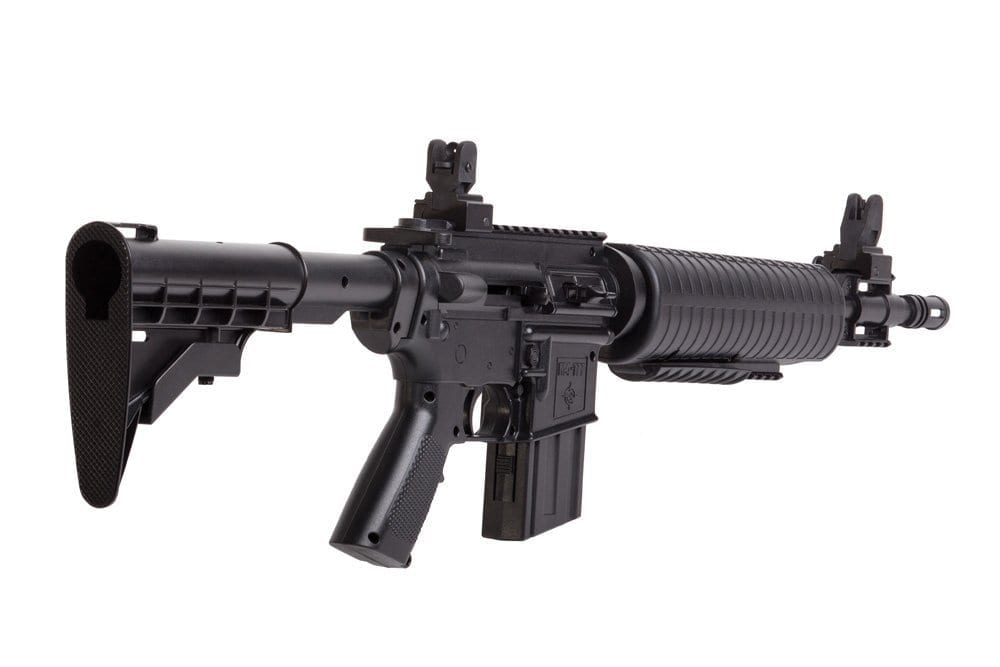 The rifle permits up to 10 pumps, with which you'll get a velocity of about 660 feet per second and range of about 200 yards with BBs, and a velocity of about 625 feet per second with 7.9gr, .177 caliber pellets.
The M4-177 has a 350 BB reservoir capacity and comes with a Firepow'r 5-shot pellet clip.
The sights are adjustable for windage and elevation and you can choose between two aperture sizes for the rear sight. Simply flip up the one you'd like to use. The sight adjustment tool, along with the clip, can be stored in the removable faux magazine.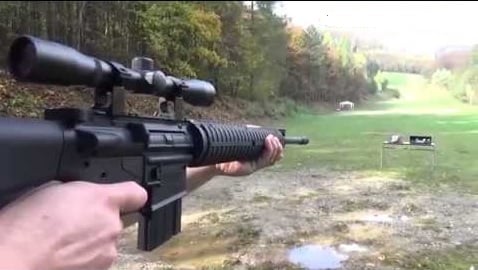 Alternatively, the sights are removable so you can also use a different sight set if you prefer. Similarly, the stock is adjustable but can also be removed if you prefer a different one.
In addition, there are picatinny rails along the top of the receiver and below the barrel for mounting various accessories, though the pump action limits what you can put on the rail along the bottom of the handguard. The M4-177 also has built in loops for you to add a sling.
64
at Amazon
Prices accurate at time of writing
Prices accurate at time of writing
3. Umarex Legends MP40 Full Auto CO2 .177 Caliber BB Gun
Umarex is another big name in airguns and their Legends line specifically replicates well known classic weapons. The Legends MP Full Auto is based on the German MP 40 submachine gun used by the Axis powers during World War II and it makes a pretty darn accurate replica.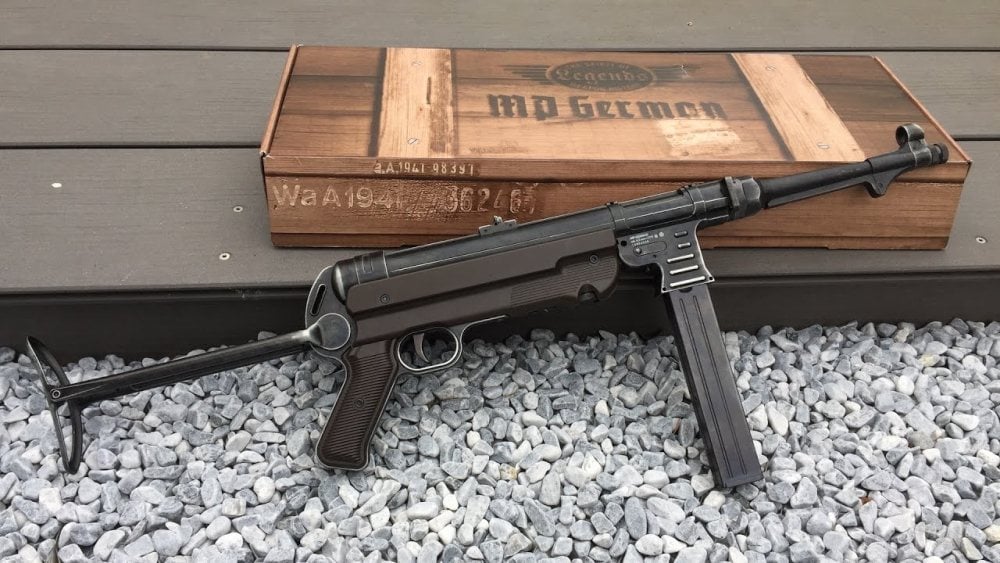 For an even more accurate, antique-looking rifle, go with the weathered version of the Legends MP40, which has a distressed finish on the metal bits, plus a leather rifle sling.
It's a good deal pricier than the rifles that we've already covered, but you get full automatic capability for about the same price you'd pay for the tax stamp alone for a full-auto firearm.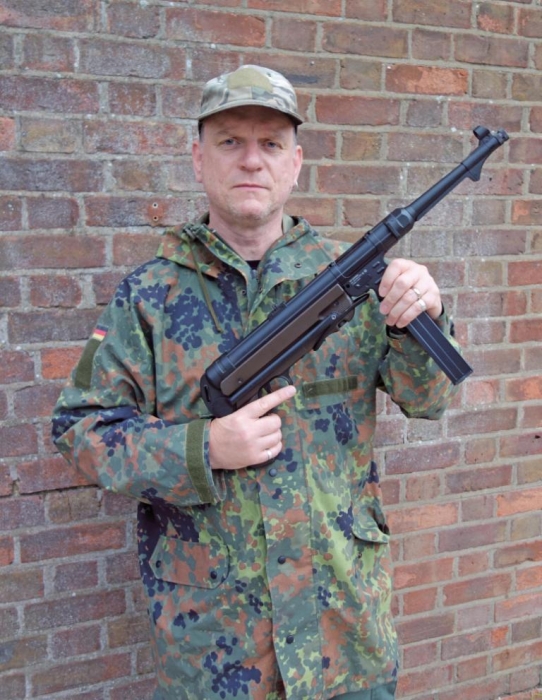 Sure, it's not totally the same experience, but full-auto capable air guns are legal in most places and are still fun as hell. The fact that this one is based on a legendary submachine gun just adds to the fun.
The Legends MP Full Auto holds 52 BBs in the magazine and uses two 12-gram CO2 cartridges.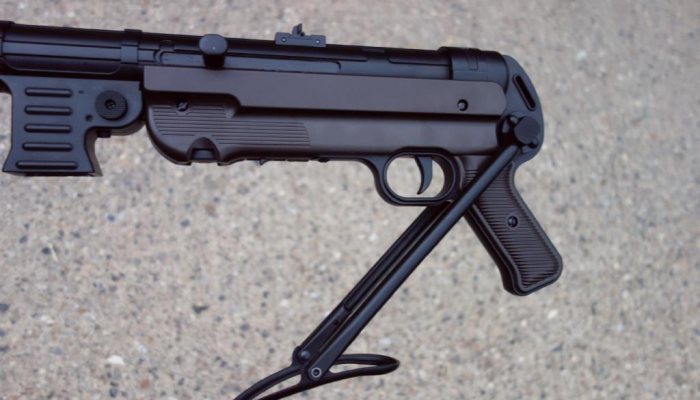 For more speed loading the magazines themselves, you may want to pick up the Umarex Universal BB Speedloader. There's also a kit available that includes the Legends MP, the speed loader, and a container of silicone oil spray.
The Legends MP Full Auto is a selective-fire rifle, so you can switch between full-auto and semi-auto as you like. It's capable of muzzle velocities up to 465 feet per second for a range of up to 350 yards. It has a blowback style action and a manual safety.
The stock is adjustable, so the rifle has an overall length of between 24.5 and 33 inches depending on the stock position. The smoothbore barrel is 9 inches long. It has a fixed post front sight and the rear sight is adjustable for elevation, though not for windage.
If you're looking to pay a bit more for a BB that's a whole lot of fun, you can't go wrong with the Umarex Legends MP.
200
at Amazon
Prices accurate at time of writing
Prices accurate at time of writing
Handgun-Style BB Guns
When one thinks of a BB gun, they typically imagine a rifle, but there are handgun versions as well.
4. Umarex S&W M&P Airgun
This is another BB replica of a real gun from Umarex, this time of the ubiquitous Smith & Wesson M&P40, a popular pistol among law enforcement and civilians alike.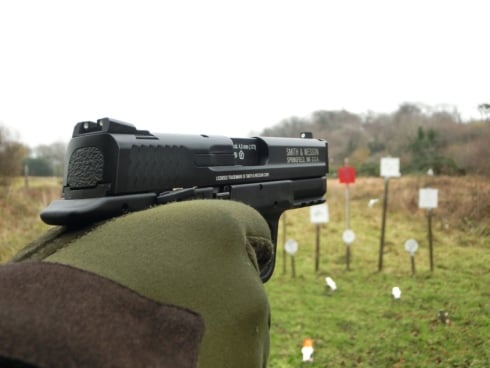 Like the previous Umarex BB gun, this one is a very close replica to the actual full-size M&P40 M2.0, which makes it a good training gun for owners of an actual M&P firearm (though BB gun training is never a total substitute for training with a real firearm).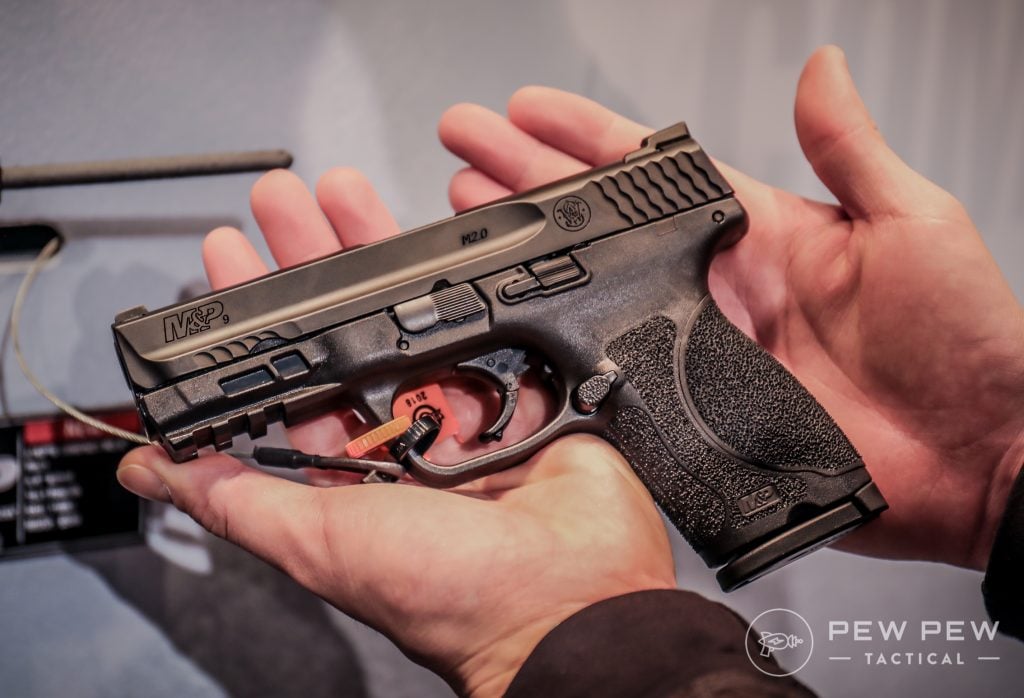 There are two versions: a standard action version and a more realistic blowback action version, each powered by a single 12g CO2 canister which is housed inside the gun's grip.
The dimensions of both versions are very similar to the real firearm, with an overall length of 7.5 inches and a 4.25 inch barrel. In fact, you can use this air gun with virtually any holster that fits a full-size S&W M&P40 M2.0. However, the barrel on the airgun is smooth bore and the airgun is also about 10 ounces lighter.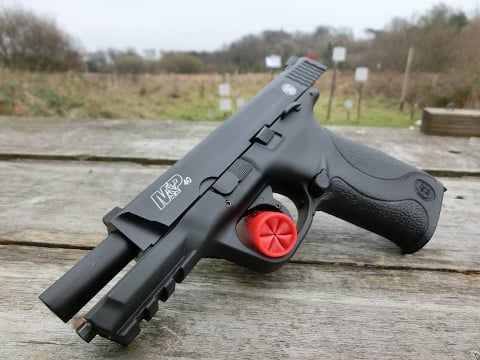 The air pistols have textured, ergonomic polymer grips that are similar, but not identical, to the actual firearm. The blowback version even has interchangeable backstraps just like the real thing.
The Umarex S&W M&P Airgun has a 19 round, drop-free magazine, a double action trigger, and a manual safety. It can achieve a 480 feet per second muzzle velocity and a 350 yard range, though it's definitely the most accurate at a close range with the accuracy quickly falling after about 25 or 30 feet.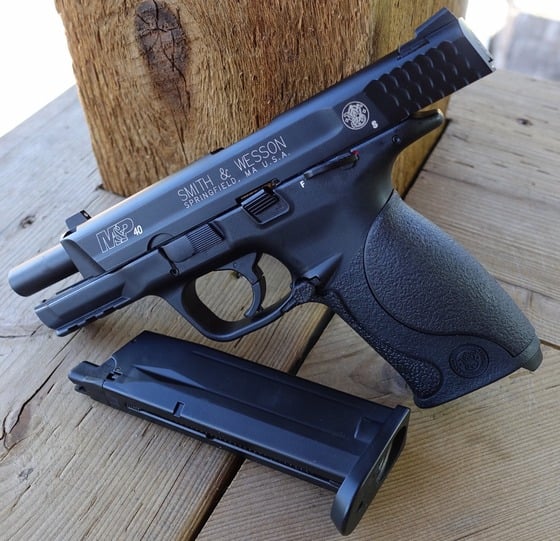 The BB gun has a fiber optic rear sight and a white dot front sight. Like the original, the Umarex version has an integrated accessory rail below the muzzle for attaching a laser or flashlight.
If you're looking for a high-performance BB pistol that gives you the most authentic firearm-like experience, it's hard to beat this one.
41
at Amazon
Prices accurate at time of writing
Prices accurate at time of writing
5. Daisy Powerline Model 340
The Umarex pistol is great for a top-of-the-line option, but if you're looking for a much more budget-friendly BB pistol or one that's a bit more suitable for kids, the Daisy Powerline Model 340 is an excellent alternative.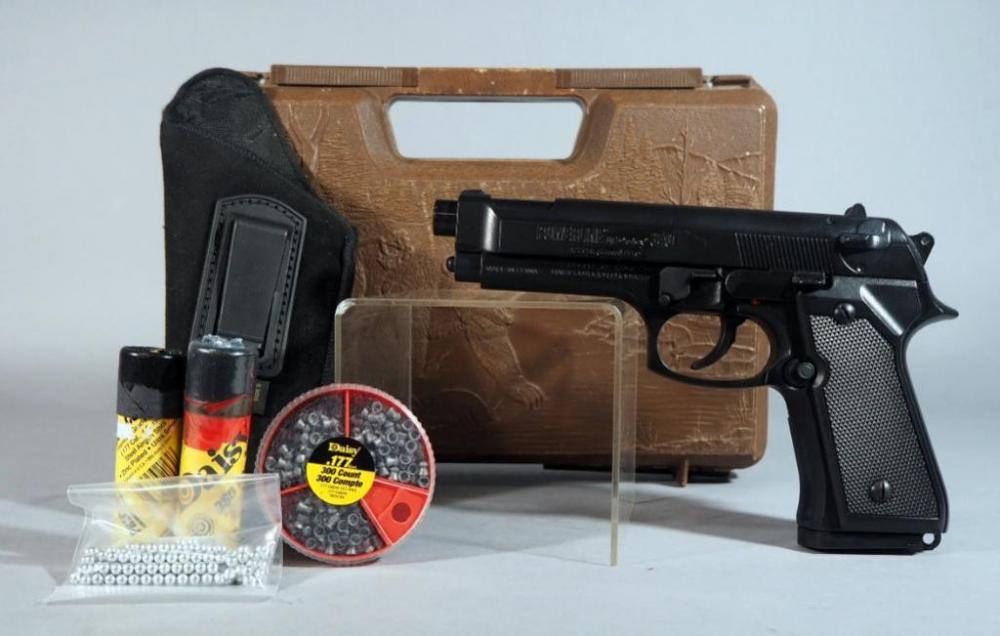 It's spring-powered, rather than CO2 powered, which limits the range and velocity. It has a max range of 100 yards and muzzle velocity of 240 feet per second, half that of the Umarex M&P.
Unlike the Umarex, the Model 340 doesn't have a rail. It's an inch longer than the Umarex, 8.5 inches long, but like the Umarex, weighs a pound.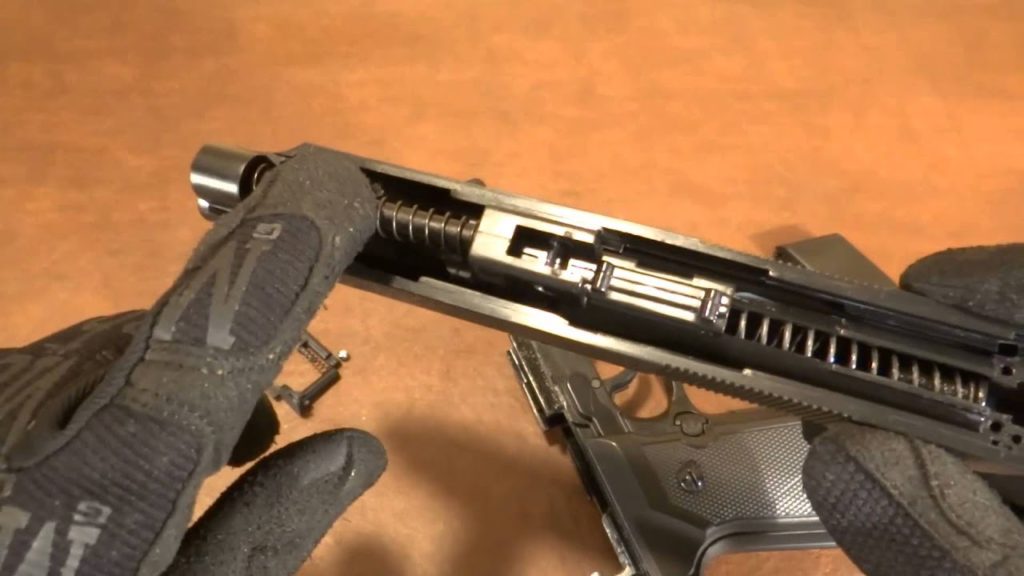 One advantage that the Model 340 does have over the Umarex is that it shoots both BBs and .177 caliber pellets.
It has a 200 capacity BB reservoir and comes with a 13-shot Speedload Clip, which can be stowed in the grip, for quickly and easily loading pellets without having to remove the magazine.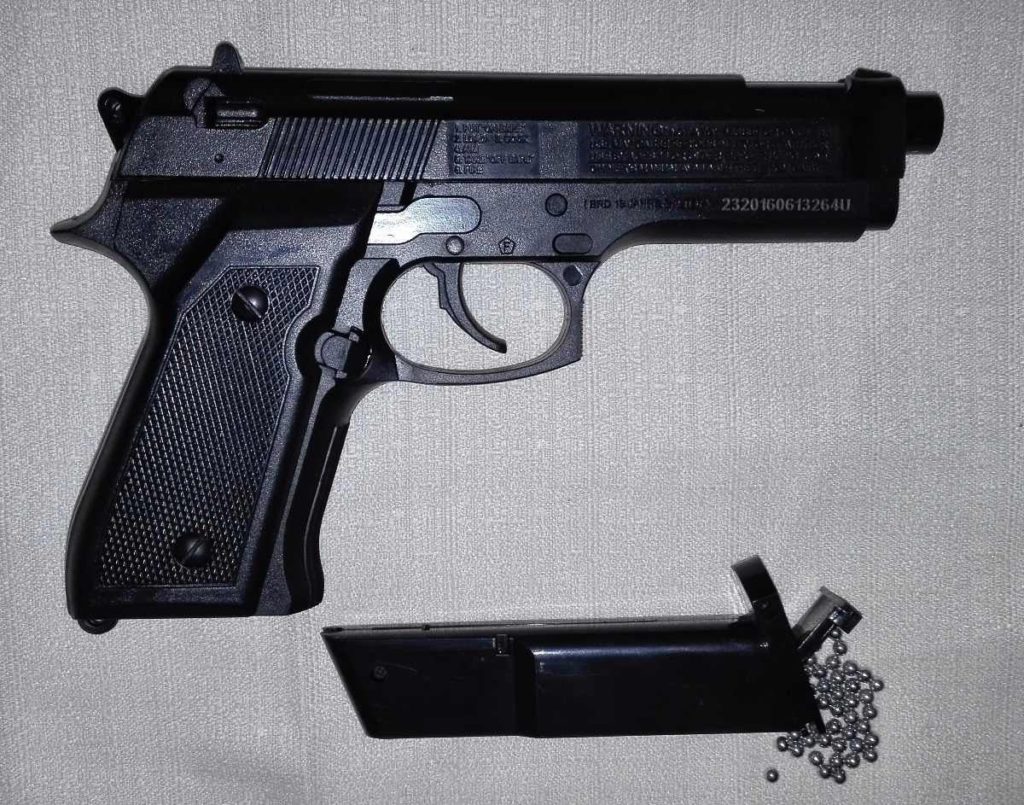 The grip itself is synthetic with a checkered texture. The BB gun has blade and ramp front sights and fixed open rear sights. It also has a smooth bore steel barrel and a manual crossbolt trigger block safety with a red indicator that shows whether the safety is on or off.
Overall, while the Daisy Powerline Model 340 isn't as much of a premium BB gun as my last pick or the one that I'll talk about next, it is a good budget-friendly option for people looking for something that's just fun to shoot, rather than something that is super powerful and accurate.
20
at Amazon
Prices accurate at time of writing
Prices accurate at time of writing
6. Crosman Vigilante Revolver
While most BB handguns available are pistol-style, there are also some great revolver-style BB guns, like the Crosman Vigilante Revolver.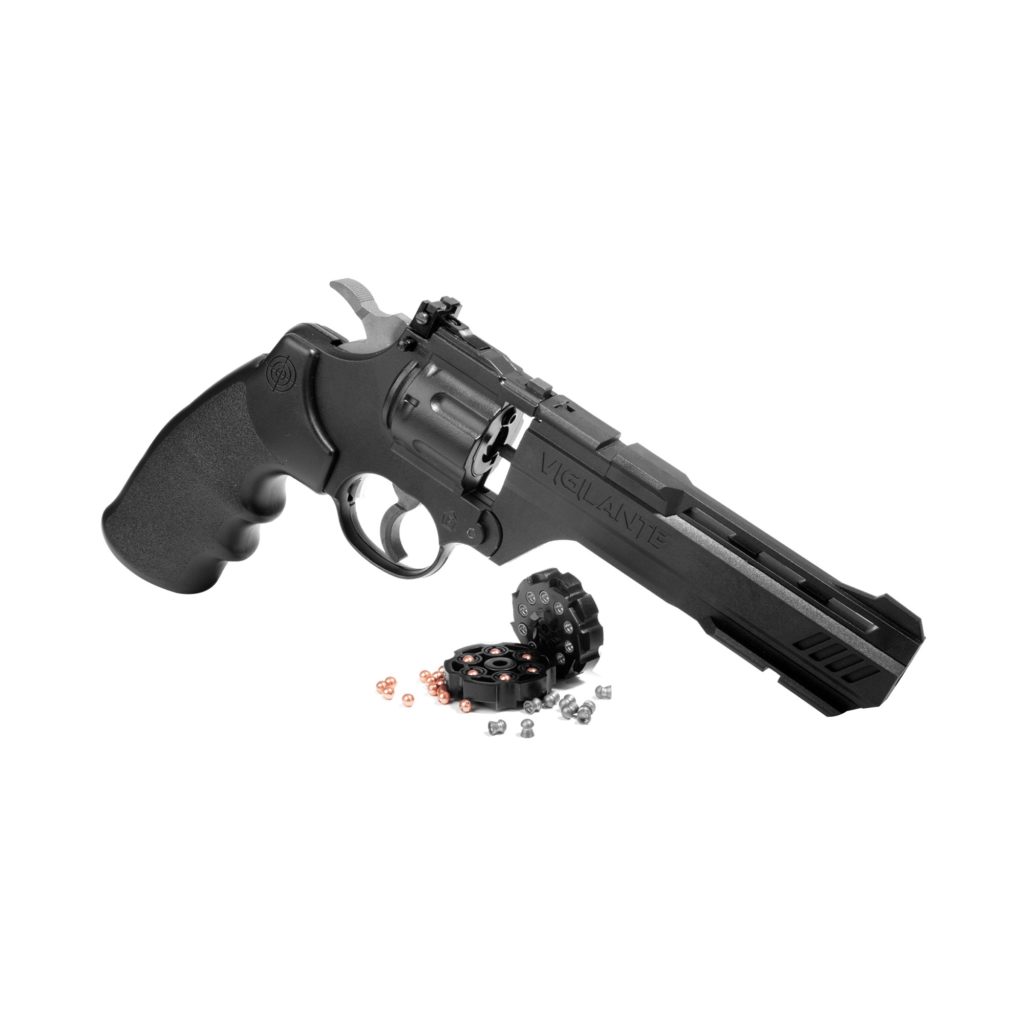 It's a double-action, semi-auto BB gun with the capability of shooting both BBs and pellets. It's CO2 powered and has a rifle barrel. It can fire BBs with a muzzle velocity of 465 feet per second and pellets up to 435 feet per second, even through a 6-inch rifled steel barrel.
It comes with a 6-shot BB clip and a 10-shot pellet clip. Crosman also sells separate three packs of each the BB clip and the pellet clip for only about $5 per pack, so it's really affordable to pick up some spares as well.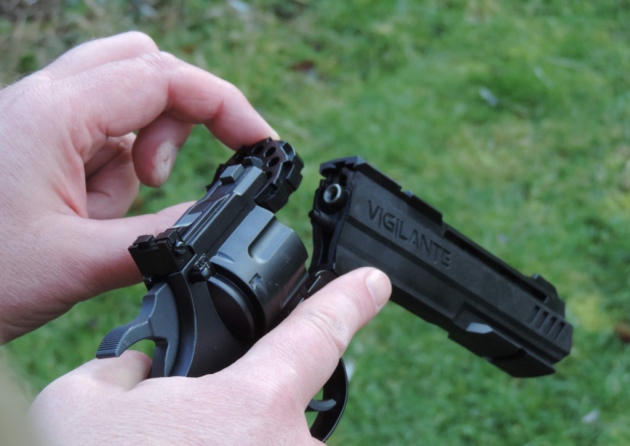 The Crosman Vigilante has a full metal frame which makes it the heftiest of our handgun picks at 2 pounds. The frame has both top and bottom integrated accessory rails compatible with picatinny or weaver mounts for attaching various accessories. It has a fixed blade front sight and an adjustable blade rear sight.
Finally, it's also just a fantastic looking gun.
54
at Amazon
Prices accurate at time of writing
Prices accurate at time of writing
Parting Shots
I didn't actually intend to include a Daisy, Umarex, and Crosman in both the rifle and handgun sections of this post, but I do think it says something about the quality of these brands that they each have high-quality options for both.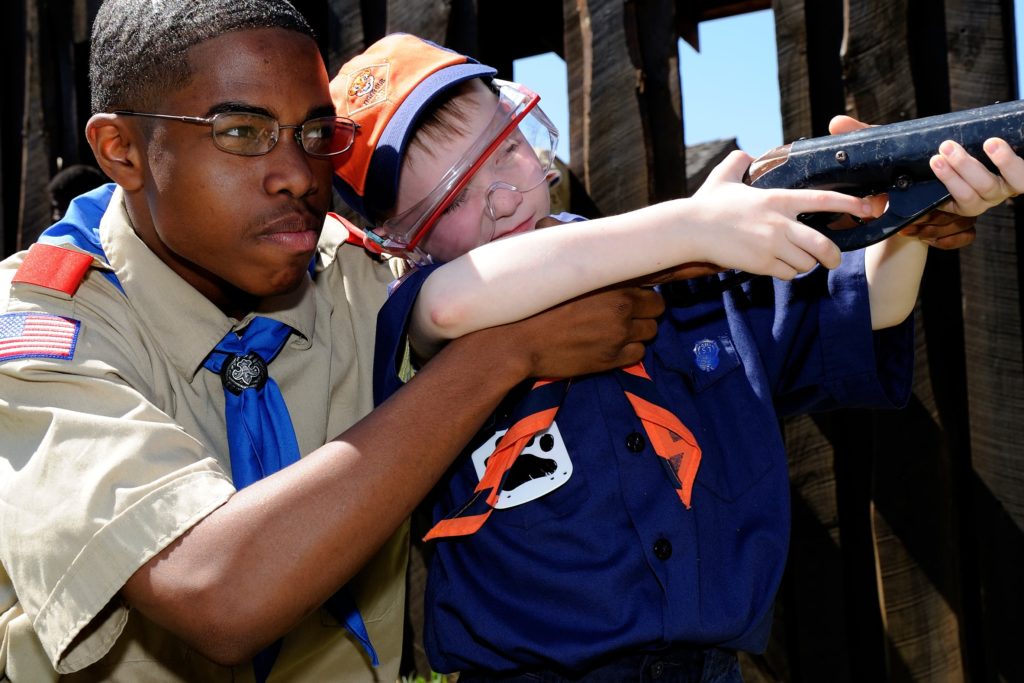 The BB guns I've discussed here are all excellent choices, but these brands are leaders in the BB gun industry and offer plenty of other great options, so even if you're not sold on any of the suggestions I've given, you should definitely browse their other options.
In addition, many firearms manufacturers also make BB gun versions of their most popular firearms, so be sure to check out the manufacturer's catalog if you're looking for a BB replica of a particular firearm.
What's your BB gun of choice? Any tips for someone looking to buy one? Share your thoughts and experiences in the comments. Get the kids started on real firearms, too, with one of the Best .22 LR Rifles!