Want your AR-15 totally ready for low-light situations?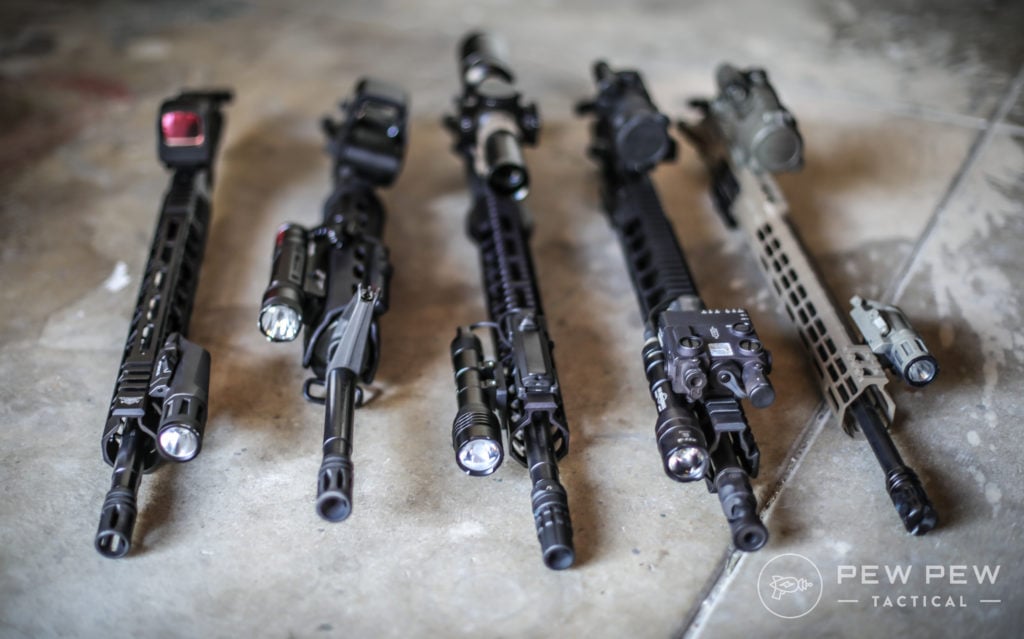 We'll cover some of the most popular AR rifle-mounted flashlights from $40 to $300.
By the end, you'll know which is the best for your end-use and budget…plus the best positions, mounting methods, and usage tips.
Summary of Our Top Picks
Table of Contents
Loading...
Best AR-15 Flashlights
1. Streamlight ProTac Rail Mount 2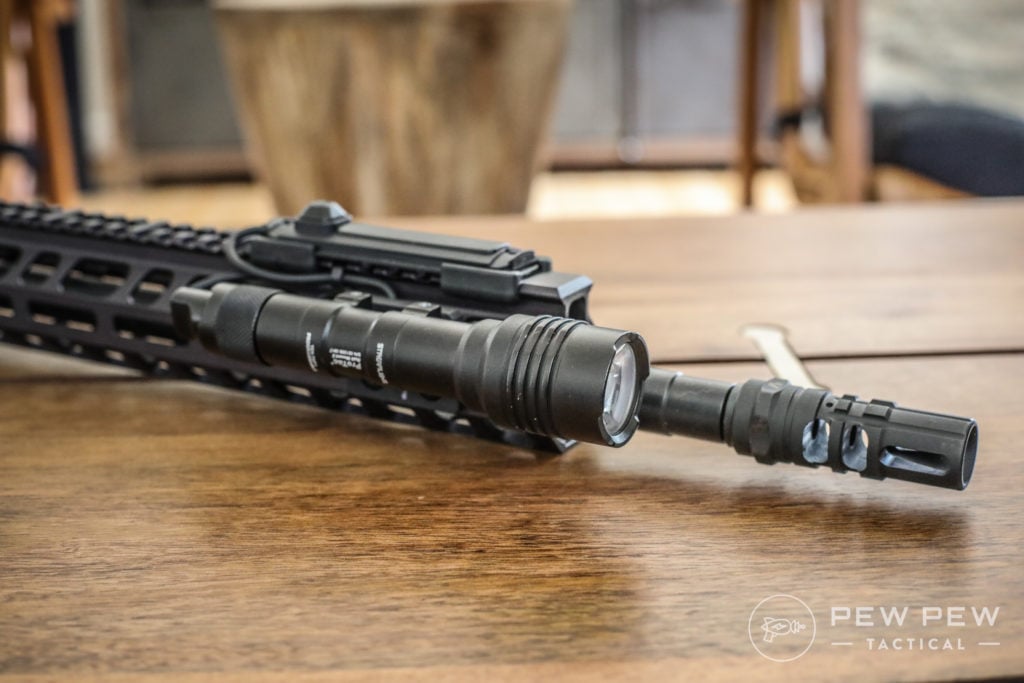 From my favorite best bang-for-the-buck light company (like in Best Pistol Lights)…the ProTac Rail Mount 2.
Quick Stats
Lumens: 625
Battery: 2x CR123A
Battery Life: 1.5 hrs
Weight: 5.0 oz
Warranty: Limited Lifetime Guarantee
Price: $133
Build
Feels quality in hand and if it's like my pistol lights will survive for many years of use.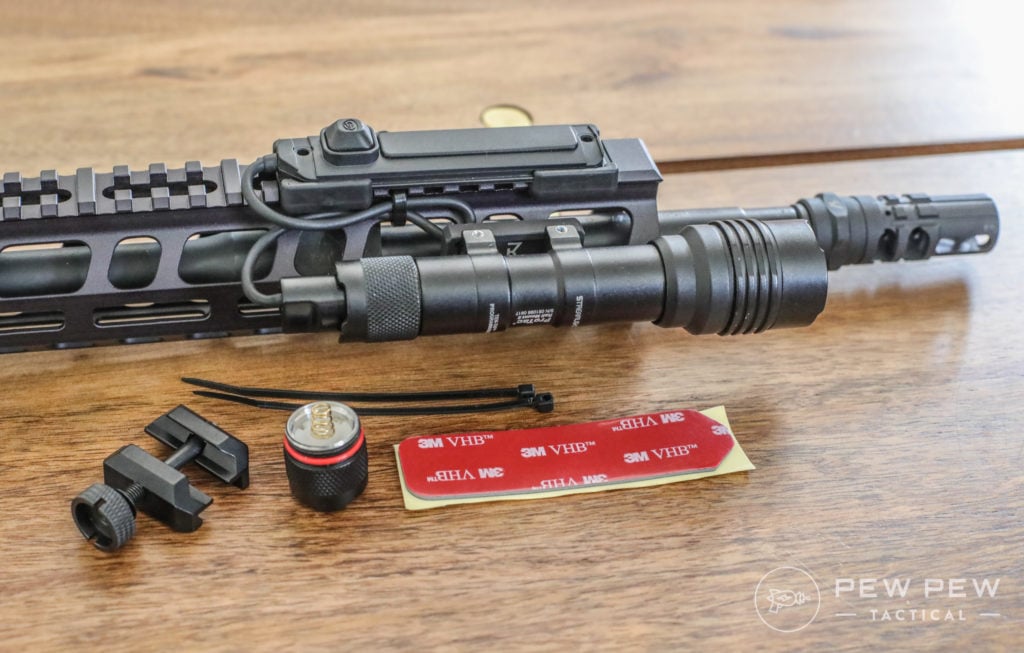 First thing is that it comes with LOTS of goodies.
There's a Picatinny mount, remote pressure pad, two ways to attach the pressure pad (double-sided tape or rail-mounted inserts), regular endcap, and zip ties for cable management.
The pressure pad is also very nice quality and has a higher button for constant on.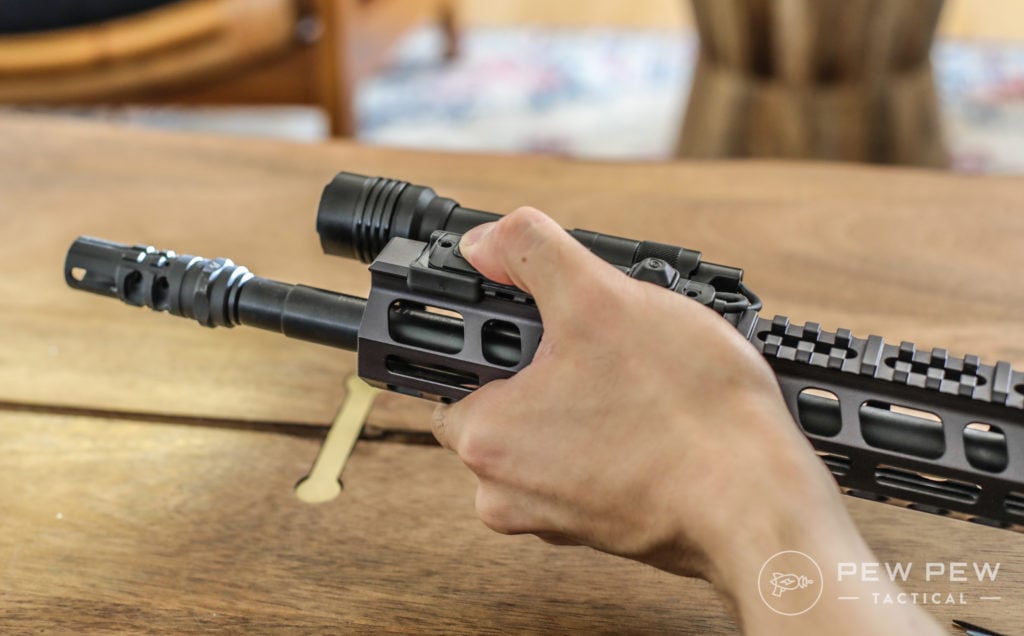 And, of course, a comparison vs the SureFire.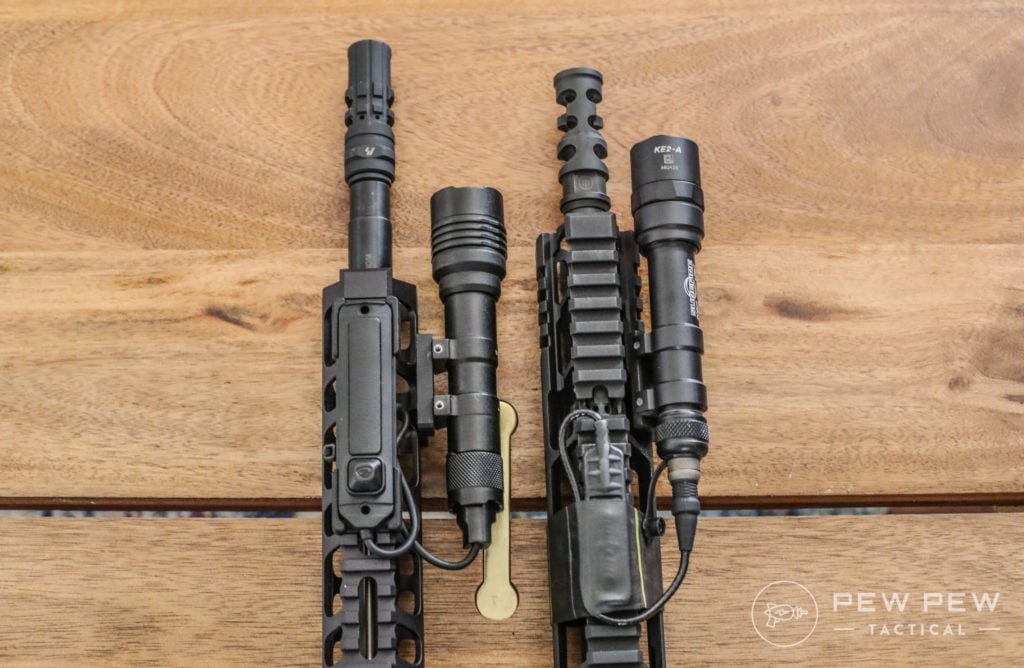 Very similar in dimensions.
Light
Also similar in lumens with 625 (I feel they just had to beat them a little bit).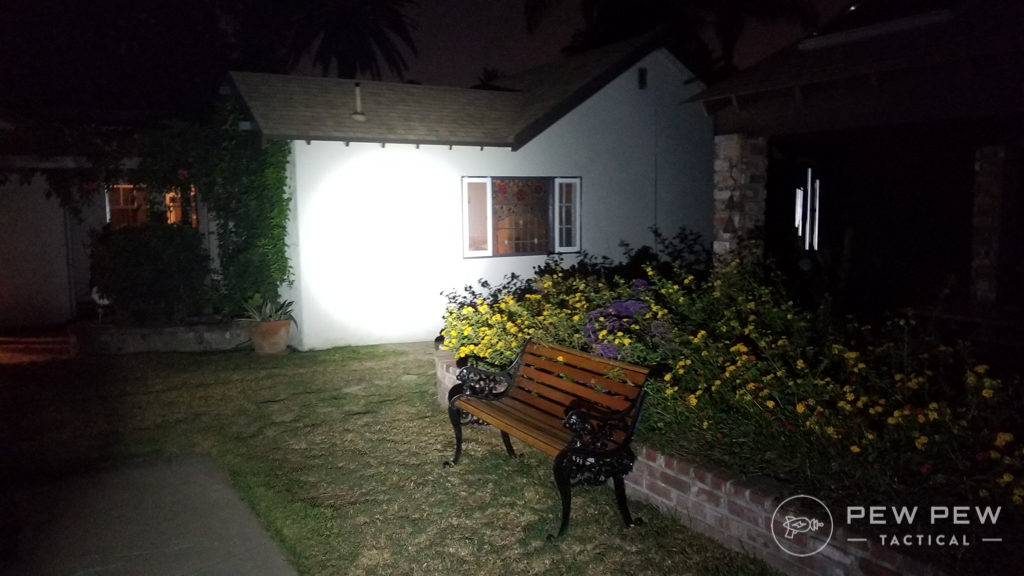 Very powerful center beam that's just a tad bit cooler than the SureFire. I'm only able to tell when they were next to each other indoors.
It comes stock with High and Strobe (double-click) functions, but you can reprogram it to be other options (search for Ten Tap). I've set mine to High only.
It's what I mostly run in night competitions (unless I'm testing other stuff)…
Mounting
One very cool thing…the ProTac 2 has the same footprint as the M600. That means all the mounts you use with the SureFire work with the Streamlight.
This one is rocking the straight version of the Midwest Industries Mount.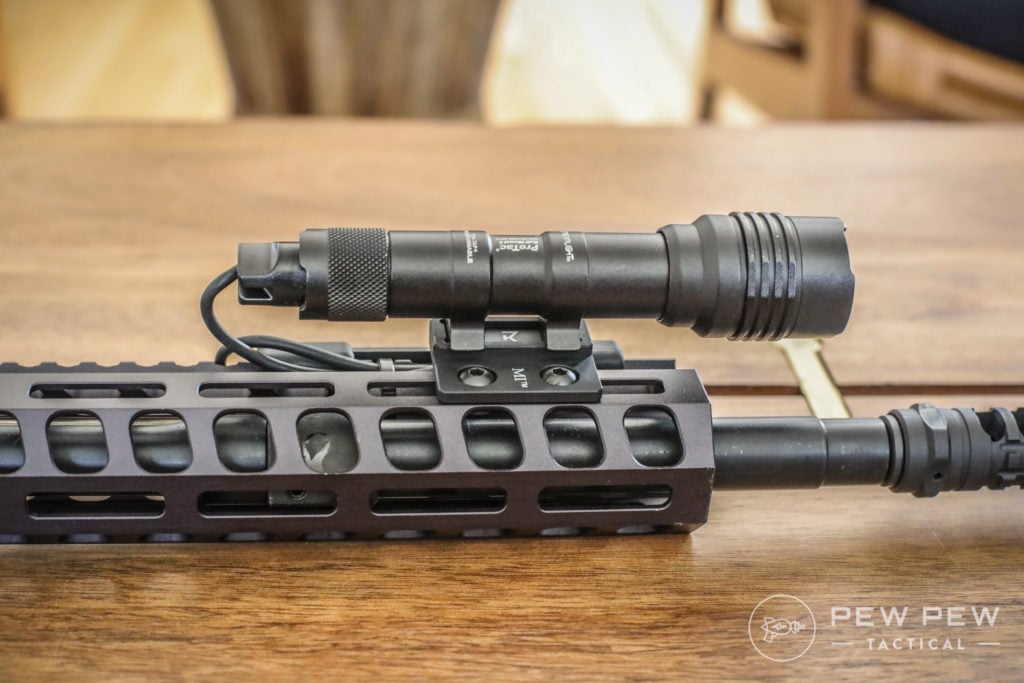 I still like the offset version since it brings in the light closer. I'd only get the straight if you have a large device that might get in the way on the top rail.
One complaint is that the rail-mounted attachment for the pressure pad is a little oversized so it lets the pad move about a quarter-inch.
Maybe I'm being nit-picky, but I'm probably going to swap it out for the bike tire method.
Overall Impression
This is the light for almost everybody.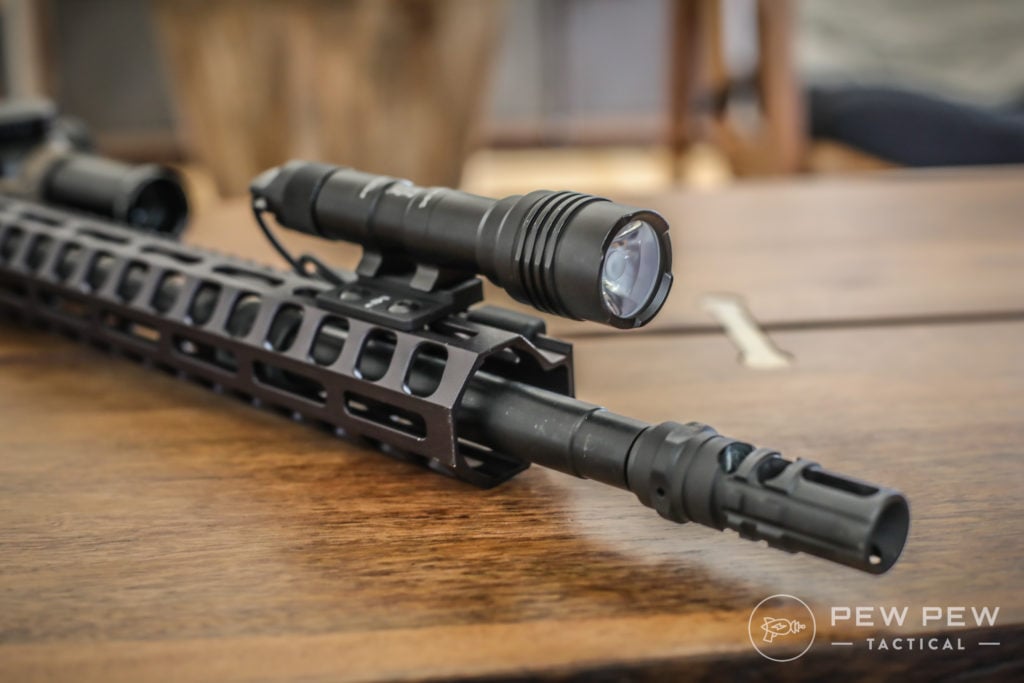 Worth-it price, great beam, lots of accessories, and a history of stuff that works/lasts.
125
at OpticsPlanet
Prices accurate at time of writing
Prices accurate at time of writing
2. SureFire M600 Scout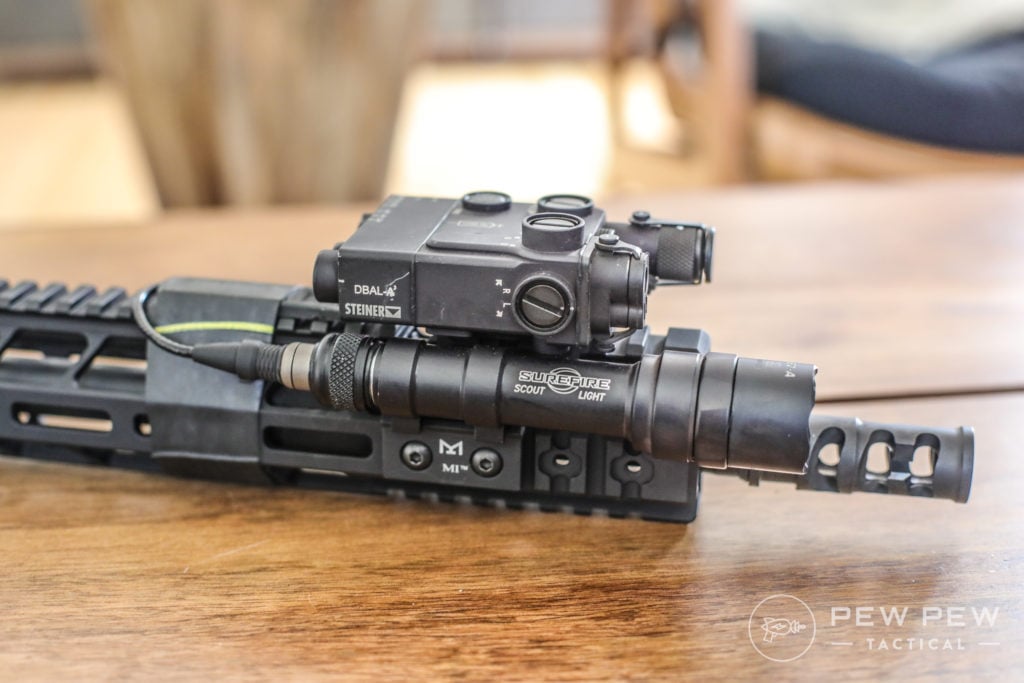 The SureFire M600 Scout is the gold standard of AR-15 lights.
Chances are if someone is depending on their rifle for their job/life, they're going to be running a SureFire.
Quick Stats
Lumens: 600
Battery: 2x CR123A
Battery Life: 1.5 hrs
Weight: 5.6 oz
Warranty: Lifetime Guarantee
Price: $296
Build
The Scout is ruggedly built, and you can feel it in hand. There's a reason why people choose SureFire when it matters.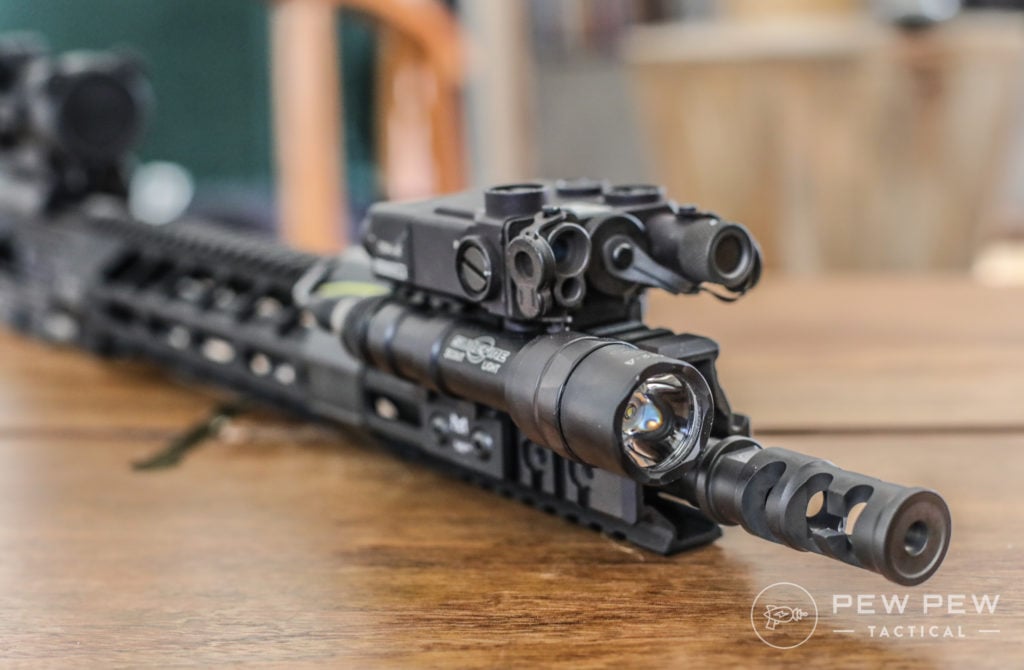 Most regular packages come with only a rear push-button cap which is fine if you know you're going to be using a light and leave it on. I left it like that for a while for competitions.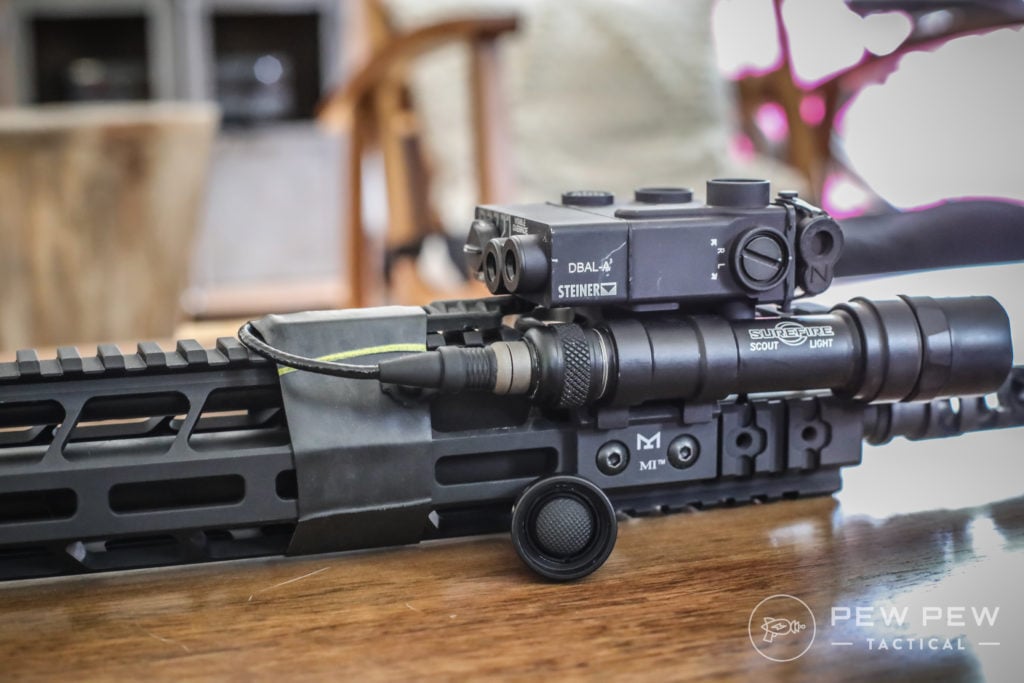 However, if you're only looking for momentary use — such as when clearing rooms — you'll want to get a remote tape switch (UE07).
82
at OpticsPlanet
Prices accurate at time of writing
Prices accurate at time of writing
I'm testing out a couple of different ways of cable management. So far, my favorite is the old-school cut-up bike tire (12 x 1.5-2.25 above).
Now you're ready to rock n' roll like a pro.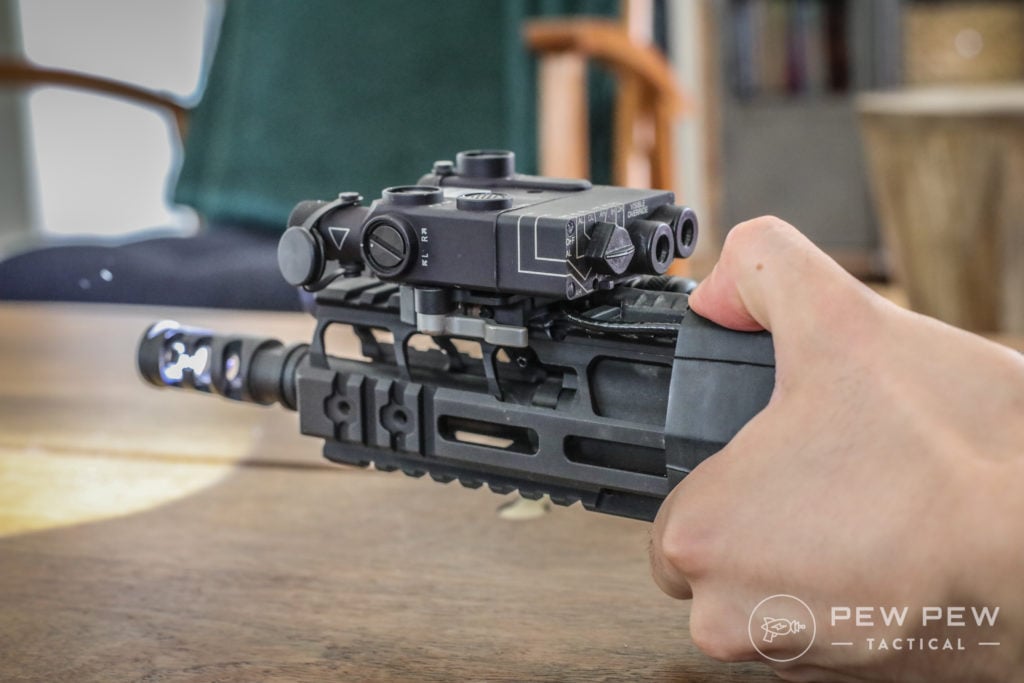 It only comes in full power on or off, keeping it simple, so you don't have to fumble through different modes.
Light
First, it sits at my sweet point of rifle light brightness of around 500 lumens. Good for some distance outside while not totally blinding if I'm using it indoors.
Second, it has a very bright center beam that makes it easy to identify your primary target. Here is a test at around 25 yards.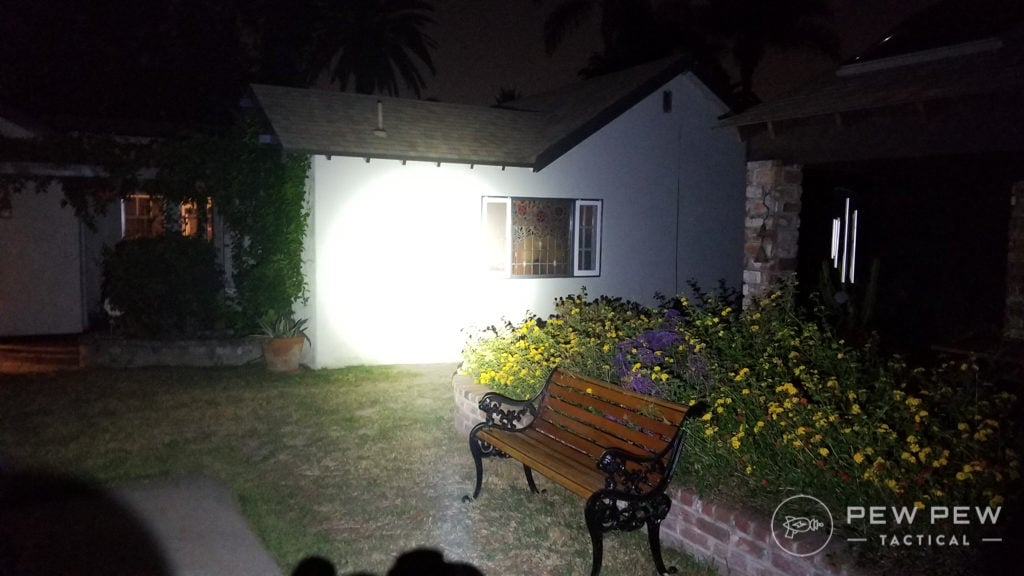 Even though it's very bright in the center, you're still able to see stuff in your peripheral.
Color of the beam is also slightly warmer (yellow) when compared to the others.
But it's so subtle I could only tell when having them next to each other. Sorry, but it became really bright indoors with 5 lights on, and I couldn't get great pictures to show the difference.
Mounting
Out of the box, it comes with a Picatinny rail mount. But Picatinny on the sides is going out of style for weight issues (Best AR-15 Handguards), and putting the light on the top rail gets in the way.
One option I've seen a lot is a SureFire Offset Mount from either Arisaka or Midwest that goes on top of the Picatinny rail and moves the Scout to an angle. Good if you don't mind using up some rail space or don't have M-LOK.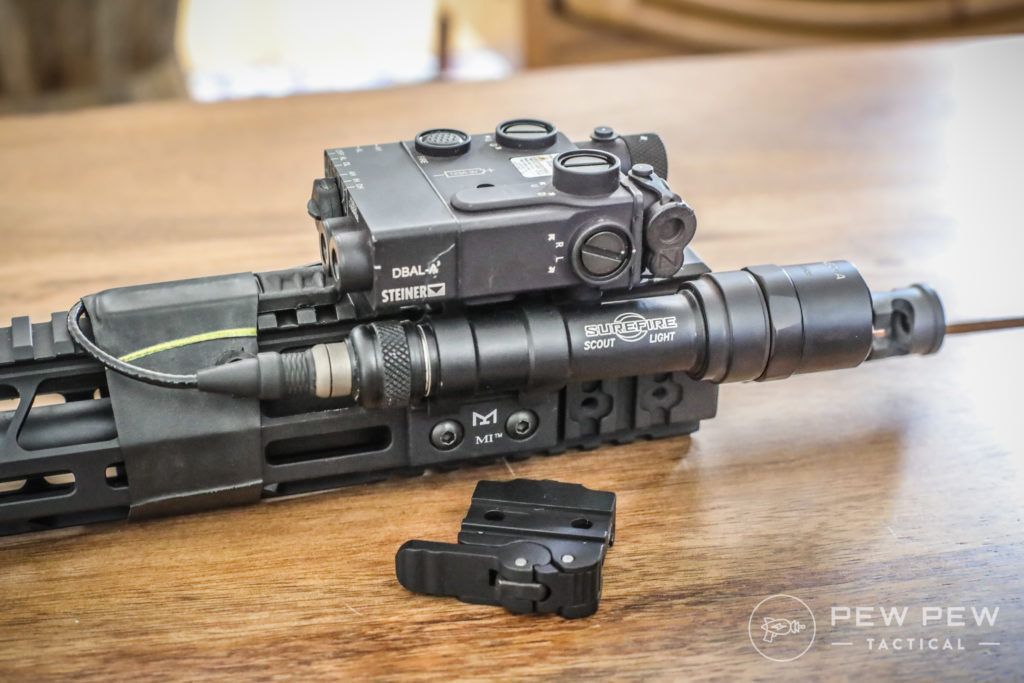 There's also the option of the Midwest QD Mount if you're wanting to move your light between different rifles. But it does add some extra height.
My current favorite is the Midwest Offset SureFire Mount for M-LOK handguards.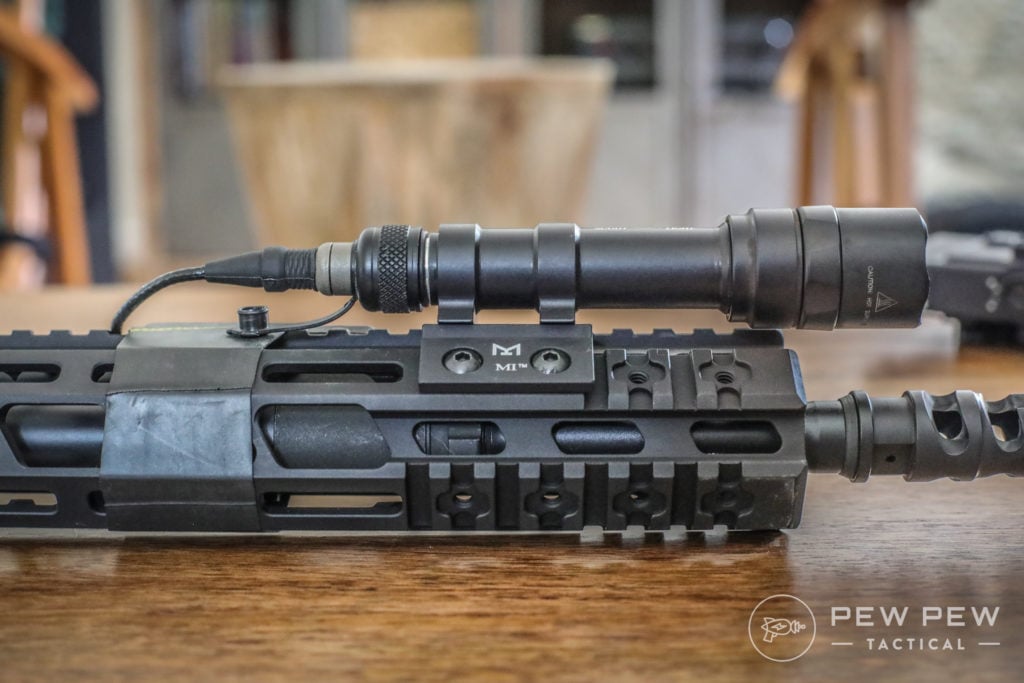 Super slim and light…plus it brings it in close…but not so close that you can't put other stuff on top like my IR laser/illuminator.
Overall Impression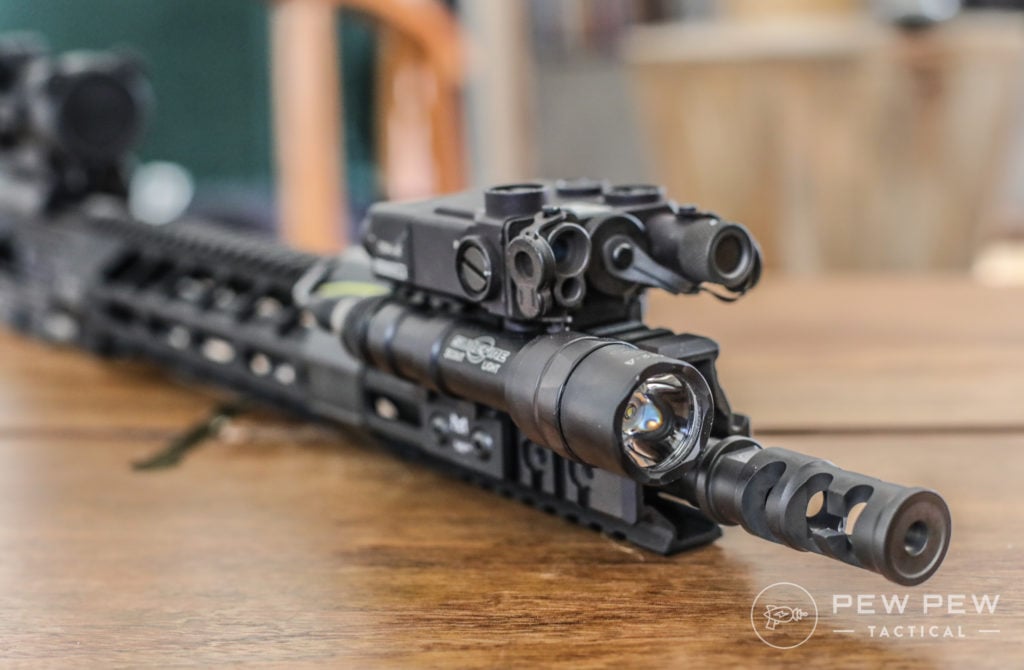 It never failed to go on when I did my part with fresh batteries before extended use sessions. This one hasn't been through intense abuse (yet), but I'm sure it will make it out alive.
Get it if you want the best that pros throughout the world use.
Just be prepared to get in that "buy once, cry once" mentality since you'll likely want the remote tape switch (UEo7).
What do you think of the M600 Scout if money were no object? Rate it below!
3. Inforce WML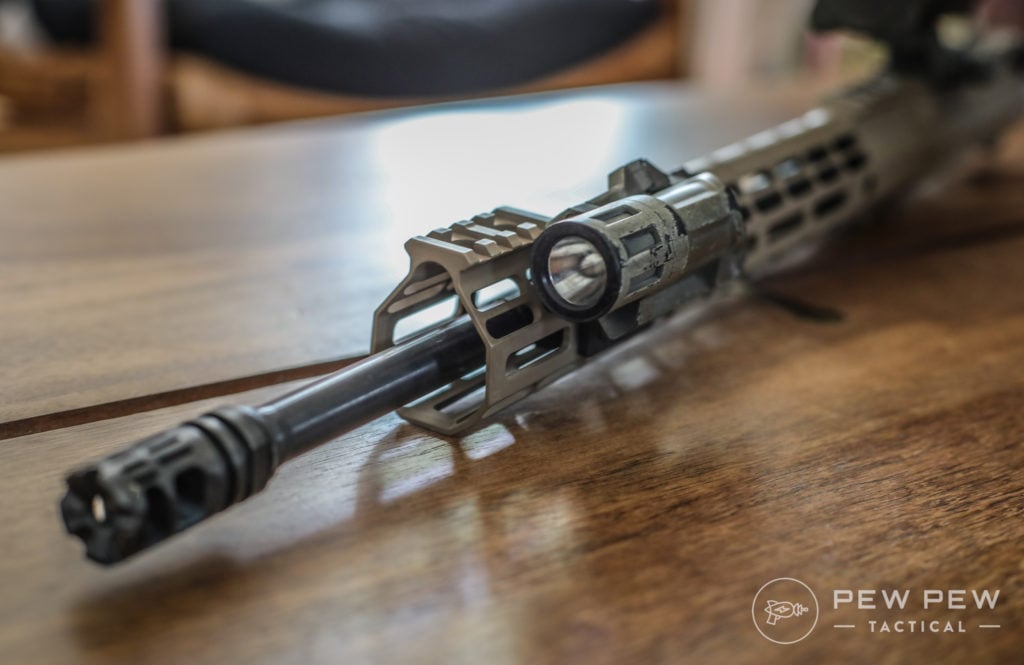 The mostly polymer Inforce WML is what I've been using the longest. Mine's a Gen 1, so there have been some updates in specs.
Quick Stats
Lumens: 400 (Gen 2)
Battery: 1x CR123A
Battery Life: 1.5 hrs
Weight: 3.1 oz
Warranty: Lifetime Guarantee of Original Owner
Price: $119
Build
First thing you notice is that it's different from other AR-15-specific flashlights that pretty much look like regular flashlights.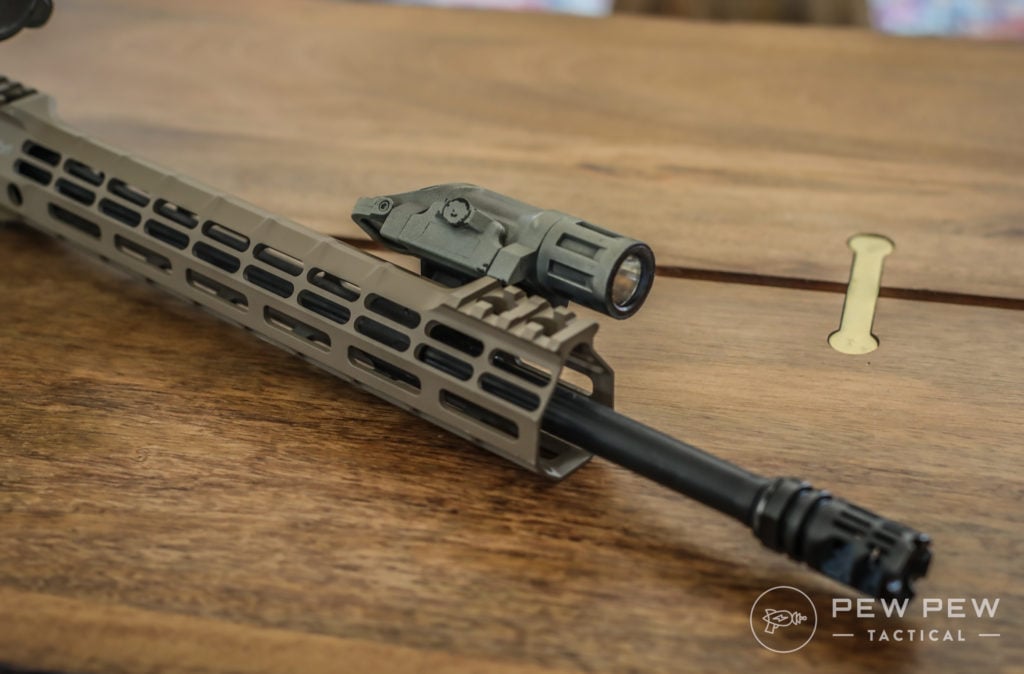 It's mostly polymer and only needs 1x CR123 battery, which makes it lightweight.
There are some stories that if you really bang it hard against something, the metal vs. polymer battle commences, and the light breaks. I've used it pretty hard, and it's met some walls…so far, so good.
Plus, it has an ergonomic activation button and two methods of preventing accidental use — a lever that comes up to physically block the switch and a head rotation lockout feature.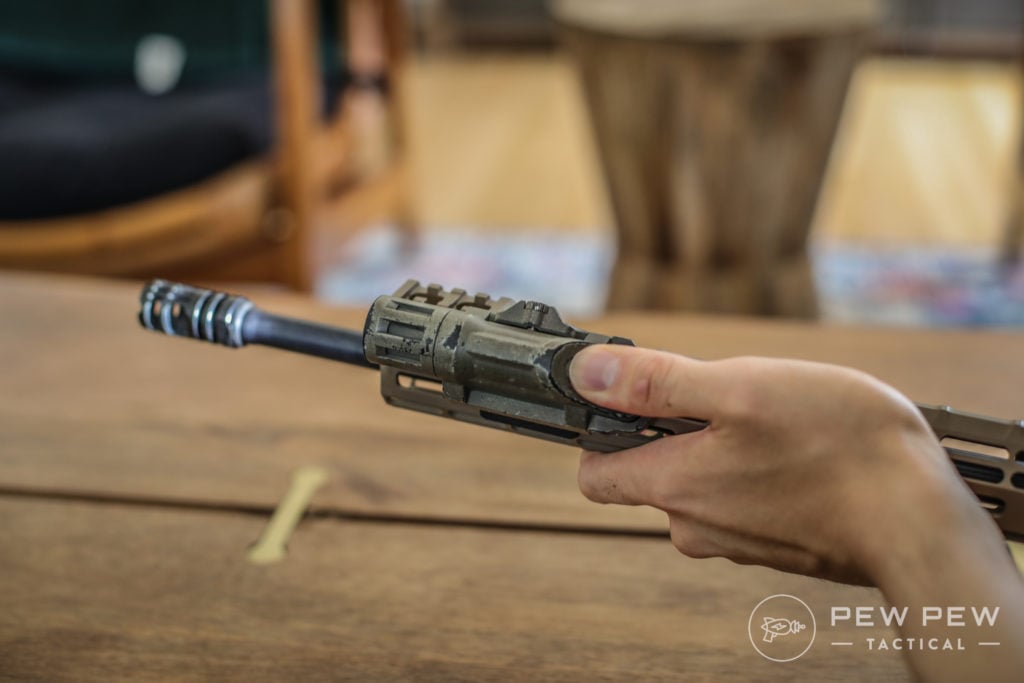 No need to get a remote pressure pad!
Light
Keep in mind that mine is a Gen 1 with 200 lumens, while the new Gen 2 has 400 lumens.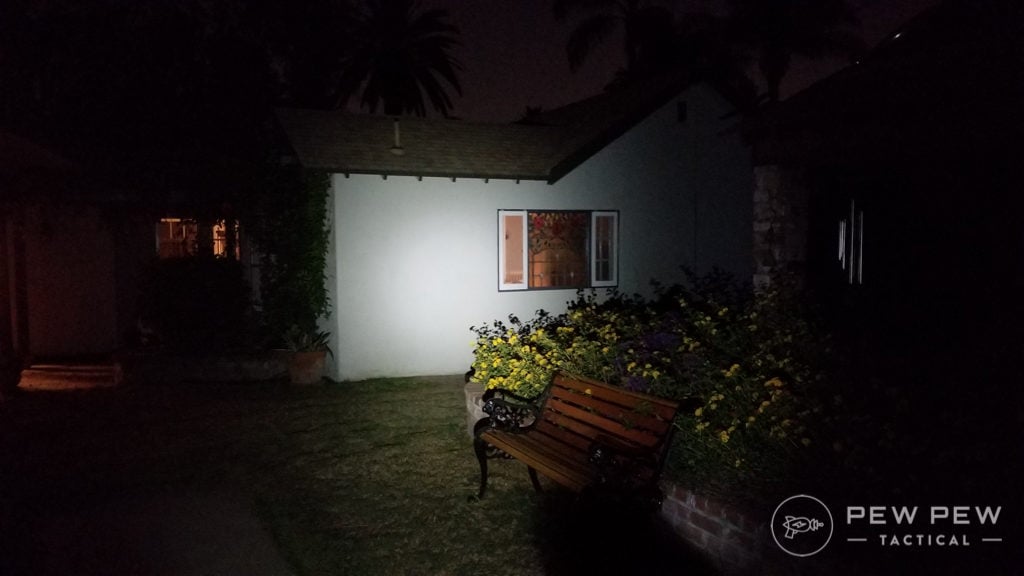 It's more spread out compared to the SureFire and a little cooler in color.
Very usable, and at 400 lumens, still very bright and less blinding indoors.
Mounting
It comes with a built-in Picatinny mount with a thumbscrew. It's never fallen off for me through thousands of rounds of 5.56.
Though you can mount it on the top rail and still have an ergonomic grip, I like my light offset.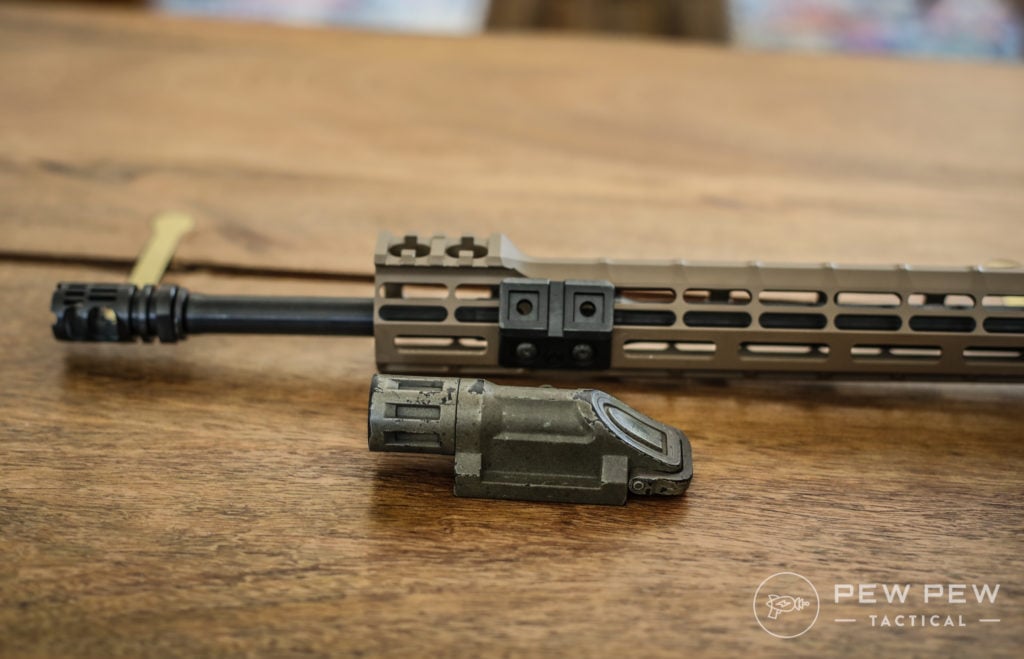 I'm digging the Magpul Offset Light Mount — affordable and held on great even though it's polymer.
Overall Impression
My WML has been through a lot and has kept on ticking.
I recommend it if you don't like dealing with pressure pads and want to save a few ounces up front on your rifle.
Most Lightweight
119
at OpticsPlanet
Prices accurate at time of writing
Prices accurate at time of writing
4. Inforce WMLx
Boom! The big brother of the WML…the WMLx.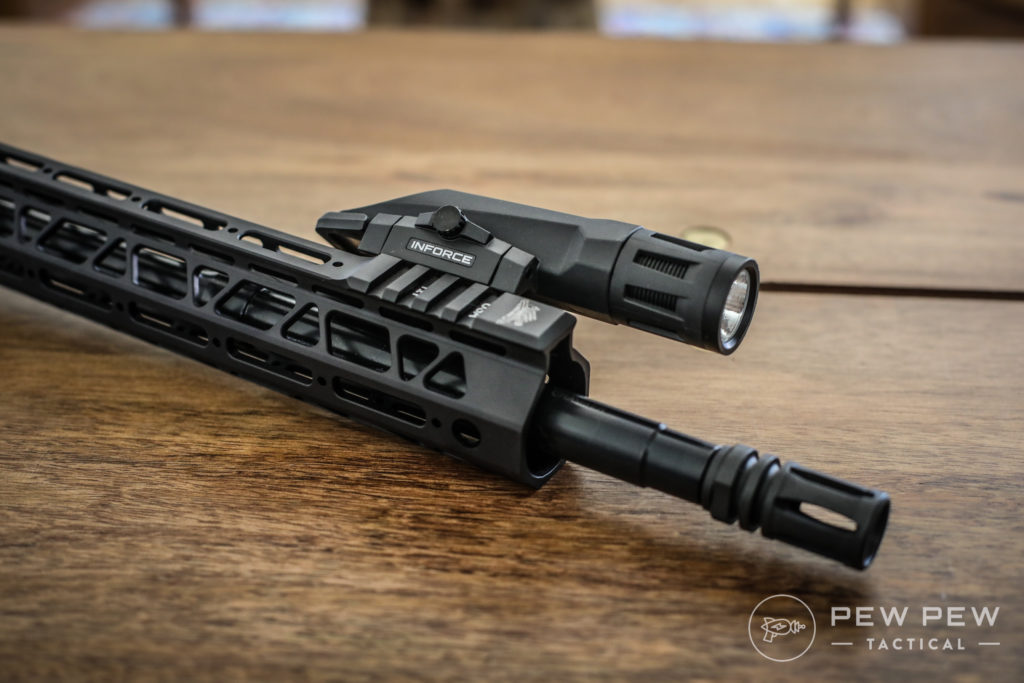 Quick Stats
Lumens: 800 or 700 with 400mw IR
Battery: 2x CR123A
Battery Life: 2 hours or 4 hours (IR)
Weight: 4.0 oz
Warranty: Lifetime Guarantee of Original Owner
Price: $149
Build
You'll notice that there's mention of IR (infrared). This one is a dual light that can help you illuminate areas if you're wearing night-vision goggles (NVGs).
However, there's also a pure white light version that gets you 800 lumens. While the IR version gets you 700 lumens of white light and 400mw of IR.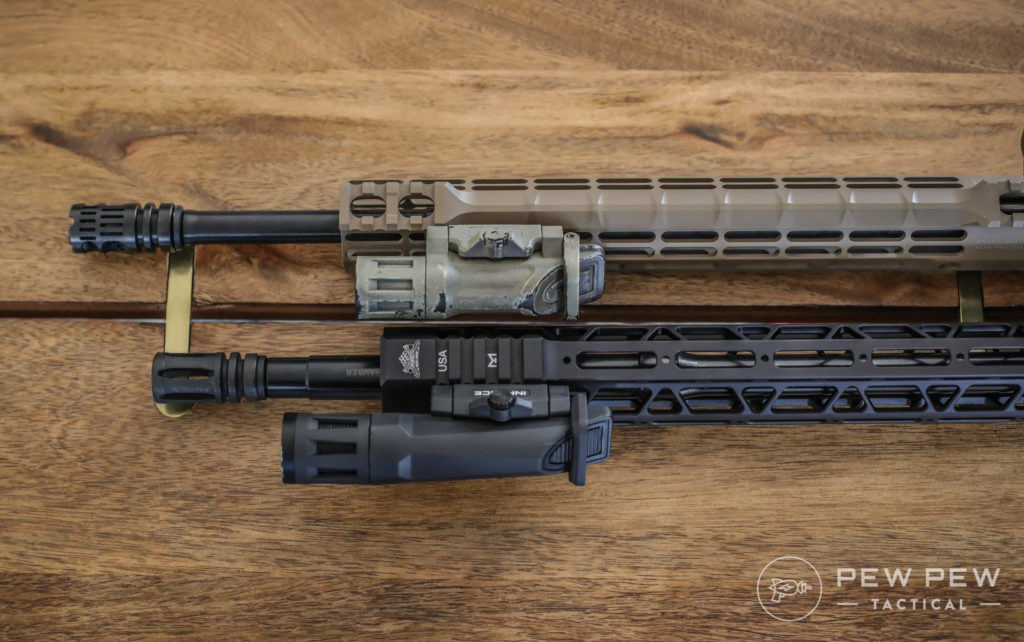 Everything else is pretty much the same…just bigger. It now has two batteries for more oomph, and there's a switch that lets you choose between white or IR if you have that model.
Light
Here are 700 lumens of white light with a fairly concentrated center. Also a little cooler than the SureFire.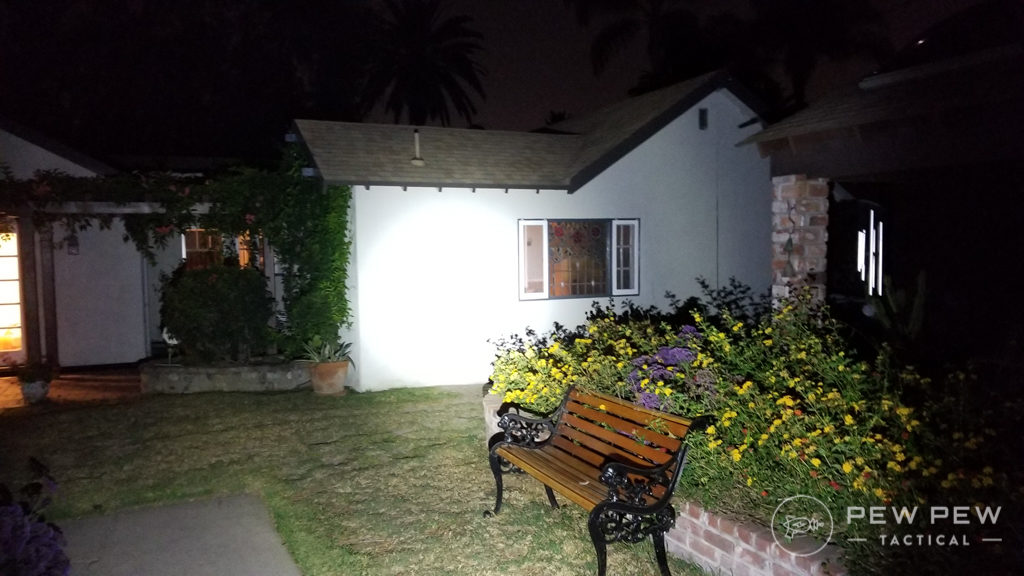 800 would be even more eye-searing if that's your thing.
Now, how about night vision? Here's what the IR does for you.
You can tell the NVGs were struggling a little since there wasn't much ambient light, but when the illuminator came on, the details came with it.
Overall Impression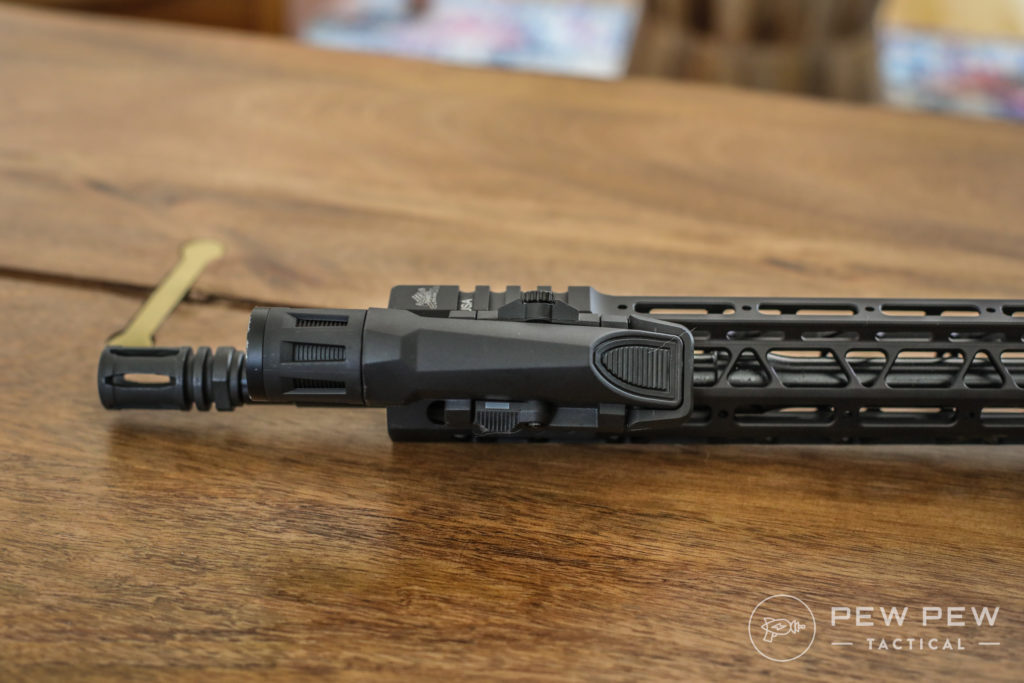 You can see the white light switch at the bottom as well as some scratches on the front metal portion.
I haven't used this WMLx as much since I got it for my NVG project. But it's held up great like its little bro WML.
Highly recommend it if you're looking for more white light illumination with the regular 800-lumen model or if you need wide IR illumination.
More Power
149
at OpticsPlanet
Prices accurate at time of writing
Prices accurate at time of writing
5. Ozark Rifle Light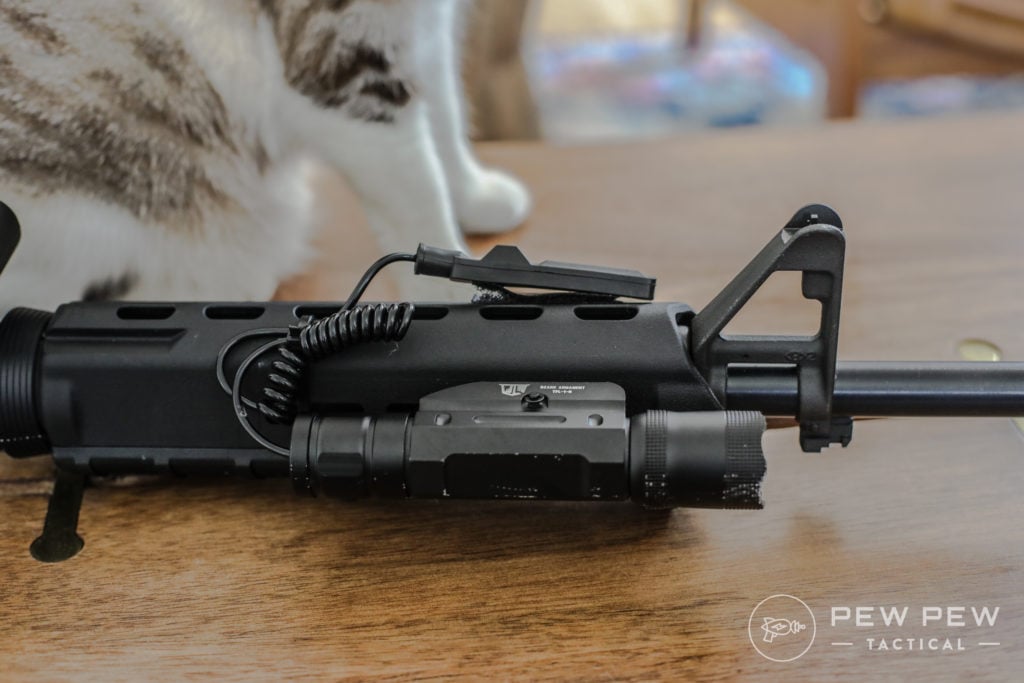 Our budget pick is the Ozark Rifle Light. I chose this one based on the best reviews of a rifle-mounted light under $50. And surprise, cat feet!
Quick Stats
Lumens: 600
Battery: 2x CR123A
Battery Life: not listed
Weight: 4 oz
Warranty: 1 Year Warranty
Price: $49
Build
A little chunkier and not as great feeling in the hand. But it's multiples cheaper than the others we've tested so far, so I'll let it slide.
I abused it a little against walls and the ground, now it has scratches, but it's still chugging along!
It comes with a Velcro-mounted remote pressure pad that is a little tall and very spongy but works. Rear-most button makes it stay on while the front is for momentary.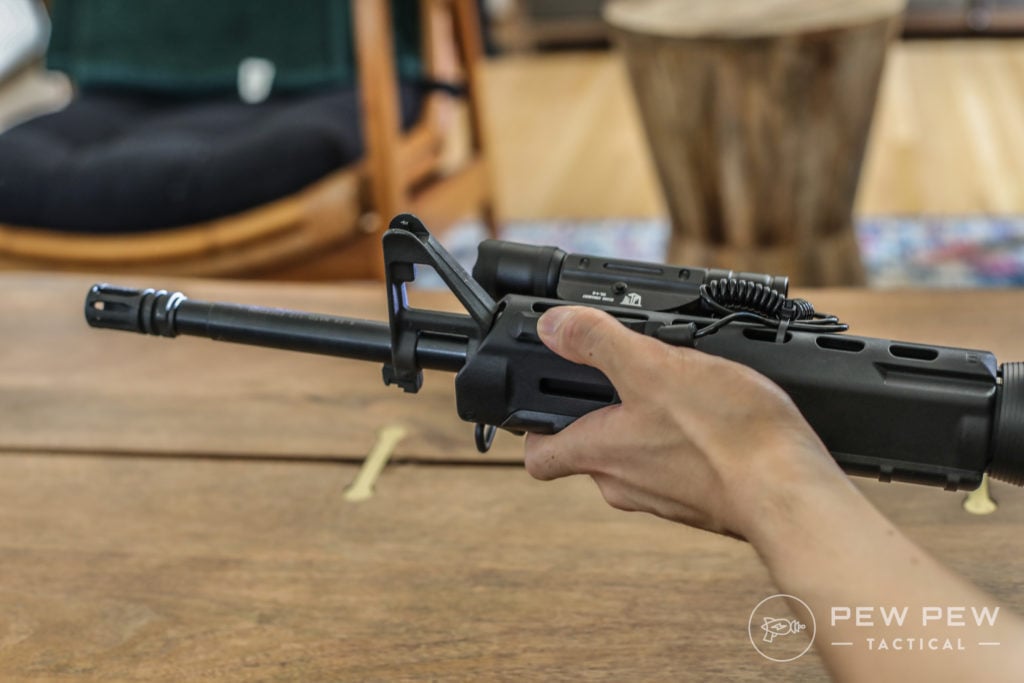 There's also an odd rear button on the light itself.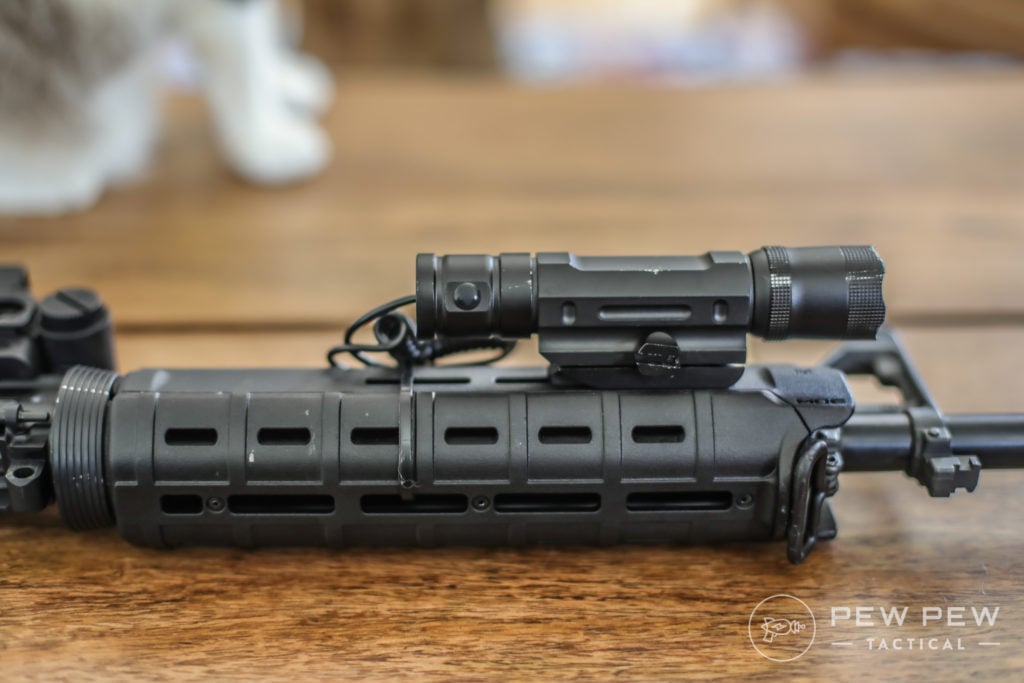 It activates the strobe function if pressed by itself. If the light is already on, it will cycle through low, medium, and high output.
I've definitely accidentally activated the strobe function when laying down the rifle. The other brightness options are nice to have, but in the end, I'd rather have high on or off.
Plus, the only one on the list that isn't fully waterproof and only comes with a 1-year warranty.
Light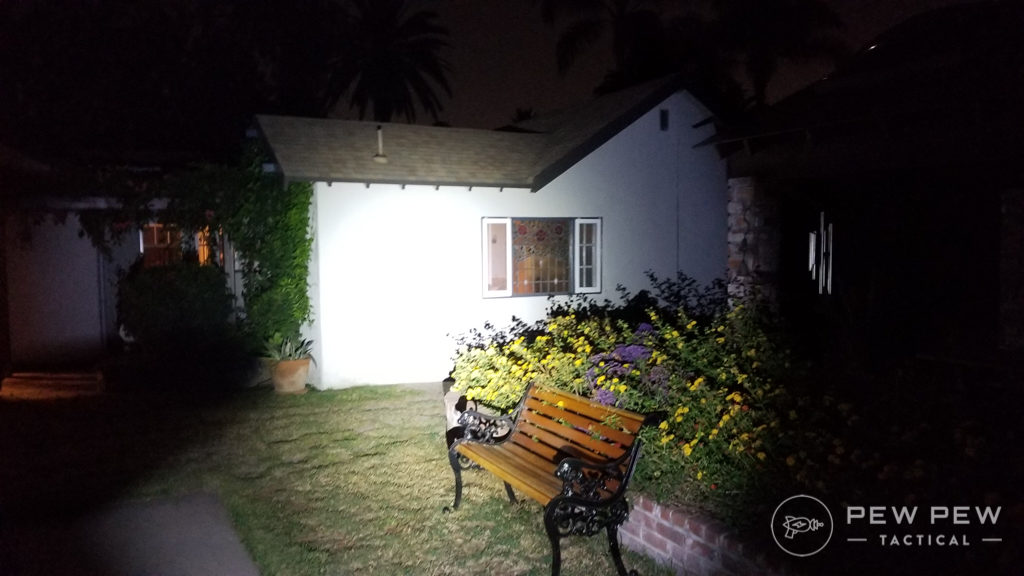 A little more spread out of a center beam, but it's plenty bright at 600 lumens and the coolest color (most blue) of the bunch.
Mounting
So far, so good in terms of durability and light output. However, mounting is lacking.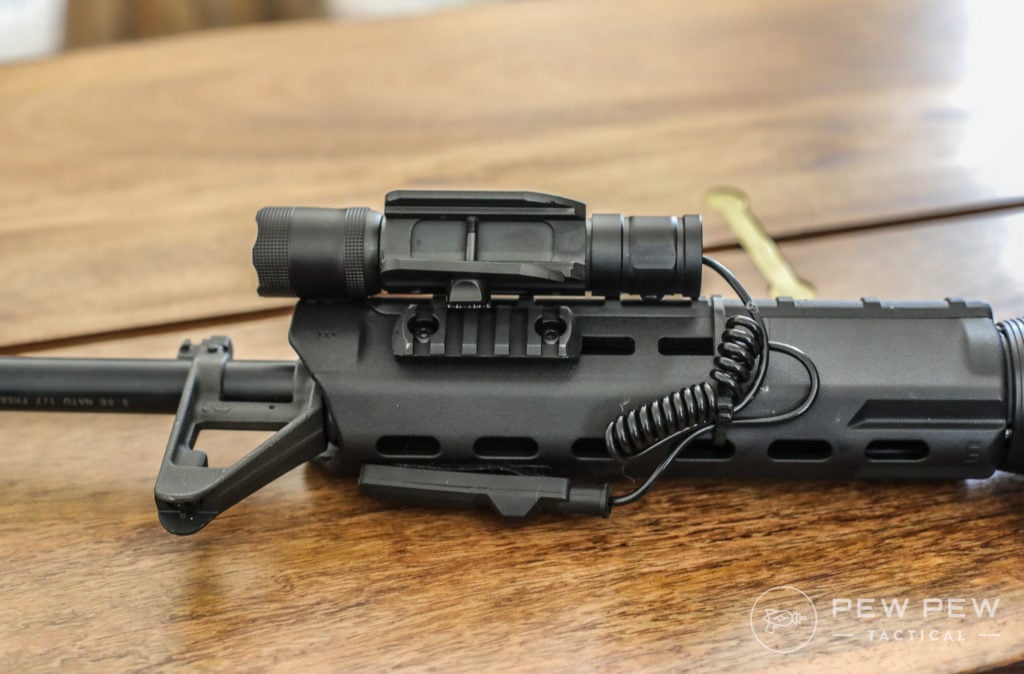 I had a Magpul Picatinny Rail section on my MOE handguard. But if you take a look carefully at the mount, there's no lock bar that fits into the rail.
It's completely held on by tension/friction.
Good news is that it's held on for a couple of hundred rounds of .223. But I probably would check each time I go to the range and also not go higher in caliber.
The pressure pad adhesion is also very meh.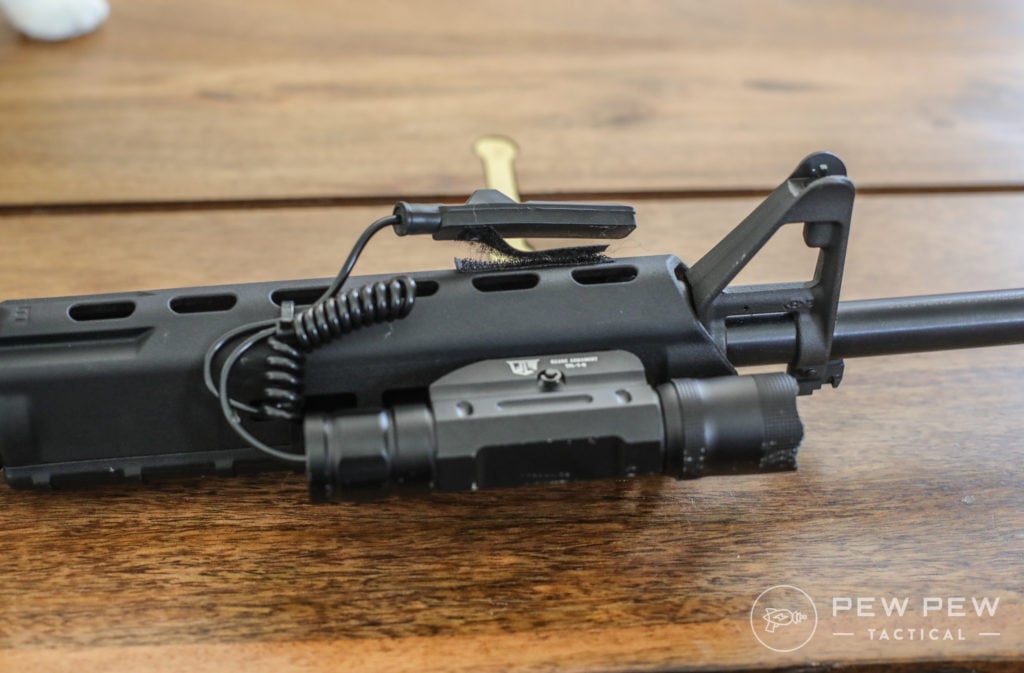 Two trips to the range, and it's already falling off. Plus, the cord is so long you can probably mount it on your buttstock.
Good thing it comes with a push-button end cap; I'm going to swap it out for that.
Overall Impressions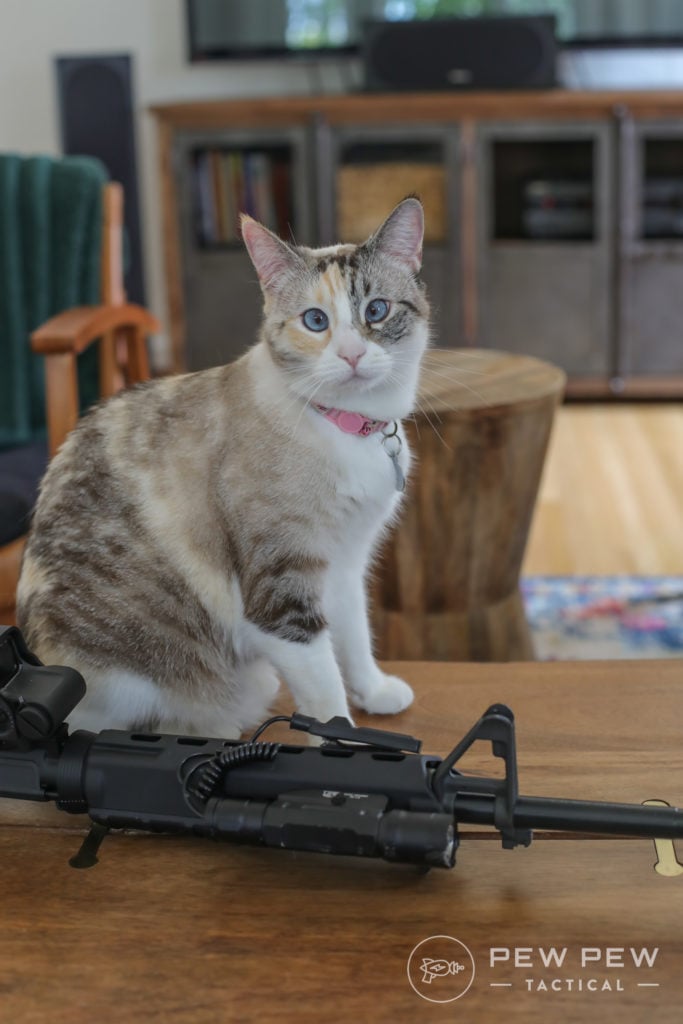 Decent value for the money.
The light itself is robust so far, but the mounting, pressure pad and weird strobe button stop my derpy cat and me from fully recommending it.
Most Affordable
51
at Amazon
Prices accurate at time of writing
Prices accurate at time of writing
Especially when the next one has so much more to offer at a slightly higher price…
6. Cloud Defensive OWL
Note: no longer produced…but we're testing their newest light right now!
Another well-known light for being bombproof and ergonomic, although pretty ginormous.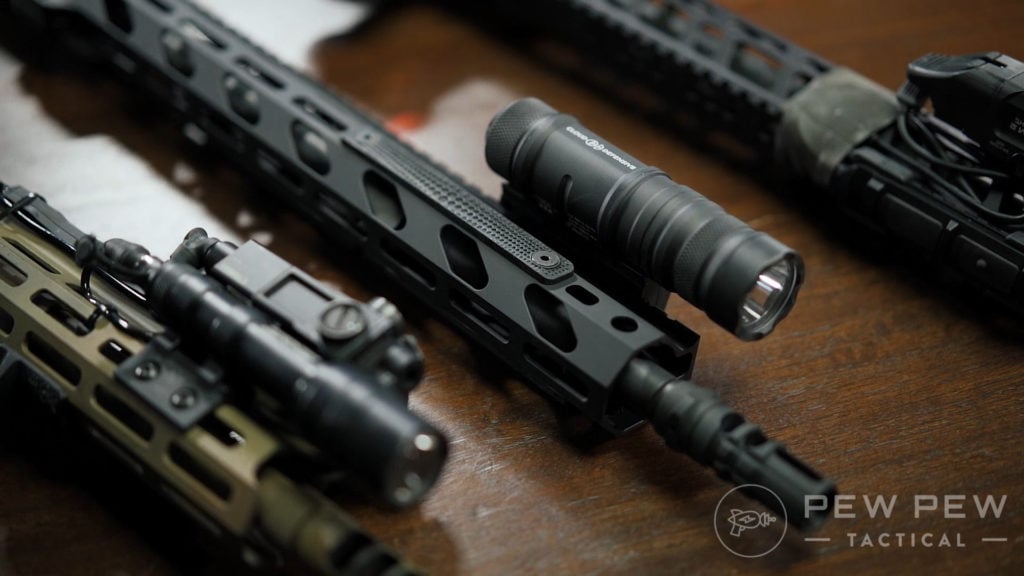 Cloud Defensive's Optimized Weapon Light (OWL) mounts to your Picatinny rail at the top position, and that's also where the constant-on and momentary-on buttons reside.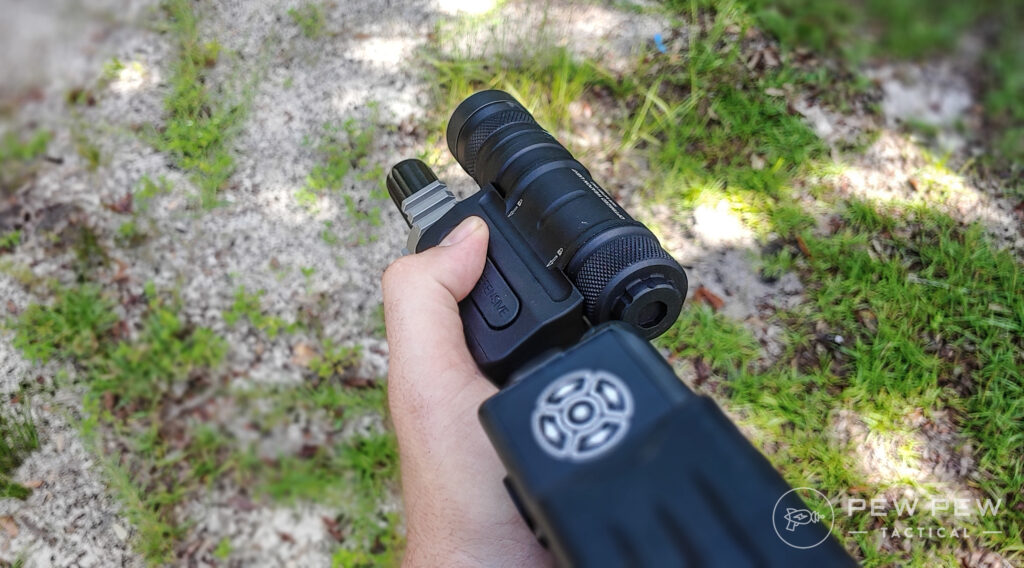 Quick Stats
Lumens: 1250
Battery: 18650 (comes with two variants)
Battery Life: 85 minutes or 110 minutes
Weight: 11 oz
Warranty: Lifetime Warranty
Price: $379
Build
The US build quality is amazing, and you can feel its heft in your hands.
Also, lefties rejoice since the light is fully ambidextrous with a quick swap to the other side.
As well as the lens itself!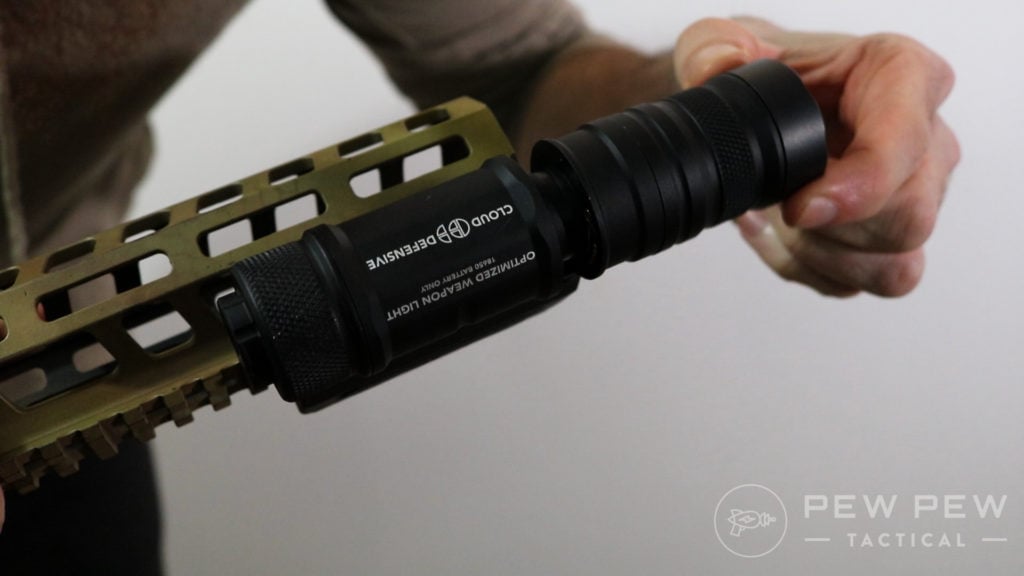 It's also withstood tons of rounds downrange from our AR-10 pistol.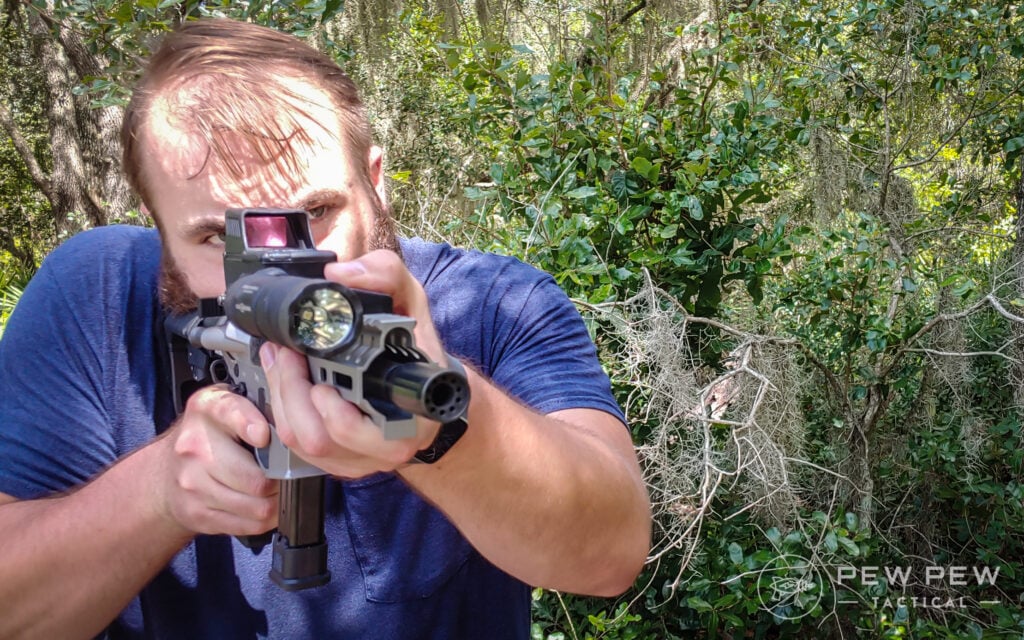 Waterproof?
It's an impressive IPX8, which means it can go down to 200 feet for 24 hours. We tested it at regular depths for 6-24 hours, and the light didn't dim or fail.
Light
The OWL's 1250 lumens and beam give you a long effective range and a super bright center point.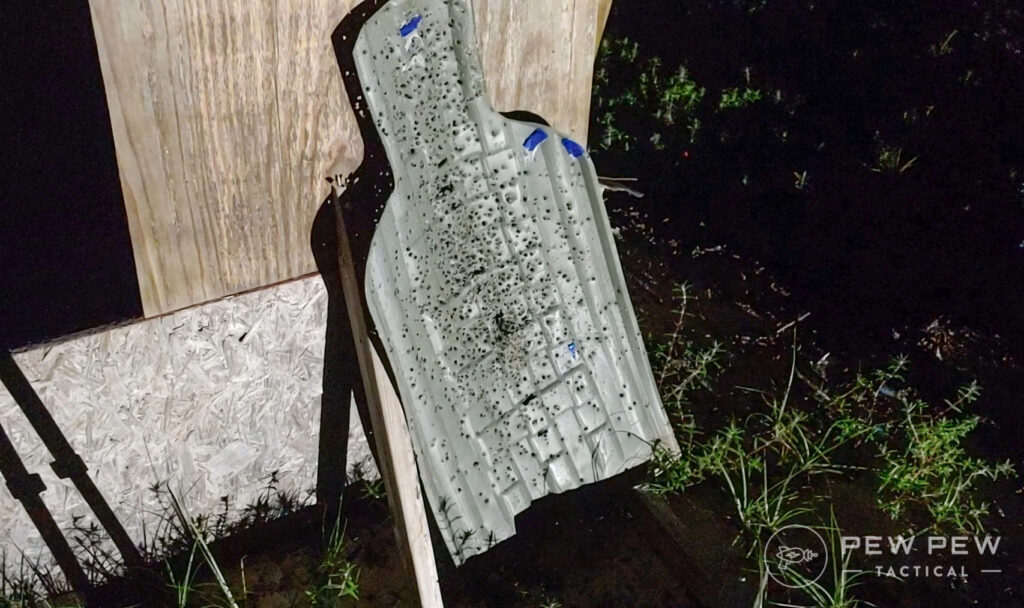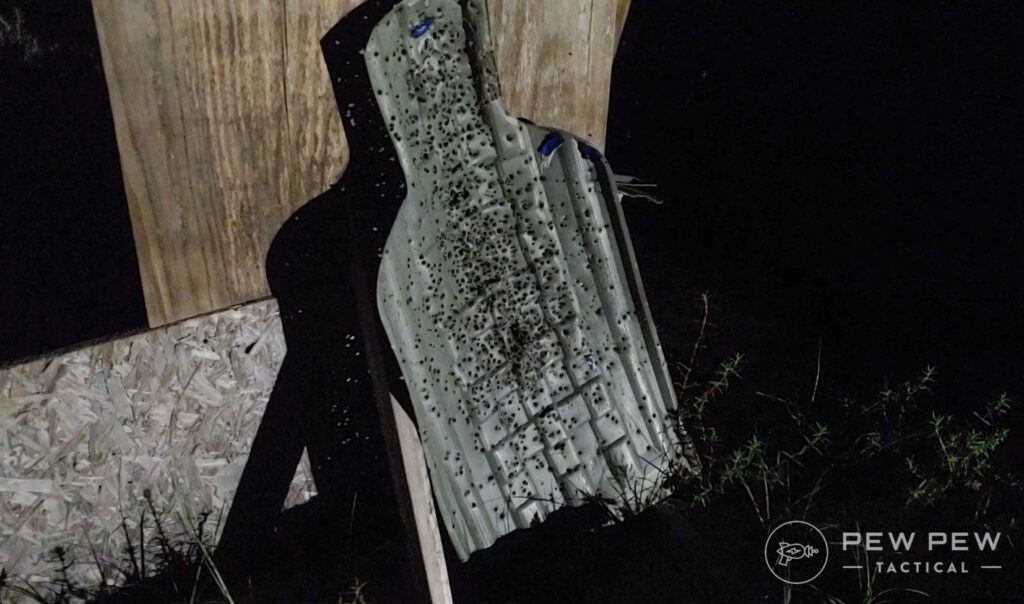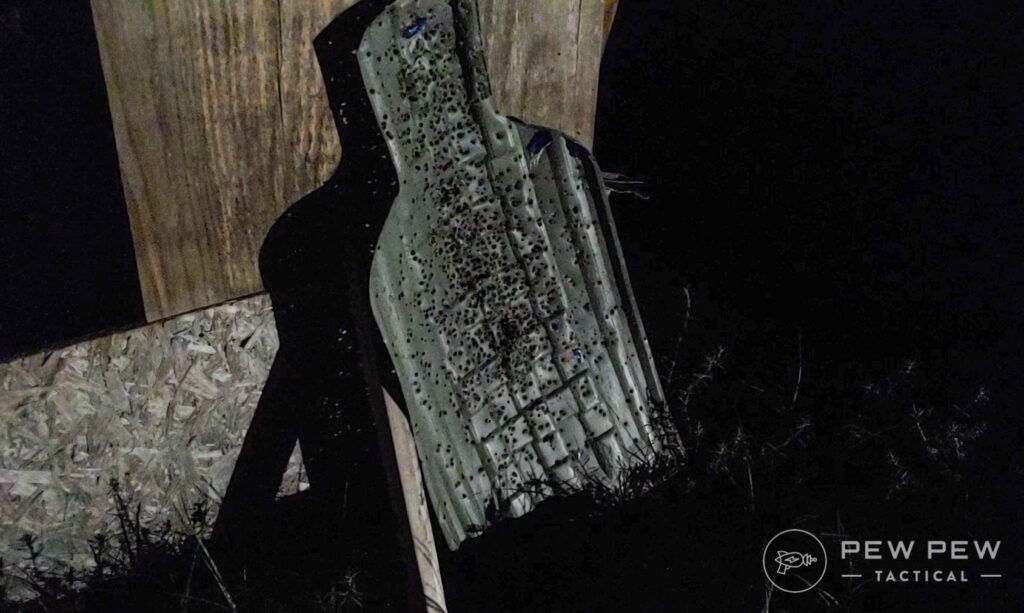 Mounting
It mounts by Picatinny rail at the top of your rail.
That combined with the button placement, makes it really ergonomic…especially if you love the C-Clamp.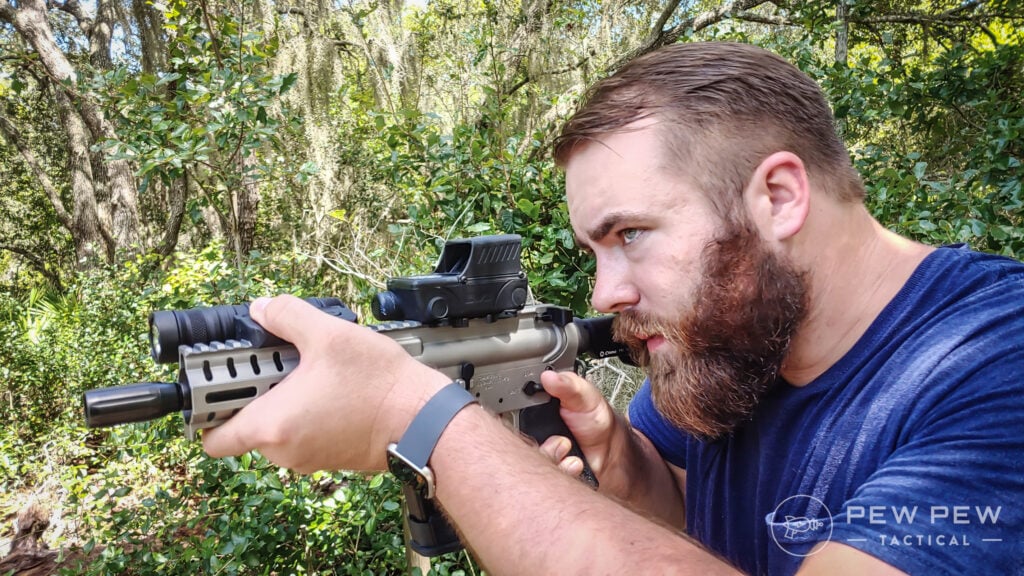 However, one of the downsides is its large profile and inability to work with a night vision setup.
Overall Impressions
I can't state how bombproof this optic feels. It's a big boi that will likely survive anything you can throw at it.
If you want something US-made with a rock-solid warranty and swappable everything (battery, left/right placement, lens) — you can't go wrong with the OWL.
Check out our full in-depth review too.
Cloud Defensive has set up a special 10% off coupon code "pewpewtactical" for Pew Pew Tactical readers.
429
at Cloud Defensive
Prices accurate at time of writing
Prices accurate at time of writing
7. Nightstick LGL-160
Nightstick has been catering to law enforcement agencies for some time, so it shouldn't be a surprise if you haven't heard of them. Their success in this market, however, is a win for the rest of us.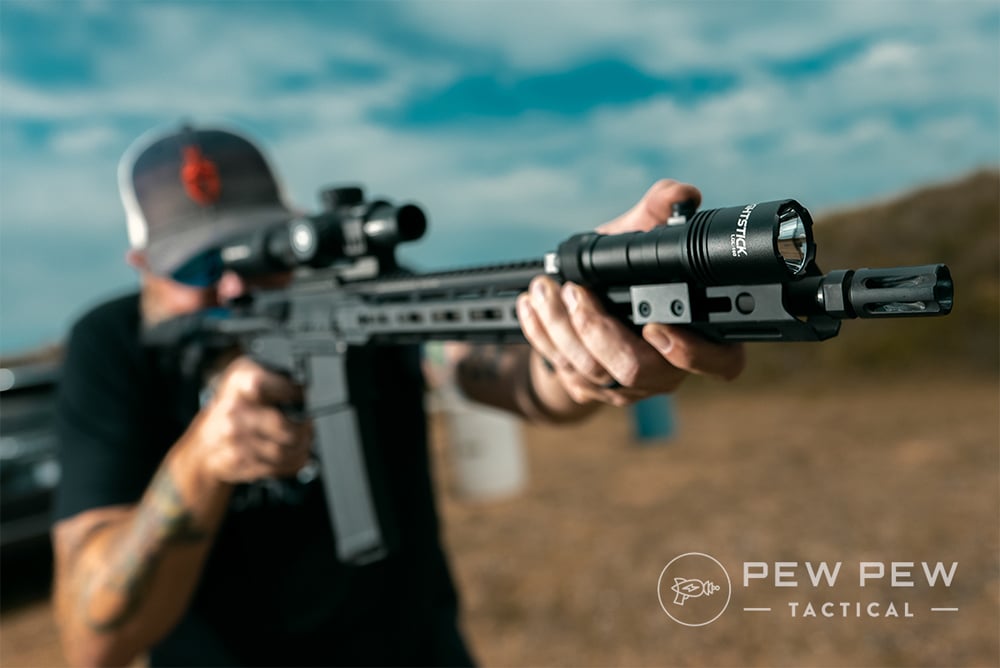 The LGL-160 is a tough, bright, and inexpensive light that includes a whole package with all the accessories you need to get your long gun up and running.
Quick Stats
Lumens: 1100
Battery: 2x CR123
Battery Life: 2 hours
Weight: 6.3 oz
Warranty: Limited Lifetime Warranty
Price: $139
Build
The LGL-160 is made from 6061-T6 aluminum and feels hardy. The light comes with a couple of mounting options that also feel sturdy.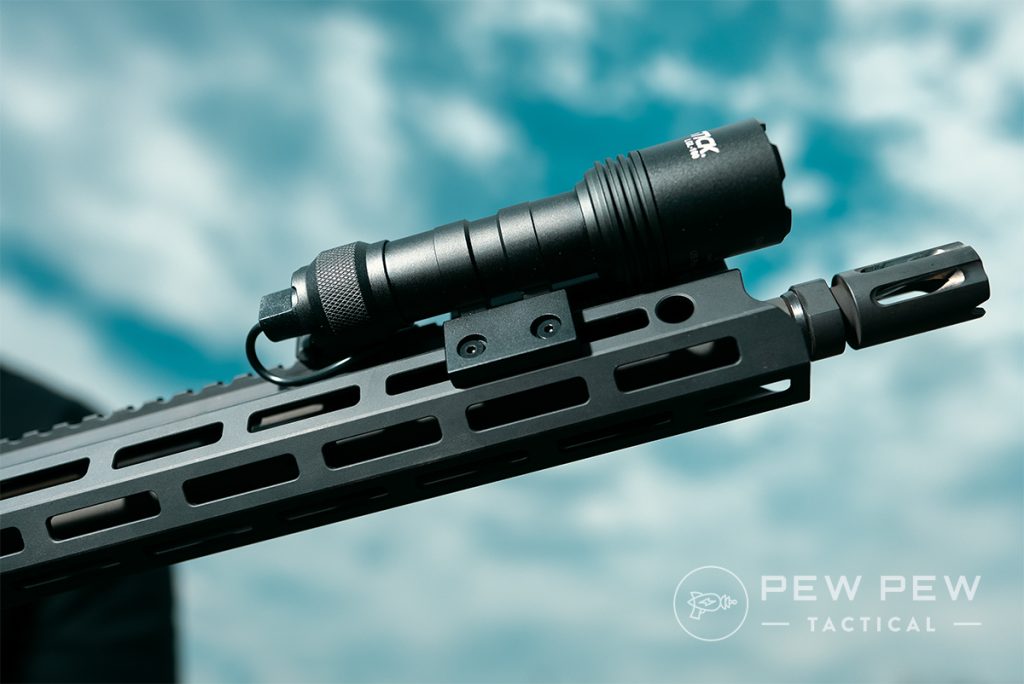 You also get a remote switch, a switch mount, and a handy wire manager that also connects to your Picatinny rail. The switch has temporary and constant options.
Light
The beam on the LGL-160 is pretty tight and rated for 300 meters. It's bright enough, though, with 1,100 lumens, that the hot circle and spill still do very well to light up enclosed spaces.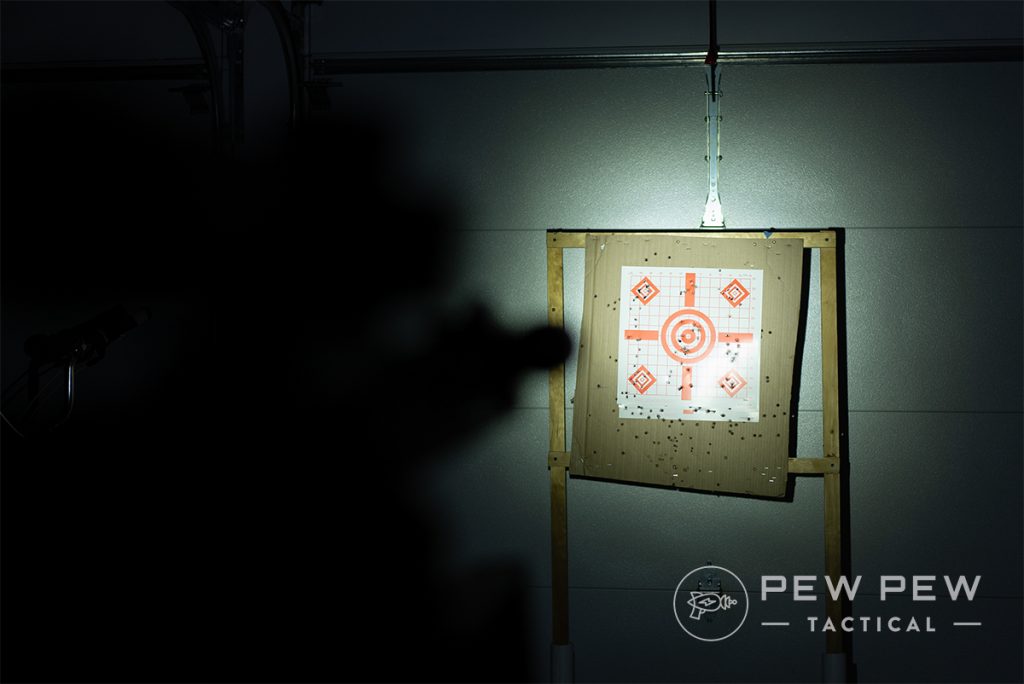 Mounting
This package includes a standard Picatinny rail mount with a thumb screw, but it also comes with the 45-degree offset MLOK mount that tucks the light nicely into the 2:30 spot.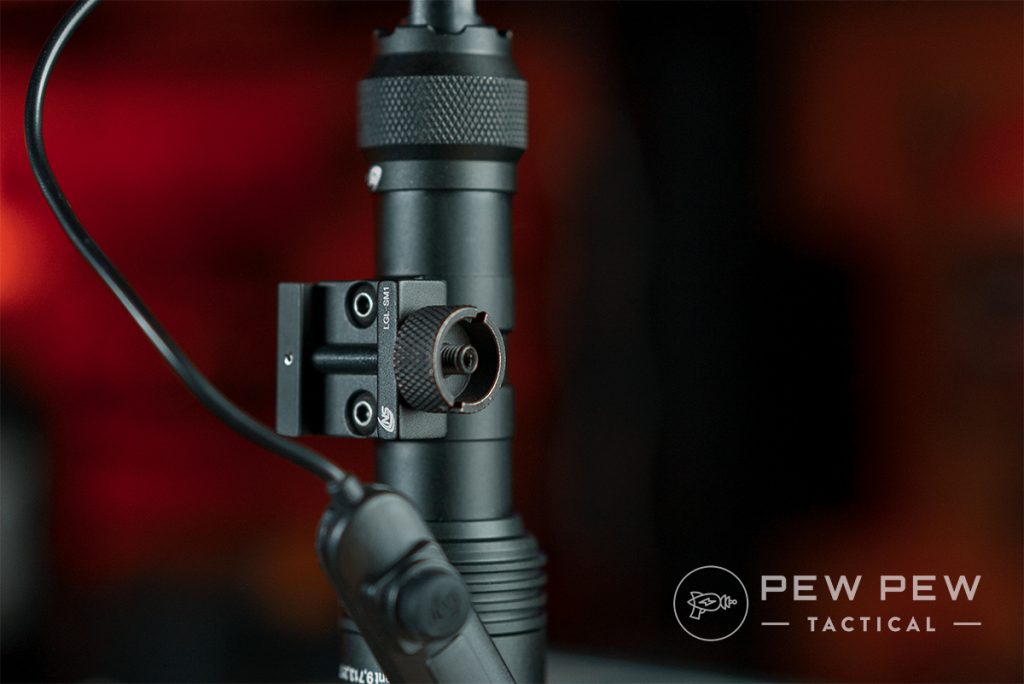 All the mounting options are well thought out and make for a really clean setup.
Overall Impression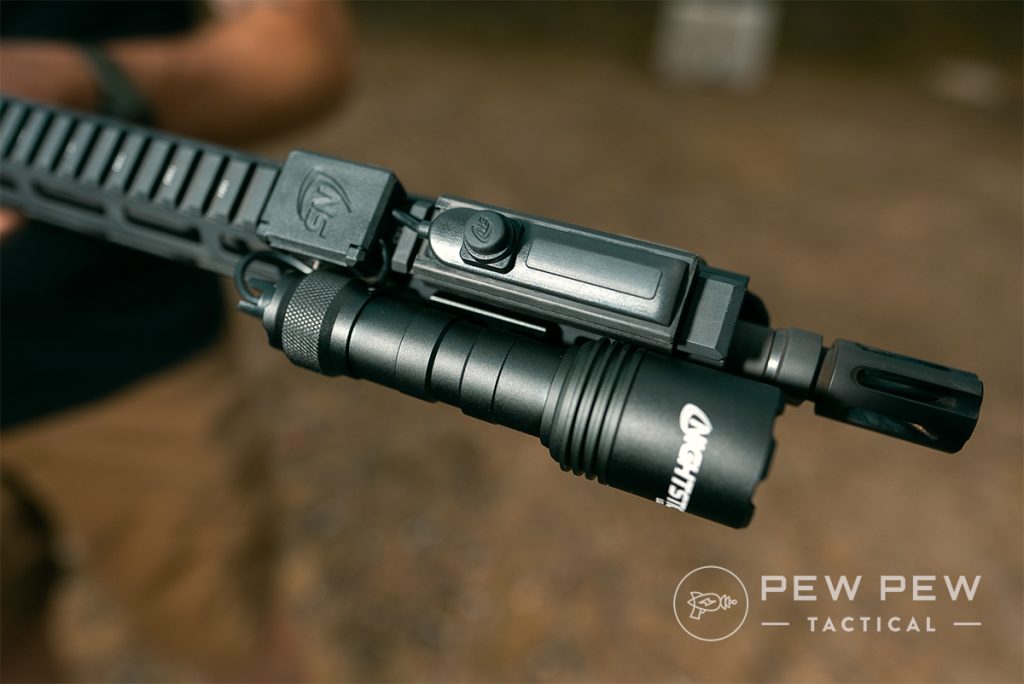 At this price, with this performance and all these accessories, the LGL-160 is a really tough package to beat.
We tested the light out at the range and were very impressed with its performance.
Best Mid-Tier
145
at Gunmag Warehouse
Prices accurate at time of writing
Prices accurate at time of writing
8. Modlite PL350
Modlite's PL350 is a handy light that fits well into Safariland and PHLster holsters while also throwing some serious light downrange.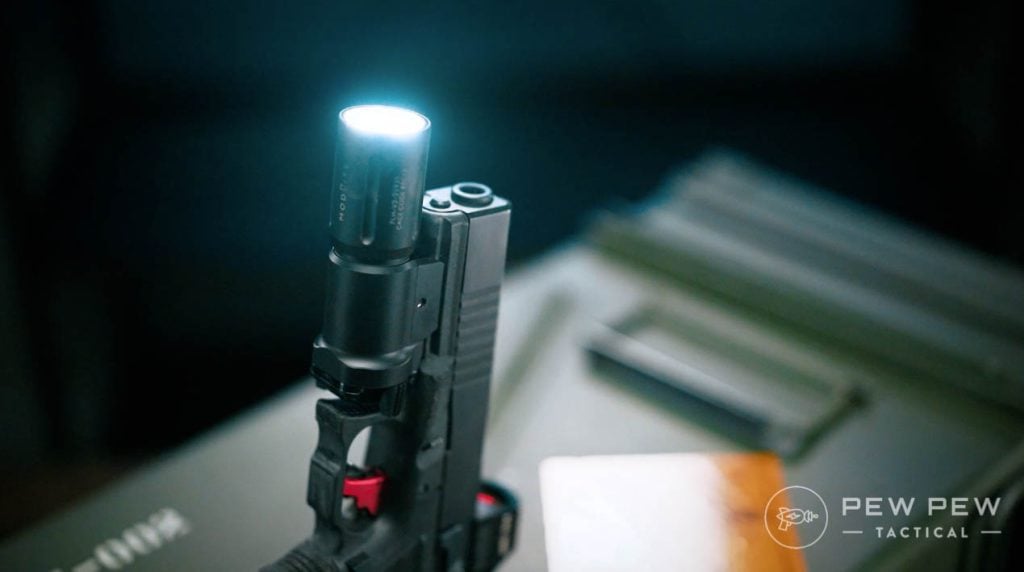 It offers two heads that swap easily, and this gives you a lot more versatility. Not to mention, rechargeable batteries are a win!
Quick Stats
Lumens: PLHv2 head – 1,350 and OKW head – 680
Battery: 18350 rechargeable
Battery Life: 2 hours
Weight: 5.5 oz
Price: $329
Build
The PL350 feels sturdy…like really sturdy. It's a rugged flashlight and seemingly can keep up with our shenanigans.
It's simple in its design, but we found it incredibly reliable and durable during our time testing it.
Light
The advantage of having swappable light heads is a little more versatility.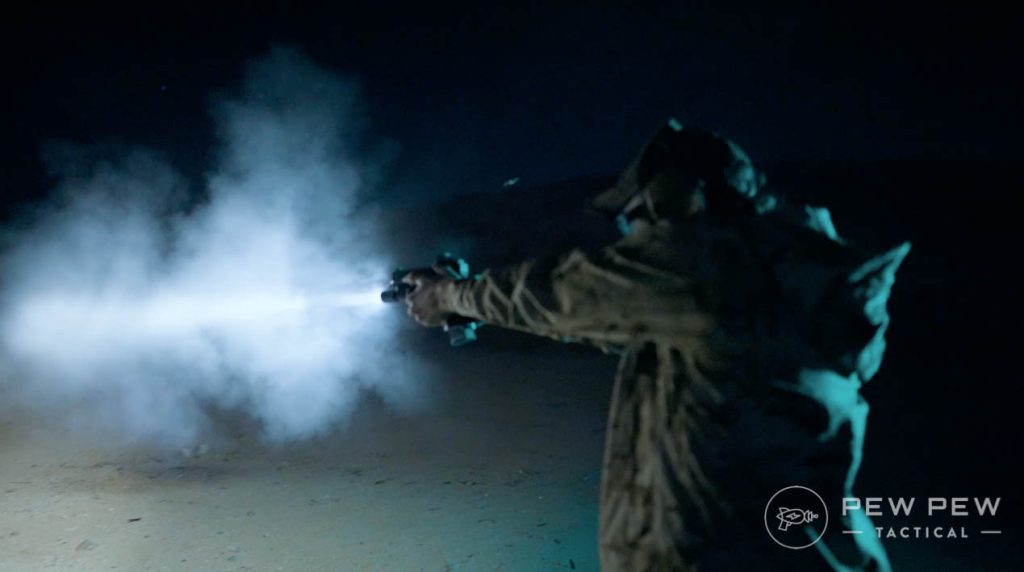 With the OKW, you get a total of 680 lumens and 69,000 candela. On the other hand, the PLHv2 serves up 1,350 lumens with 54,000 candela.
Out on the range, it throws light…like woah! You won't be disappointed with this light's output by any means.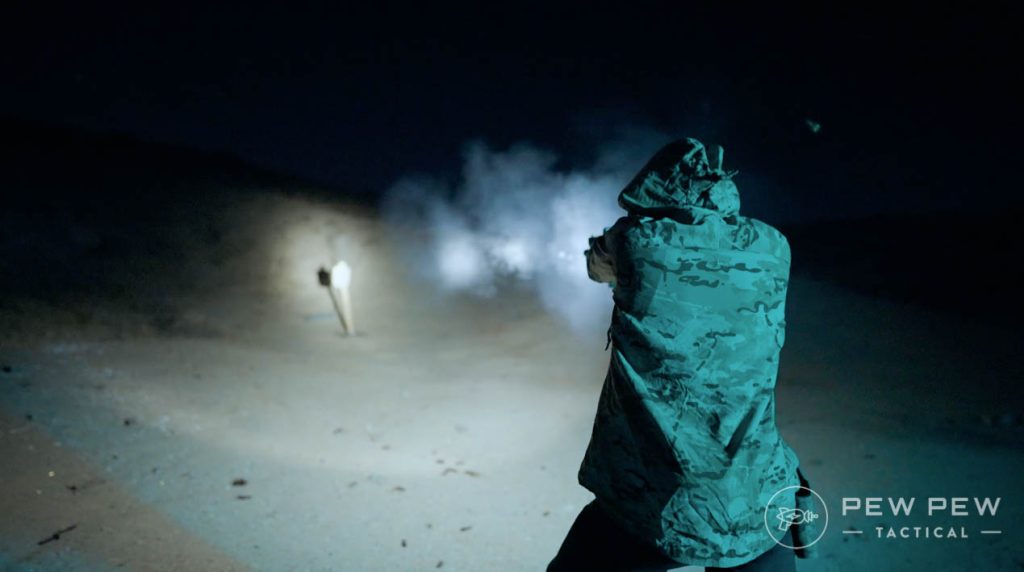 Mounting
It installs easily and holds tight…when you read the instructions, that is. We didn't on our first go around and the light fell off while shooting.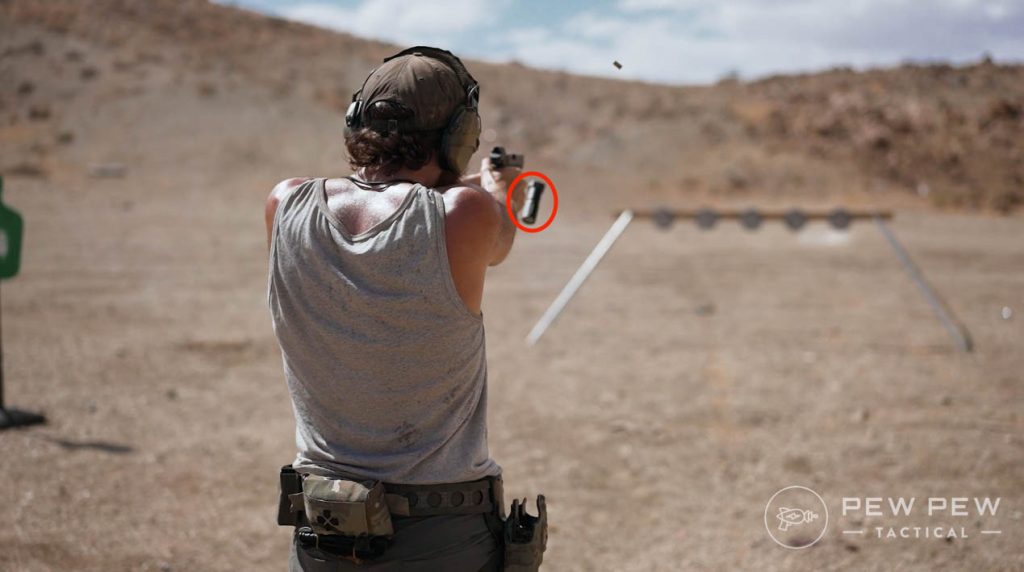 I mean, points for it taking a hit and keeping on, though. After we actually looked through the mounting instructions, we got it attached pretty easily, and it remained on our rail for the remainder of the shoot.
Overall Impression
We really enjoyed our time with the Modlite. It's a great light worthy of your attention.
Best High-End
329
at Brownells
Prices accurate at time of writing
Prices accurate at time of writing
For more, check out our video review below or article here!
Others
Olight Odin Mini
Olight's newest rifle offering — the Odin Mini.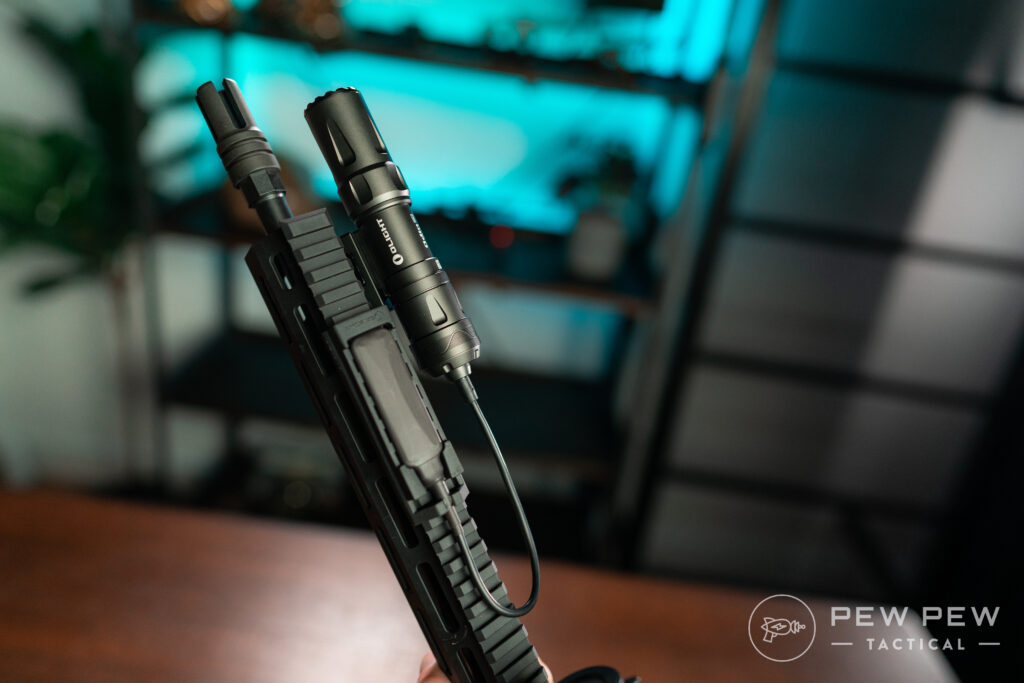 And the big thing is that it's smaller (of course) but also comes with an angled MLok mount!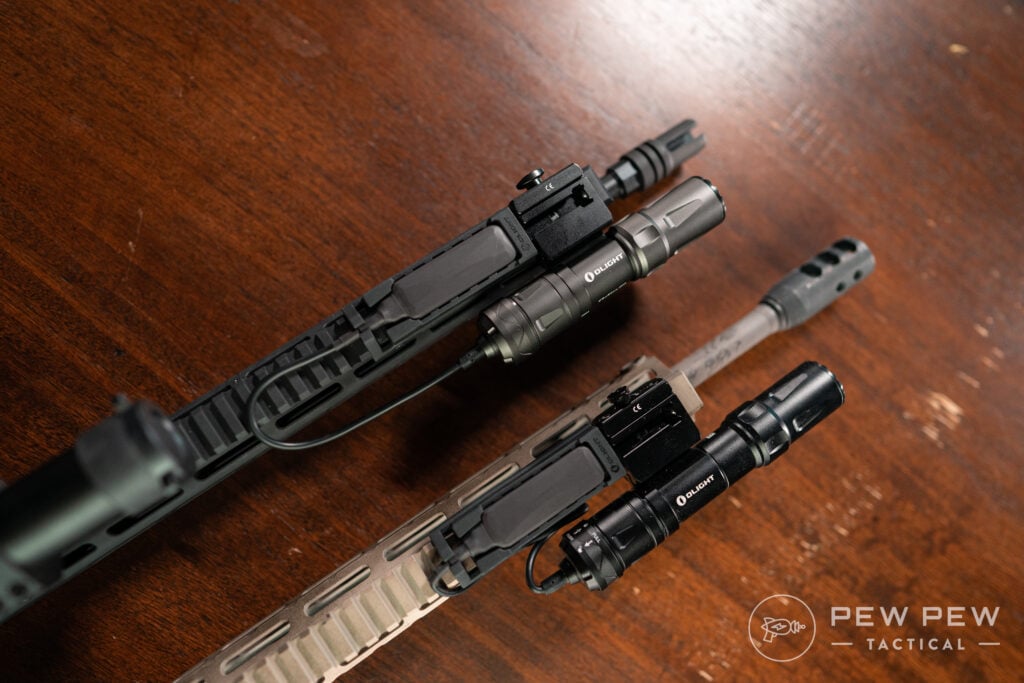 We're putting it through its paces right now, and so far, it's holding up.
139
at Olight
Prices accurate at time of writing
Prices accurate at time of writing
Cloud Defensive Rein
Cloud Defensive brings a super durable build paired with a lot of lumens to the light arena with its new Rein.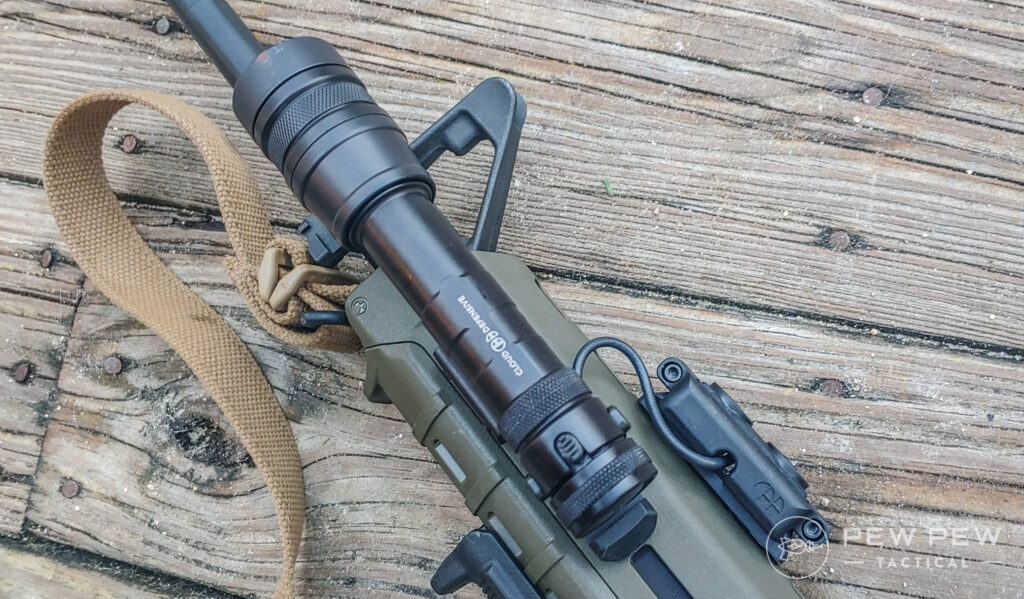 Available in a standard model for rifles and a micro version suitable for PCCs, the Rein brings 1,400 lumens backed by 60,000 candela.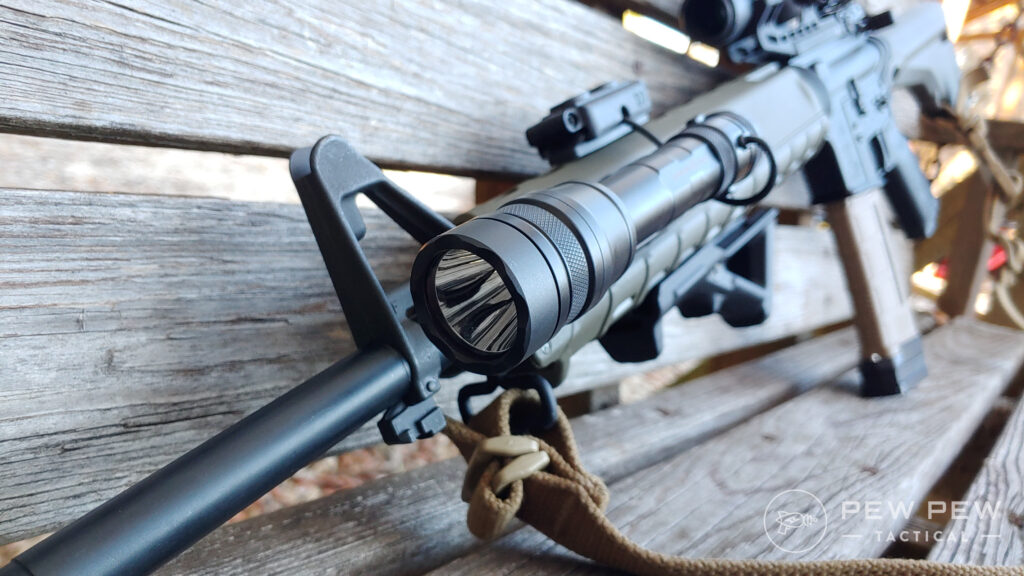 So far, we really dig this model!
Update: Cloud Defensive has recently launched a newer version known as the Rein 3.0. We have a review of that incoming soon.
Rifle Light Tips
Hopefully, now you know which light to go with. We'll end with some quick tips that will get you started:
Your gun points where your light is pointing. Remember your safety rules!
If you're using your light in a safety situation, try to only turn it on when needed. It can give away your position. That's why I like having pressure pads or the Inforce for serious guns.
Keep your wires away from the gas block. It's going to melt sooner or later.
If you're shooting during the day, put some tape on the lens to avoid carbon buildup. And the best lens cleaner is a rubber pencil eraser.
Final Thoughts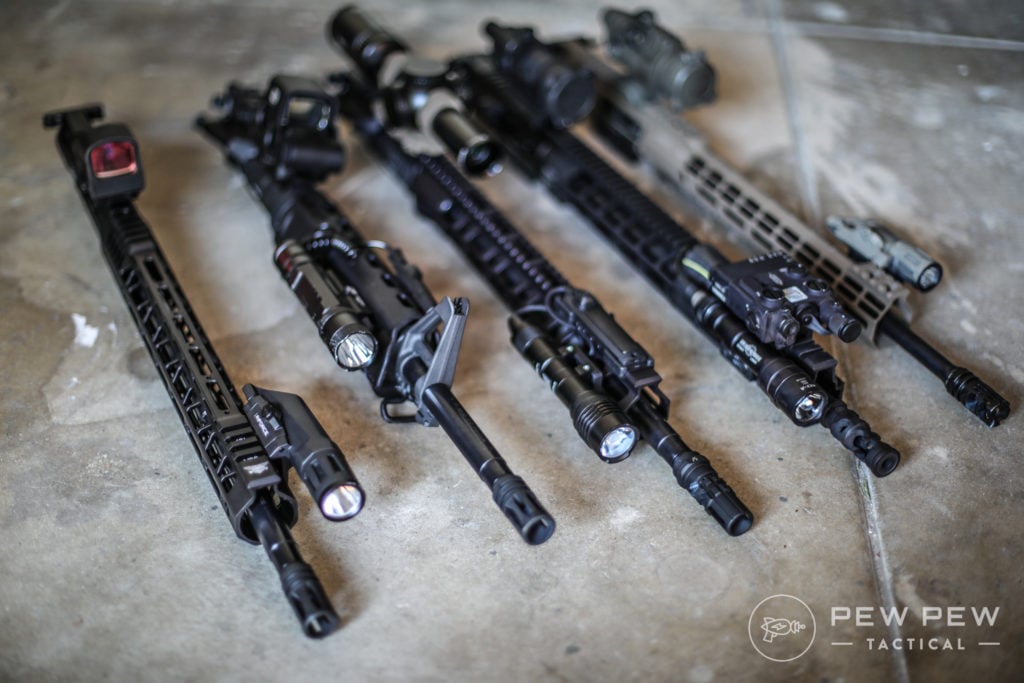 Our overall Editor's Pick, if you want the best and have the budget, is the SureFire M600.
Also be sure to check out Inforce for something lighter and doesn't require a pressure switch.
Most Lightweight
119
at OpticsPlanet
Prices accurate at time of writing
Prices accurate at time of writing
While our Best Bang-For-The-Buck goes to the Streamlight ProTac Rail Mount 2.
Best Bang-For-The-Buck
125
at OpticsPlanet
Prices accurate at time of writing
Prices accurate at time of writing
Don't forget to keep those lights fed. Make sure to have a good supply of CR123 Batteries.
How did we do in our Best AR-15 Flashlights list? Anything we missed and should add for next time? Or any tips for beginners? Now that your AR is outfitted with a light, get yourself a Tactical Flashlight, Pistol Lights, or Shotgun Light.