It seems like everyone and their mom makes a piston-driven AR-15 these days. And with good reason.
Piston-driven guns run cleaner and cooler than a standard direct impingement (DI) system, making them a big draw for high volume shooters such as those who shoot competitively like in 3-Gun.

They also just make all around great guns if you want to get into AR-15's a bit more and try something different.
Who knows? You might just fall in love.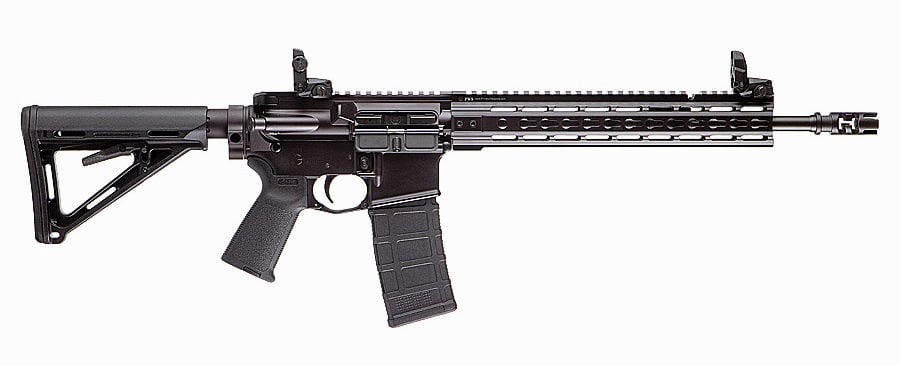 Unfortunately, not everyone has the kind of cash required to pick up a whole new gun just to give this fancy schmancy piston thing a try…which is totally understandable.
So what do we do?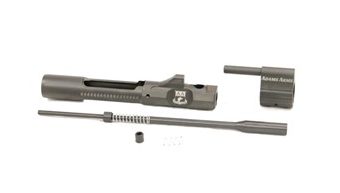 One option is to simply switch out the upper receiver with a piston-enabled upper receiver and be on your merry way. Or you can use a conversion kit to change your DI system into a piston one. We'll cover our top picks in each!
If you can't wait…here are our picks for best AR-15 piston uppers and conversion kits:
I've used all of them…but first let's go over why you'd even want a piston AR in the first place.
Table of Contents
Loading...
Getting a Piston AR-15 Without Breaking the Bank
Well, if you're anything like me when I started out, you probably already have a cheaper (but no less awesome) direct-impingement AR-15 laying around.

If that's the case, then you can just pop your current upper receiver off, and slap on a new piston-driven upper. It'll work just fine with your lower.

If you don't already have an AR-15, I highly recommend picking up a DI gun first before springing for a much more expensive piston-driven one. If you need help choosing your first AR, I also recommend giving our updated AR-15 Buyer's Guide a look.
So, what piston-driven upper should you get? How do you choose?
Well, I've tried out way, way, waaaay too many of these things (just ask my fiancé ) so I've got a list of what I think are the best piston uppers currently out there.
Why Choose a Piston AR-15
This is going to be a bit of a Coke vs. Pepsi, Ford vs. Chevy, Superman vs. Goku type of deal, so it's important to understand right away that a lot of this is going to come down to personal preference.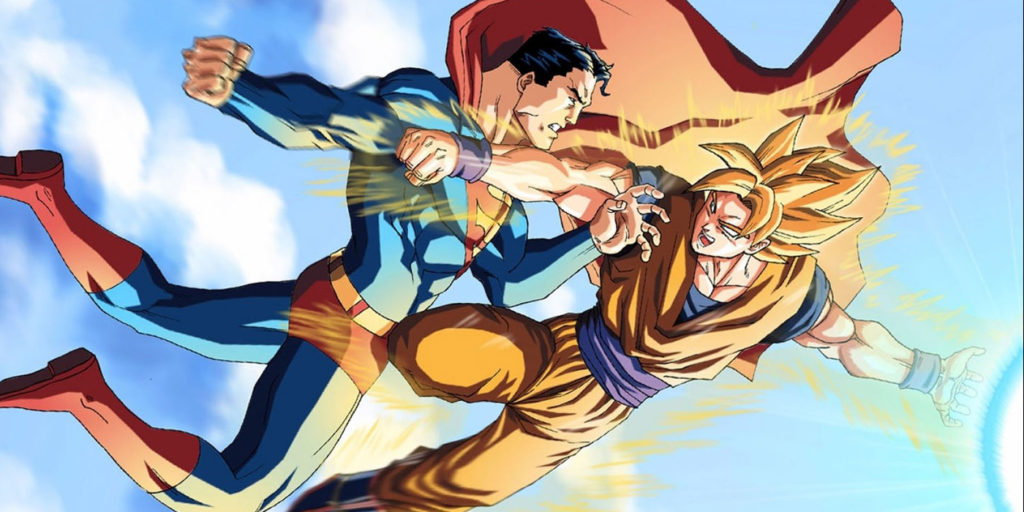 However, there are some tangible benefits to choosing a piston AR. You'll have to decide if they're worth it.
Also, the correct choices are Coke, Ford, and Goku, and you can tell me why I'm wrong in the comments.
Benefit #1: No gas blowback into the breech
With a piston AR, you don't get the gas and powder fouling into the breech like you do with a standard DI firearm. Instead, you get just a small amount of powder fouling in a small, contained area around the piston itself.
Why does that matter?
Well, with a standard AR-15, you get exhaust gases and powder, and all that crud and gunk that comes from firing a gun dumped right back into the breech.

This means all that junk winds up in your lower, which makes for a much dirtier firearm, and much more frequent cleanings if you don't want your gun to start having some issues.
So basically, a direct impingement gun shits where it eats, which is…not ideal.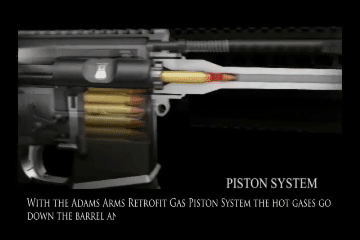 Meanwhile, a piston AR funnels all that gas and powder fouling into a contained area (face of the piston), which makes a piston AR a much easier beast to clean and maintain.

Benefit #2: Heat Displacement
You know how other guns get hot when you shoot them? Yeah, same thing happens with AR-15s.
However, for really high volume shooters, like say if you have a legal fully automatic lower, or you shoot competitively, you can keep your gun a little bit cooler by swapping to a piston system.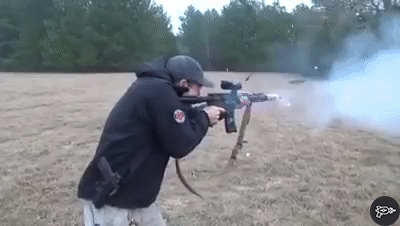 This is because, again, you're not dumping hot, nasty gases into the main body of your firearm anymore and are instead keeping things contained.
Downsides to Piston AR-15
Now, it wouldn't be much of a choice if that was the whole story. There are some downsides to the piston lifestyle that I want to go over as well.
First, they're pricey.
As in, some of these upper receivers alone cost as much as fully-kitted direct impingement gun, pricey. But, for some people that's okay.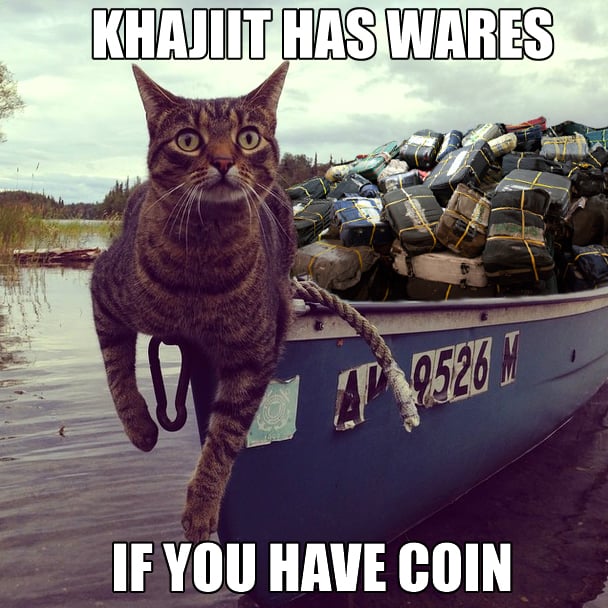 Second…parts can be a bear to find and match up properly. Piston systems aren't necessarily standardized like direct impingement systems. So if you go with one manufacturer, you're stuck with them.
So make sure you choose one that has a good track record and will be around in the future.
Lastly, since there's more metal stuff in the front, the gun can become front heavy. I haven't found this to be a serious hindrance but it's a little different from your normal DI gun.
So, with all that being said, let's get into some of the best piston uppers and upper conversion kits on the market.
Best AR-15 Piston Uppers
Best Budget Piston Upper
663
at Stag Arms
Prices accurate at time of writing
Prices accurate at time of writing
Features:
Barrel Material: 16″ 4140 steel, chrome lined, government profile, manganese phosphate coating
1:9 Twist
Muzzle Thread Pattern: 1/2″-28
Bolt Carrier: 1-Piece w/Integral Piston Strike Face
Samson Star-C free float quad rail
The Stag Arms Model 8HSC is a great budget piston upper and comes with a very usable quad rail.
Plus, you can configure your upper according to your states' laws (hi CA, NJ, CT, MD).
Keep in mind that this is upper has a carbine gas system.
Best Bang-for-Buck Piston Upper
600
at OpticsPlanet
Prices accurate at time of writing
Prices accurate at time of writing
Features:
5.56mm NATO 16″
Barrel Material: Chrome Moly Steel
1:7 Twist
Muzzle: Pinned A2 Flash Hider
Barrel Finish: Melonite / Black Nitride
Bolt Carrier: Black Oxide Coated Steel
Free Floated Aluminum Forearm
M4 Feed Ramps
The Tactical P1/P2/P3 series from Adams Arms is the industry standard for a solid, reliable, piston upper.
Confused on the three options? Basically, P1 is the basic entry tier upper, P2 is more standard, and P3 is upper tier designed for competition or duty carry.
All three are great, but P2/P3 have some extra features such as adjustable gas blocks and such. They also have a higher price to match.
It comes with a very nice aluminum handguard that has a full flat-top rail that connects seamlessly with the rail on top of the upper giving you the ability to mount every kind of sight, scope, laser, can opener, and tactical assault coffee mug your heart desires.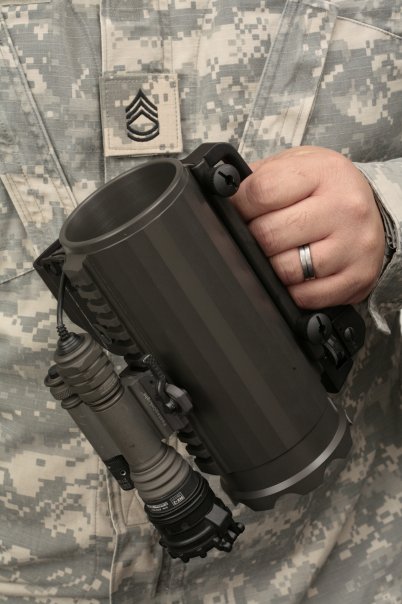 Seriously, the rails on this thing (the gun, not the coffee cup) are incredibly functional, and (re)movable so you can place them where you want, or lose them completely for a more high-speed, low-drag look.
Beyond that, the upper functions flawlessly with proper maintenance when used in conjunction with a quality mil-spec lower. It is a bit more expensive than the Stag, but it's worth it if you have the cash, or want to upgrade a little bit.
Or if you need four lights and a laser to feel safe. Hey, no judgment here.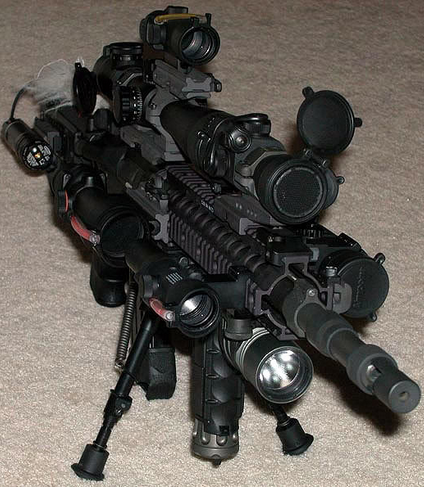 Ok…a little judgement.
Another great thing is the mid-length gas system. I think it is the best of both worlds and splits the difference between the shorter carbine and longer rifle uppers, which makes this a bit of a Goldilocks upper…least for my purposes.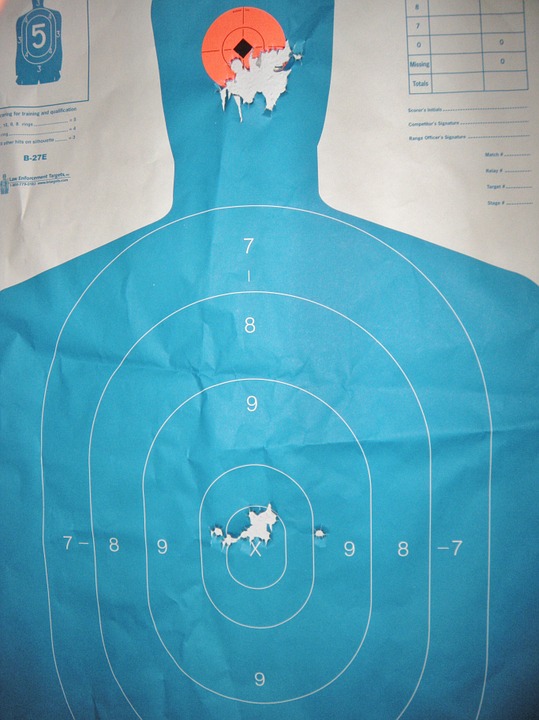 I think the midlength platform is probably the best place to start out for most newbies, and it's a great starting point for those who just want to try something different as well.
You get a longer forearm than with a carbine length, which makes for an easier shooting experience, but you don't have too much barrel slowing you down as you do with a rifle length gun.
This is especially an issue when you're trying to move during a competitive match, a home-defense scenario, or in the confines of a deer stand.
Many a deer has been spooked by a hunter banging their barrel against something in the stand. No that's not a euphemism.
Upgrade Piston Upper
1147
at Optics Planet
Prices accurate at time of writing
Prices accurate at time of writing
Features:
Barrel Length – 14.5″ (Pinned to 16″)
Overall Length – 23.4″
Gas Piston System – Carbine
Barrel Twist – 1:8
Caliber- .223 Wylde
PicMod Rail System Handguard
Forged upper
Adjustable Gas Block
If you have the money and want the next level up piston upper, get the PWS MK1, Mod 2
If you don't have the money and want the very best possible piston upper, get this one anyway.
If the fecal matter has hit the fan, the apocalypse has come, and you're digging through Rainier's warehouse to try and build something that will help you survive the wasteland that our world has become, get this one.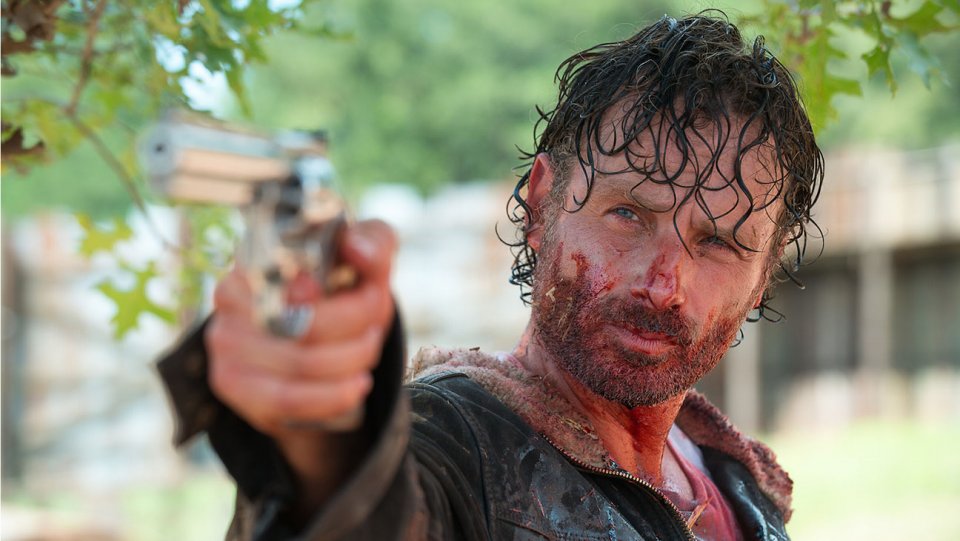 Seriously, all kidding aside, Primary Weapon Systems has made what is, in my mind, one of the very best drop-in, no-fuss, shoot-all-day, piston-driven upper on the market today.
This upper has all the features you could possibly want, including the unabashedly cool PicMod System that allows you to use Keymod and Picatinny attachments.
It also has a forged upper receiver, making it stronger and yet lighter than comparable billet receivers.
Finally, it has an easy-to-adjust, low-profile gas block that will allow you to dial down the felt recoil of the gun to get the best possible accuracy and performance possible. This is also key if you're going to run a suppressor on your gun.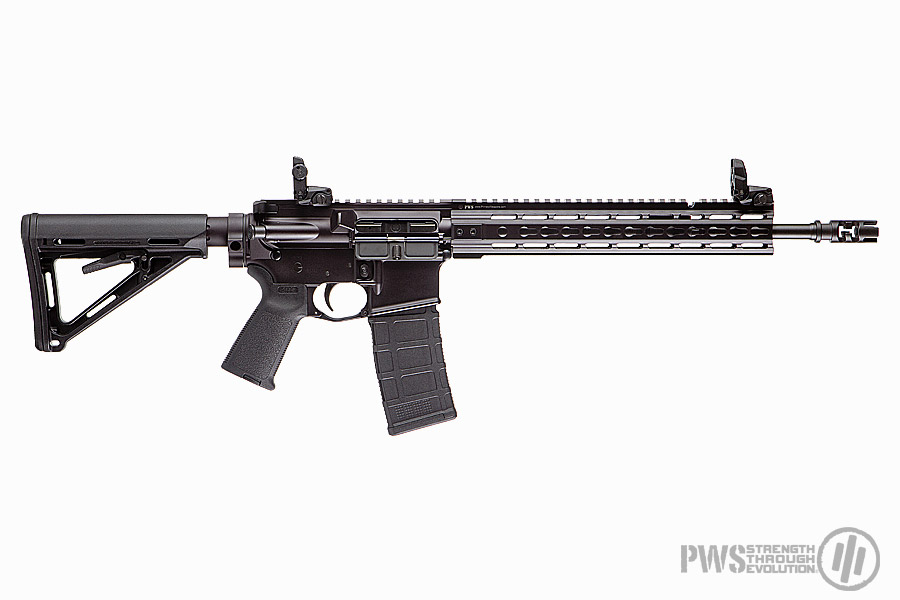 It's sitting on top of one of my competition rifles right now, and I have no plans on taking it off anytime soon.
Super Upgrade Option
1850
at Euro Optic
Prices accurate at time of writing
Prices accurate at time of writing
Features:
Barrel Length – 16″
Overall Length – 33.25″
Gas Piston System – Carbine
Barrel Twist – 1:7
Caliber- 5.56 NATO
Barrett Enhanced Rail with KeyMod
Adjustable Gas Block
If you want one of the most expensive piston uppers out there right now…check out the REC7.
While most piston guns don't really sell their uppers separately…you're in luck with Barrett.
However, I'd rather have the mid-length gas system and MLOK rails opposed to the carbine gas system and KeyMod.
AR-15 Piston Conversion Kits
Adams Arms Adjustable Gas Piston Kit
(Previous) Editor's Pick Piston Kit
289
at Brownells
Prices accurate at time of writing
Prices accurate at time of writing
Now, if you don't want to buy a whole new upper, there are also a number of gas conversion kits out there that will take your DI gun and convert it to a piston system.
I've tried several.
I hated all of them but this one.
The Adams Arms Piston Conversion Kit will let you convert your DI upper into a piston upper with a minimum amount of fuss. I love it, and I've used two of them now and I couldn't be happier. I can't really recommend any other kits in this category because:
A) I haven't found another one that I like, and…
B) There aren't really any other ones that are worth your time.
This kit comes with the same adjustable gas block that comes in the Adams Arms upper I told you to buy just a minute ago, and it is altogether the best kit to toss in a mid-length rifle. They also have kits for rifle and carbine versions as well.
Editor's Pick Piston Kit
250
at Brownells
Prices accurate at time of writing
Prices accurate at time of writing
*Update* Adam's Arms has their new P-Series piston kit which is MUCH lighter than their previous kit.
I had the chance to shoot it recently and I couldn't tell that it was a piston conversion since it wasn't front heavy at all. My new recommendation for the best adjustable gas piston kit.
Superlative Arms Adjustable Piston Kit
Newer Piston Kit
261
at Brownells
Prices accurate at time of writing
Prices accurate at time of writing
I love Superlative Arm's adjustable gas block. In fact…it's the only one that I use now. See the full review.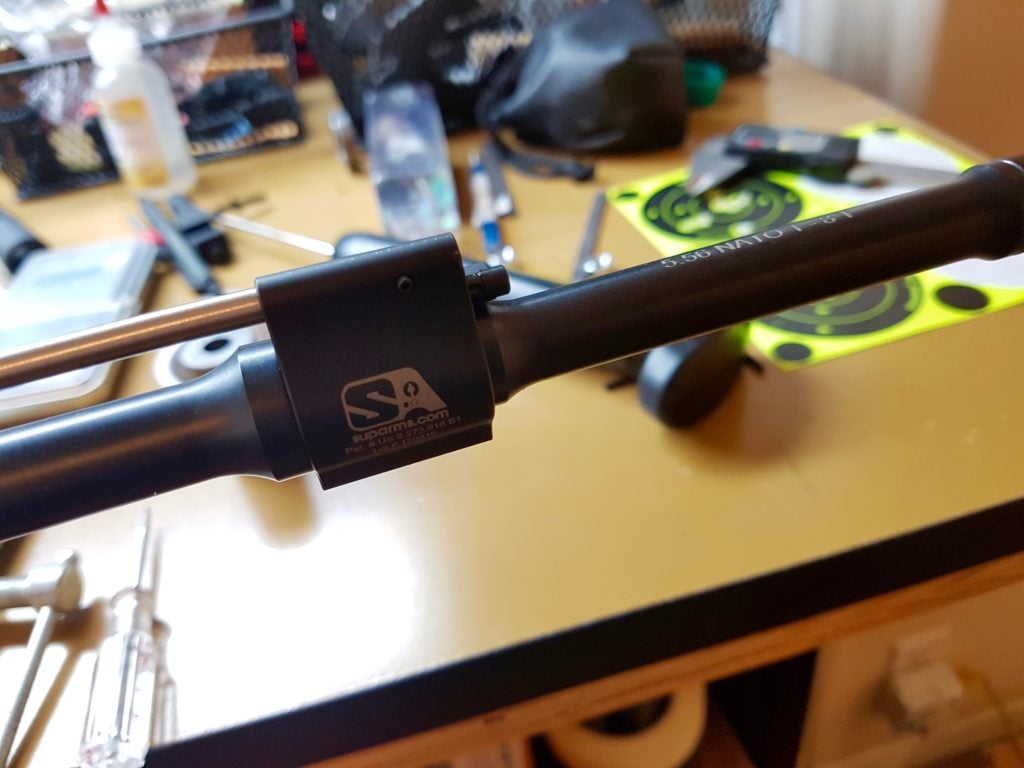 So I can't wait to try out their piston system due to their same rave reviews…and how you can easily find the different gas lengths PLUS pencil barrel size in stock.
Stay tuned!
Final Thoughts
That about does it for this one, guys and gals.
Those are my recommendations for choosing a piston based AR-15 upper.
Want a normal DI upper? We've got our favorites in our Best AR-15 Upper Assemblies for the Money guide!
Do you use a piston upper? Did you switch back to DI? Let me know in the comments!